Hellllo, and happy Friday! 🙂 Sharing a little round up of some awesome finds and weekend deals today. I have added quite a few of them to my wardrobe already!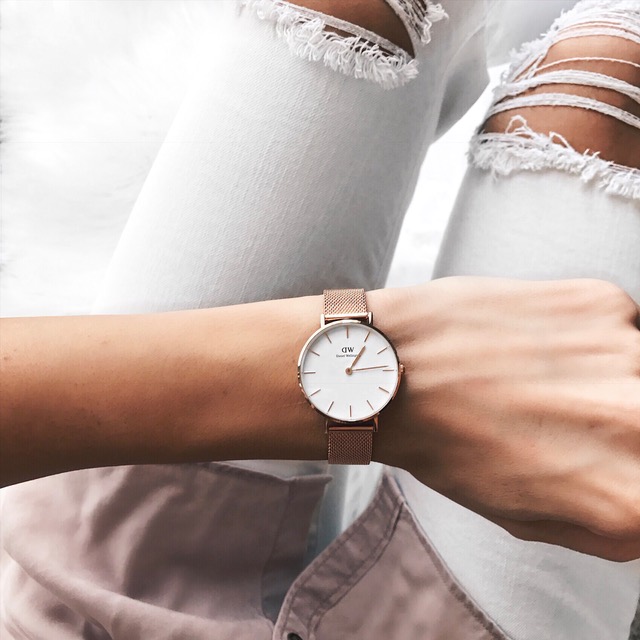 This beautiful mesh band rose gold watch is apart of the brand new Classic Petite collection at Daniel Wellington! It's lightweight, classic and seriously pretty!! Use code 'TAYMBROWN15' for 15% off your order!
These lace-up sandals are such a steal for the quality! I love the pretty lace up detail and the short block heel. Who else is pumped about the shorter heel trend?? Sure is a hell of a lot comfortable than a 4.5-5 inch heel, lol!
In case you missed my Instagram post (here), this necklace is a new favorite in my jewelry collection. Made By Mary is a handmade jewelry shop that makes the prettiest, delicate pieces! I had mine and Tom's wedding anniversary engraved on my disc necklace in roman numerals. It looks so pretty with any outfit! FYI, mine is the matte gold on a 20″ chain. ✨
I have a full review coming soon on these babies from Damn Good Face Wash, but I had to bring them up ASAP! Guys, they are damn good. These skincare products are handmade with the best natural ingredients that work magic by a kind soul named Kate. If you were to get one product, the Damn Good Face Wash (The Works version) is my very favorite!
Pre-knotted tees are my new jam – so easy! This one is only $22 and comes in 4 different colors!  I picked up the gray.   FYI: Runs large. Go down one size!!
Just bought this basic v-neck tee in white (closet staple!!) and this fun mixed media tee in the blush color. Sooo affordable! If you spend $75 or more on clothing, shoes or accessories, you get $15 off!
Also picked up these gorgeous studded sandals in that order above. Such a great Valentino dupe!!
Annnnnd to get $15 off my order (you know I had to take advantage of that deal!) I bought Tom this cute spring hoodie.
ALL mentioned are currently 50% off: Dying over this pretty ruffle back on this top, love this pretty detailing on this top, and getting these frayed skinnies ASAP!
This off the shoulder ruffle top though!!  Love the rose color.
I have these peep toe booties and they are on crazy sale! (40% at check out = $27!!)
You're welcome. 😉 Happy weekending!