Fall is finally in the air after a very, very warm September! Anyone else experience the humid upper 80's and 90's all month long? As much as I love summer and cannot believe how fast it flew by, I have a special place in my heart for fall. Sweater weather, falling leaves, all the pumpkin spice drinks & treats, and cozy layers just make me so happy! And, fall is my absolute favorite season for fashion; putting fall outfits together is so much fun, because of all of your layering options. Allll the layering options can be a bit overwhelming though, so I'm sharing 3 fall outfit ideas from the Mall of America today! Every single piece I'm wearing can be found and purchased at the MOA. I just picked out these looks this past weekend!
Fall Outfit Idea #1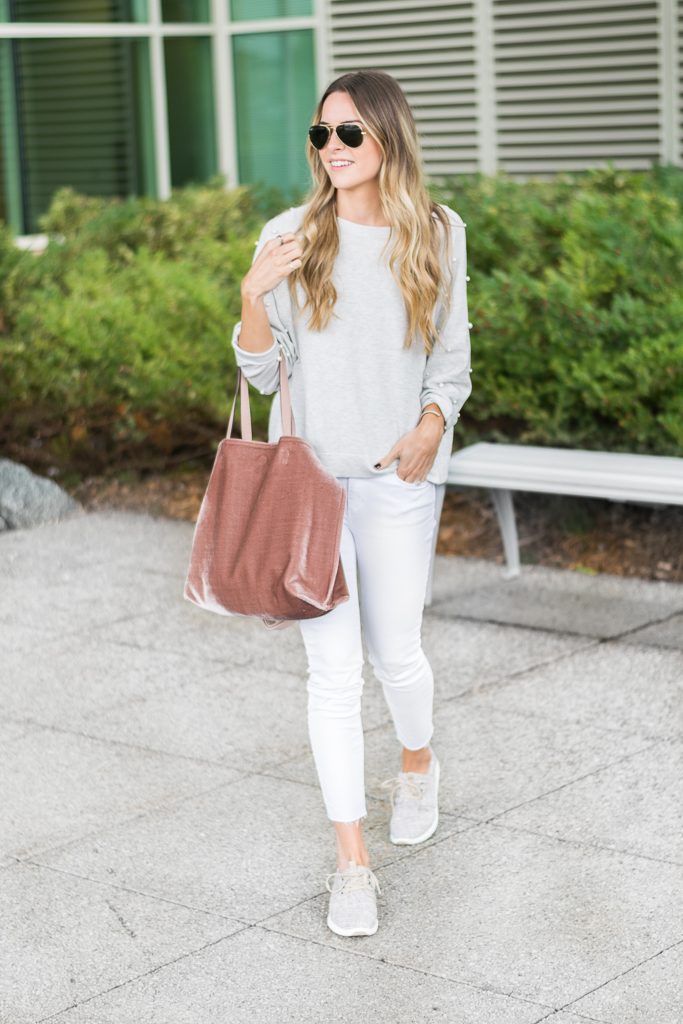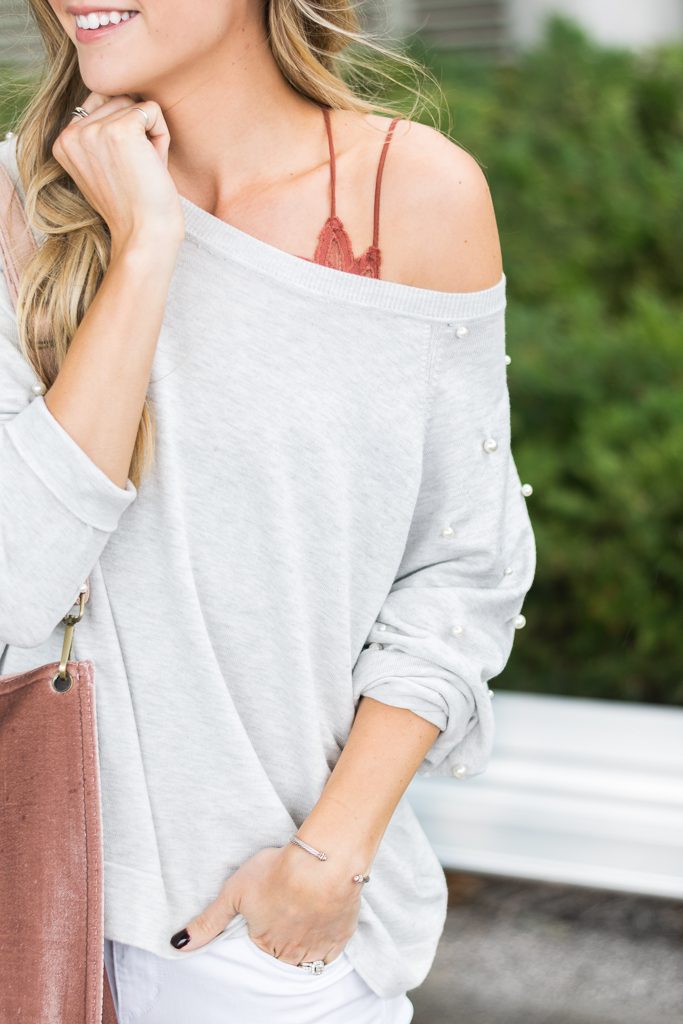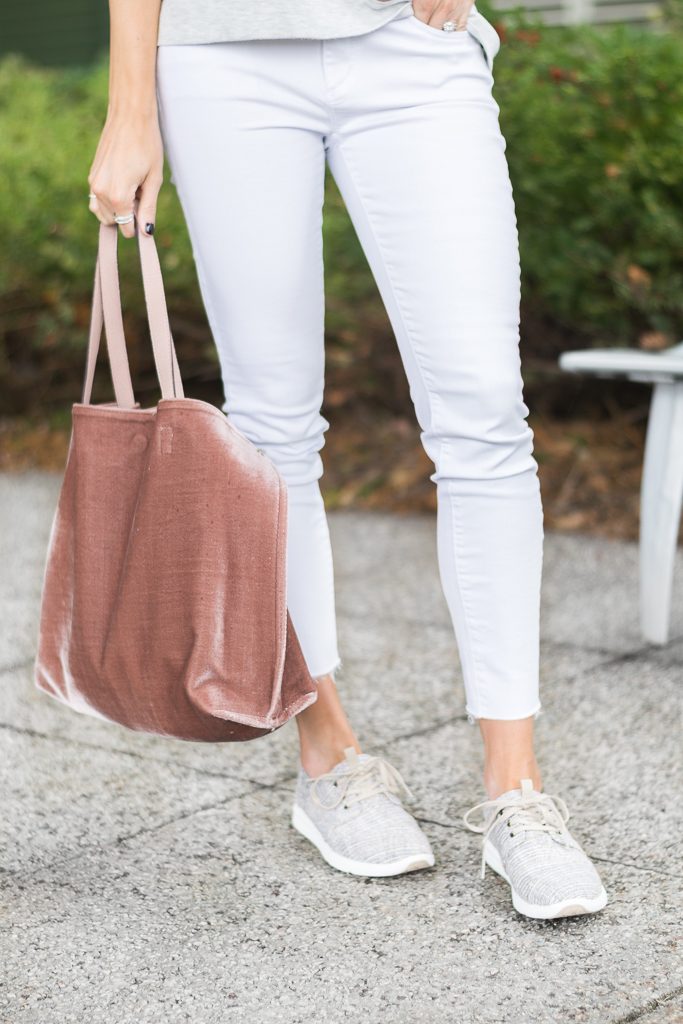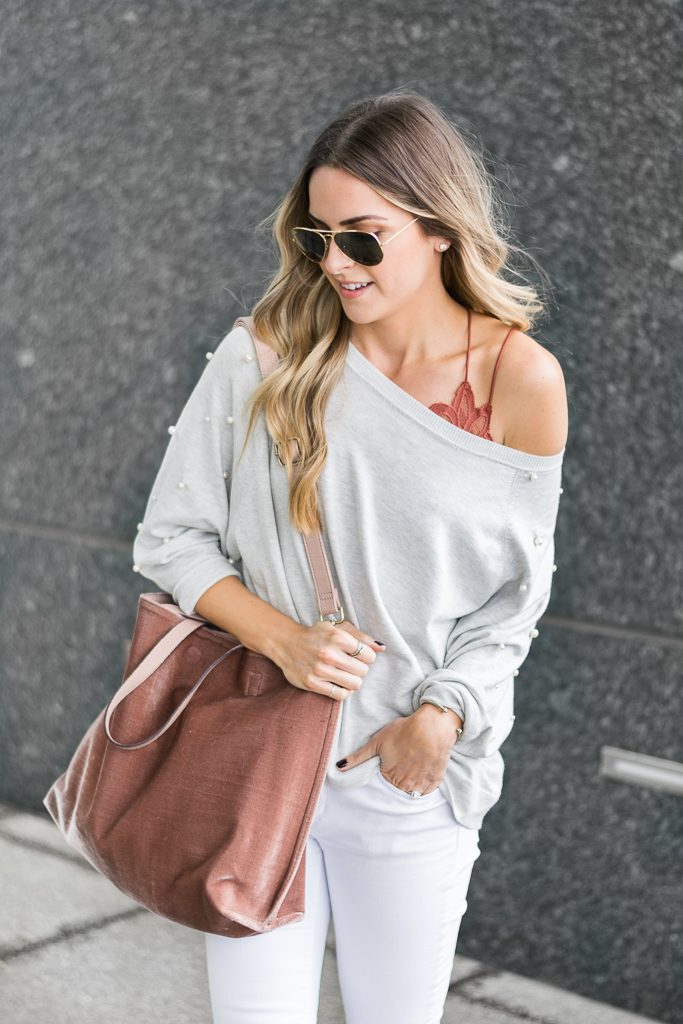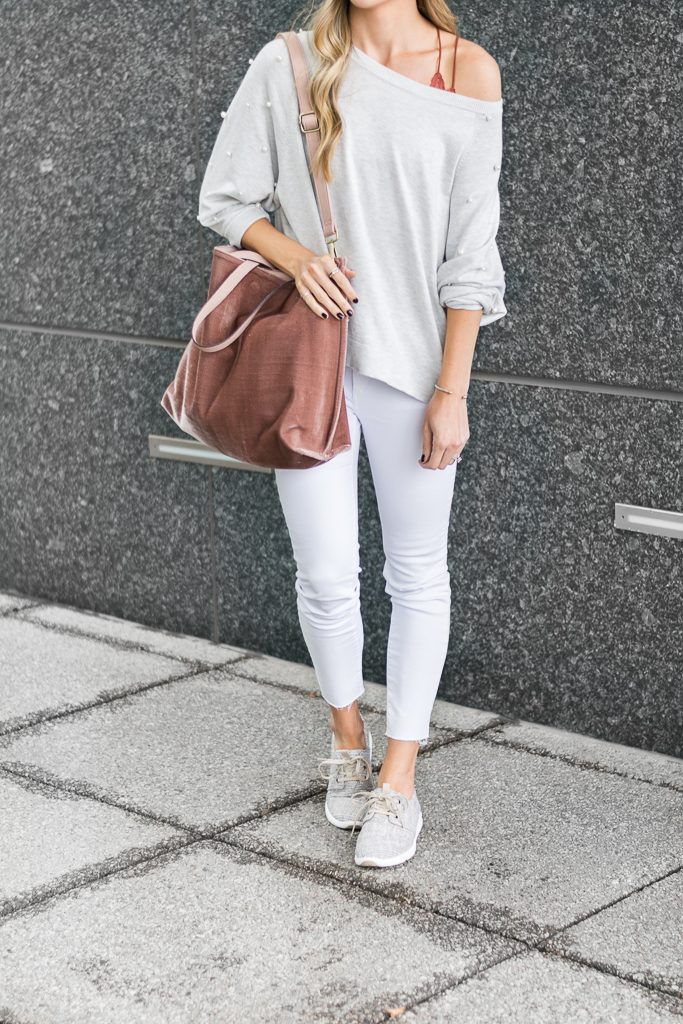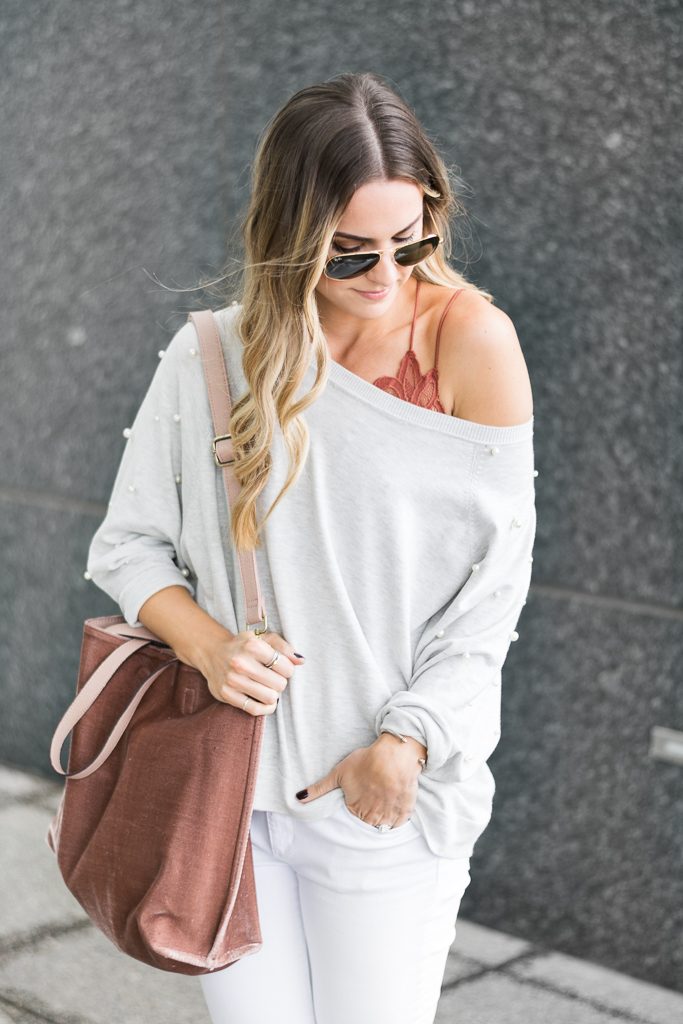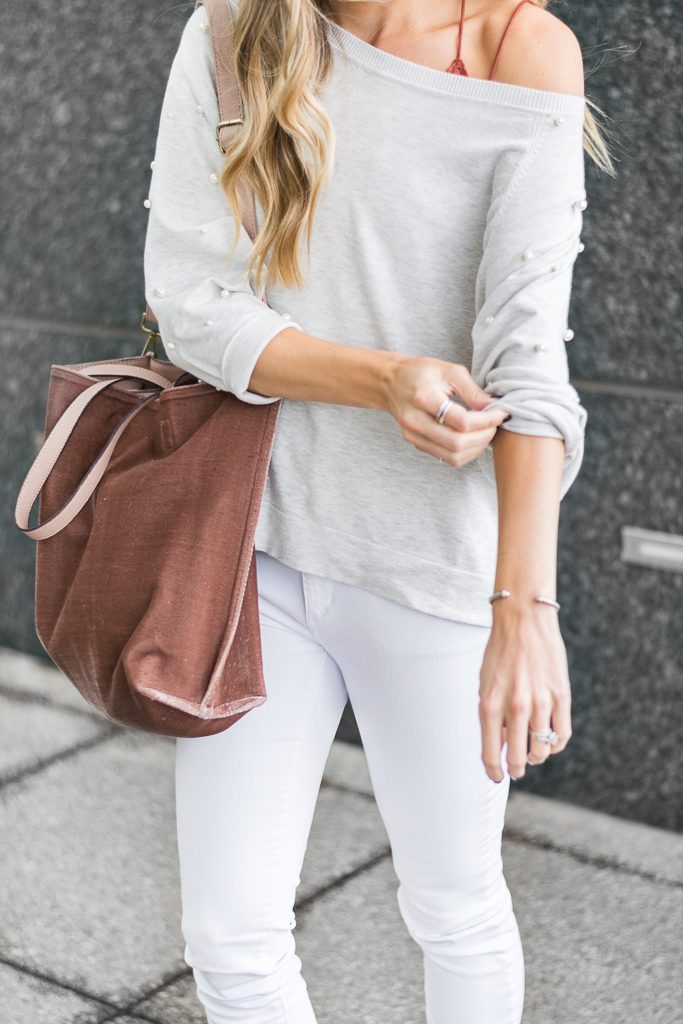 WHAT I WORE:

Haven't you heard? It's
totally fine
(and chic) to wear white after Labor Day – that old rule has expired. The amazing thing about it is that it's unexpected and really inspiring to see someone rocking their white denim after September begins. So, don't put those beautiful pants away until next summer, rock them year-round!
I found these white skinny jeans on sale from LOFT at Mall of America, and loved that it had a pre-cut raw hem; easily one of my favorite denim trends this year. White denim looks awesome with oversized sweaters, cardigans and coats during the fall and winter seasons. That said, it was a pretty exciting moment when I laid my eyes on this gray, oversized and pearl embellished sweater at Zara to pair with them. Zara is one of MOA's newest stores, and I'm psyched about the addition of this Spanish fashion chain that offers affordable on-trend clothing (comparable to H&M). They have some of the coolest and unique pieces. As a big fan of pearl embellishments this season, this sweater was a great find to style with my white denim!
Bralettes add a feminine touch to a slouchy sweater, and this one from Free People is the 2nd color I have in this particular style. I purchased the white in July, and knew I wanted to grab another one in a different color, since it adds so much to an outfit. This marsala color is gorgeous for fall!
During my Free People stop, the heavens sang when I saw this reversible velvet & vegan leather tote. I've seen these reversible vegan leather totes around and have always wanted to get one, but never knew what color combination to get. However, seeing this velvet/leather one at MOA was the first velvet one I've seen anywhere, and it had my name all over it! I love the option to add the detachable shoulder strap, and the tote comes with 2 zip pouches inside for organization. Not enough good things to say about this one, guys! The reversed side is styled in my 2nd fall outfit idea below.
Now onto my sneakers – did you know that Toms carries sneakers for women?! Maybe I missed the memo, but I have not seen these adorable sneakers yet, so I was allll over them at the Toms at Mall of America (yes, they have their own store at MOA!). And what better excuse to get a cute new pair of Toms sneakers – Toms gives a pair of shoes to someone in need with every pair you purchase.
---
Fall Outfit Idea #2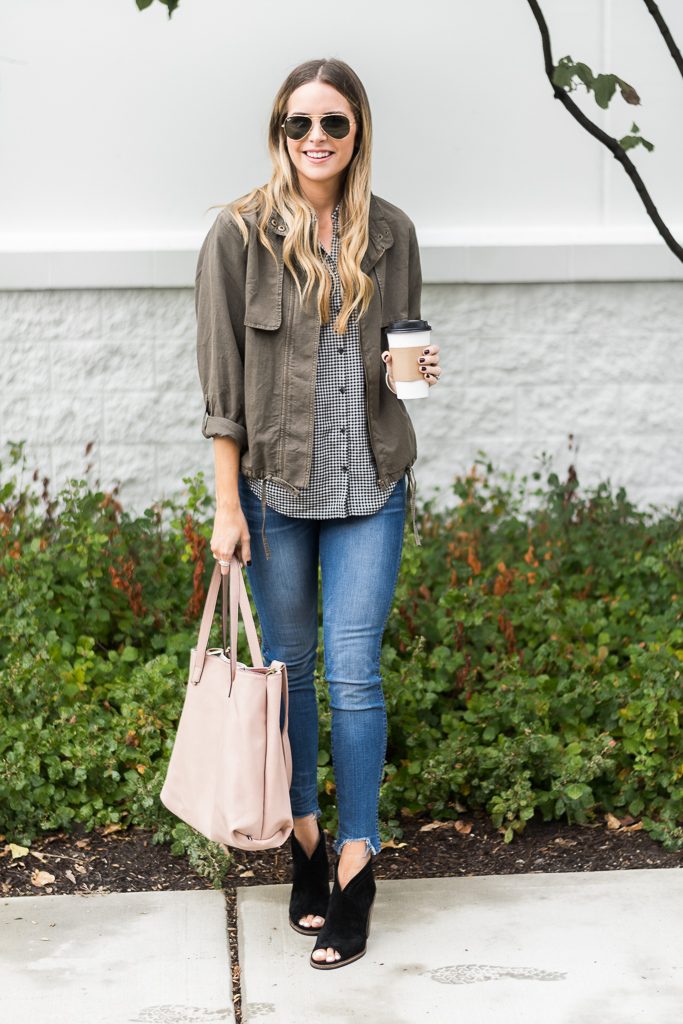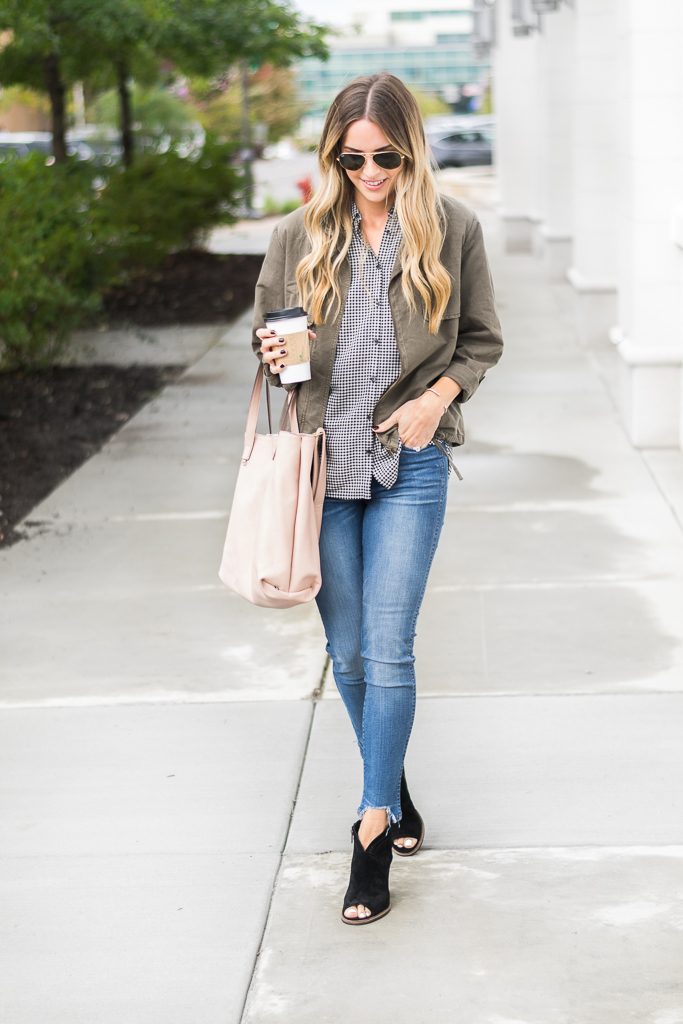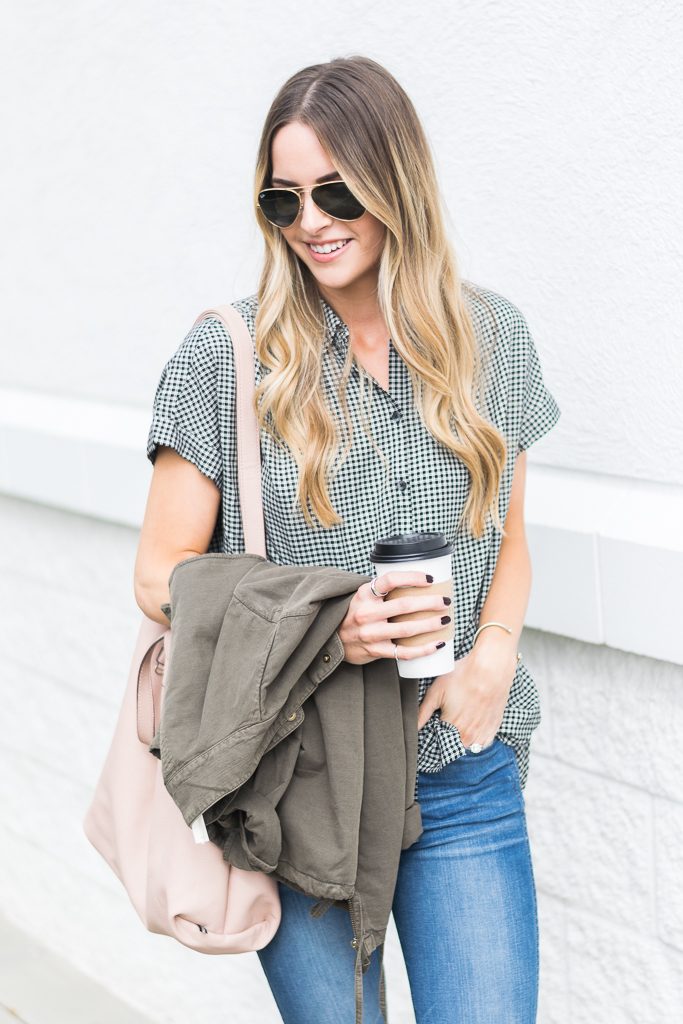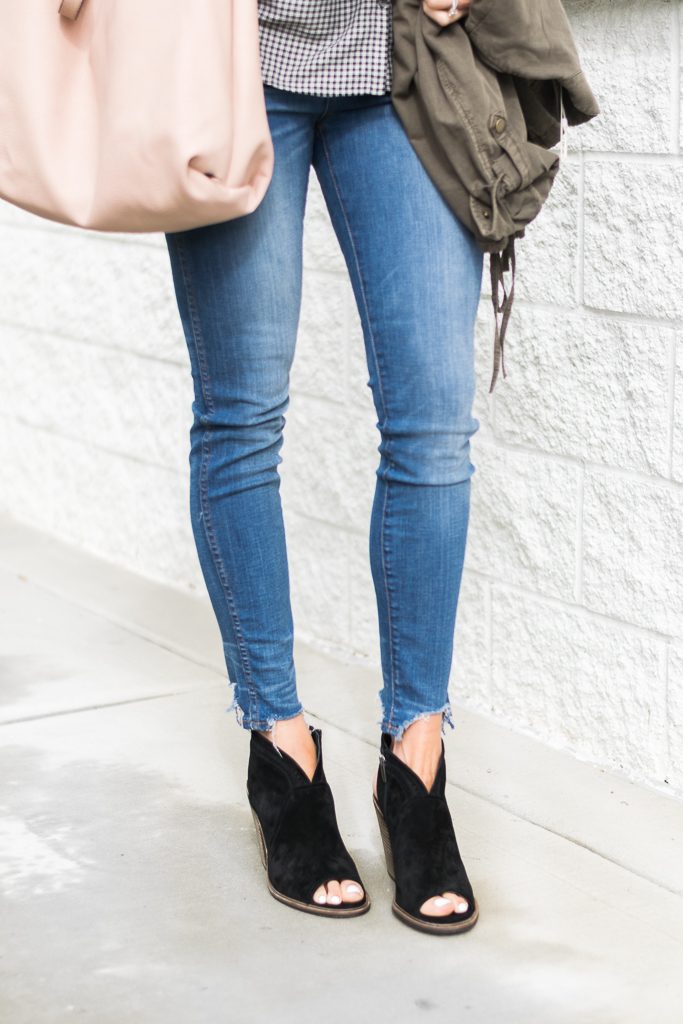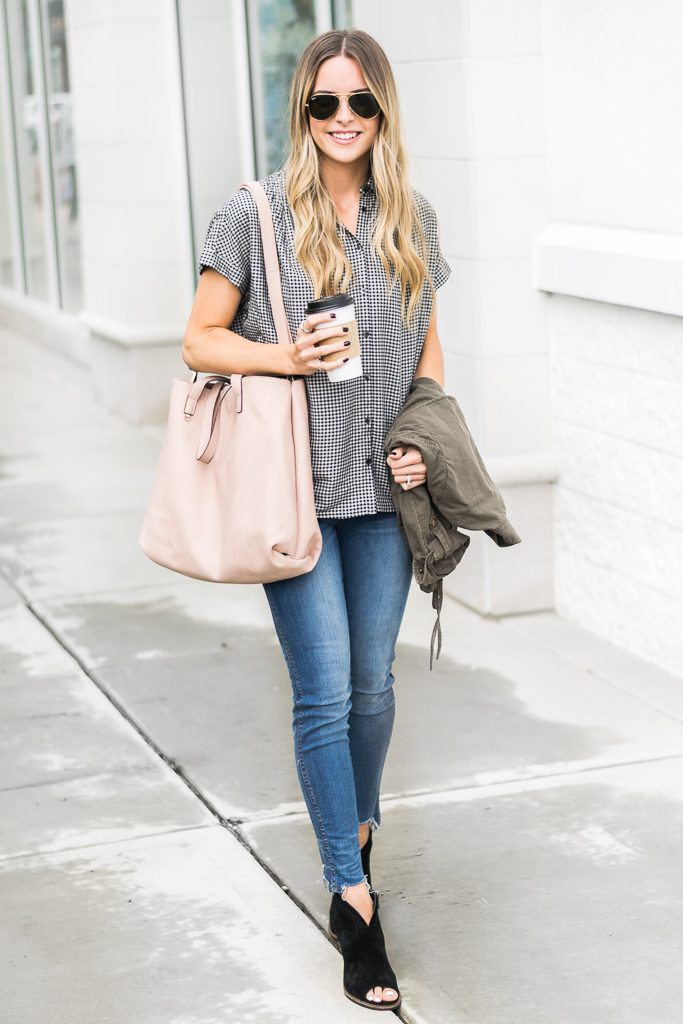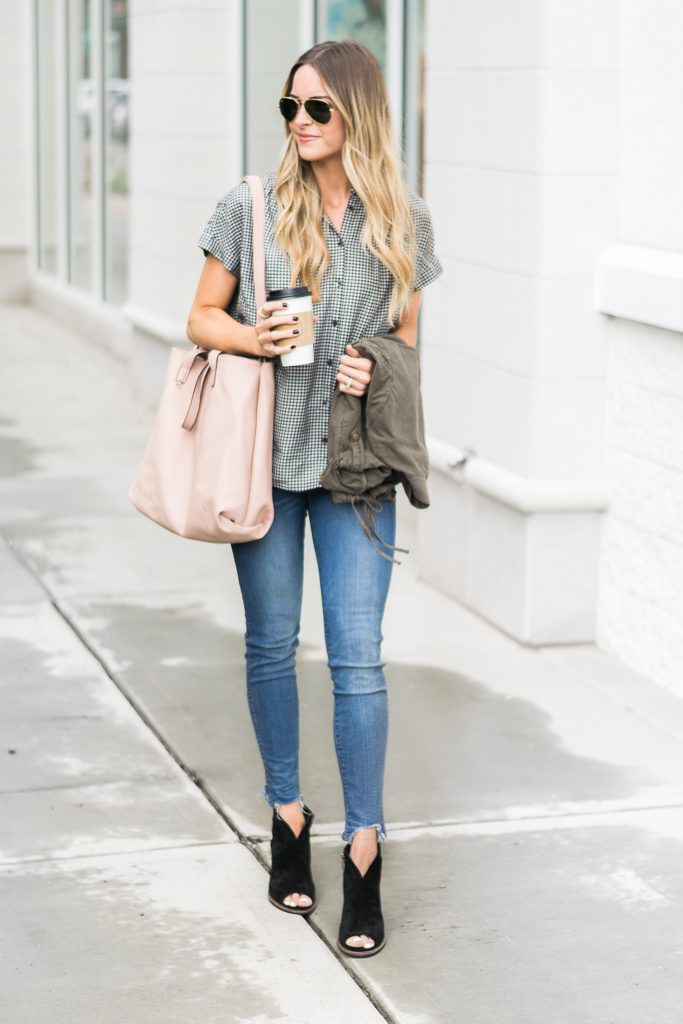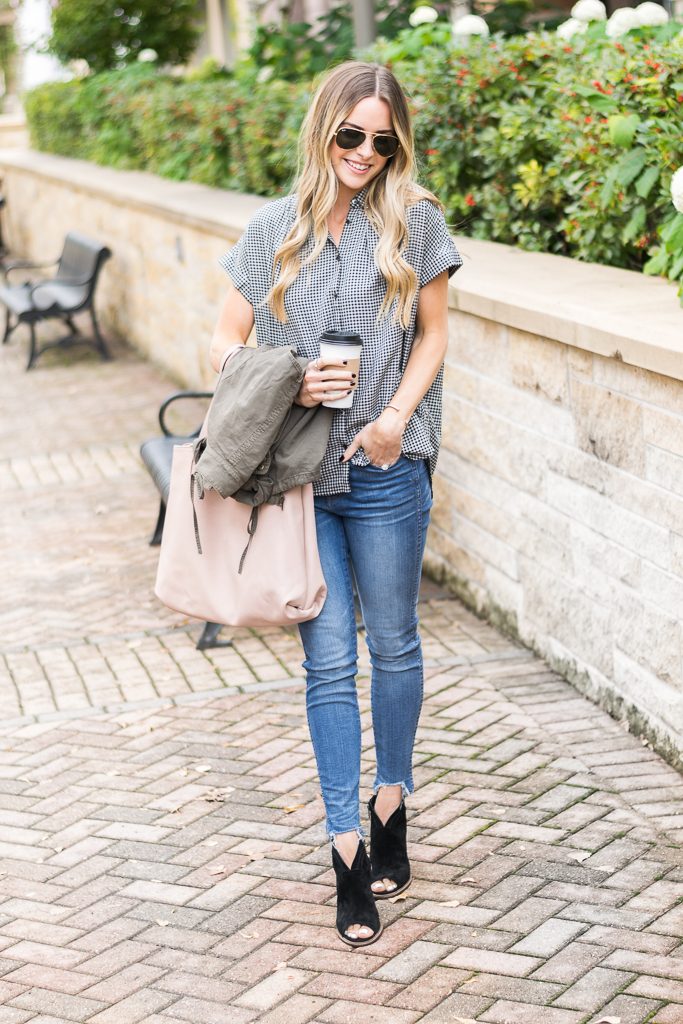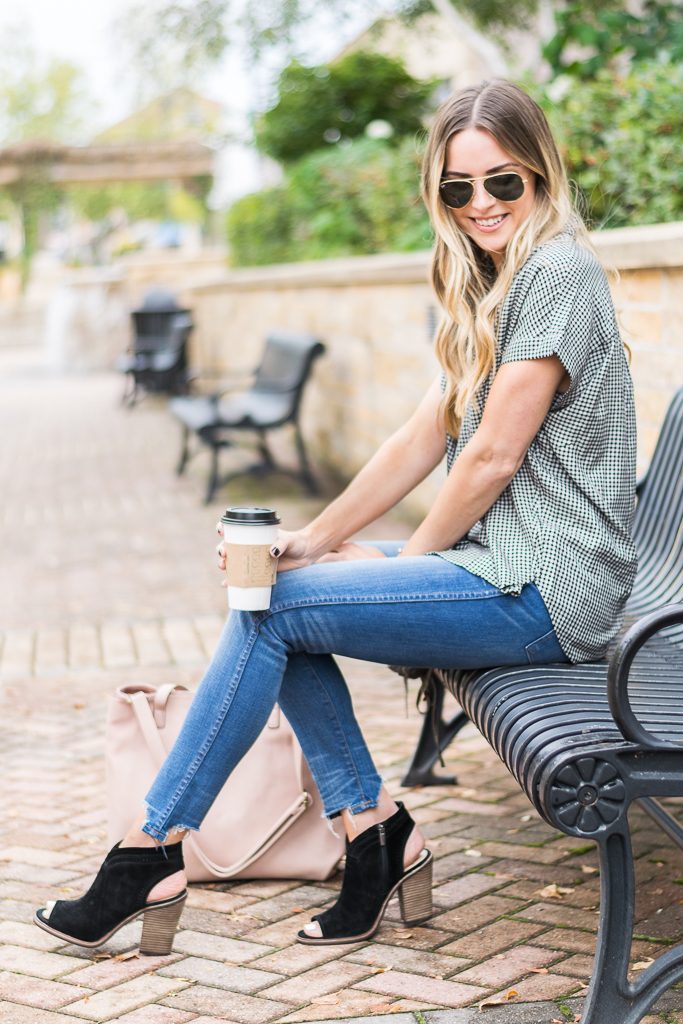 WHAT I WORE:

There are a lot of versatile options for fall fashion, and a good utility jacket, long plaid shirt, and a great pair of jeans need to be at the top of your list. I found
this drawstring utility jacket
from
Nordstrom MOA
, and went up one size to flow with the oversized jacket trend that's going on (wearing a medium). Throw this jacket over a plaid shirt like I did, a sweater, hoodie, tshirt, and/or accompany with a scarf, and you have one commonly reached for item in your closet! The customer service at Nordstrom MOA is always top notch when I visit, which is also worth noting – something I definitely look for when I'm shopping in stores!
Next up in your versatile wardrobe is a longer plaid shirt. Why longer? If you were watching my Insta Stories during my trip to the MOA this past weekend, you would have seen all the different ways that I styled this plaid Madewell top in the Madewell dressing room, and wearing it underneath a sweater is one of them. It looks adorable peeking underneath, and is a total game changer for your outfit! I also styled it under an open front cardigan sweater, which was one of my favorite combinations. Having a longer plaid shirt also gives you the option to wear it with leggings, and what girl doesn't love that option?!
Peep toe booties are another fun variation to boots – and make a great choice for transitional footwear from season to season. I found these black suede Vince Camuto peep toe booties at Nordstrom Rack at the MOA (yes, they even have a Nordstrom Rack! And Marshalls too!) at a fraction of the original price.
Like I mentioned above, I used my same reversible tote from Free People on my first look, but reversed it to the vegan leather side! It's a really pretty pale blush, and a perfect neutral bag for work or on-the-go.
---
Fall Outfit Idea #3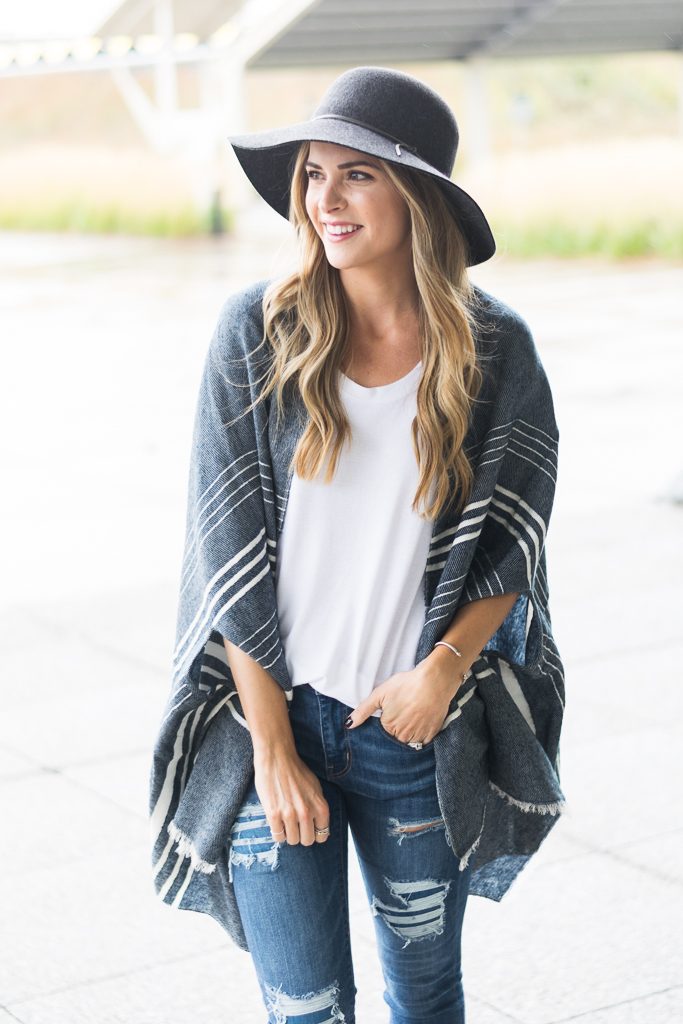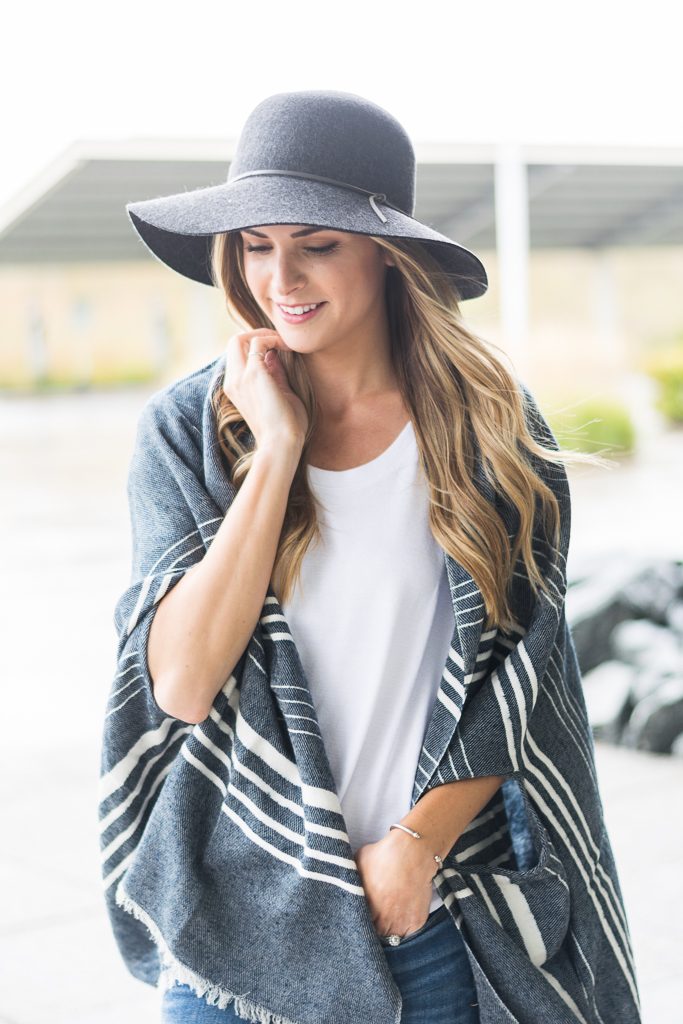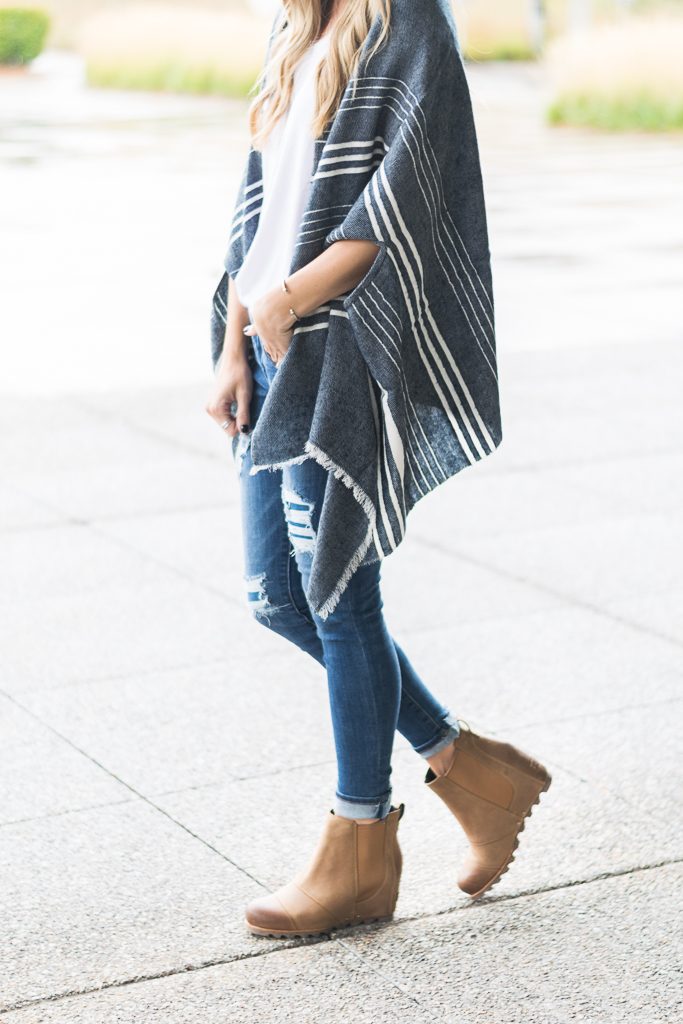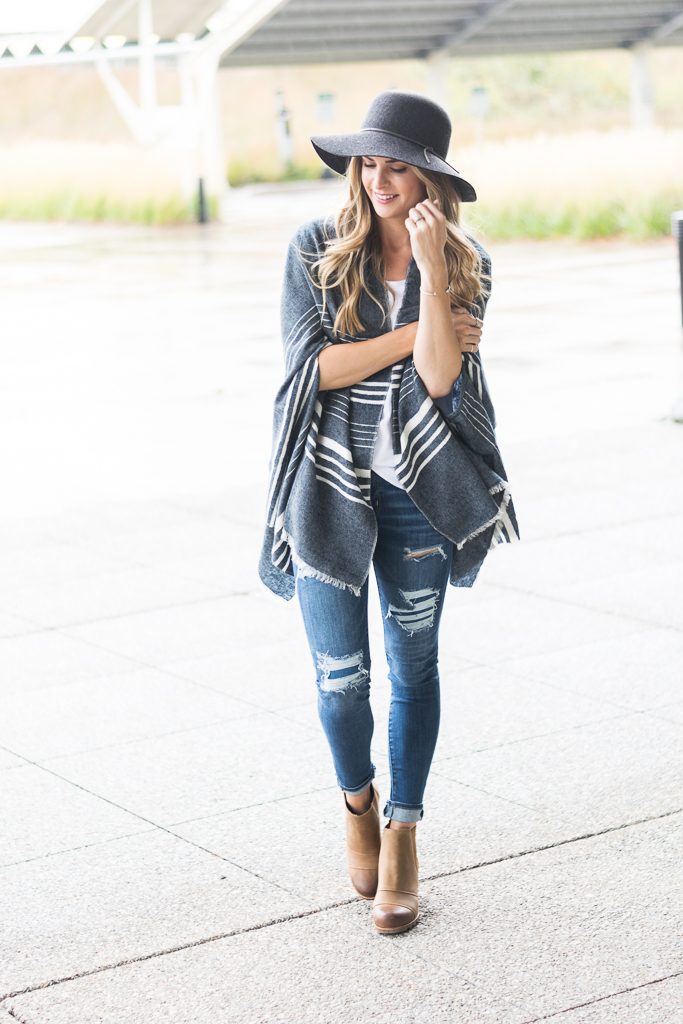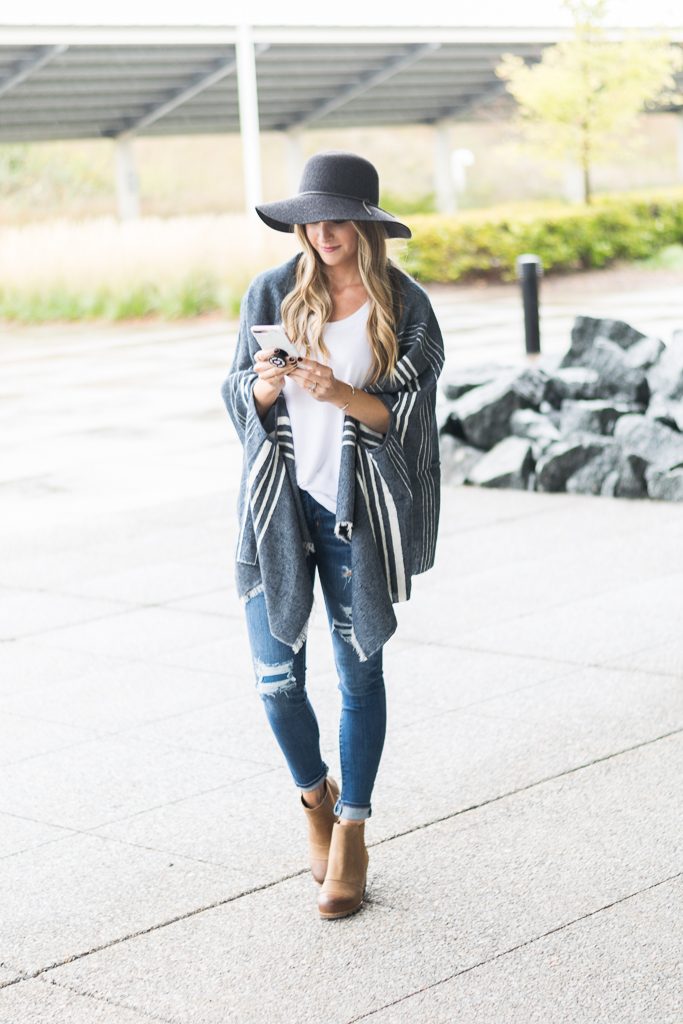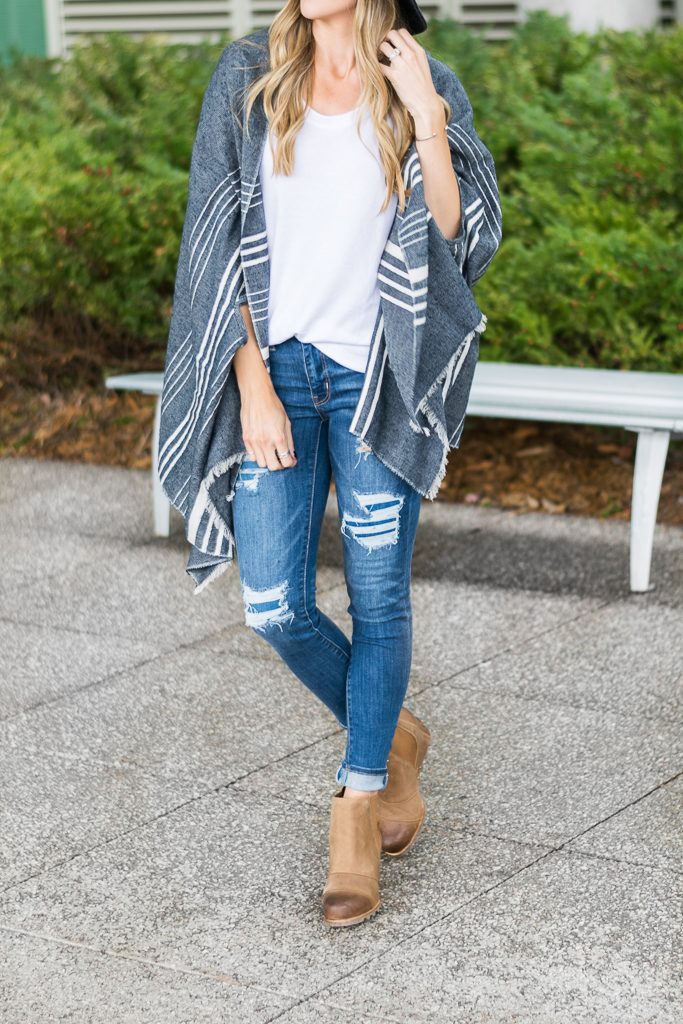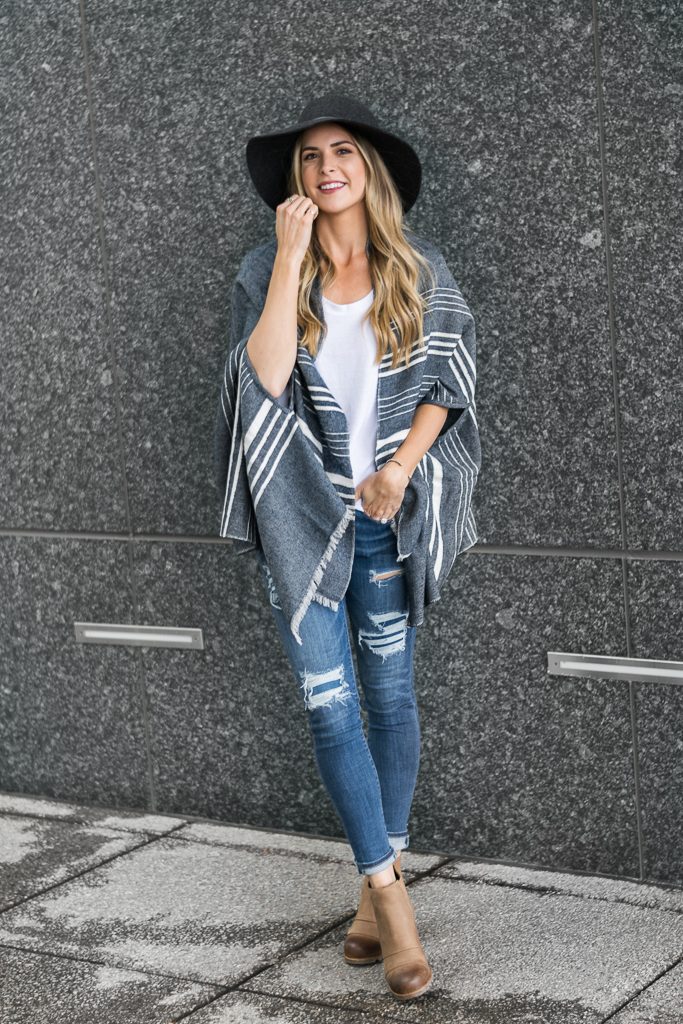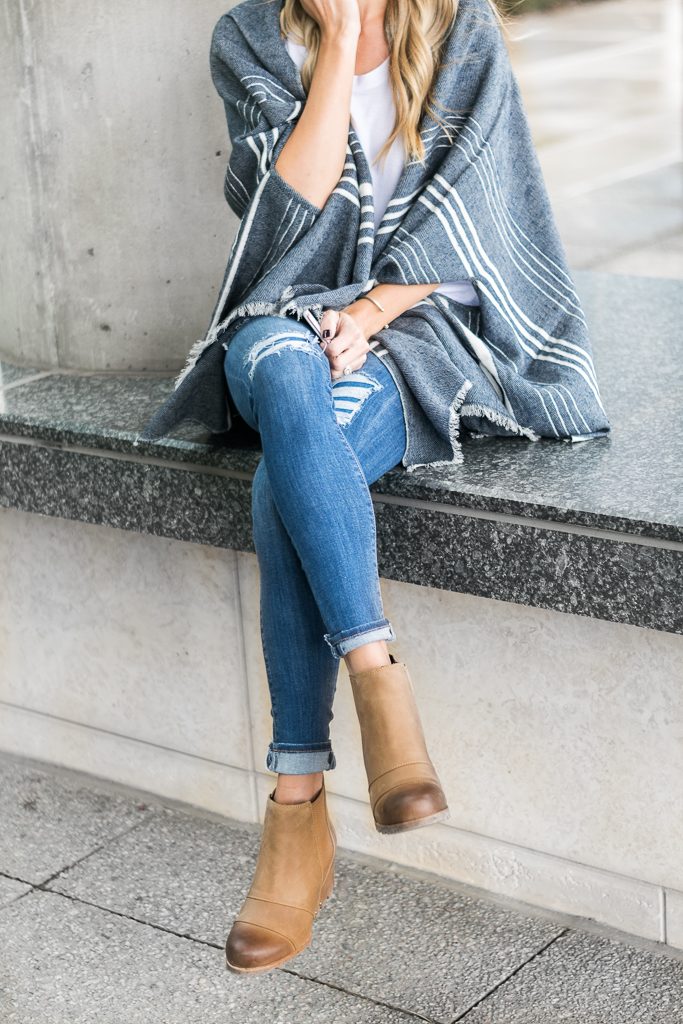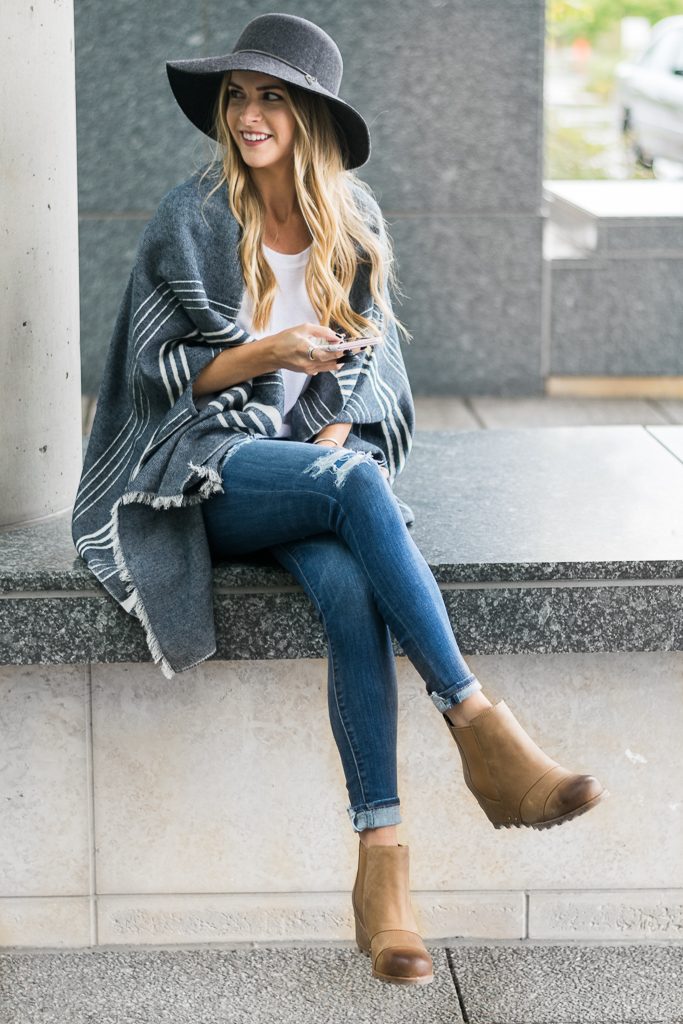 WHAT I WORE:

Alright guys, this look definitely takes the cake for being my favorite out of the 3! I fell in love with
this cape scarf
I found in store at
J.Crew MOA
that literally feels like being hugged by a blanket all day. Theeee best! The arm holes help it stay on, and most wraps like this don't have that feature. It also came in a heather gray color with a red stripe, which is another really cute alternative!
The white tee I'm wearing underneath is the perfect basic to have on hand for layering. I found this one at GAP, and it's a part of their softspun collection (SO soft, and made out of a little thicker material than an ordinary tee). You can't quite see the hem or sleeves of it, but it has a really cute circle hem and slightly pre-rolled sleeves!
I already received lots of comments and questions about these jeans when I posted a preview of this look on my Instagram! They are extra unique with the patching on the rips, and I'm obsessed with that look! Under $60 and fit the bill. Thank you, American Eagle! AE is quite easy to get to at the MOA, since there are 2 inside the mall! For sizing, I did go up one size, but I did notice that they do stretch a bit with wear. I still recommend going up one size though, especially if you wash your jeans and put them in the dryer… they will probably shrink right up again. 🙂
Can I get an amen for finding these waterproof wedge boots that aren't clunky or bulky, AND look chic?! As a woman who lives in Minnesota, I've been searching for these my whole womanhood. I have some great snow boots from Sorel, Sperry duck boots and Hunter Boots, but I can't exactly wear them to work when I'm meeting with clients. These Sorel Lea Wedge Boots, however, totally can play that role and function well in the MN winters. Love, love, love these. I got them at the Sorel (another gem of a store find at MOA), and they come in other colors too, like redwood (so pretty!), gray and black. Make sure you go down 1/2 size, they do run slightly large.
The cherry on top of this look was my floppy hat! Floppy hats make you look like you put a lot of effort into your look, when really, you are just trying to hide your bad hair day. 😉 This one is made out of genuine wool & leather (the strap), and I scored it for only $29 at Nordstrom Rack! Steal of a deal, since it was originally over $50.
---
There you have it, kids! I hope these 3 looks helped you out curate your shopping list for your next Mall of America venture this fall, or at least inspired you! Now, I need to know… which look is your favorite? I want to hear from you! 🙂

Thank you Mall of America for sponsoring this post.