Holy moly, where has time gone?! I honestly thought pregnancy was going to feel like forever, but it has seriously flown by at rapid speed ever since we found out the gender of Baby Brown. I'm already 2 weeks into my 3rd trimester and we are less than 9 weeks away from Baby Brown's due date… things are starting to feel very real over here!! Today, I'm sharing a little 31 week bumpdate, a huge life update, and a little giveaway prize at the bottom of the post. 🙂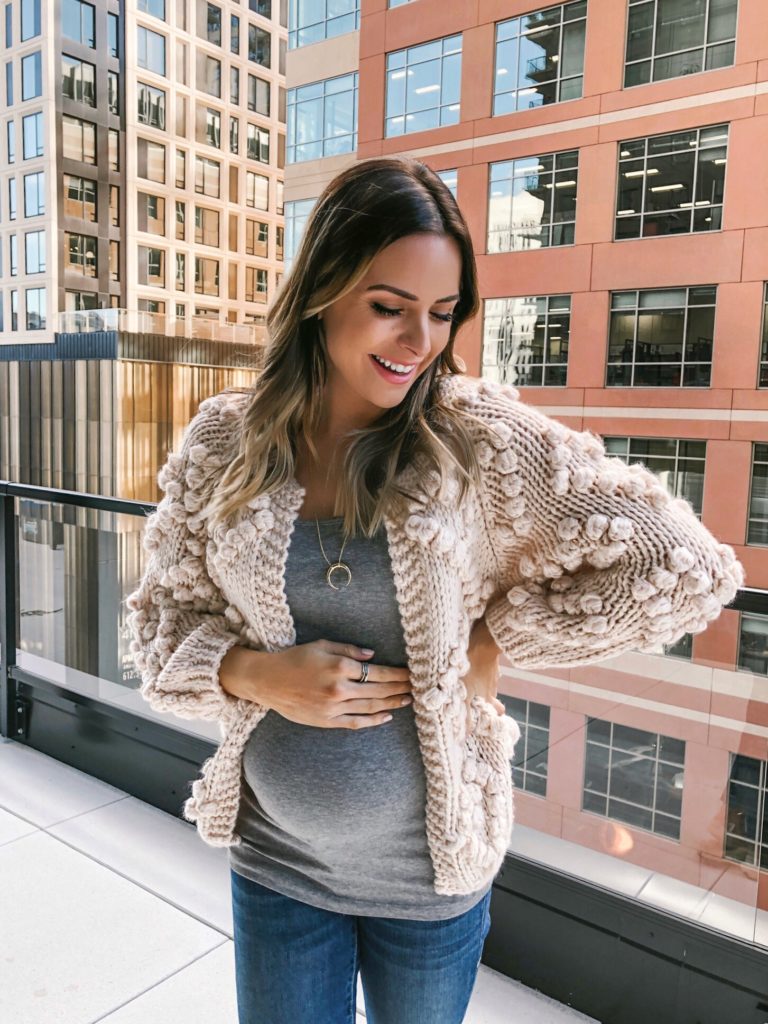 OUTFIT DETAILS:
Cardigan (wearing the S-M) | Maternity Tank (TTS, wearing the S. Also have in white!) | Good American Maternity Jeans | Crescent Necklace (20% off today with code CYBER20)
---
Here are some fun little bump updates since my previous bumpdate posts (20 weeks, first trimester):
We started seeing baby boy move around in my stomach at 25 weeks! It's the craziest thing!!
Hunger – all the time! I am snacking every 2-3 hours or my stomach growls loudly – or maybe thats baby growling for more food, lol 😉
Nursery progress!! I am so excited to share a nursery reveal on my blog next month. My Insta story fam has been getting some sneak peeks! 🙂 Everything is coming together, even though I cried about how our paint color turned out initially… haha. I listened to a lot of your guys' advice about waiting to decide if we wanted to repaint after we tried adding some furniture and warm touches. That helped tremendously, and now I am perfectly fine with the color, although it's not necessarily my first choice. Paint can be so difficult! I recommend getting paint samples to test out on your walls before you commit to one color… lesson learned 😛
Starting to feel uncomfortable very easily and needing to adjust often when sitting or laying down/sleeping. This has been the trickiest part! I haven't been sleeping as well because of this. And because baby B kicks like CRAZY at night! Sleeping with a soft, king-sized pillow on my front side and another one between my legs has helped a lot. My pregnancy pillow is too big and too firm to sleep with.
I was anxiously waiting to start feeling baby the baby hiccup, and I just started feeling them a couple of weeks ago (29 weeks)! And he has been hiccuping a ton ever since, haha!
Baby showers – I had my first one thrown by my mom and sisters a couple of weeks ago, and it was so much fun! I am truly blessed to know such beautiful women, inside and out. Some of my girlfriends and my side of the family (with the addition of my mother-in-law) attended this one, and they spoiled the little man so much!! I have my 2nd baby shower that is being thrown by my MIL and sister-in-laws next weekend, and I can't wait!
Baby measuring on track by week – it's actually mind blowing to me that my stomach measures the same amount of centimeters as the amount of weeks pregnant I am at each check up! I didn't realize that was a thing… but, baby is measuring right on track. 🙂 I did have a big weight gain jump between one of my 2 week checkups (I think it was 6 or 7lbs), but that was right after we got back from our babymoon where we completely indulged in all the food. The nurse mentioned that it was a quick jump, so I'm glad that everything is regular again and I'm back on track, haha!
My legs and feet are starting to swell after a lot of time on my feet – ouch! I know this is a common thing, but this girl is very go-go-go, so it's been an adjustment!
Life Update:
And, last but not least – a huge life update. 🙂 I've gotten a lot of guesses from all of you, and most of you nailed it: I am taking my blog full-time!! My last day at my full time job as an account manager at an (awesome) advertising and design company was last Wednesday before Thanksgiving. It is so bittersweet, but so exciting. This has been something I have been dreaming of doing, and thanks to the amazing support from all of you, it makes the most sense to make this transition now! I'm so incredibly grateful for the opportunity to be able to do so and take it easy/"nest" before baby's arrival in January.
The transition and timing really couldn't be better, since the holidays are such a busy time for blogging (my November and December schedule is PACKED!), and I'm getting so close to my due date. I loved my full time job and had a hard time leaving (especially since I worked with such amazing and talented people), but I am so excited to be able to pursue my passion full time now. 🙂 God is SO good! His timing doesn't always make sense at the time (3-4 years ago I was really struggling with my career path as a teacher, prior to my most recent job), but remember: He has a plan for all of us, and what's meant to be will make it's way.
I am so excited to be able to invest more time into The Styled Press and my social accounts so I can provide you guys more content! Time management was so difficult with juggling my job, blog, friends, family and sleep, so getting more time in the day is such a gift. Again, this wouldn't have been possible without your support, so thank you!!! 🙂 And to help give back to you guys, I went in with a group of amazing bloggers to give away $1,000 to Nordstrom for the holiday season to a lucky reader!! Yay! Check out the steps on entering below. 🙂 Love you all!!

To make your holiday shopping a little bit easier, I've teamed up with a group of bloggers to give you
a chance to win a $1,000 Nordstrom Gift Card!
To enter: complete the steps in the rafflecopter below. The more steps you complete,
the more entries you receive, and the better your chance at winning!
This giveaway runs until Tuesday, December 11th at 2am CST.
Winner will be announced here. Good Luck!
*This giveaway is in no way sponsored by Nordstrom.