Hi all, happy Friday eve! I'm sharing some of my favorite Amazon finds in IG stories today, and wanted to keep them in a place that had more "shelf life" and easier to find down the road. So I think moving forward I will share my favorite Amazon finds with you guys each month!
This month's post is packed full (I did not buy all of this in July!), since I am sharing a lot of home finds that I've bought over the past year that I continue to use daily that I haven't all shared on my blog yet. Just wanted to add that disclaimer. 😉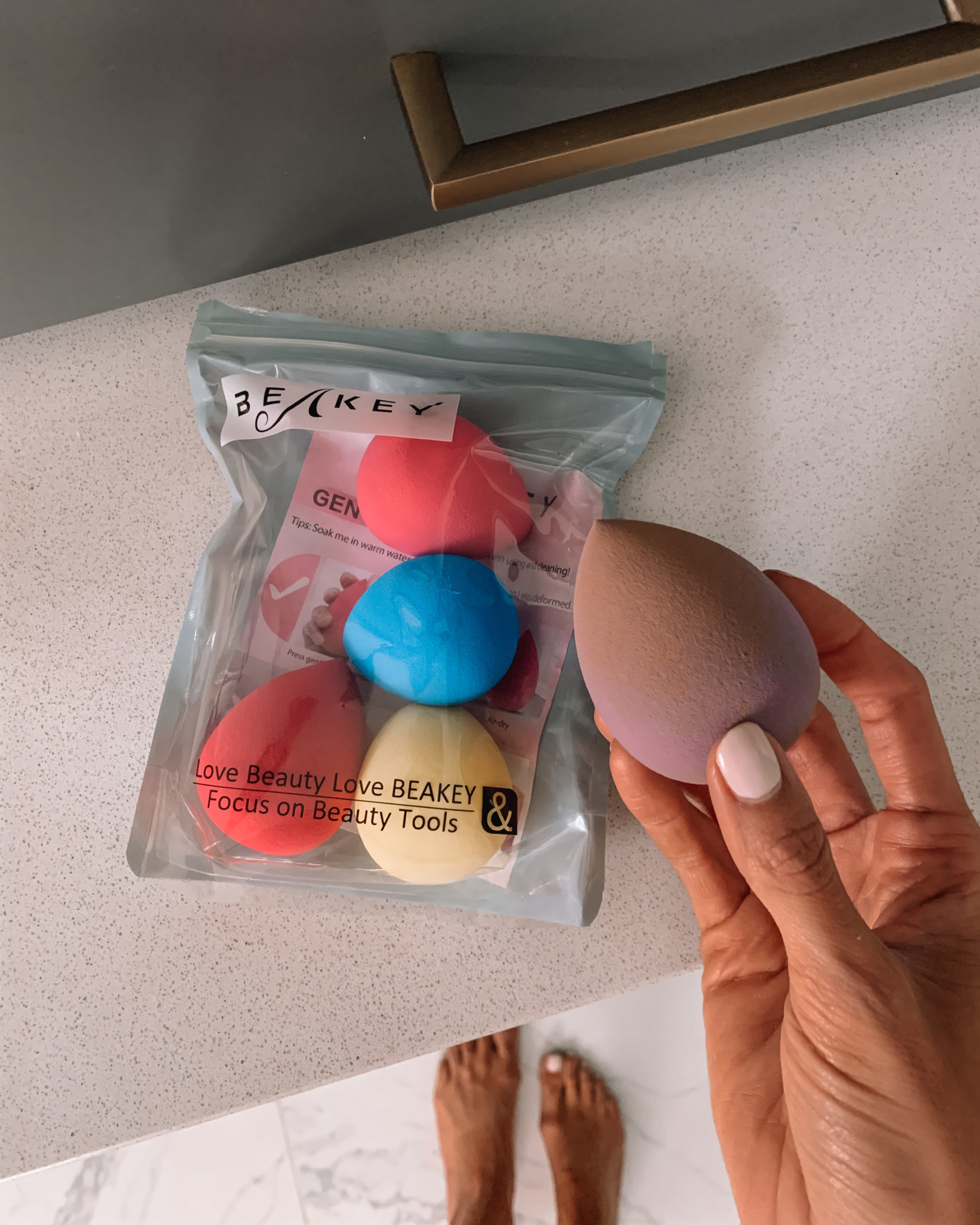 Beakey Beauty Blender Sponges: If you've been looking for an affordable BeautyBlender dupe, this is it! You can get 5 sponges for $7 with code TAYMBROWN. Dampen with water, squeeze out water and use to apply your foundation (base) and concealer (tip). So good!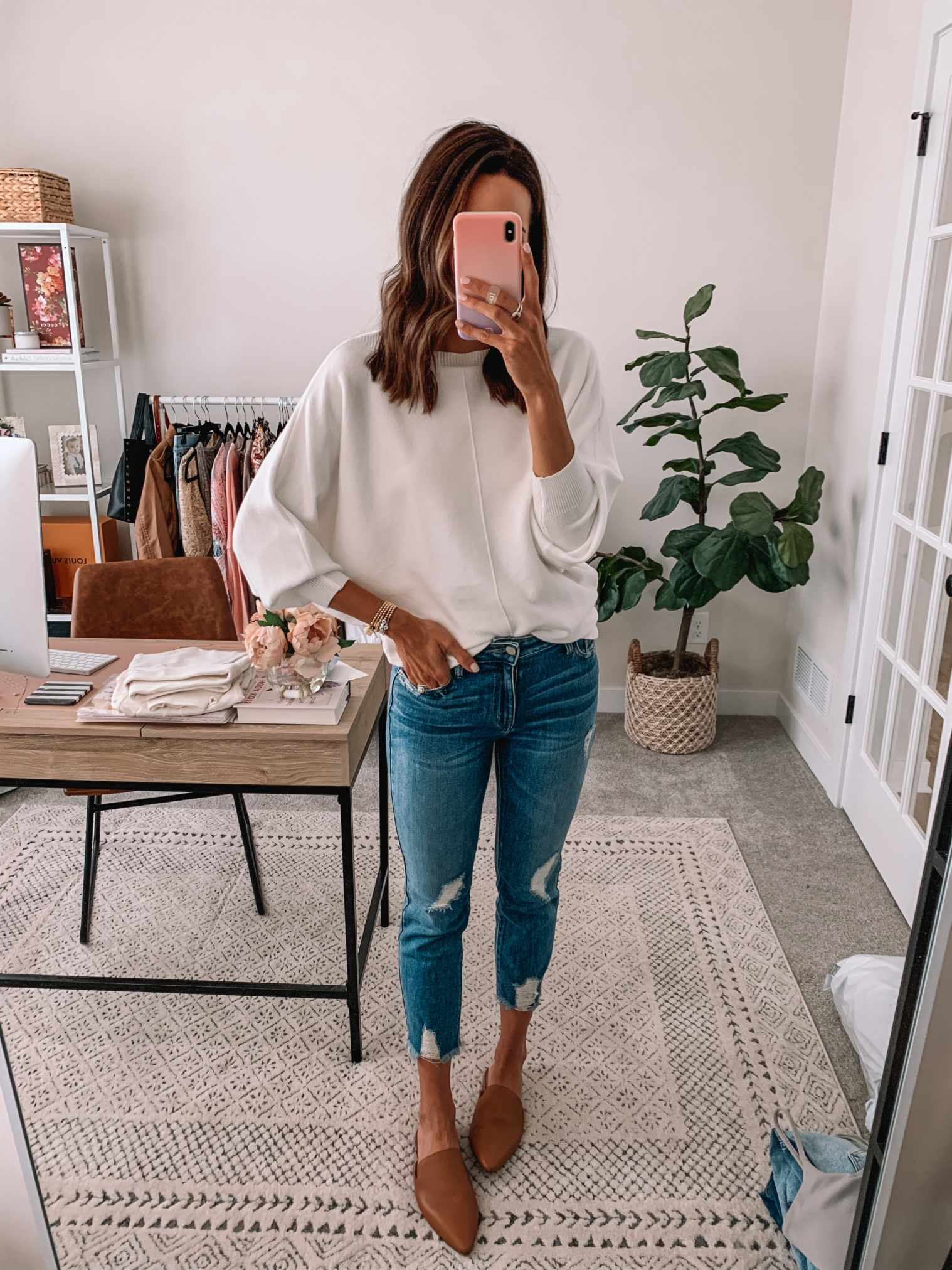 Batwing Sleeve Sweater: One of my favorite, if not my favorite, Amazon fashion pieces to date. I also have this in the beige color. Super soft and high quality! One-sized. Shop the rest of my look here.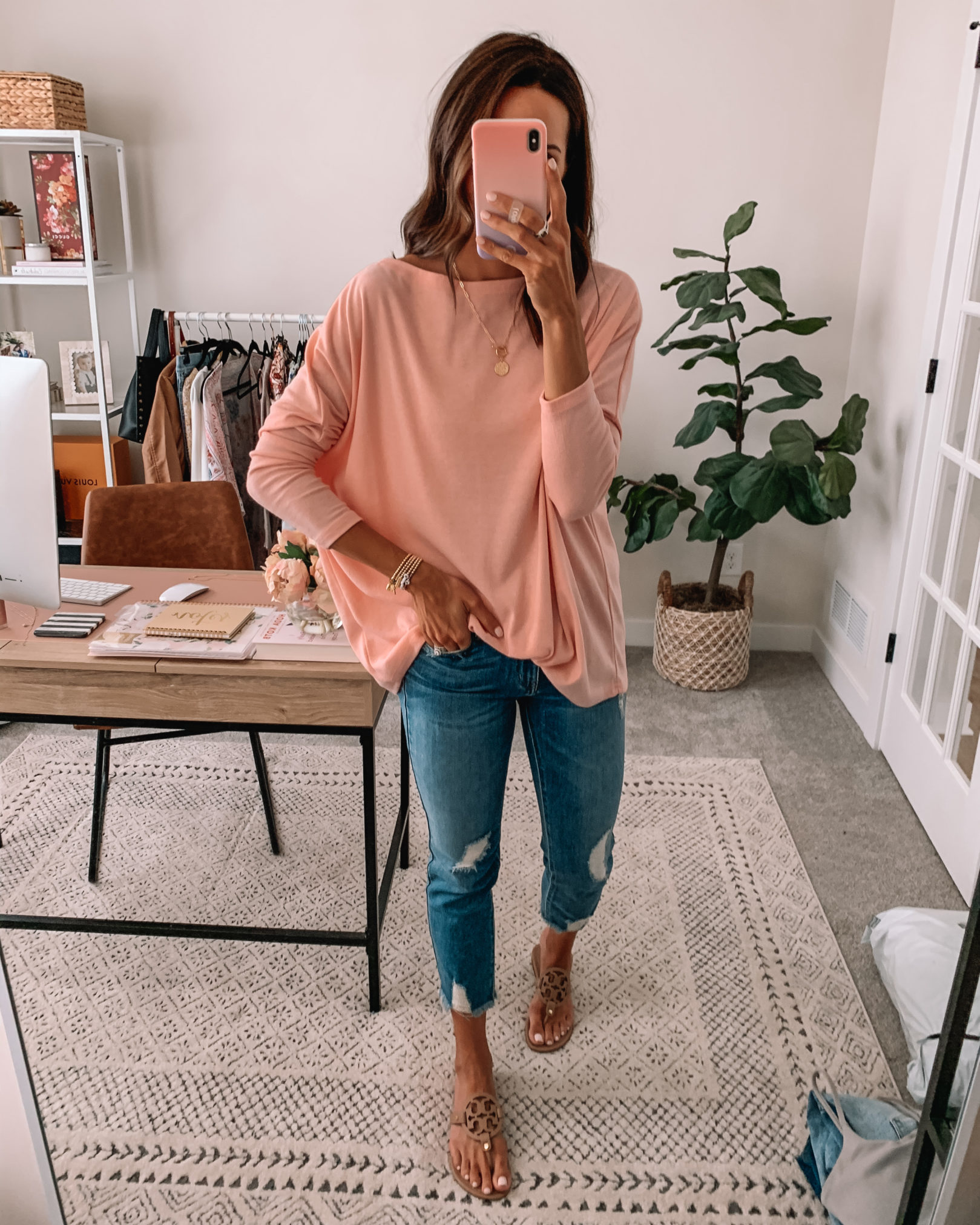 Tunic Top: Lightweight, long enough for leggings and soft! Comes in several colors and runs true to size (wearing the S). Shop the rest of my look here.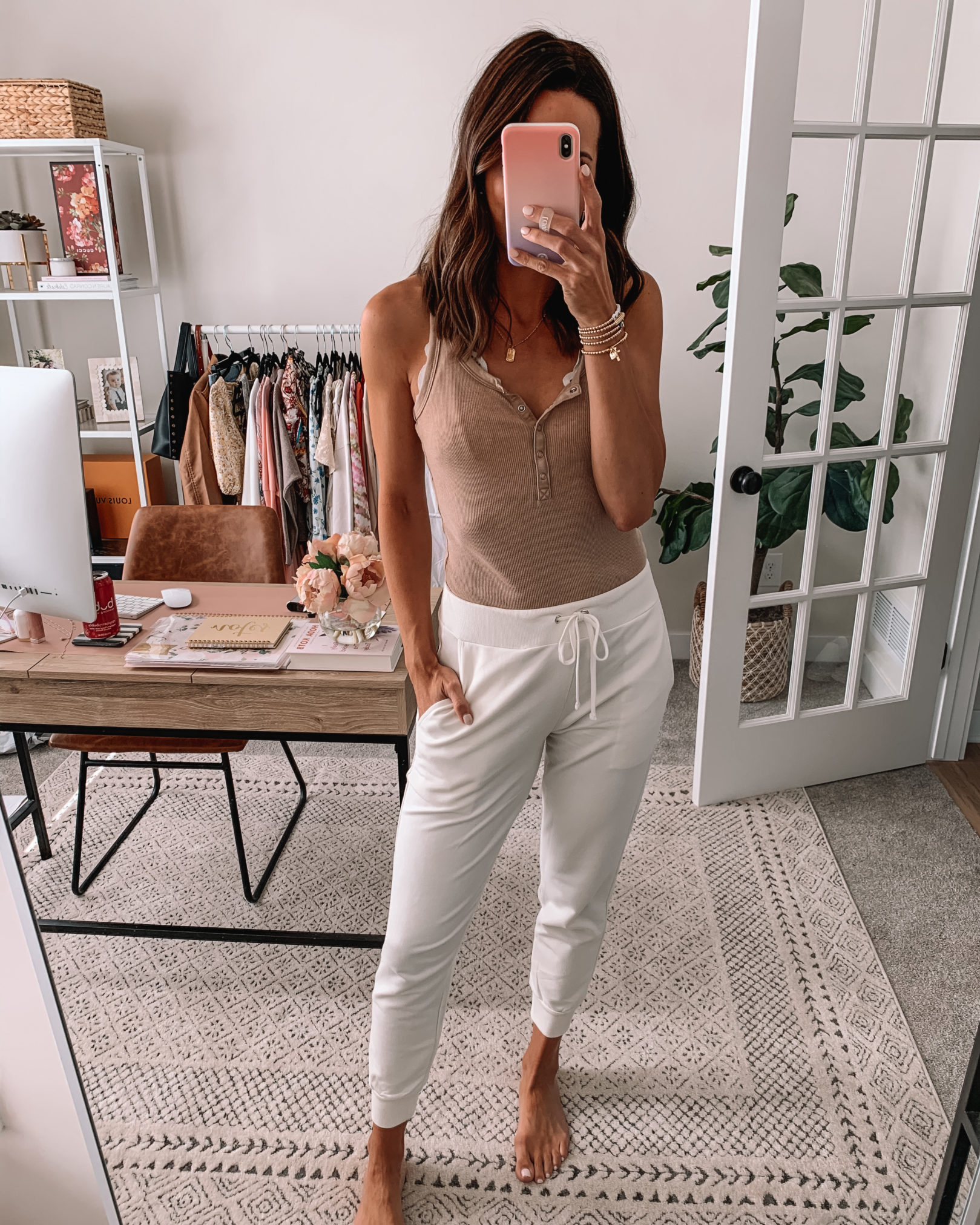 Jogger Sweatpants: These are SO soft and comfortable. I got them in black too. True to size (wearing a S). Shop the rest of my look here.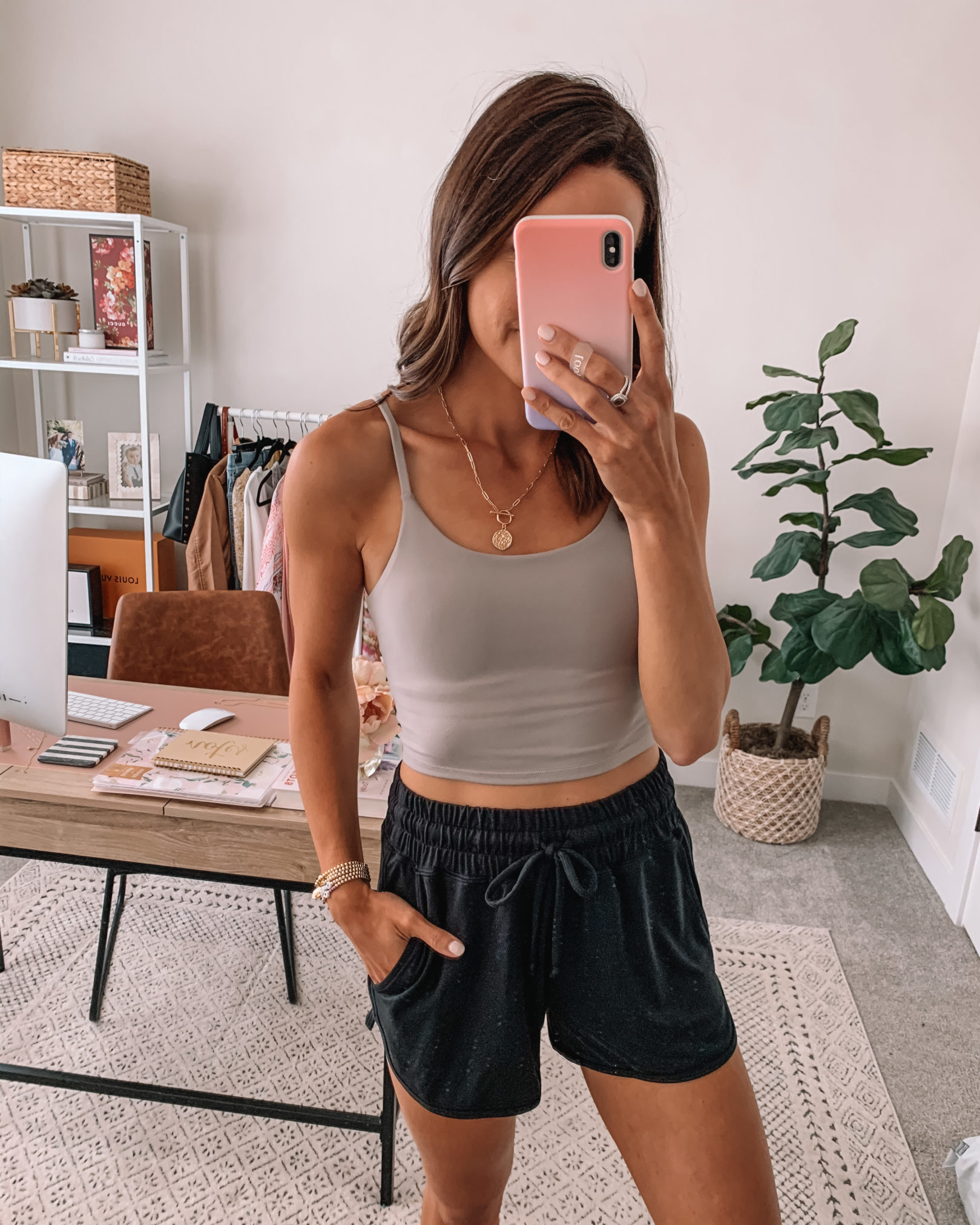 Padded Cropped Tank: This is so comfortable to wear on it's own with high-waisted shorts/jeans, or wearing under tops where you need a little extra coverage. I also have this in white, and it runs true to size (wearing a S). Shorts are by Fabletics and come out in August!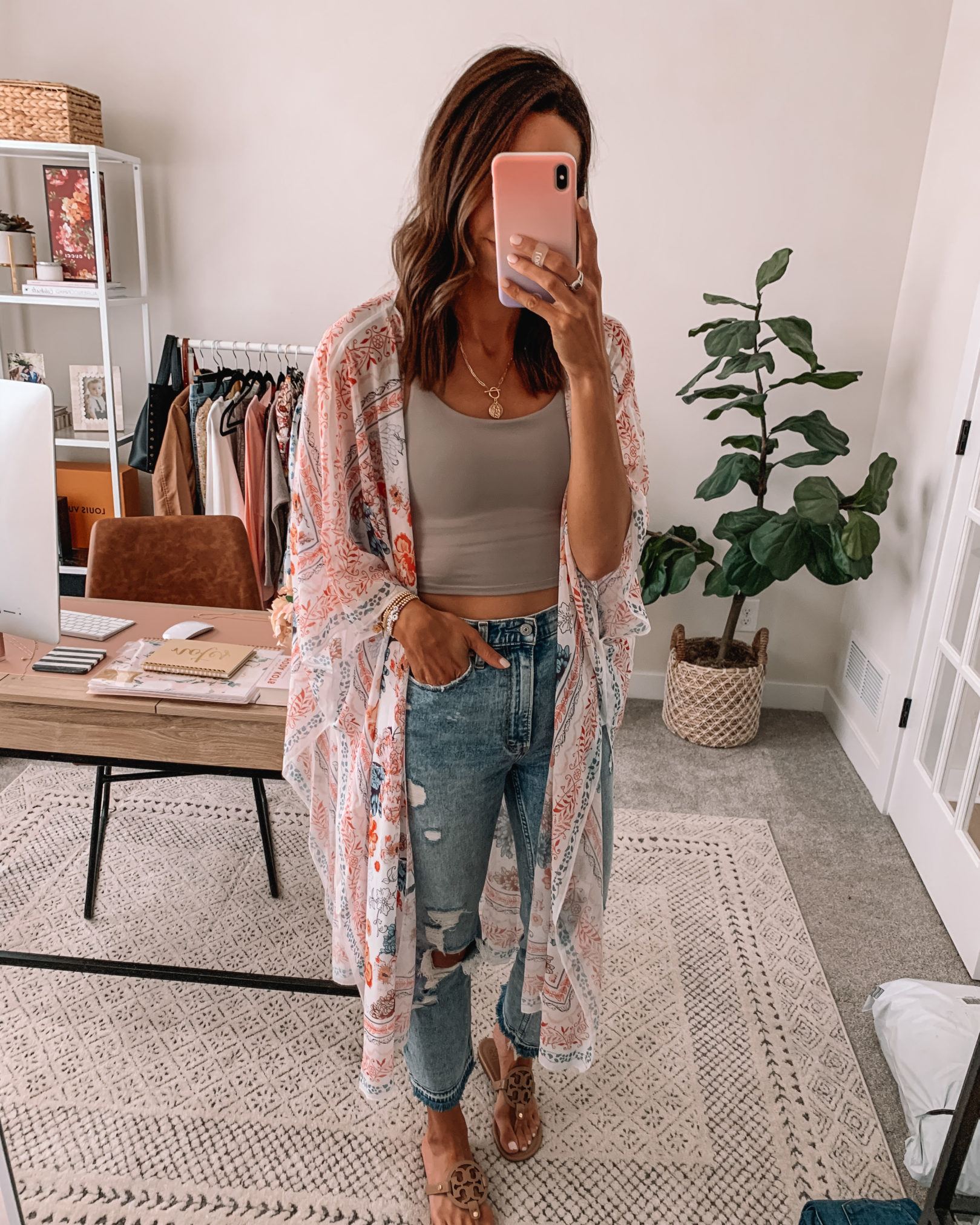 Kimono: So many colors and patterns in this affordable kimono! This is cute dressed up or down, or even worn as a swim coverup. Shop the rest of my look here.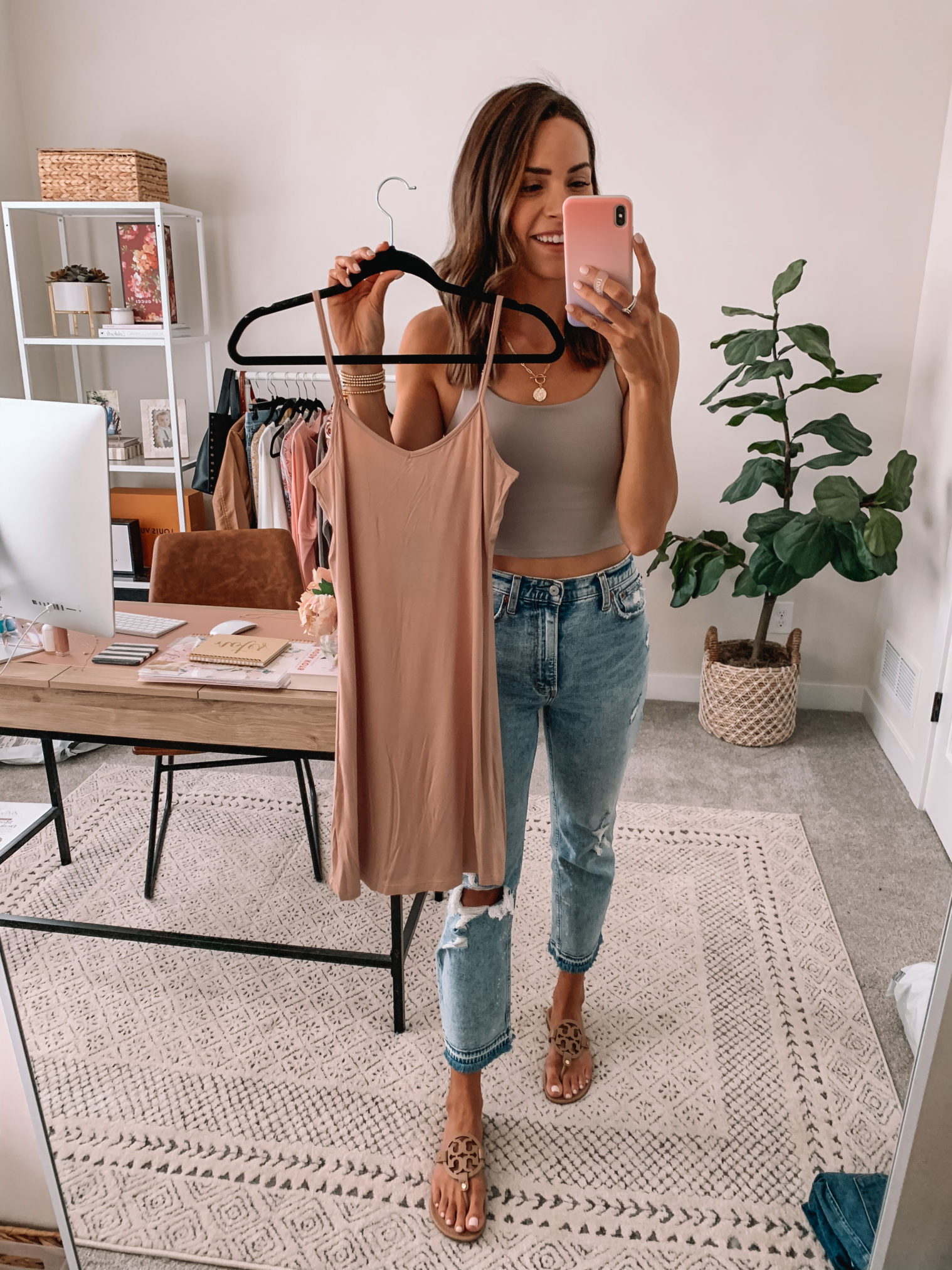 Under Dress Slip: This is something every woman should have in her closet! Some dresses require a slip underneath, and this is the perfect one. Adjustable straps, comfortable, lightweight and sits above your knees. True to size, I have a size small. Shop the rest of my look here.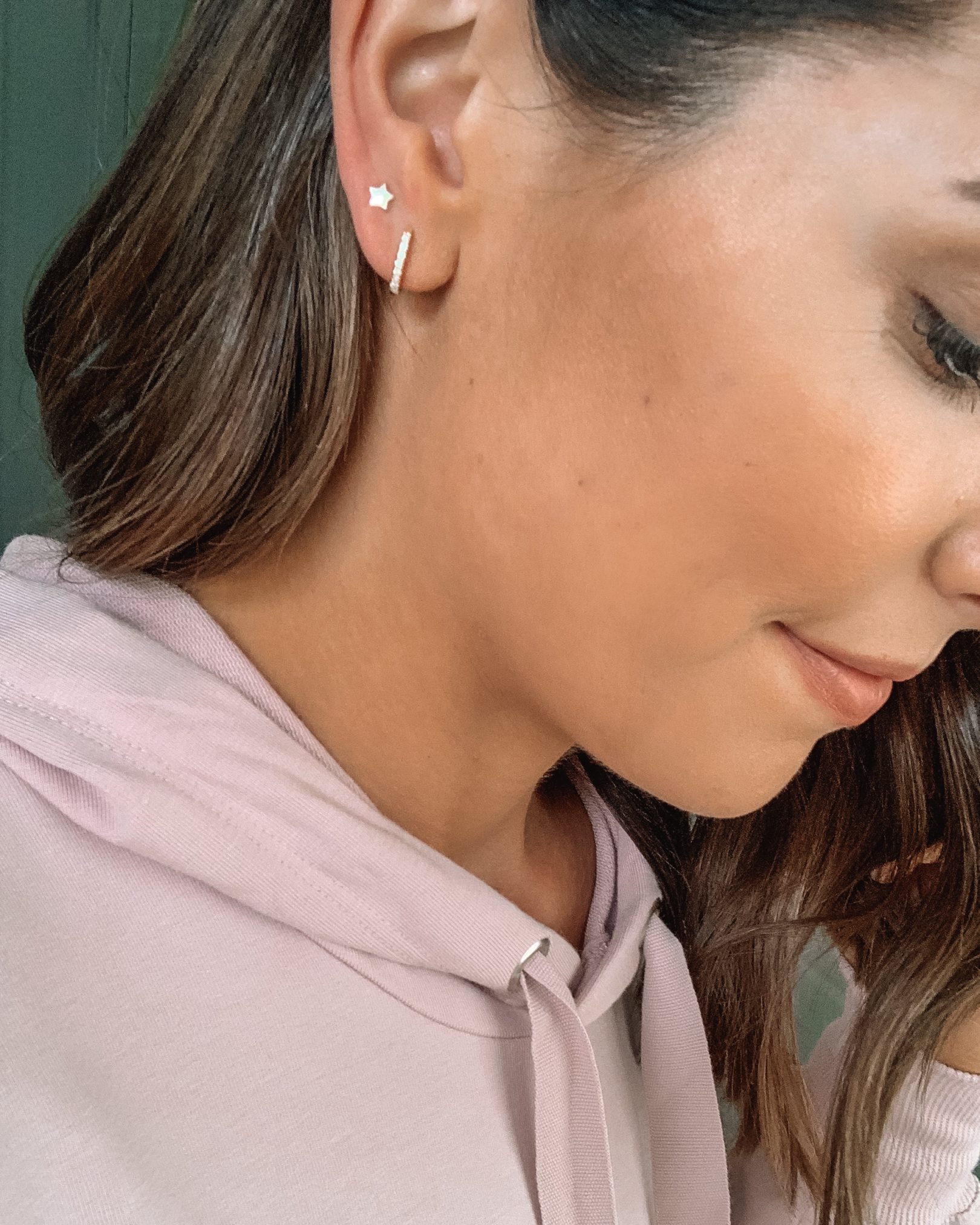 Star Studs & Huggie Hoops: These two pairs of earrings and the two pairs below have been on REPEAT! And guys, they are so so so inexpensive. I love them! Note, I have not tried showering in them to note on any sort of tarnishing (they have not tarnished with regular wear).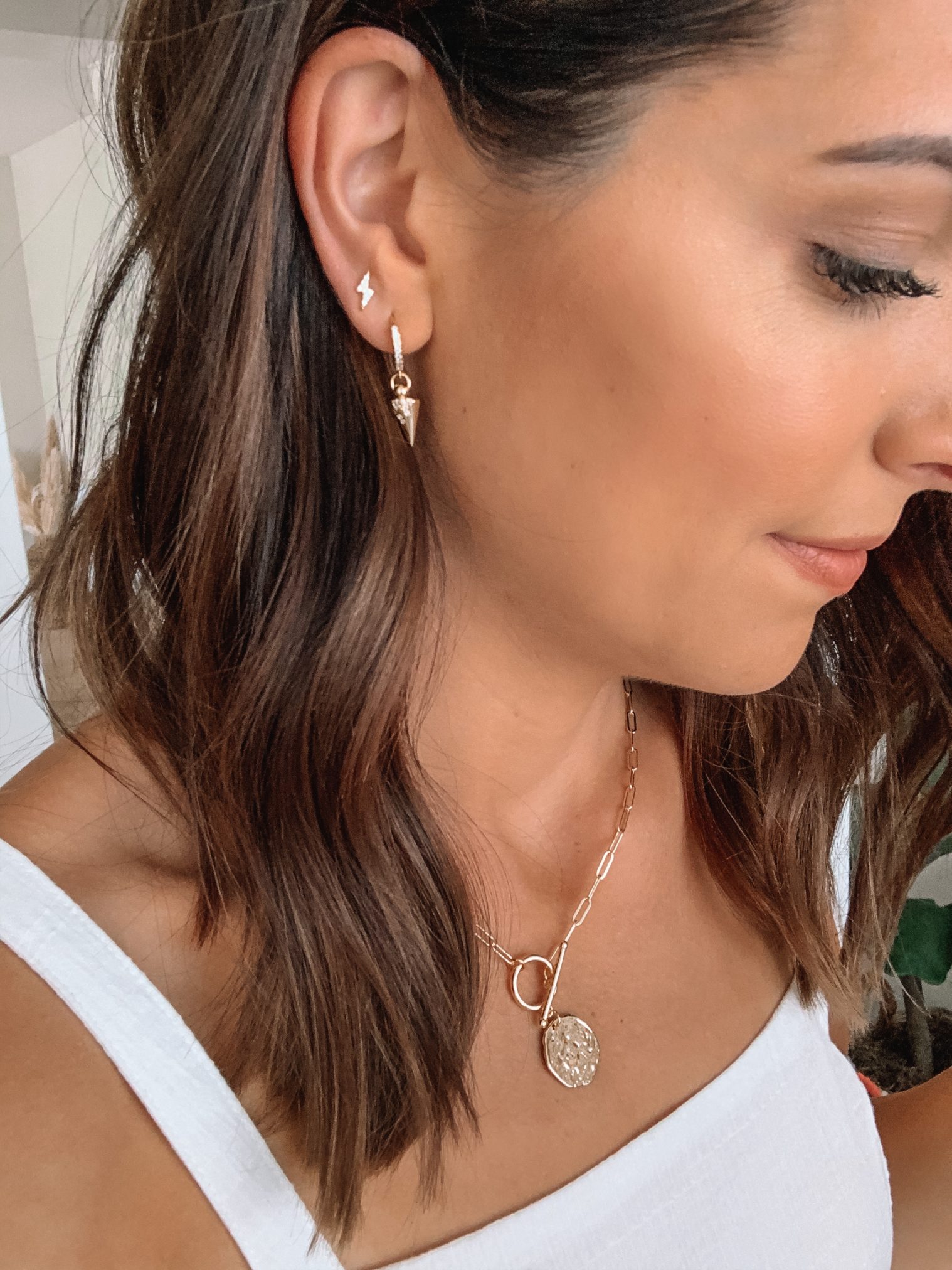 Bolt Studs, Spike Huge Earrings & Toggle Necklace: Another 2 pairs of earrings that I've been wearing constantly, in addition to this gold chain toggle necklace I just got this month – it's under $14!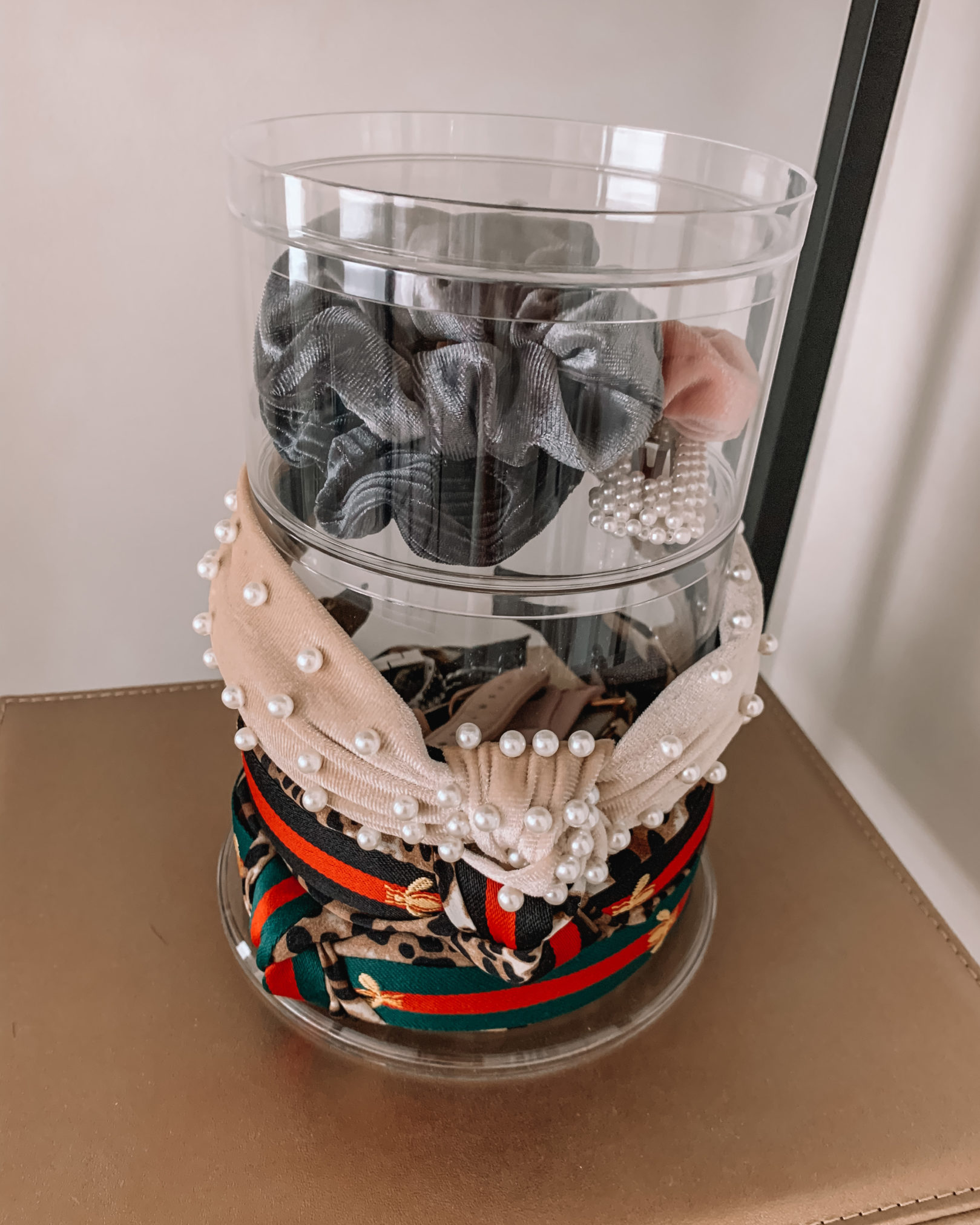 Headband and Hair Accessory Holder: Love this thing! It's small and practical for holding headbands, hair ties and misc hair accessories. My headbands are also from Amazon – pearl velvet headband found here, leopard ones are unfortunately sold out.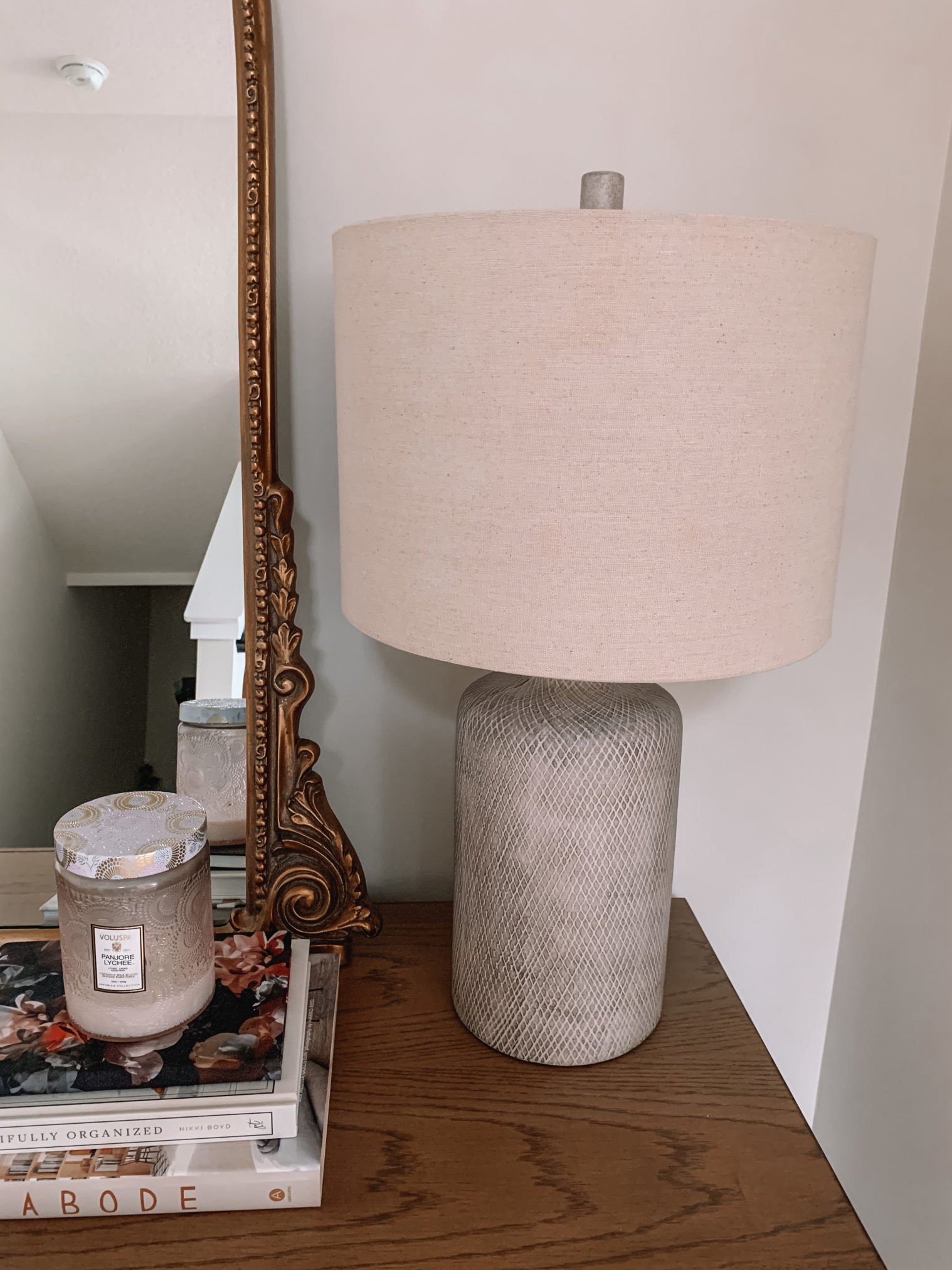 Table Lamp: I love, love, love this table lamp. It's high-quality and looks high-end. Shop the candle, table books and mirror here.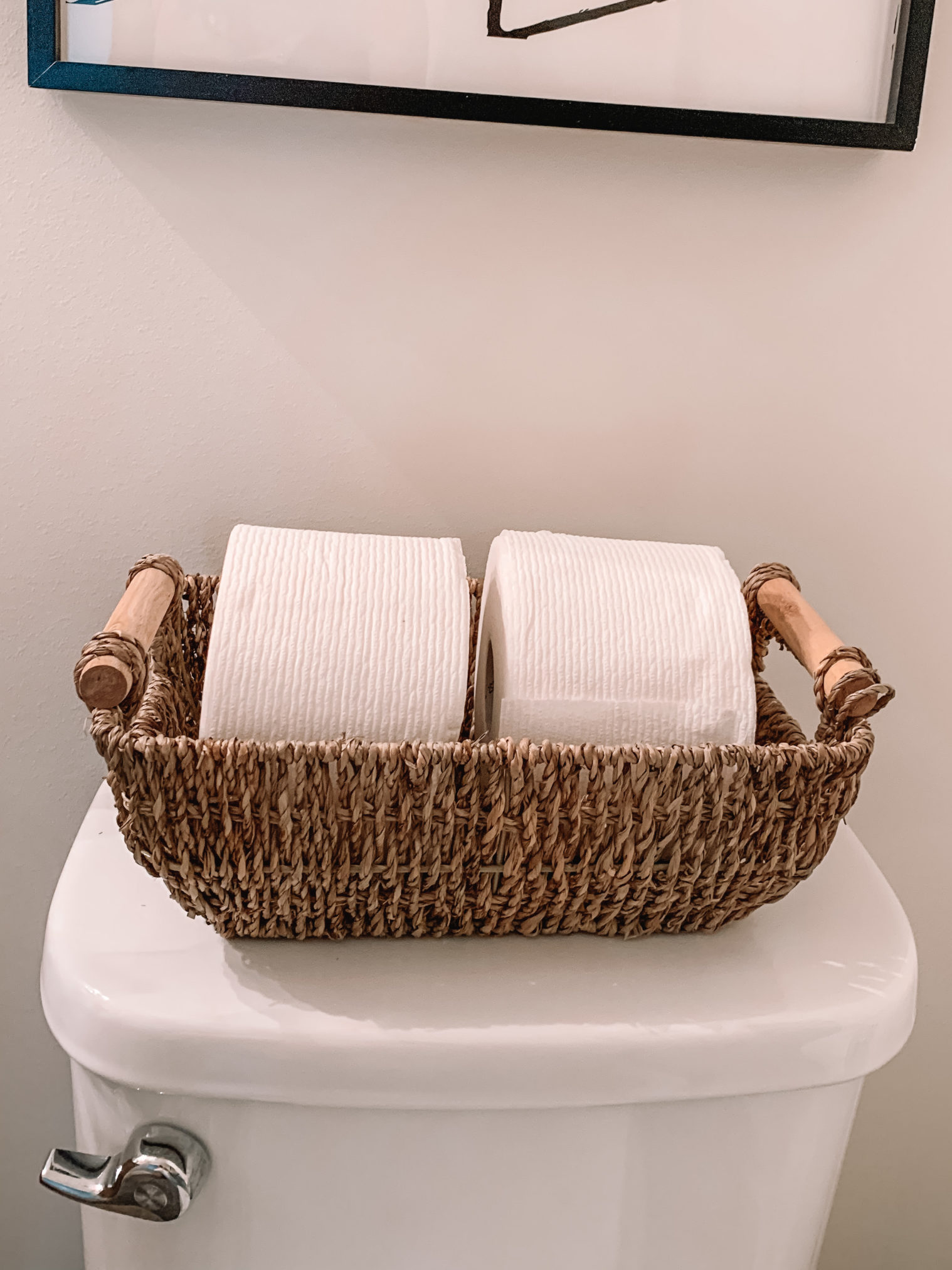 Seagrass Basket: Such a cute toilet paper holder that fits perfectly on the toilet.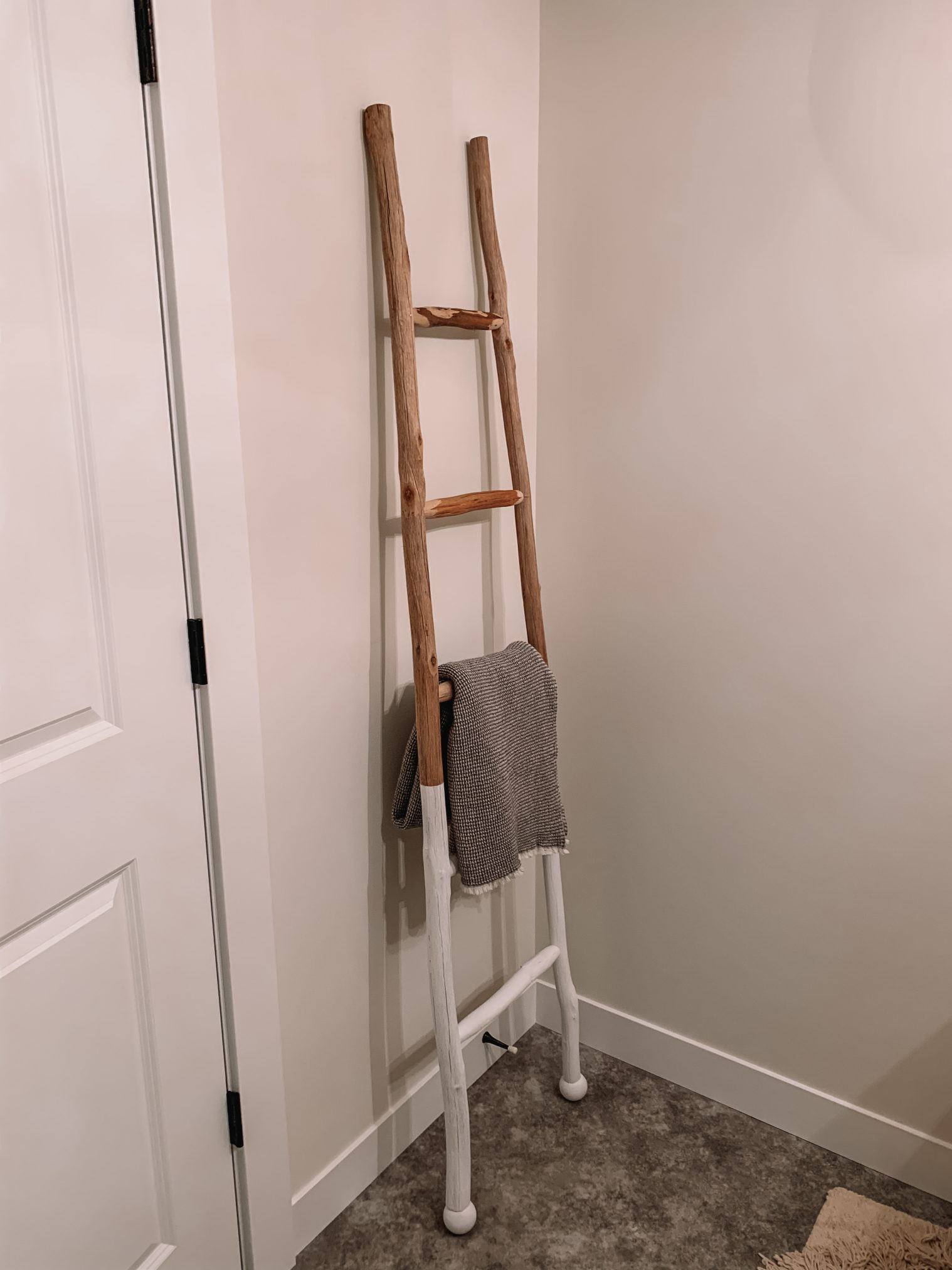 Blanket Ladder: I have a blanket ladder obsession – they just add so much to a room and are practical for holding cute towels and throw blankets! I have this one in our basement bathroom and it's currently 45% off and under $70. I also have the one linked below, as well as this one in our bonus room.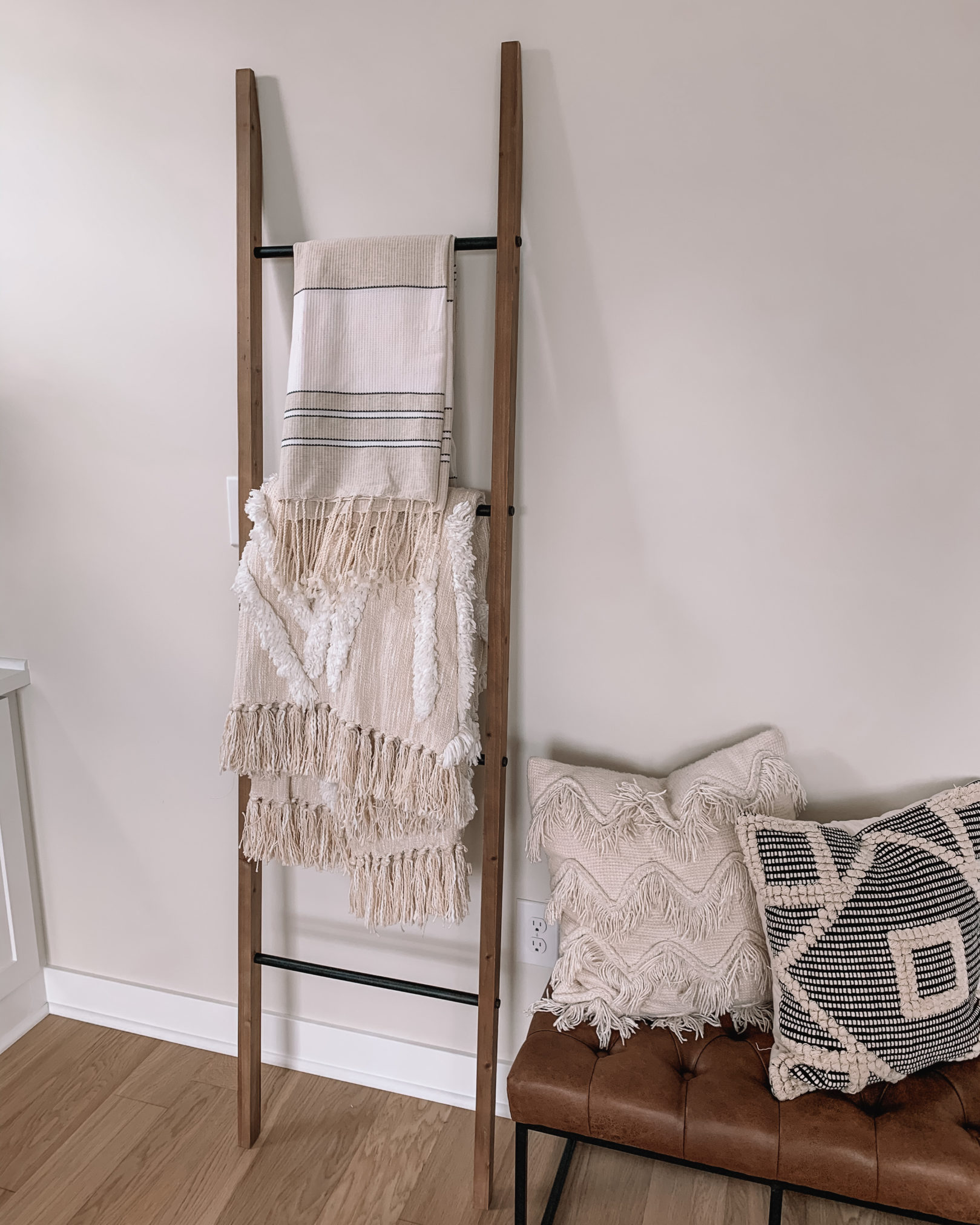 Blanket Ladder: This is probably my favorite one! Under $60.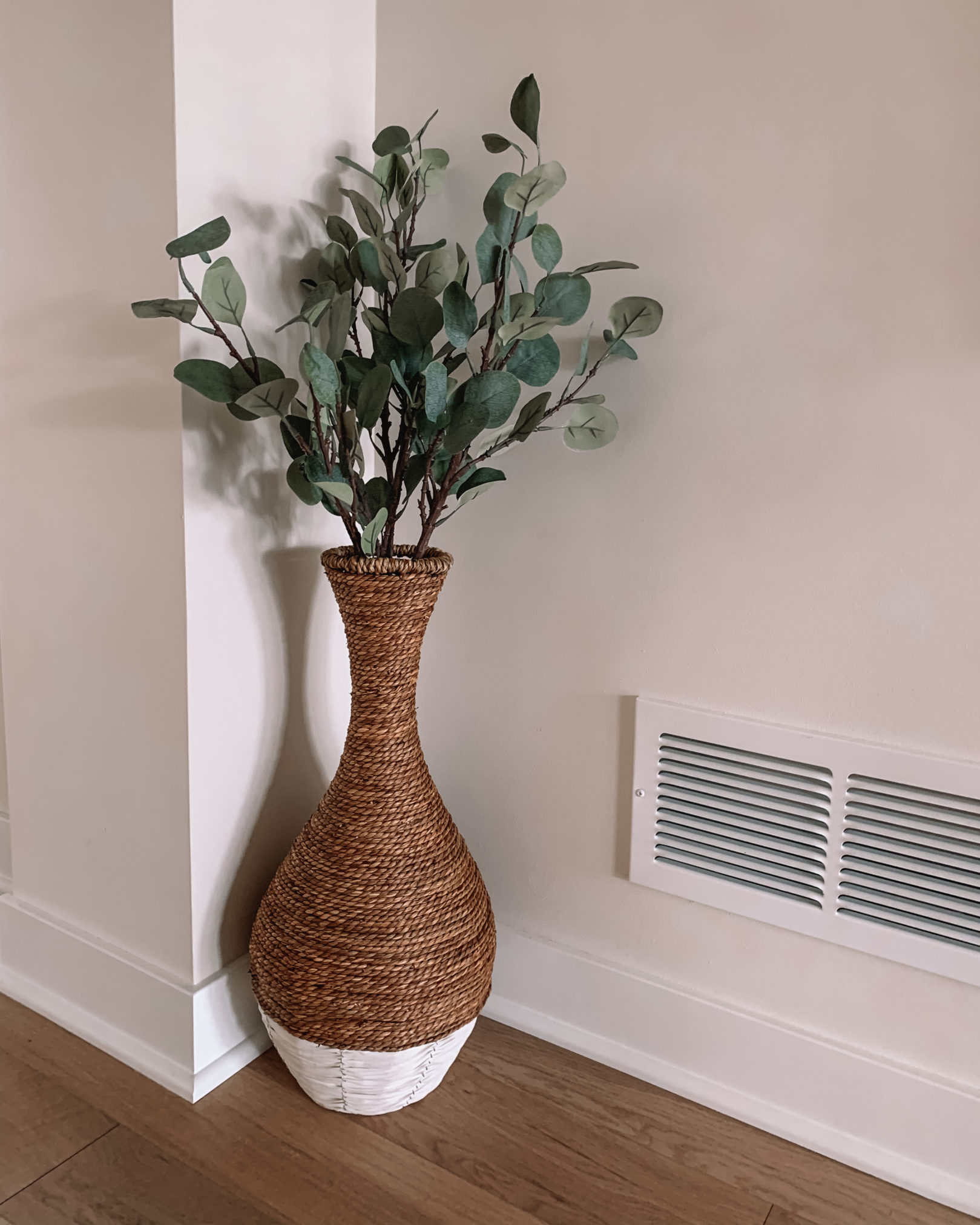 Faux Eucalyptus Stems: I have these everywhere in our house! Vase is linked here.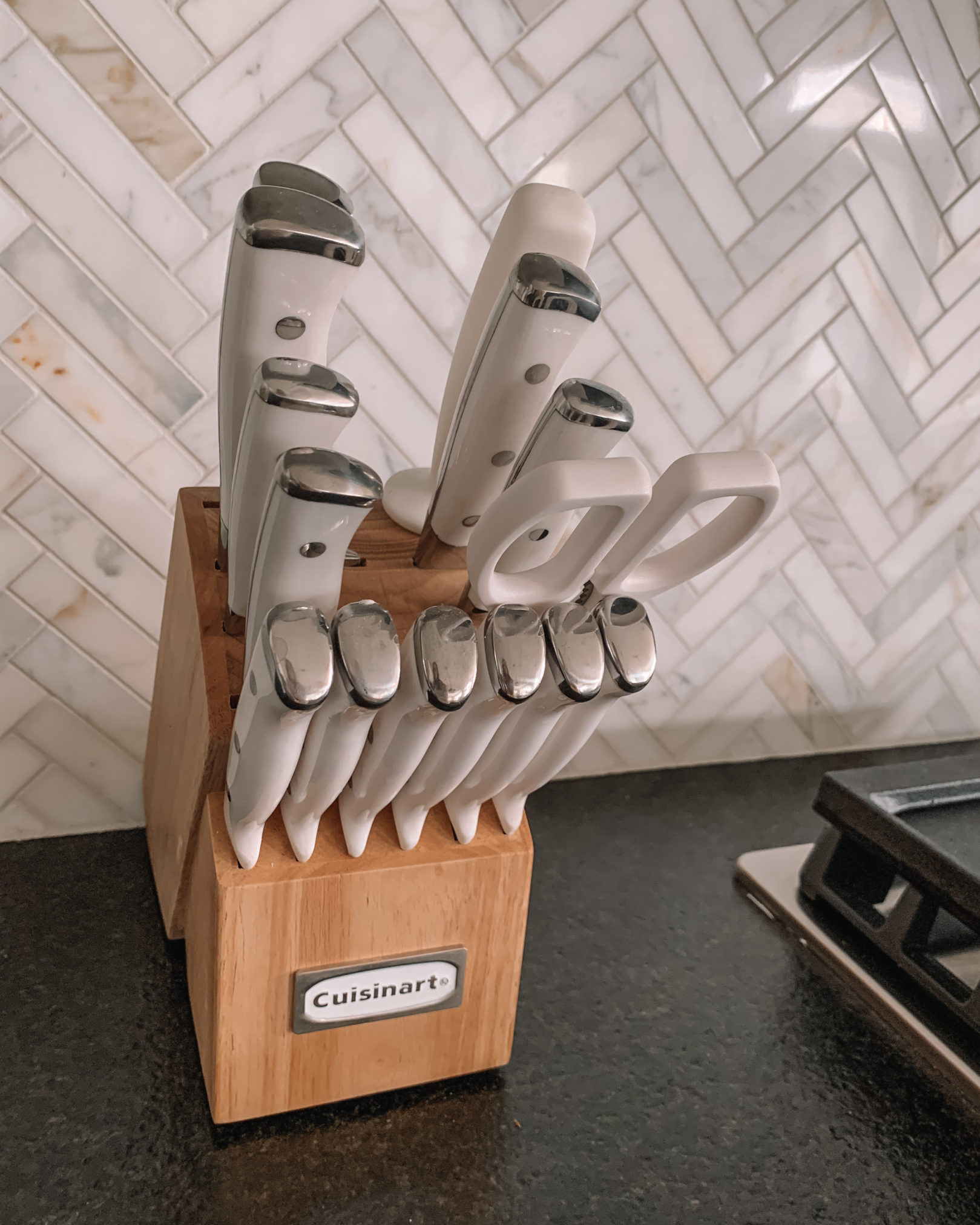 Cuisinart Knife Block: These don't only look pretty, but they work great!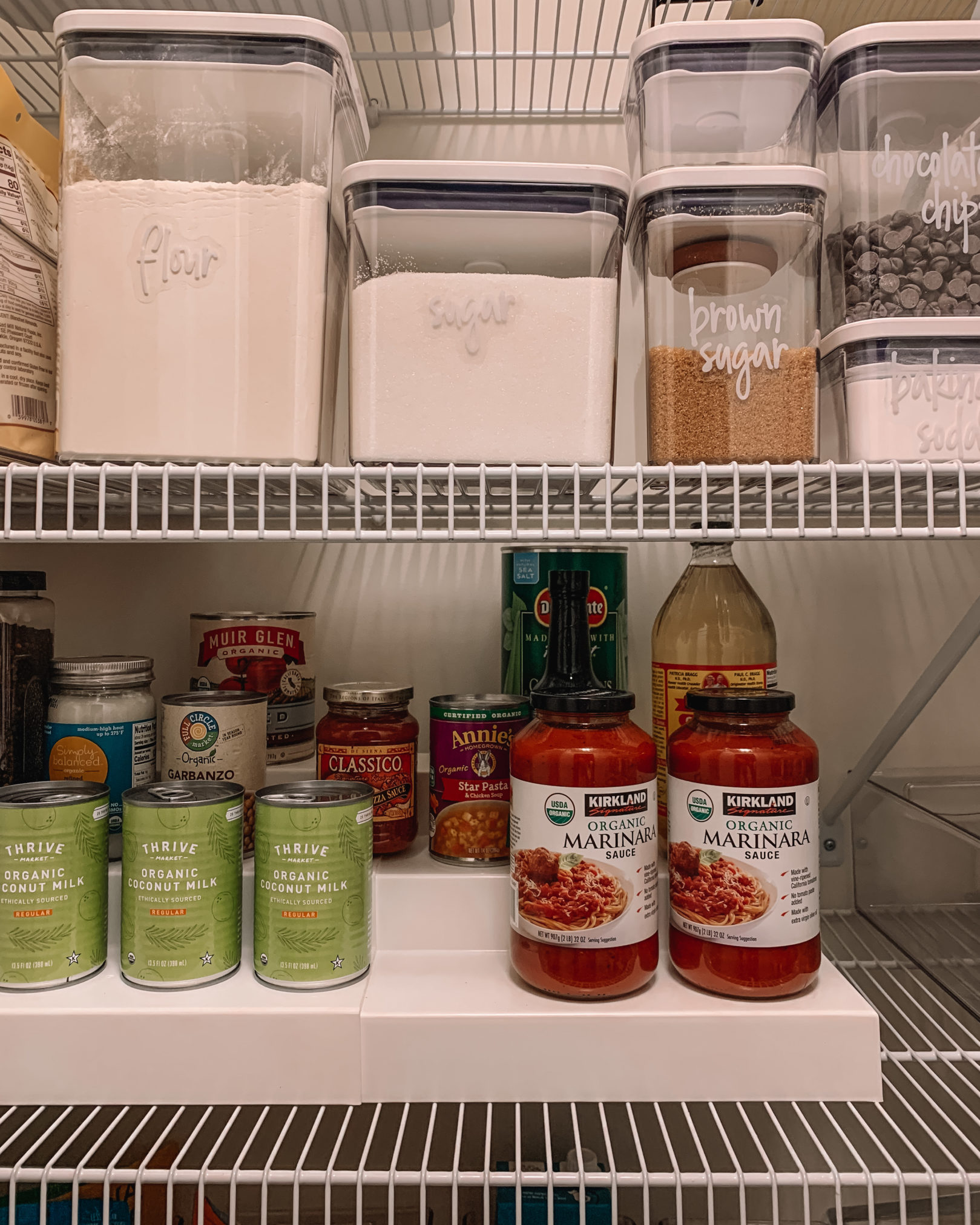 Pantry Organizers: The spice rack shelf, food storage containers and labels are all linked here! I love how cute and organized these keep our pantry.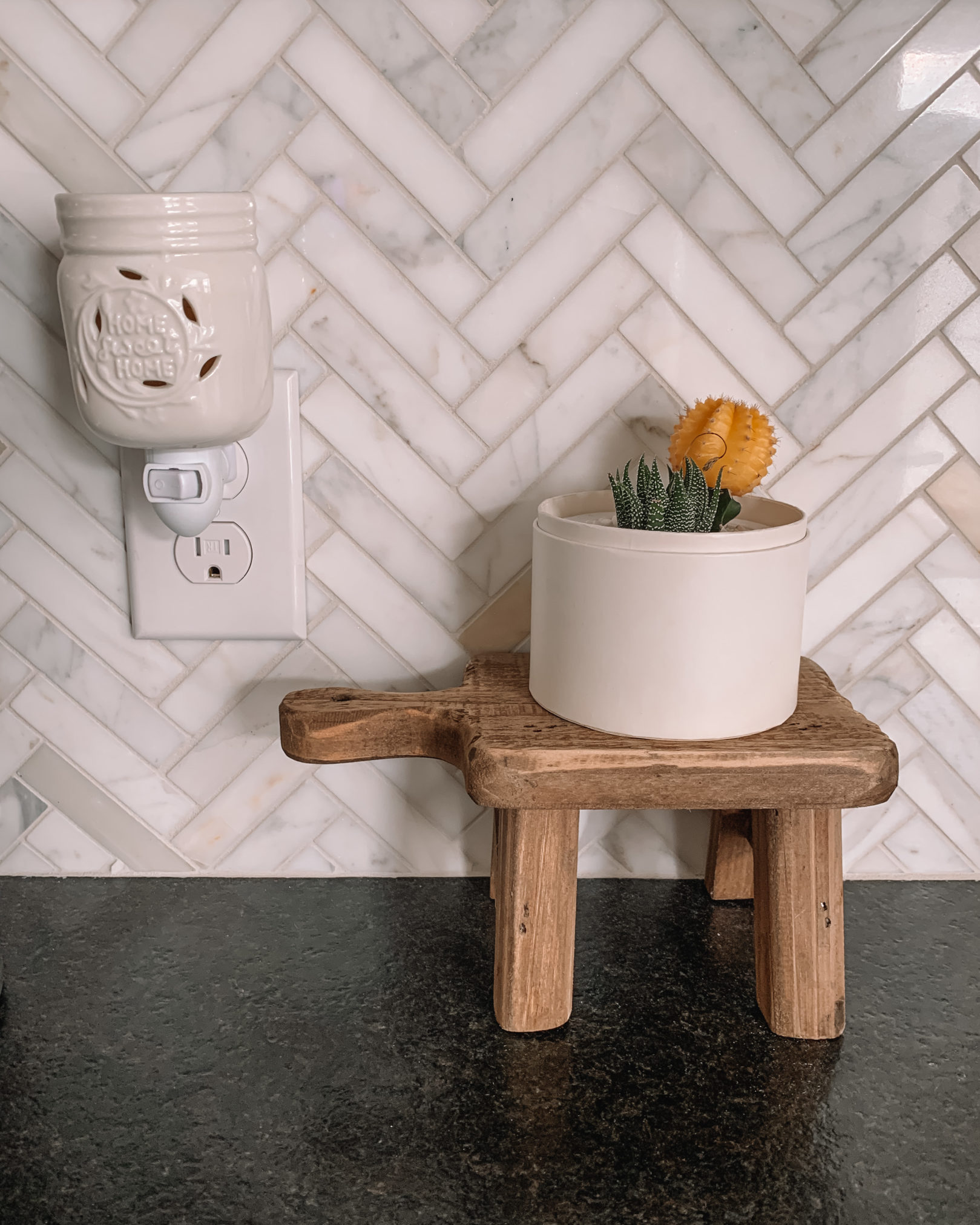 Wax Melt Plug-in and Mini Pedestal: The wax plug-in is perfect for wax melts, and doubles as a night light! I get my wax melts here (taybrown10 is my discount code for her shop).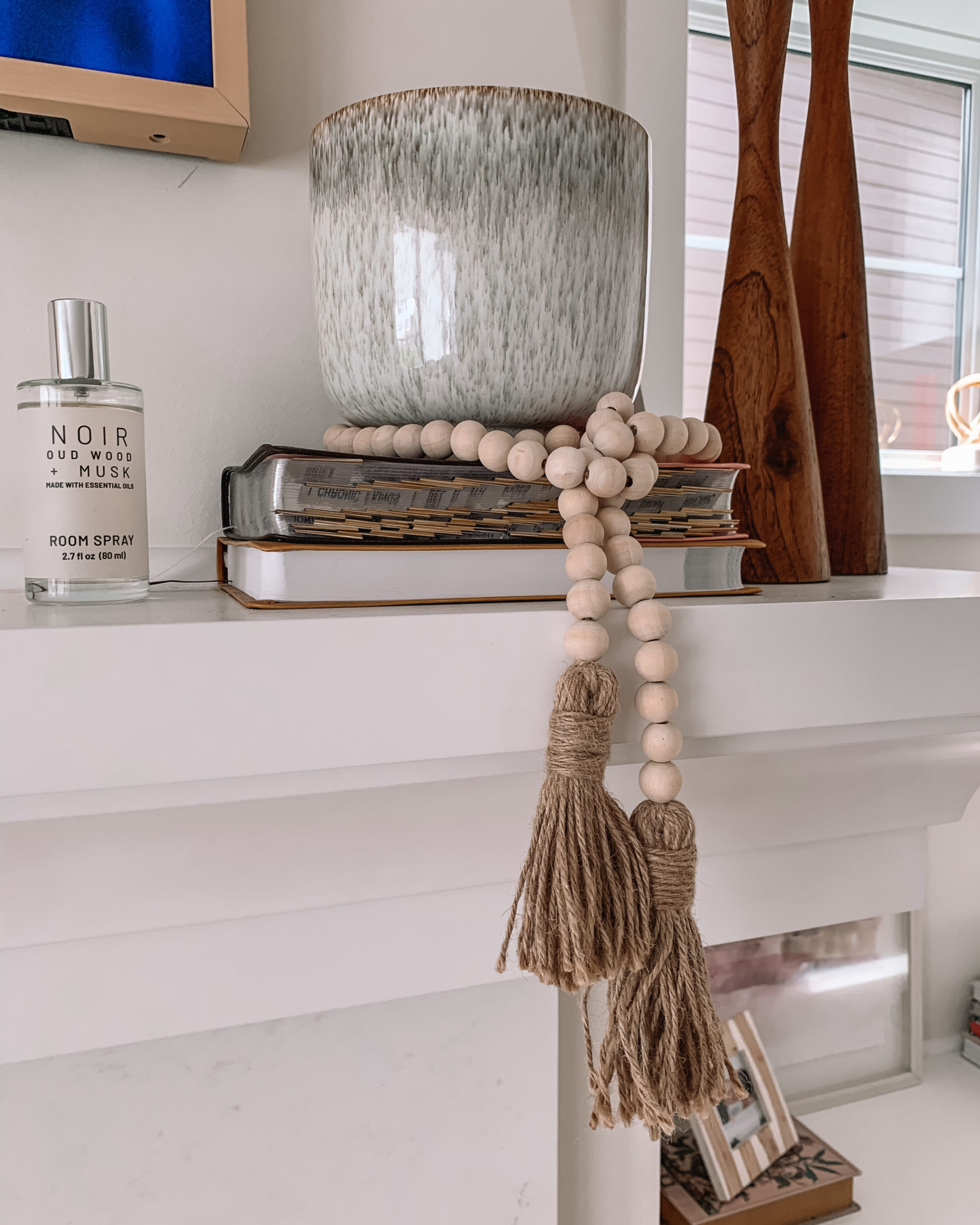 Wood Bead Garland: I love these things! One of my favorite Amazon home purchases. We have a few around our house because I think they look so cute draped like pictured, or just laying on a decorative tray or coffee books.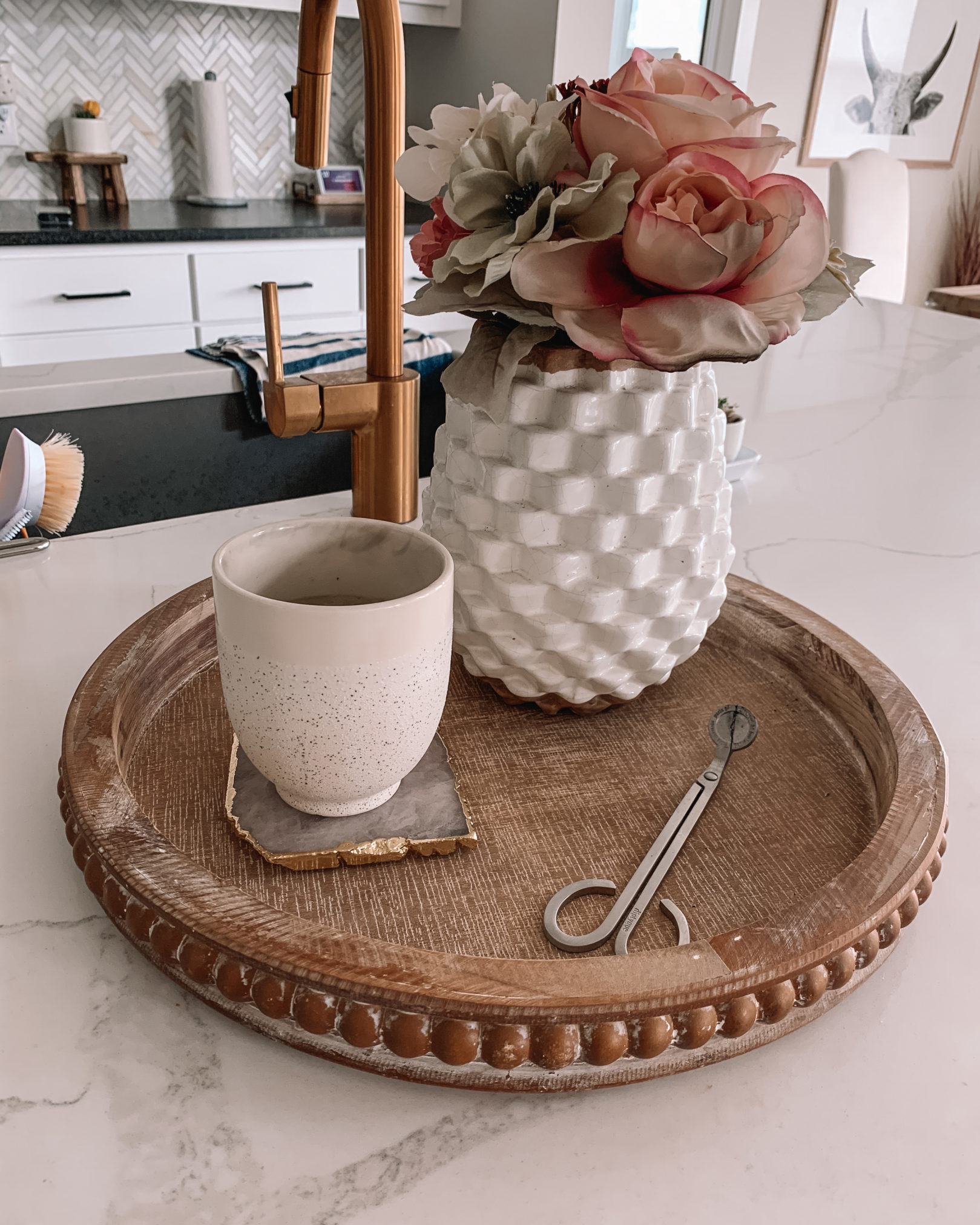 Wood Decorative Tray: Another one of my all time favorite Amazon home purchases. Vase, candle, coaster and candle wick trimmer also linked here.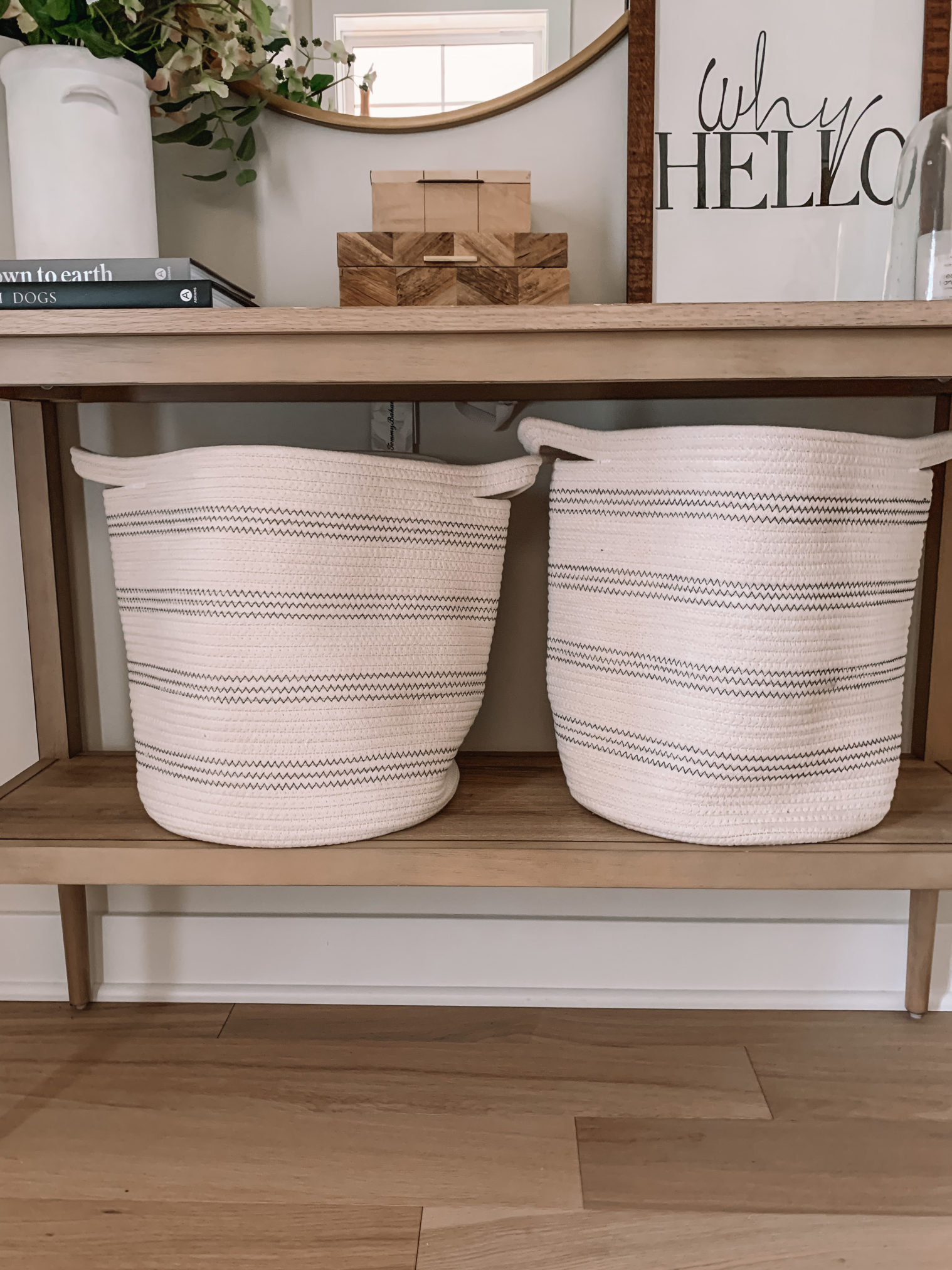 Woven Baskets: These chill on our console table in our front entry. I keep slip on shoes and some of Keldon's outdoor stuff in these baskets. They are cute too! They took a little bit to relax from being packages (there were a couple of creases) but they are good now after some good use. Other decor I'm able to link is linked here.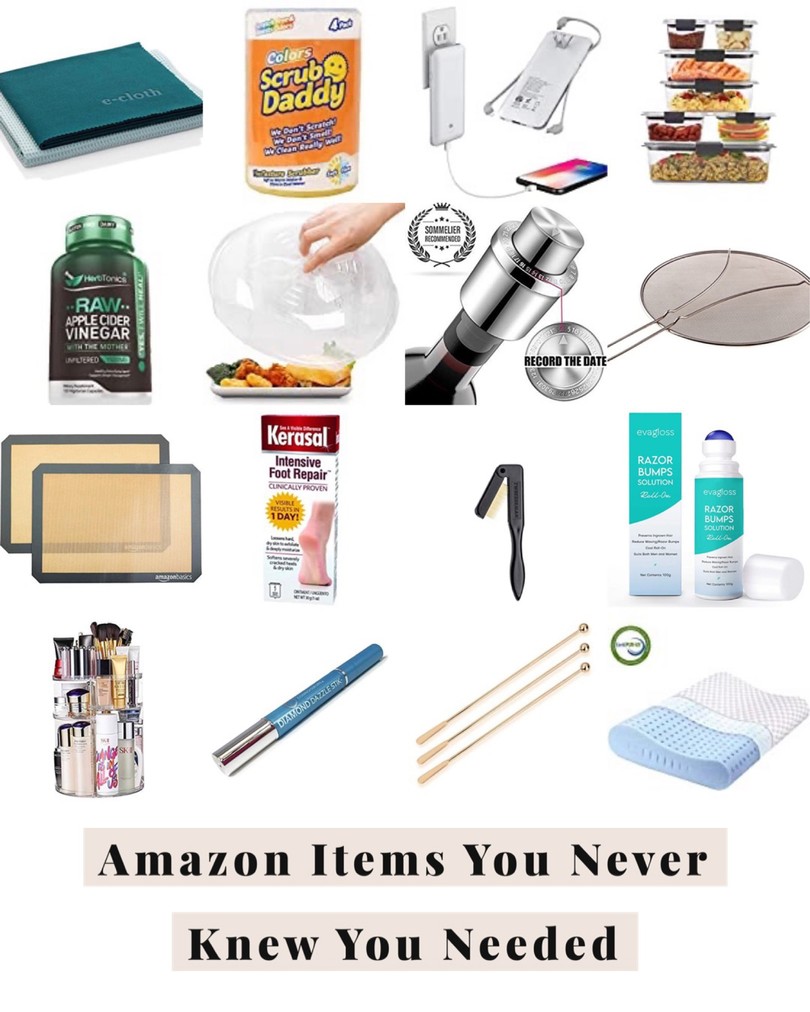 Shop my favorite Amazon items you never knew you needed (until you had them) here! If you are a side sleeper and experience any neck or upper back pain, you MUST get the pillow linked – it saved me!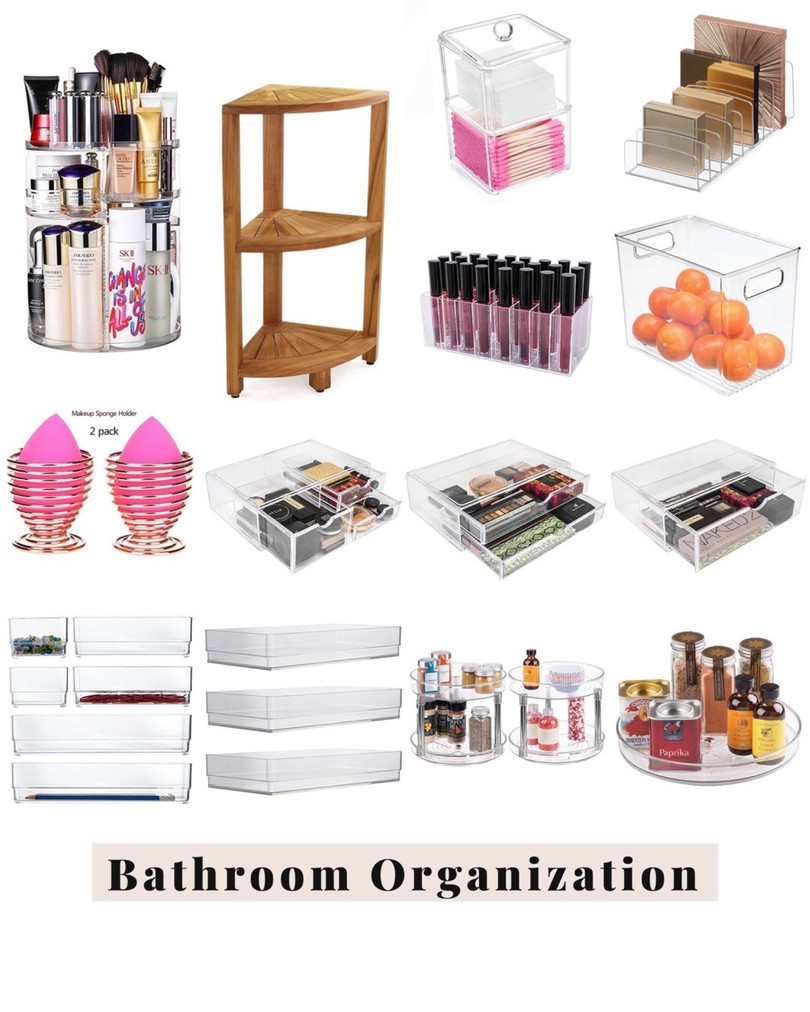 Shop my bathroom organization here! I use everything pictured here in our bathroom. If you're interested in a closer look at everything and how I used them, I have some stories saved under my "organization" profile highlight on my Instagram!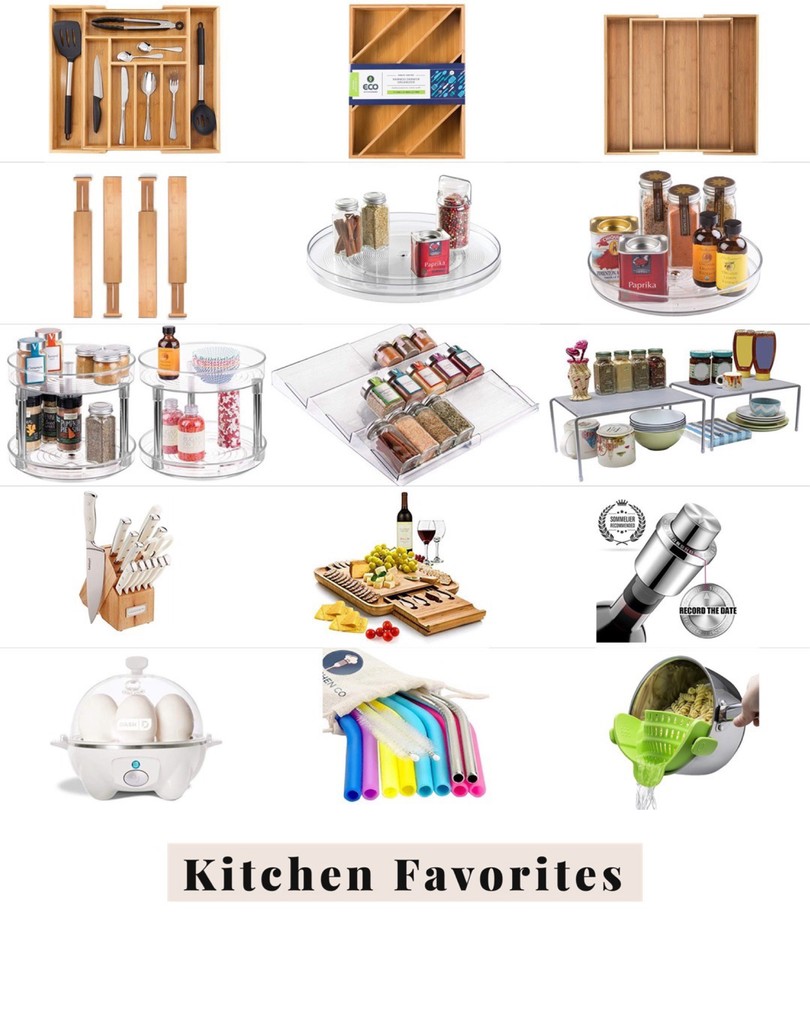 From organization to kitchen tools and gadgets, Amazon is a gold mine for kitchen goods! Shop my favorites here.
Do you have any Amazon favorites that I need to add to my cart?! Drop a comment, I'd love to hear about it!
-T