First and foremost, thank you all SO much for the love and kind words you've shared with me after hearing our exciting news! I couldn't wait to share with you all and am so happy so many of you are excited to follow along this journey with me. 🙂 So crazy to think that I'm already 1/3rd into my pregnancy, because time is already flying! Very relieved to be out of first trimester though. I've been feeling much more like myself, with a few nausea occurrences here and there. I'm 15 weeks and 4 days today, and my bump has started to pop!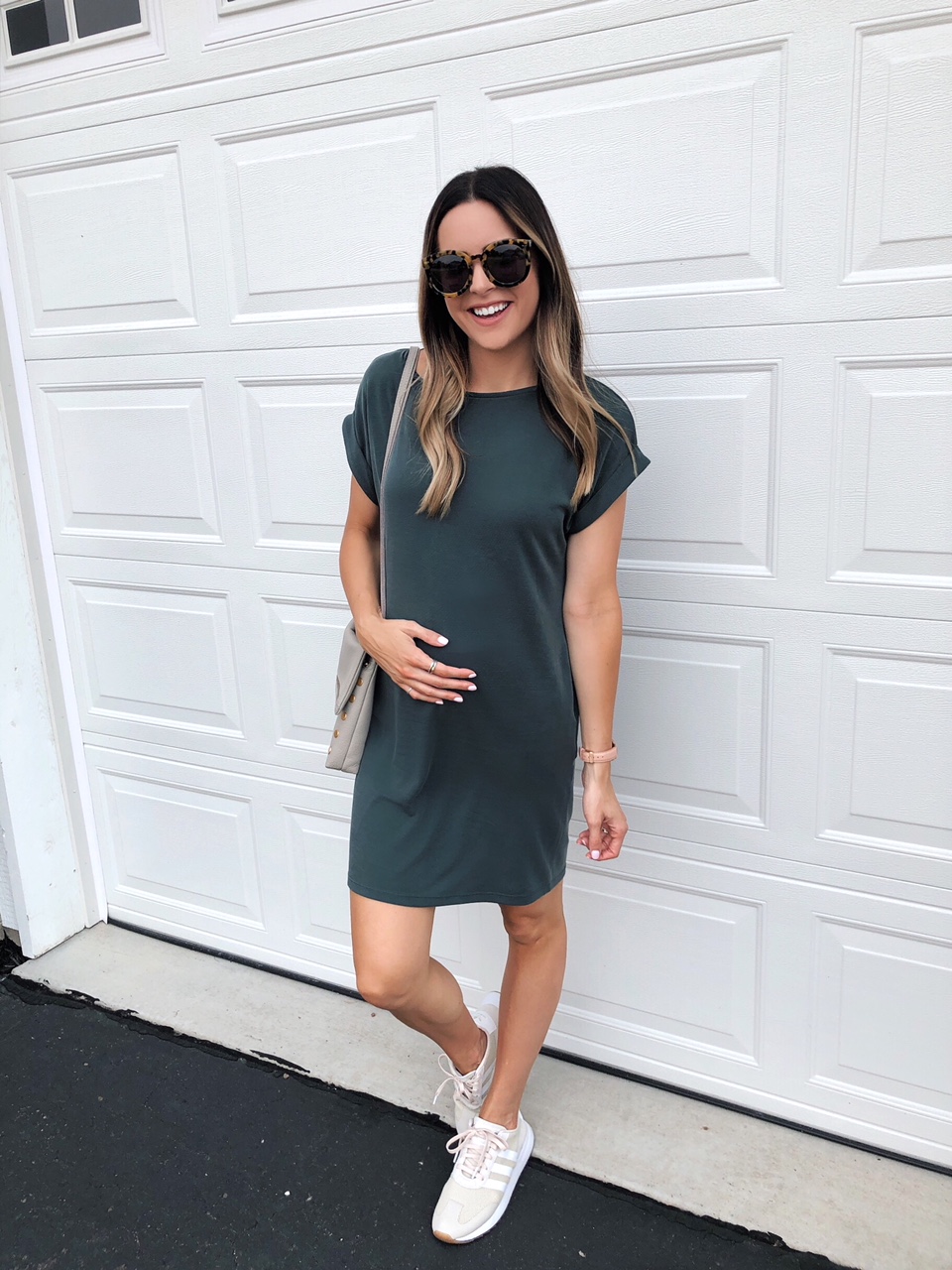 T-Shirt Dress (wearing a small, use code taymbrown for 10% off) | Adidas Sneakers (TTS) | Sunglasses | Crossbody Bag
I asked you guys what questions you had for my first trimester bumpdate on my Insta Story, so I'm answering them below! 🙂
"How did you feel the first trimester?"
Even though I know other women have had far worse first trimester symptoms, I did experience a lot of nausea on and off, mostly occurring late afternoons and evenings, but I never vomited (thankfully, I hate puking!) or had to take time off work *until yesterday, in my early 2nd trimester!*, even though I had a few close calls… but keeping crackers on hand and eating every 1.5-2 hours helped subside my nausea tremendously! If I waited too long to eat (like skipping my mid morning snack or mid afternoon snack), I would feel even more sick. Overall, I think I had it pretty good though since I never had to miss any work or activity due to being sick.
"Have you had any cravings?"
Yes! Right around 9 weeks I started craving sushi, donuts and soup… and those 3 cravings have been constant ever since! No weird cravings like pickle and ice cream (yet) though. Luckily I have been able to indulge in some cooked sushi, but I sure miss raw spicy tuna rolls and ahi tuna! 🙁 Donuts were no surprise since I loved them pre-pregnancy, but the love for them now is even larger! And I have never loved soup as much as I do now. I could eat it for every lunch and dinner! Cafe Zupas soups & the bread it comes with is my absolute favorite (Roasted Red Pepper Lobster is my favorite one). I also love Panera soup. 🙂 Only the creamy ones though – not really the healthy broth ones, lol!
"Food aversions?"
Pretty much all meat besides chicken, with the exception of bacon, ground turkey and turkey sausage! The smell of red meat makes me nauseous! Especially steak, ribs and burgers… I have gotten over burgers just recently the past couple of weeks, for the most part at least – unless they are like grill at home burgers which are still very unappealing to me. Thinking about under cooked red meat at this moment still makes me sick, ugh! And I used to love medium-cooked steak and burgers pre-pregnancy. I feel like those days are long gone now.
This isn't technically an aversion, but I am not enjoying coffee as much as I used to (and I used to be obsessed and have 2-3 cups a day). Now I only have a few sips if I pour a cup, unless it's an iced coffee from a coffee shop. Even still, I have a hard time finishing a small iced coffee! So weird.
"Weight gain?"
It really fluctuates throughout the day. In the morning, I pretty much consistently weigh only 2-3lbs over my pre-pregnancy weight, but if I weigh myself throughout the day it reads up to 5lbs gained. According to my pregnancy apps though, I'm going to start gaining a lot more weight in the 2nd trimester. I just hope it sticks to my belly, boobs and butt, lol. I can definitely see my cheeks getting chubbier though, but I'm sure that's because I am not working out nearly as much as I used to, either!
"How have you changed your workout routine?"
I really have not been doing great with working out to be honest! I used to be much more disciplined, and now if I am too tired after work, I allow myself to rest. I usually get a little spark of energy and motivation towards the end of the night while watching a TV show with Tom, so sometimes I will do my own quick 20 minute toning workout with arm weights or just my body weight. If I'm extra motivated, I will do a 15-20 minute Tone It Up workout that isn't too intense. I also do some light standing leg workouts while I brush my teeth or while I stand at my desk at work (side leg raises, back leg raises, squats – I don't do squats at work though lol). But cardio has been pretty much non-existent… oops! I think I've gone on only 2 runs since finding out I was pregnant, and I used to run at least once or twice a week during the spring and summer. And I have stopped doing BBG – it's way too high intensity for pregnancy.
"Have you noticed any physical changes to your body, besides the growing bump?"
Boobs have gotten bigger, which I am so excited about, haha! I've had small boobs my whole life so it's pretty awesome, even though they are sore! The soreness really went down after first trimester though. During the first trimester, my belly became much softer and all muscle definition in my abs melted away quickly – I felt very fluffy in the midsection… I just wanted to have a nice bump instead of feeling like I am just letting myself go, ha. Although I am definitely starting to pop now, as my bump made an appearance this past weekend. 🙂
"Have you bought maternity clothes yet?"
I just picked up my first pair of maternity jeans this past weekend! Most of my jeans no longer fit, though I have been able to get by with wearing them using either the pony tail hack or wearing the Bellaband with them. I just picked up another pair from Target too. I think I want to maybe invest in a high-end pair, but we'll see. As far as tops, I do miss front-tucking my shirts and crop tops/sweaters! But I am still able to wear my non-maternity flowy tops.
"What are your favorite pregnancy apps?"
Ovia (Daily updates on baby's progress, symptoms you may be experiencing, and tips)
The Bump (Very similar to Ovia, but also has a lot of great daily editorial articles)
Baby Story (A baby photo pic studio – I've been using this to track my weekly milestones. It's such a cute app!)
"Will you be finding out the gender?"
Yes! Both Tom and I are too impatient to wait, haha – especially me. I am such a planner, and since this is our first child, I want to feel as prepared as possible! What a fun surprise it would be to wait though, I admire those who do wait!
"Have you started the nursery?"
Not yet… we currently have our spare bedroom as a guest bedroom, which will turn into the nursery. As soon as we find out the gender though, we are going to get to work! 🙂
First trimester must-haves:
Water! I believe drinking a lot of water helped with my overall energy and digestive system. Although it was tricky at first, especially when feeling nauseous. Just take small sips often, rather than chugging a bunch of water at once (which I did often pre-pregnancy to get myself to drink more water, haha)! Towards the end of my first trimester I wasn't being very good about drinking water though, I must admit!
Prenatal vitamins – Did you know you should be taking these even pre-baby when you are trying to conceive? I started these about a week before we found out we were pregnant. They actually taste good too, little gummies that taste like candy! You have to take 6 a day which felt like SO many after being used to taking 2 multivitamin gummies daily the past few years haha. Gotta get in those vitamins for you and the babe! I actually just finished my 2nd large bottle of these babies, and am actually trying a pill form now (to consume less sugar) in addition to a DHA supplement my doctor recommended. I took my first round of them today, and while taking them isn't nearly as fun or yummy as the gummies, I haven't had any weird side effects to them!
Native deodorant – One of the best decisions I've made for myself pre-pregnancy was switching to this aluminum-free and paraben-free natural deodorant! I've tried many others (Toms, The Healthy Deodorant) that actually make me smell worse lol! This one is the only one that has worked as well as my previous non-natural deodorant, Secret. Coconut vanilla is my favorite scent! I also didn't have any transition process with this like an "armpit detox"; it worked right away!
Tums – For the many, many upset stomach trends. I got an stomach ache like clockwork every single night before bed around 9:30-10pm throughout my entire first trimester. Tums worked very well!
Sparkling water – Also helped my upset stomach!
Mocktails – After I found out I was pregnant, I had major FOMO when my friends would enjoy a cold adult beverage on the patio during Friday happy hour or any drinking occasion during the weekends! It didn't help that it was the start of summer, either… there's just nothing like a cold beer or chilled ros on the lake! Mocktails are still very yummy and make you feel less left out, haha. 🙂
Eating/snacking often – Every 2-2.5 hours and eating smaller, more frequent meals.
Whew! That was a lot, but hopefully it serves as a great resource for you expecting mommas! These bumpdates are fun, and I look forward to sharing more! 🙂 As always, Thanks for reading!