Ruffles and cold shoulders are two cute trends that I'm a big fan of, so naturally, I had to buy this top! I wore this J.O.A. Layered Cold Shoulder Ruffle Top on Easter, which was very fitting for our sunny and mild day that we had! The top runs slightly short, so I recommend pairing it with high-waisted or high-rise jeans/pants. The material is made of a thick, nice quality fabric, and is so much fun to wear! You've probably seen this top floating around your Instagram in white too, which I also love!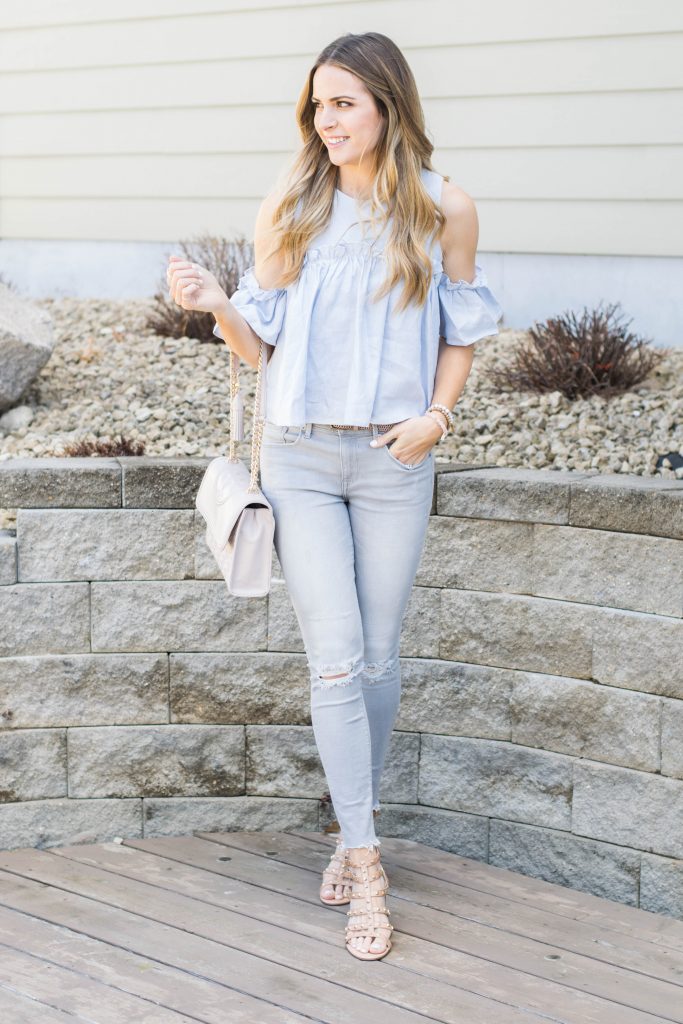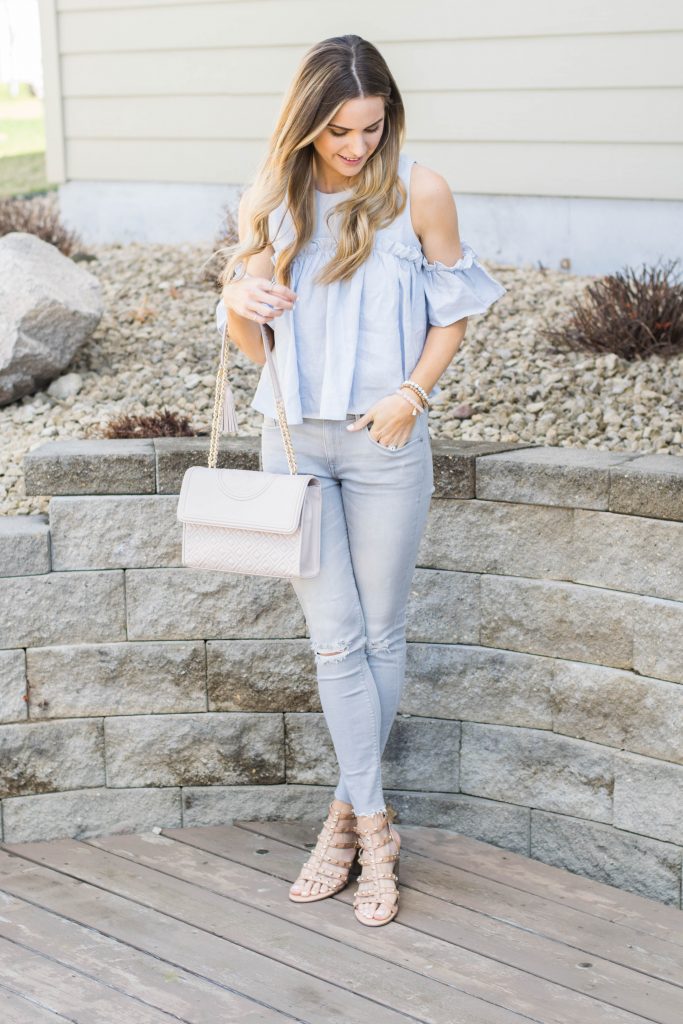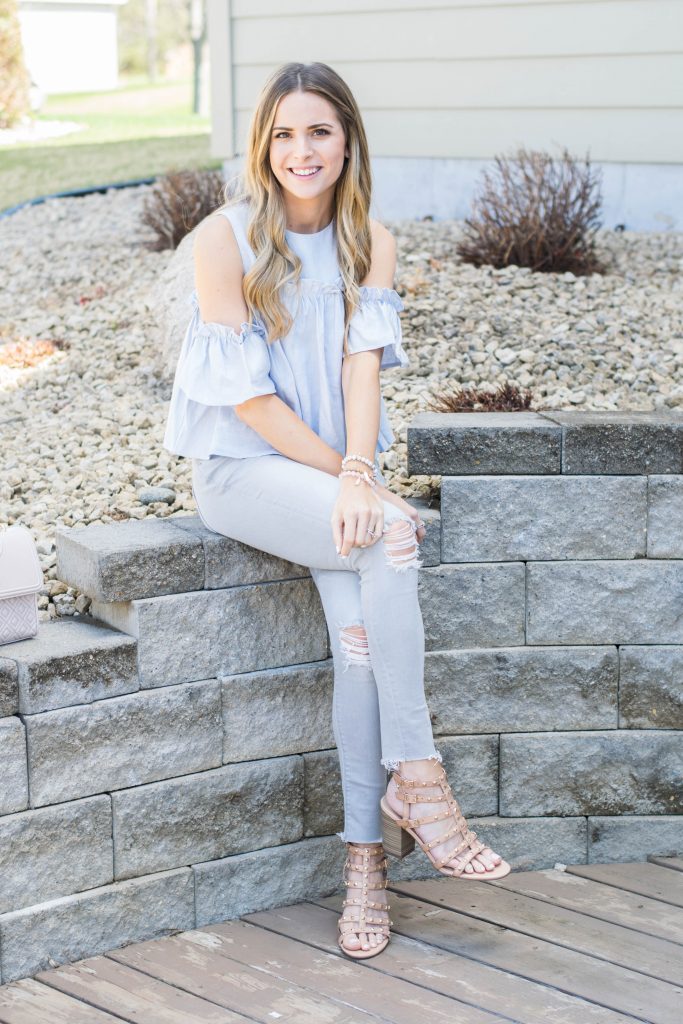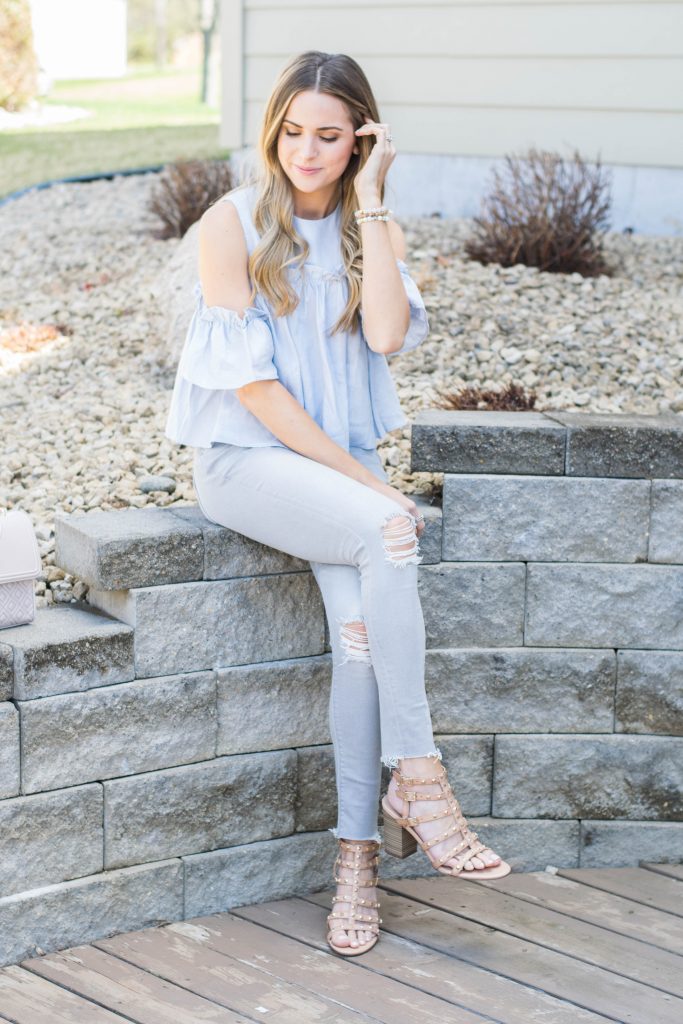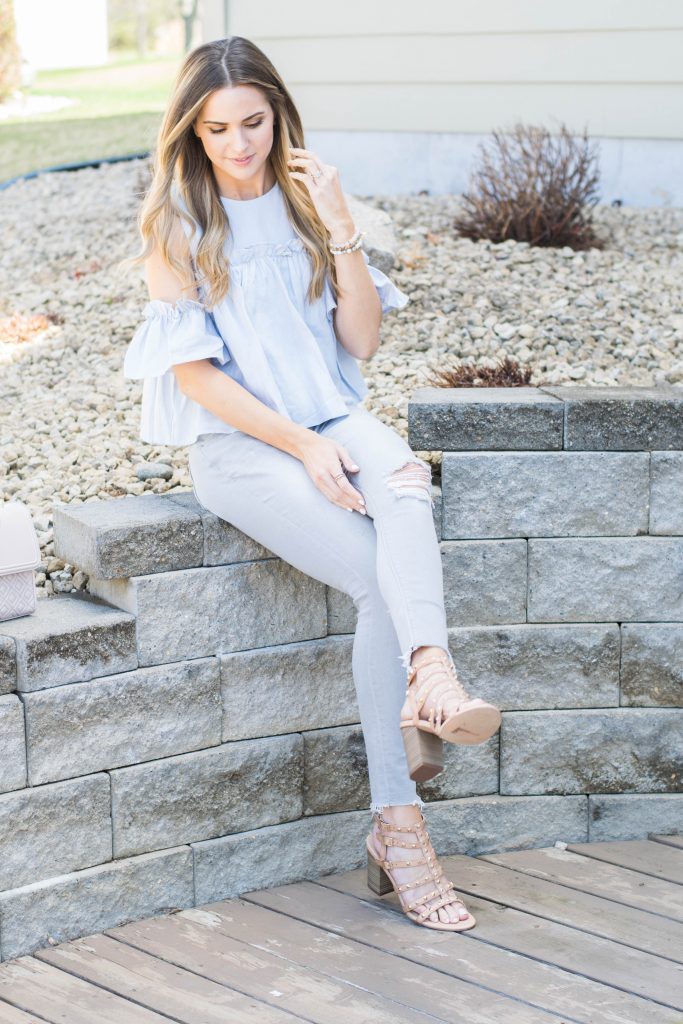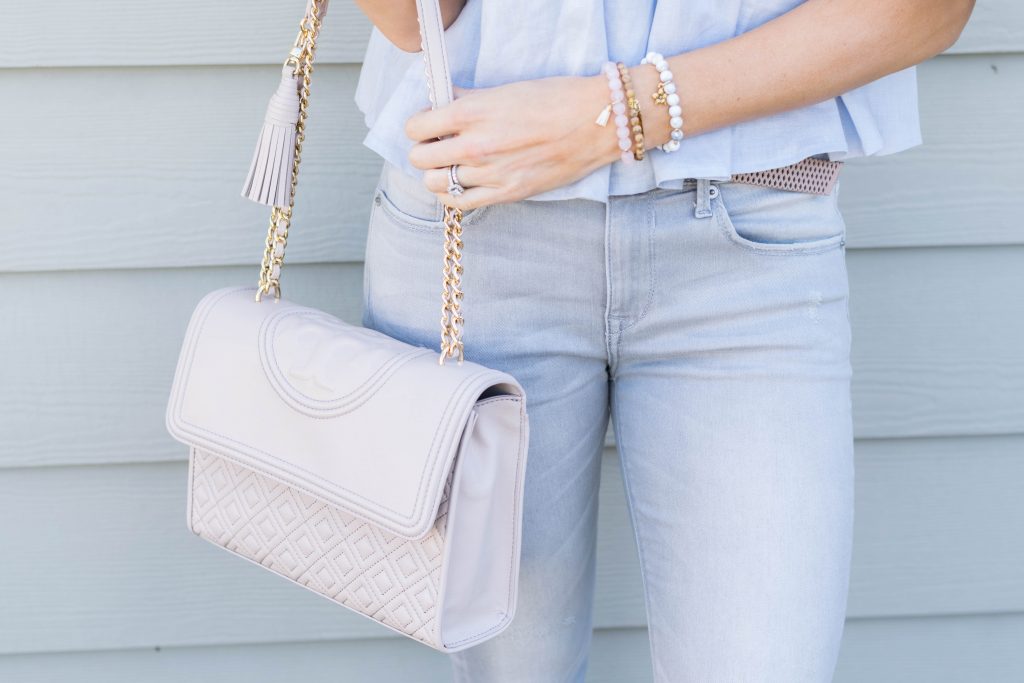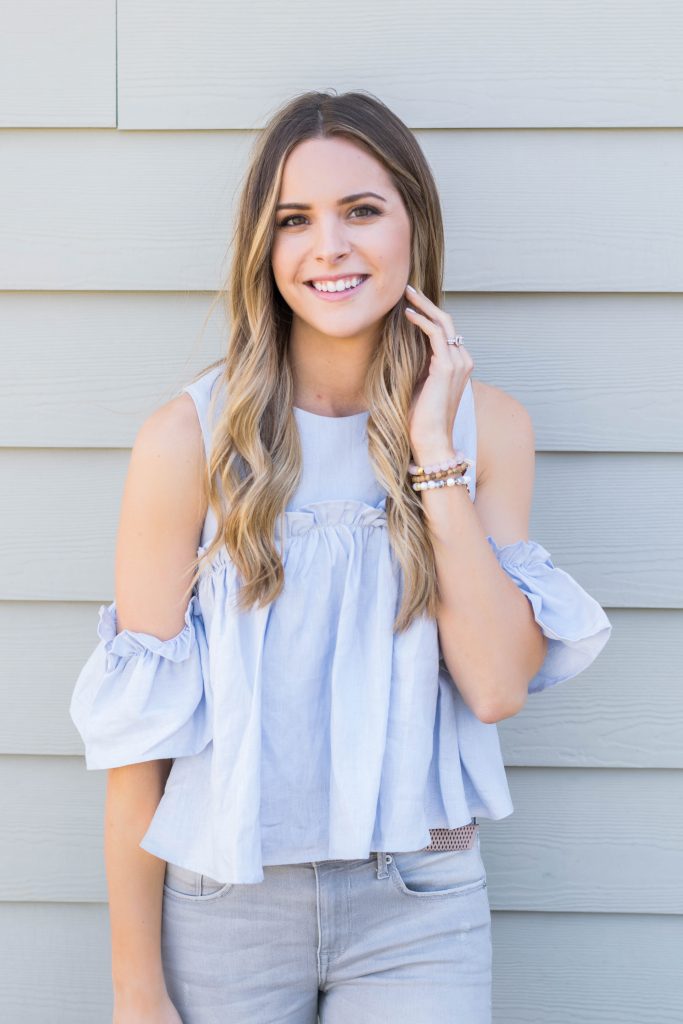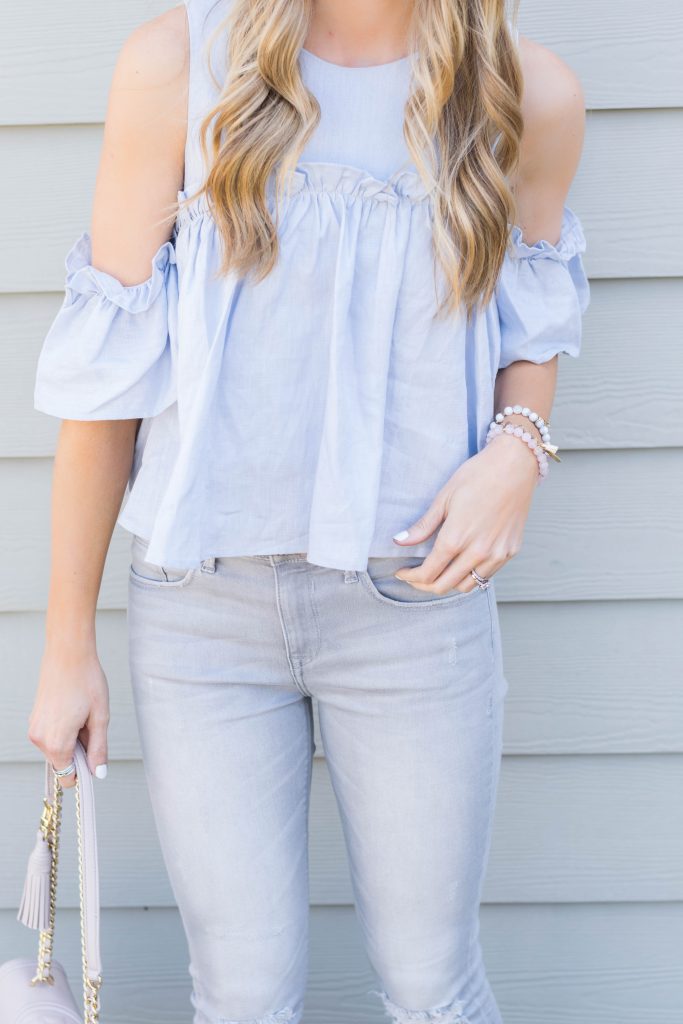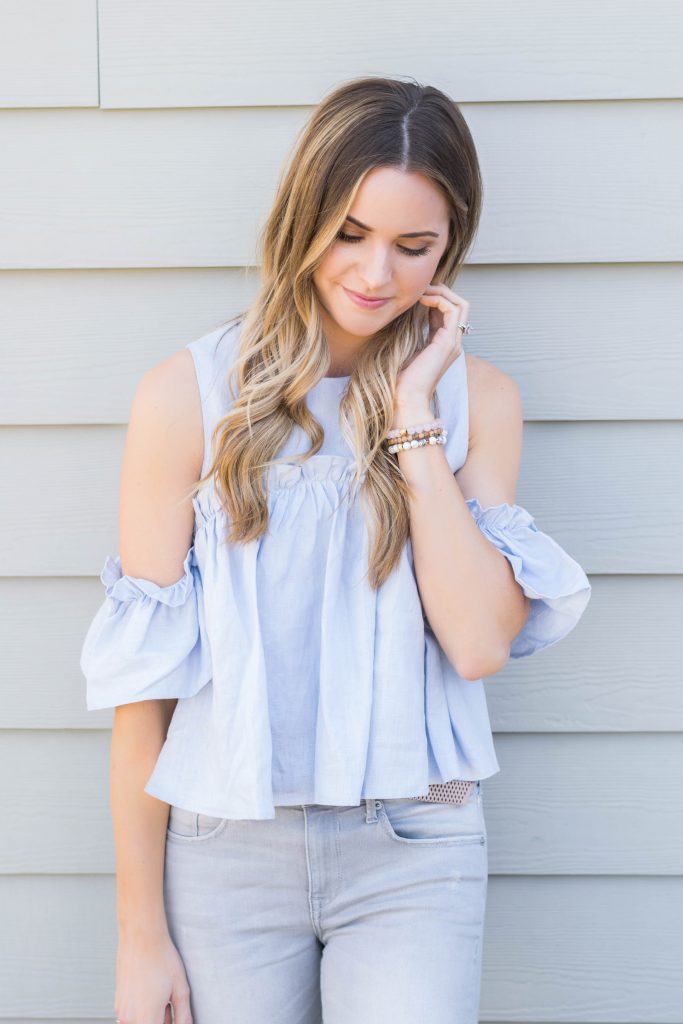 WHAT I WORE:
J.O.A. Layered Ruffle Cold Shoulder Top | Light Gray Distressed Jeggings | Tory Burch Fleming Tote (Bedrock) | Rockstud Sandals (under $50!) | Charmed Stacks Bracelets (aren't these gorgeous?! My friend Tati makes them! Use my code Taymbrown for 10% off your purchase!
---
The distressed light gray jeans I'm wearing are a must-have for my spring wardrobe! They are an alternative to white, which I almost always end up spilling on or getting dirty right away. And they go with nearly everything! I love the knee distressing and raw-hem, and they are SO comfortable. Like almost pajamas comfortable… almost. 🙂 I saw these first on my girl Katie, and she looked amazing on them, so I had to have them! (If you guys haven't checked out her blog yet, you must! She's so cute!)
Did you guys notice my spankin' new bag?! I wanted to cry tears of joy when I got it in the mail – lol!  I treated myself to a splurge item for hitting the 10k mark on Instagram (I love you guys!!!), and this girl is incredibly good. It's the Tory Burch Fleming Convertible Shoulder Bag in the 'Bedrock' color! The leather is luxe, and I love the different options you can wear it (single strap or double strap shoulder, or cross body). I have never owned a pretty little quilted bag, so this is quite the gem. I am however, treating it like a gem – very very carefully and don't like to bust it out for daily use because I'm afraid of it getting dirty/wrecked, haha! I plan on taking real good care of it. 🙂
OKAY, let's talk about these rockstud sandals!! Such insane dupe for the Valentino's – saving you loooots of pennies. Only like $45?! And very comfortable for a heel! You may have seen/heard me talk about the flat sandal version that I also own, and so I couldn't resist picking up the heeled version. With that price, can you blame me?!