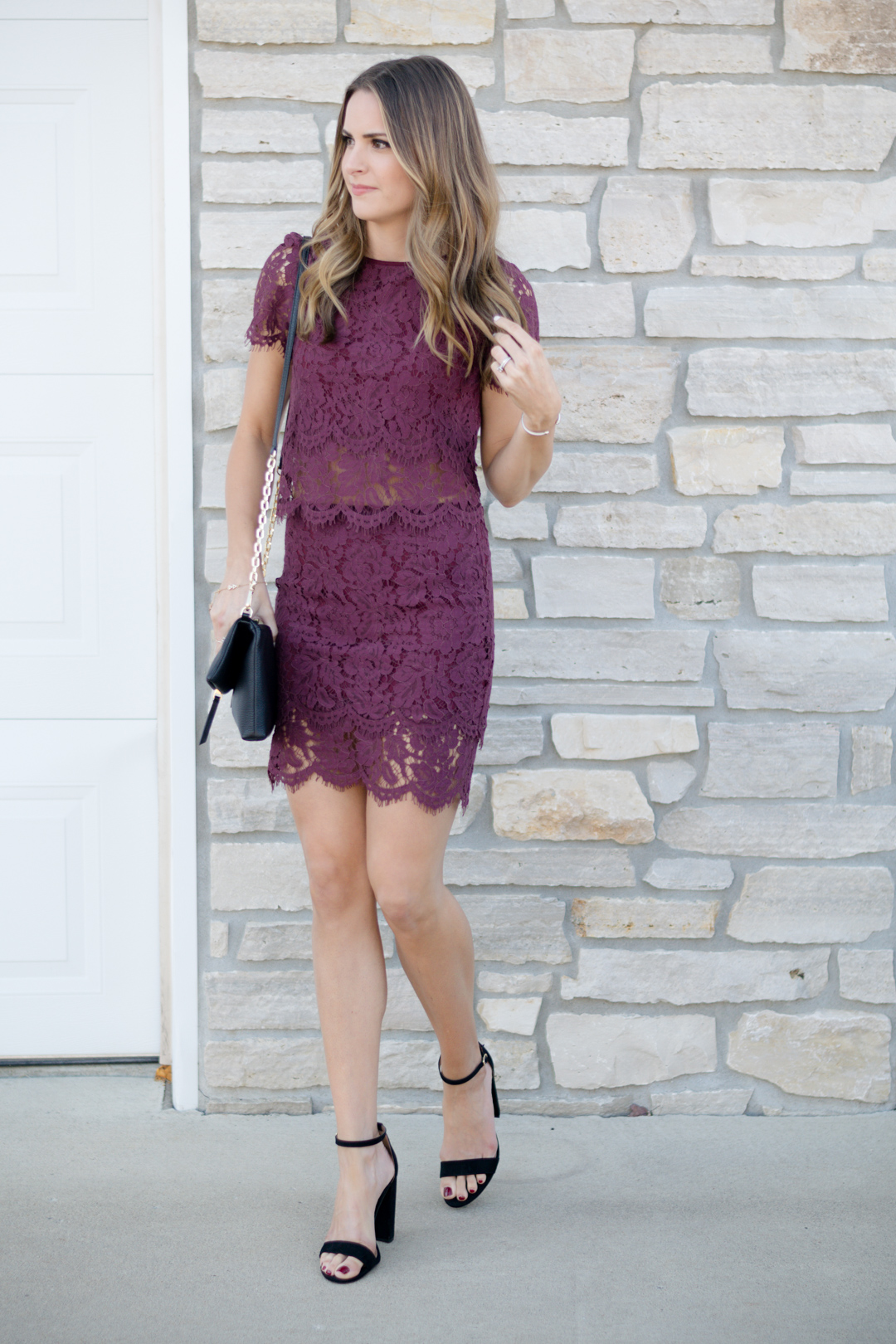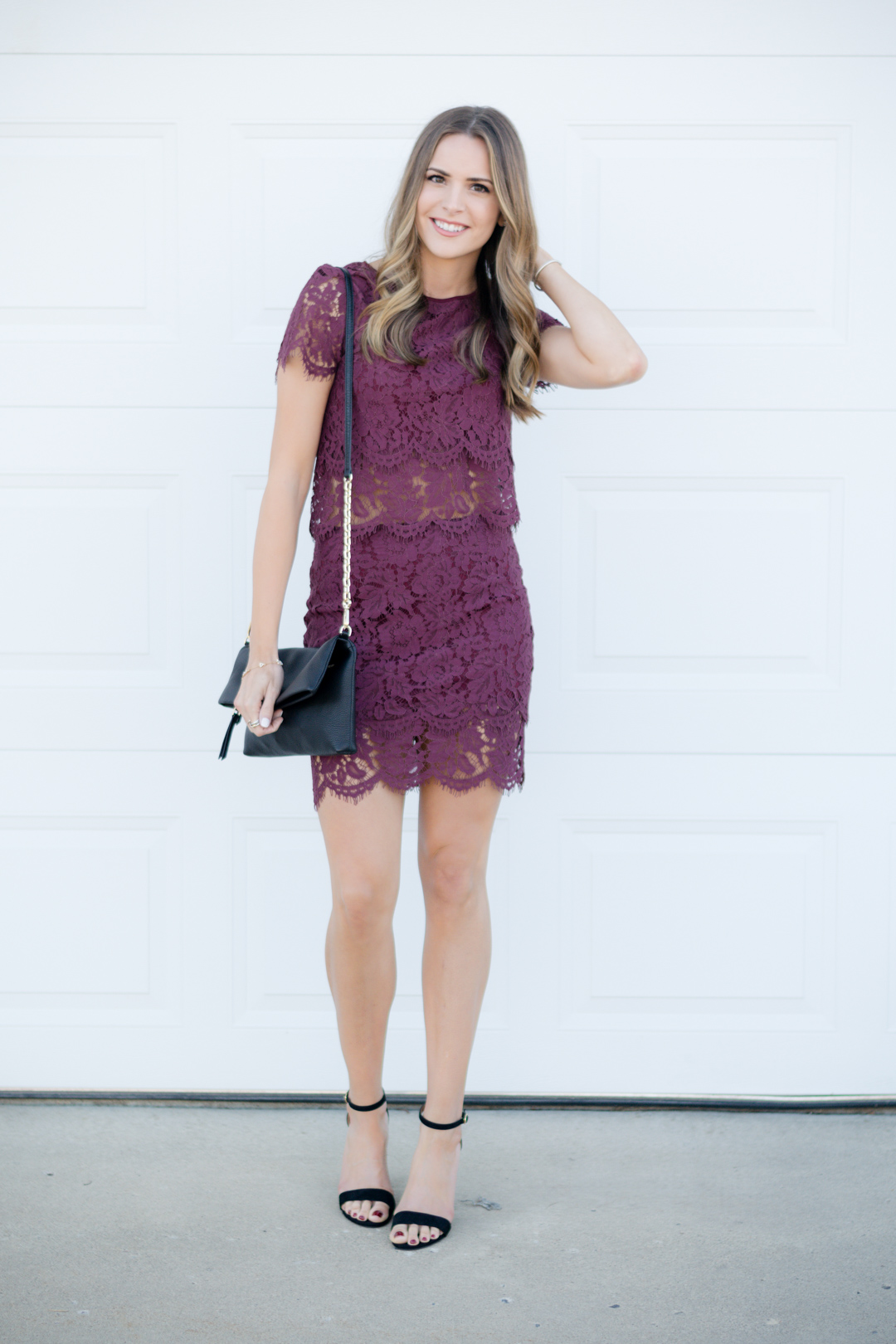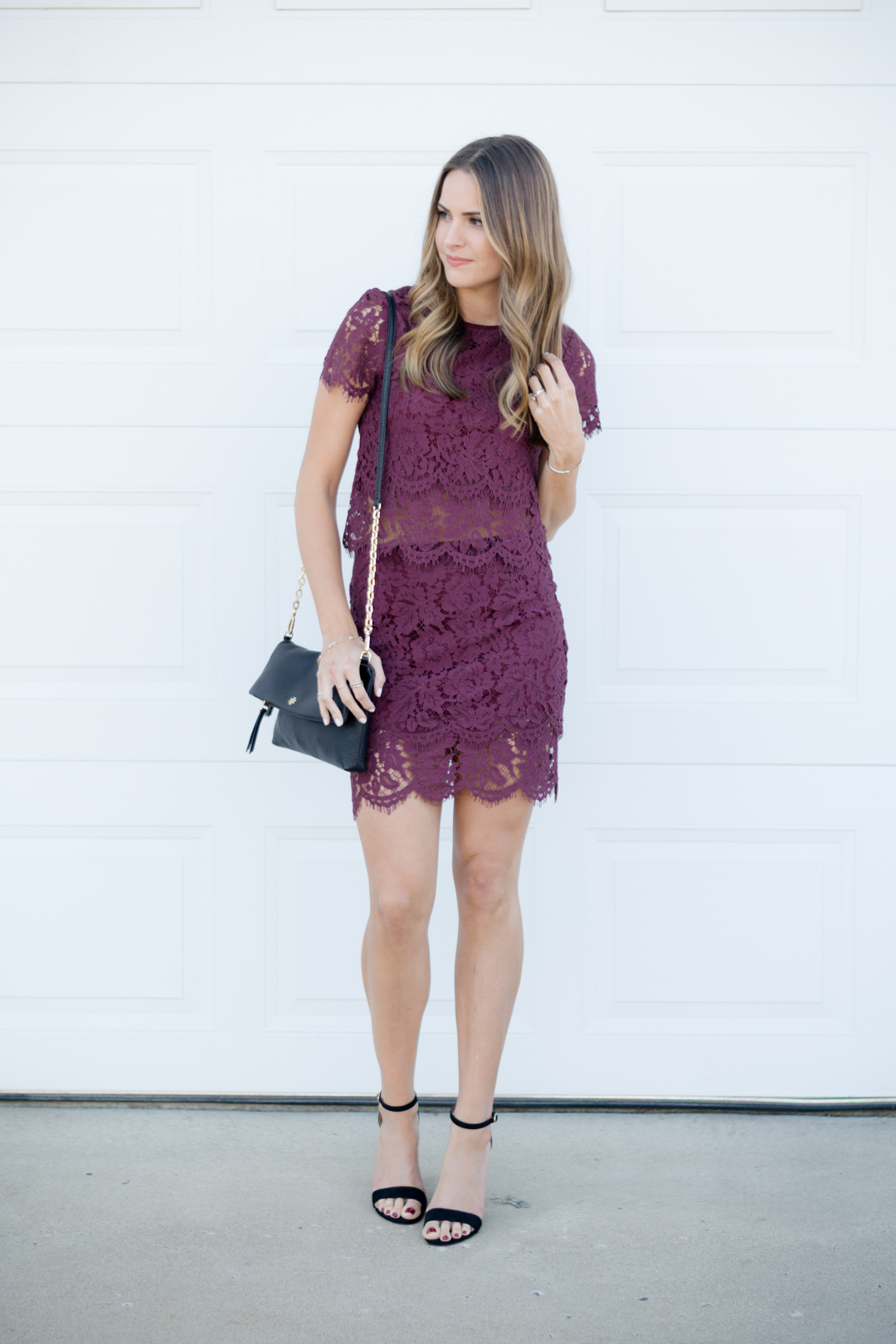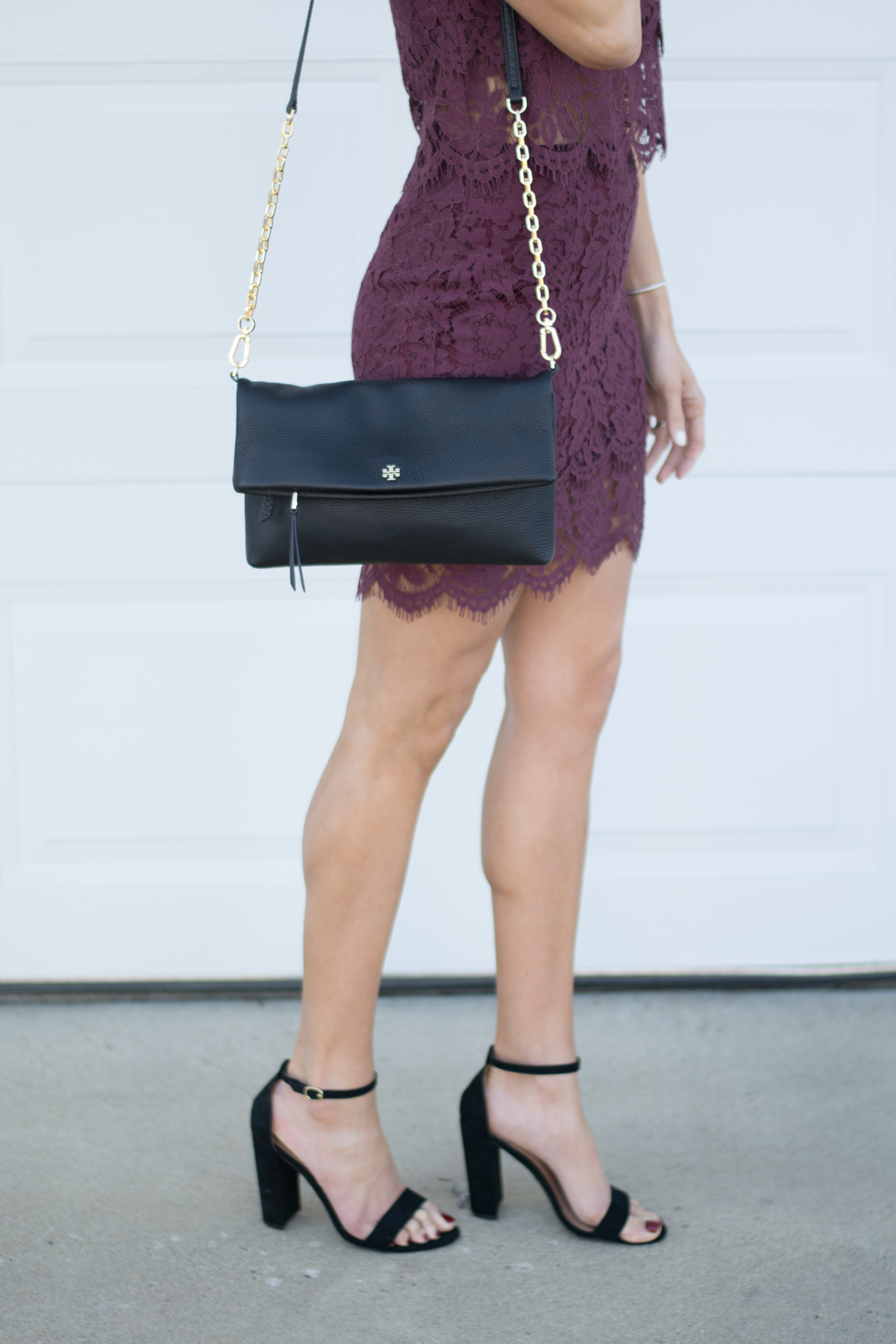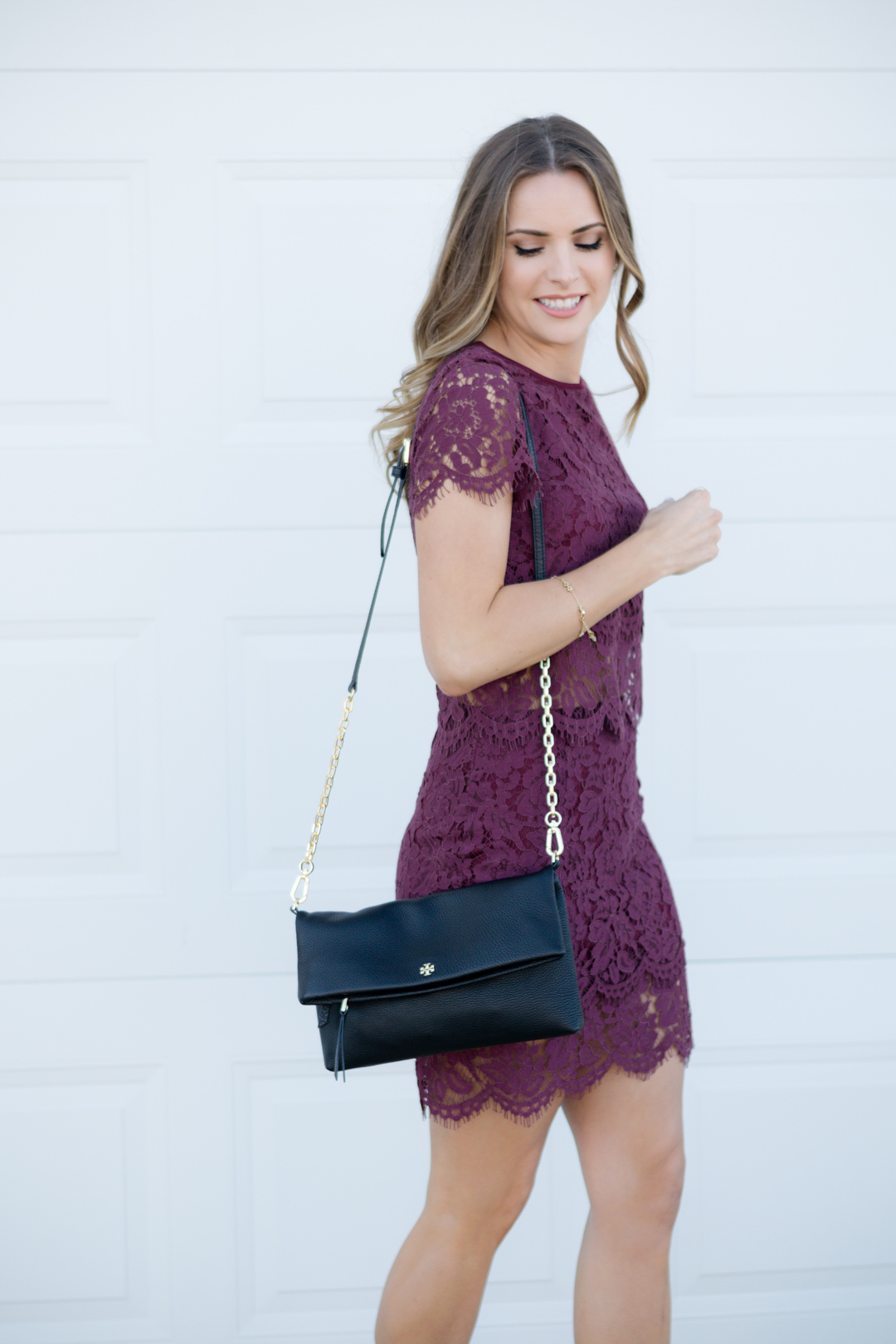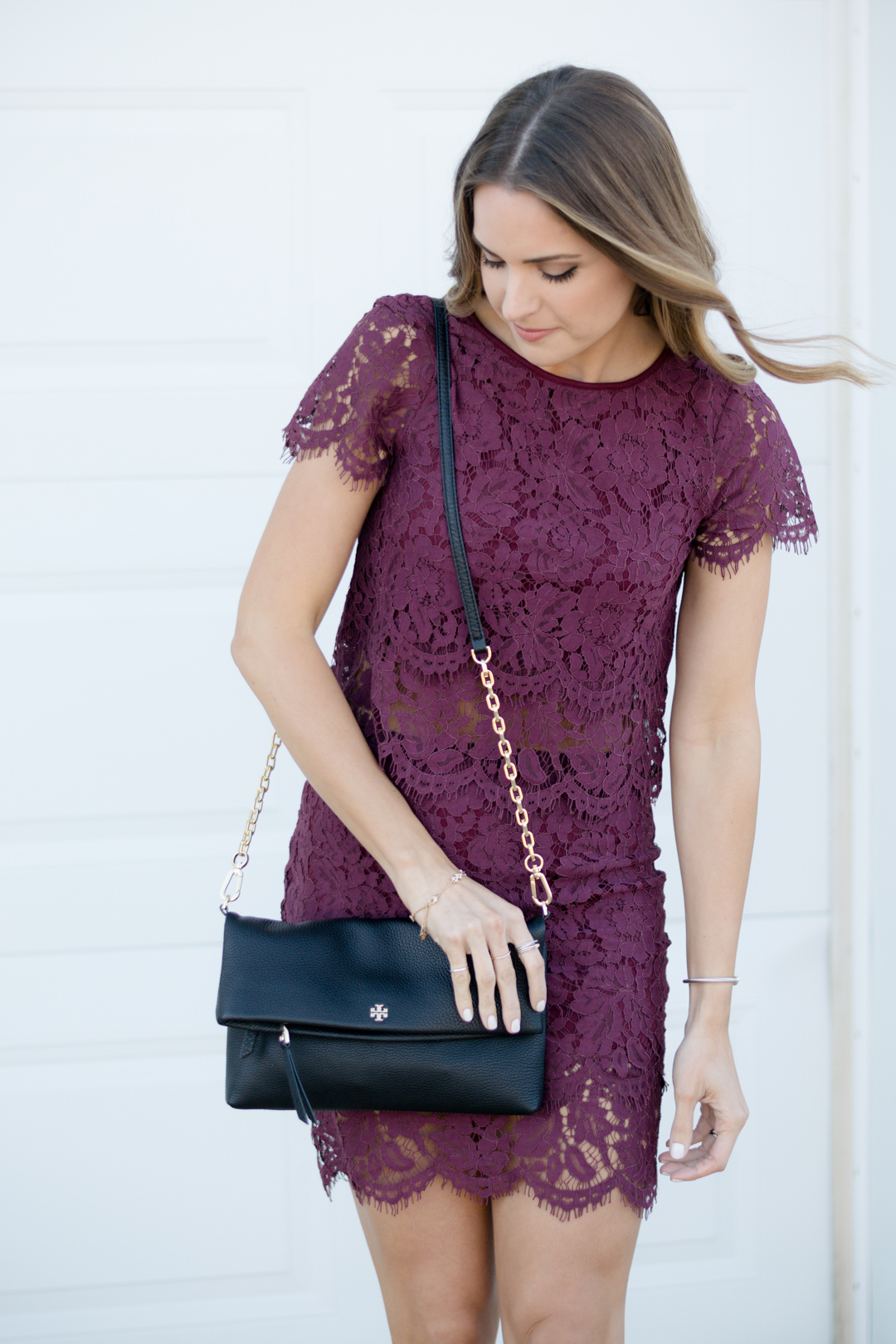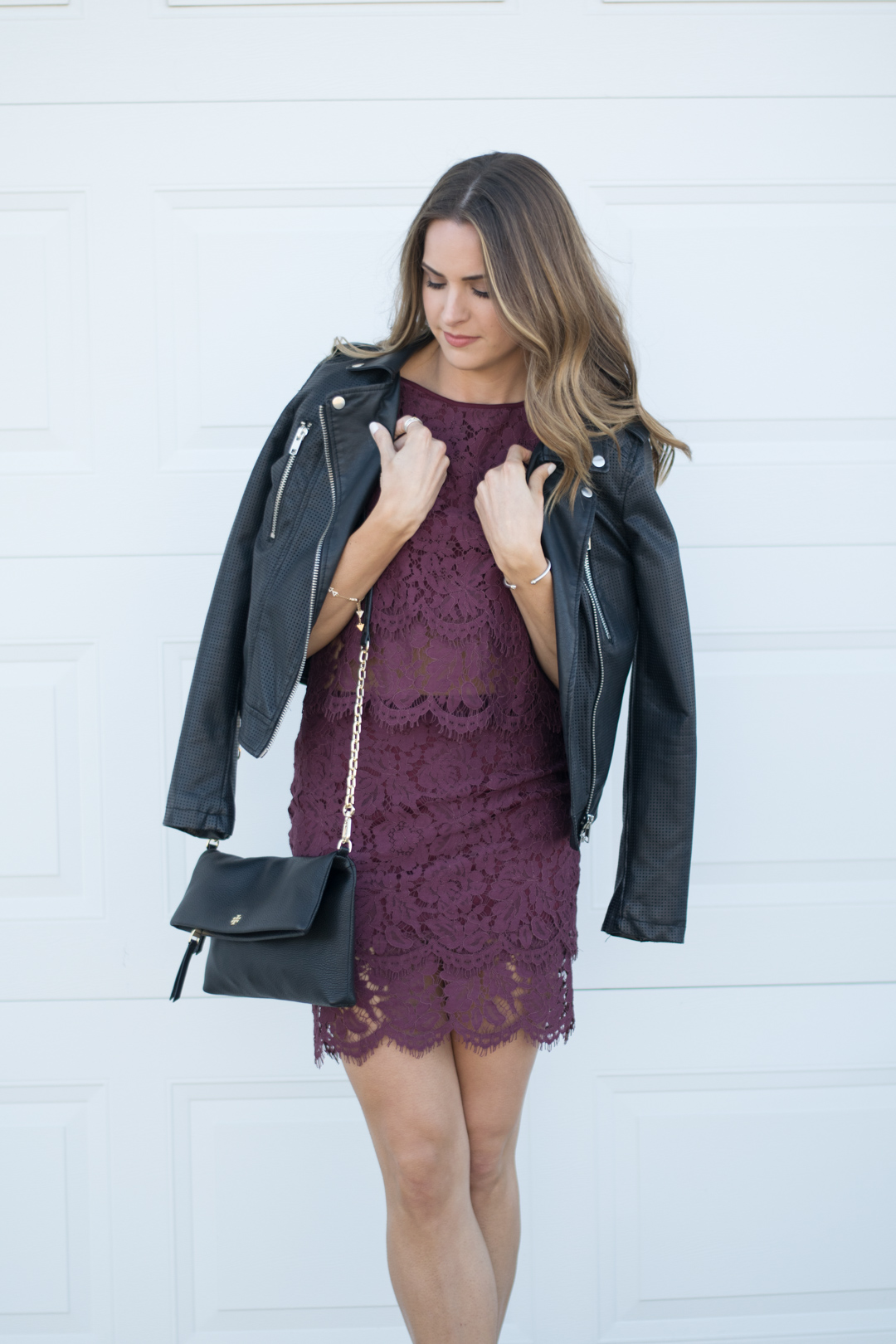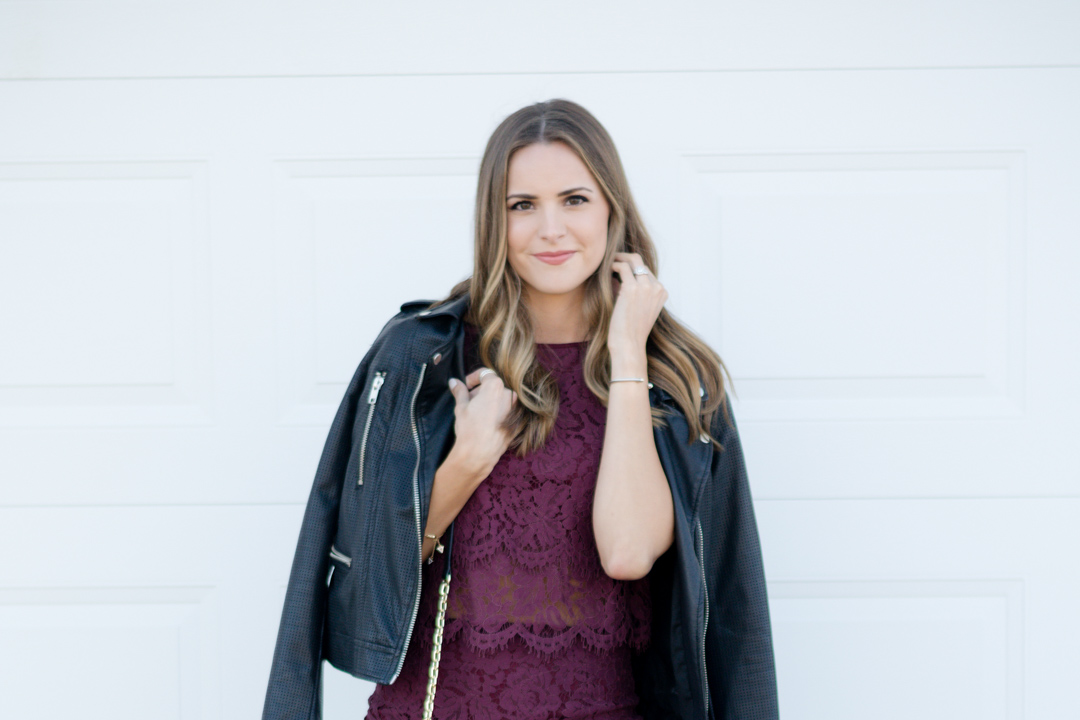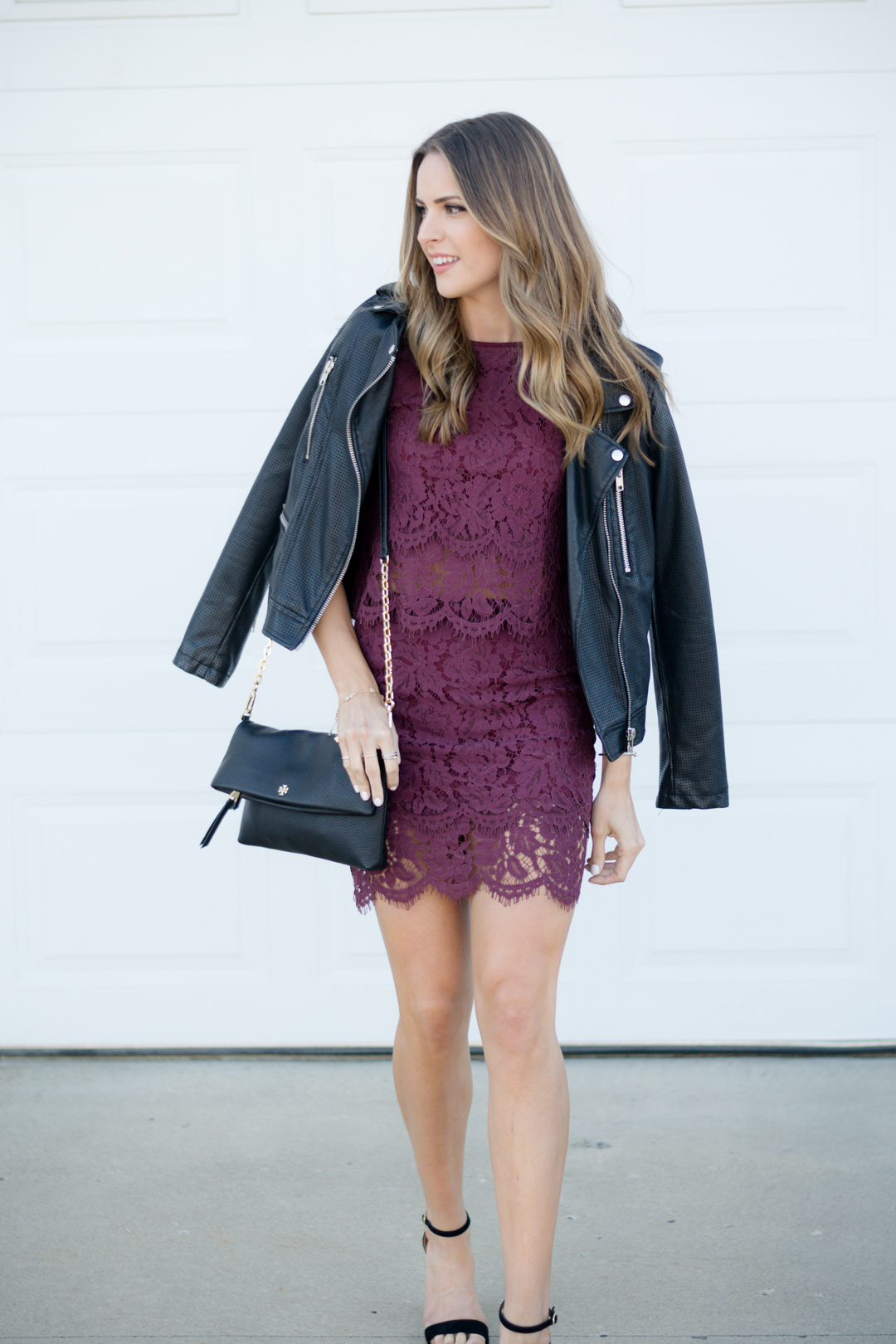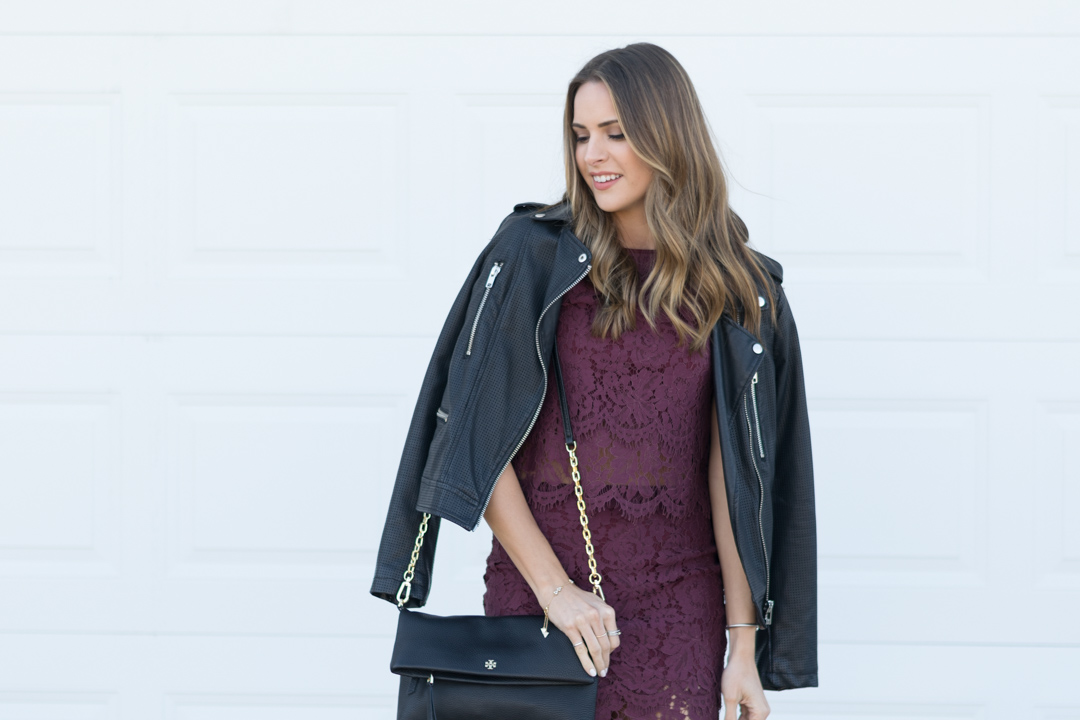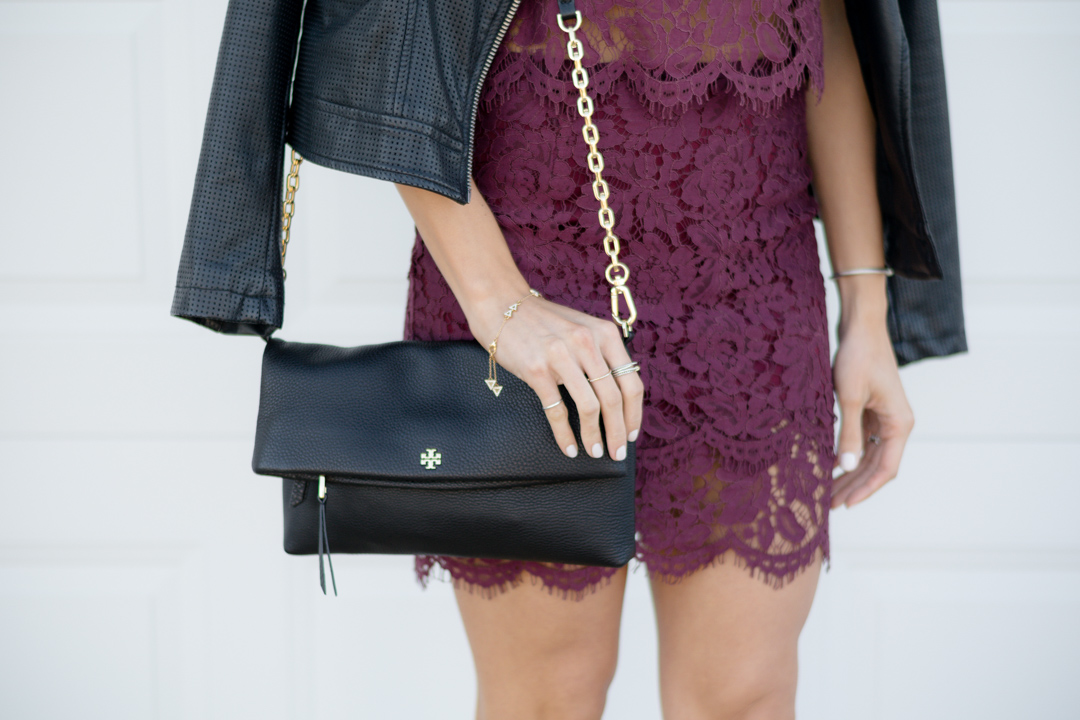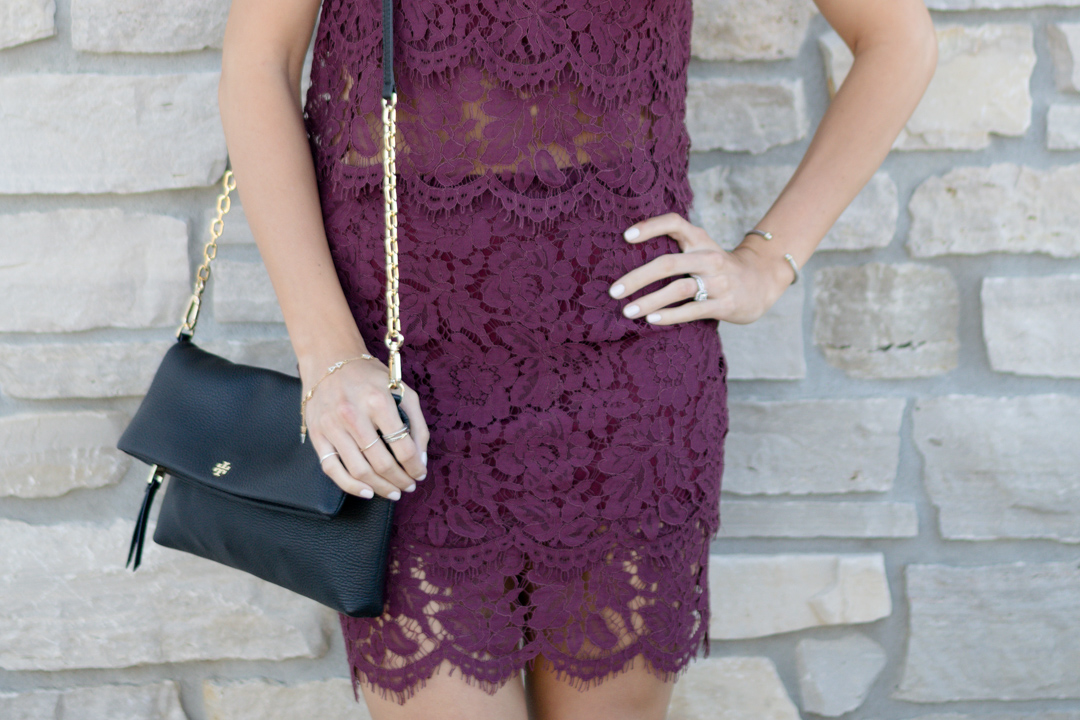 Lulu's Burgundy Lace Two-Piece Dress | Tory Burch Foldover Crossbody Bag | Black Block Heels (surprisingly comfy for a heel, and under $30!) | Faux Leather Jacket (similar)
---
 Happy 1st day of December! How this year has flown. Holiday parties and winter weddings are fast approaching, and I wanted to share a semi-formal/dressy look with you guys! I wore this amazing Burgundy Lace Two-Piece Dress at a wedding in November, and I can't even count on both hands how many compliments I got on it! I had been eyeing this dress for weeks until I decided to pull the trigger.
The reviews on Lulu's website helped a ton, because I was just a little bit worried with my height and the two-piece that it would be too revealing – which wasn't the case at all! The lace lays well to give just a little peek at your midriff, but it's definitely tasteful. The length of the skirt isn't too short, either. 10/10 with this one! I know it comes in a few other colors as well, but you guys know how much I love this color this time of year. 🙂
I also wanted to talk about my accessories… these block heels look identical to the Steve Madden Carrson one's, but they are much more affordable! Steve Madden and Target must have some sort of partnership, because they are always making identical shoes. Target's are always a little more affordable and the quality isn't quite as nice as the Steve Madden's, but they are an amazing alternative for the shoe shopper on a budget! I also have to add that these are quite comfortable (for a heel). Of course, sneakers or slippers are always more comfortable, but for a HEEL, they are so good! I was able to stand in them and dance in them all day/night without having too sore of feet. 🙂
Onto my next accessory: I recently got this black Tory Burch foldover crossbody bag, and I'm so in love. It's a great size, fits a ton of stuff, has card slots and zip pockets in different areas, and can be worn as a crossbody or a clutch. The leather and the gold hardware are so beautiful! Highly, highly recommend you add this beautiful and practical bag to your Christmas list. 😉 She'll get years and years of wear!
Throwing on a leather jacket made this look a little edgier, but a pretty peacoat would look just as nice when you are outdoors!
SHOP THE LOOK: