This recipe was inspired by one of our favorite Home Chef recipes and has become a staple in our home since they are so tasty and so easy to make! If you aren't into hot honey (or someone in your family isn't), you can always skip adding that at the end at use BBQ sauce instead to keep a little sweetness and lots flavor!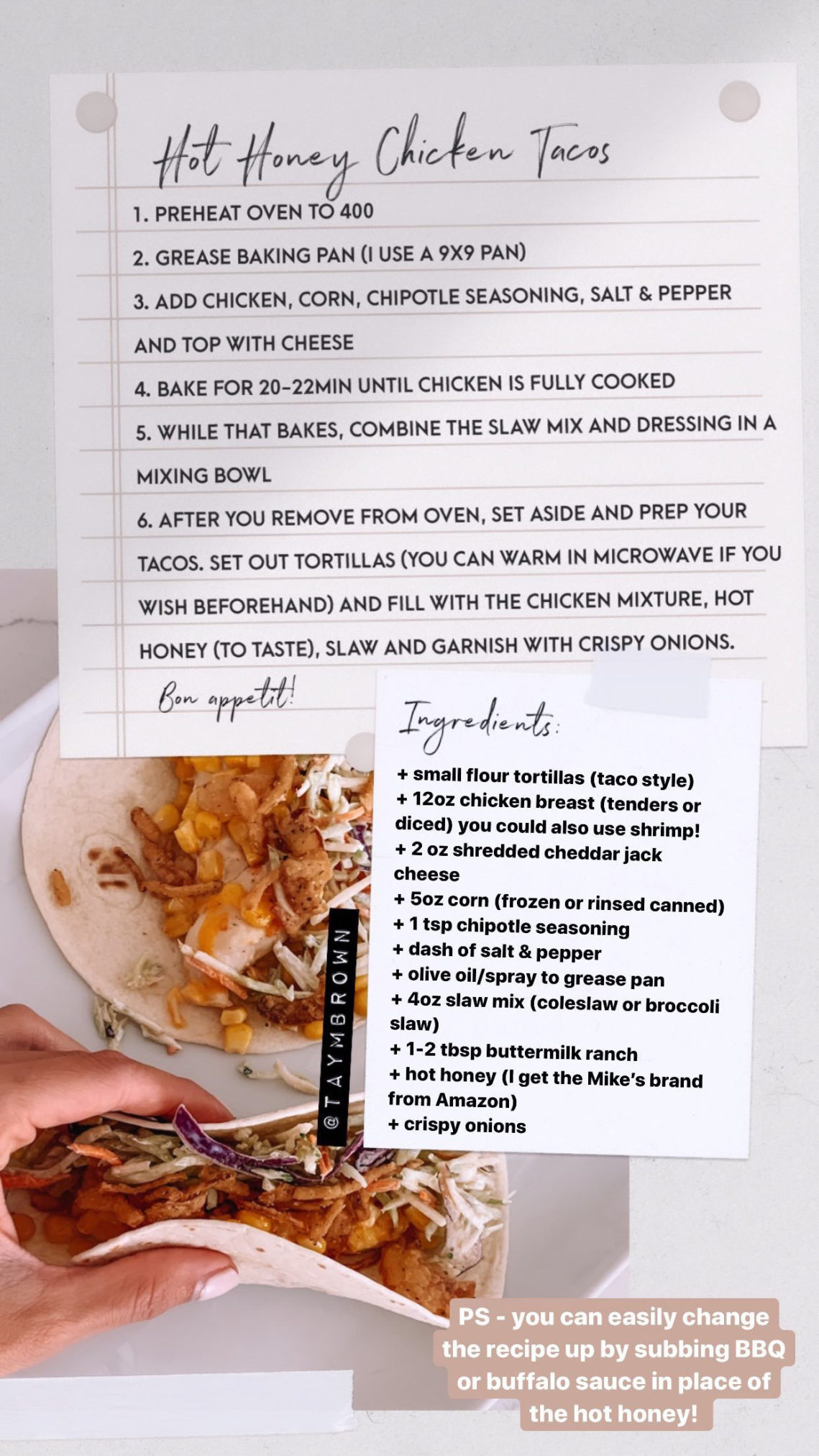 Ingredients:
Small flour tortillas (taco size)
12oz chicken breast (tenders or diced); you could also use shrimp!
2oz shredded cheddar jack cheese
5oz corn (frozen or rinsed canned)
1 tsp chipotle seasoning
Dash of salt & pepper
Olive oil or oil spray to grease pan
4oz slaw mix (coleslaw or broccoli slaw)
1-2 tbsp buttermilk ranch
Hot honey (I get Mike's Hot Honey on Amazon)
Crispy onions (purchased in a bag, typically served as a salad topping)
Recipe:
Preheat oven to 400
Grease backing pan (I typically use a 9×9 pan)
Add chicken, corn, chipotle seasoning, salt & pepper, and top with cheese
Bake for 20-22 minutes until chicken is fully cooked (internal temp of 165)
While that bakes, combine the slaw mix and dressing in a mixing bowl
After you remove from the oven, set aside and prep your tacos. Set out tortillas (beforehand, you can warm in microwave if you wish) and fill with the chicken mixture, hot honey (to taste), slaw and garnish with crispy onions
Enjoy!
-T