Hi everyone! Time for some beauty talk! Today I'm sharing a little hair secret I've been using the past couple of weeks… including an honest review and what you need to know about Irresistible Me hair extensions!
While I have pretty long hair, I have always wanted to try clip-in extensions to make my hair thicker. The longer my hair gets, the harder it is for me to achieve volume since it gets weighted down. Irresistible Me reached out to see if I'd like to review their Silky Touch clip-in extensions, and I jumped on the opportunity!
Here is my natural hair, sans extensions: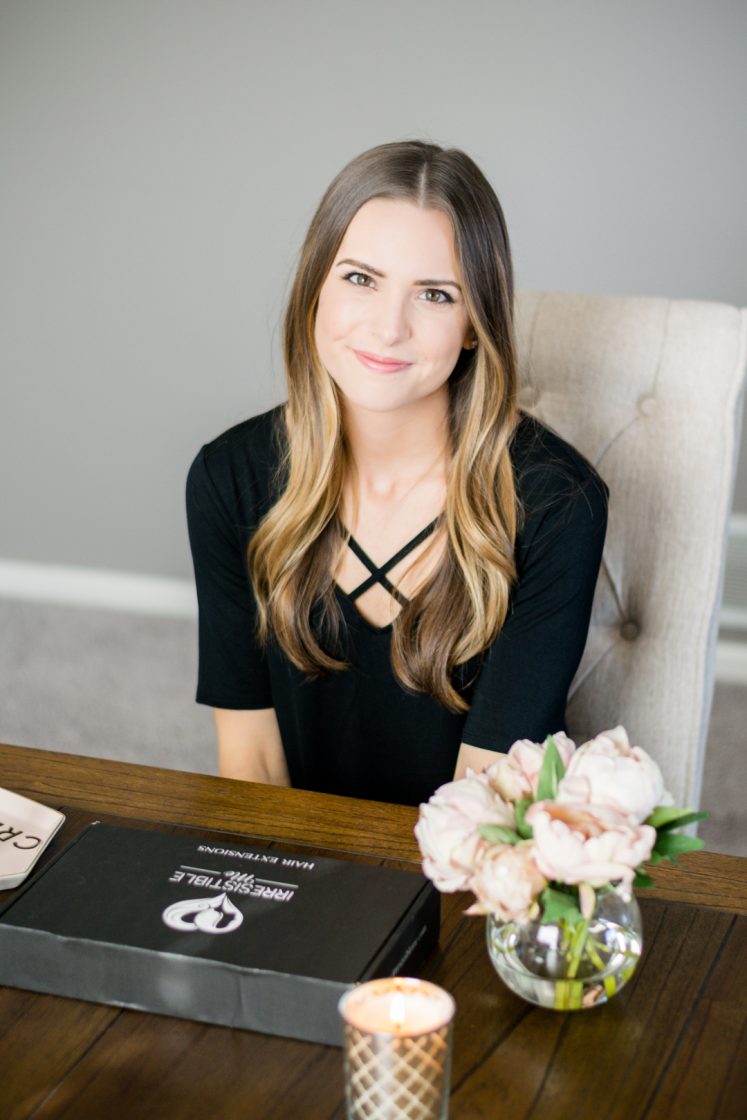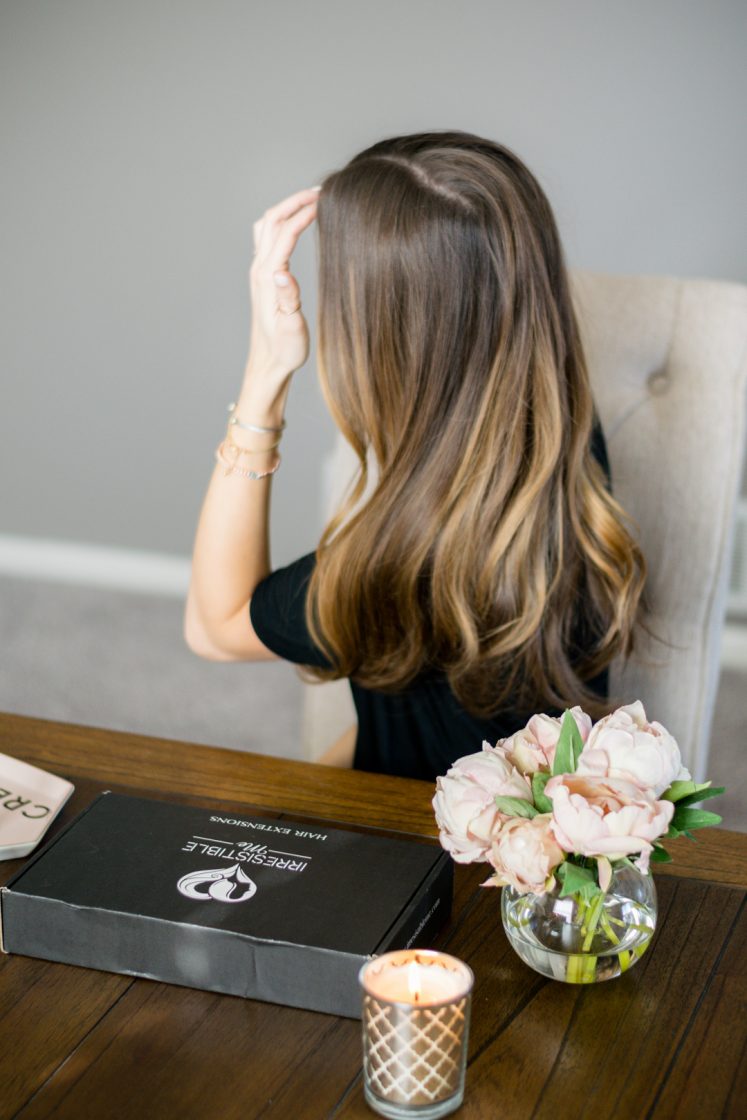 The Packaging
This slim black box was the package that my extensions came in. Super sleek, and the hair was very neatly packaged inside little zipped bags. Irresistible Me provides you with a small sample of the hair in one of the bags for you to judge whether the color will work for your hair. Once the others are opened, you cannot return or exchange your extensions. Luckily for me, the Ash Blonde color was my perfect match! I wanted it to match the blonde balayage I have in my natural hair, and it did just that.
Since the extensions are made of 100% natural Remy hair, you can also color them yourself or take them to your salon to be colored how you wish.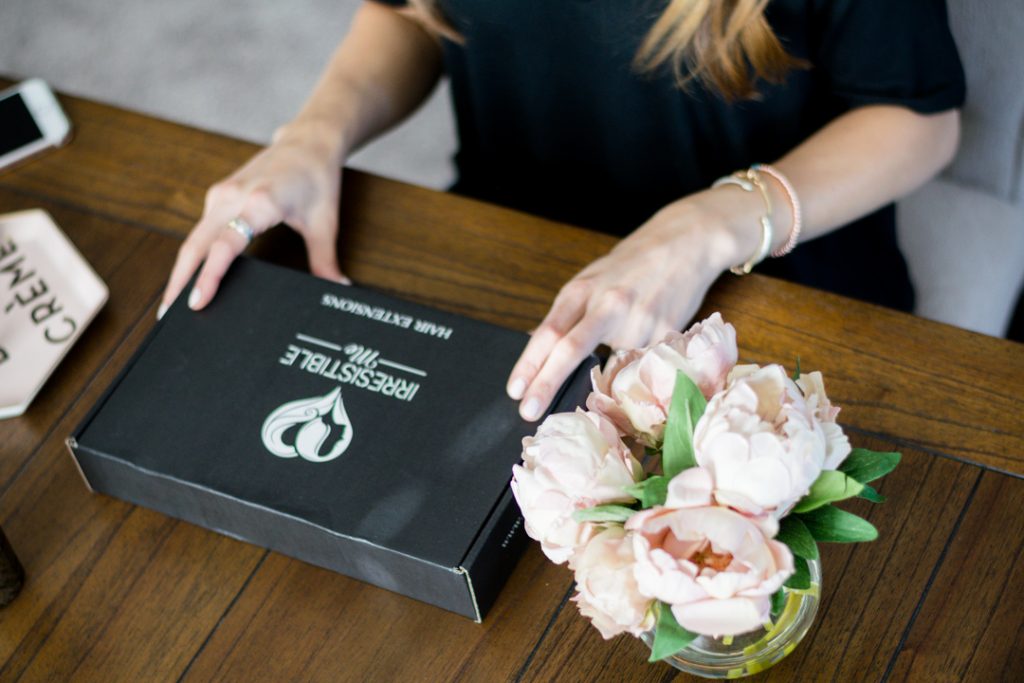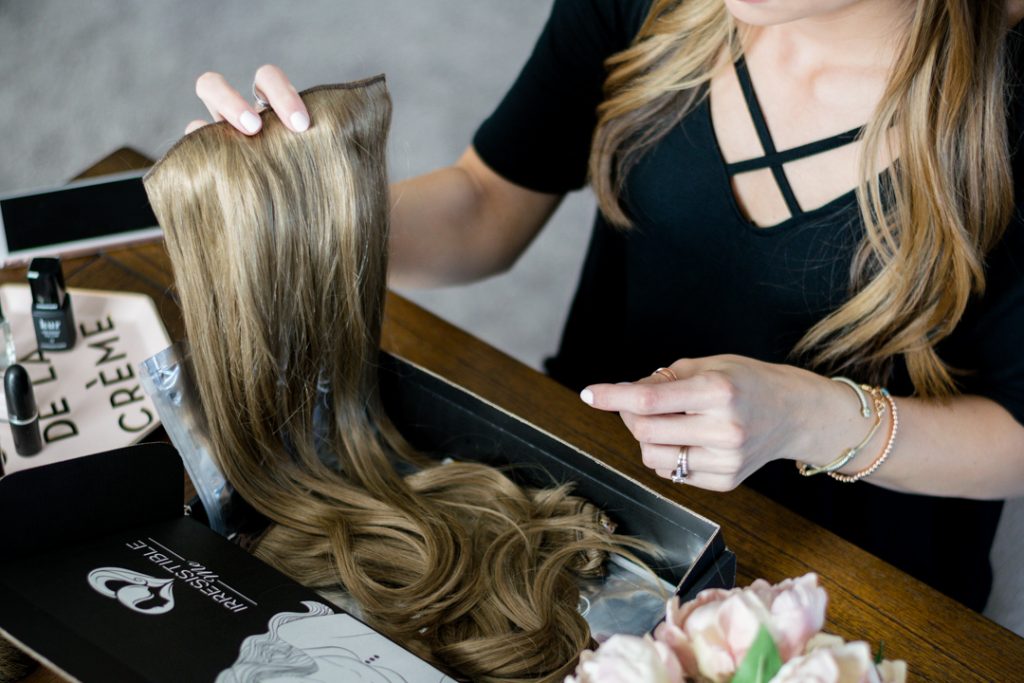 The Hair Extensions
I was very impressed with the quality of the hair — they felt like silky, soft, natural hair. I ordered the 18″ length in the 140g weight, which is purposely adapted to cover your head all around.  The composition for this weight is 8 pieces – 1 pc of 4 clips (7.5″), 3 pcs of 3 clips (6″), 2 pcs of 2 clips (4″), 2 pcs of 1 clip (1.2″). After shooting this post, I actually ended up trimming the 4 clip piece a bit, because it was just a pinch longer than what I wanted.
Since I had never used clip-in extensions before, I looked up a YouTube tutorial on how to apply them, I found out that they are actually really easy and quick to clip-in! The first time was a little tricky, but now I can get them in within 5 minutes. You simply part your hair by sections, tease, clip in, and style as you normally do! I always use a Hot Tools 1 1/4″ curling iron, Oribe Texturizing Spray and Living Proof Nourishing Oil on my hair, and had no issue styling it with the extensions in. They are also blow dryer and hair straightener friendly! When they need to be washed (after about 10 uses and/or too much product buildup), gently shampoo and condition.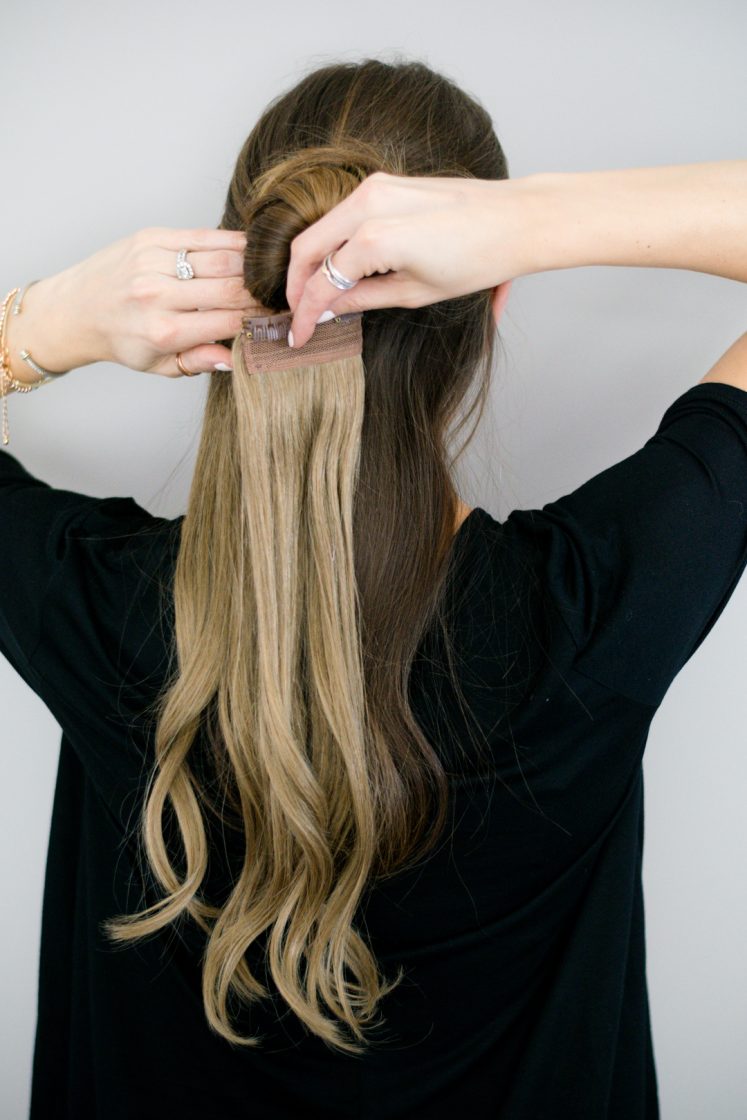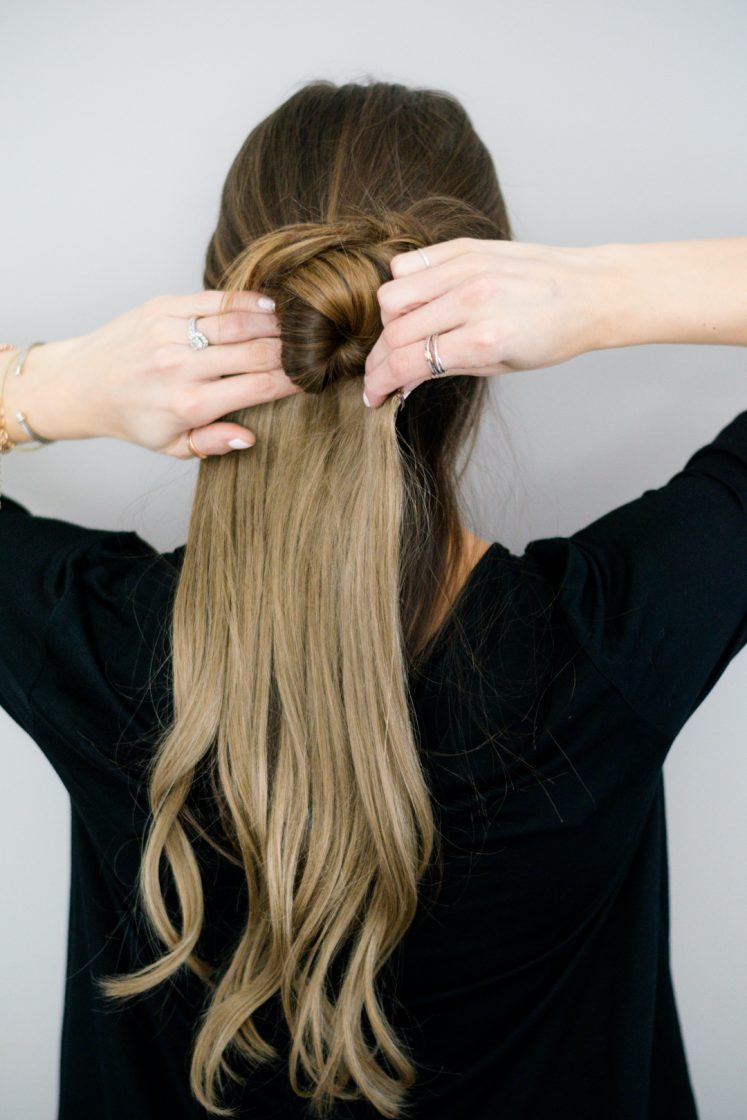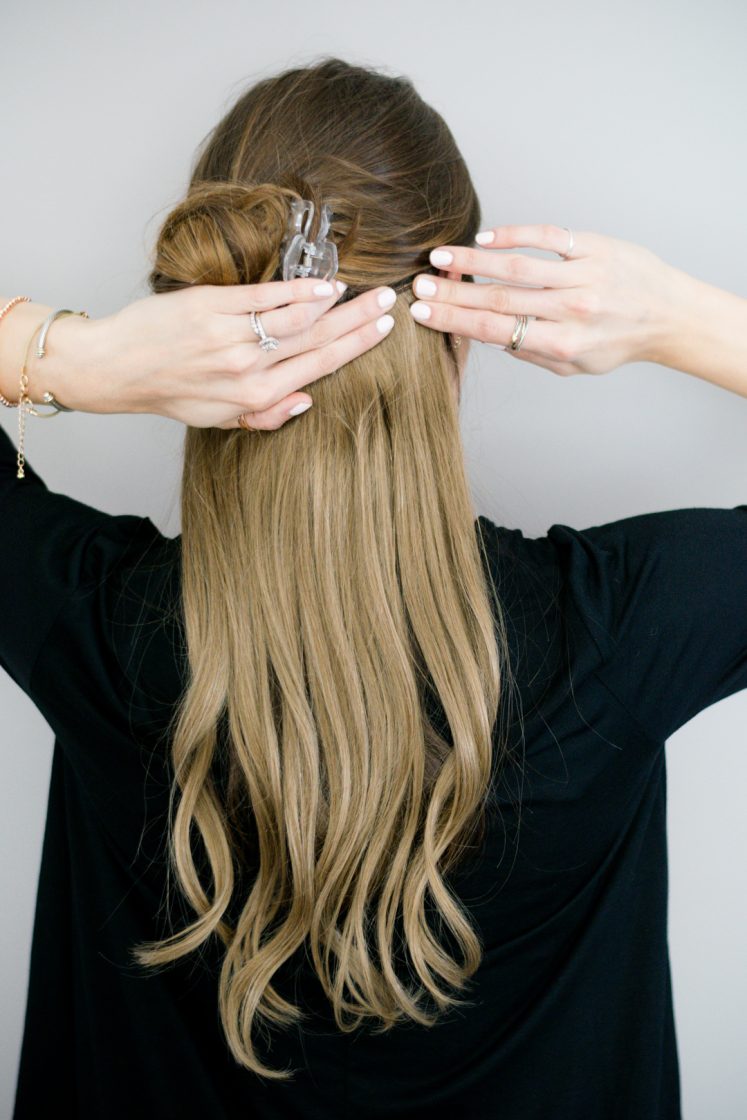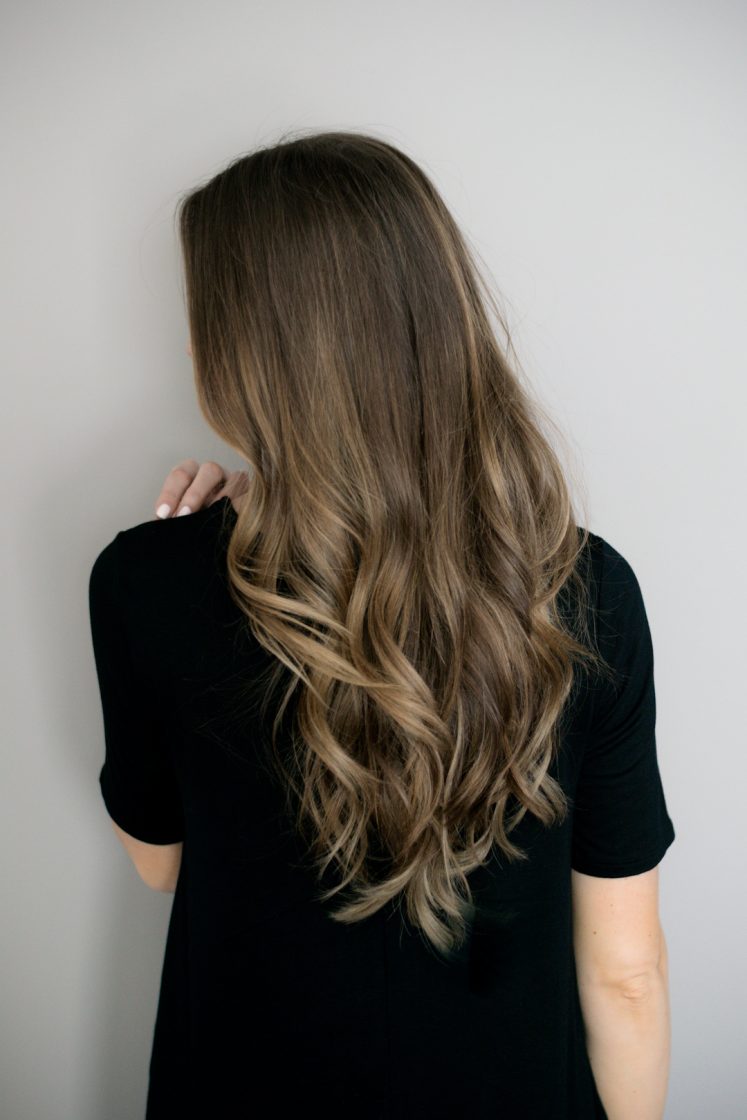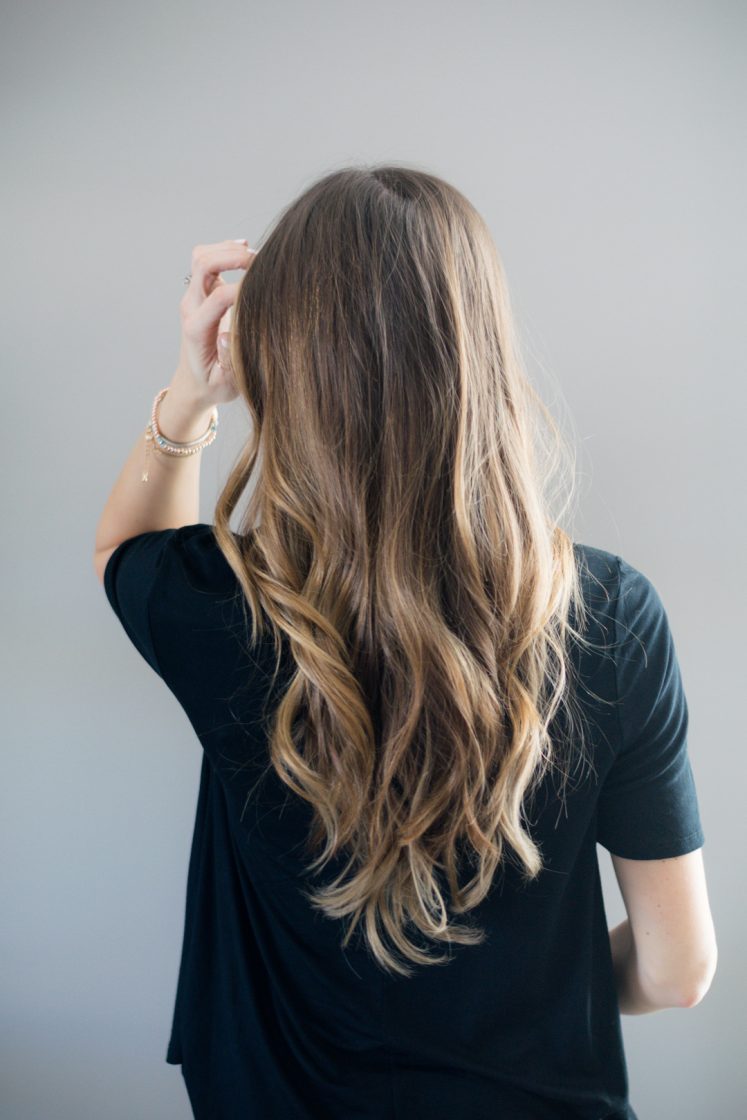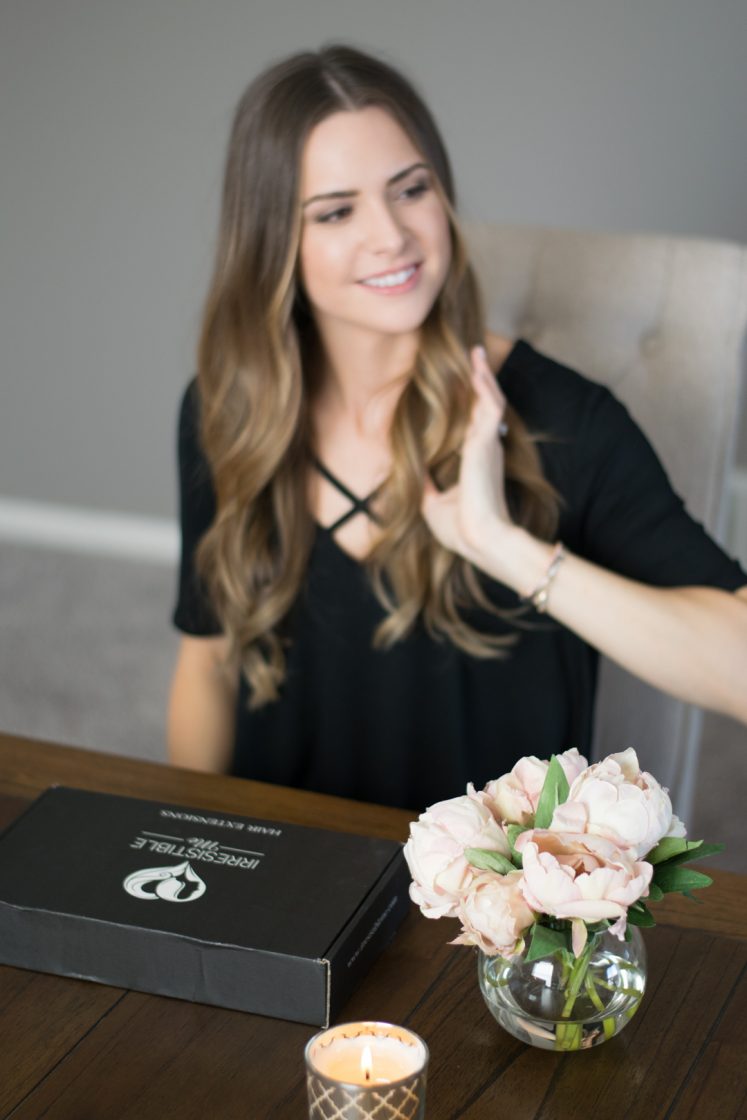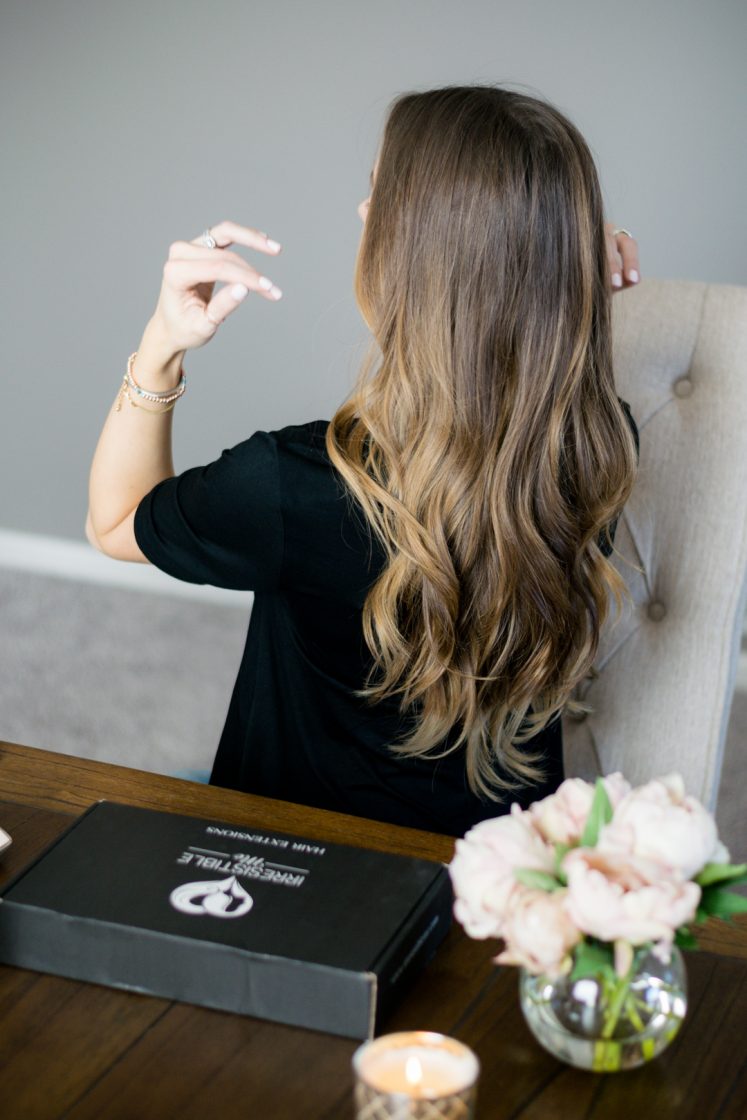 Overall Thoughts
I love these hair extensions! The are perfect for anybody who loves adding a bit of volume and/or length to their hair. I haven't been wearing them everyday, but I like to wear them for special occasions and weekends. I had many compliments on my hair when I wore these, but no one suspected that I was wearing extensions! My husband was skeptical of them at first until I put them on, and now he thinks they look great. 🙂
I'm wearing these bad boys proud in my last two previous posts (Open Front Textured Cardigan and Galentine's Day Getaway at the Radisson Blu MOA).
If you have been considering trying out clip-ins and/or are seeking some serious bombshell hair (Victoria's Secret model status!), I highly recommend Irresistible Me's Silky Touch extensions. The price is affordable, they aren't damaging to your hair, and they are so easy to put in!
What are your experiences with hair extensions? I'd be happy to answer any questions you have if you are considering trying these out. 🙂 Thanks for reading!

p.s. – you can shop my top HERE.
MY MUST-HAVE STYLING PRODUCTS: