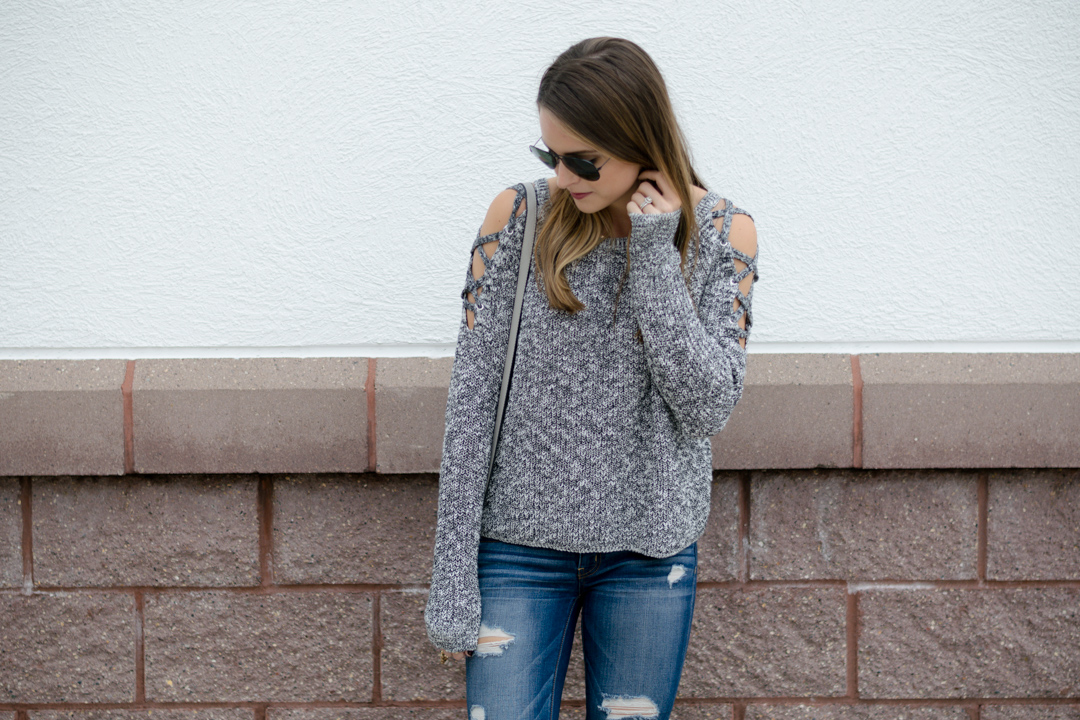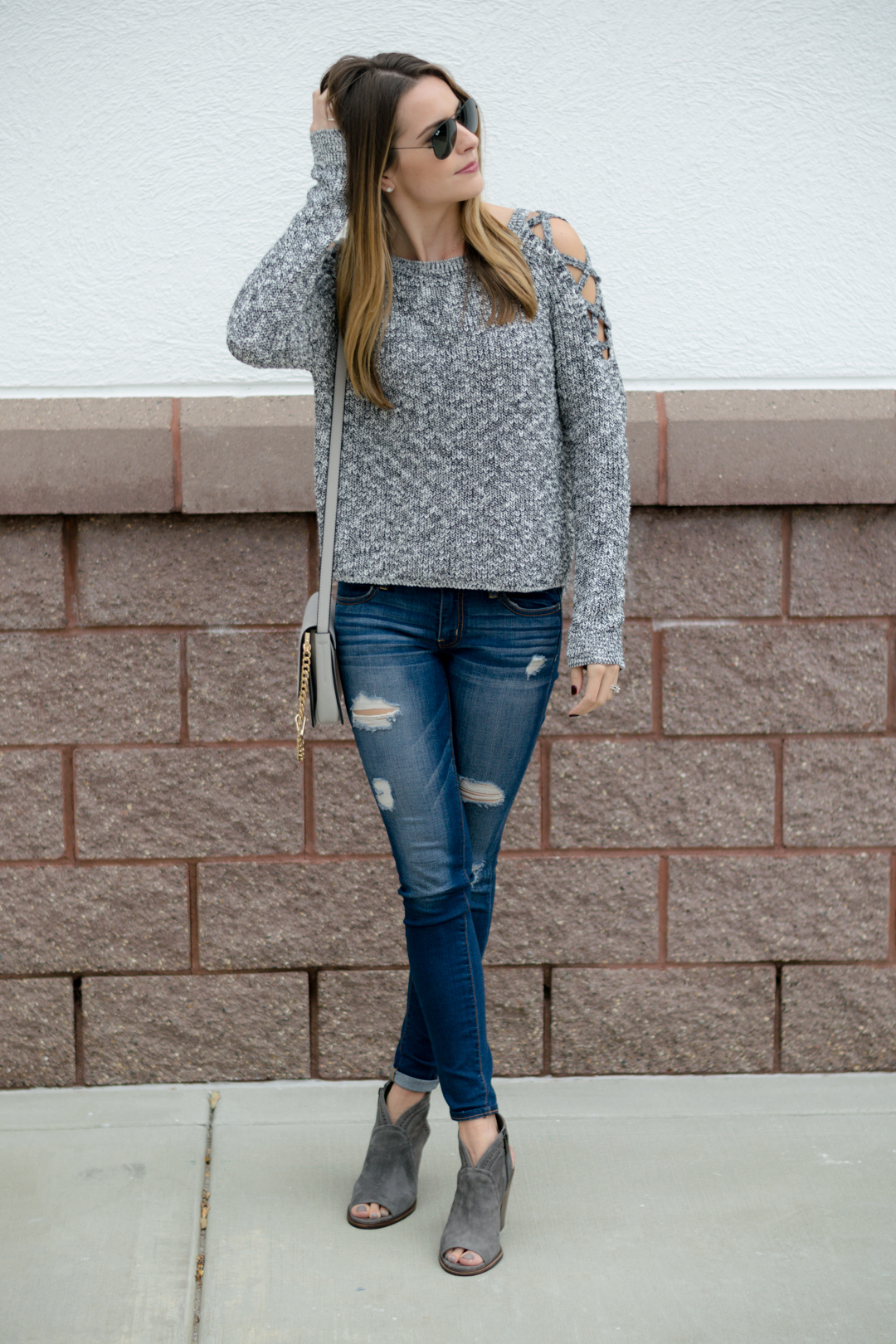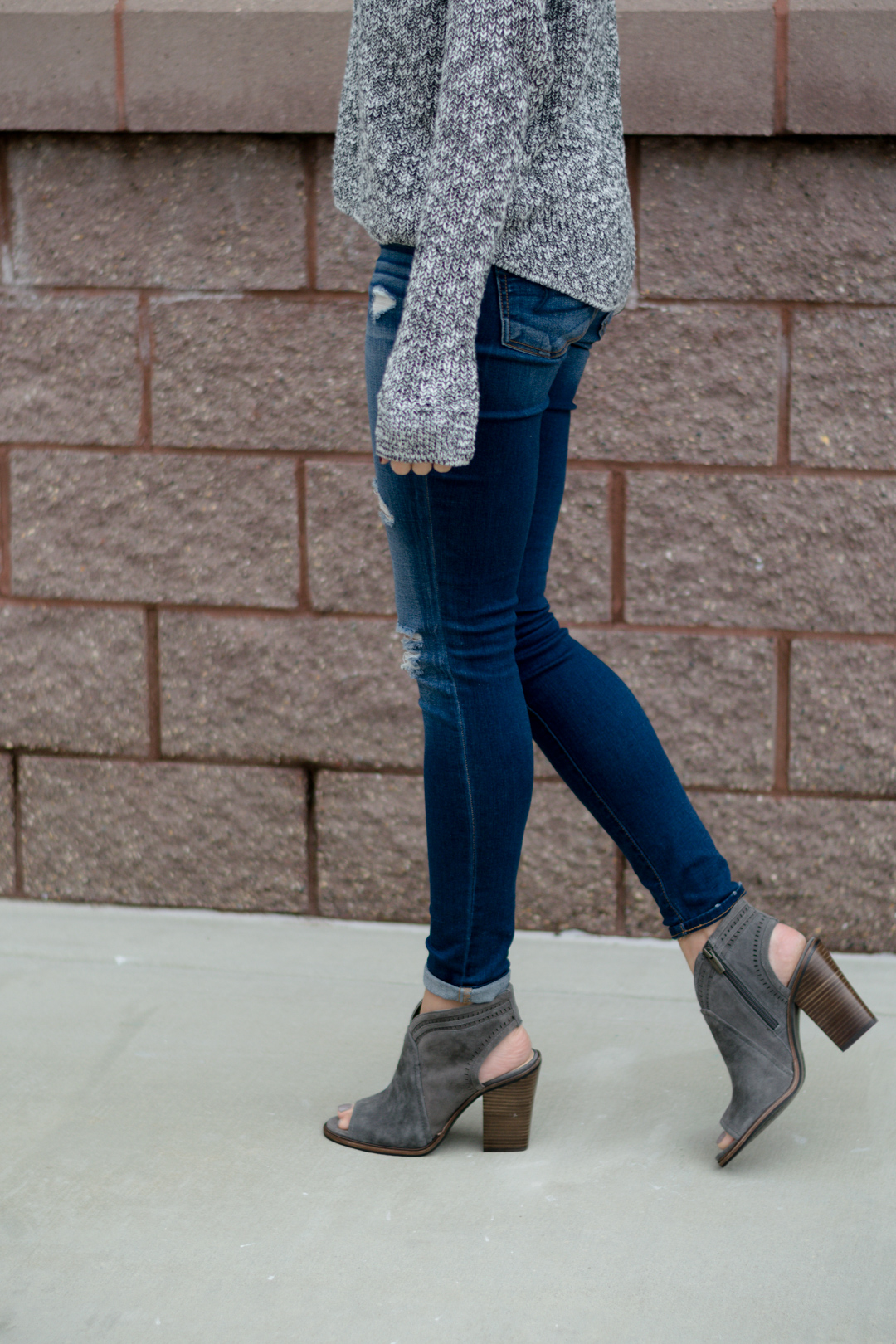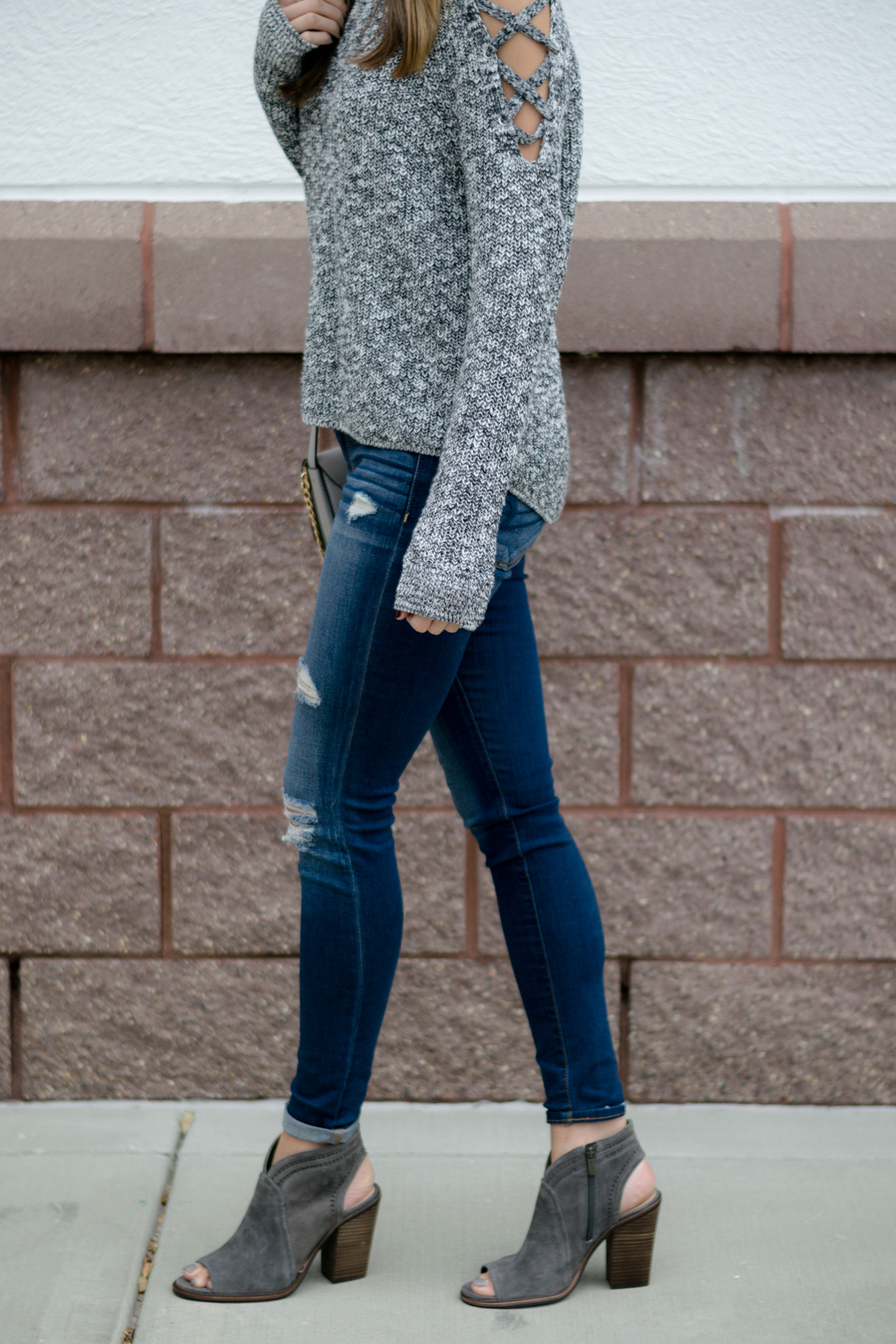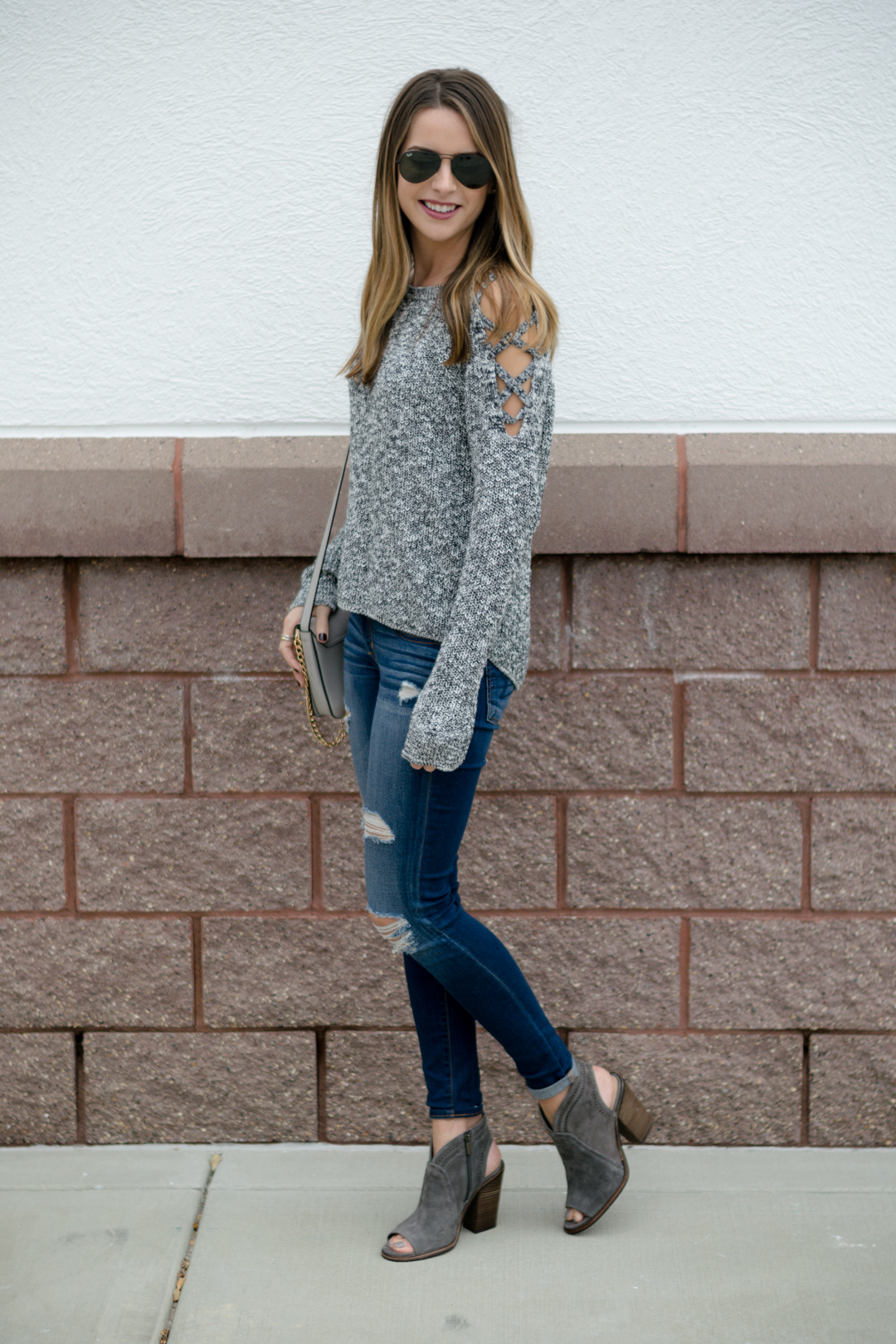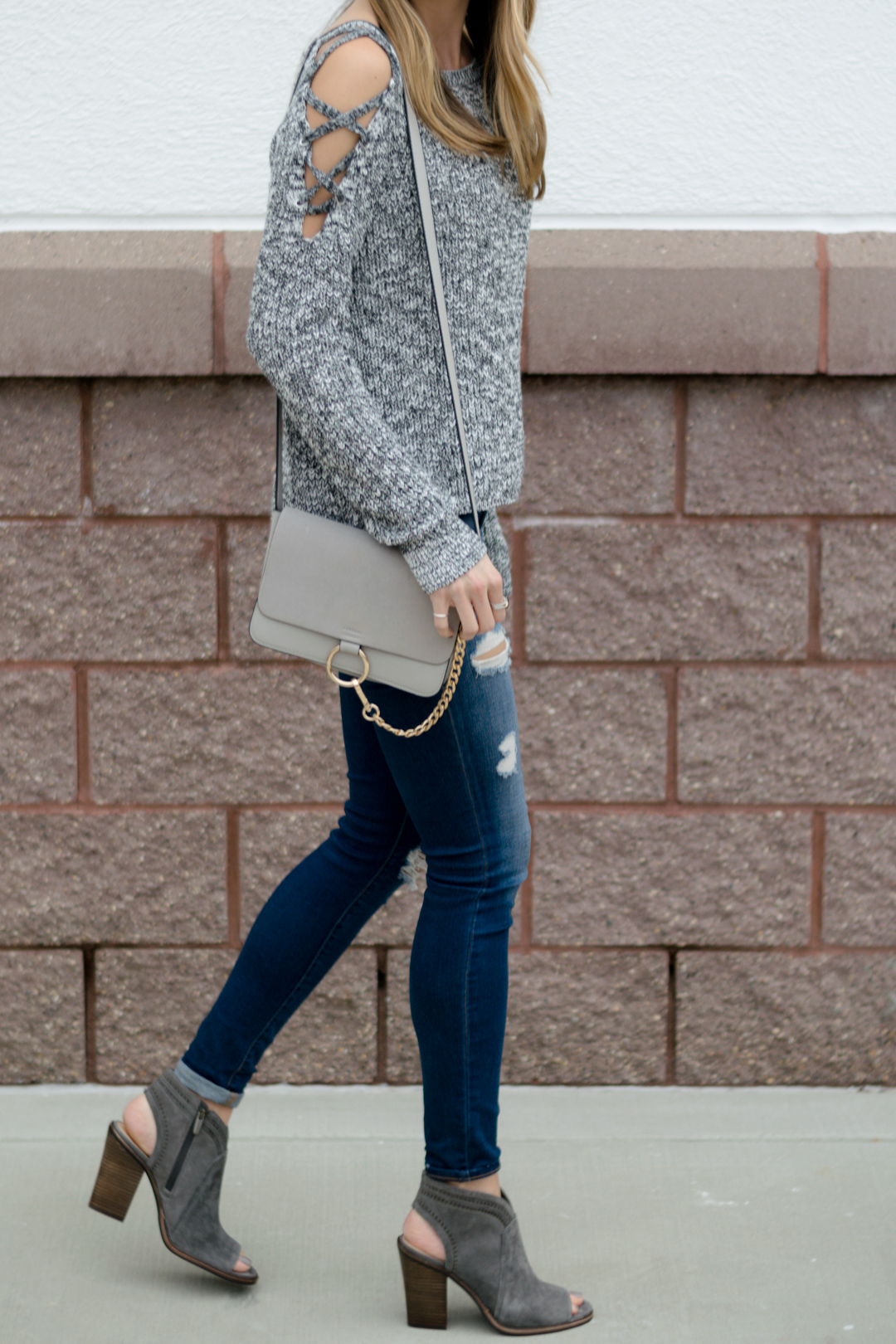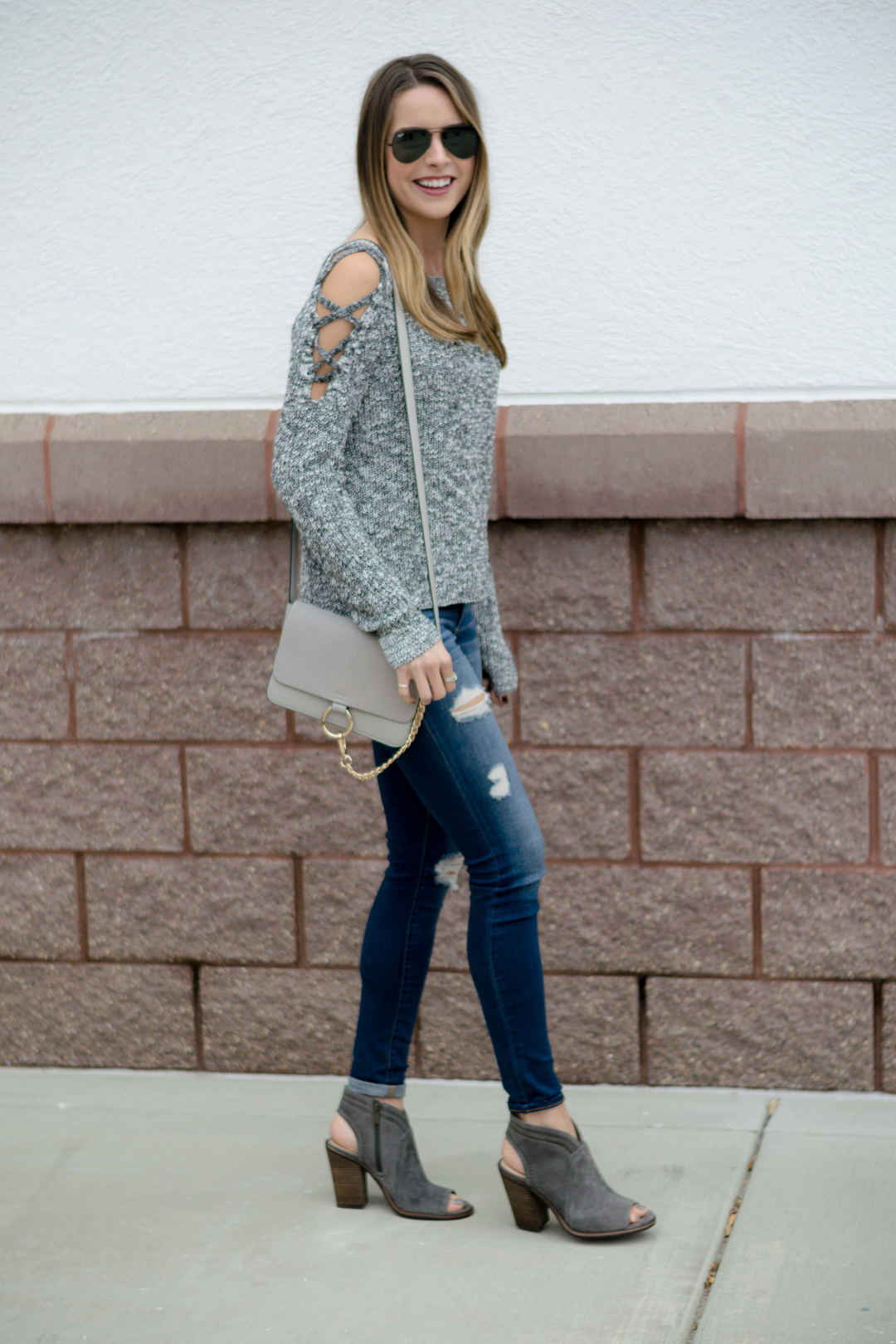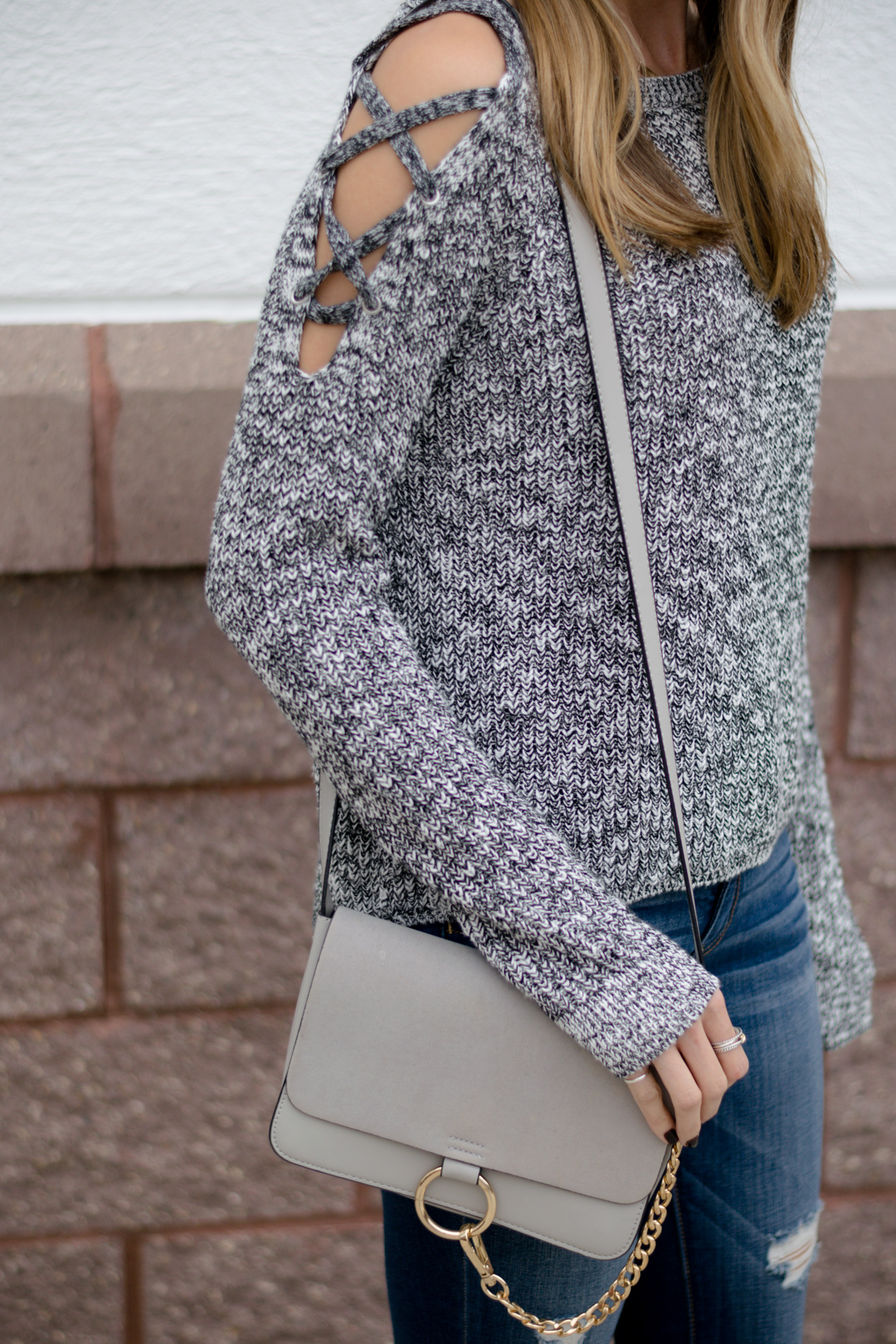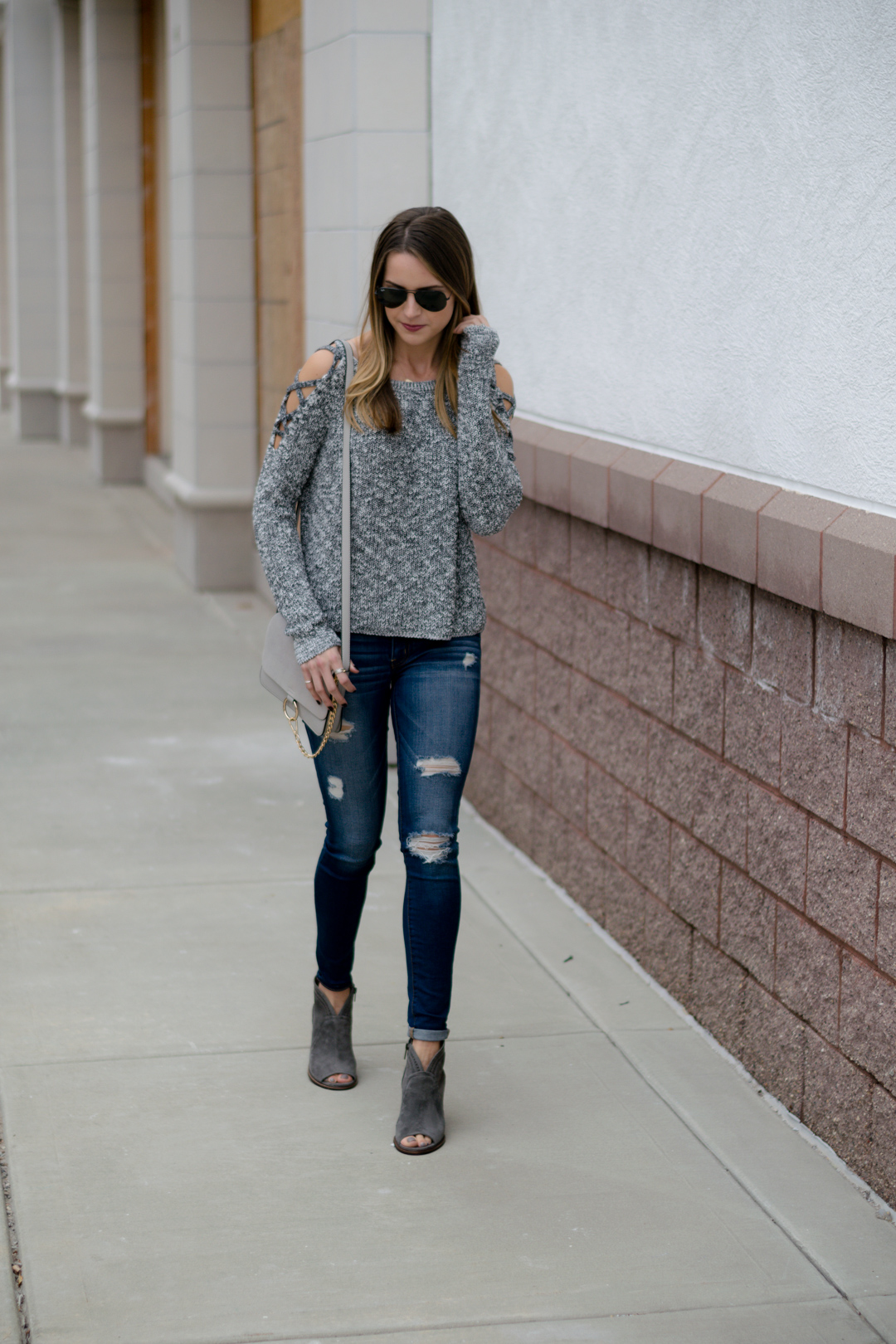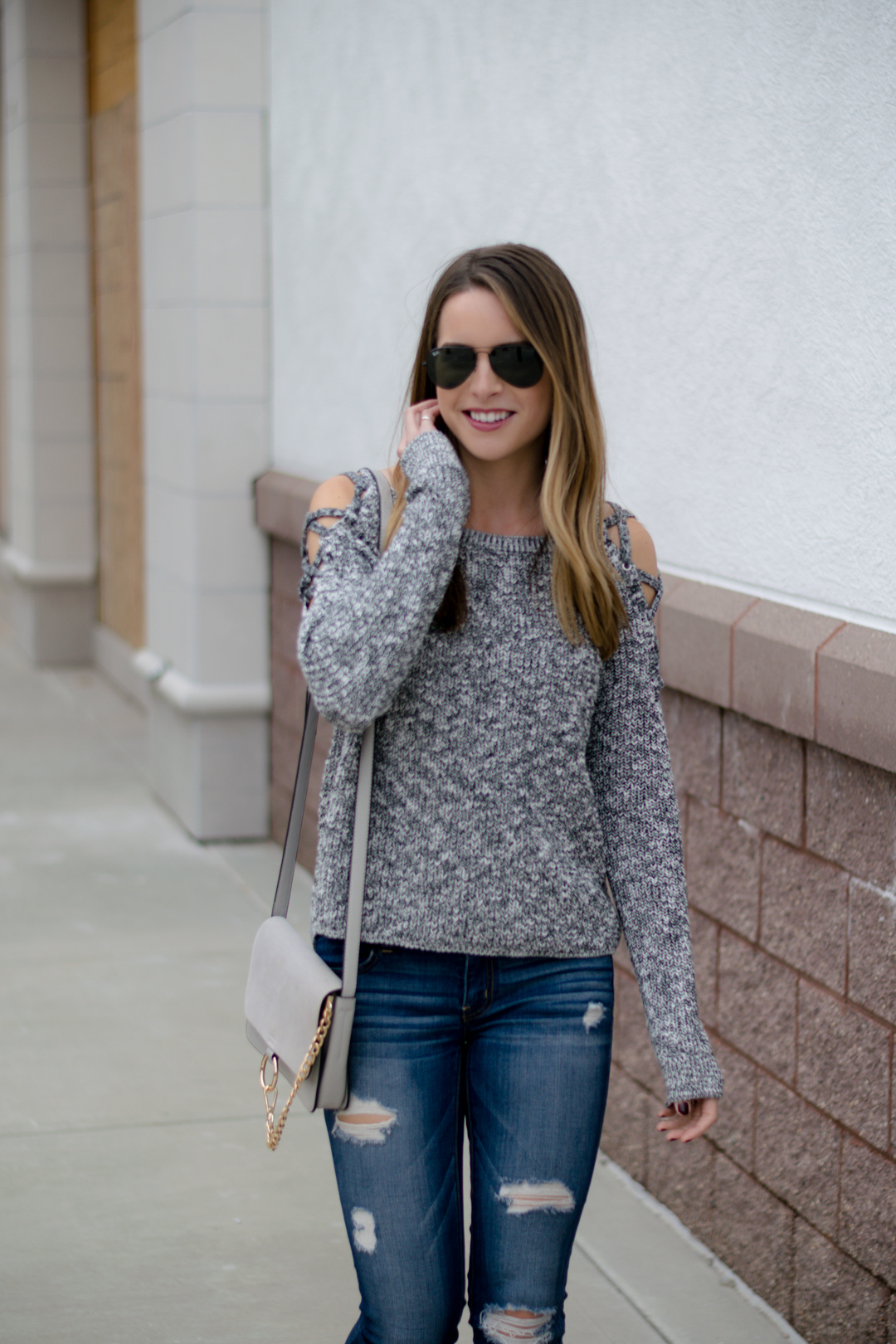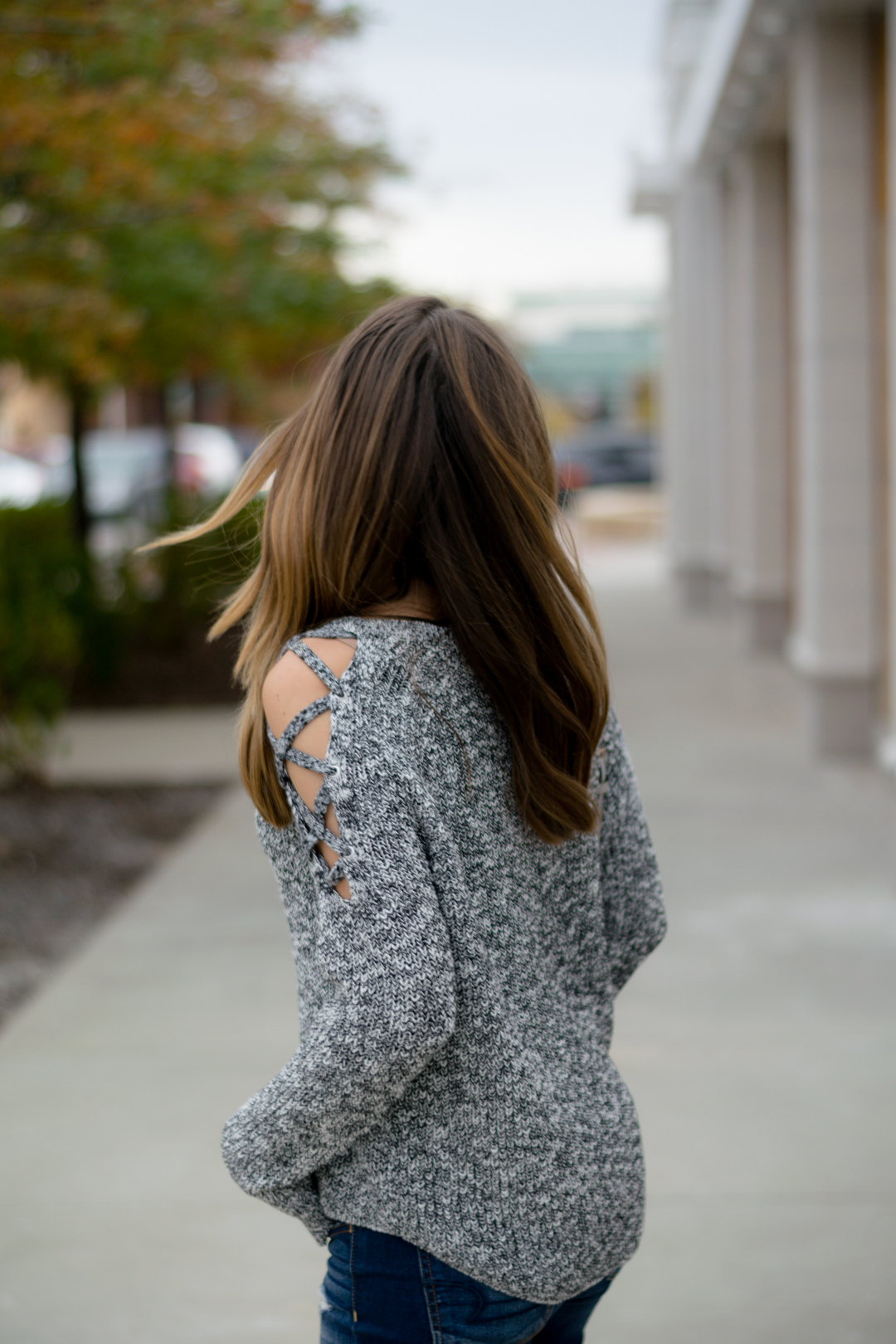 Lace-up Cold Shoulder Sweater | Distressed Jeans (similar) | Vince Camuto Open Toe Booties | Black Ray-ban Aviators | Crossbody Bag | David Yurman 'X' Ring
---
Sweater weather is the best weather, and I certainly have done some damage in my bank account collecting them this season! 😯 😉 When I saw the shoulder detailing on this soft, marled knit sweater, I knew I NEEDED it! Of course as a huge fan of lace-up and cold shoulder everything, I thought this sweater was adorable and unique.
Styling this sweater was a piece of cake, because of the color and easy fit. I decided to go with a classic pair of distressed jeans and my favorite peep-toe booties in all the land! I stalked Nordstrom online for daaaays waiting for these booties to restock in my size. After leaving an open tab in my browser (on both my computer and mobile lol) and checking in for about a week, they finally came in! And they were worth the wait. 🙂 They are super cute and high quality for such a reasonable price. If gray isn't your color, they also come in black and olive/brown color! I also believe those colors are fully stocked!
You might have seen the news on my Instagram already, but this Thursday and Friday I had an amazing opportunity to work with Tory Sport (Tory Burch's new line of designer athletic apparel) in helping promote their new store that just opened at the Mall of America on Friday… (!!!)  I modeled some apparel in many different iconic areas here in Minneapolis. It was seriously one of the coolest things I've ever done (and have been given the opportunity to do!) The people I worked with were the nicest human ever, and I had such a blast with them. I can't wait to see photos – I will be sure to share with you all! 🙂 If you want a little sneak peek, you can sign up for Tory Sport's newsletter, and take a look at the email talking about the store opening; I am in a couple photos at the bottom. 🙂 So surreal!
The rest of the weekend was quite lovely, too. Tom and I walked to a local bar & grill Friday evening for dinner, Saturday we spent the day with a couple of our best friends for brunch on a patio and brewery hopping, which was so much fun! The weather this weekend has been insanely nice, so it was a perfect way to enjoy it outdoors. We are talking 71 degrees in November!! So unheard of in Minnesota! Last night we got together with some more of our friends to spend time with a couple that live out of state. We never get to see them, so it was really nice to catch up. 🙂
Hope everyone had an amazing weekend as well! Thanks for reading. :-*
xx, Taylor
SHOP THE LOOK: