Hi everyone! As most of you know, I just got back from traveling to California and Las Vegas yesterday. We spend the majority of our trip in California (Victorville, Joshua Tree, Newport Beach and Huntington Beach – I'll probably share another post for California at a later date), but went out with a bang the last 2 days in Vegas! So today I'm sharing what to do in Las Vegas and my recommendations.
A lot of you gave me your recommendations on Instagram, which I appreciated so much! I take recommendations and reviews very seriously, and like to know all the good spots so I don't miss out. 😉 While I wasn't able to hit every single one, I did get to quite a few, and also found a few hidden gems that I had to share!
DAY ONE: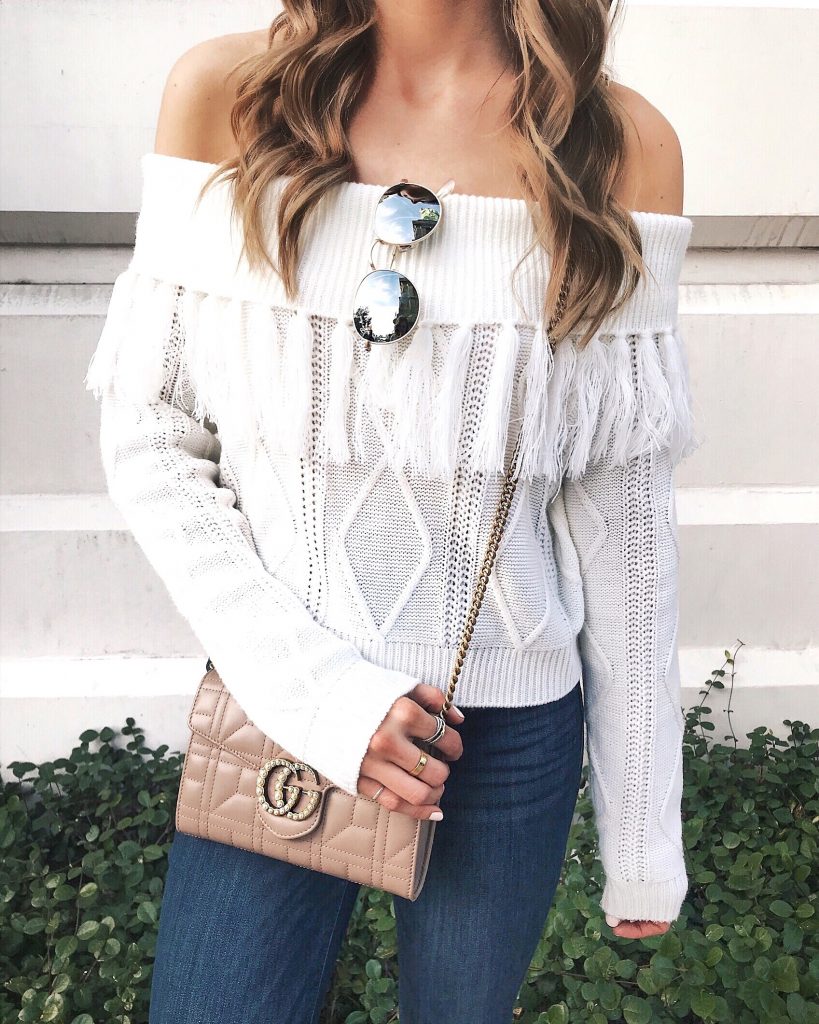 OUTFIT DETAILS:
Endless Rose Fringe Sweater | Express Jeans | GG Marmont Matelassé Mini Bag | Sunglasses | David Yurman Ring | Brook & York Coordinate Ring | Jeffrey Campbell Booties (shown below)
We stayed at the MGM Grand Hotel – it was a nice hotel with lots of food options, a Starbucks, and located on the strip, which was all convenient! Our room was pretty small and dark, but being that we were in Vegas, we were only in our rooms when we were sleeping, so it really didn't matter. Hotel staff were very nice and accommodating as well!
MGM Grand Race & Sports Book: We arrived in Vegas around 11am on a Sunday, which happened to be the day of a big Vikings football game, and being with my sports fanatic husband, his best friend who has mutual feelings about sports, so we first hit up MGM Grand's Race & Sports Book. I'm not that into sports so it wasn't really my thing lol, but if you or your friend/spouse/boyfriend/brother is, they would probably love to make a pitstop here for some sports betting! A multitude of TV's which show the games going on and stats with who's favored to win. The Vikings had a huge win, so it ended up being a really fun time towards the end of the game!
MGM Grand Tap Sports Bar: We ate here right before the Vikings game began, and the food was awesome! I got a really great California burger with onion rings – it was right on the mark. YUM! The rest of the group had really great food, too. They also have generously-sized beer glasses and boozy milkshakes. 😉
Fat Tuesday: While there are quite a few Fat Tuesdays along the strip, we stopped at the one in MGM Grand before heading out on the strip. If you love slushy boozy drinks, this place is for you! You get to choose from a lot of fun reusable cups and mugs as well. I got the Bellini (thanks to a reader recommendation!) and Brittney got the Pina Colada. Both were super tasty! I could've definitely gone with a smaller mug though! Pro tip: save your mug and make your own drinks in your hotel (there are lots of convenient stores to purchase your own alcohol from)  and carry around the strip later on. Saves a little money and is nice to have for carrying around!
Aria Hotel: I actually stayed at Aria the last time I was in Vegas years ago, so it's a really nice hotel if you are considering it! They had this cool waterfall right outside, and it's right in the middle of the strip – definitely ideal! If you like to gamble, this is one of the nicer casinos and smelled the best (smoking wise; I hate the smell of smoke!).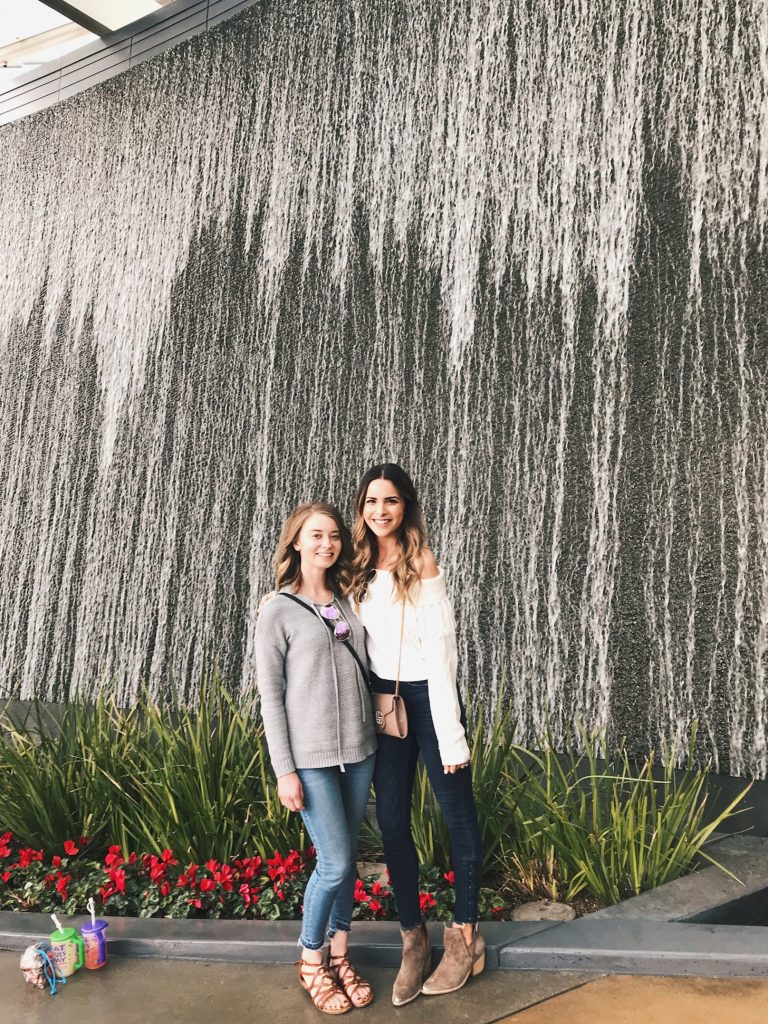 Hakkasan Nightclub at MGM Grand: (It might seem like we lived in our hotel since this nightclub is right inside MGM Grand too, lol! Promise we branched out more on day 2!) We were invited to this nightclub for free by an event promoter (you can find these workers pretty much everywhere during the day), so we were pleased to not have to pay any sort of cover, and Brittney and I got our first drink free! However, being completely transparent, the lines and organization of getting in this club was completely comical and ridiculous. There were 3 different lines you had to go through, in which you were IDed and given a stamp on your arm each time… the stamps were practically up to our elbows by the time we got in, haha! And the bouncers took their job a little too seriously. Once we *finally* got in, we were directed in numerous directions because we couldn't physically stand in any area besides the dance floor, unless you were VIP, getting bottle service or buying a drink at the bar. So it was hilarious that each bouncer would push us closer and closer to the dance floor until we had no choice but to dance! And I love to dance, but we arrived pretty early and there wasn't a whole lot of dancing going on yet. I think if the music would've been better, it would've been more enjoyable – but the house music (I think it's called EDM? I must be getting old) was pretty bad, haha! So we danced for about 30 minutes and laughed our way out of the place. This one was a thumbs down for us!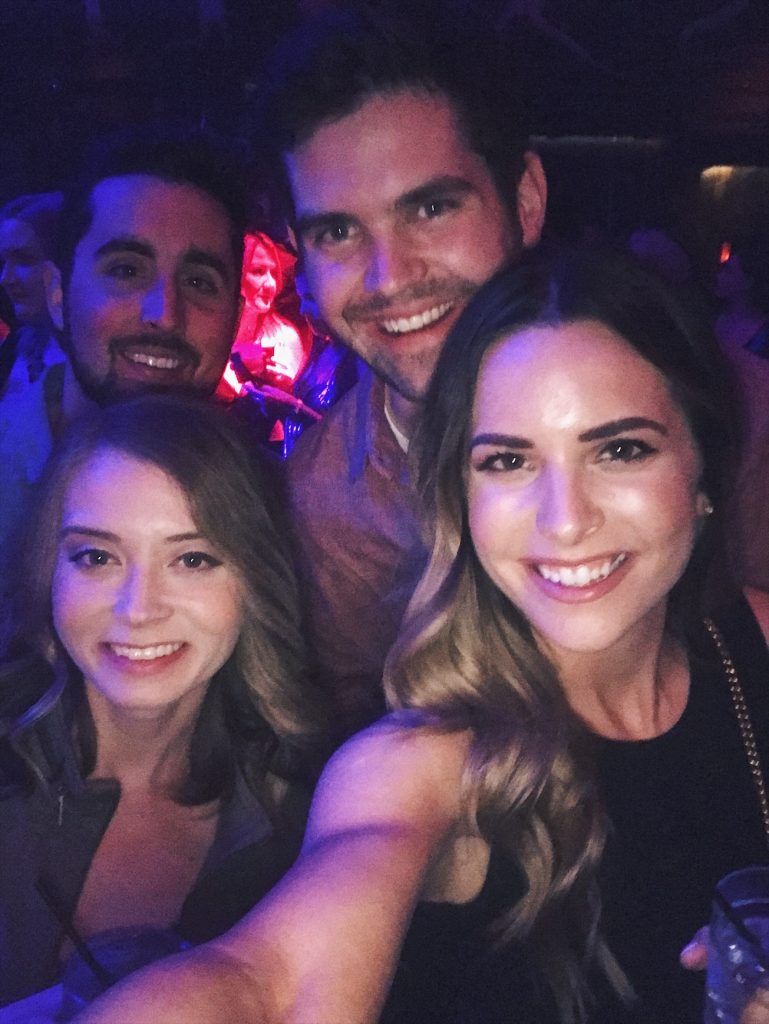 DAY TWO: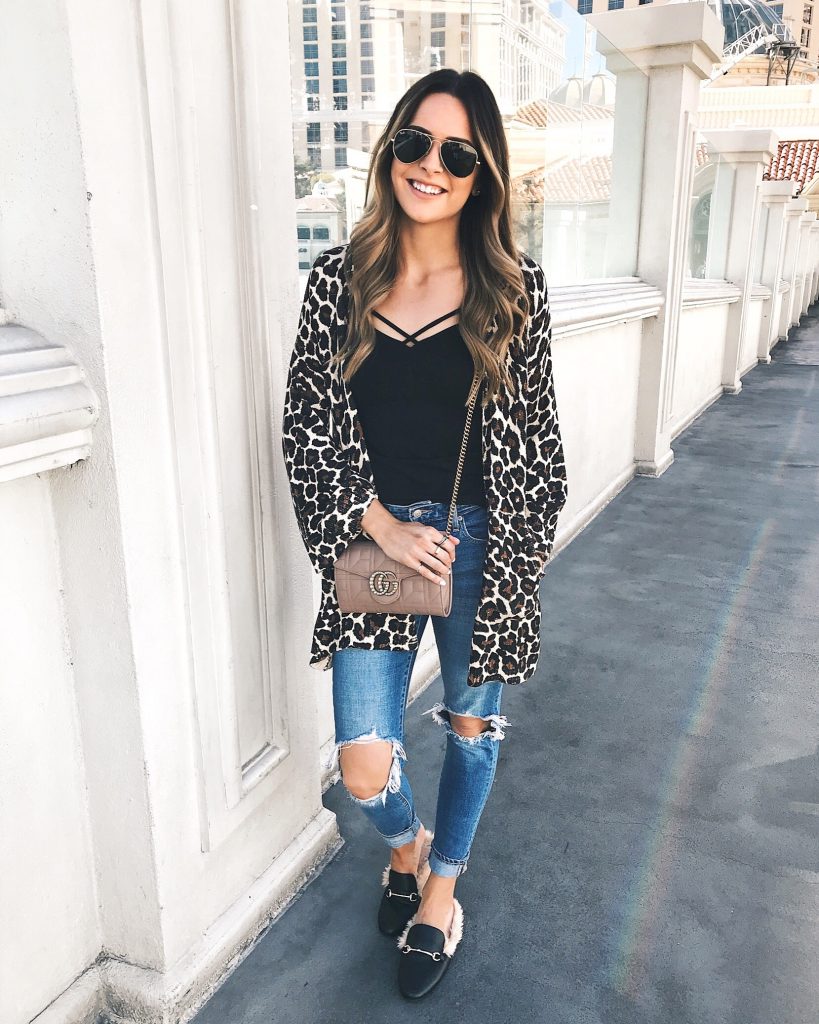 OUTFIT DETAILS:
Show Me Your Mumu Leopard Cardi | Levi's Jeans | Furry Slides | GG Marmont Matelassé Mini Bag | Sunglasses | Tank (from Express but not online)
Hexx Kitchen + Bar: Totally stumbled upon this place by accident, but we are SO glad we did! We were routing our GPS to a different place for brunch, but it didn't quite direct us the right way (the worst when this happens). It ended up being a blessing in disguise, because this was one of my favorite stops the entire trip, if not my favorite! We had a great table on the patio, with a view of the Fountains of Bellagio across the street, as well as a sidewalk for people watching. 🙂 Drinks, apps and entrees were super reasonably priced, and everything we ordered was fantastic. I got the protein omelette, the boys also got an omelet (but different kinds) and Britt got the Carrot Cake pancakes (so amazing)- all very tasty! They also offer bottomless mimosas if you plan to stay a while!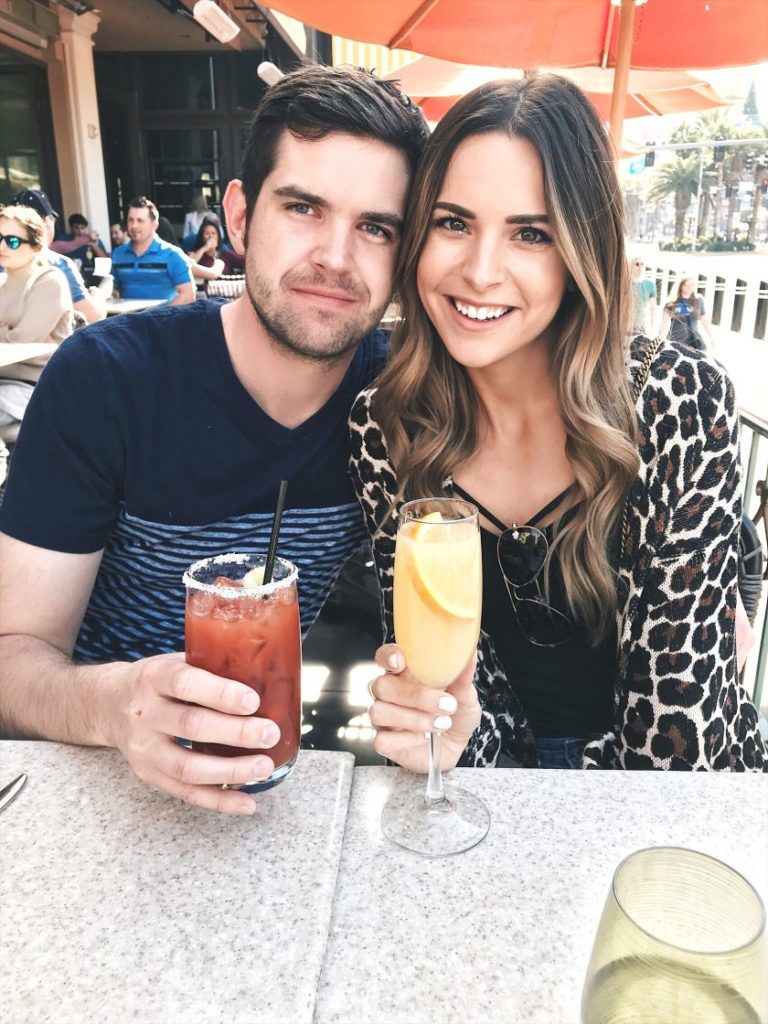 Bellagio Hotel: The Bellagio of course has their famous musical fountain shows, which are so fun to watch, both during the day and at night. They play every 30 minutes during the day, and every 15 minutes after 8pm. Definitely worth a stop! If you go to the Bellagio during the day, check out the Conservatory & Botanical Garden inside.
Caesar's Palace: Such a cool (and ginormous) hotel! Lots to see and do. We stopped at the Forum Shops, and the views were so cool! It's indoors, but it looks like you are shopping at night in Greece because of the night sky mural on the ceiling. The shops mainly consist of high-end designers like Gucci, Louis Vuitton and Cartier, but they also have a H&M (super random in this mix lol, but it's the coolest looking H&M I've ever stepped in). Fun to window shop here regardless, unless you're treating yourself or won big $ gambling! 😉
The Chandelier Bar at The Cosmopolitan: The Chandelier Bar was our first stop inside the Cosmopolitan Hotel, and it was so pretty! Very Kira Kira-friendly, as you might have seen on my IG Story. We were recommended to order the secret Verbena drink here, and were not disappointed! The drink is not on the menu, making it a "secret drink", but it's apparently one of the most popular drinks ordered here, because of the small flower you eat in the drink that tingles and numbs your tongue for about 3 minutes. It's actually really awesome! The drink itself was a lemon verbena and ginger flavored tequila cocktail, and it was delicious!! I loved it.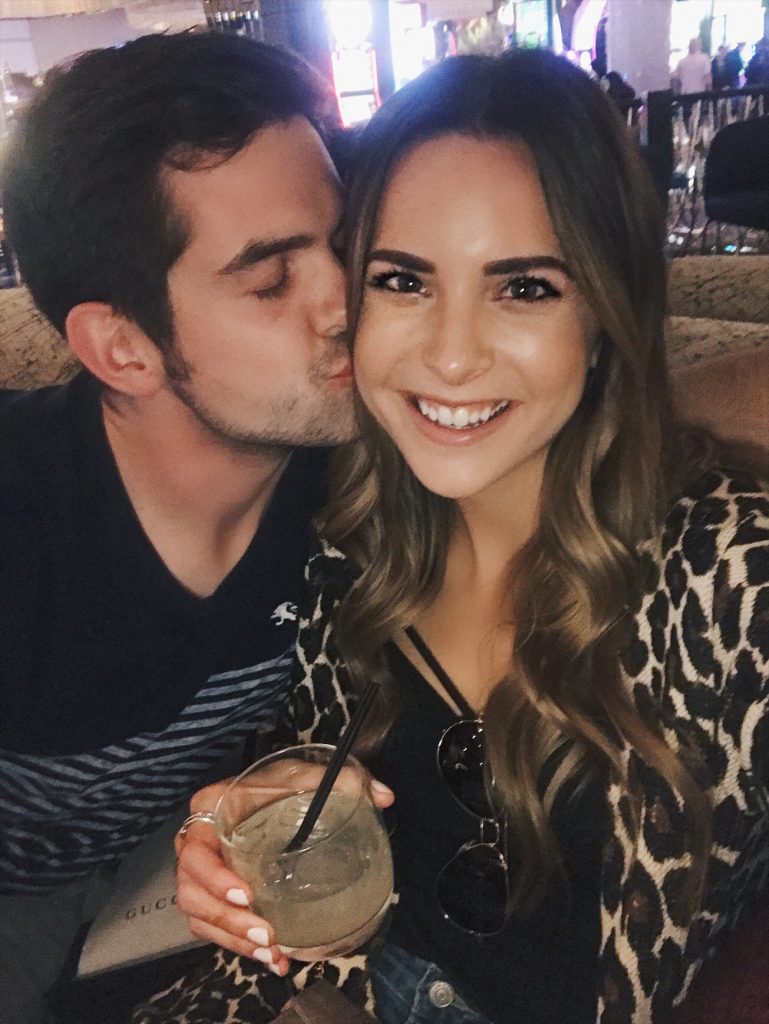 Margaritaville: If you get tired of the high-priced drinks in Vegas, come to Margaritaville and re-live your college days with 5 cent Miller Lites from 5-6pm daily! This was a really fun stop, because the bartenders were super entertaining, the beer was flowing and great music was playing. All around fun atmosphere. 🙂 Beer pong and tippy cup is also open for playing, and we even had some luck playing Roulette! I had never played, and I am really not a gambler at all – besides Blackjack with Tom when we go to the casino like 2x a year, but Roulette was a lot of fun!
Secret Pizza at The Cosmopolitan: Before heading out the rest of the night, we grabbed a bite at Secret Pizza at the Cosmopolitan! It's called "Secret Pizza" because it's unmarked, though it's highly rated and recommended when you search for it on Google! Really great pizza (you can get by the slice or whole pies) and definitely hit the spot!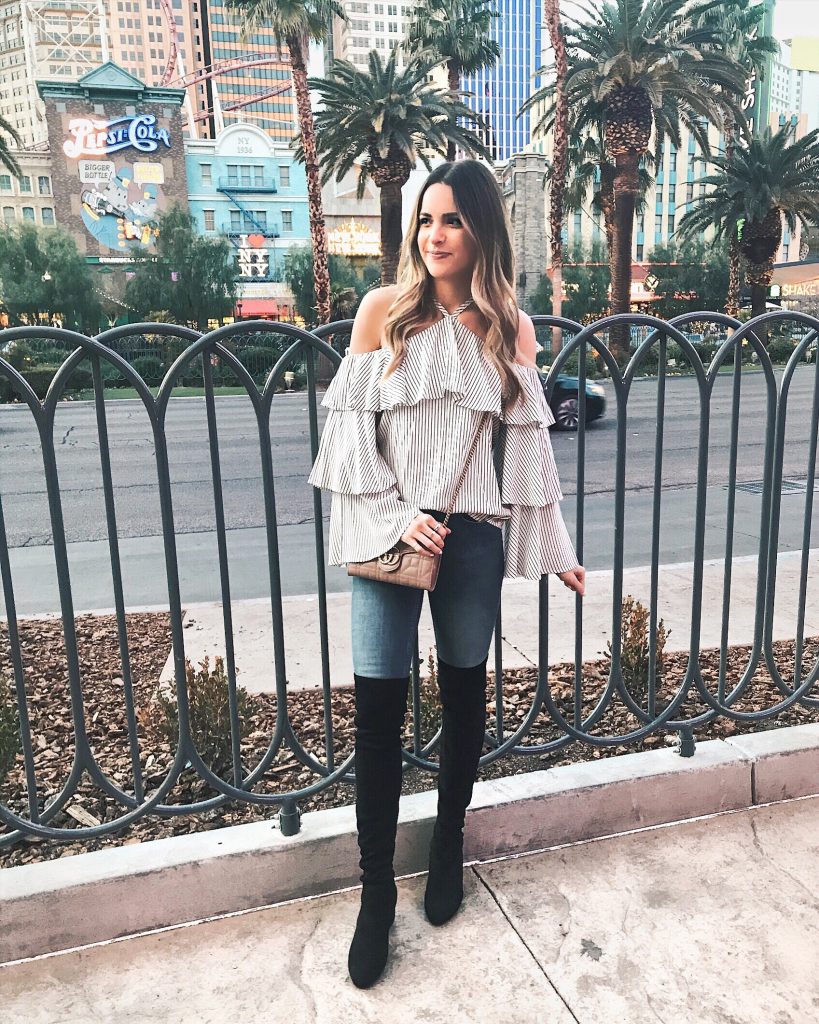 OUTFIT DETAILS:
Express Top | Free People Jeans | Steve Madden Over the Knee Boots | GG Marmont Matelassé Mini Bag
Don't Tell Mama on Fremont Street: This a a piano bar in Old Vegas on Fremont Street, so you definitely have to grab an Uber to get here. It's a "hole-in-the-wall" kind of bar, but filled with fun. The pianist we had was hilarious, and very talented! He played most of our requests, and really got the customers involved. Really entertaining, and drinks were also a little more reasonably priced here as well. The only cons to this place were the location (off the strip, so can't walk there, though it's a quick cab) and the smell (very smoky).
DAY THREE: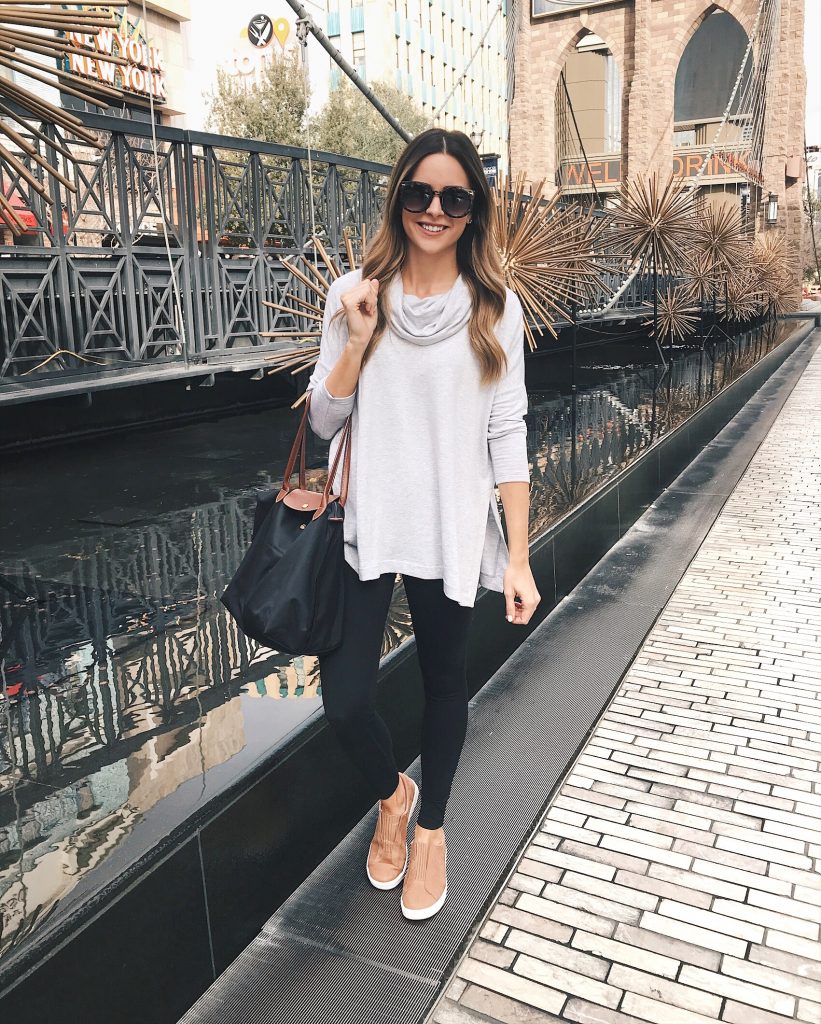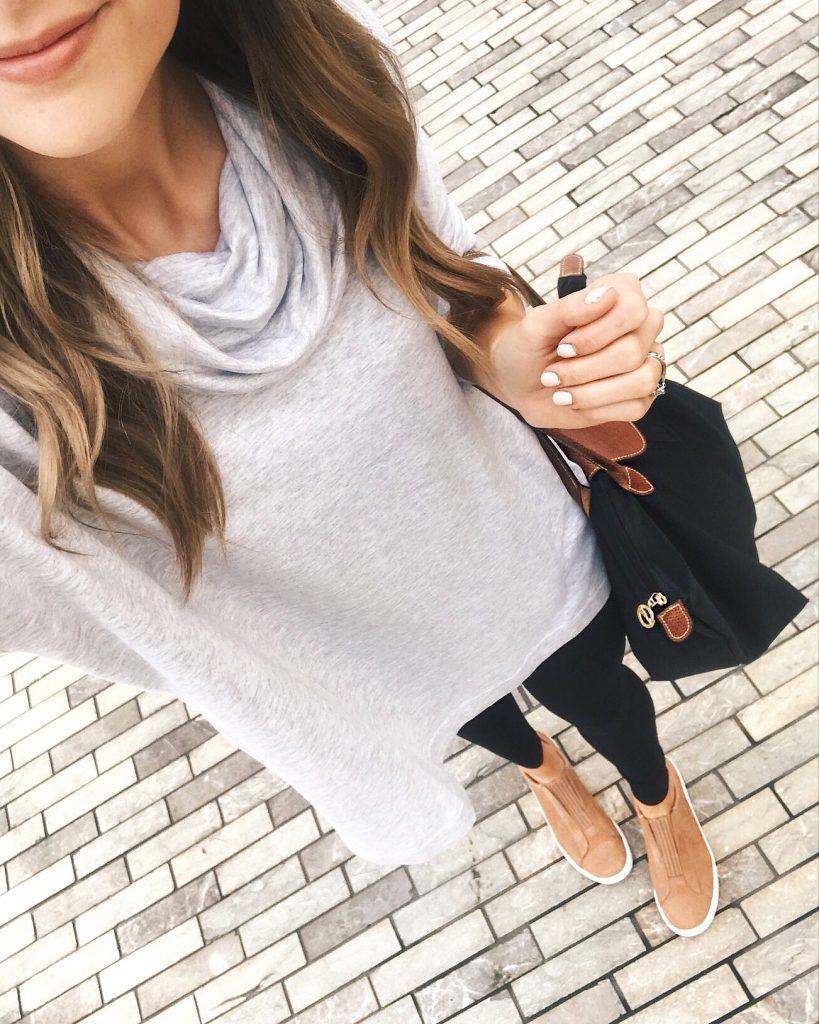 OUTFIT DETAILS:
Cowl Neck Tunic | Leggings | Nikes (similar here and here) | Longchamp Tote (so great for travel!)
This was our last morning in Vegas, so a comfy travel outfit was necessary! Before we left, we grabbed breakfast.
Eggslut: A trendy, and really delicious spot for egg sandwiches. Definitely your hangover's friend, and a great way to start the day. I got the Sausage, Egg & Cheese without the cheese, and added argula. 🙂 Delish!
There are so many spots that I still want to note for the next time I fly to Vegas, so I'm listing other reader recommendations below! This isn't all, but this is all I could muster to type out from the comments left – they were easier to find than the DM recs!
Olives Restaurant at the Bellagio: Outdoor patio with a nice view of the Fountain shows
Sushisamba: Lots of recs for this one! Bummed we didn't make it, as I love sushi. I hear the Soft Crab Roll is a great choice.
Giadas
The Wicked Spoon Buffet
Dueling Pianos at NYNY Hotel: We actually tried going here but there was a private event! Make sure you call ahead 🙂
Premium Outlets for shopping
Tao (restaurant)
Sugarcane
Serendipity: Frozen hot chocolate recommended, but lots of treats available
Wynn Hotel: Brunch buffet
The Holsteins at the Cosmopolitan: Milkshakes
Tommy Bahama (restaurant)
Herringbone at Aria (restaurant)
KA (show)
Mystere (show)
O (show)
Absinthe (show)
Michael Jackson (show)
Another fun trip in the books! Looking forward to our next visit to Las Vegas!