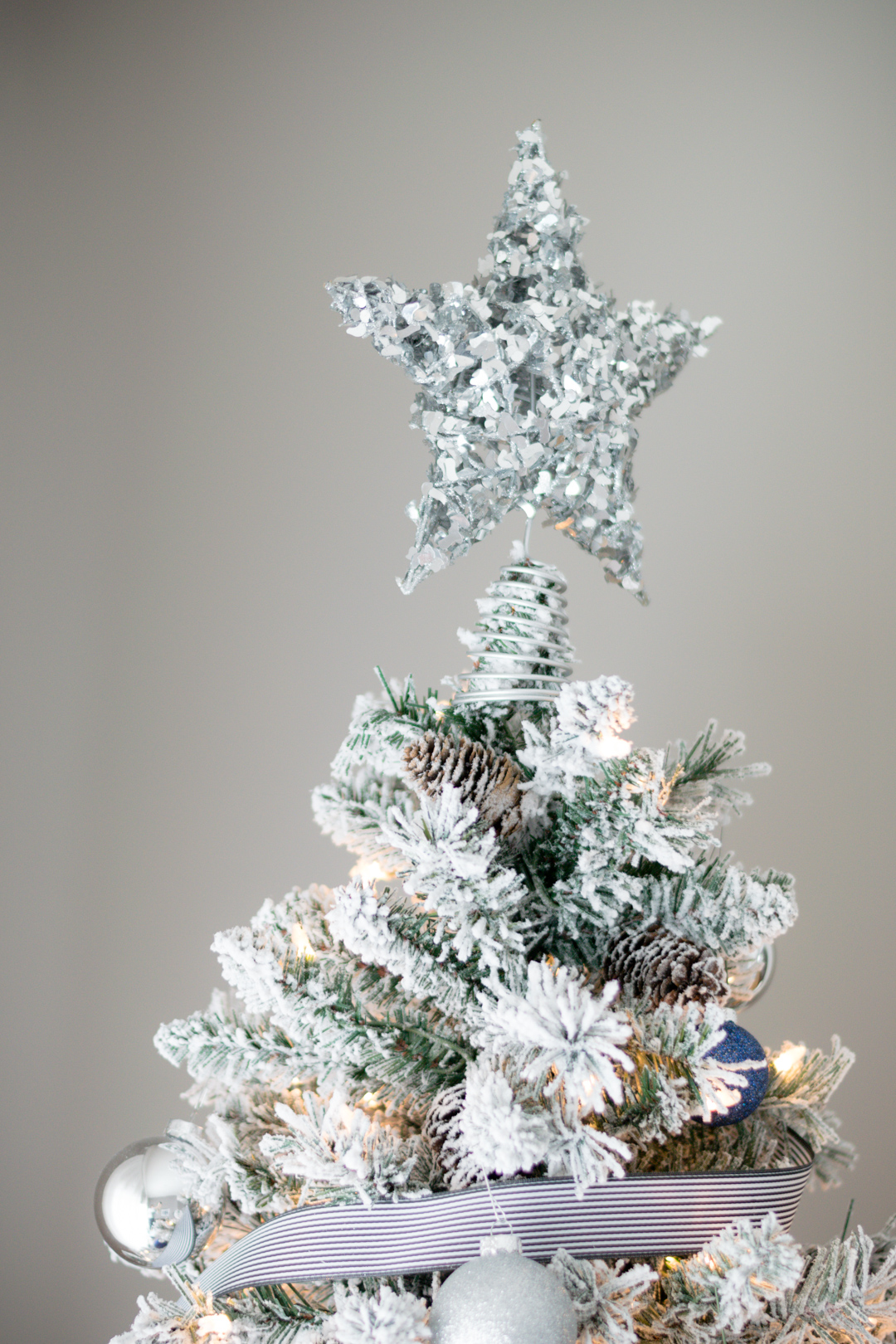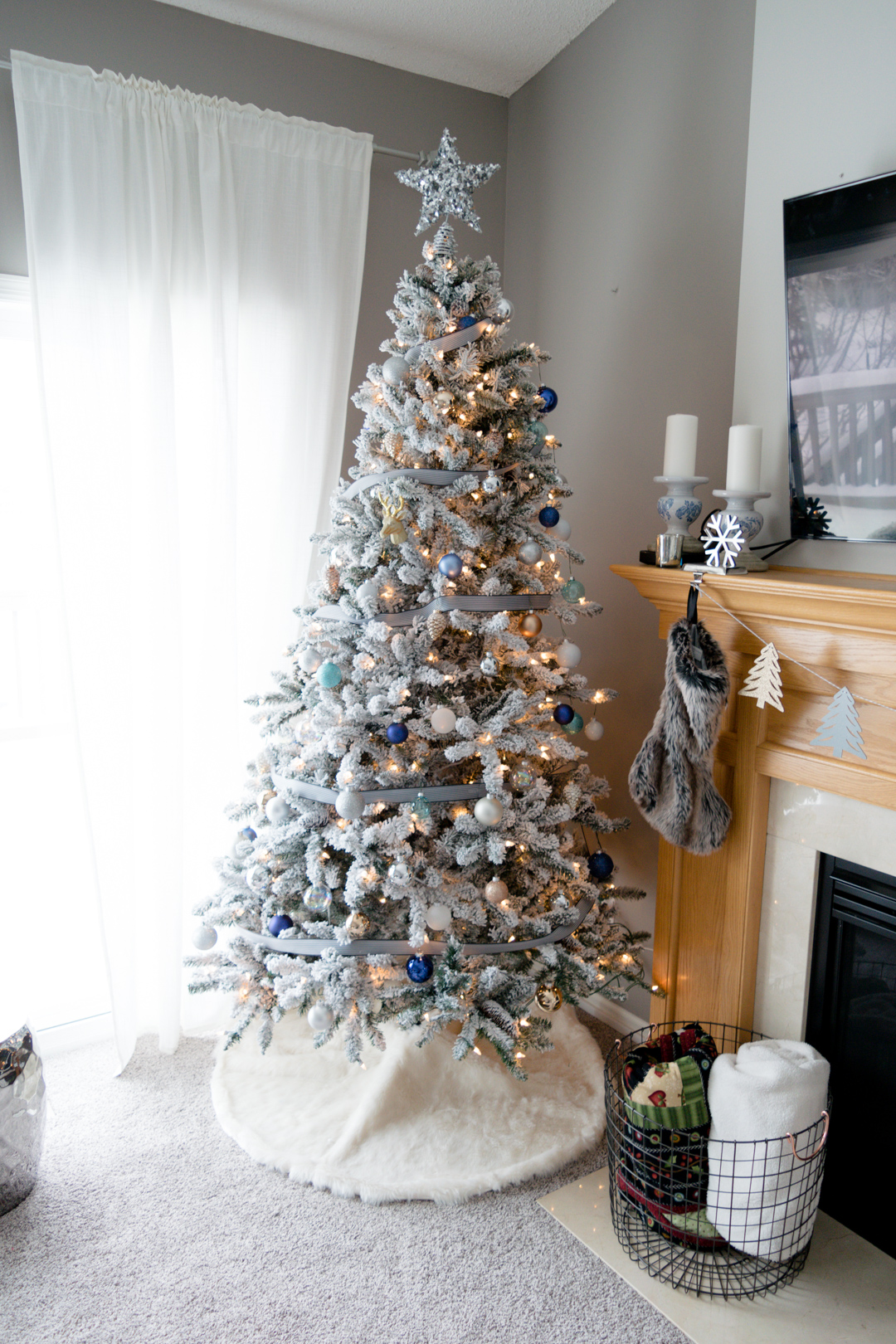 The most exciting part of holiday decor is obviously the tree! We just purchased this beautiful flocked tree this year, and we are SO happy with it! You guys, these things can cost a lot of money… but we found ours at Walmart of all places for only $150!! 😯 Other places with identical trees are marked up twice as much or more! Crazy. The faux fur tree skirt looks perfect under it, which is from Target.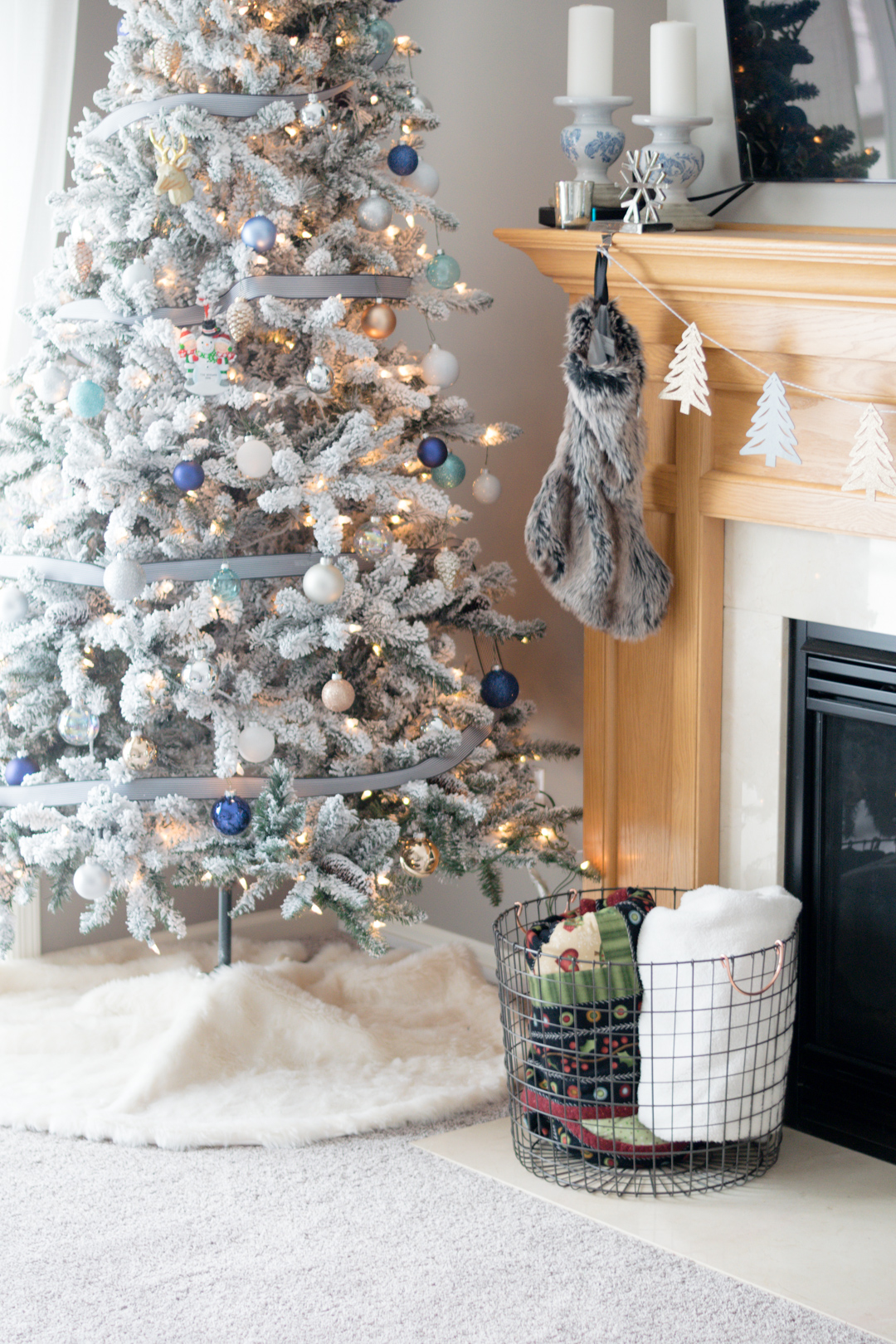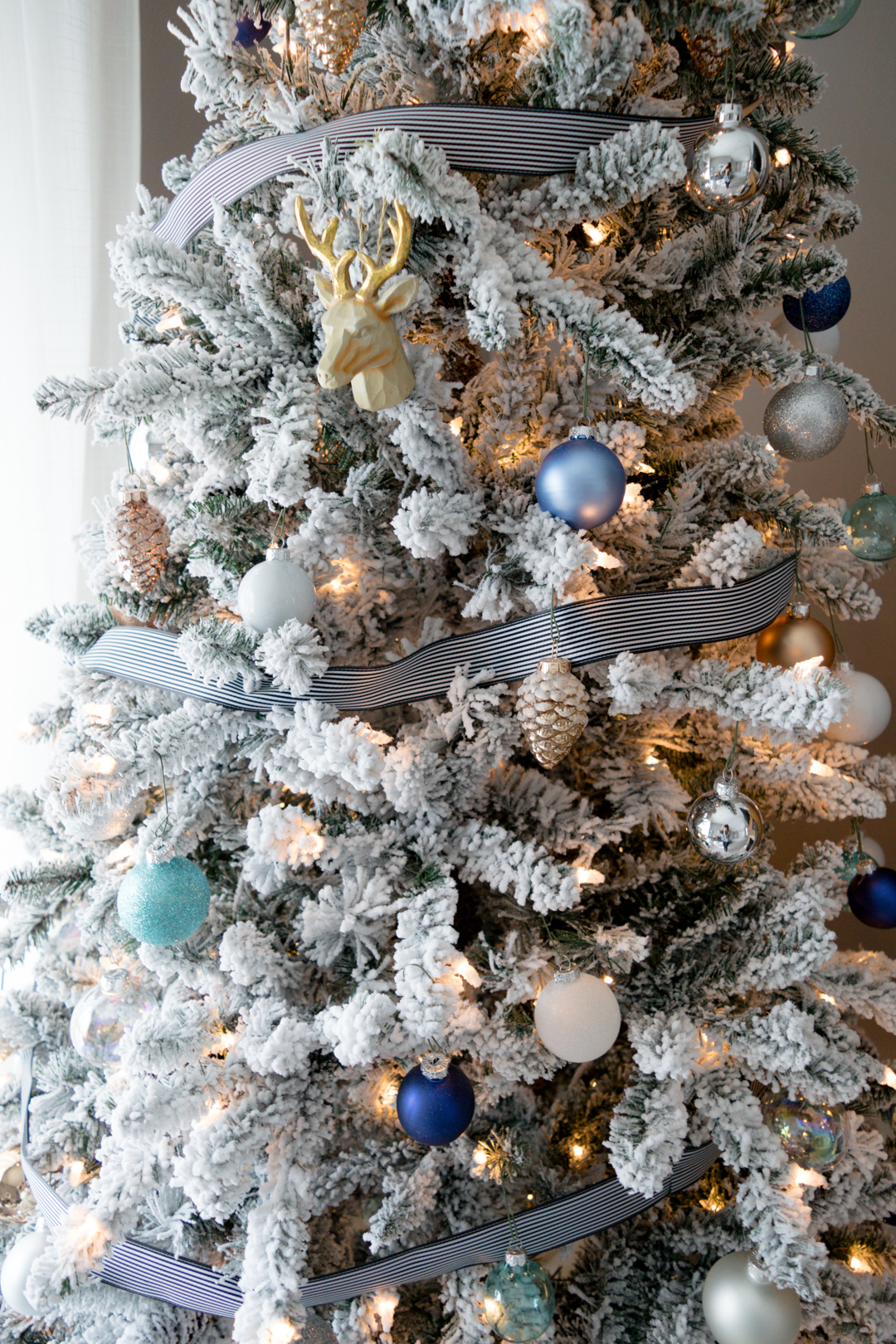 We found these cute neutral, copper and blue ornaments at Target! How cute is that deer one too? Also from Target. 🙂 The striped ribbon is from Hobby Lobby! In the future, we decided that we are going to keep this tree upstairs neutral, and use our old green tree for downstairs with all of our fun and childhood ornaments. 😀 We planned on doing that this year actually, but ran out of time. Ha! It's been such a busy late fall/winter!
I love this minimalistic bookshelf from IKEA! It's only $50 and looks great. The shelf decor is mostly from HomeGoods and Target.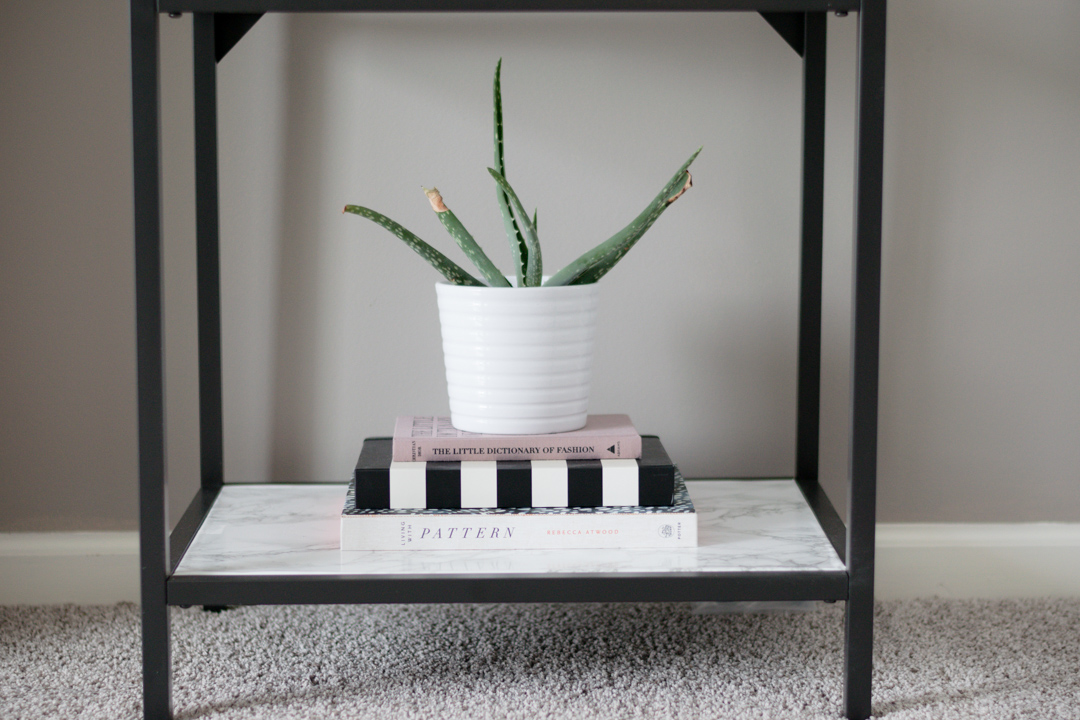 I know this decor isn't really 'holiday', but I had to show you my IKEA hack with the bottom shelf – it's marble adhesive! You'd never guess unless you looked super close. I am so happy with how it turned out. It was just a plain black board before, and was super easy to do!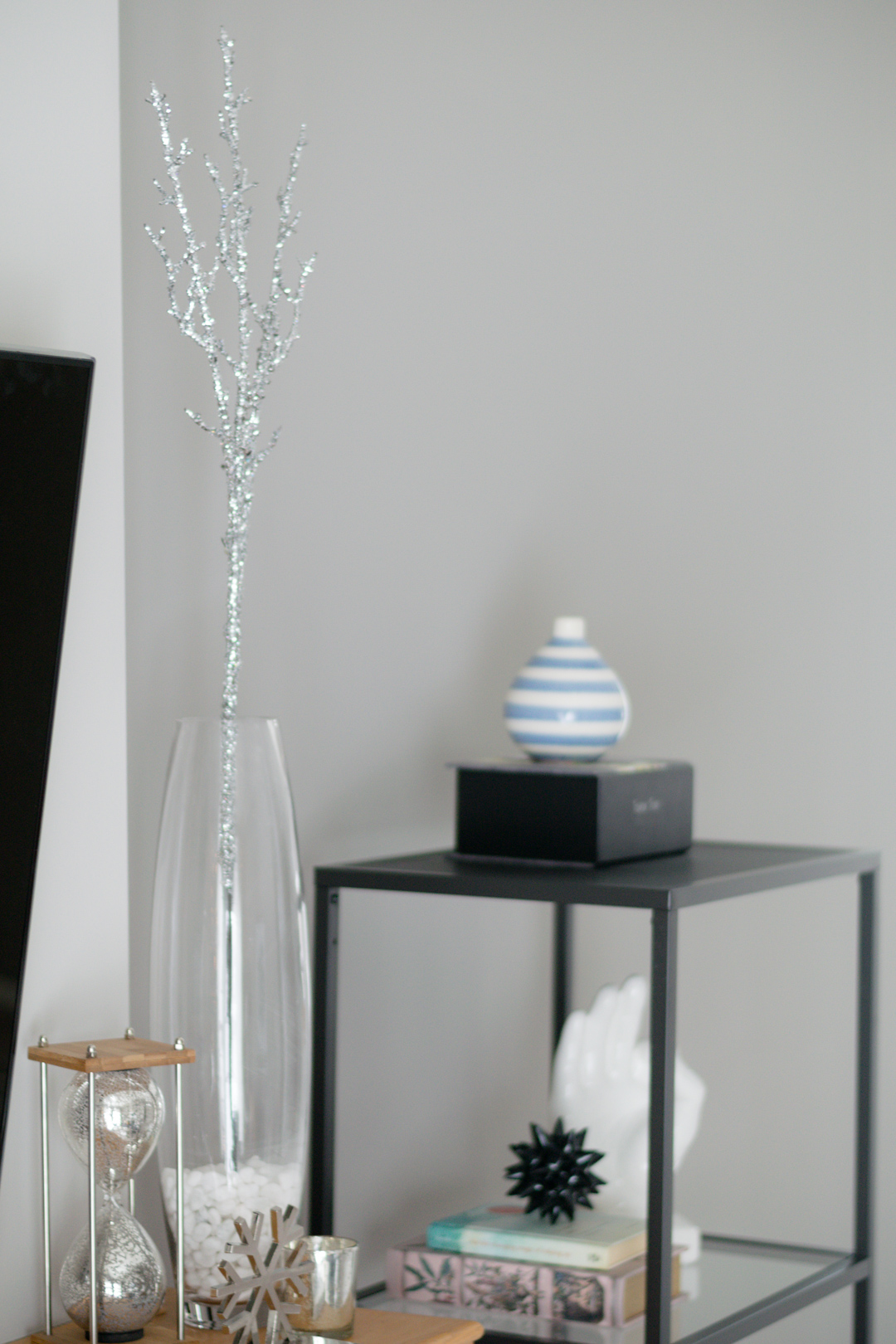 Another new favorite decor piece is this sparkly branch and tall vase. The vase, branch and white rocks are all from Hobby Lobby.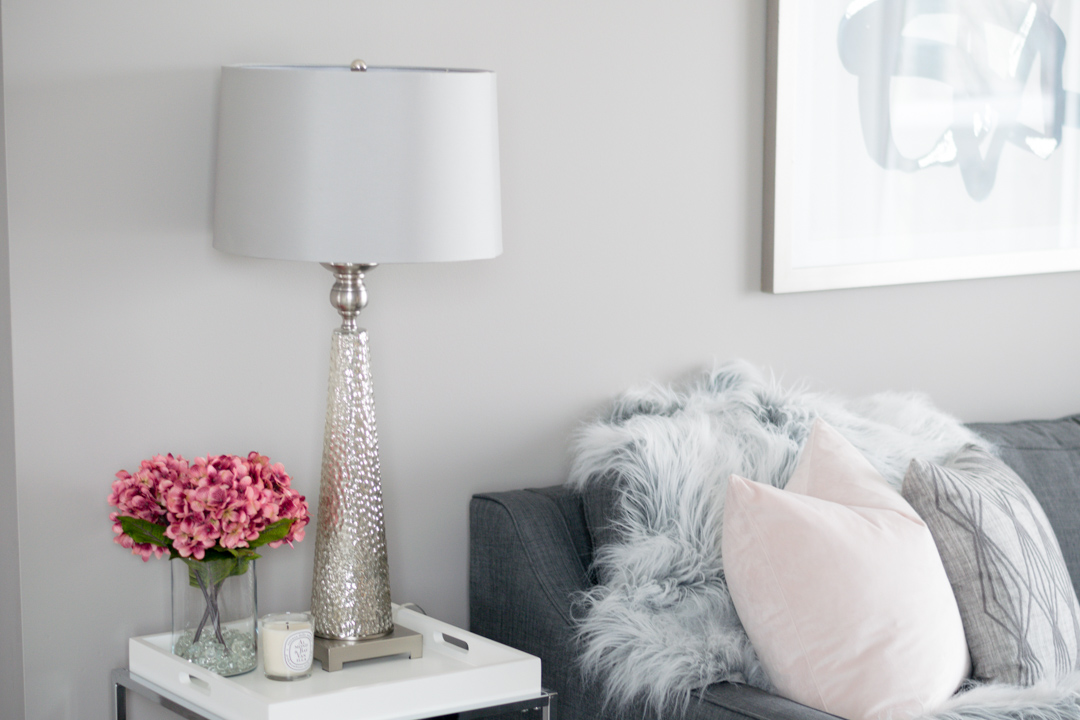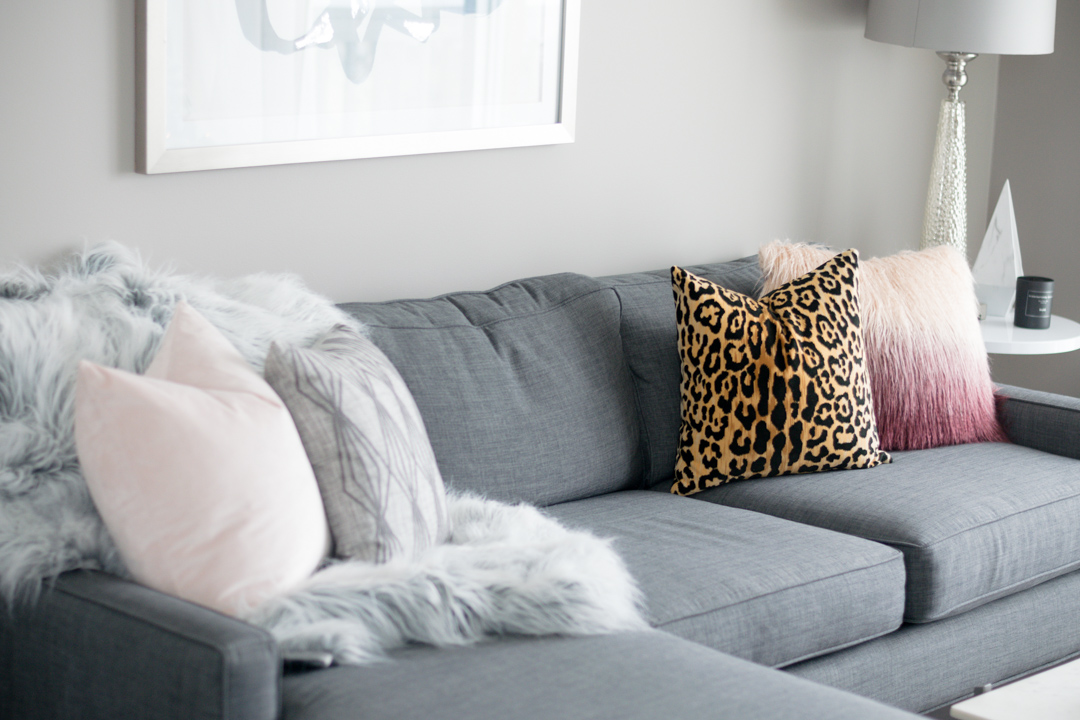 It's no secret I love blush, and it looks so cute on a gray couch! A mix of textures/patterns on throw pillows add interest, so I made sure to do just that. ;) The pretty faux fur blanket is from Target's holiday collection this year! Unfortunately it's sold out online, but if you go to your local Target, I'm almost positive it's on major sale right now!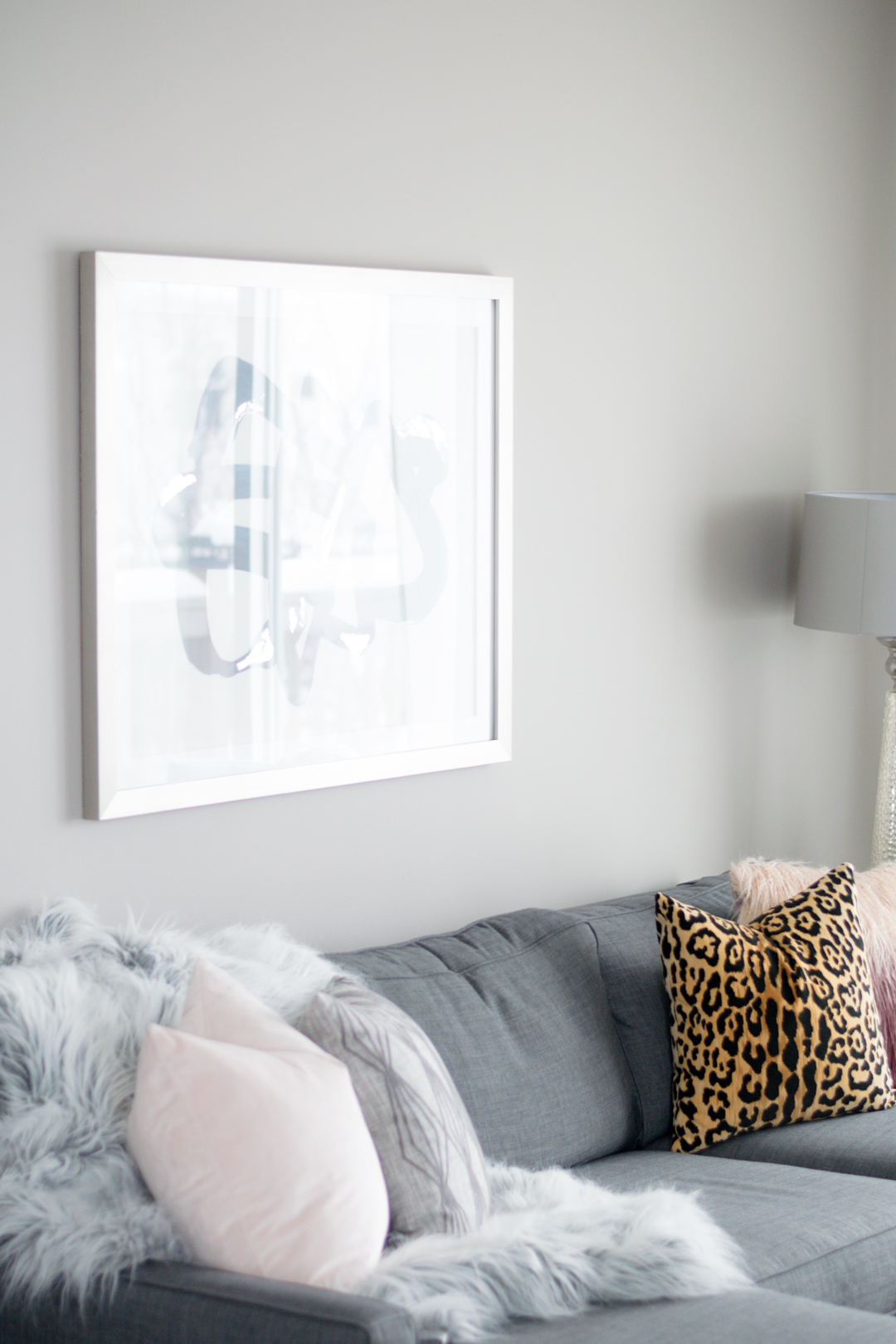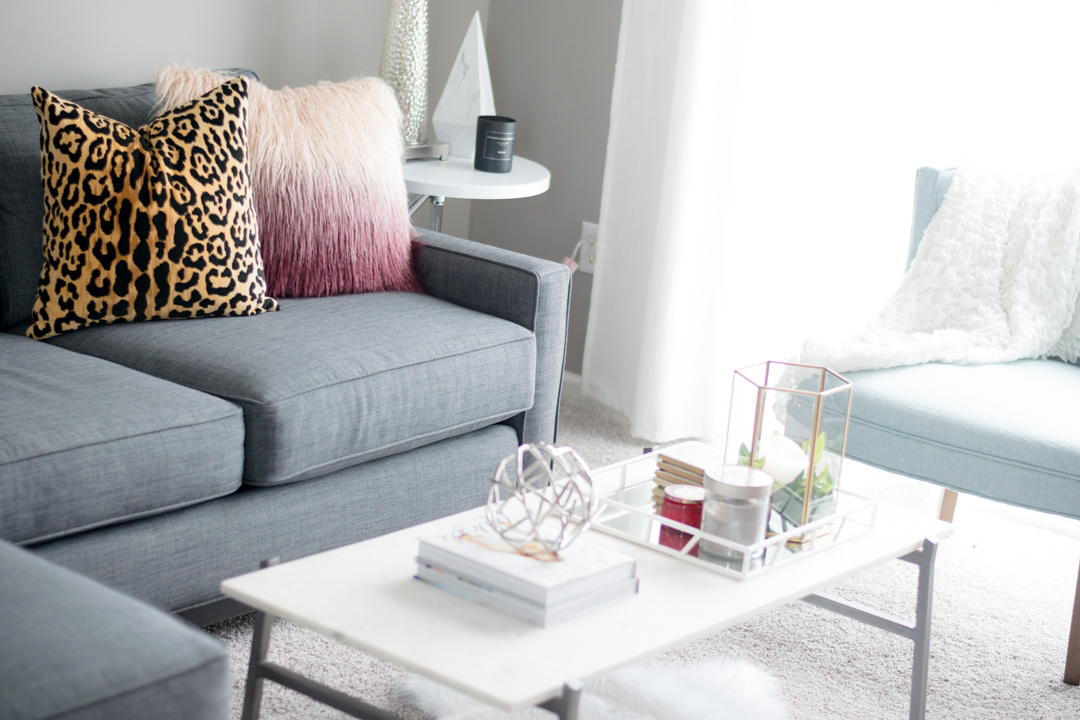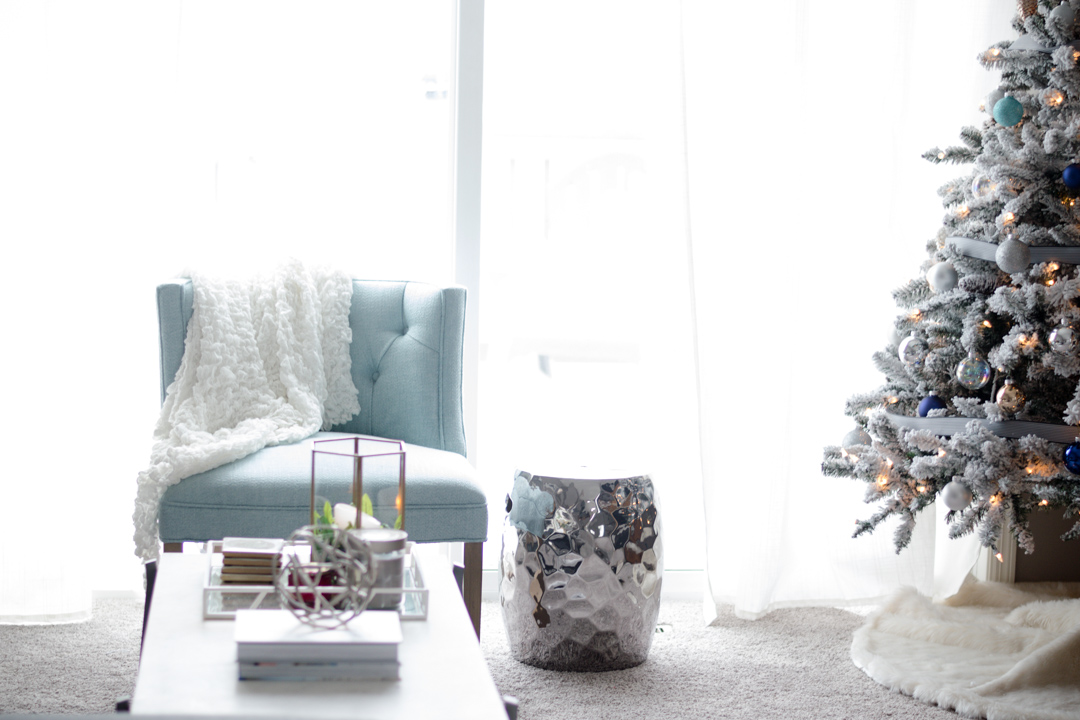 That cute little tiffany blue tufted accent chair was our first living room furniture purchase. :) I fell in love with it the moment I laid eyes on it! (From HomeGoods.) The cool looking garden stool was from Target this summer.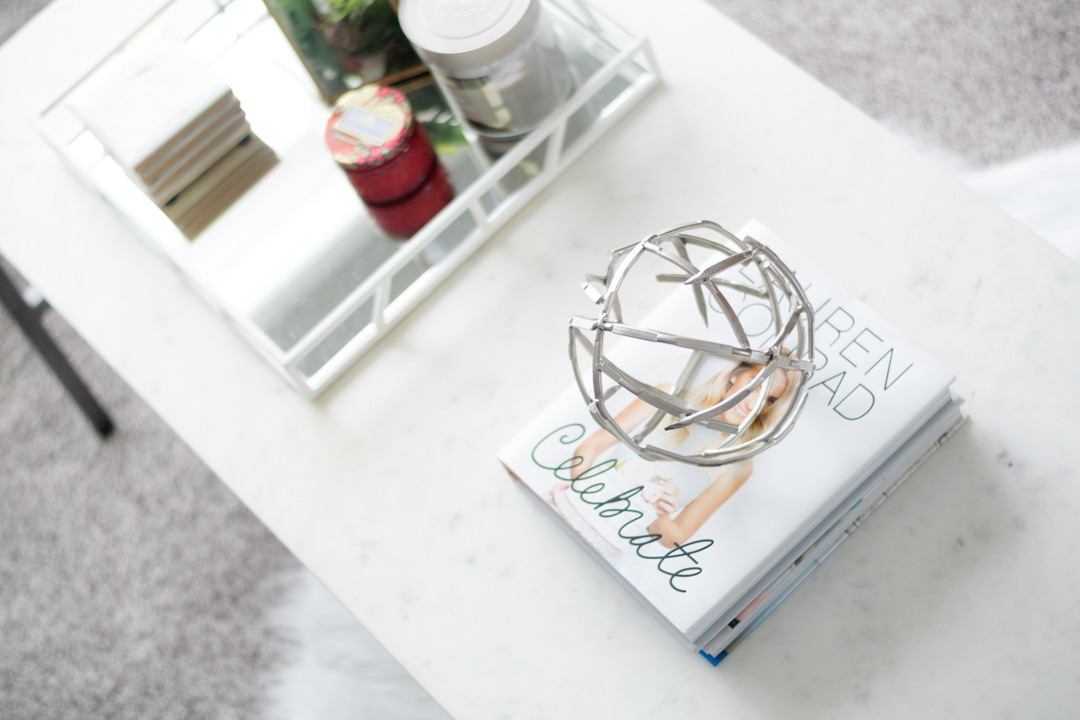 Pretty coffee table books are a must in my book. Not only do they look nice on your coffee table, but a nice little read for guests! Tip: Adding an accent sculpture on your coffee table looks will make you look like a interior decorating pro. This exact one is from Marshalls, but I found an identical one here.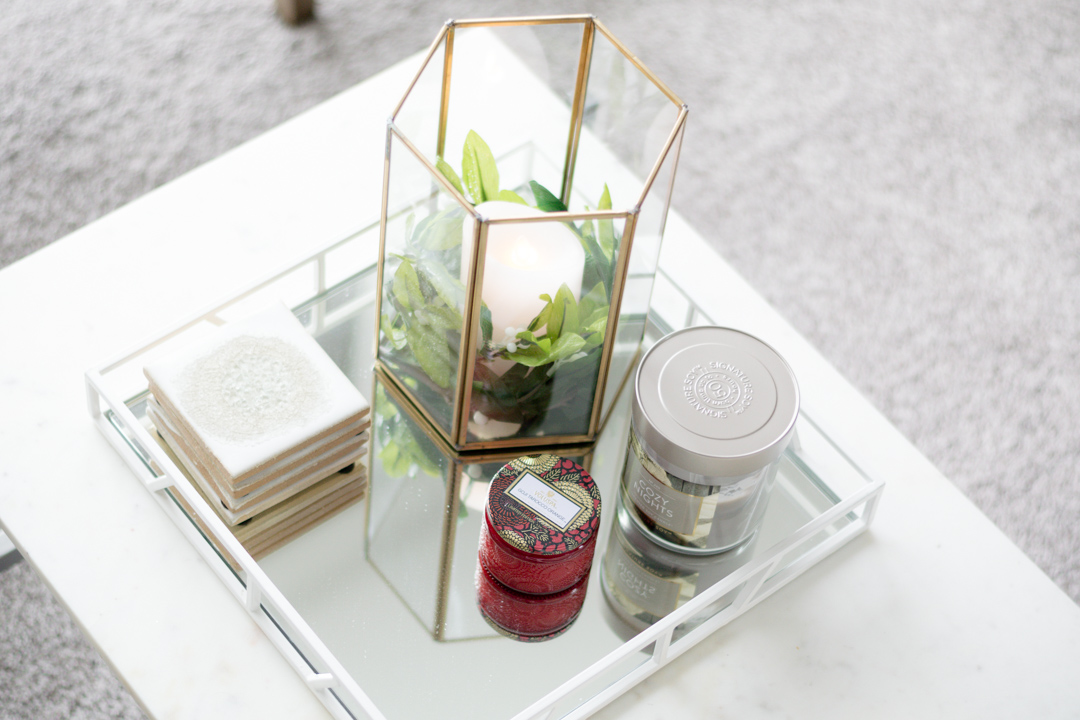 LED Candles are seriously underrated. This hurricane vase looks awesome with a candle, but I knew I didn't want a real one melting in it and creating a huge mess on the bottom, so this LED candle came to the rescue. They actually look real when turned on, too!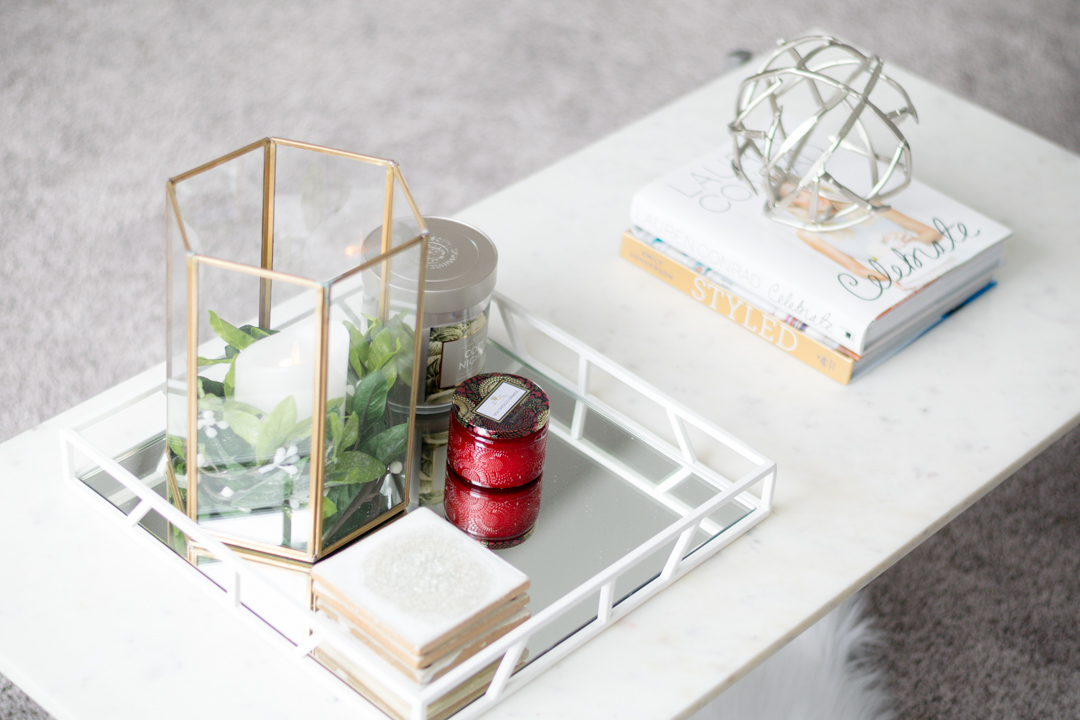 This white marble coffee table was a wedding gift from my sister and brother-in-law, and it truly completes our living room. It's the perfect fit and looks STUNNING! I about died when they gave it to us. These Anthropologie coasters are also very mention-worthy. Sturdy, practical & pretty? Sold!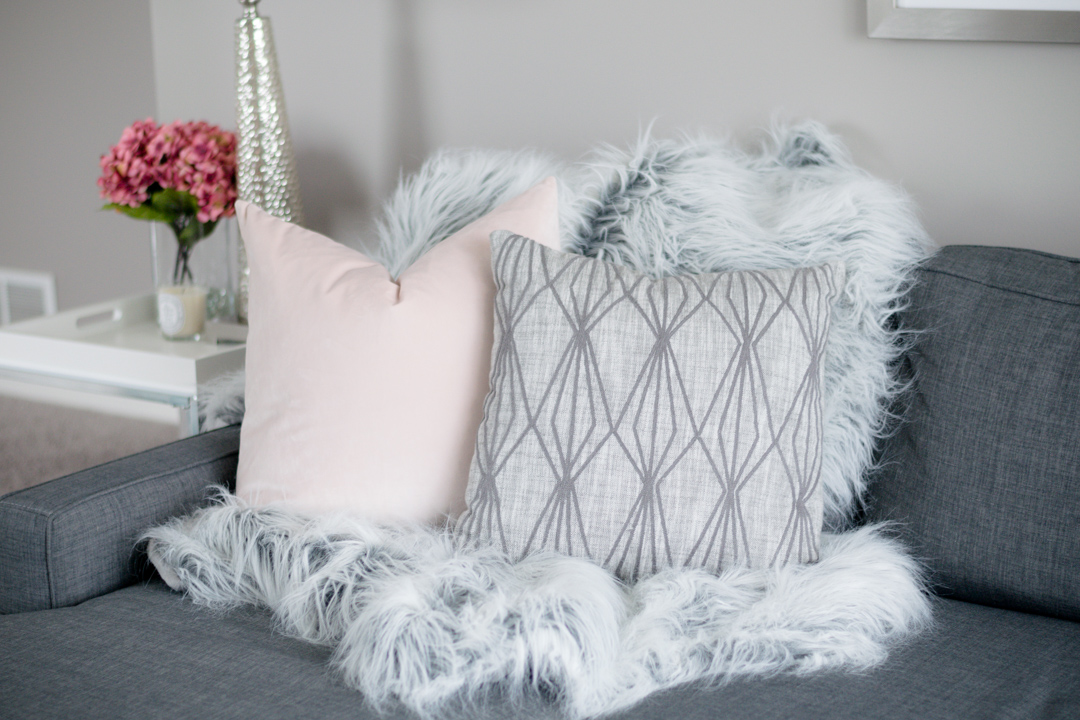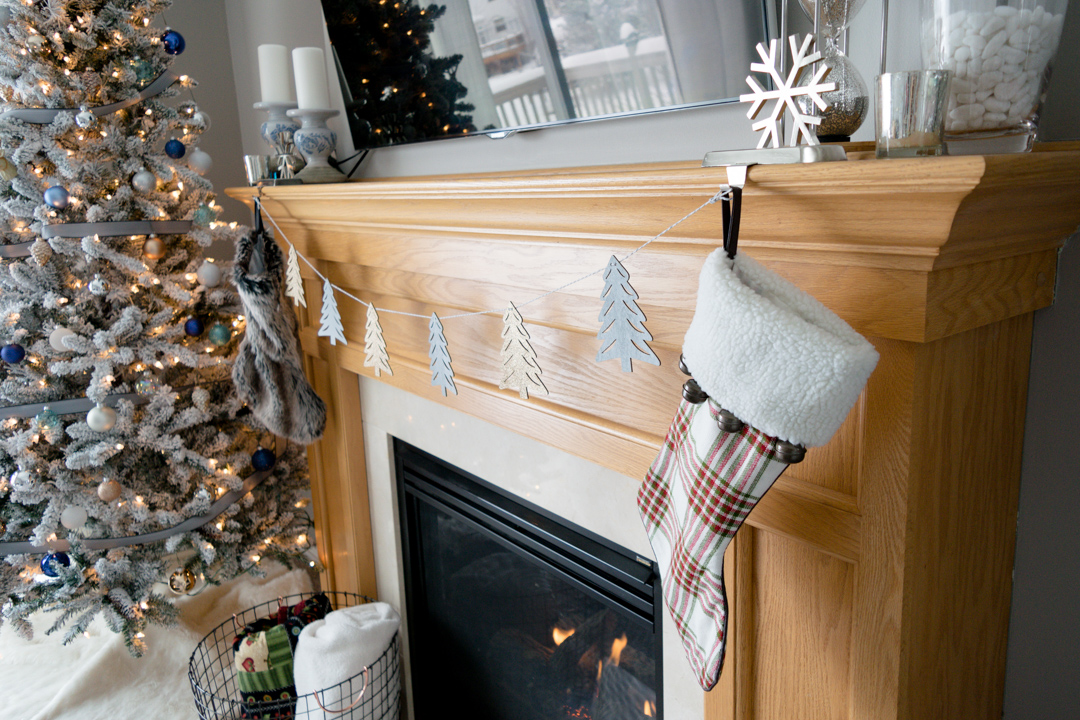 One thing I was certain when picking out new holiday decor was that I needed a garland for the fireplace. Found this adorable tree one for $3 at Target in the dollar spot! Can we just take a moment to talk about how great Target is? So good!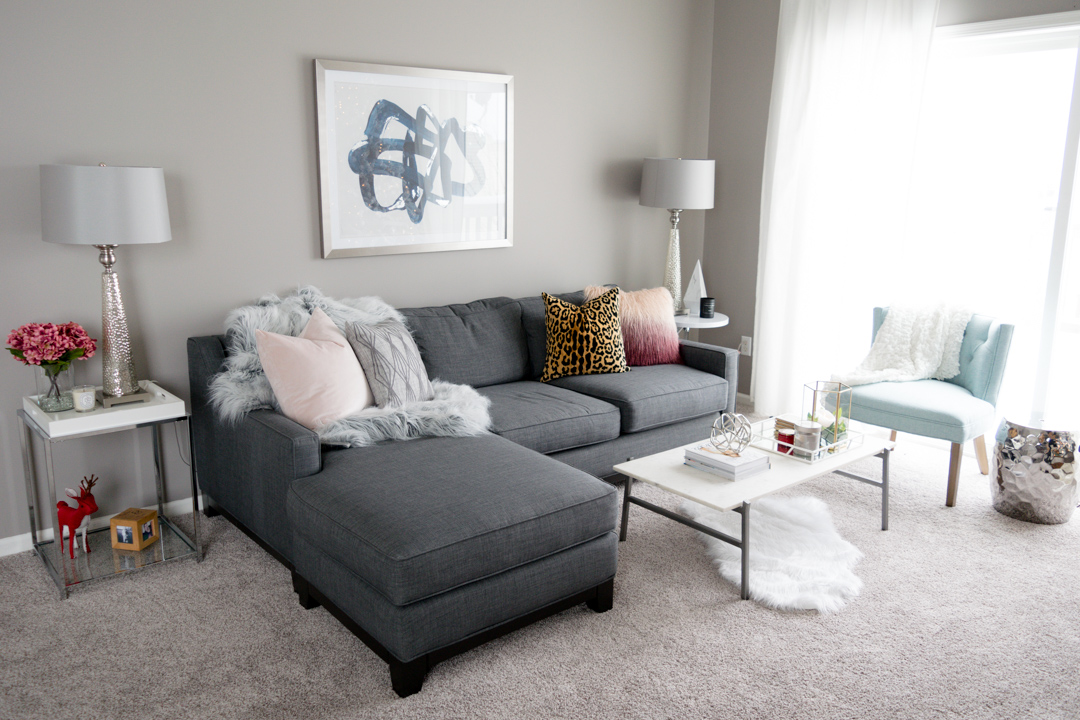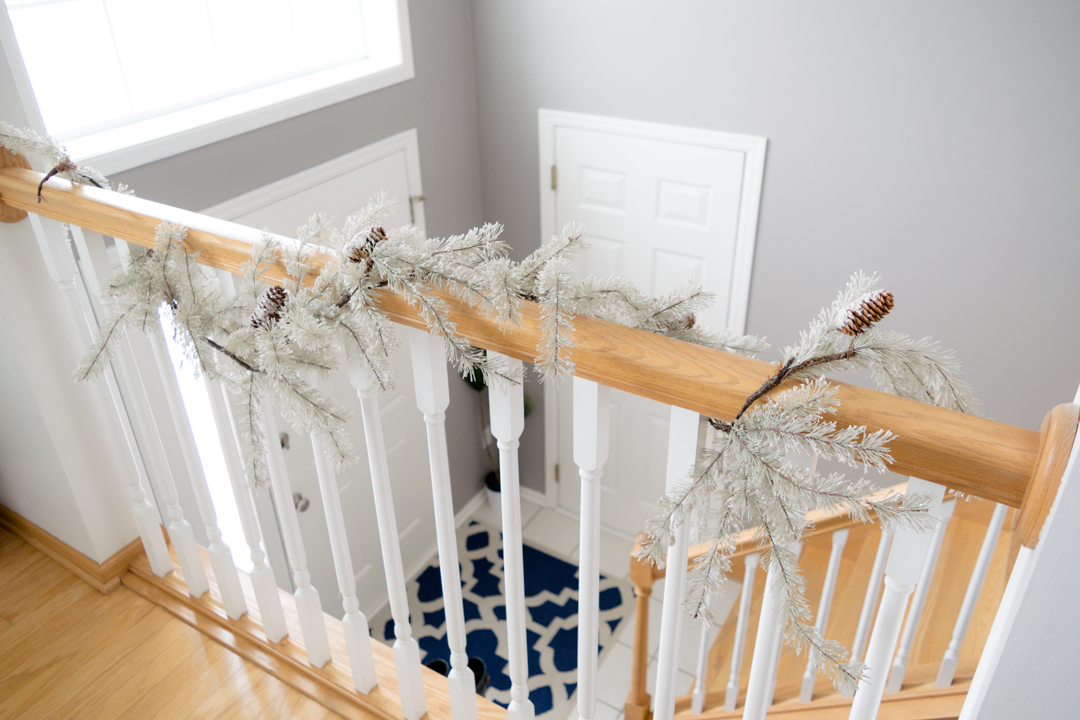 While I won't be sharing my entire house with you yet, I had to share this beautiful flocked garland I purchased on Etsy this year. It's so gorgeous! The seller was so sweet, and it shipped to my house in only 6 days!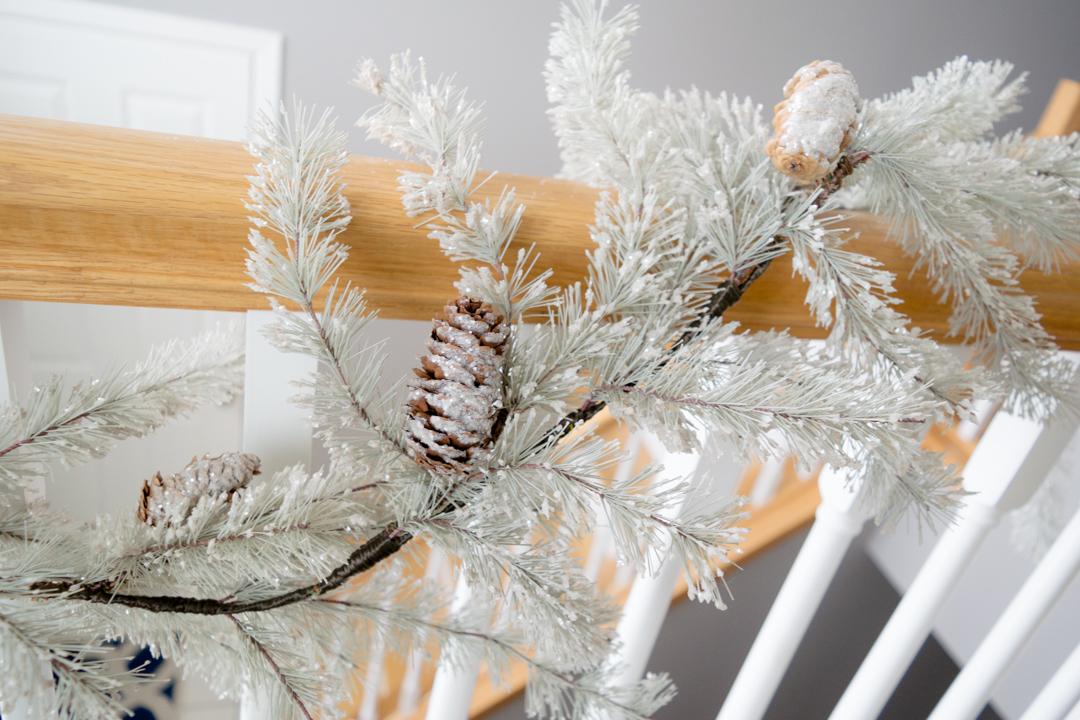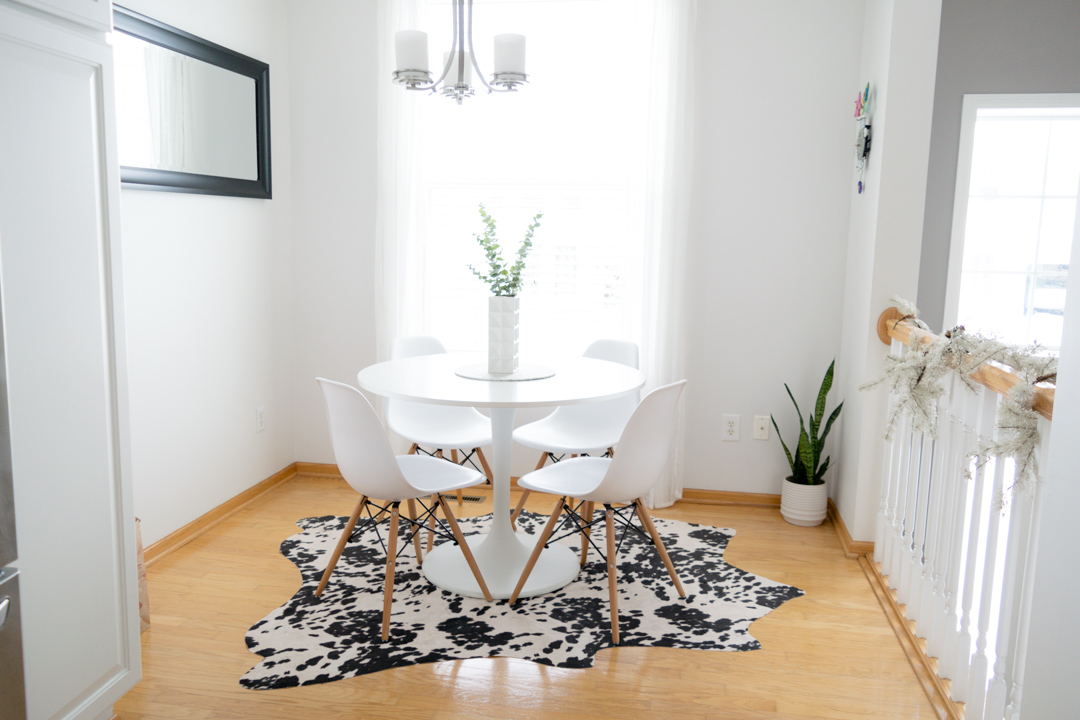 And why not show you a little more into our kitchen? I got ahead of myself, haha. More DIY comin' atcha! I cut out this faux cowhide rug with fabric from amazon. Another super easy project for cheap! Our breakfast table is the Docksta table from IKEA, and the chairs are from Target.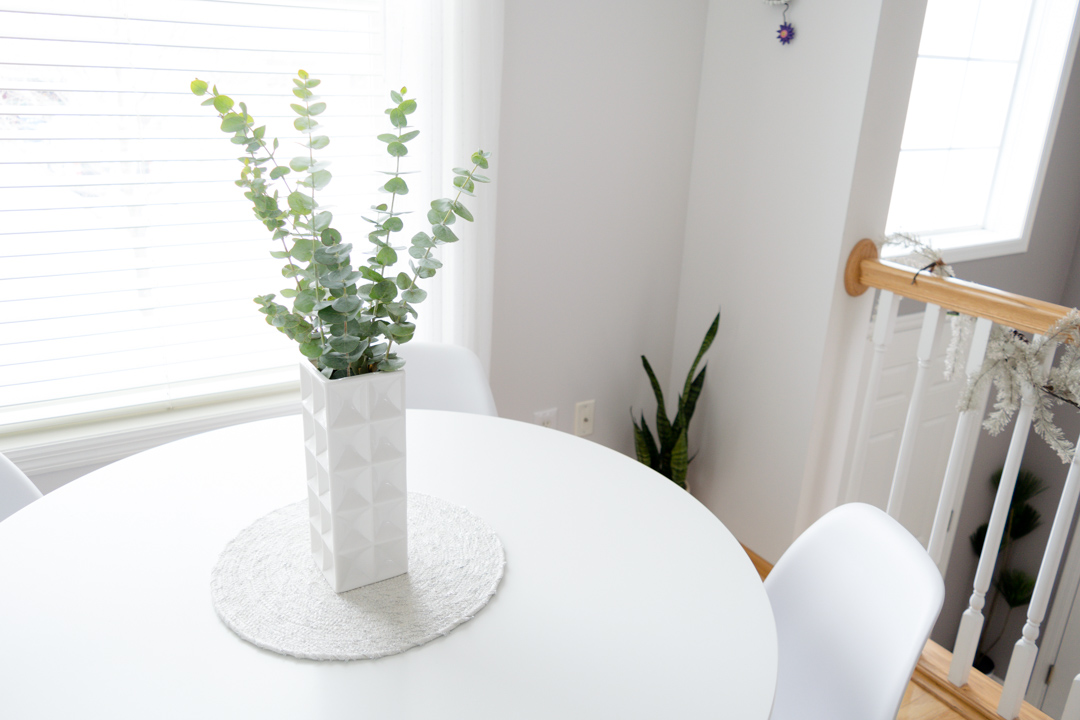 Fresh Eucalyptus not only smells nice, but looks so pretty in a vase! Got this bunch from Trader Joes, and it's still going strong! (I took these photos 2 weeks ago).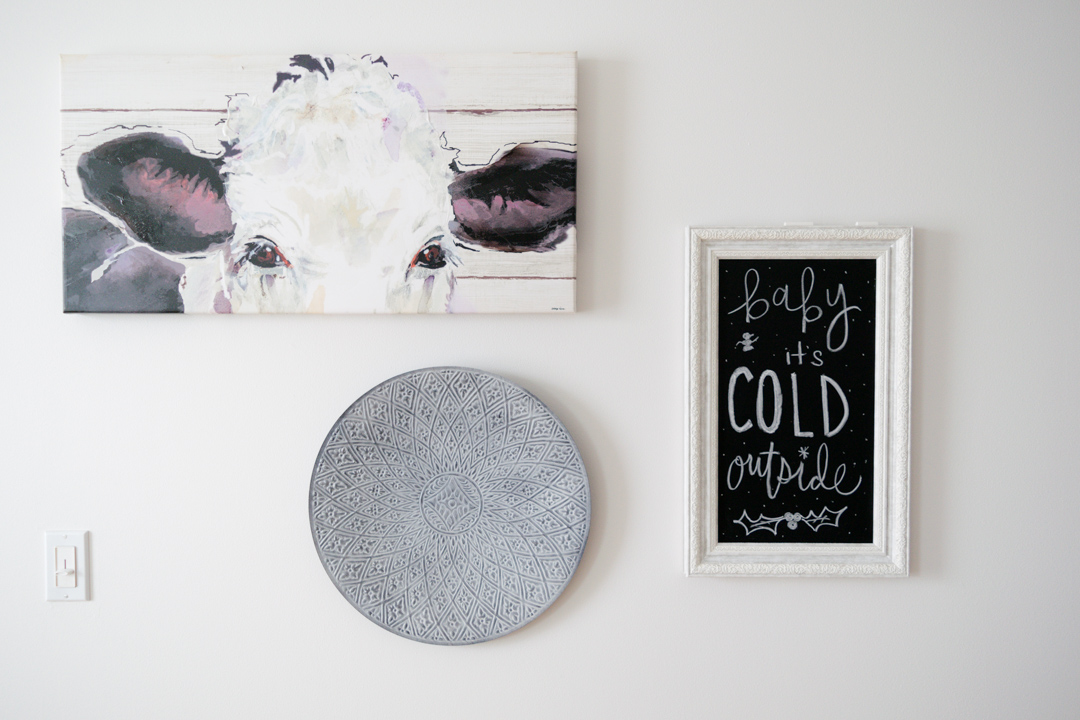 Kitchen wall decor… I'll be changing up the chalkboard sign every season. :) Cow canvas is from HomeGoods and it was only $24! Plate is from Target.
---
So, initially my plan was to get my Holiday Living Room Decor post up much earlier… but life happens and now I am getting it to you just a couple days before Christmas. 😳 I figured better late than never! One of the main reasons it took me so long was because we were buying a dining table and I wanted it to be in the photos, but we ended up just getting it this week, and Tom is currently still setting up the chairs. On top of that, my idea was to also show you my entire house, but being honest, I don't have holiday decor all over the place. So I'm going to wait to show you the rest of my house at a later date. 🙂
Can you guys believe Christmas is HERE?! I'm so happy, but I always get so sad when it's over. So much holiday joy, so little time! Does anyone else feel depressed taking down their Christmas tree? Because I do. And then your living room looks naked for a while.
I hope everyone has a safe and wonderful Christmas with their families and loved ones. I am definitely going to take some time to unplug and give all my undivided attention to my much deserving family. It's so hard sometime (especially as a blogger/Instagramer!) but it's so important, because family first. 🙂
Merry Christmas!!
xx, Taylor
SHOP THE POST: