As many of you know, I had the pleasure of taking my first trip to New York to attend New York Fashion Week in September! And I haven't blogged about it yet, so wanted to take the opportunity of this #FlashBackFriday and share my experience with you! I had an incredible time, and actually learned pretty quickly that there are a lot of things I didn't know I needed to plan for! So if you have ever wanted to attend NYFW (anyone can go, as there are so many public opportunities!), hopefully what I learned during my 1st NYFW will help you plan for your future trip. 🙂 But first, I'm going to recap my trip!
First and foremost, one of the biggest reasons I decided to go on this trip was because I was invited to some exclusive rewardStyle events, which was a huge honor! I still remember how excited I was to see those invitations slide into my inbox, being that people are hand selected to attend. Like, me? This every day Minnesota girl?! All I can say is – hard work does pay off, as this was such a fun, exciting and awesome opportunity to meet and mingle with other bloggers!
RewardStyle is what I use to monetize my blog and social media platforms with the use of affiliate links, and is also the creator of LIKEtoKNOW.it (which may sound more familiar to you). With LIKEtoKNOW.it, you're enabled to shop influencer images from Instagram, Pinterest, Snapchat and across the mobile web. Bloggers and influencers, such as myself, tag products in their images and LIKEtoKNOW.it delivers the ready-to-shop product details to you via the LIKEtoKNOW.it app and email when you screenshot or 'like' an image on social media or mobile web. Going to the Shop My Instagram page on my blog also allows you to shop my images without using the LIKEtoKNOW.it app!
The biggest influence that pushed me to go on this trip was the opportunity to meet a bunch of blogger/Instagram friends that I've connected and made friendships with since starting my blog. It was a little scary traveling all by myself to New York (I've never traveled alone before!), and meeting all these gorgeous girls for the first time, but they were just as sweet, fun, and enjoyable to be around as they look like online. Actually you know what, they exceeded my expectations and really made this trip the best it ever could've been!! I only wish that we all lived closer, because we all got along so well and had so much fun. I adore my friends back home, but there's something really refreshing being with friends that totally get my side gig. We had so much to talk about and just relate on a completely different level. 🙂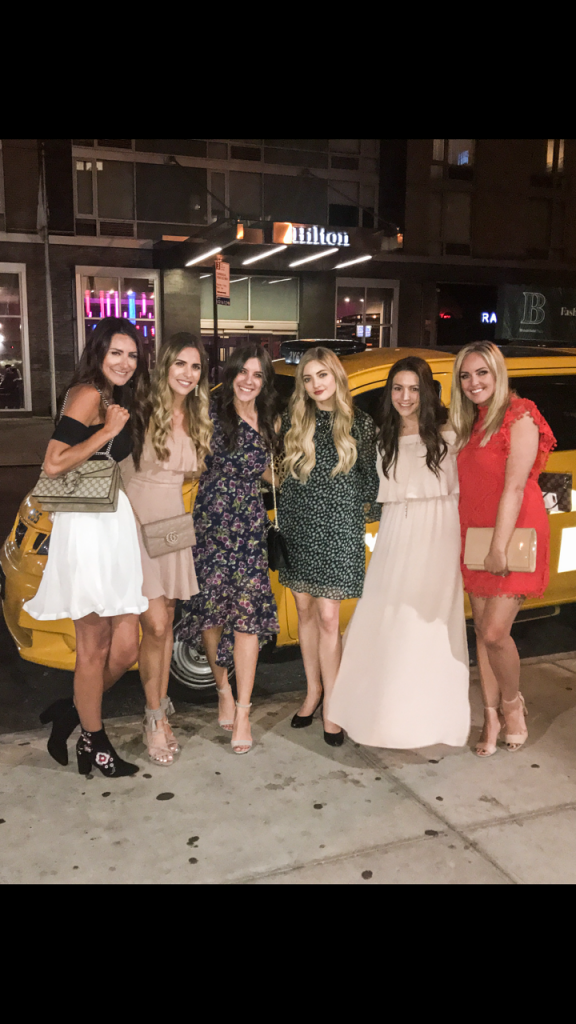 From left to right: Jena, Me, Michelle, Meghan, Megan, and Jen
I shouted out my girl gang on my Insta Stories post NYFW, and you must check out their blogs, too! Jena of Jena Green, Michelle of Mrs. Simply Lovely, Meghan of The Blonde in Pink, Megan of Pine Barren Beauty and Jen of Red White and Denim! They are some of the most genuine girls out there, and are beautiful inside and out. They also have very similar taste in fashion to me. 😉 I had so much fun with them and cannot wait for our next trip together!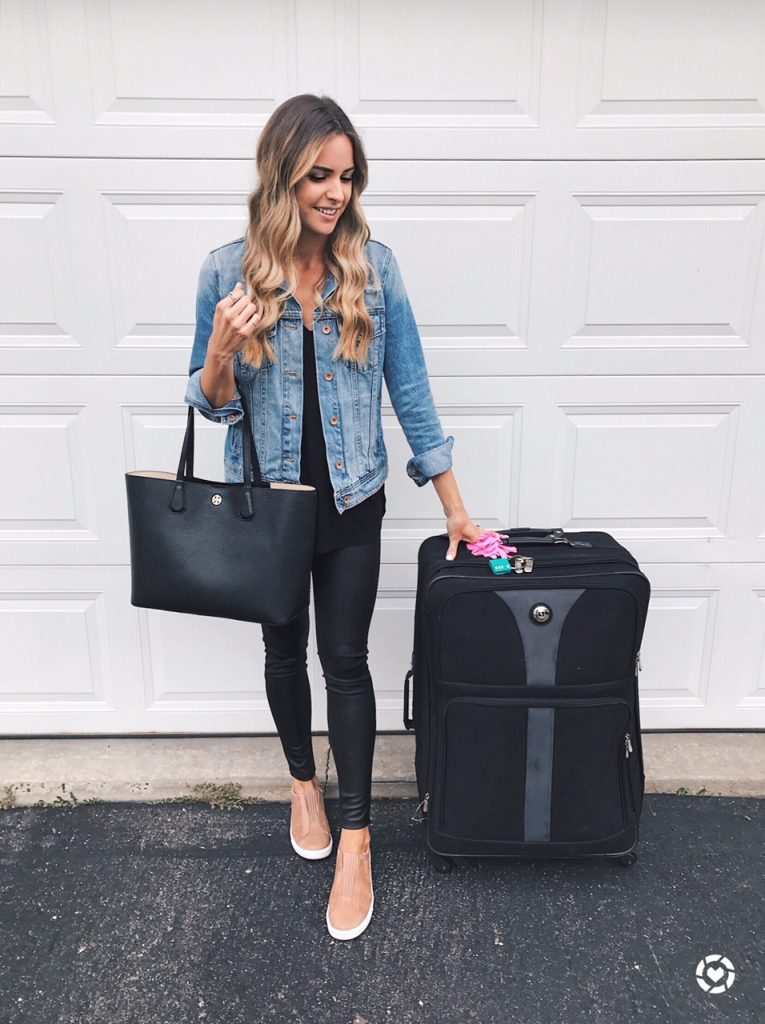 CLICK TO SHOP:

THURSDAY
Okay, now for a little play-by-play of my trip: I flew out of Minneapolis bright and early on Thursday morning and felt anxious, somewhat nervous and really excited! The thing that made me most nervous was traveling by myself to a huge city that I've never been to before. Tom was probably more nervous than I was though, lol! And I also don't really love flying. I like the idea of flying and traveling, but the actual flight tends to make me feel anxious. And no matter how tired I am, I have never been able to fall asleep on a plane – super frustrating since I got only a wink of sleep the day before, haha.
3 hours later, I landed in NY! I had to take about a 45 minute Uber ride into NYC from the airport (which was the first of MANY Uber trips during my stay), and I was greeted in front of the hotel by my Jena girl! We instantly connected and grabbed a drink and some apps on the rooftop of our bar. Can we talk about the views on NYC rooftops?! So amazing. This rooftop didn't hold a candle to the one we went to Friday night. But I'll get to that in a moment…
Jena and I had all the right intentions to make it to our first appointment with BaubleBar after our rooftop hang, but totally got lost trying to walk there (it was like one mile away). My walking GPS was being a real pain. It was ridiculous actually, but luckily the appointment time was flexible and we moved it to the next day. However, we managed to walk alongside Nev and his family (anyone watch Catfish?!) without realizing it was Nev and his family for about 5 minutes. Once we realized we were going the exact opposite way of our destination, they asked us if we were lost and needed directions; but wait, I realized it was Nev and made a complete fool out of myself, lol! I was starstruck and forgot his name, and his dad had to remind me, "It's Nev…" while walking away from us. Way to keep it cool, Taylor… In my defense, I've never really seen a famous person before in a setting like we were, so it was completely unexpected and I was really excited. 😉 Good practice for the next celebrity encounter, I guess? Ha!
Jena and I found a really fun local bar (after giving up all hope to make it to our original appointment) and had a nice little time chatting up the locals. We actually met a woman from Minneapolis there, which was crazy!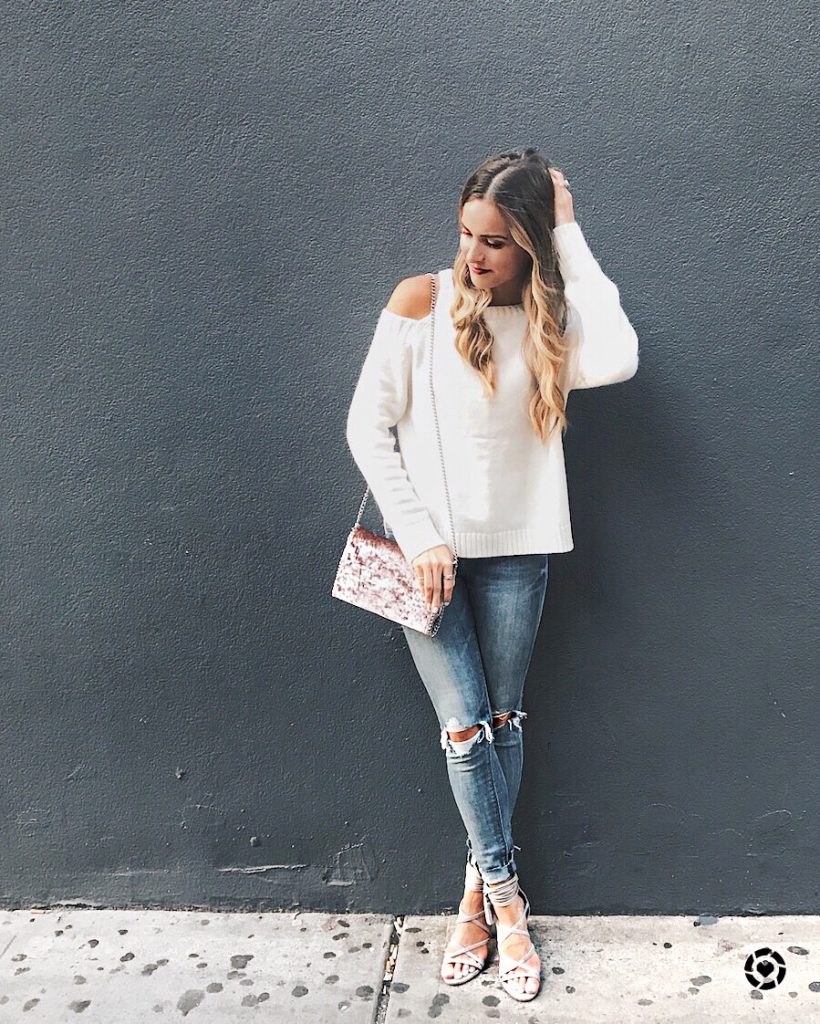 Thursday night look
CLICK TO SHOP:

FRIDAY
The next morning, we got ready and met up with Meghan for brunch at The Butcher's Daughter – guys, this was the cutest, yummiest place!! I seriously felt like the menu was made for me; mimosas, almond milk and matcha lattes, acai bowls, avocado toast eggs benedict, waffles… I could've closed my eyes and pointed to something on my menu and would've been 100% satisfied with my choice. Really good stuff and wholesome ingredients. And it was delicious, too! (I ended up getting the acai bowl and matcha latte!).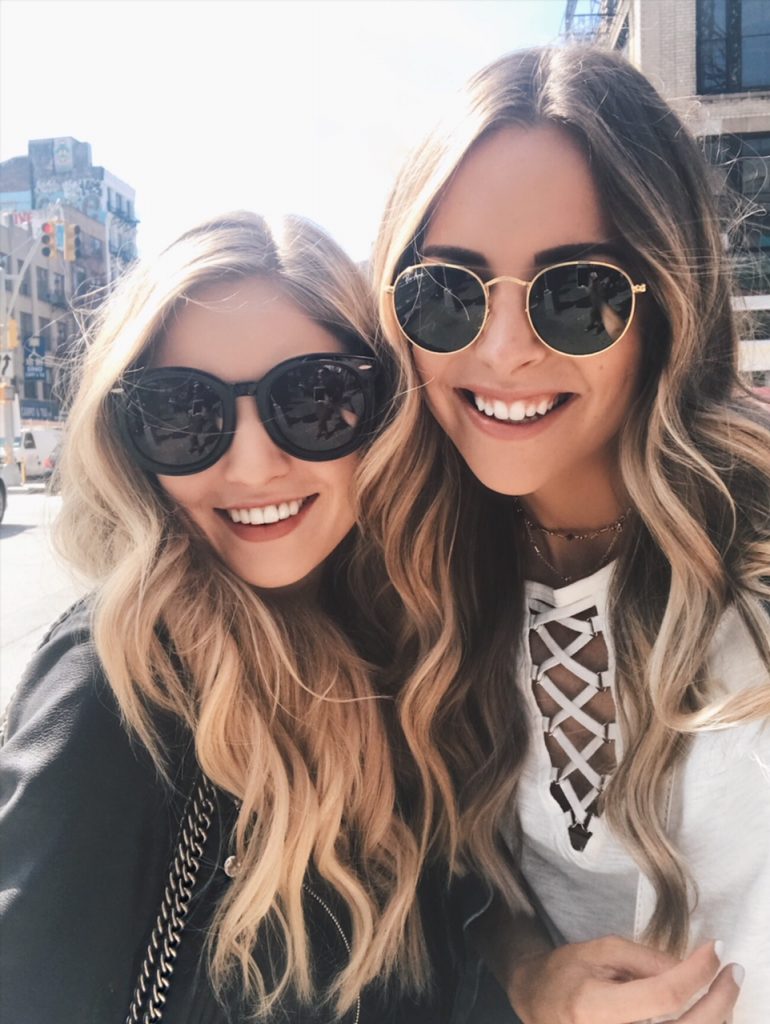 After brunch, we headed over to rewardStyle Headquarters, where I had a meeting with my rS rep to meet & chat about my analytics, and mingle with tons of other beautiful bloggers that I've seen all over Instagram! It was a pretty surreal feeling seeing a lot of the biggest ones in the biz. Most were friendly, which was a relief. 🙂 Meeting Courtney Kerr and Jordan Underwood was super exciting, and they are just as cool as they are on the 'gram! I also finally met my loves Michelle, Lejla and Karen!
You guys, this place was decorated to perfection – bright, airy, and the prettiest flowers at every corner! An Instagrammer's dream. 😉 Mimosas and bellinis on standby, and a beautiful view of the city on the rooftop! And lots of fun photos taken…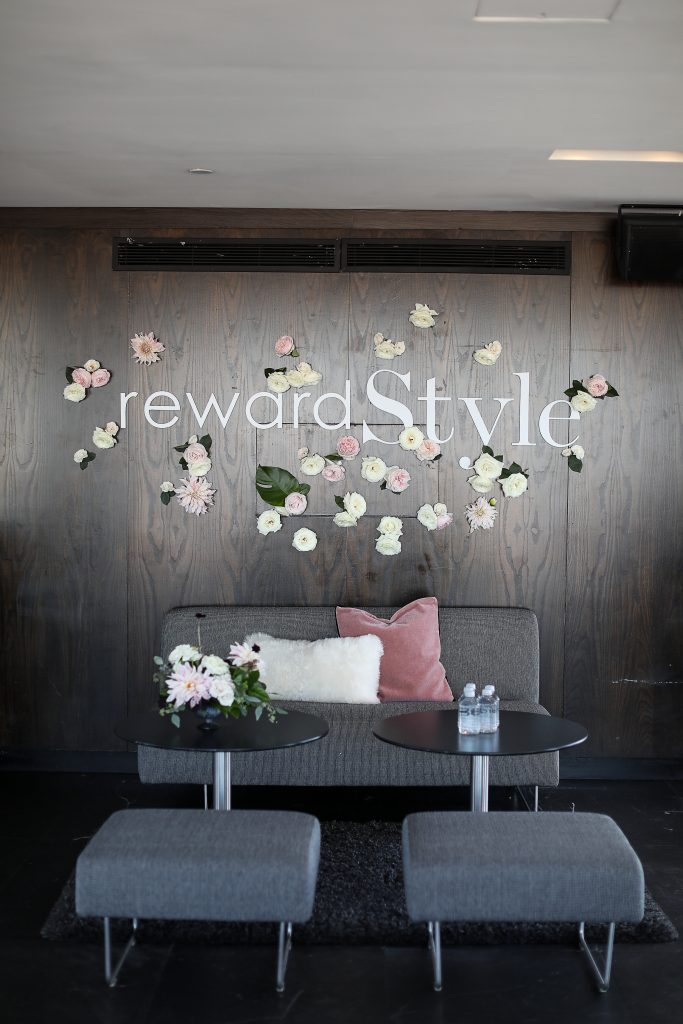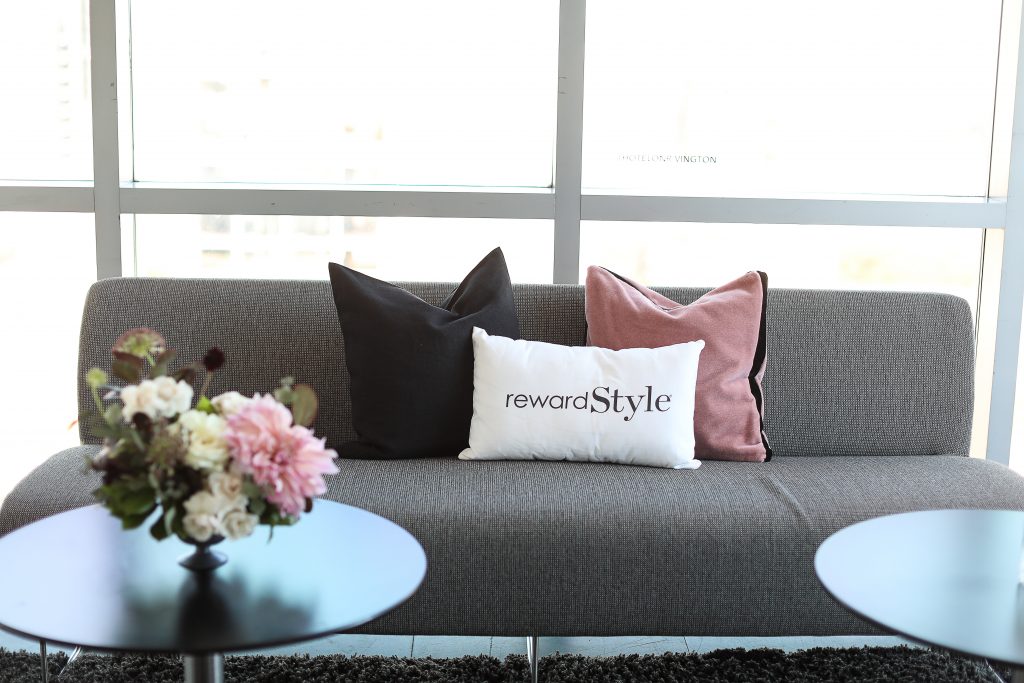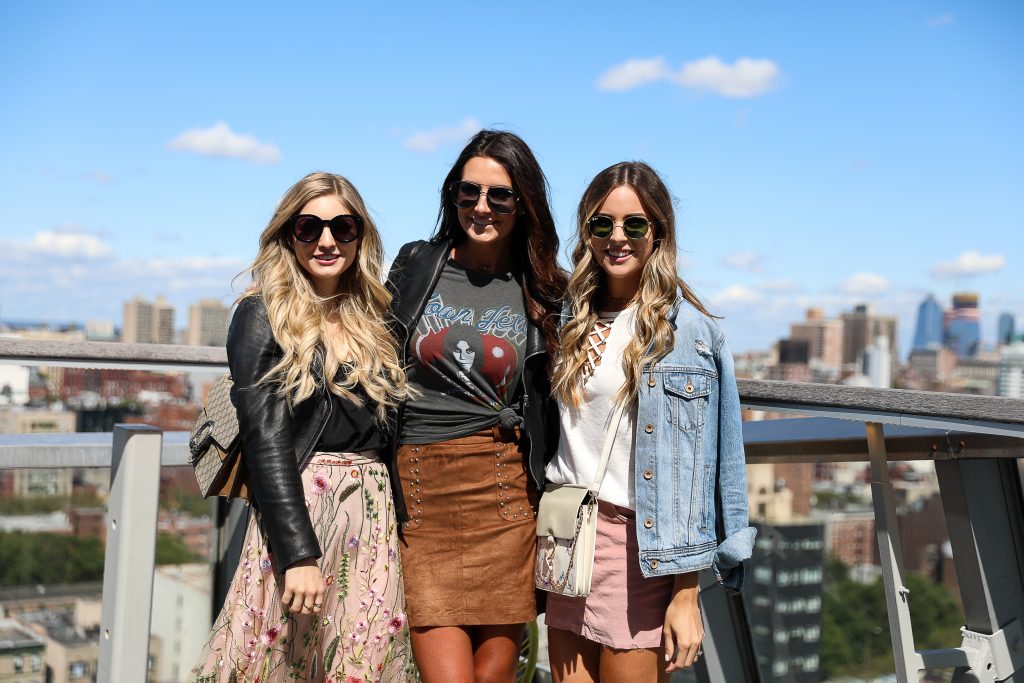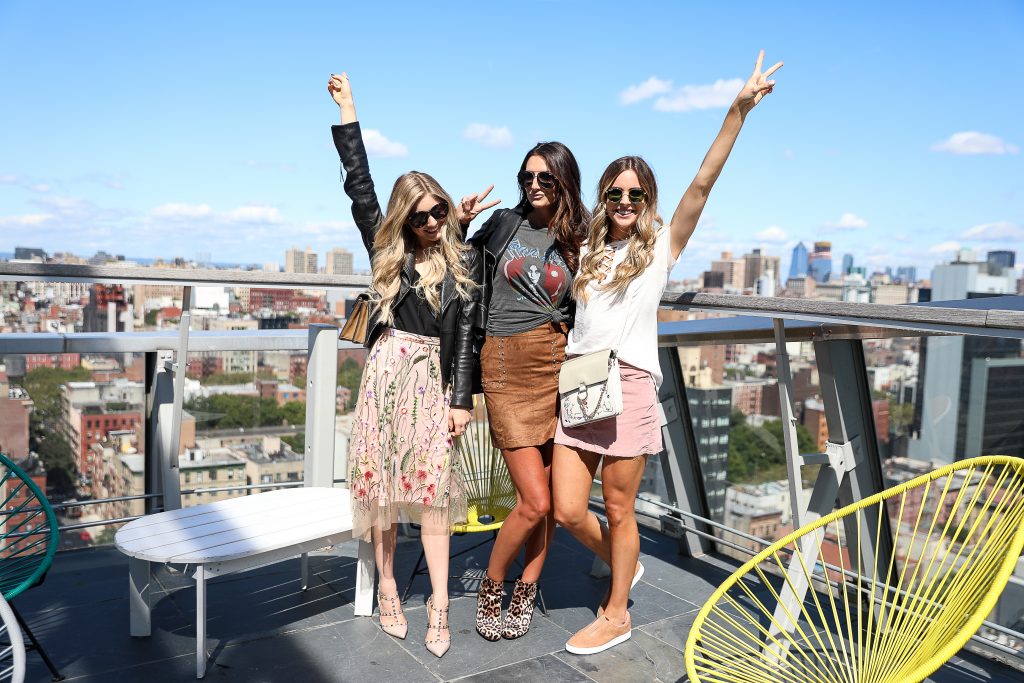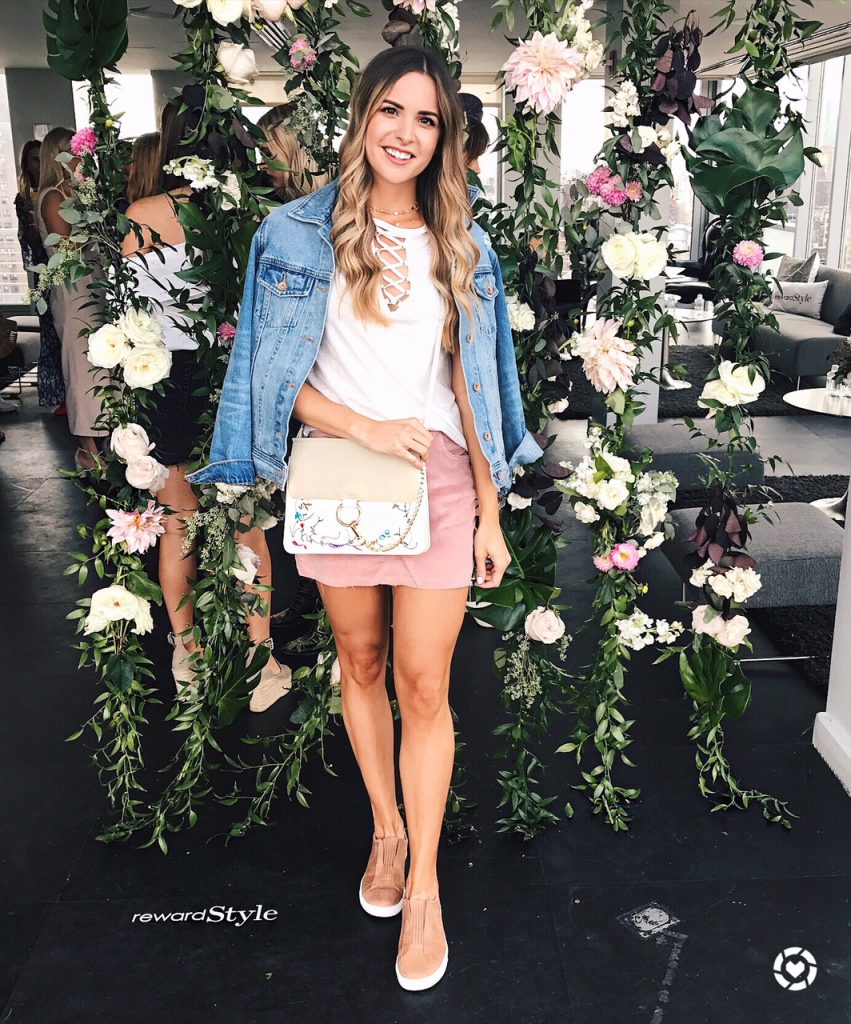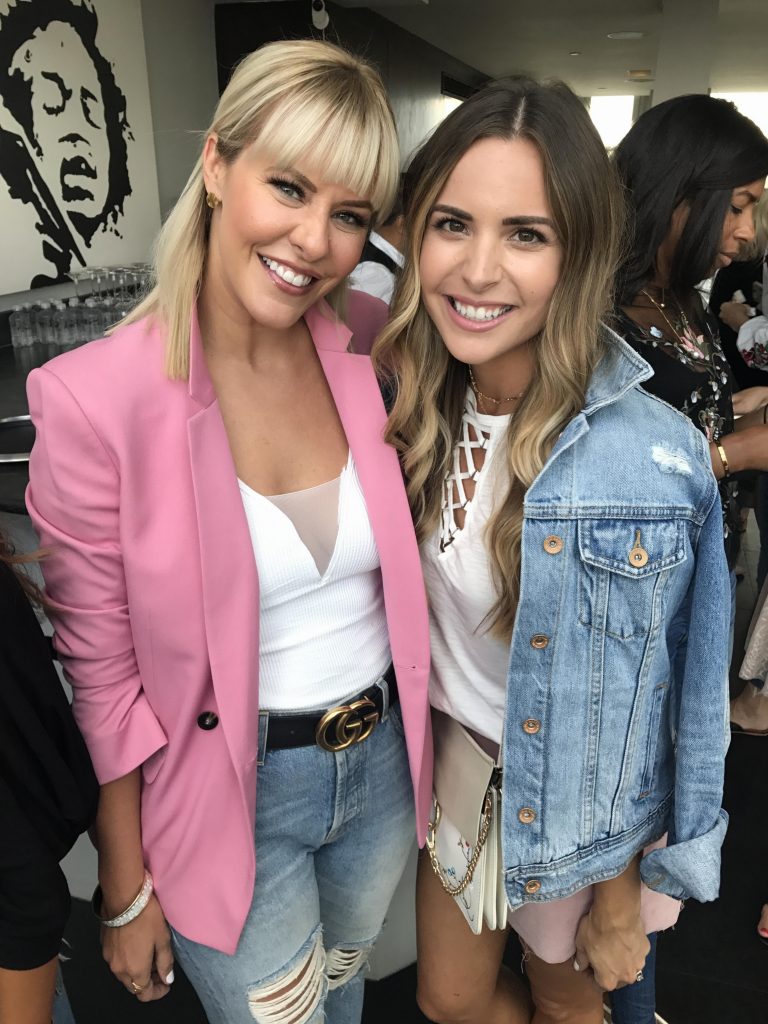 Courtney Kerr of Kerrently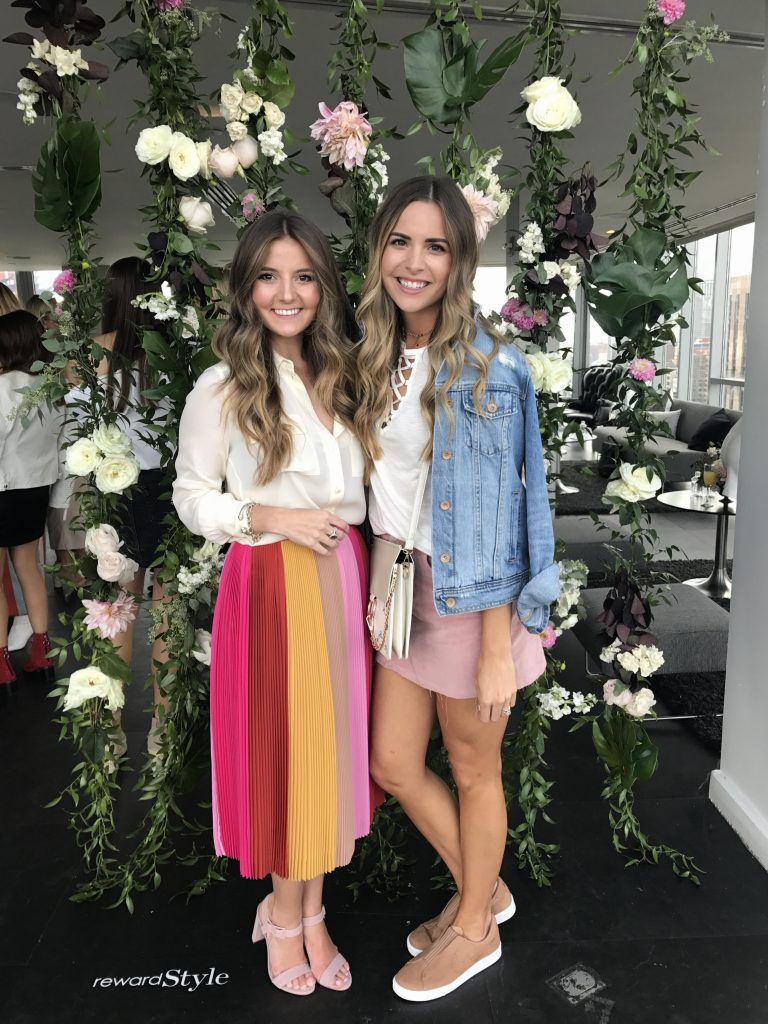 Lejla of Hello It's Loh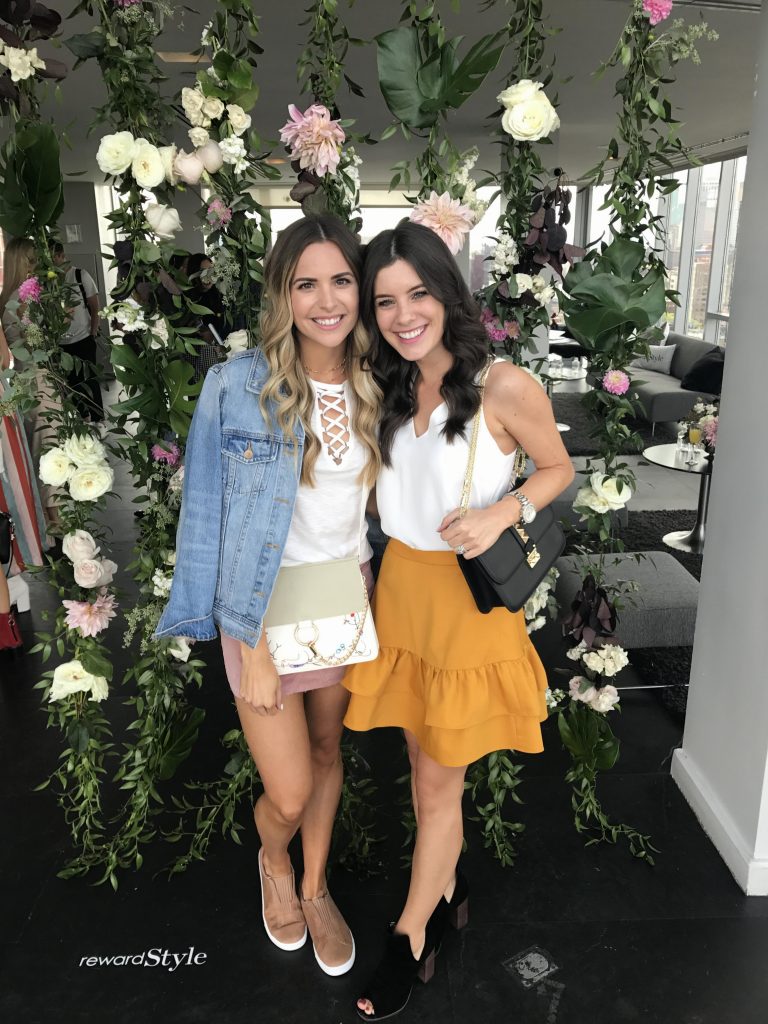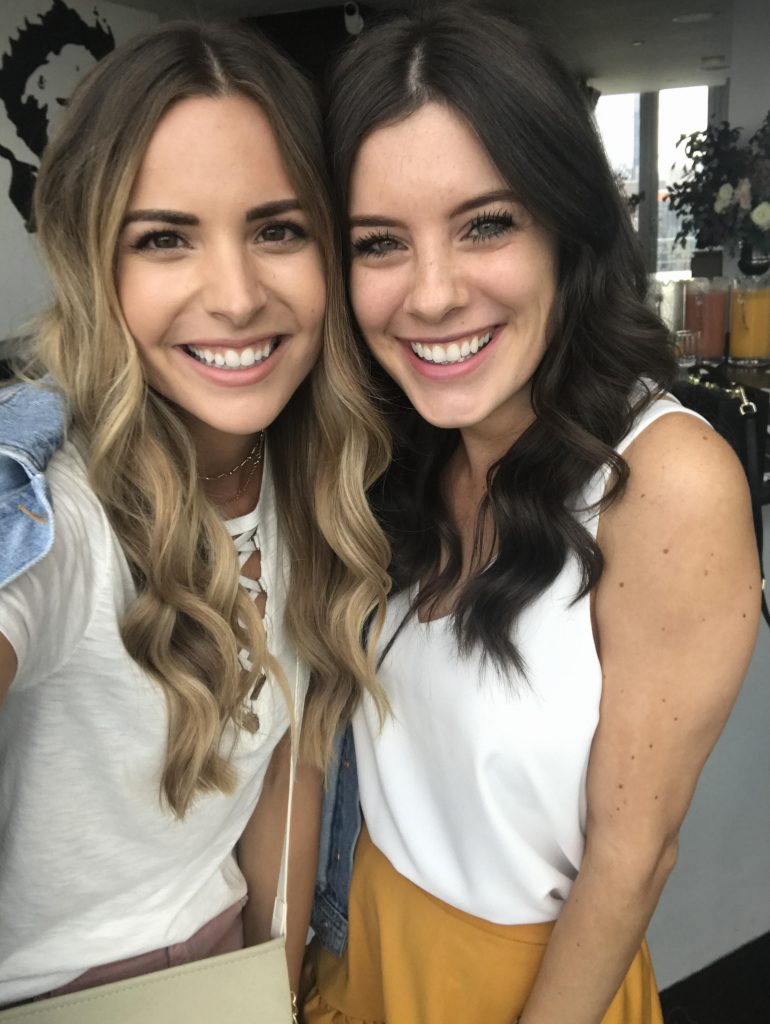 Michelle of Mrs. Simply Lovely
We then headed over to the LiKEtoKNOW.it mural and had an rS photographer snap some professional photos for us! So fun, and such a cool wall. People are crazy talented!!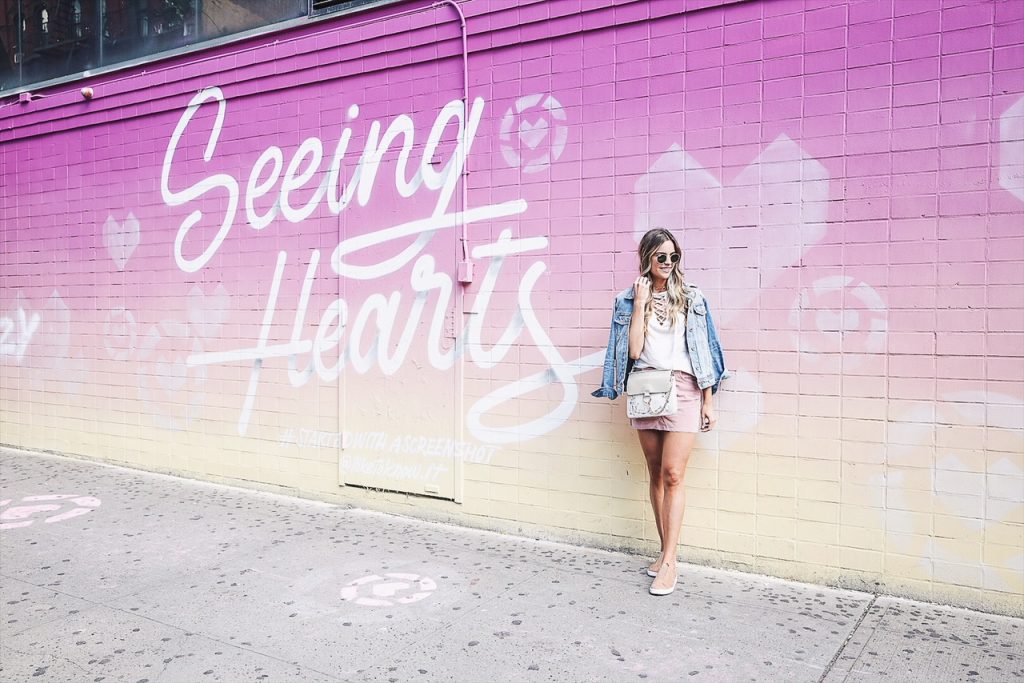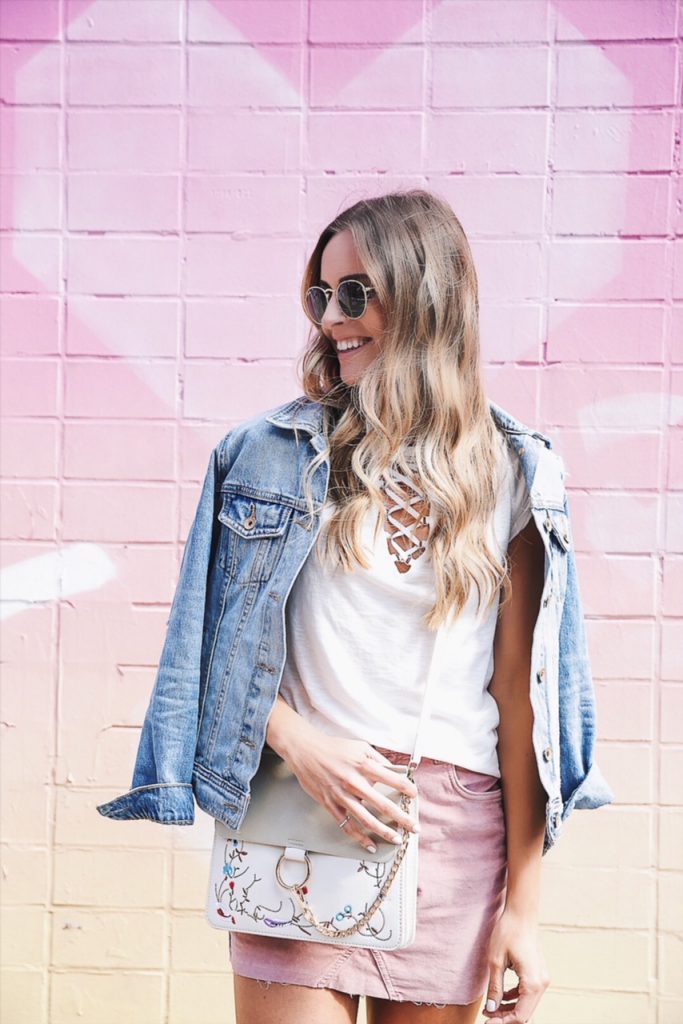 Friday daytime look
CLICK TO SHOP: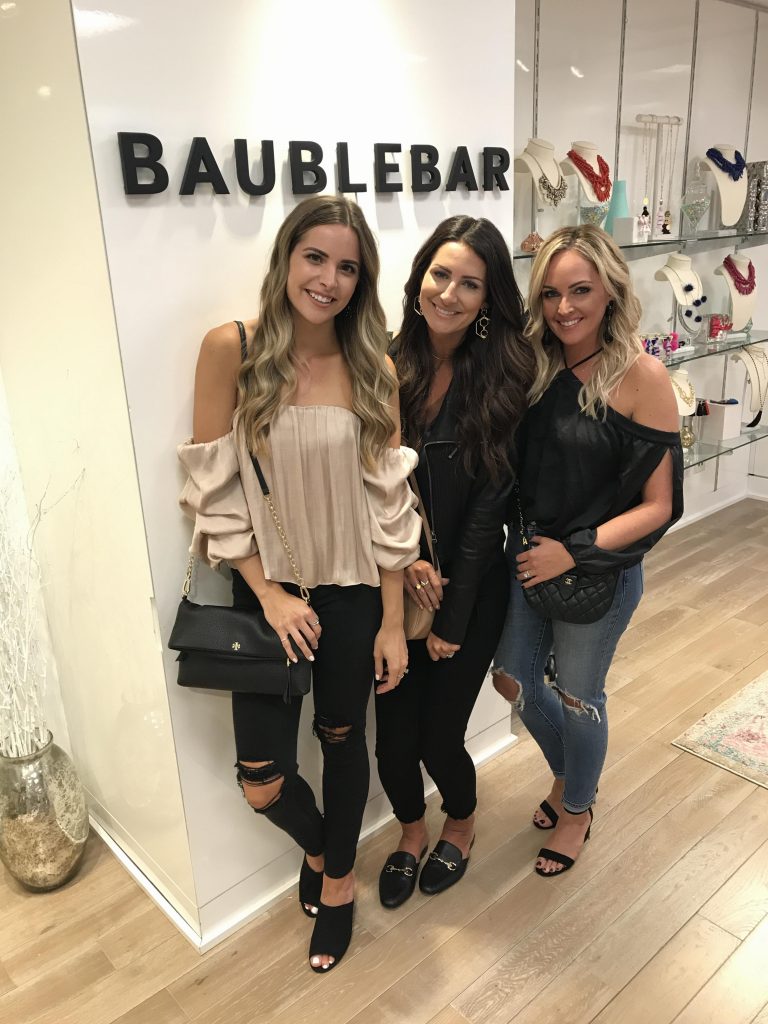 BaubleBar Headquarters
Following the rewardStyle HQ party, we went back to our hotel to get ready for the night. Our plans for the night were going to our BaubleBar meeting (we successfully made it, without getting lost ha), and then meeting up with my cousin Bea, who lives in NY (she works for Tory Burch Headquarters, so amazing!), grabbing dinner and happy hour and then going to the rooftop at Westlight in Brooklyn! If you watched Nick's season of The Bachelor, the rose ceremony where Corrine was sent home was on this very rooftop. 🙂 Just a fun fact for ya!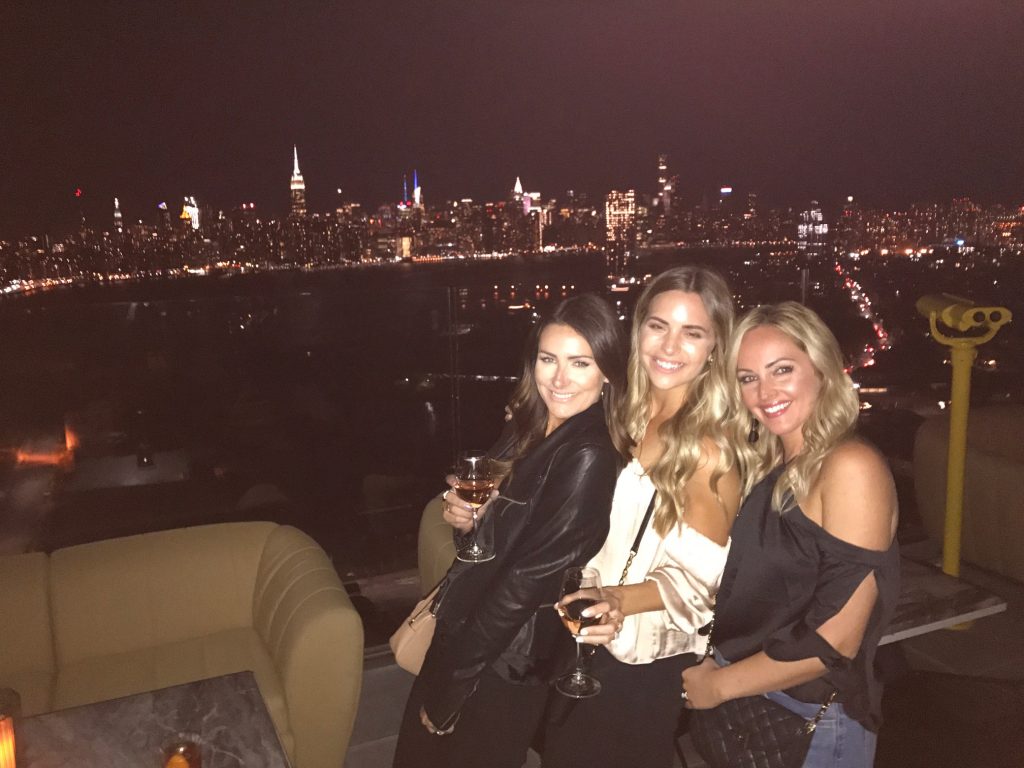 So don't mind my crazy blinking eyes, but check out this view!! The rooftop had an INCREDIBLE view of the city. Like, seriously incredible. The photo below doesn't even do it justice. And it was so beautiful at night with all the lights lit up!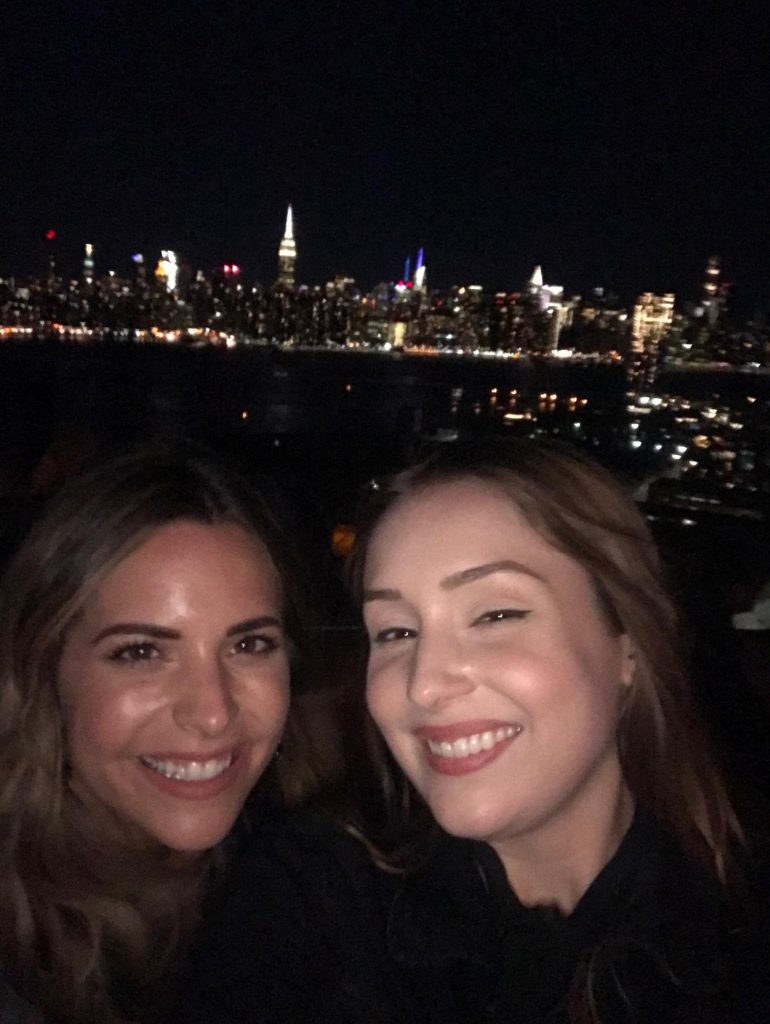 This is my cousin, Bea! And I'm not sure why it won't let me rotate the photo… so here we are, on top of Westlight, sideways. 🙂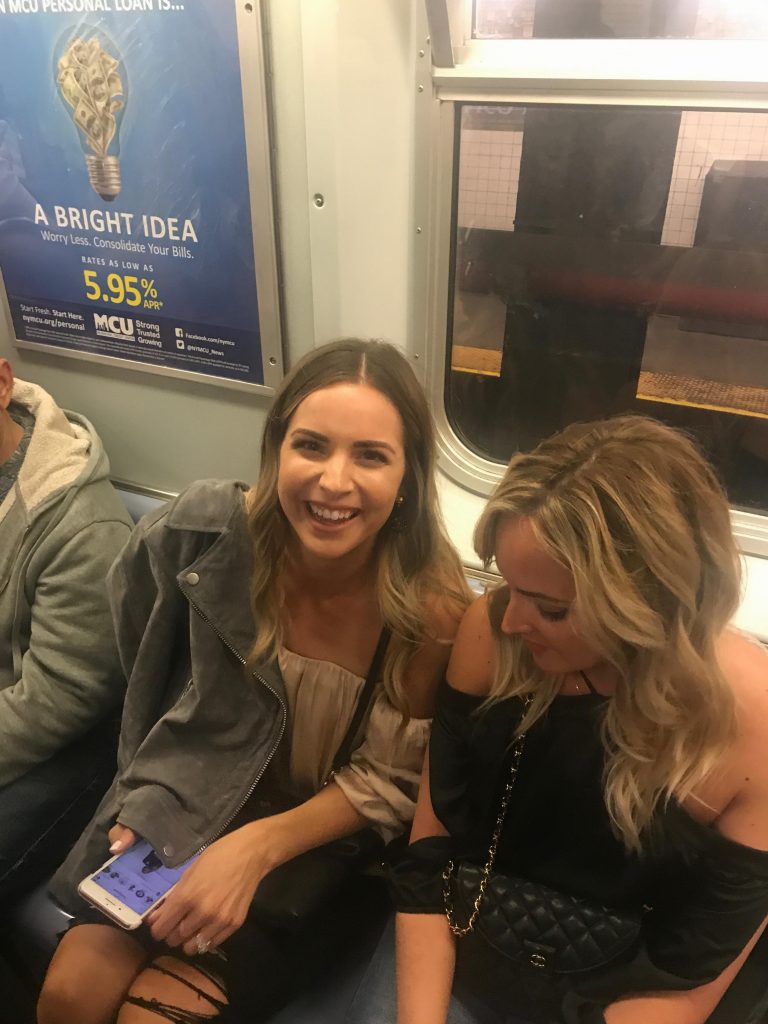 Another sideways photo – I also experience my first subway ride! It was a little nerve racking, but it was just fine. Bea takes the subway daily, so I was fairly confident we wouldn't find ourselves in any trouble, haha! We weren't too crammed into the subway full of people which helped the anxiety. 😉 It was nice to pay such a small fee for a ride to Brooklyn (compared to Uber!) and it got us there FAST. Like a few minutes. And we went underwater too, which was nutty!
Also noteworthy: the talent inside the subway station. Lots of really great musicians, and we were treated to some classic hip-hop covers, which I loooved!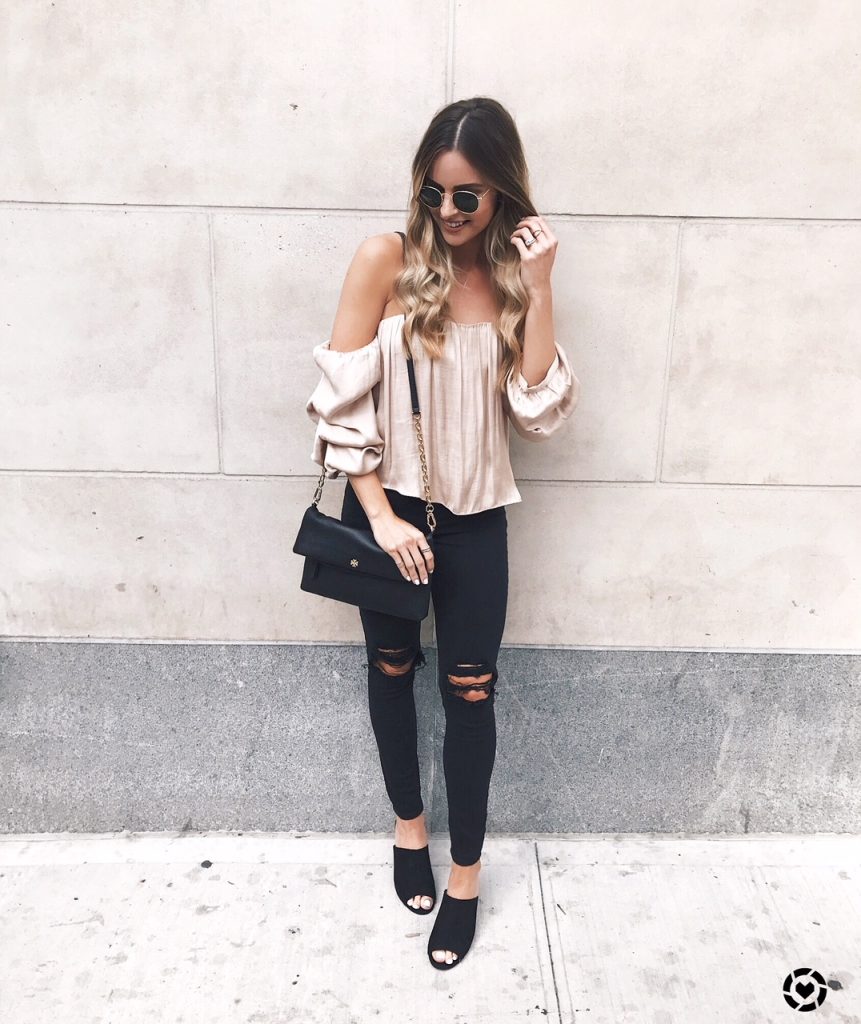 Friday night look (my top is unfortunately sold out – linking other pretty satin tops)
CLICK TO SHOP:

SATURDAY
Saturday was probably the biggest and most eventful day! We were initially supposed to have a 8:30am photo shoot with a sweet photographer, but you guys, we had to call it off because we were just too exhausted and had a full day of events following the shoot. And going out the night before may not have been ideal for an 8:30am shoot, but we had so much fun. 🙂 (So take note and plan your shoots at a feasible time!)
So we got our beauty sleep, woke up and got ready for the day, and Megan arrived! We made our first stop of the day at a local coffee shop to grab a latte & breakfast for fuel. Then, we made our own little photo shoot on the streets of Manhattan! It was actually perfect, and we got some fun shots together. 🙂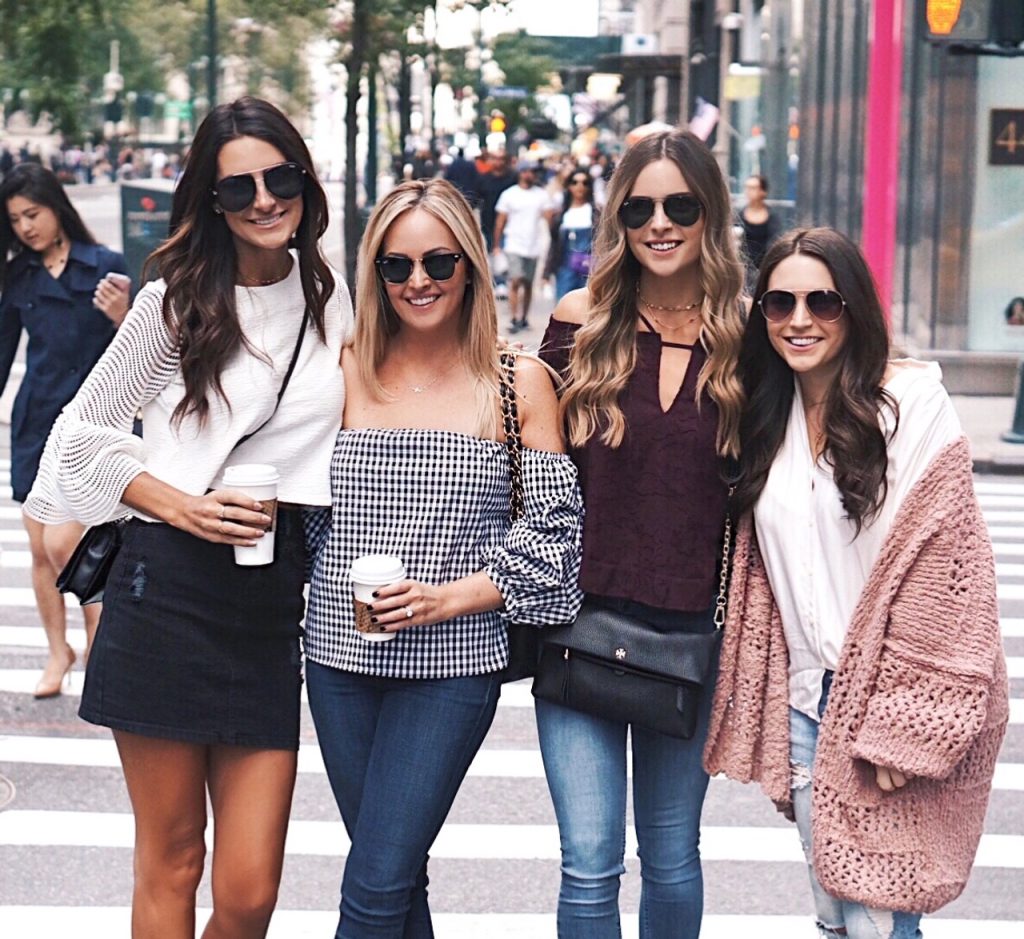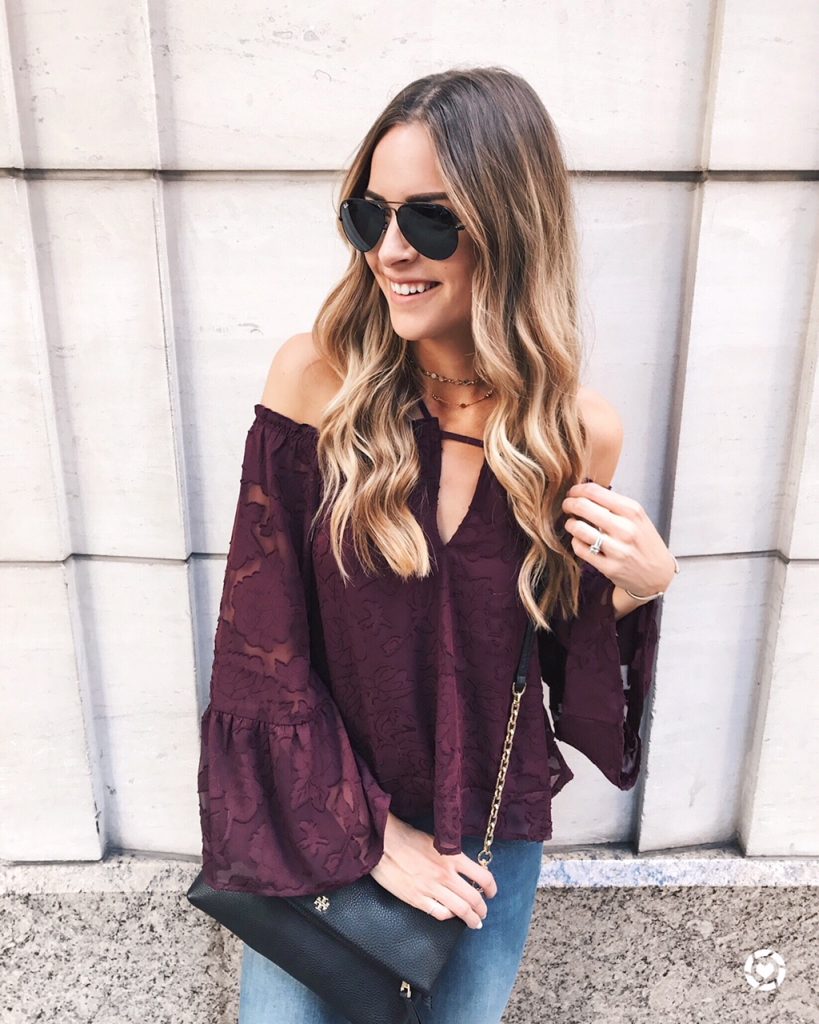 After our little shoot, Jena and I decided that we wanted to treat ourselves to a little souvenir… a designer bag. When in Rome, right? The closest to designer bags I've had are Tory Burch, so it was quite the special treat to myself to get my first Gucci. The occasion of my first time in New York and first NYFW, there was just no time like the present! Definitely my biggest splurge EVER, but it really is a sentimental gift because of the unforgettable experience I had during this trip. 🙂 Yes, just justifying my $1,400 purchase… lol!
(The Gucci I got is here and the one Jena got is here).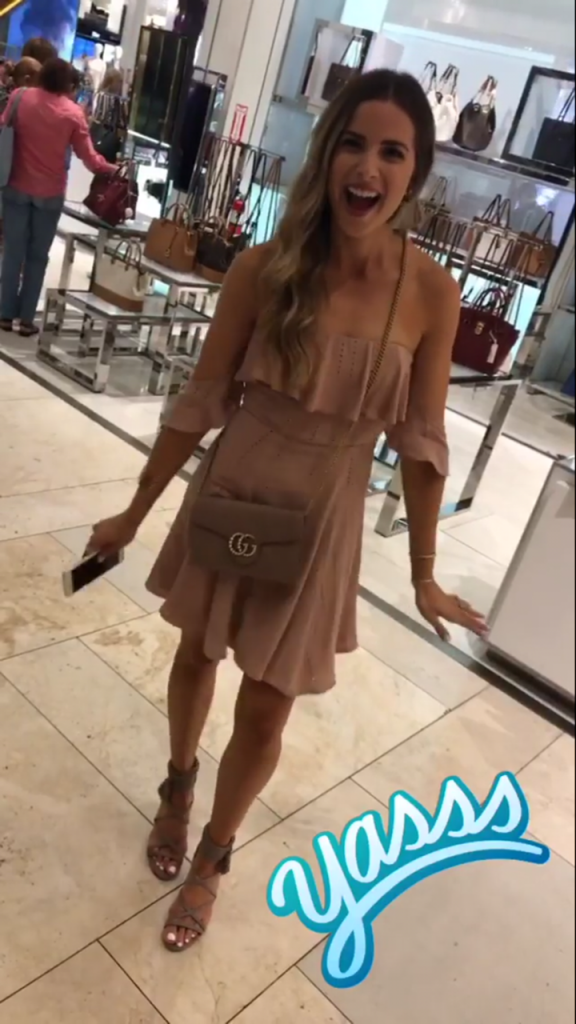 Saturday Night Look
CLICK TO SHOP:

Funny story: I didn't pull the trigger during the initial stop we made at Gucci (because, hello $$$), but after a bit of thought and talking to Tom about the purchase, the girls and I made a quick pit-stop before the Liketoknow.it Rooftop Party! And boy, that bag sure added the cherry on top of my look that night. 😉
The LTK party was insane! I thought there were a lot of bloggers at the HQ on Friday afternoon, but this had probably 4x the amount of bloggers! Check out the fun photos from the party below… you may recognize some familiar faces!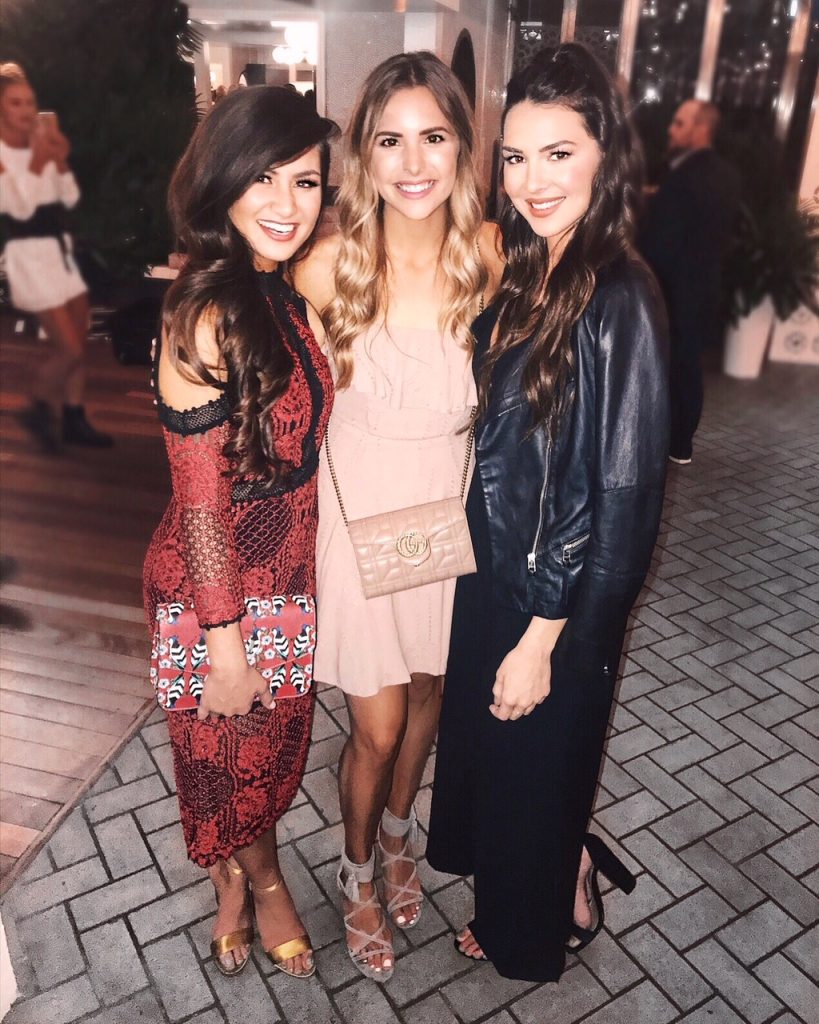 Bachelor nation! Caila Quinn and Jen Saviano were SO sweet! And just as gorgeous in person as they are on TV. 🙂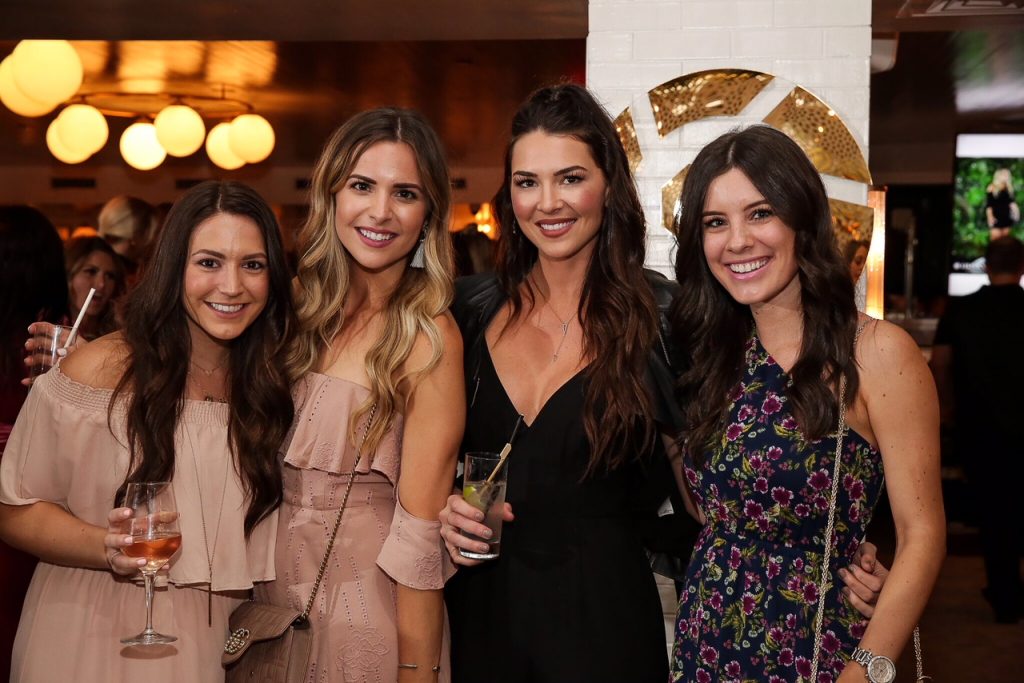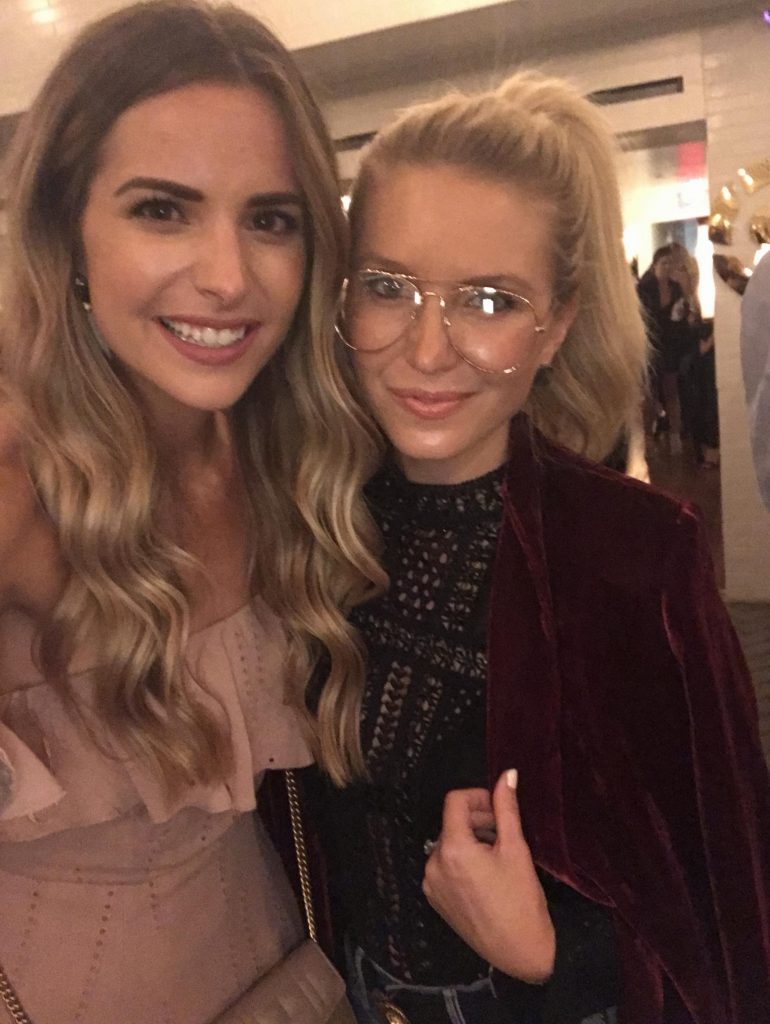 TOTAL fan girl moments at this party, guys. Meggan of Somewhere Lately – one of the only blogs I read weekly!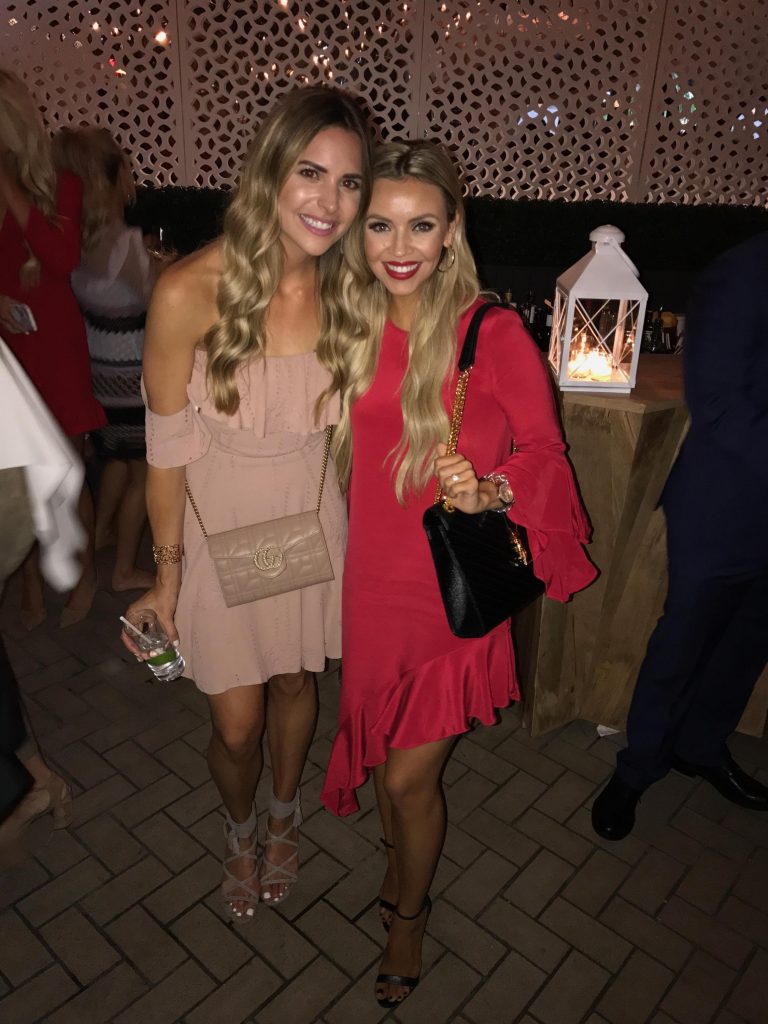 Destiny Thompson of Truly Destiny is literally the prettiest person, on her Insta and in real life! Major mom goals, and definitely fan girled.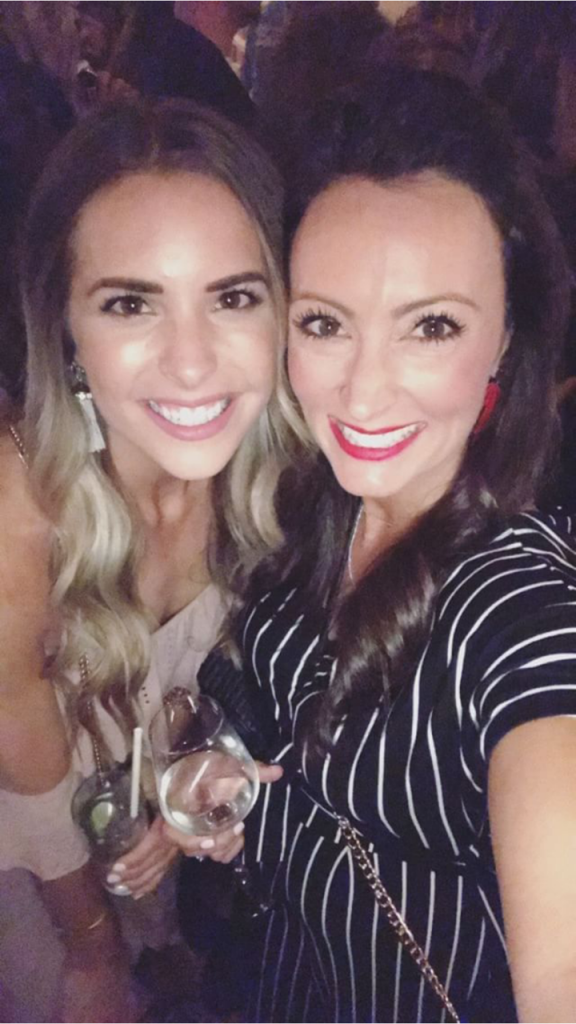 My girl Ash of Ashley Donielle has been one of my blogger friends for about a year now! She is an expecting momma (that's water in her glass 😉 ) and just the sweetest!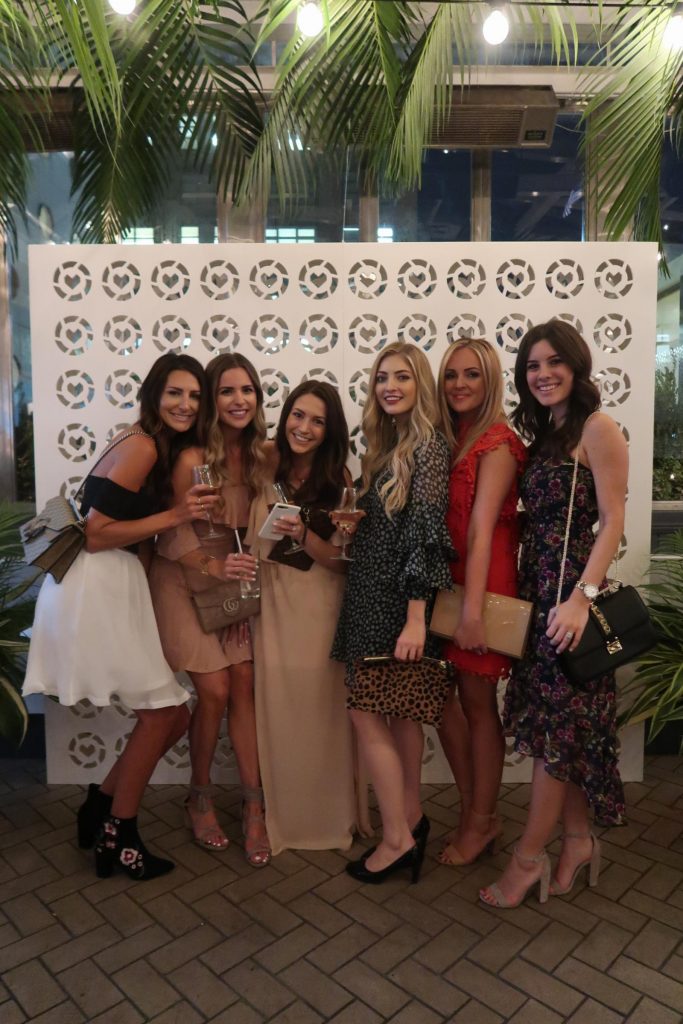 My main squeezes! xo
Truly an adventure I'll never forget! I look forward to the next time I get to hang out with this girl gang!
What I Learned During My 1st NYFW:
Attend with those who lift you up and support you! This pertains to everyone of course, but especially if you are a blogger.
Pack a LOT of clothes and shoes. I mean it… if you are in New York for NYFW, you will want at least 2 outfits per day. If not more. And maybe give yourself some extra options. This mainly pertains to bloggers! There were a few instances where I wish I would've brought more options and more clothes and shoes in general! It is fashion week, afterall.
Be nice to everyone you meet. I guess I really didn't "learn" this… I think I'm nice to everyone honestly, but you do meet not-so-nice bloggers in this environment. So be nice to everyone! 🙂 Having X amount of followers doesn't give you any sort of entitlement or hierarchy to be a snob.
Plan, plan, plan. New York City is overwhelming and there is SO much to do! Plan your days accordingly, or you'll spend too much time figuring out what to do/where to go next.
Give yourself LOTS of time to get to place to place. Everyone is late in NY because of traffic – everyone is so busy! So make sure you give yourself adequate time for travel.
New York is expensive – but not like out-of-this-world expensive. I was expecting worse, honestly! We didn't go to any super high class dinners though. And Ubers were pretty much the same price as in Minneapolis.
If you want to go to runway shows, find the contact and reach out far in advance – like months in advance. The private shows are invite-only, and usually book fast. However, not every show is private! There are public ones that you can also just show up to.
And that's a wrap! This could possibly be my longest post I've ever written on the blog (and it took me over a month to write), but I wanted to squeeze every bit of information and document my adventure so I can read it back and reminisce in the future. 🙂 Happy FRIDAY!