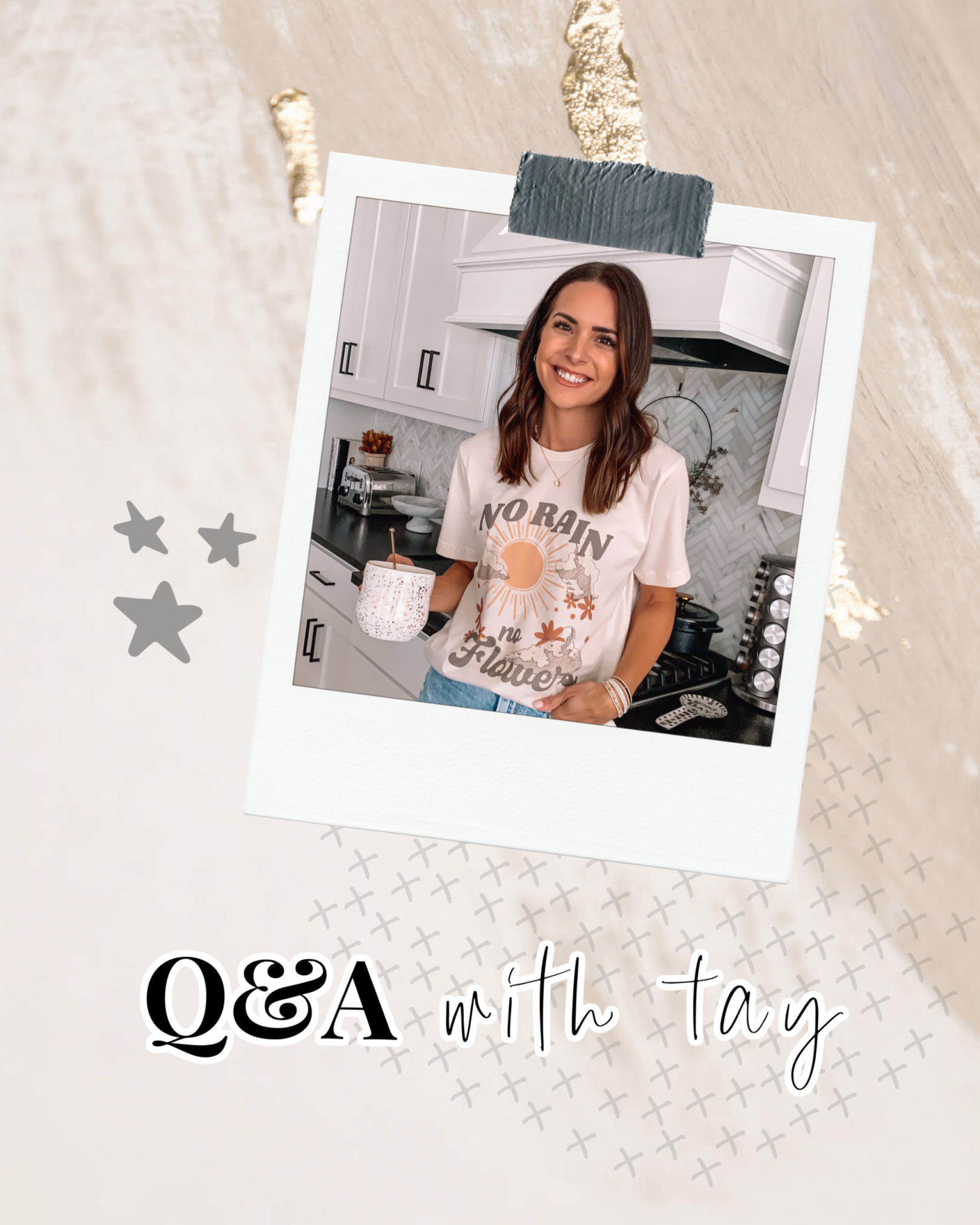 Any links for dainty cross necklaces?! I love this one from Etsy. I have the gold, 6mm-16inch.
Can you link the coffee table in your basement? It's this one by Urban Port but it keeps selling out everywhere! I bought mine on Amazon, but many retailers carry it. Just sold out at every one that I have checked. 🙁
What Tarte juicy lip colors do you wear? Holiday Spritz and Rose are my favorite shades!
Warm and cute winter glove suggestions? I bought these from Abercrombie in a camel color last year and absolutely love them! They are so soft and warm; not really waterproof though. Just bought the leopard pair too!
Gold hoop huggie earrings for every day wear? Thanks! I wear these ones just about every day from Electric Picks. 20% off with code TAYLOR20. Their jewelry has a lifetime guarantee too!
Ideas for cute flat boots/shoes to wear with jeans in the winter? Here are some of my favorites! Use code TAYLOR20 for 20% off the Söfft brand boots.
Does Tom take your outside photos or do you use a tripod? Tom takes all of my pics! We started out with a fancy camera that we scored on Black Friday that we no longer use (I now use my iPhone for all of my photos)! Tom helps me with this business and also with Keldon (full time Dad besides Nana days on Wednesdays). But prior to then, I would use my tripod. I would get so embarrassed when people saw me outside..lol.. but just own it. Last year I had an assistant that took mine. It's much less time consuming.
Local MN businesses for holiday gifts? I have a bunch of my favorites in this blog post and under my gift guide profile highlight!
No question..Keldon is cute! Awww thank you! We think so too 😉
Sorry if I missed it – did you do a toddler Christmas idea list? I did! All of my holiday gift guides are linked in my bio on Instagram or under the Holiday tab on my blog. Linked here.
Where do you get gel nail polish for your UV light? I get mine at beyondpolish.com, Walmart, or Amazon! The one that I've been wearing recently is CND "Cream Puff".
Creamy lip liner recommendations? I would recommend either Marc Jacobs Nude(ist) or Charlotte Tilbury Love Trap. Pricier, but worth it IMO because the formulas and colors are great. NYX is a good drugstore option, but not really creamy like these ones.
What kind of skincare did you use when you were pregnant? I get this question so often, I must have a lot of expecting moms following <3 Here is my answer!
The main ingredients you want to stay away from are any retinol/retinyls and salicylic acid. There are varying opinions on glycolic acid, licorice root, lactic acid, aha, and willow bark. So if you have any of those ingredients in the products you're already using, check with your doctor or midwife!
I utilized 15minutebeauty.com a lot – you can search by brand and she lists off products that are safe/unsafe for pregnancy and nursing. She is on the err side of caution with those questionable ingredients. You may already be using pregnancy-safe products!
What I used/my recommendations are basically anything Tula (besides their new retinol alternative serum, PH toner, and beauty sleep moisturizer for err side of caution) – all of their products are clean! I have a code for them which is TAYMBROWN. Skinceuticals CE Ferulic, Lancôme Genifique serum, and Tatcha dewy skin moisturizer for dry skin.
That fancy scale that you use that connects to an app? FitTrack Dara BMI Smart Scale! It looks like they have a sale going on right now. I had a discount code, but it doesn't work on top of the sale.
What presets do you use? I bought the @kathleen.post presets a couple of years ago and mainly used her "Prime Light" one. I have since tweaked it to make it my own just by adjusting the settings a bit. I bought so many and hers were by far my favorite to work with! Presets look different in every lighting situation though so she has a pack to use with different lighting. I only use my one preset but am consistent with what light I shoot in and adjust for different types of sun. Some pics don't even end up working for me if the lighting sucks haha!
Toddler snow mittens that stay on! These ones from Amazon are the best! I have a few others linked in my toddler folder on my Amazon Storefront!
What was your pre-influencer job? I started as an early education and kindergarten teacher! Then I started my blog during my free time as a creative outlet which helped me get my last job at an advertising and design agency as an assistant project manager (I helped with a lot of web projects and social media for clients). I was promoted to account manager and so I was in that position until I took my blog full time November 2018, which was a few months before having Keldon!
Bless all of you teachers this year. I can't imagine how challenging it is right now. Thank you for your hard work and leading our future! <3