Hands down the hardest secret I've ever had to keep… we're having a baby!! 🙂 It feels so good to finally share with the world that we are expecting a little miracle on January 27th, 2019! Tom and I are feeling incredibly grateful, blessed, excited (and nervous!) to start this new big chapter in our lives together. Going to be the greatest start to the new year, that's for sure!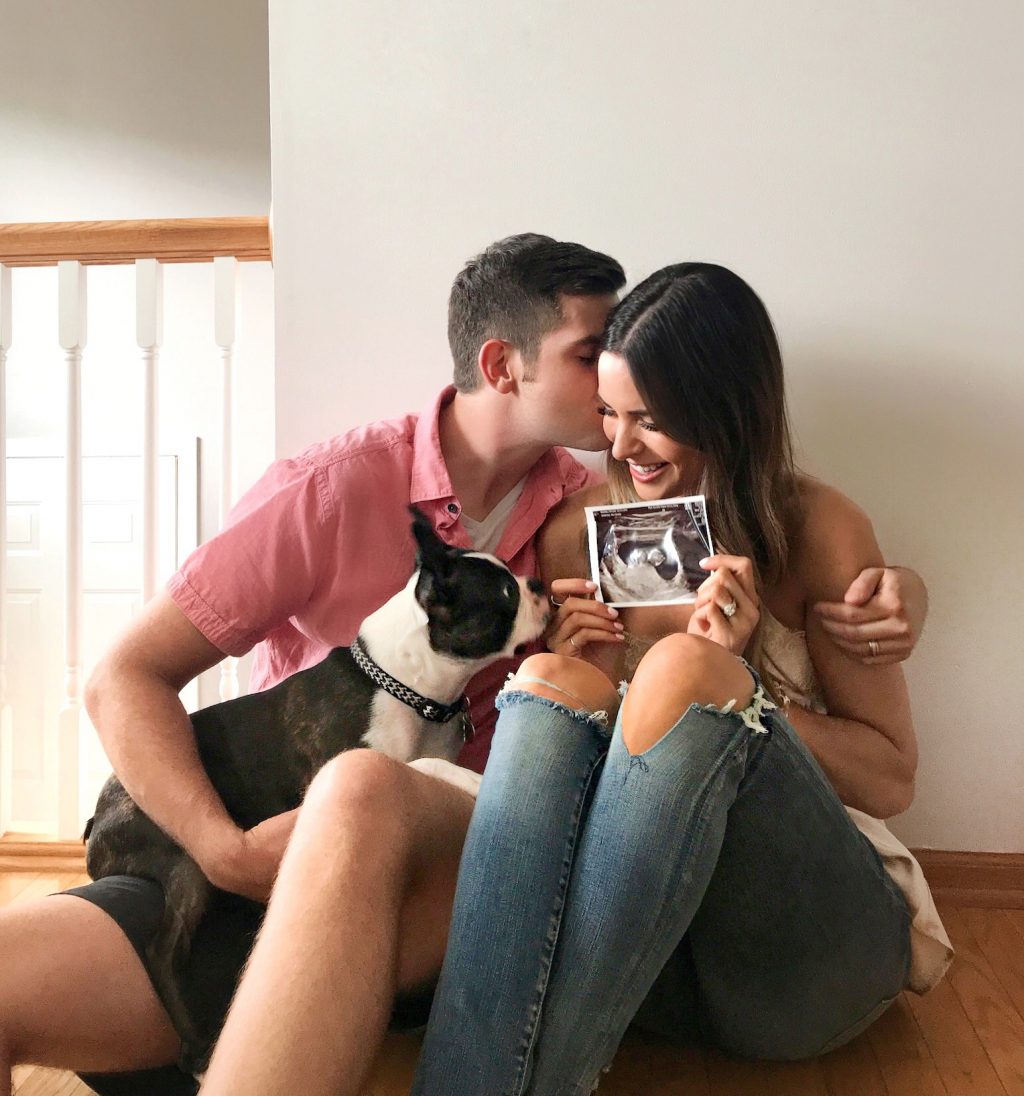 I am 13 weeks as of today, and officially starting my second trimester. We found out I was pregnant super early – when I was about 4 weeks! We took an early detection pregnancy test actually a week prior to finding out and received a negative test, which we were super bummed about… however, little did we know it was just a little too early for the pregnancy test to pick up on! I still hadn't gotten my period that following week after, so I decided to take another test and saw a faint, 2nd pink line pop up and couldn't believe it! I was shaking I was so excited/shocked. Tom was literally 10 minutes from leaving for an annual golf weekend with his friends, and as he was saying goodbye, I shared the test with him… maybe not the best timing lol, but I couldn't not tell him and keep the news to myself that whole weekend! His feelings were mutual to mine, and had the hardest time not bringing it up to his friends that weekend, haha!
We shared our exciting news with our immediate families the following week, and started sharing with our close friends a couple weeks after that. While we had our worries about sharing the news so early since we have quite a few loved ones that have experienced miscarriage, we couldn't keep our secret from them and felt comfort in having a support system, no matter what happened. We started trying late April, and are very blessed that we were able to get pregnant right away. My heart aches for my friends, family and anyone else that have experienced miscarriage and infertility, and I pray for your peace, comfort and strength through such a difficult time. Always have faith in God's plan and his timing.
Though I was pretty confident during early pregnancy (symptoms and body changes have been great signs!), Tom and I were still skeptical and had our stresses about not seeing the baby's heartbeat up until our early ultrasound appointment we had at 9 weeks and 3 days. Almost immediately, our nurse was able to locate our baby wiggling around with a flickering heartbeat! It was one of the sweetest feelings we ever experienced and had such a rush of relief. It was crazy to see – technology is pretty amazing! Below are some pictures from the ultrasound.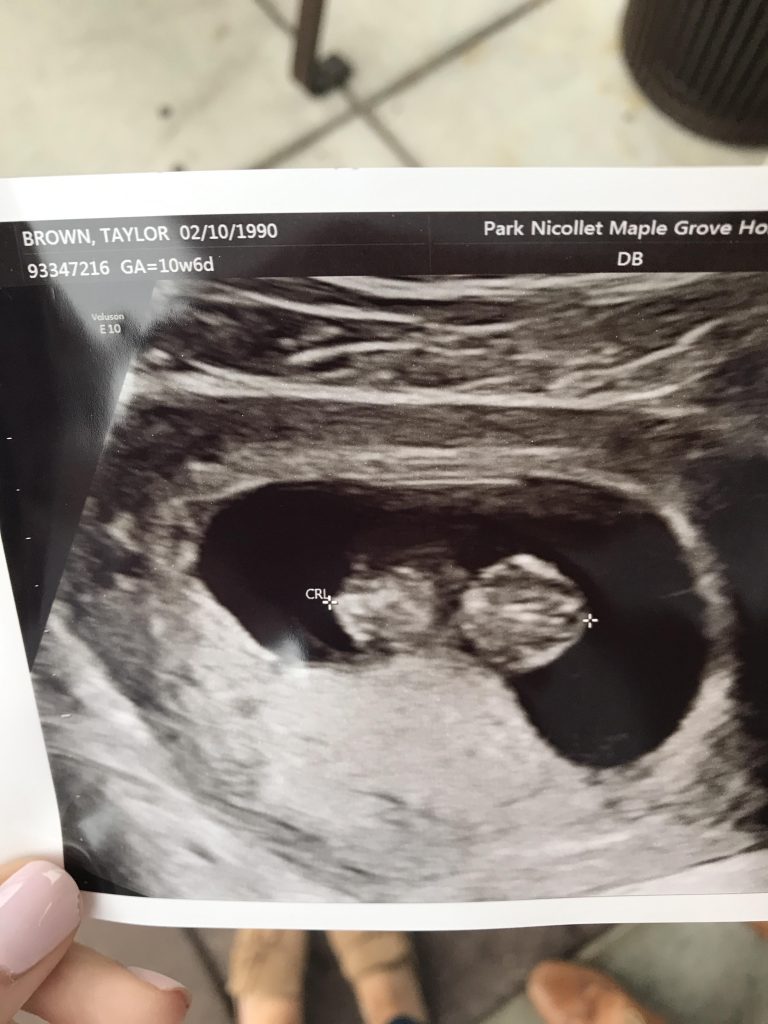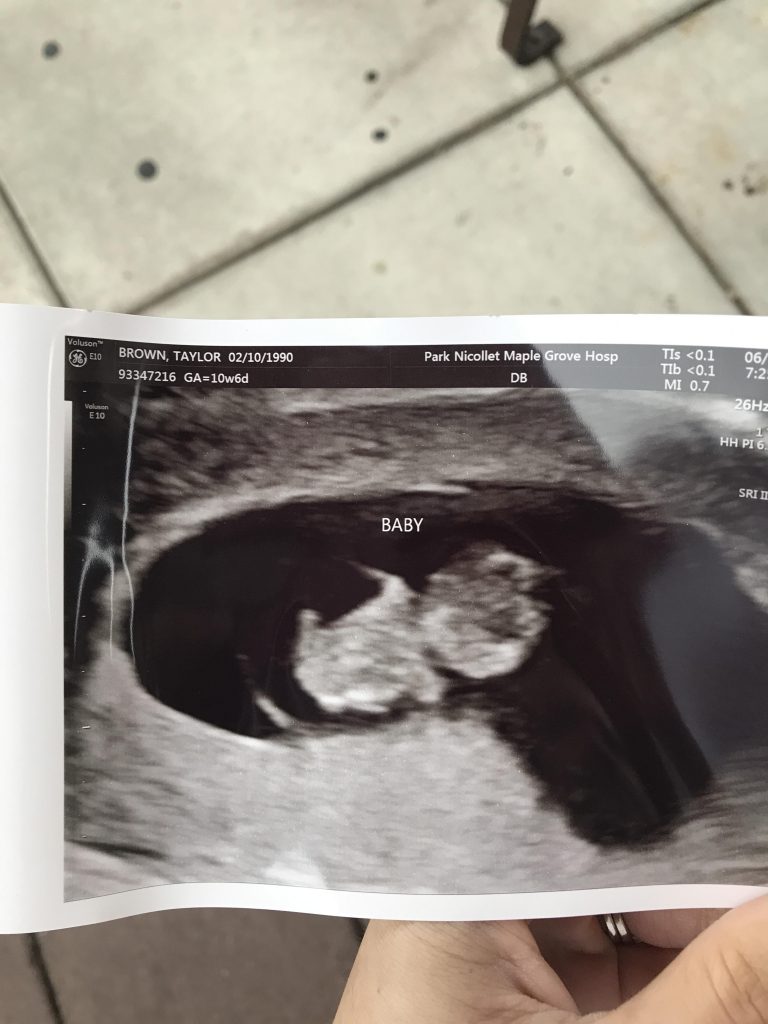 I had great intentions to set up a fun photo shoot for this announcement post, but a self-timed iPhone photo was all I could muster up the energy and time for. 😛 We do plan on finding out the gender of our baby, so I hope to do a little photo shoot for the gender reveal! As fun as a surprise would be, I'm impatient and a big planner, so I want to be as prepared as possible when baby Brown comes! Especially since this will be our first. 🙂 And I can't wait to start decorating the nursery!
Looking very forward to hearing all the advice and recommendations from my momma readers and reaching out to you guys when I have questions (instead of Google all the time, ha). It's going to be so fun dressing the bump, going through this pregnancy journey with you guys, and adding a new category to my blog – baby! 🙂
As always, thanks for reading and for your continued support! Stay tuned for upcoming bumpdate posts – I plan to add a first trimester recap within the next week, let me know if you have any questions you want me to answer either by commenting below, DMing or emailing me. 🙂 Yay!