Most of you have probably heard all the scary articles about the ingredients in conventional antiperspirant deodorants and what they've been linked to (ahem, Alzheimer's and breast cancer), and that information alone has haunted me for years! Earlier this year in the late winter, I was on a serious hunt for the best natural deodorant in order to avoid any risks, especially since I had planned on getting pregnant. I had tried many different ones out there, and nothing quite worked for me; some even made me smell worse than if I would have never put on any deodorant at all! Not okay, haha. I thought for sure my mission to find a natural deodorant without aluminum wasn't going to happen for me, unless I wanted to be stinky… But, to my surprise, I ended up finding a natural deodorant that works like an absolute GEM – Native deodorant!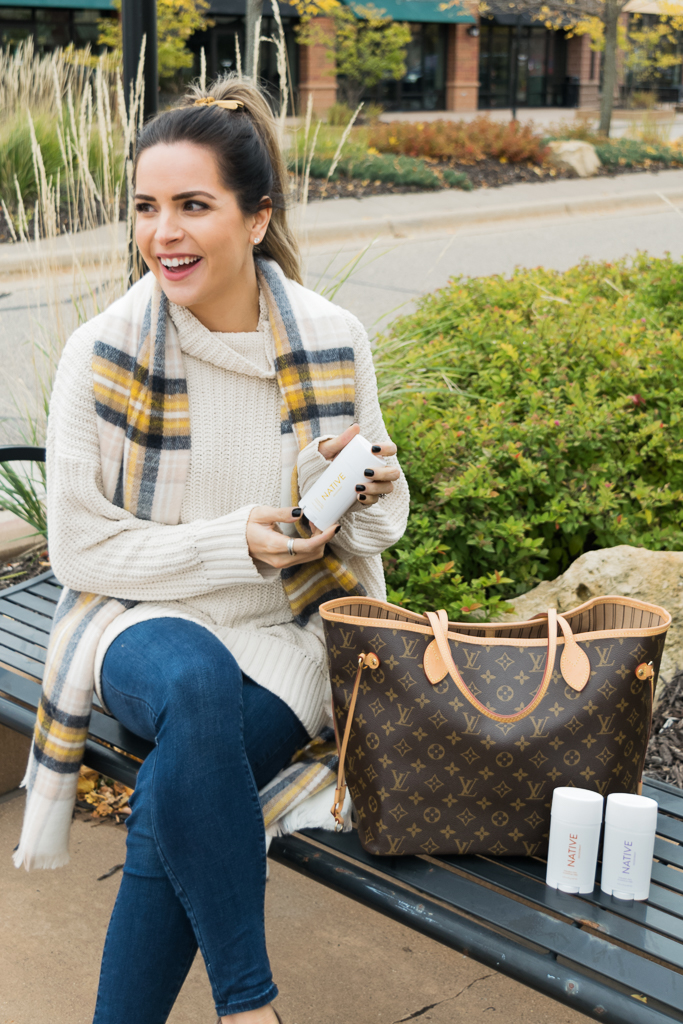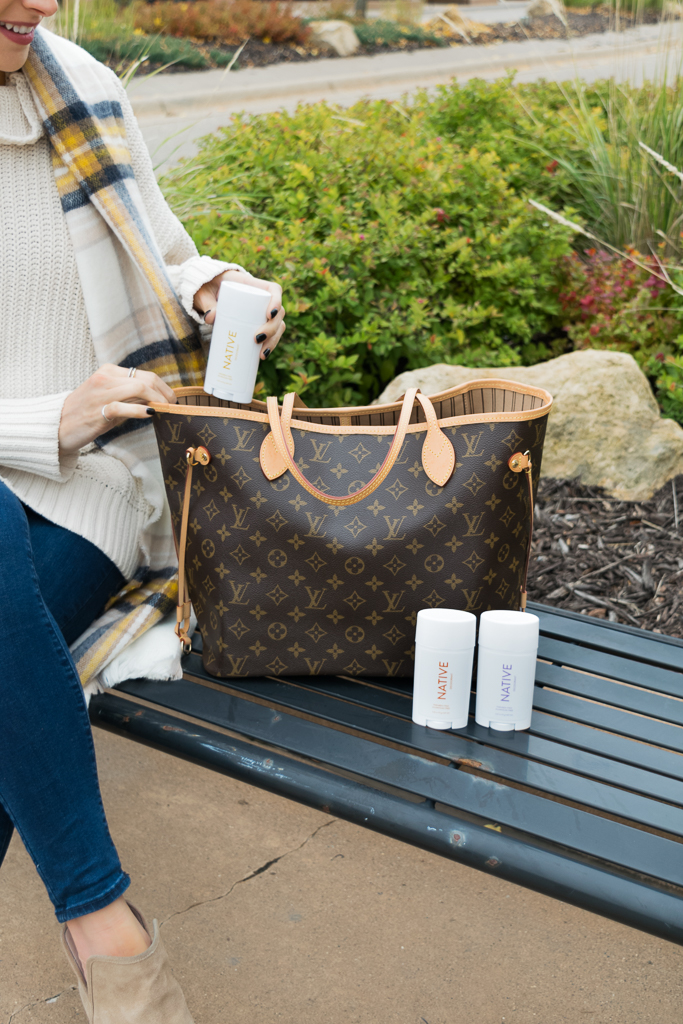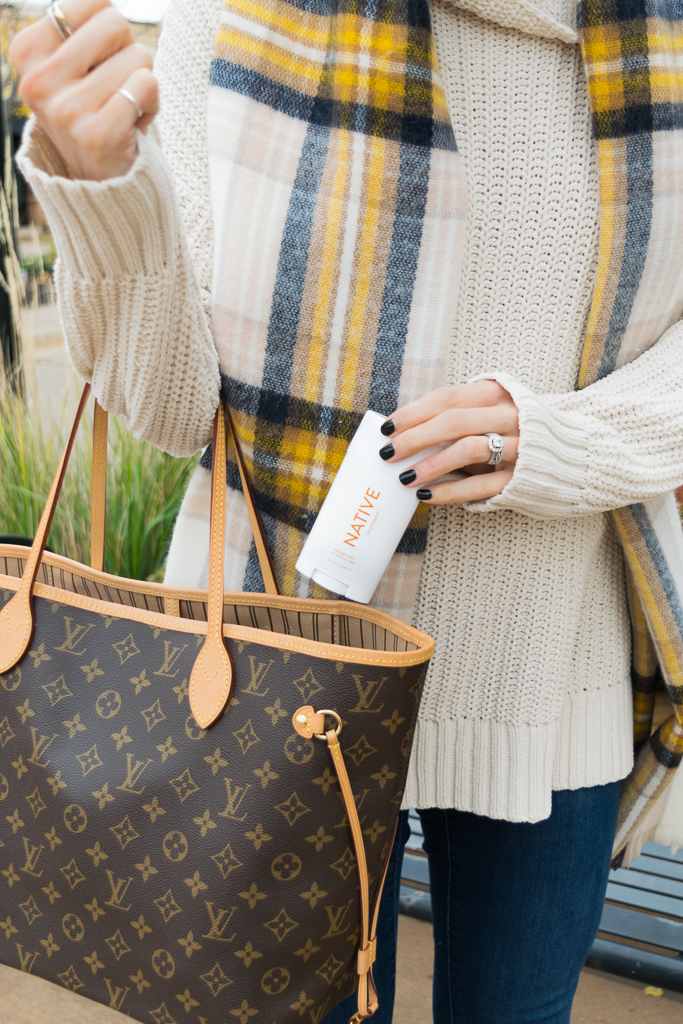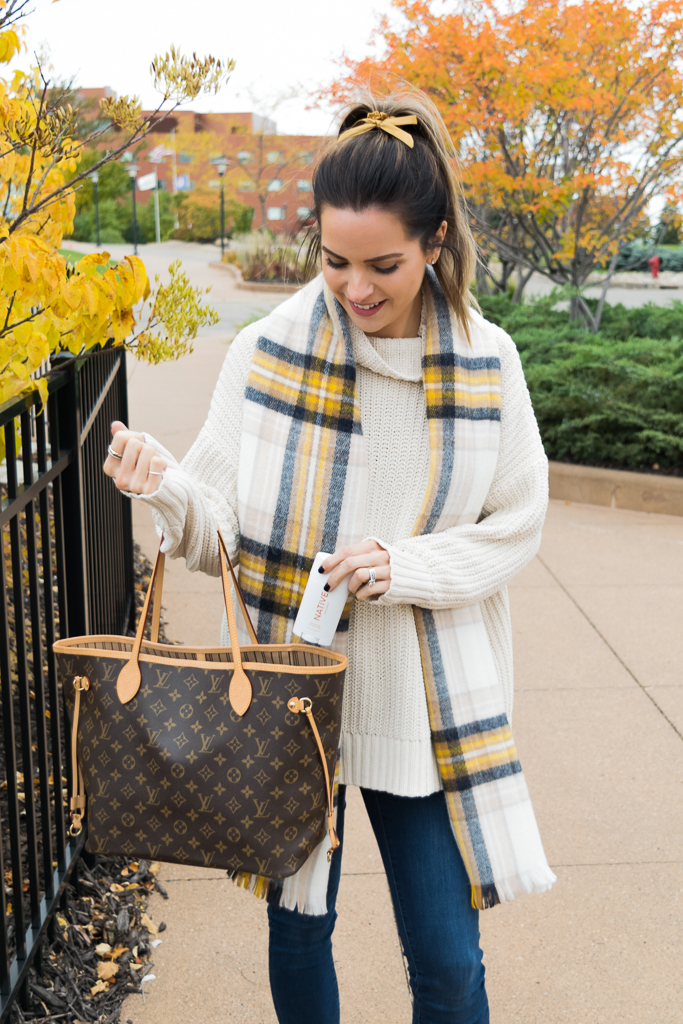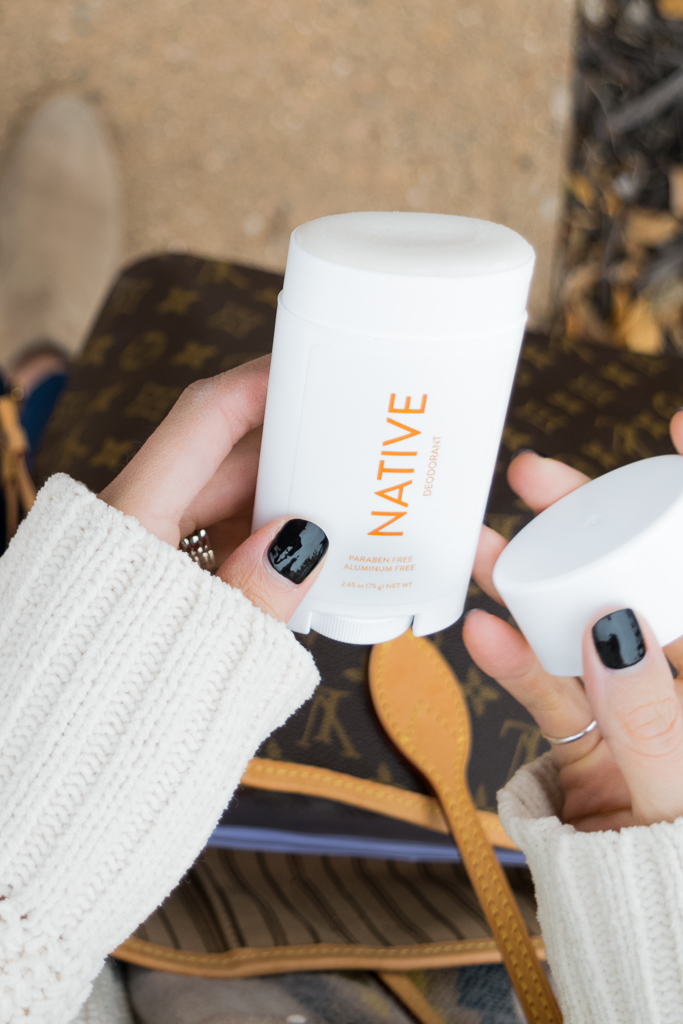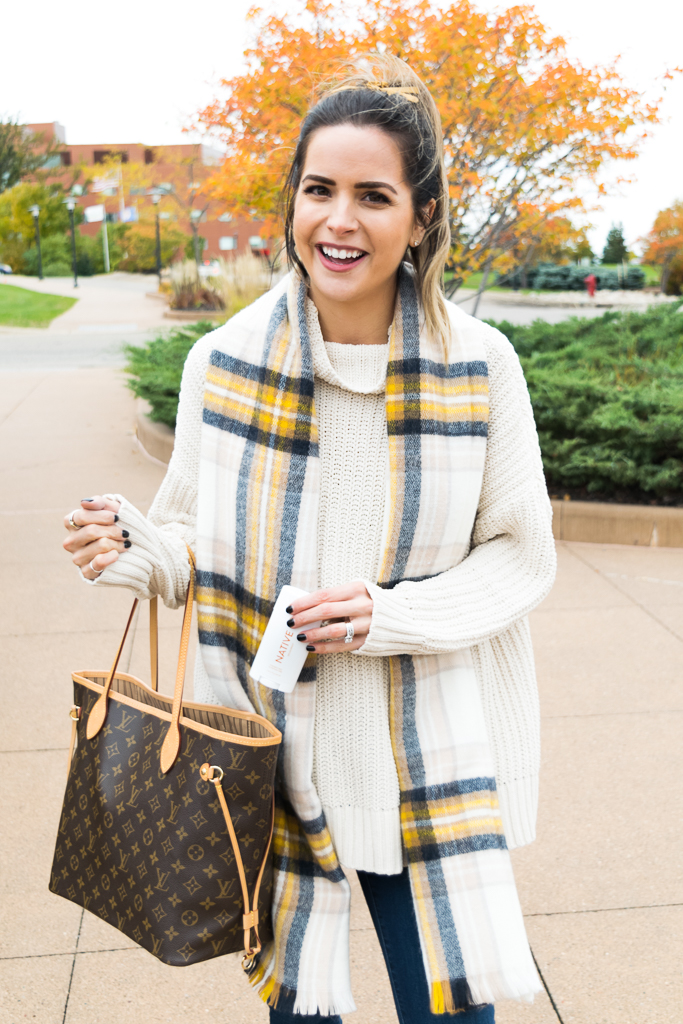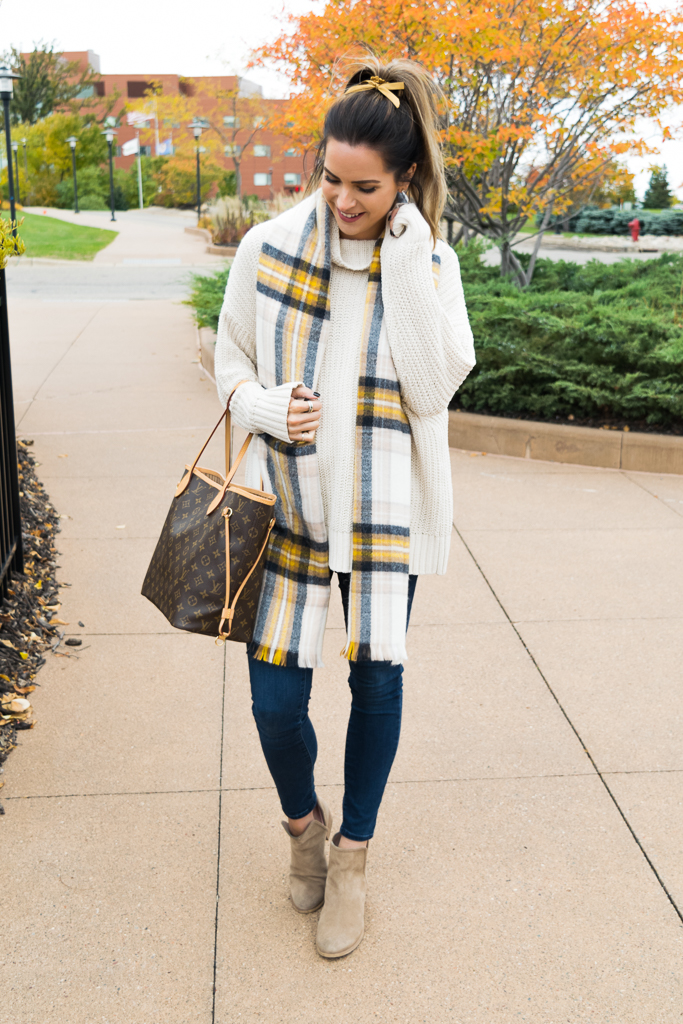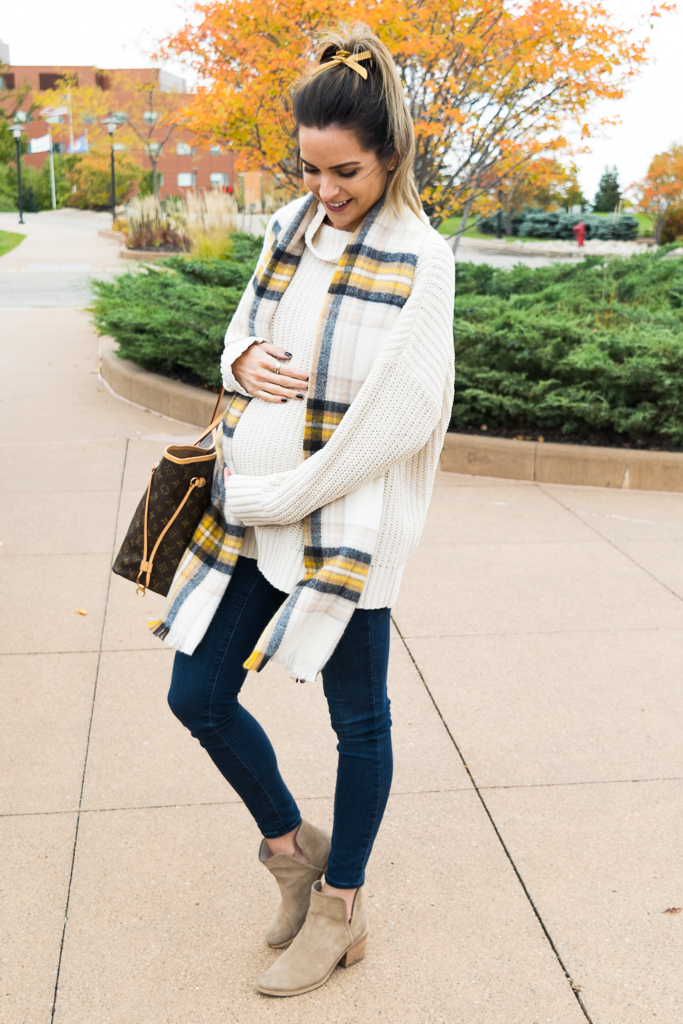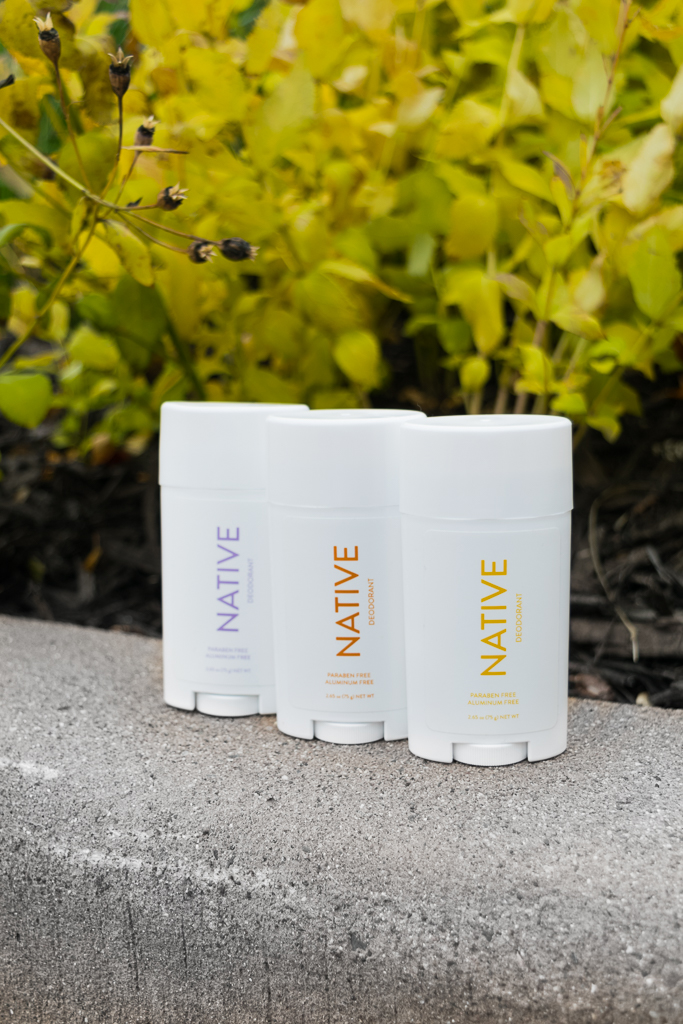 As mentioned above, Tom and I discussed that we were ready to start a family at the beginning of this year, and at the same time period I had heard one of my blogger friends, Shelby, talk about a natural deodorant by Native on her Insta Story. She was raving about it and how it worked well for her, and so I decided to give it a shot since I really didn't want to be using a product with aluminum during pregnancy. I purchased the Coconut Vanilla scent, and well… this natural deodorant, free of parabens, talc, sulfates and aluminum, cruelty-free, and made in the USA actually worked!! I went an entire day (and days after that) sniff checking my underarms, because it's the worst when you are out and about and realize that you stink… am I right?! And guess what, I smelled great, all. Day. Long. Yay! I immediately shared the good news with all of you on my Insta Stories, and made SO many of you a believer, too!
It's honestly the closest thing that you will find with the consistency and lasting power as traditional deodorant, and has kept me smelling and feeling fresh all day ever since; I haven't looked back! Even in the 90 degree humidity over the summer, and even during my sweaty workouts. During those times, a quick touch up is needed midday, but that would also apply to any other traditional deodorant for me, personally.
The Coconut Vanilla scent remains to be my favorite scent, however, this fall Native came out with some amazing seasonal fall scents that are giving Coconut Vanilla a run for its money: Pumpkin Spice Latte, Orange & Honeysuckle, Lemon Zest & Pomegranate, and Lilac & White Tea! Out of the 4 seasonal scents, I think the Lilac & White Tea is my favorite, but they are all amazing! If you can't decide on one, consider checking out the Seasonal Fall Pack! I grabbed the seasonal fall pack since I couldn't resist trying them all. Plus, it's a better value when you buy the pack. The Coconut & Vanilla (mentioned above) is also one of my classic favorites that's available year round. You can use my code styled10 for 10% off your order on nativecos.com!
So, if you haven't pulled the trigger with trying out the best natural deodorant ever, please do me a solid and try it out! You really have nothing to lose – Native offers FREE shipping and returns if you are not satisfied. Definitely give it a go for at least a few weeks though, because after using deodorant with aluminum in it long term, it can take up to 2 weeks to rid it from your system. To start, you can try it every other day to get your bodies warmed up to it in case you are needing a slower "detox" period to make the switch.
Have you tried Native yet?! As always, thank you for reading! I'm happy to answer any questions you may have about making the switch.

This blog post was sponsored by Native. All opinions are my own.
Thank you for supporting brands that support The Styled Press!