If you're anything like me during the summer, you like to keep cool and wear the least amount of layers/bulk as possible in order to stay cool and comfortable. One seriously easy way to do this, is to ditch the heavy wired bras! They aren't easy to conceal with sleeveless tops and tank tops anyway, so why bother? I love how easy it is (and how cute it looks) to throw on a pretty peek-a-boo bralette under my clothes for support instead! To give you some inspo on styling them, I'm sharing 3 ways to wear bralettes below. Today's post is sponsored by Kohl's. I received the included bralettes as compensation.
LOOK 1 // Casual Wear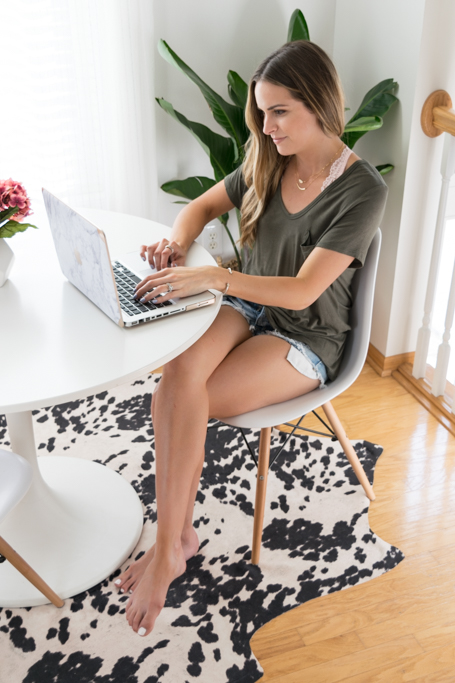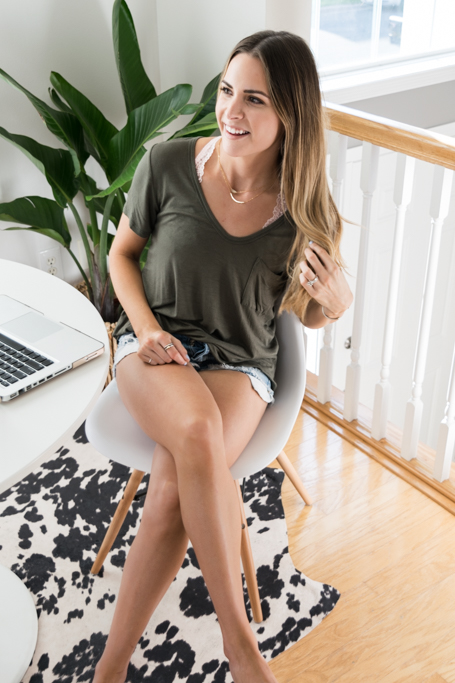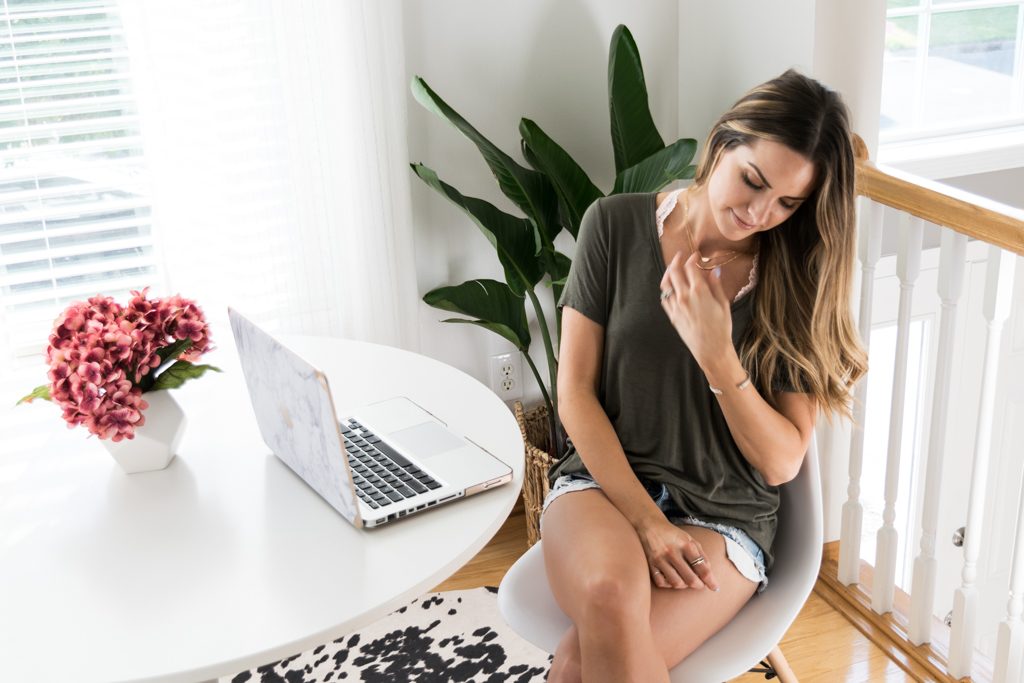 You can find me in a v-neck tee and denim shorts probably 80% of the time in summer. Definitely my go-to look, but it can be boring – which is why I love the addition to Kohl's Maidenform Bralette (in pink pirouette) to dress up this look and bring it from 0 to 100 real quick.
WHAT I WORE:
Kohl's Maidenform Bralette (in Pink Pirouette) (c/o) | V-Neck Tee (similar olive colored option here) | Cut Off Denim Shorts | Mini Half Moon Necklace & Mini Half Crescent Necklace | Cuff | Cross Over Ring
Laptop Case (Grey Marble with Gold Corners)
---
LOOK 2 // Athleisure Wear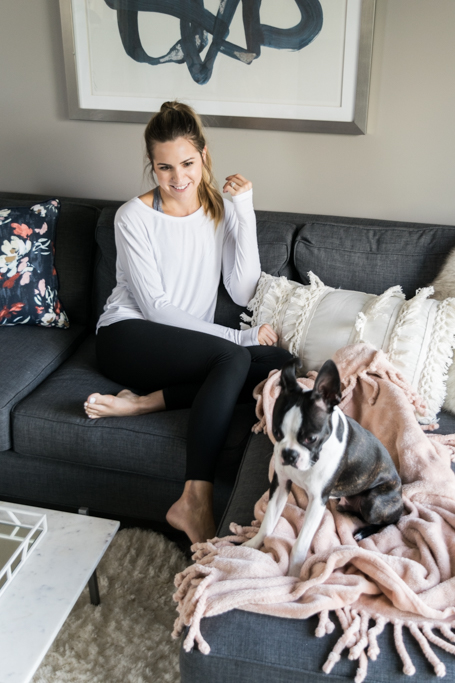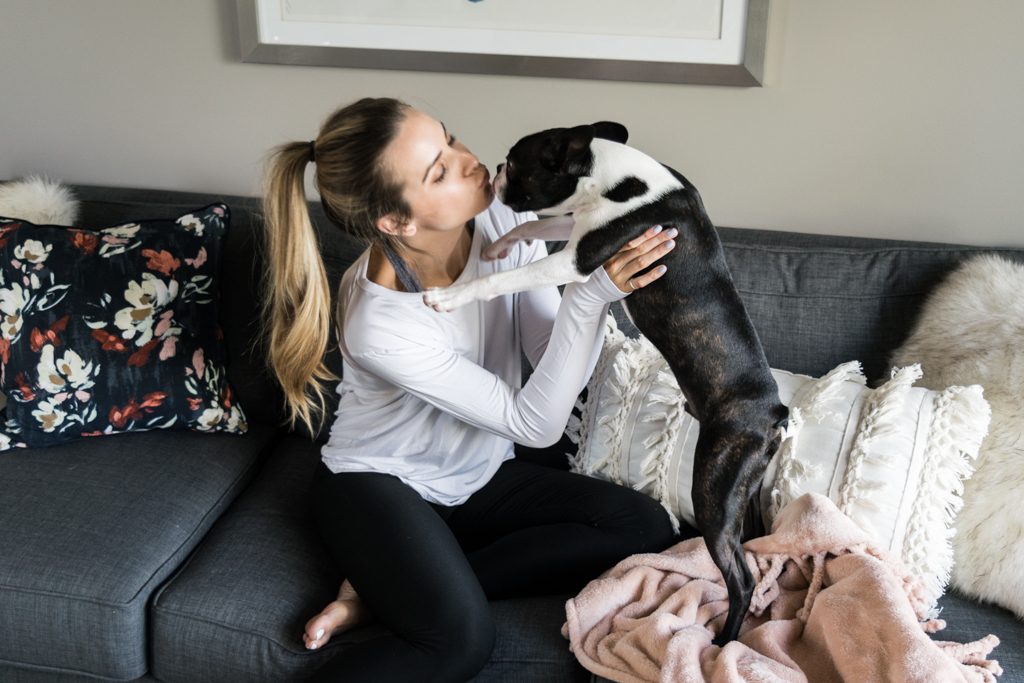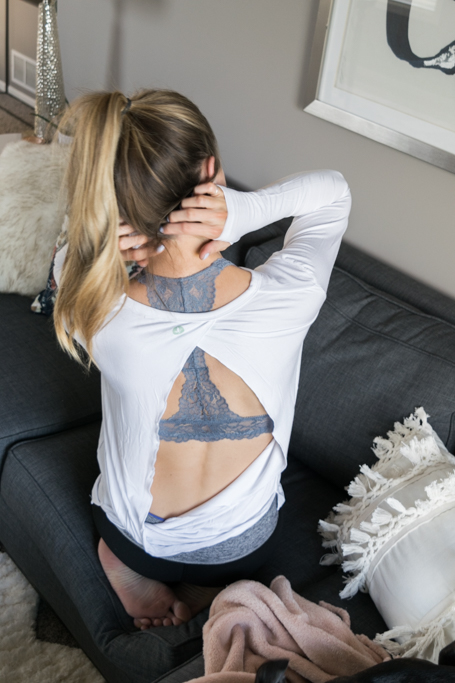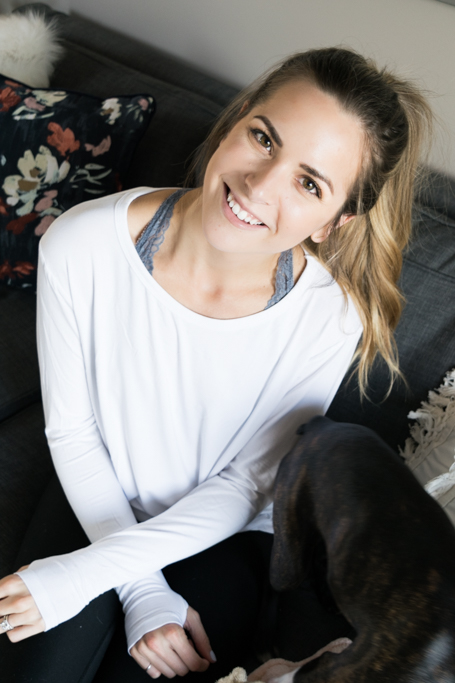 Just because you're wearing athletic/athleisure apparel, doesn't mean you need to be sporting it with a boring sports bra! I really the way this Kohl's Maidenform Bralette (in granite blue gray) not only peeks out by my neck, but also in the open back of the top!
WHAT I WORE:
Kohl's Maidenform Bralette (in Granite Blue Gray) (c/o) |Open Back Long Sleeve Shirt | Black Leggings
---
LOOK 3 // Night & Weekend Wear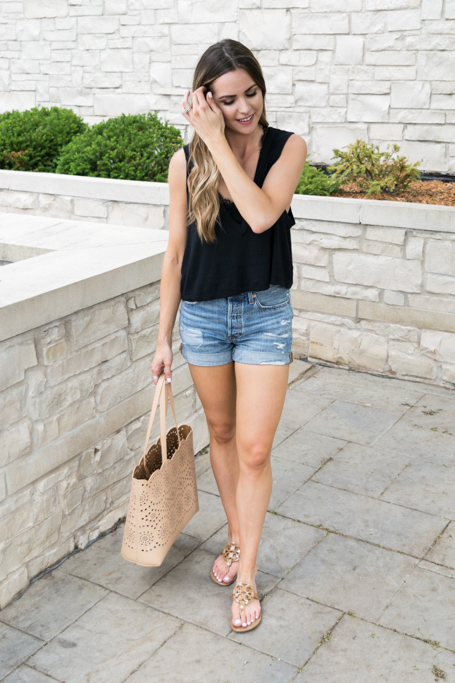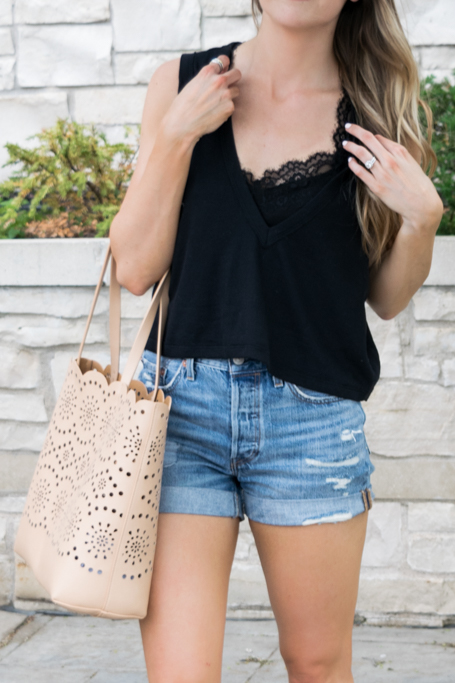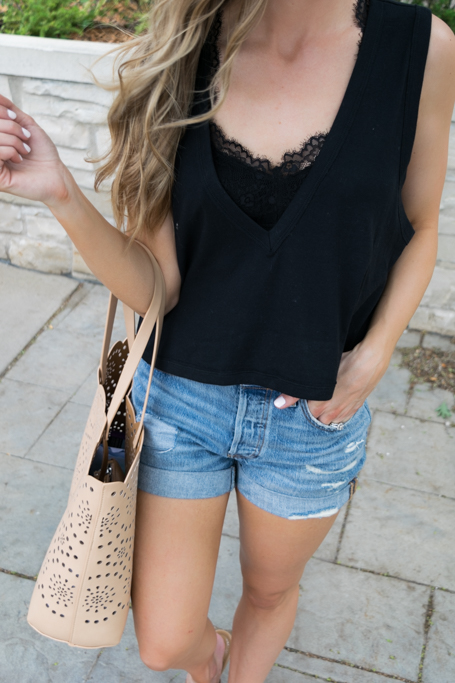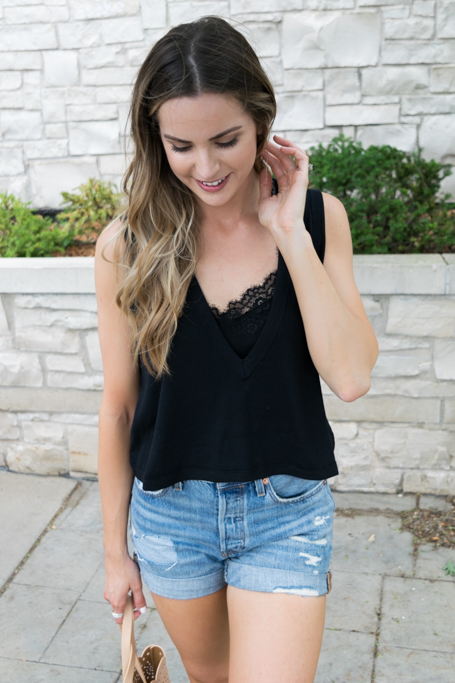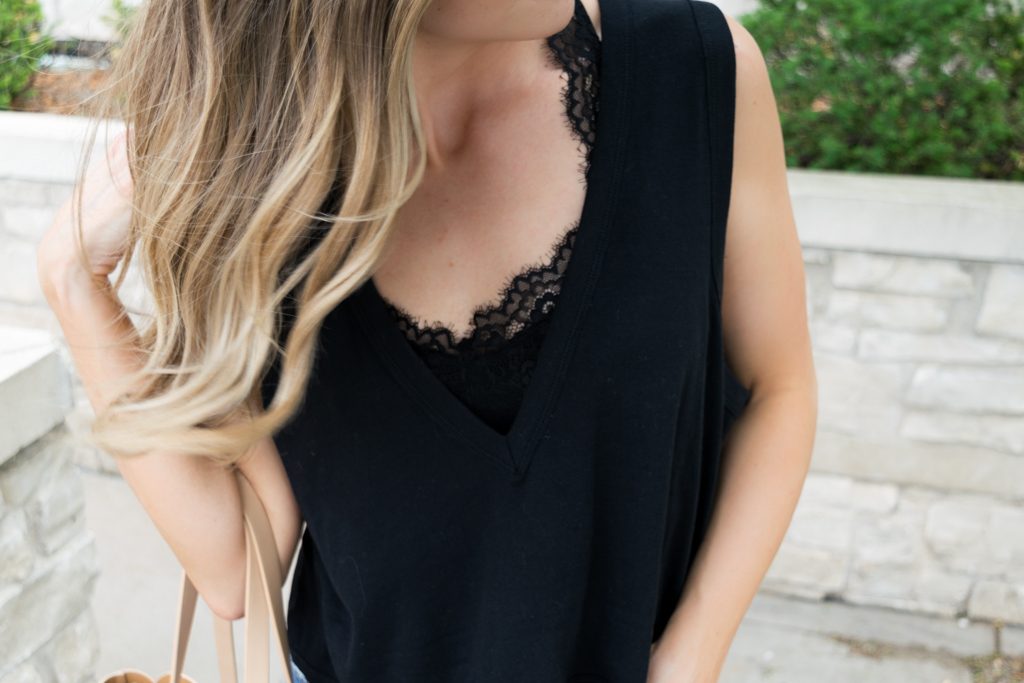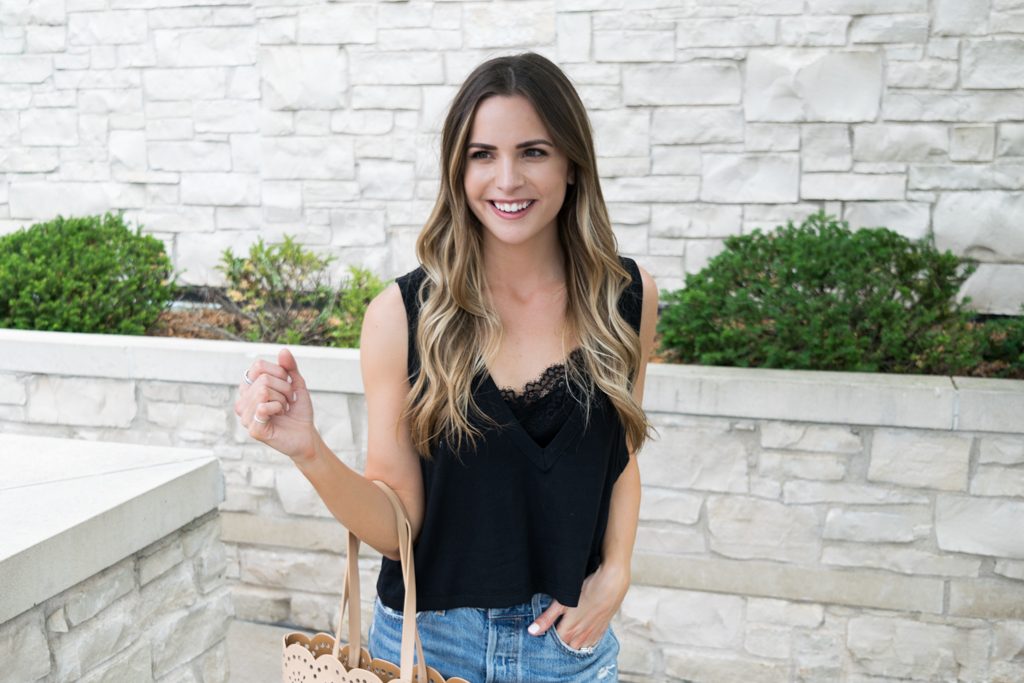 If I'm headed to brunch or the patio to catch happy hour with friends, you'll find me wearing something like this! I chose to wear Kohl's Candie's Bralette (in black) with a matching black tank to create more of a seamless look. I loved how it peaked from the sides on the arm holes too, which made the look a little more alluring.
WHAT I WORE:
Kohl's Candie's Black Bralette | Cami | Denim Shorts | Sandals (color is 'Sand') | Tote (similar options here and here as well)
---
The outfit options are pretty much endless with bralettes, and they are comfortable, too! So it's a no-brainer to stock up your drawer with them for summer!  Bonus… you can totally wear them in the fall/winter as well. I love how they look under a loose knit sweater!
Be sure to check out the rest of Kohl's Bralette Collection, because they have so many pretty and affordable ones available!
My blog may contain links to other websites. I am not responsible for the privacy policies of those other websites. When you click on a link, your information may be collected by those websites, so I encourage you to read their privacy policies.
Affiliate links are not associated with Kohl's.