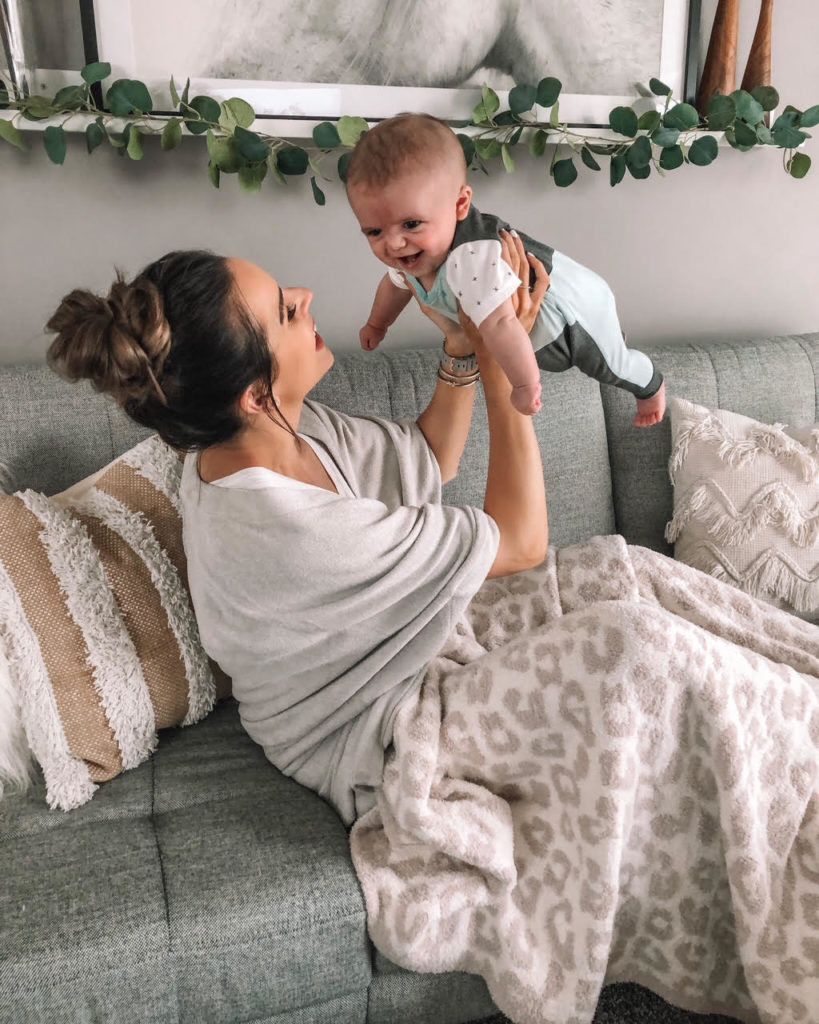 One of the hardest things I've ever had to do in life is breastfeed – yes, even harder than birth, and I had to actively push for 3 straight hours! During pregnancy, I always expected breastfeeding to be this natural, effortless thing, but it's totally not! At least it wasn't effortless for me. Before I had Keldon, I had the mindset of "fed is best" and if I had to give him formula, that was totally okay – and it totally is! I just didn't expect the emotional roller coaster of it or the pressure I put on myself to make breastfeeding work. It's a mental game, and as a result of it not working, you might feel "mom guilt".
The struggles of breastfeeding are not widely talked about since it's a bit of a controversial topic, and I've seen a lot of mom shaming on the internet, which just isn't cool. Not to me specifically, but to others, which is why it took a little bit of time for me to open up about my journey with it. Not every woman is blessed to produce enough for their baby, even when you try every darn supplement, drink, or lactation snack under the sun. And even if you are producing enough, sometimes your babe has a road block like tongue tie (Keldon had), which makes it difficult to sufficiently get enough milk in a appropriate amount of time, which causes frustration for both baby and mama. AND maybe your breast pump doesn't do the best job of removing enough milk to keep up with your little one's appetite (in fact, it's a known thing that babies do the best job of getting the milk they need, not the pump). I have literally been through the ringer of all of these struggles in the first couple of months, making breastfeeding a dreaded and upsetting task – which is not healthy for mama OR baby.
During the first days of welcoming Keldon in the world, I waited and waited for my milk to come in. It finally came in after 5 days, but Keldon was not getting a ton of colostrum prior to it coming in (due to his tongue tie), so he was losing weight too quickly. Because of this, our doctor recommended to supplement formula until my supply came in. That being said, the first week of Keldon's life was when we first introduced a bottle and formula. Part of me felt sad, but I just wanted my baby to get enough nutrients and stop losing weight! And it was completely out of my hands, so we were just fine with doing so.
Once my milk did finally come in (um, ouch!), it was a big learning curve for both Keldon and I. It hurt so bad! We worked with a lactation consultant, but even with her help, we just weren't getting a great latch, which resulted in cracked nipples and holy cannoli, that HURT! I remember curling my toes and fighting tears because of the pain it caused. I literally dreaded and got anxiety leading up to the next time to nurse. If you are already a mom, you'll know as a newborn, that's every 1.5-2 hours!
The lactation nurse advised us to "triple feed" to try and boost my supply and give Keldon enough, so for about 2.5-3 weeks at every feed, I nursed, pumped immediately after, and then gave Keldon that freshly pumped milk in a bottle. Boy was that exhausting, and it got old fast. Especially during those middle of the night feedings… I felt like a zombie and not myself anymore. My sweet husband would even help me with washing pump parts and giving Keldon the bottle afterwards which helped, but It was taking way too much time to triple feed; I would literally have maybe 30 minutes to myself in between feedings until it was time to start the cycle over again. It was really starting to wear on me, and I was in so much pain from nursing that it actually started to hurt my relationship with Keldon since it was such a frustrating task for both him and I. That being said, I then decided to try pumping exclusively instead.
The start of pumping wasn't really fun, and while it was still pretty uncomfortable, it hurt less than nursing and I was bonding with Keldon more with bottle feeding (we would make eye contact with each other vs. him falling asleep on me nursing!), so I was fine with it for a while. The only problem was that I was only pumping 1.5-2 oz total each time for weeks. At first it was actually even less than that, because I realized I was using the pump wrong (this little guide helped – I have a Spectra S2 pump). Even when triple feeding, we started noticing Keldon was losing weight again, and what we thought was him being "fussy" was likely just hunger, since he was just basically snacking on breastmilk rather than getting what he needed (makes me so sad to think about). That's when I went crazy ordering all the lactation boosters. While they helped a little, they still weren't enough! I started getting really sad, mad and just defeated that my body couldn't provide enough for him. I was putting a lot of pressure on myself and felt like I was failing. I remember reading What To Expect's forums just searching for other women that are going through the same thing and what they were doing. I truly wanted to those also struggling to just say that they were giving up on breastfeeding and start formula feeding so I had more validation to make it okay if I did the same. But even then, I still just couldn't give it up completely because of that stinkin' mom guilt.
Once we realized we needed to take action yet again in order for Keldon to go up in weight, we started supplementing again. This time, we would supplement after his pumped breastmilk bottles, meaning we would give him a 1.5-2oz bottle of formula (we've used Enfamil NeuroPro since the beginning) a couple of times a day after the breastmilk. Fortunately, this helped a lot. Though I still felt guilty for a while that Keldon wasn't exclusively getting breastmilk, it was more important that he was healthy and happy, and I became more relaxed and happier too. My mental state was suffering from all the pressure I was putting on myself and on Keldon to get what he needed from me only, and so supplementing was one of the best choices we made for him.
That routine lasted a good few weeks and I was so much happier… but then I started loathing pumping, lol. Like, pumping sucks! And cleaning all the parts and all the bottles… blah. At that point, I was pretty much healed after all the agony of those first weeks of nursing, and so I decided to try nursing again. I became more comfortable and relaxed with it this time around since we were supplementing and I knew that he would be getting enough, so it was a little less pressure on myself. But, we began to consider getting his tongue tie clipped to see if that would help him even more. Our pediatrician initially told us that he could outgrow it and that's what we were banking on, but wanted to take care of it just in case since it was a really quick and easy process. So his 2 month check up, we had them clip his tongue tie too. It lasted just a few seconds and Keldon cried until he nursed, so it really wasn't too bad at all!
The tongue tie clipping seemed to help, and we slowly were realizing that Keldon wasn't needing to supplement as much, so we were down to nursing every 2 hours and then just supplementing a bottle or two as needed. The only problem now, was that Keldon would still take FOREVER to nurse! I know, one thing after another, right?! It just wasn't ideal for my lifestyle and running my own business to nurse Keldon for 35-60 minutes every 2 hours, since I would be back again to nurse him like one hour later. After speaking with other mamas, I realized the norm is more like 10-20 minutes per feeding and that their babies would pull off when they were finished. For us, Keldon would either fall asleep on me or I would pull him off and he would typically be upset since we still wanted to eat, and that's when we would supplement.
It was like that for a good month or so, and at 3 months, we started replacing some nursing sessions with formula. At first I would pump during those missed feeds, but the spring was a super busy time for work for me, so I didn't always get the chance to for a missed daytime feed as I bounced from meetings and knocking things out on my to do list while I had some help with Keldon from my mother in law (which would be about 1-2 days a week). The night feed was also one that we replaced with formula in hopes for Keldon to sleep longer stretches during the night (this was was the sleep regression started to hit), so I would pump while Tom fed Keldon a bottle of formula before bed.
I did deal with some engorgement during those initial missed pumps, but we slowly weaned off and my body eventually got used to the new norm and eventually didn't need to pump anymore. When Keldon started sleeping through the night I had some engorgement too, but that didn't last long either.
Now as you may have already read, we are following this schedule that I blogged a couple of weeks ago, and just nursing 1-3x a day for a bit before formula bottles. My supply of course hasn't been able to keep up with my growing boy, so we are just coasting with the combo feeding, majority being formula feeding. Our nursing is now more of an appetizer than a meal for Keldon, and I'm okay with that. I have a lot more freedom (and sanity) that is so important for my mental health and running my business. Plus, Tom and our family has the opportunity to bond with Keldon by feeding him, which I think is pretty amazing!
Our breastfeeding days are numbered, but I am content knowing that I've given it a solid effort and that I'm happy and Keldon's happy. If you are a mama and going through some hurdles with breastfeeding, take it one day at a time. I found less pressure doing so that way than putting pressure on myself to make it to 6 months to a year like I initially had a goal of. If you aren't happy, your negative energy will rub off on you and onto your baby and spouse/family. Also, please know you aren't alone!! I received literally hundreds of DMs from other moms that went through a similar experience or are in the same stage of struggle. It's more common than you think! Something a follower shared with me that rang so true: "If it's stressing you out so much that you aren't able to enjoy other moments during this season of life, it's not worth it." Happy mama = happy baby. 🙂