I've been working on this post a while, I'm sorry to keep you mamas waiting! I just wanted it to be as thorough as possible, including what products I eliminated from my routine (including makeup and body care). The day I found out I was pregnant, I spent 2+ hours in my bathroom going through all of my products and throwing out the ones that are not recommended for pregnancy (being that by the time I'm not pregnant/nursing, these products would likely be expired). I followed 15minutebeauty.com like the Bible. They take extra precaution on what is "safe" for pregnancy, meaning that ingredients that are still questionable are not recommended (since there are not enough studies done on pregnant women using them). They are on the err side of caution, which is what I chose to follow.
I want to also disclaim that I have had horrible hormonal acne with this pregnancy (this did not happen with Keldon!), and I still am dealing with the breakouts after implementing my new routine, though it hasn't been as bad as in my first trimester. So I am in no way saying, "hey! This routine gave me perfectly clear skin!" – it's just what I'm using and tends to help me, since acne-targeted skincare with salicylic acid are out of the question during pregnancy.
If you see anything you've been using and not realizing it's not recommended for pregnancy, don't fret! It's typically a very small amount of that ingredient, and you can just ditch it now that you know. I remember with Keldon, I had no idea that It Cosmetics CC+ cream wasn't pregnancy safe, and I had been using it until the middle of my second trimester. It's a very small risk, but something that you can control and take caution on if you want to be as safe as possible!
morning routine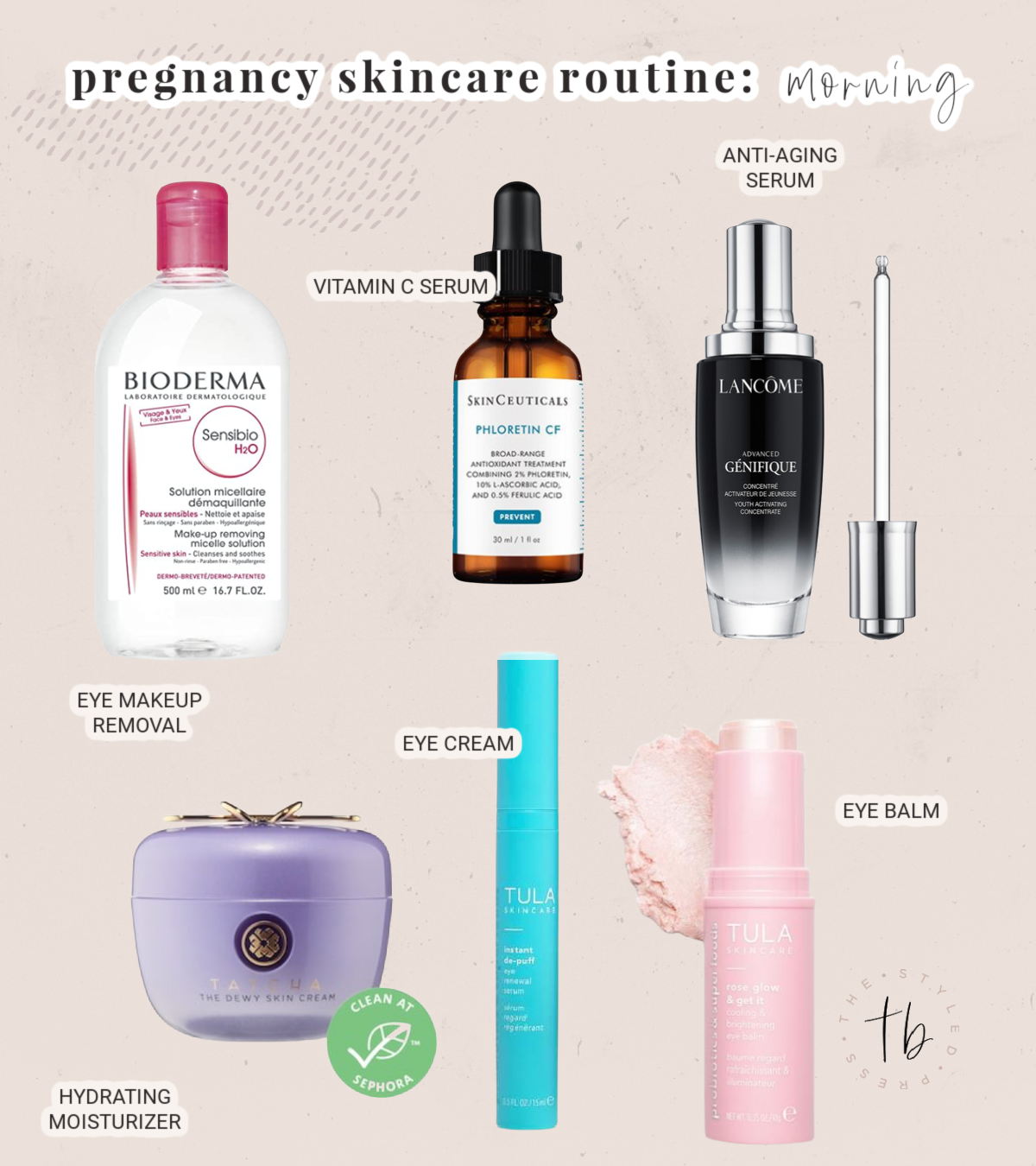 These are the products that I use every morning, in the following order:
Bioderma Micellar Water // I use a reusable cotton round and this to cleanse my face first thing in the morning.
SkinCeuticals C E Ferulic // The best vitamin C serum out there! Pricey, but a little goes a long way, and it really works. This helps protect your skin from environmental pollutants and free radicals in addition to brightening your skin. Note: I just ran out of this product, and now I'm switching over to SkinCeuticals Phlorentin CF, which is essentially the same product, but oil-free and best for acne-prone skin (which is what I'm battling during this pregnancy)!
Lancôme Anti-Aging Serum // Another serum that I add to my routine! A prebiotic, anti-aging product that locks in hydration (a necessity in cold, dry weather). Megan Markle approved!
TATCHA Dewy Cream // If you have normal to dry skin, you're going to love this stuff! It's a rich cream that feeds skin with plumping hydration and antioxidant-packed Japanese purple rice for a dewy, healthy glow. A little goes a long way!
TULA Instant De-Puff Eye Serum // Not only does this eye serum soothe tired and puffy eyes, it also helps reduce the appearance of wrinkles and dark circles. It feels soo nice and helps wake me up in the morning! You can use code TAYMBROWN for 15% off.
TULA Rose Glow + Get it Eye Balm // This balm hydrates and gives you a beautiful glow underneath the eyes! One of my all-time favorite skincare products, and #1 favorite TULA product. Code TAYMBROWN applies 15% off.
Dr. SkinFeed Rose Water Spray // I spritz this on as a hydrating and refreshing mist. Great for sensitive skin like mine!
*Update: Now that we are in the warmer months, I found a pregnancy-friendly physical sunscreen by Colleen Rothschild, linked here! In case I get asked – chemical sunscreen is one of the "iffy" ingredients that have varying opinions when used during pregnancy, as mentioned in 15minutebeauty.com. I am not currently using a daily sunscreen this time of year, but once spring rolls around and I start spending more time outside, I will start using sunscreen again. I know how important it is to protect our skin from the sun, but also taking extra caution when I can. (I will likely reference this list from The Bump).
night routine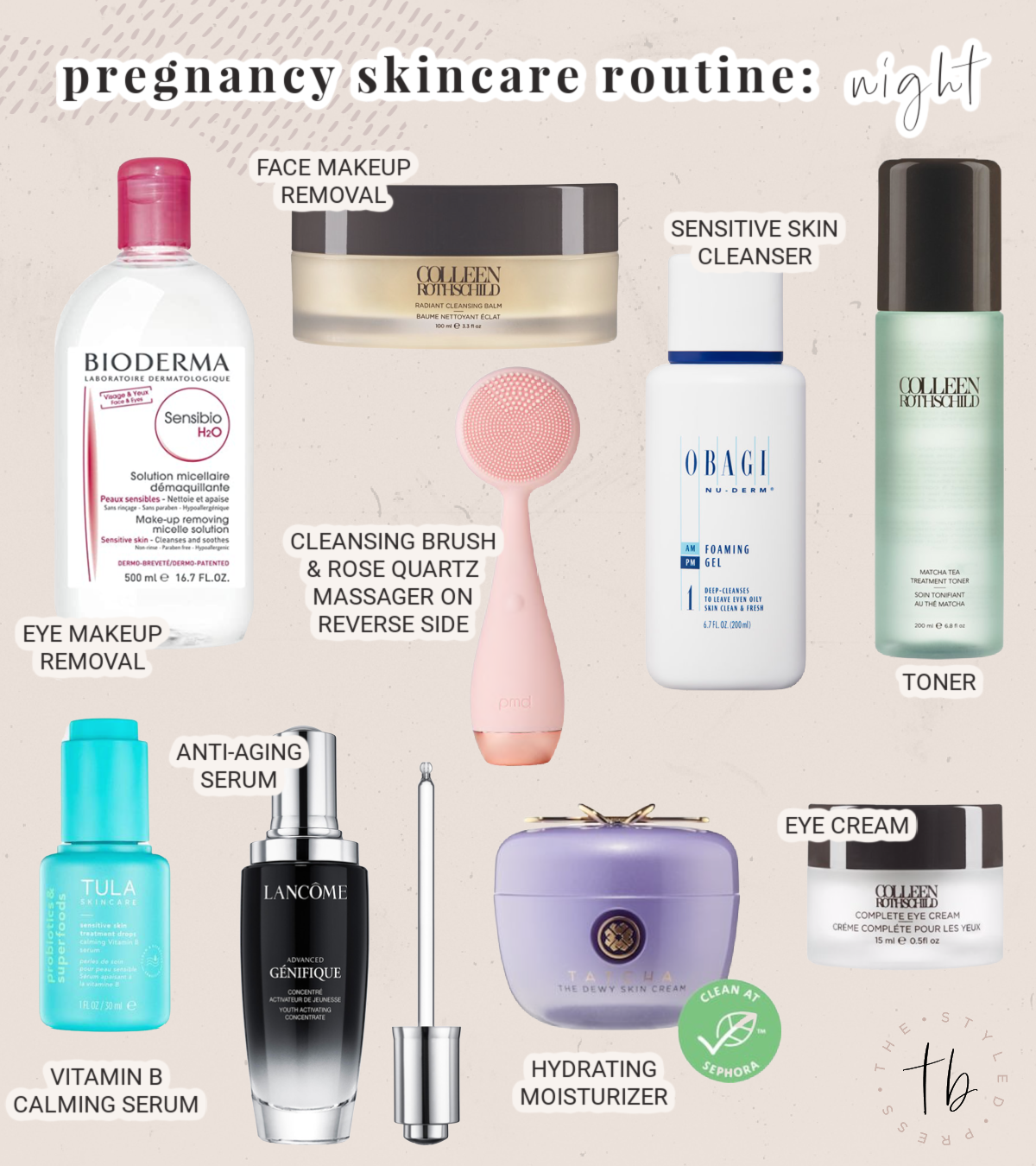 These are the products that I use every night, in the following order:
Bioderma Micellar Water // I use this and a reusable cotton round again to remove my eye makeup.
Colleen Rothschild Cleansing Balm // I'll use this to remove the rest of my makeup. Over time, this product will also make your skin more luminous and smooth!
Cleanser with the PMD Clean Pro Brush // I either use the Obagi Foaming Cleanser or TULA Purifying Cleanser and the Pro Brush. I keep my TULA in the shower to wash my face.
Colleen Rothschild Matcha Toner // I use this toner after cleansing to reduce redness in the face and keep breakouts at bay.
Lancôme Anti-Aging Serum // Using this again to lock in moisture for the evening!
TULA Vitamin B Serum // This serum is a calming agent for stressed out skin. I add this in to keep my skin happy and hydrated.
TATCHA Dewy Cream // If you have normal to dry skin, you're going to love this stuff! It's a rich cream that feeds skin with plumping hydration and antioxidant-packed Japanese purple rice for a dewy, healthy glow.
Colleen Rothschild Complete Eye Cream // Everyone needs an eye cream! This one is newer to me, but I'm liking it. It addresses the most common enemies of eye aging: wrinkles, fine lines, under-eye circles, puffiness and loss of elasticity. (I used SkinMedica Instant Eye Bright Cream prior to running out – probably my favorite eye cream and also pregnancy friendly).
Summer Fridays Babymoon Belly Balm // Just bought this and it came in this week! This is what I'll be using to help prevent stretch marks during pregnancy (though I know it's mostly genetic, keeping your skin hydrating never hurts and feels super moisturizing). Not putting this on my face, just my body.
Body Lotion // For other areas outside of belly/stretch mark zones
once a week
SkinCeuticals Clarifying Clay Mask // I'll use this mask once a week to give my skin a fresh look.
Grown Alchemist Polishing Facial Exfoliant // This is a gentle scrub for your face to wipe away dry skin and excess oil. I love the subtle grapefruit smell, too!
Self Tanner: Isle of Paradise Tanning Drops (face) and Beauty By Earth Self Tanner (body) // There are varying opinions about the use of self tanner during pregnancy, but I personally feel comfortable using these 2 natural self tanning products after speaking with my doctor. Always talk to your doctor/midwife if you are questioning it. For special occasions where I want to be extra tan, I will use Glow Lounge's Self Tanning Foam.
The Mighty Patch // Not necessarily once a week, but as needed. These are miracle workers for pimples! I will wake up and the pimple will literally be flat.
products I eliminated
I eliminated these products in my routine (both skincare, body care and makeup) after reviewing the ingredients and referencing 15minutebeauty.com's recommendations. The list is a little extensive, but due to the nature of my job, I try a lot of products, and these are some that I have shared and used previously:
Alpyn Melt Moisturizer (bakuchiol)
BeautyCounter Overnight Resurfacing Peel (glycolic acid, malic acid, salicylic acid, tartaric acid)
Drunk Elephant TLC Sukari BabyFacial (glycolic acid, salicylic acid, licorice root)
TULA pH Toner (glycolic acid)
It Cosmetics Bye Bye Foundation and CC+ Cream (both have salicylate, licorice root, and retinoid)
Mandelic Acid Radiance Serum (was especially sad about this one – it helped me so much with breakouts)
TULA Overnight Repair Treatment (glycolic acid)
TULA Acne Spot Treatment (and any acne-targeted product from TULA for that matter)
TULA Face Filter Primer (licorice root)
TULA Retinol Alternative Serum (bakuchiol, gluconolactone)
TULA So Polished Exfoliating Sugar Scrub (salicylate)
TULA So Poreless Deep Exfoliating Blackhead Scrub (willow bark)
TULA Refreshing & Brightening Facial Mist (gluconolactone)
Tarte Face Tape Foundation (salicylate)
Tarte Shape Tape Concealer (salicylate, licorice root)
Tarte Shape Tape Glow Wand (licorice root)
Tarte Shape Tape Body Makeup (salicylic acid)
Too Faced Born This Way Foundation (chemical sunscreen)* note – the matte version is pregnancy safe!
Necessaire Body Exfoliator (salicylic acid, glycolic acid, and gluconolactone)
*Note: there simply are not enough studies done with the ingredients glycolic acid, bakuchiol, gluconolactone, CBD, willow bark and licorice root on pregnant women. I'm just taking extra precaution.
I hope this helps anyone trying to create a new skincare regime that is pregnancy-safe! Let me know if you have any questions!
-T