We took our first family vacation (traveling by plane- can't forget our roadtrip to Wisconsin Dells in 2021!) in Seaside, FL / 30A in April and made so many wonderful memories! Neither Tom nor I have visited Seaside previously, so it was a brand new experience for all of us. I received several questions about flying with the boys, where we stayed, where we ate, shopped, etc. so I wanted to create a travel guide that would be easy to find and re-visit on my blog if you ever plan a trip!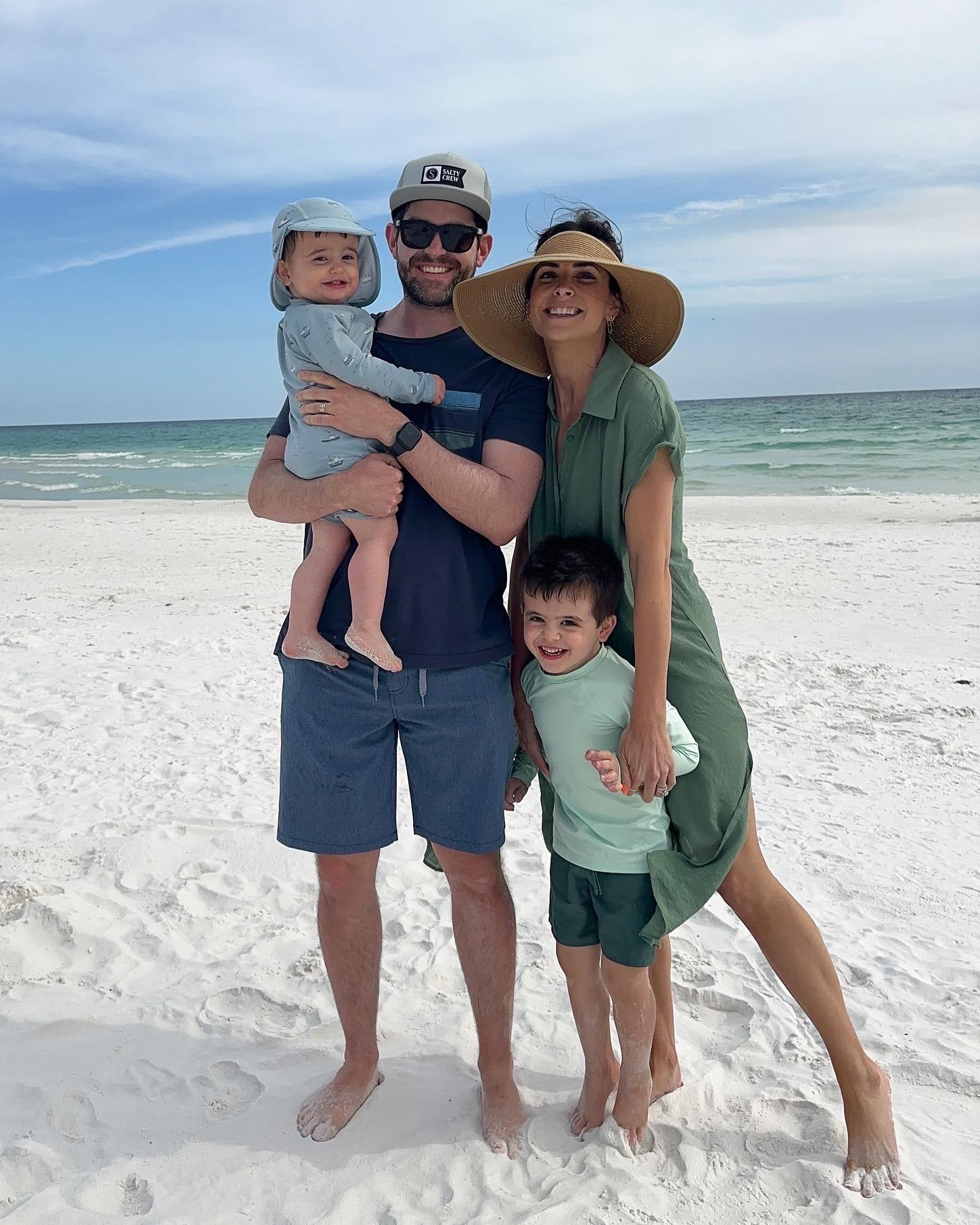 Q: Where did you fly into? Were you able to take a direct flight or were there layovers from MPS? And do you recommend renting a car?
We flew into VPS (Destin/Fort Walton Beach) airport, but you also have the option to fly into ECP (Panama City Beach), both are about 45 minutes away from Seaside. Sun Country Airlines to VPS was the only direct flight option in MPS. We rented a car for the drive to and from the rental and for adventuring around 30A, and we are so glad we did! Especially since the boys were with us.
Q: How long was your trip, and did it seem too short/too long?
We left on a Saturday afternoon and got to our place that evening, and left Wednesday early evening. It was the perfect amount of time with the 2 boys, though I don't think we would've minded one extra day! It's a lot of prep to get there with young kids, so definitely worth a 4+ day trip!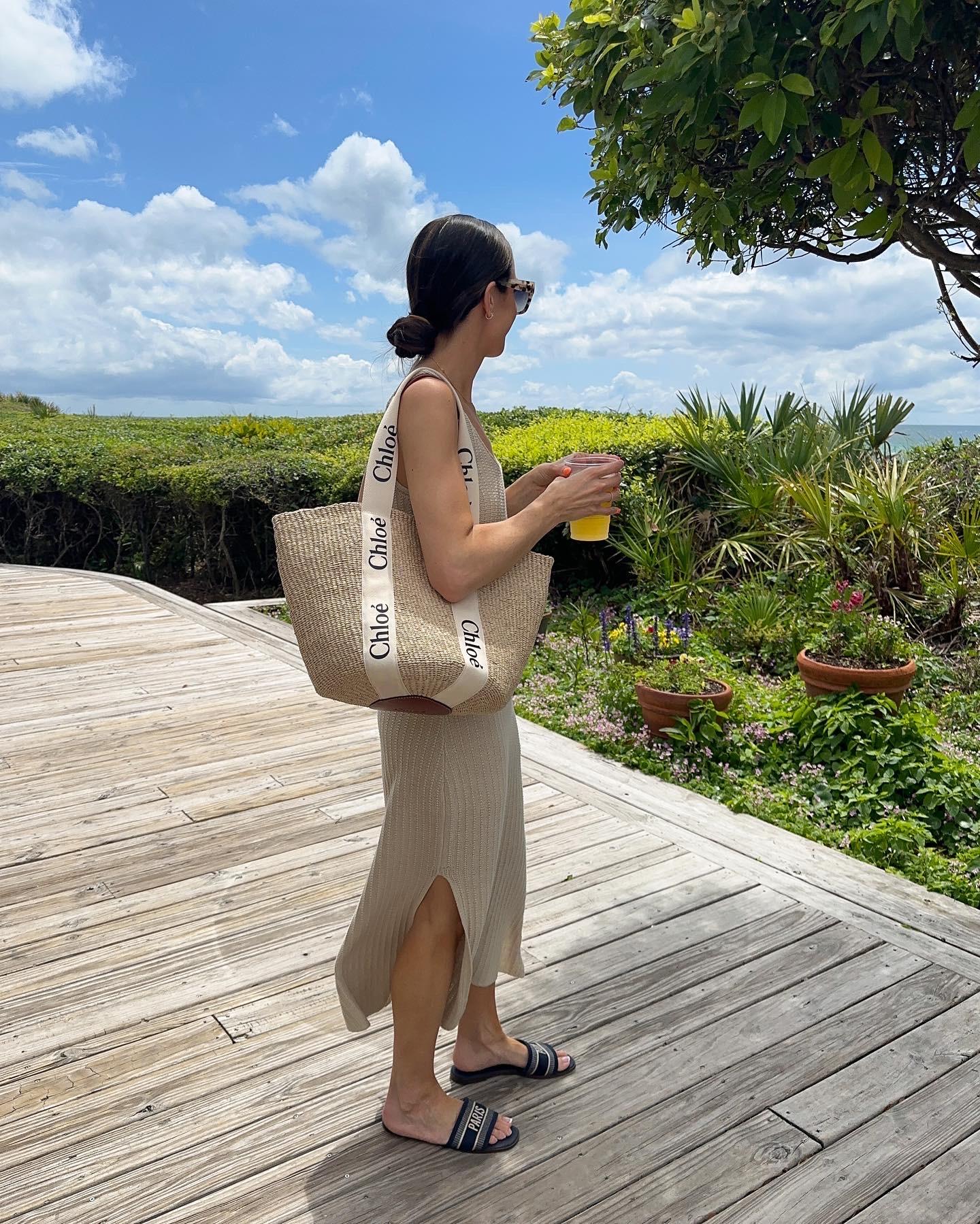 Q: How did you travel with your car seats/stroller? And did you have to pay to bring them on the plane?
I bought these car seat covers with backpack straps to check in before TSA, so while they were a bit heavy carrying on our backs from our car to the bag check, it wasn't for long. Car seats are free to check! We checked our stroller at the gate so that we could use our stroller inside the airport before our flight. Checking the stroller is also free! They just do a quick but thorough check of the stroller when you go through TSA.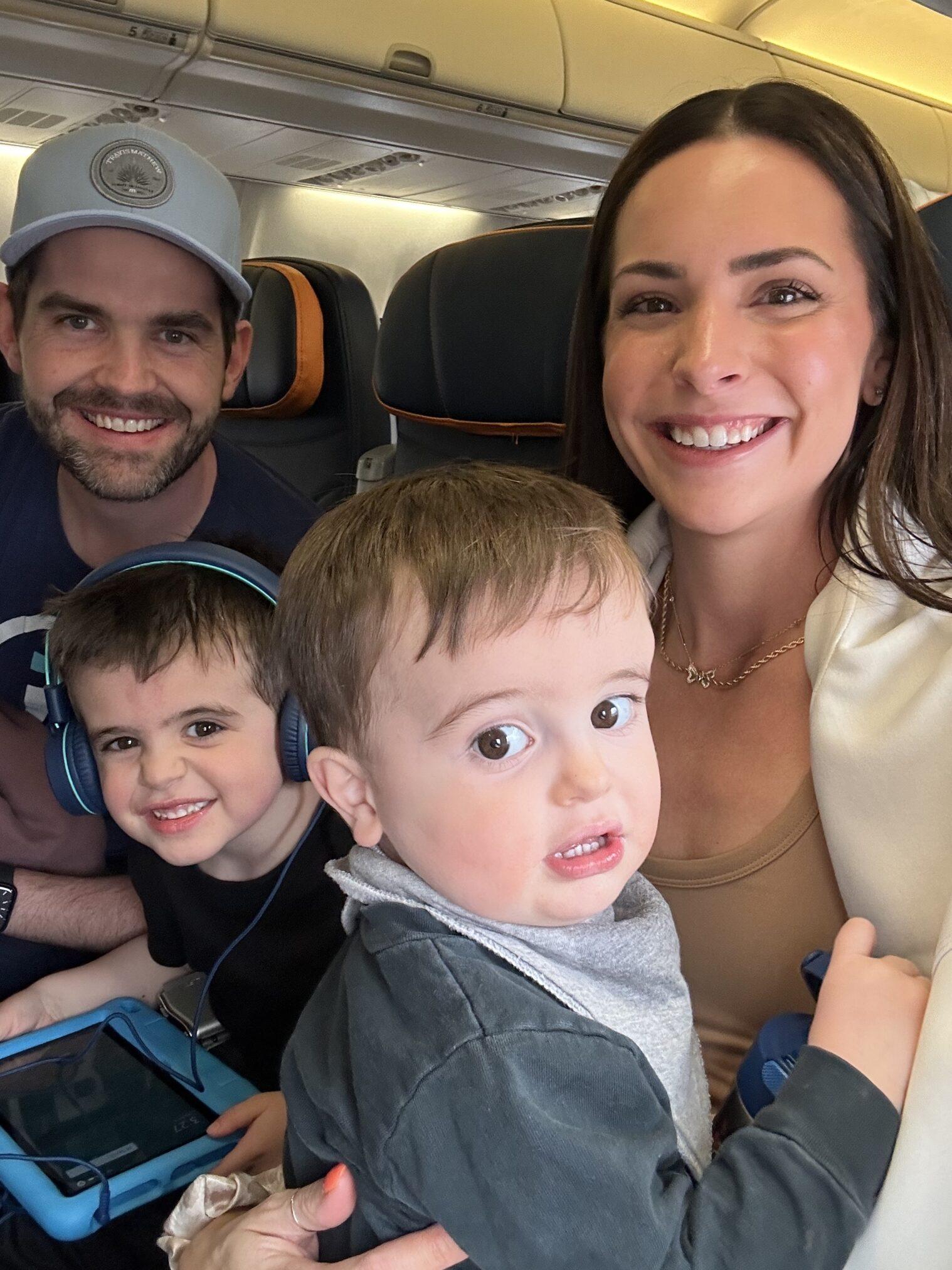 Q: Did you bring the car seats on the plane?
We didn't, we paid for a seat for Keldon and since Fritz was under 2, he was able to sit on my lap free of charge (we would've had to pay for an additional seat had he sat in his car seat). However, I think it would've been easier keeping him contained in a car seat on the plane and he probably would've taken a better nap (he only napped on the way home for about 45 minutes and was pretty tired since we were flying during his typical bedtime). Keldon did fine in his seat, but it would probably give some parents some peace of mind safety-wise having them in their car seat.
Q: What did you all pack for the boys?
I'm going to add a couple of collages below of things we packed (click the images to shop)! The main important things are the travel double stroller, car seats, clothes/pajamas/swimwear/shoes, diapers and extra wipes (though people have suggested purchasing at your destination for longer trips), plenty of snacks, white noise machines, their toothbrushes & toothpaste, SPF, some small books and activities. Our rental had a pack and play and bunk beds for the boys, so we didn't have to pack a pack & play for Fritz. Fritz slept on the bottom bunk the first night, but didn't sleep well and then slept amazing in the pack & play the rest of the stay. They also had a washer & dryer which was really nice and gave me peace of mind not to overpack clothes!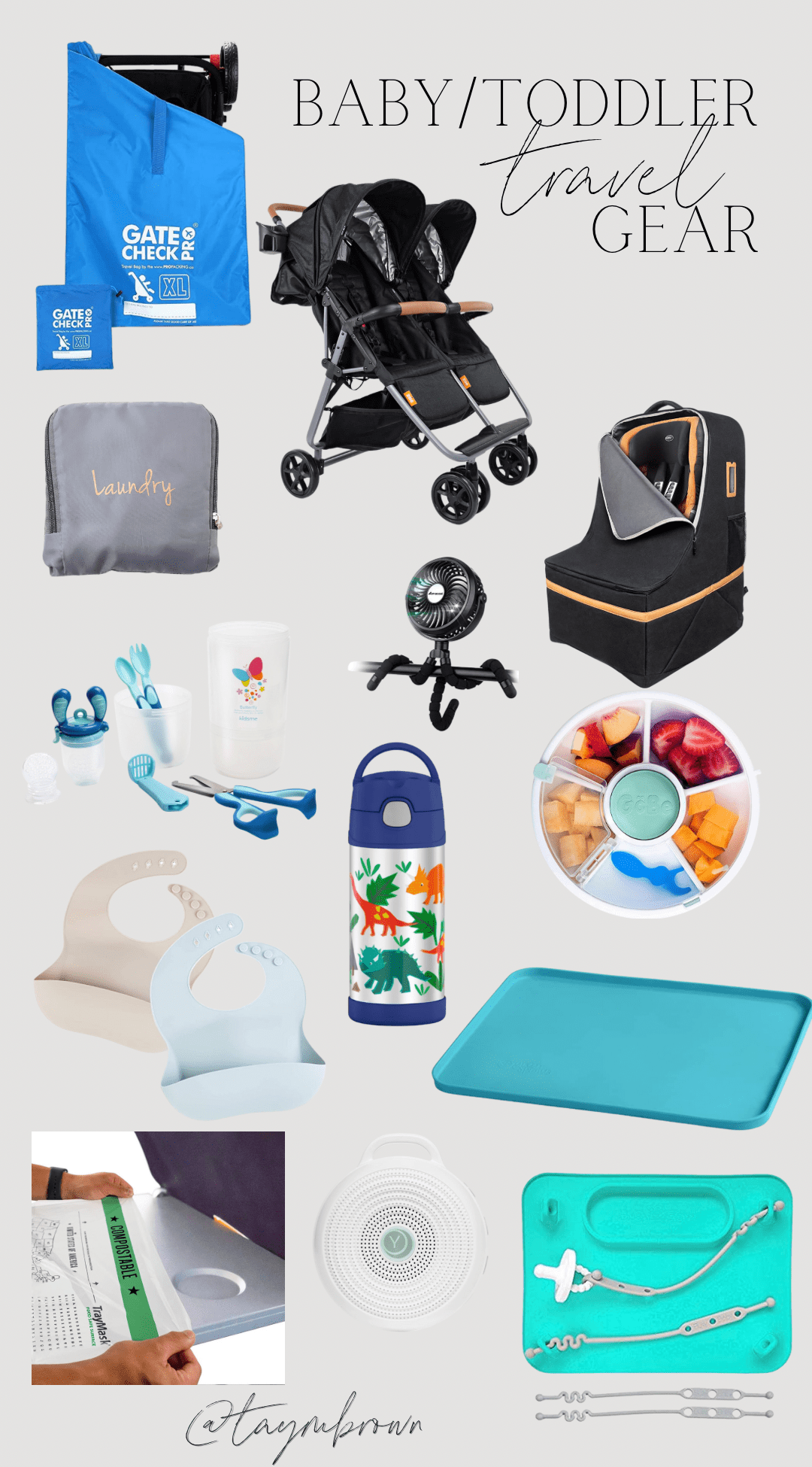 Q: How did the boys stay entertained on the plane?
The kids tablet was the main form of entertainment, especially for Keldon. Fritz didn't have his own, but would watch a bit with Keldon. We downloaded Blippi and Daniel Tiger, and Keldon also had fun with the app that allows you to draw/paint and such. For Fritz, he was entertained by snacks (lol), puffy stickers, videos of him on my phone and a Baby Shark recording on my phone. The boys rarely have screen time, so that was probably why the electronics were really interesting to them. The collage below includes more activities I brought for the plane and our rental: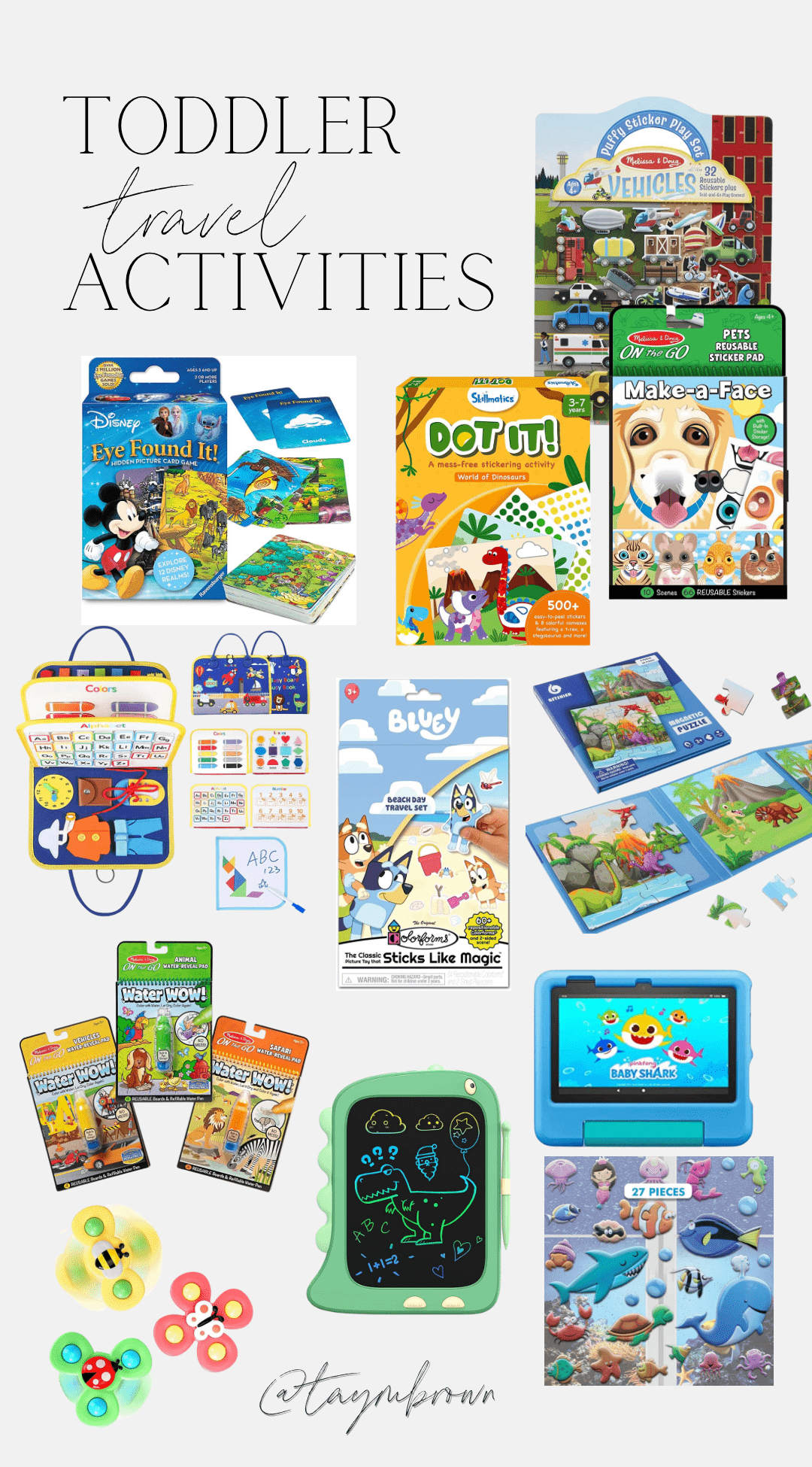 Q: Where did you stay in Seaside?
Alma Homes' Vacasa rental in Seagrove Highlands! We were one of the first lucky families to stay in their newly renovated vacation rental, and it was perfect for our family. 3 bedrooms, 2 full bathrooms, a washer & dryer unit, a screened patio, a full kitchen, and as cute as can be. The unit is managed by Vacasa, and the building the rental was in was similar to an apartment with gated access and parking. Bikes were also available to rent for free which wasn't something we were able to take advantage of, but fun for adults and/or older kids! Like I mentioned earlier, they also had a pack & play, high chair, beach chairs and towels available for our use which was nice to have.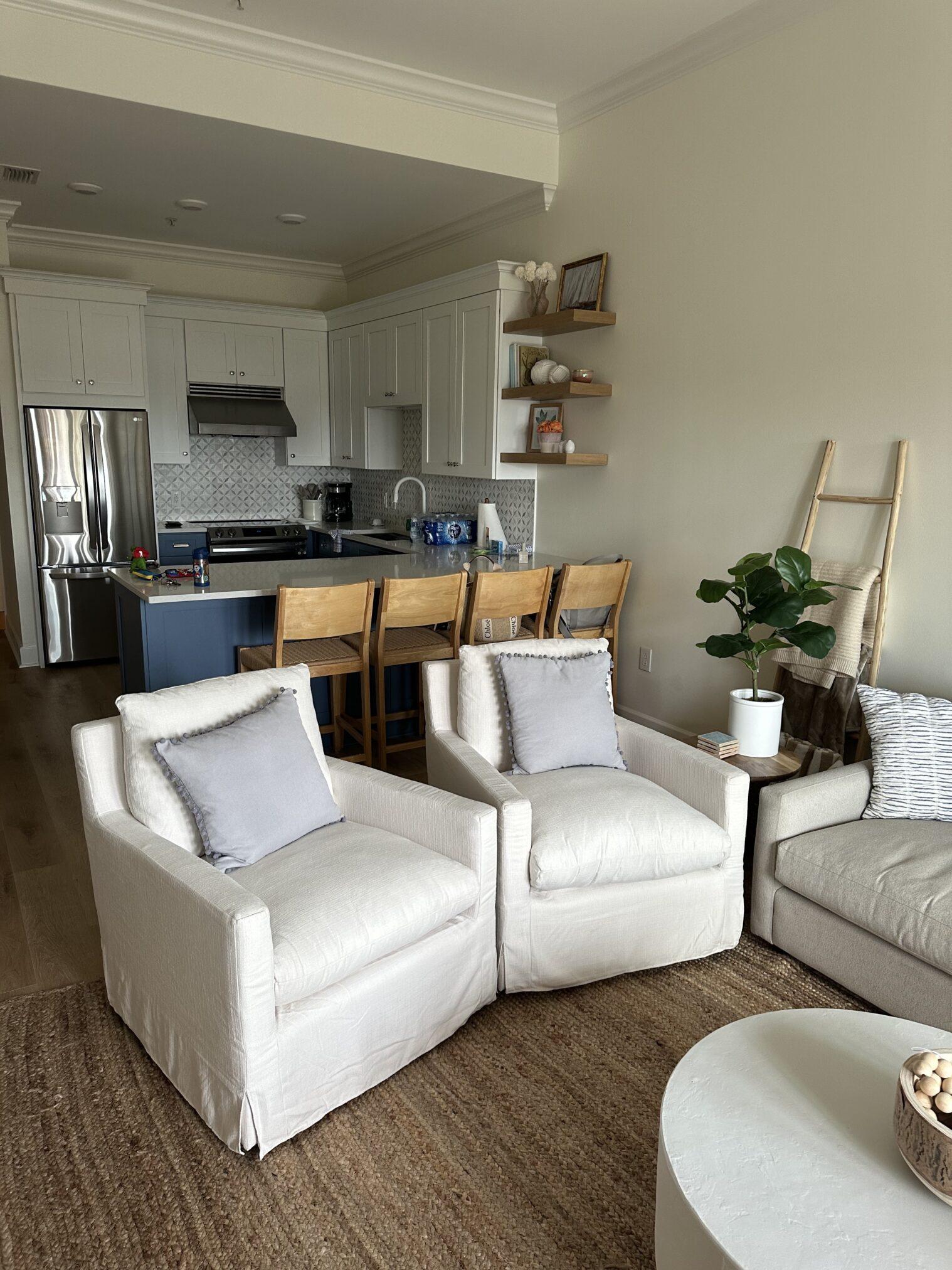 Q: Activity recommendations in 30A?
Going to the beach a couple of the days was our favorite! The beach was about 3 blocks from our rental, so we were able to walk over and bring over some chairs & towels that the renters also provided for us. Our friend who is a resident and member at a private beach invited us to that beach one of the days.
Walking around in Seaside definitely provides at least a few hours of entertainment. Lots of great shops, restaurants, walk-up food and drink trucks/spots, and a beautiful view of the beach.
We also spend a half day in Rosemary Beach, which was similar in a lot of ways, but a little more shopping and dine-in restaurants. Next to Rosemary Beach you'll also find Inlet Beach (stopped for brunch) and Alys Beach with more shops and dining options (didn't make it to Alys Beach on our trip, but hope to during the next one).
The Big Chill 30A was a lot of fun for the whole fam- tons of food/drink options, and depending on the night, you'll have a variety of entertainment. While we were there, there was a DJ that played kid friendly songs and lots of families (including ours!) were dancing on the dance floor. I have heard they also do live music, movie nights and other fun things like that there too. Plenty of seating and no reservation needed!
Old Florida Fish House was another great family-friendly spot for and entertaining lunch or dinner. Plenty of seating, live music and outdoor games like bags/corn hole, a big connect 4, and more. They also had a cute gift store and gelato stand on the way into the restaurant that we stopped at.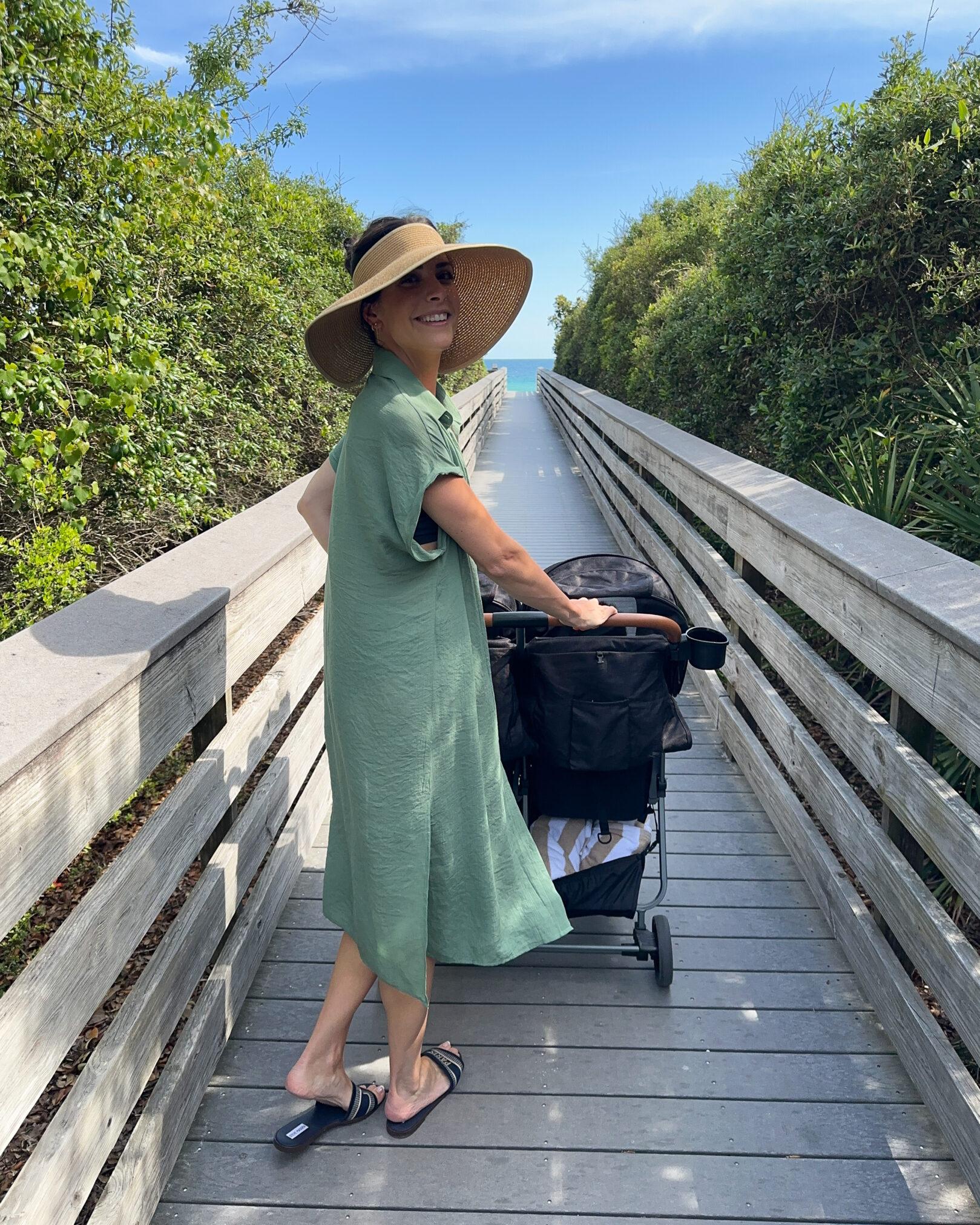 Q: Were you able to keep the boys' routine for the most part? How did bedtime go?
For the most part, besides on the travel days since the only non-stop flights were in the early evening. They both stayed awake the whole time on the plane, and we had a little bit of a wait for our luggage and our rental car (mostly waiting in line for the car), and they were troopers for the most part, just went a little stir crazy while waiting at the airport at that point- haha! They both fell asleep on the car ride to our rental, and it wasn't super smooth getting them to bed that night since they were tired, confused in a new place and probably a little scared. Tom and I just lied down next to them until they fell asleep, which was fairly quick. Luckily the bunk bed beds were a full mattress size!
While in Seaside, we definitely went over nap time and completely skipped it one of the beach days which was expected, and bedtime was just fine once they were able to spend the day at the new place and see it in day light. We did bed time stories, baths and brushed teeth, and tried keeping the routine as normal as possible to get them comfortable and ready for bed!
On the way home, we had a similar experience with throwing any routine out the window due to flight times. However I got a 45 minute nap out of Fritz on the plane! We landed around 9pm. Since we flew into a thunderstorm (which was not fun for Tom & I- the boys were unbothered), we had to wait over an hour for our luggage since it wasn't safe for the crew to bring it through baggage claim until the lightning stopped. Thank goodness we had the stroller and a portable white noise machine with us though, because they both fell asleep in it while we waited and I just walked around the airport with them until then. I think as long as you can expect that you won't be able to stick to the same routine the whole time and roll with the punches, you'll have the right mindset for traveling with your littles!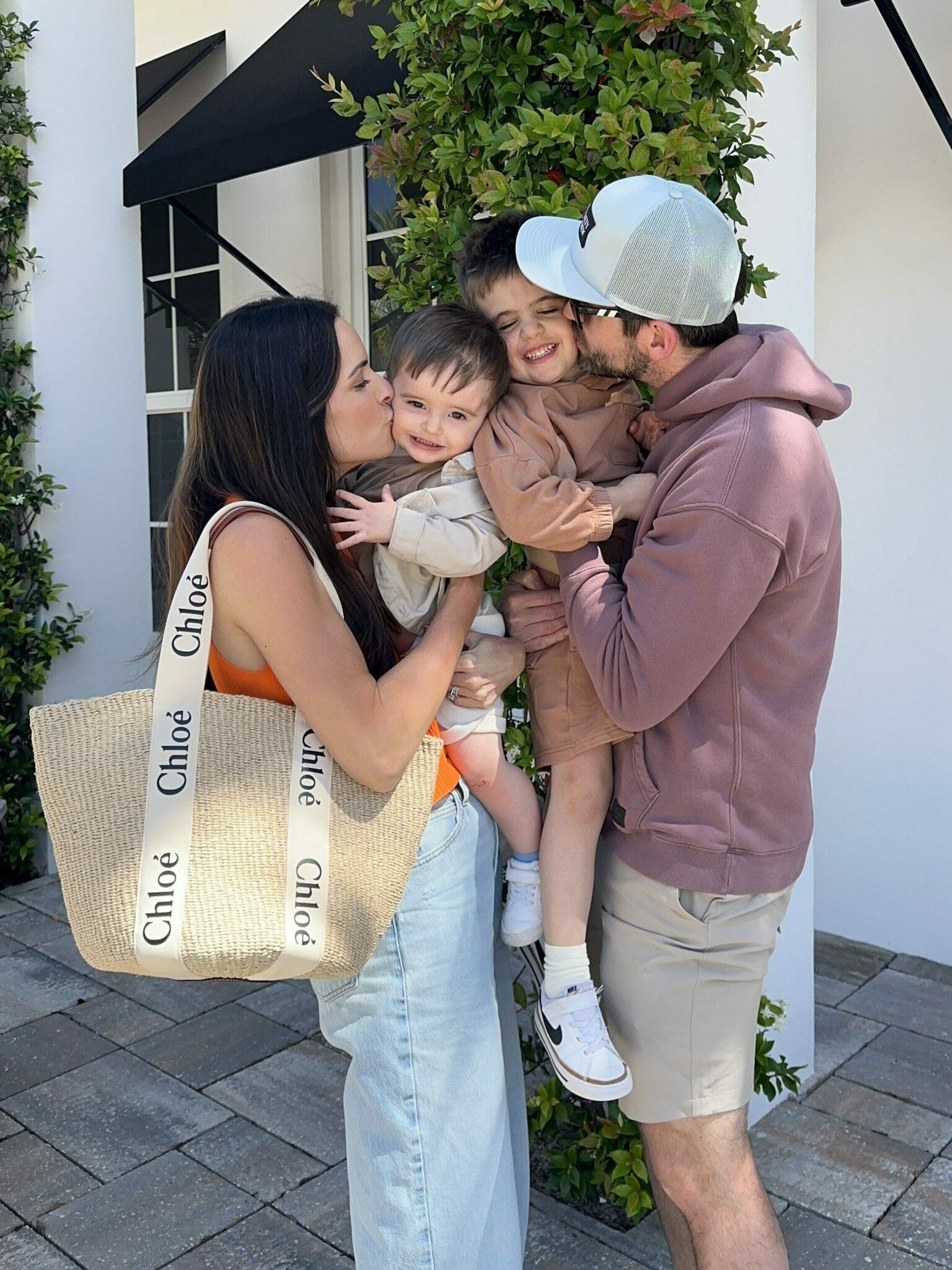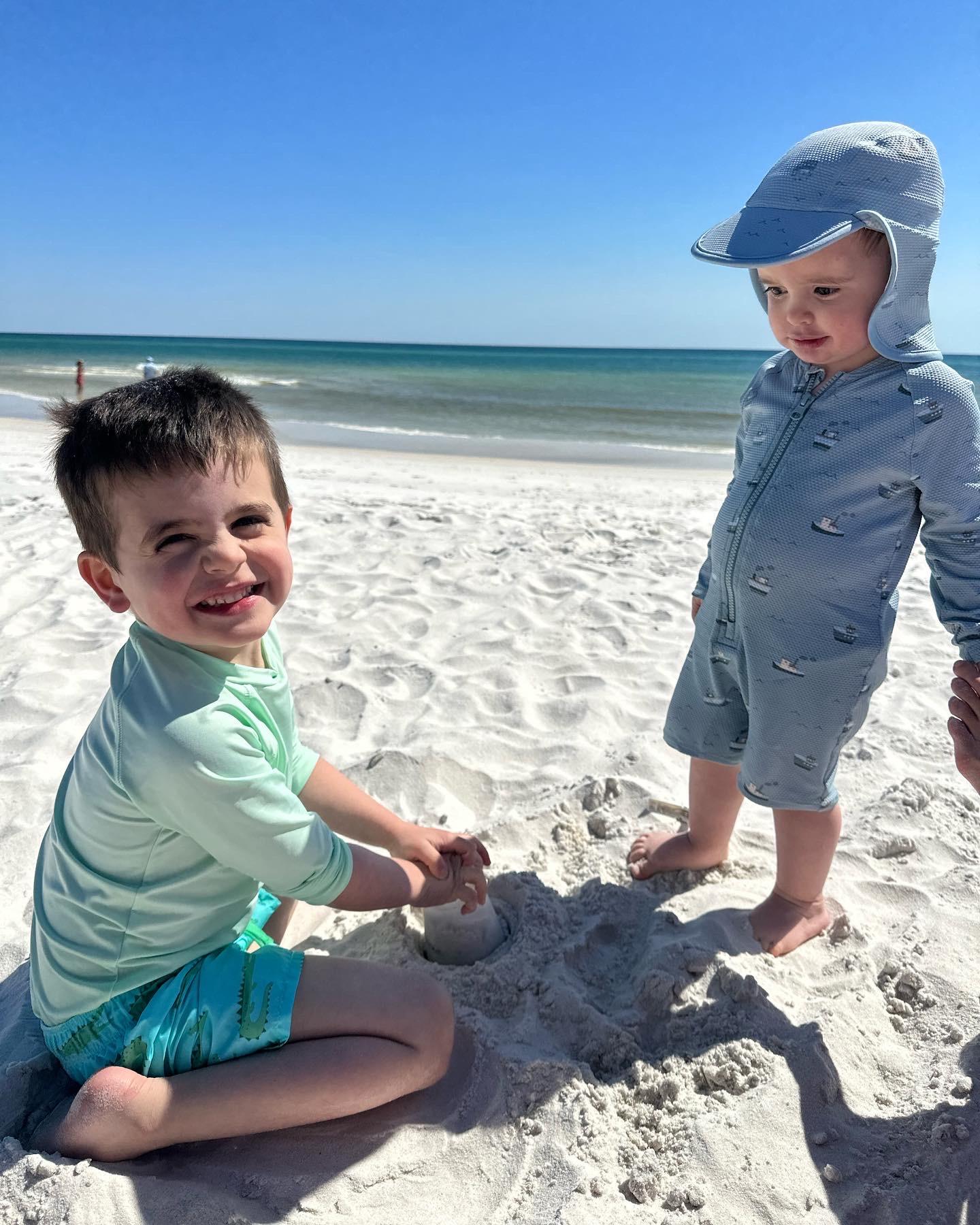 Q: Favorite food/drinks in Seaside/30A?
Seaside:
Black Bear Bread Co.: We went here 3x for breakfast! Haha such good coffee and breakfast foods!! The oatmeal and iced lavender lattes are next level.
The Big Chill 30A: As mentioned above, a lively and fun family-friendly spot to hangout with various food stands with tacos, burgers, seafood & BBQ, plus drinks. They had a DJ the night we went and a dance floor!
Bud & Alleys Pizza Bar: Awesome wood-fired pizza, and it was quick! Right next to the beach.
The Great Southern Cafe: We ate here for lunch! Highly recommend the cheesy grits, fried chicken + honey mustard (Fritz was a huge fan too- IYKYK lol)
Old Florida Fish House: Another fun family-friendly spot for dinner! Outdoor games, live music, plenty of seating and a cute gelato shop in the path of the restaurant.
Nigel's: Frozen banana desserts! Really yummy.
Rosemary Beach / Inlet Beach:
Amavida Coffee: Stopped here for a caffeine pick-me-up- delicious iced matcha lattes here
Canopy Road Cafe: LOVED this breakfast/brunch spot. Amazing avocado toast and Keldon got the Sticky Bun pancake which was probably the best pancake I've ever eaten haha still dreaming about it.
Destin:
The Back Porch: We went here for lunch before heading to the airport and wish we would've had more time! Right on the beach, good seafood and a nice view.
Popular follower recommendations we didn't make it to:
La Crema (Rosemary Beach)
Modica Market (Rosemary Beach) Giant fresh-squeezed mimosas and homemade cake slices.
Amigos (Inlet Beach)
Raw & Juicy (Rosemary Beach)
The Sugar Shak (Rosemary Beach)
The Meltdown (Seaside)
Pickles (Seaside)
Crêpes du Soleil (Seaside)
Surfing Deer (Seaside)
Shunk Gulley Oyster Bar (Santa Rosa Beach)
Do a sunset beach bonfire (serviced by 30A Blaze, Bonfires at the Beach, etc.)
Q: Favorite shops?
Bump + Baby (Seaside)
The SEASIDE Style / SEASIDE Yacht Club / SEASIDE Style Kids (Seaside) The official store with SEASIDE branding- shared the sweatshirt + tees we bought!
Duckies Shop of Fun (Seaside) Kids toy store and fun photo op outside the store with a giant rubber duck
Huck & Harlowe (Rosemary Beach) Dog store 🙂 Got Bruce a toy here that is still in one piece!!
Patchouli's (Rosemary Beach) Beauty products, SPF, etc.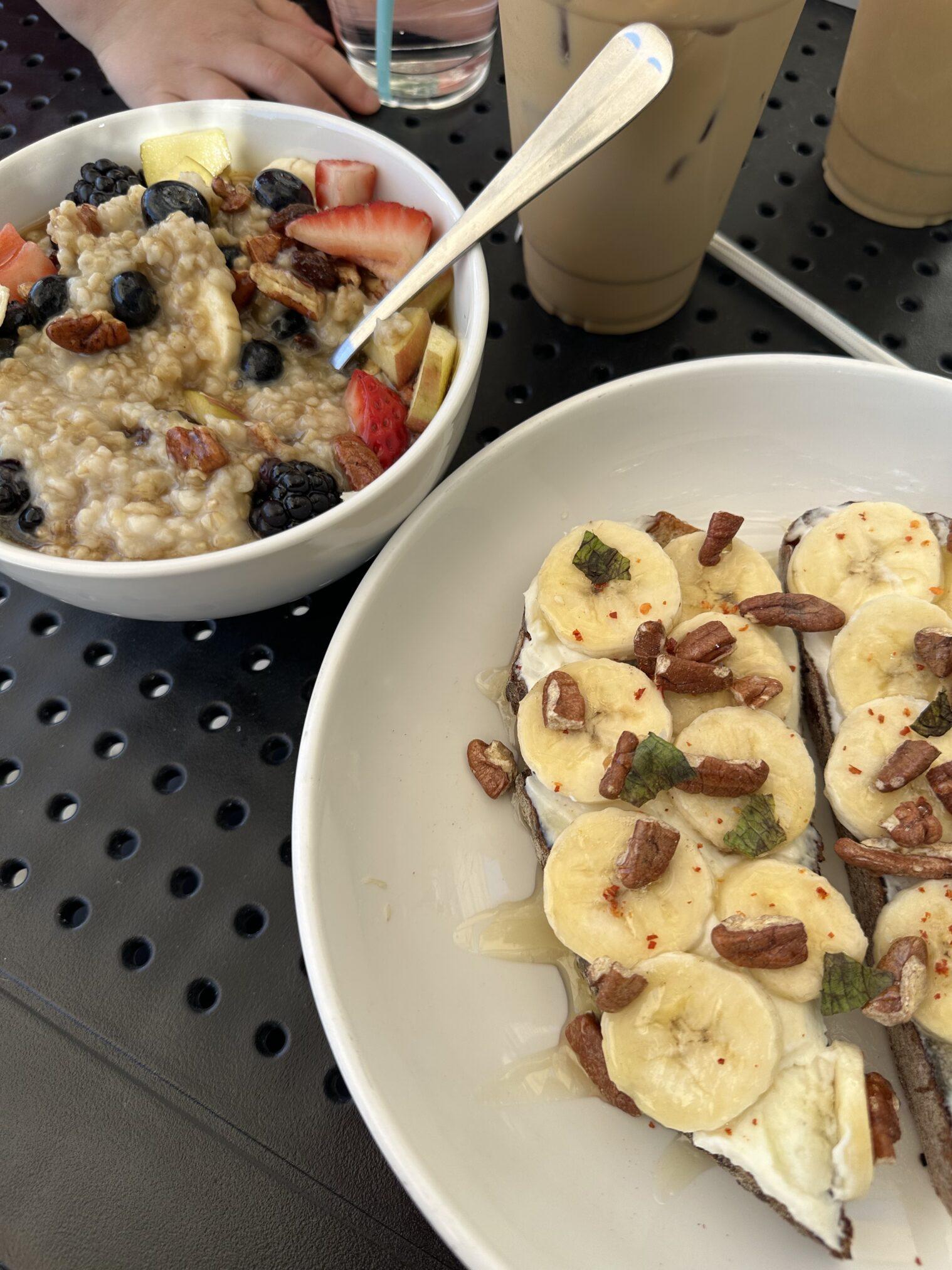 I hope this travel guide helped if you are planning a trip to 30A / Seaside / Rosemary Beach soon (with or without your little fam)! Let me know if you have any other questions about our trip and I can update this post. 🙂
-T