Happy Sunday everyone! How does every weekend seem to slip away so quickly?! I swear it was Friday like 5 minutes ago… On Friday, Tom and I took a trip to the Albertville Premium Outlets, which is just a hop and a skip away from our house. Tom actually loves going to the outlets, because of their Nike and Under Armor Stores, so it didn't take much convincing to get him to tag along with me for a day date of bargain shopping. 😉 I had lots of luck finding some great casual and work wear pieces, and wanted to share my finds with you! Every single thing I'm wearing in both of these looks were purchased from the Albertville Premium Outlets! (Aside from my wedding and David Yurman rings).
The outlets in Albertville have nearly all of my favorite outlet/factory stores, including Express, Banana Republic, Old Navy, GAP, Kate Spade, and Lululemon. The awesome part about outlets is that they typically have similar items for less that are currently in their main store, OR they have last year's pieces at discounted rates. Win win both ways! If you watched on my Insta Story, I noted that Express has last year's pieces at discounted rates – which is amazing, because they bring back a ton of the same styles each year! So you basically are getting the same thing that's at the main store at a smaller ticket price!
My Albertville Premium Outlets Finds
I got a pair of black jeggings (they had the exact pair here that are in their main store, but for a fraction of the price ($40 compared to $80!) that I'm wearing below in my work wear look, along with a distressed pair for casual wear (not pictured). They also have a huge variety of their signature portofino shirts, which are one of my favorite style tops to wear to work! This striped one is so cute; I sized up for a looser fit (this is an identical one that's at their main store, but the stripe is blue instead of black like mine). I paid only $25 for it when it was originally $60! I love that I can wear it to work and dressed down outside of work with some ripped jeans and a jacket.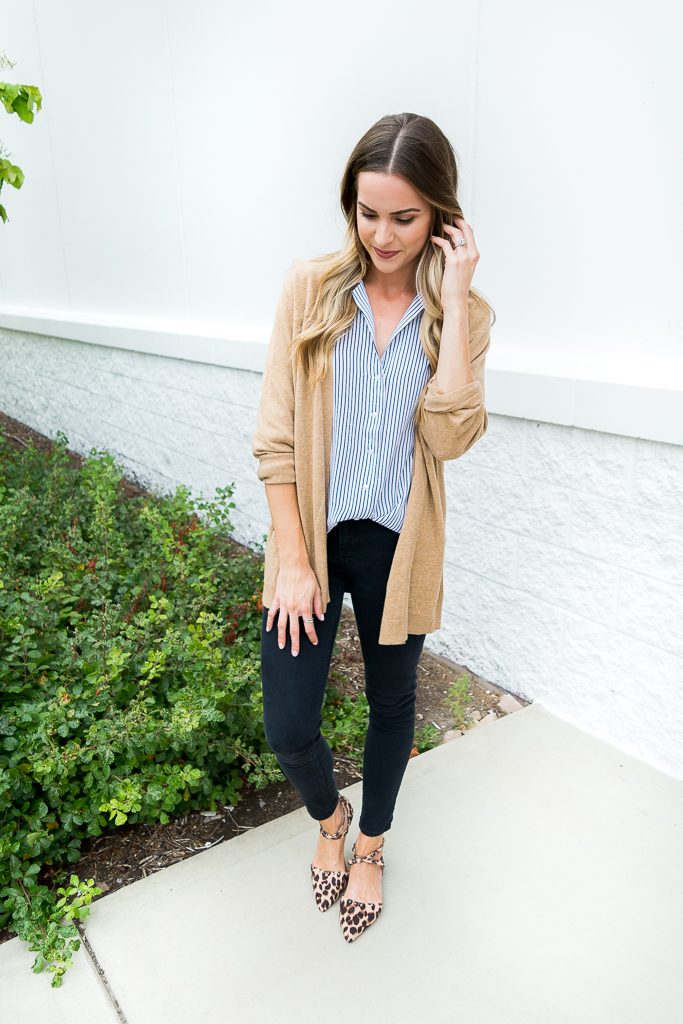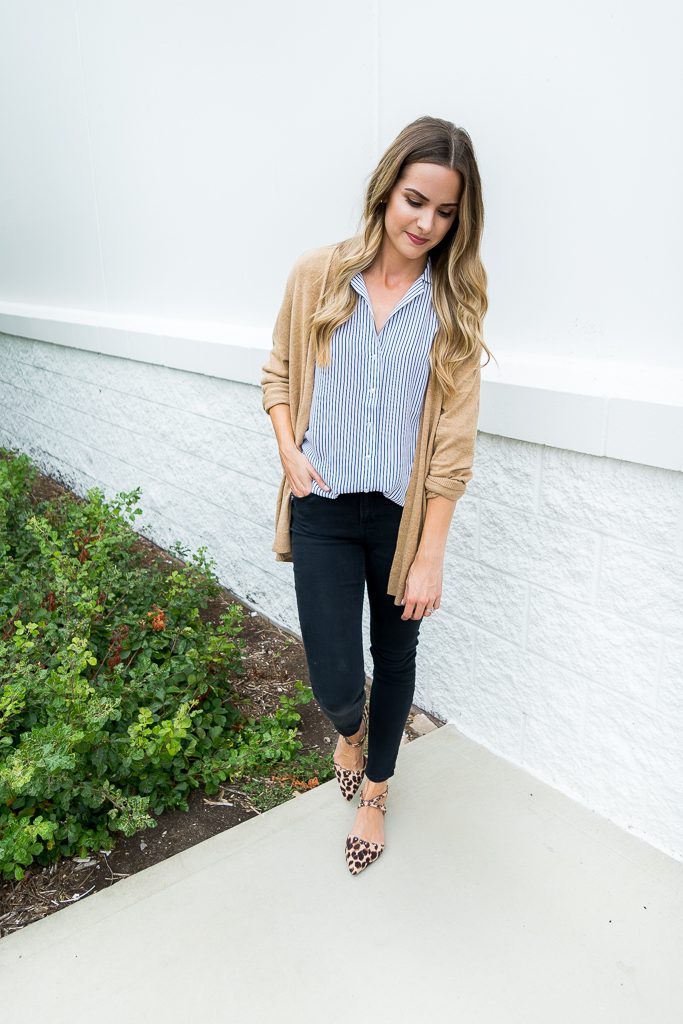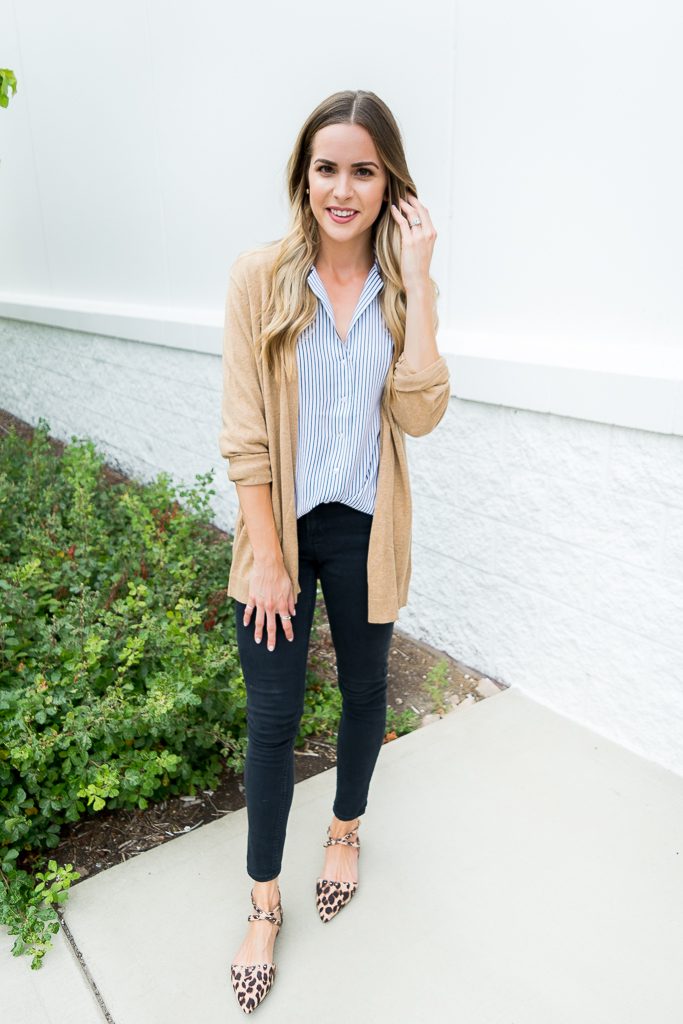 GAP's outlet has a ton of cute pieces that are similar to what they have in store currently. I loved this lightweight camel cardigan that can be worn to work or worn casually. Everyone needs a work sweater, right? Chilly offices are no joke. This cardigan looked perfect over my striped shirt
! Old Navy's outlet has a nice mix of previous season styles and this year's styles. I was pleasantly surprised that they had these leopard flats that are also in their main stores right now! The pointed toe and little gold studs are chic and add flair to your outfit. And leopard is SO in this fall! I paid $21 for these, originally $27.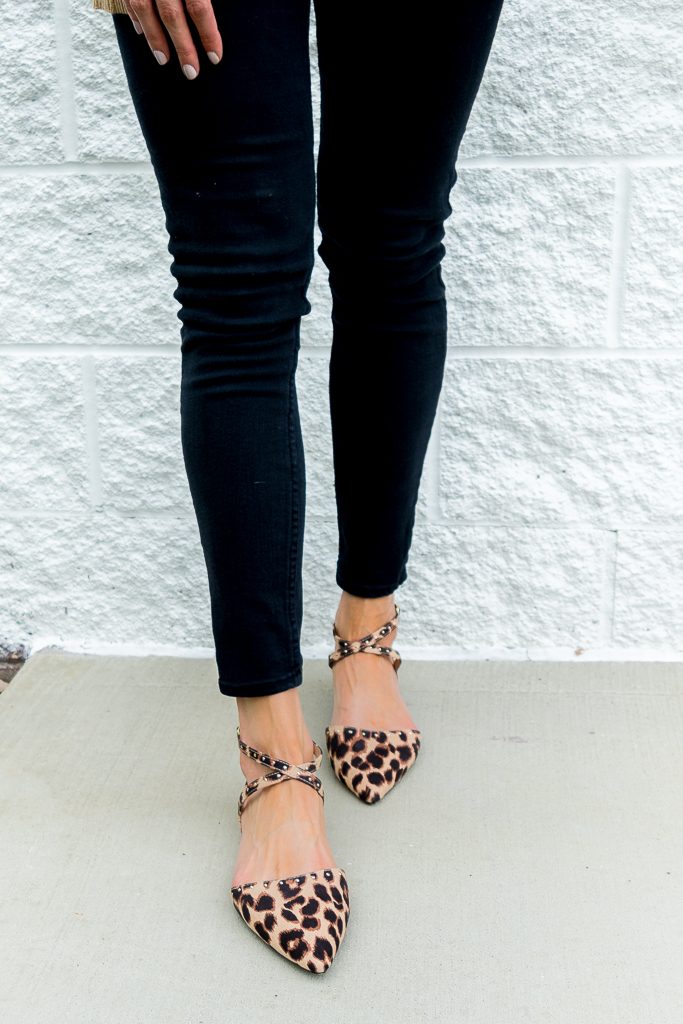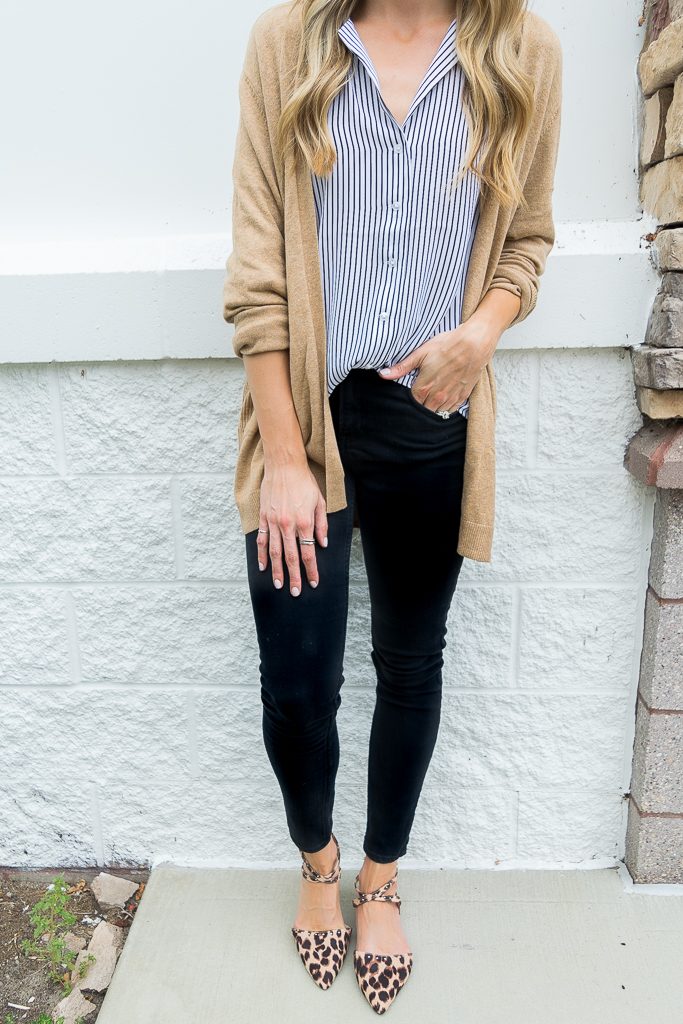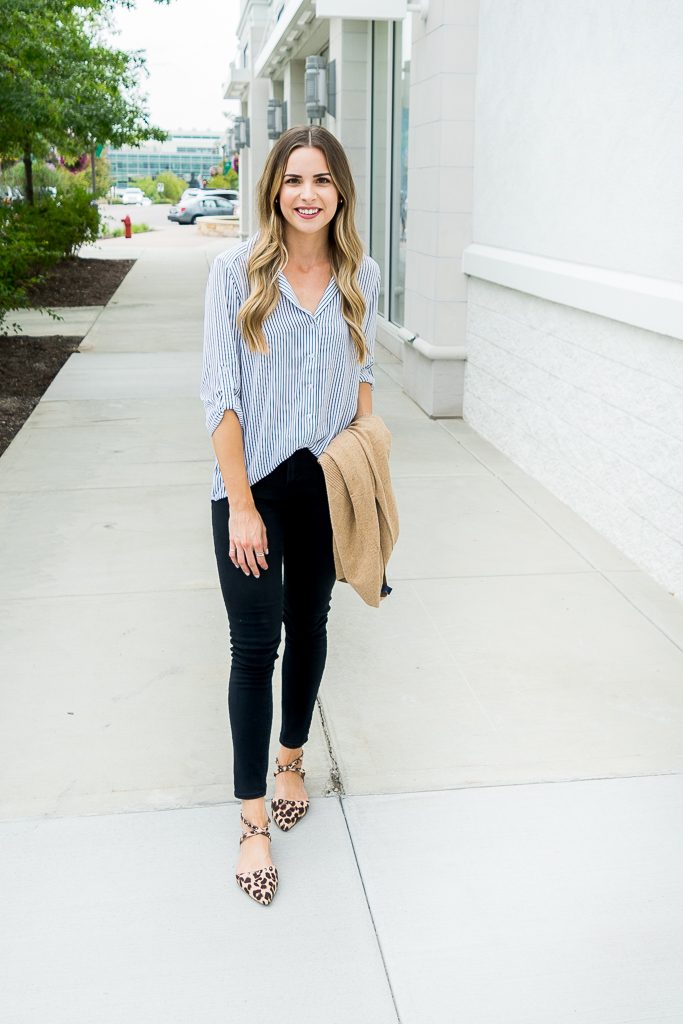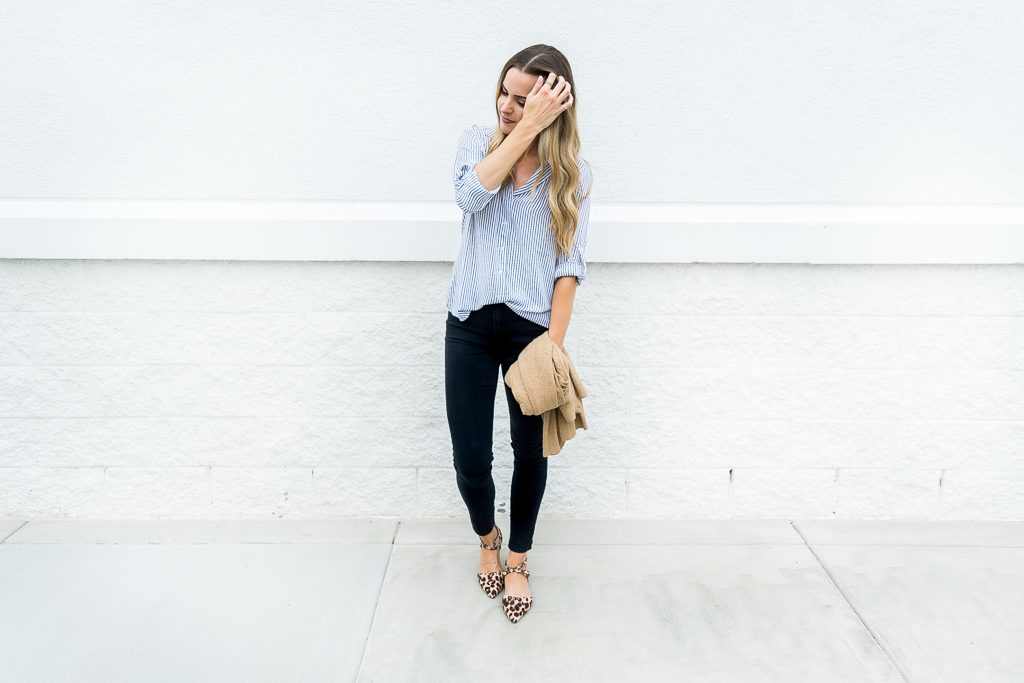 Another amazing benefit about outlet shopping is that they usually have another coupon/promotion going on that you can take off on your total purchase – we had so many coupons we could use at check out, including an additional 15% off our total purchase over $100 at Express, $10 off $50 at Old Navy, additional 10% off at Banana Republic, 60% off + 20% off at Kate Spade… too good, right?! As if the already marked down prices weren't good already. 🙂
My second look I put together from the outlets is a more casual one – you can find me in something like this on the weekends! I was super excited to find this sleeveless cowl neck sweater (for only $25, originally $55!), because it's one of my favorite summer-to-fall and winter-to-spring transitional pieces. It came in this gorgeous ivory color, along with a camel one that almost came home with me, too! It's luxe and comfy, which is just the material I want in a sweater! The back has a really cute split-back detail, too (see photo below). Obsessed. I also found some gorgeous gold ball stud earrings from Banana Republic's outlet that I'm wearing in both of these looks. They add such a cute but simple statement! They were only $11. 🙂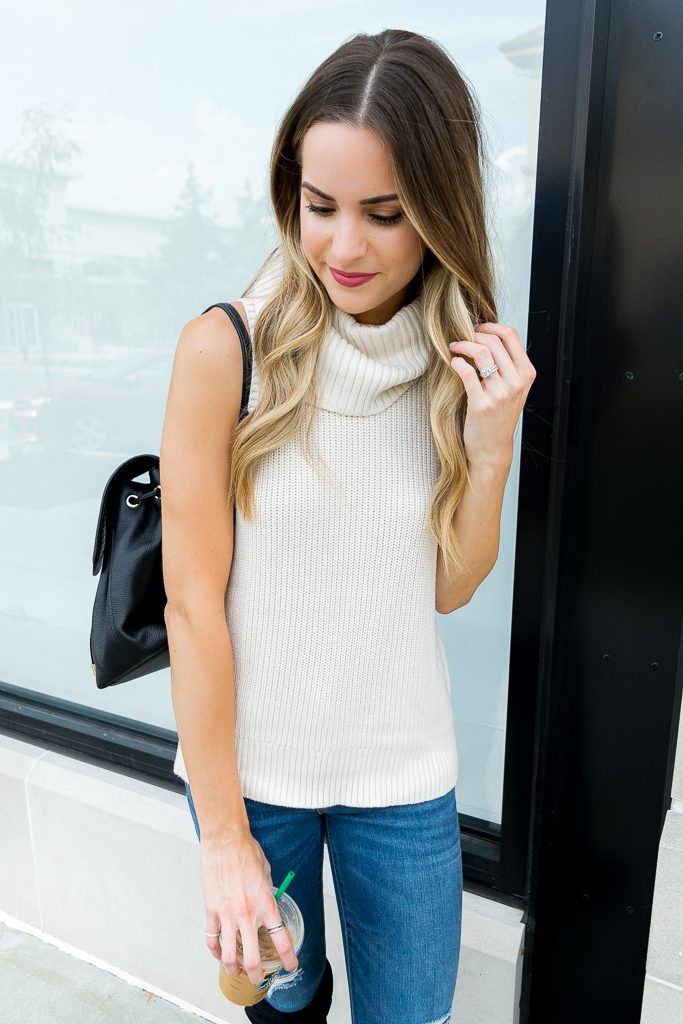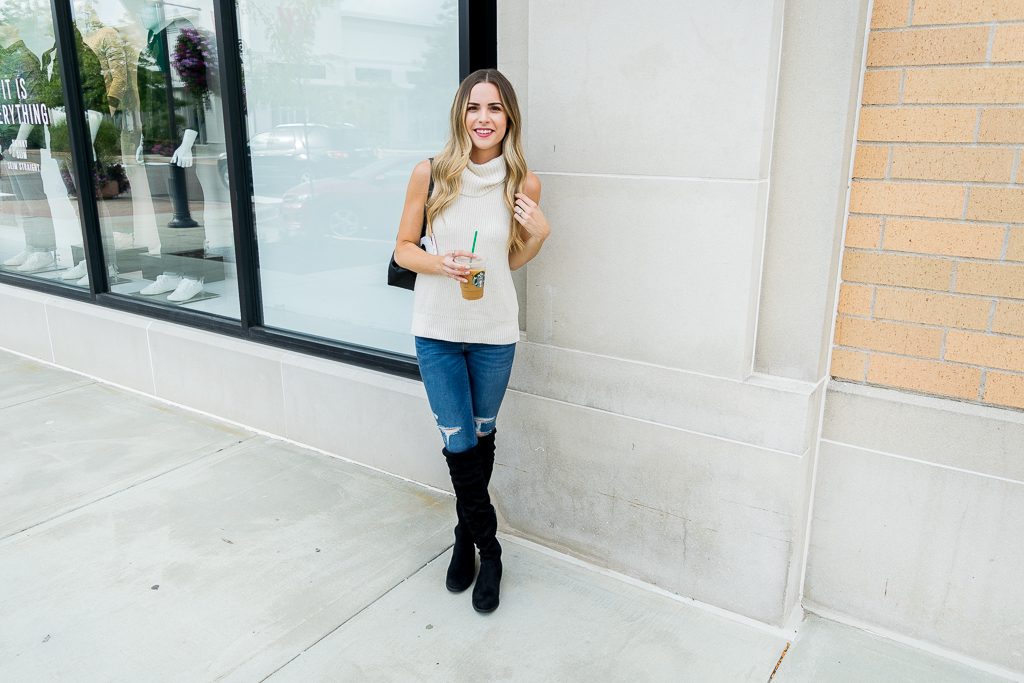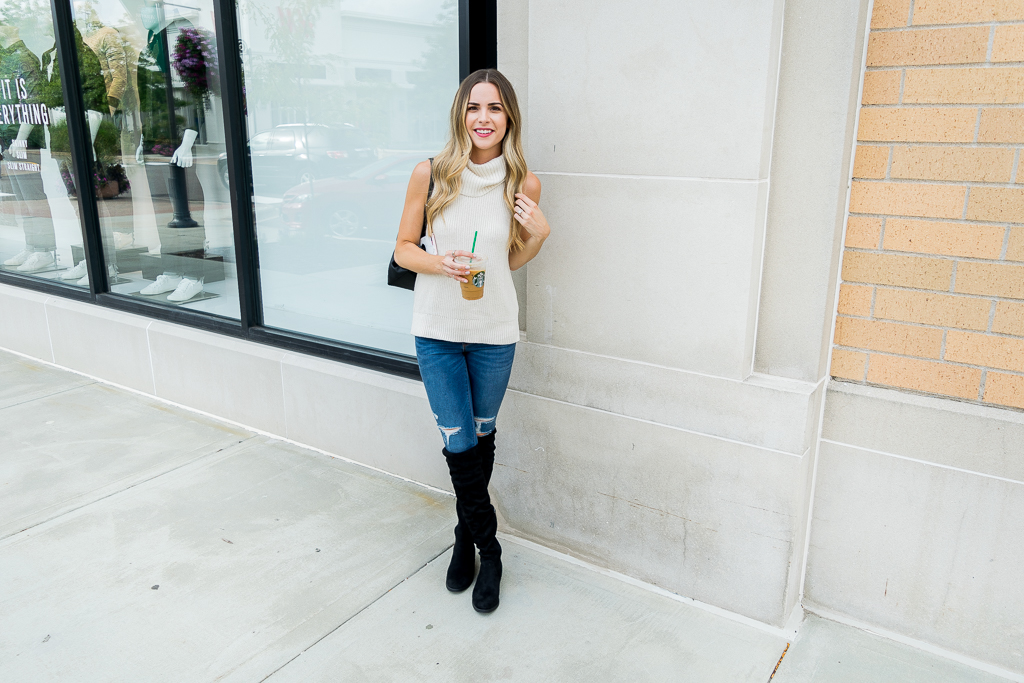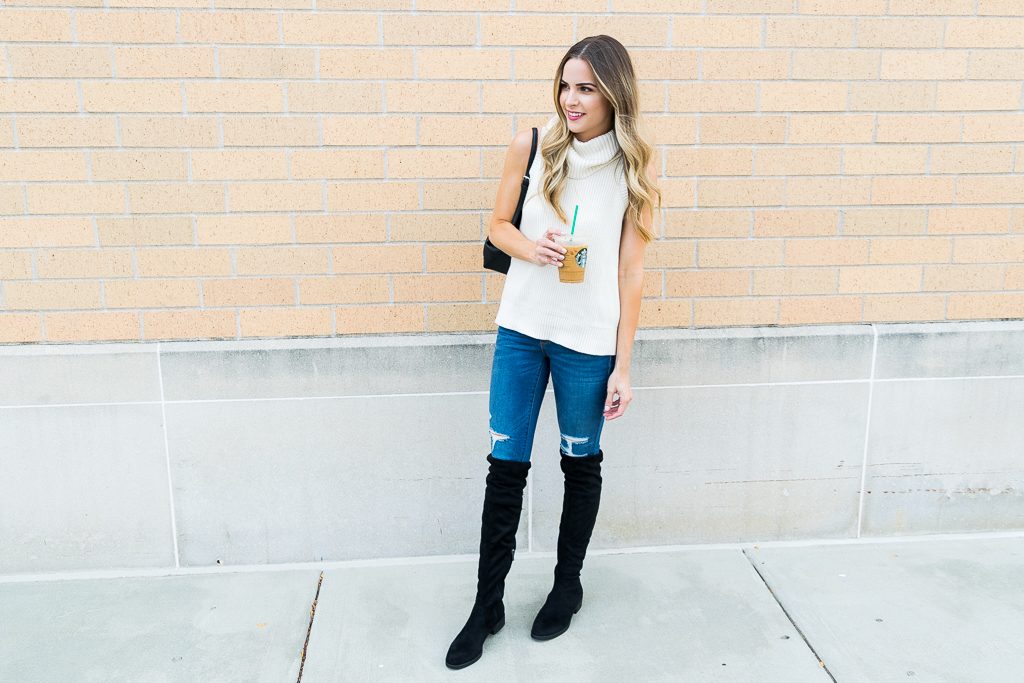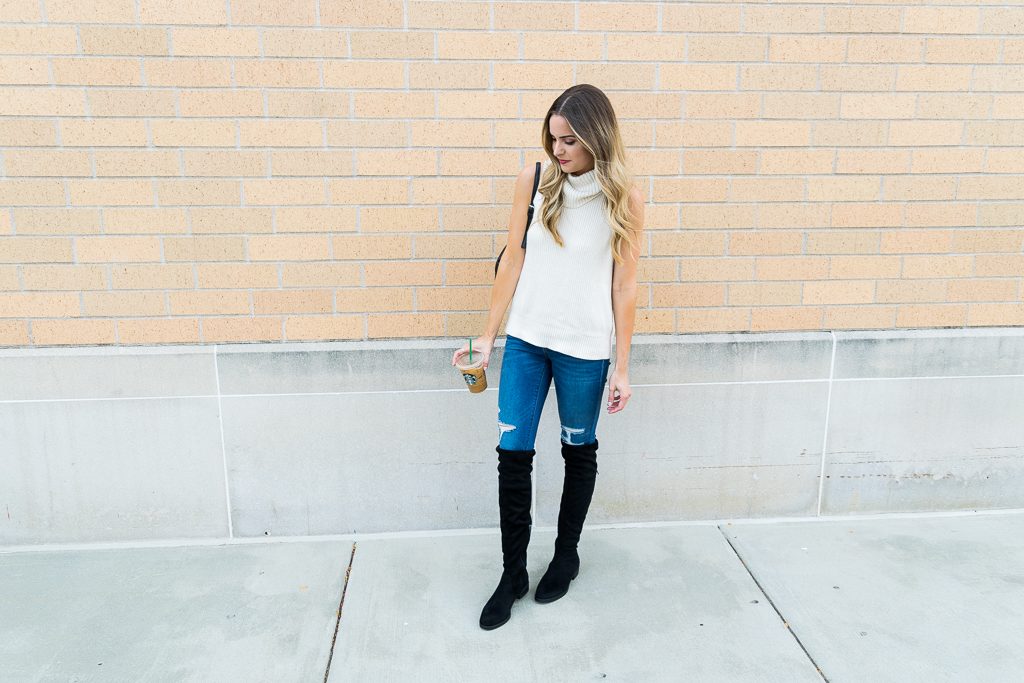 Thank you guys for helping me decide whether to get the black or gray over-the-knee boots on my Insta Story! It was such a tough decision since they were both amazing and would go with everything in my closet! But black got the most votes. 🙂 It's taken me forever to find a nice pair of sleek suede OTK's with the ties in the back (that aren't $800) #chickenlegs. Lo and behold, these beauties were at Famous Footwear outlet for only $69.99! And at check out they were $64.99, thanks to my $5 off coupon for purchases over $50!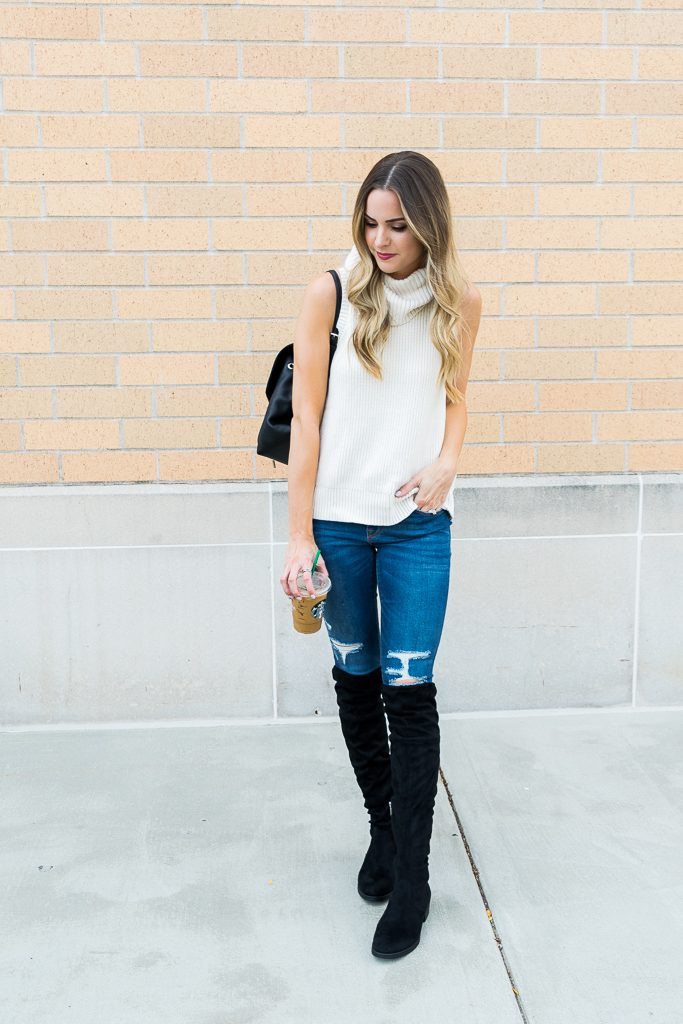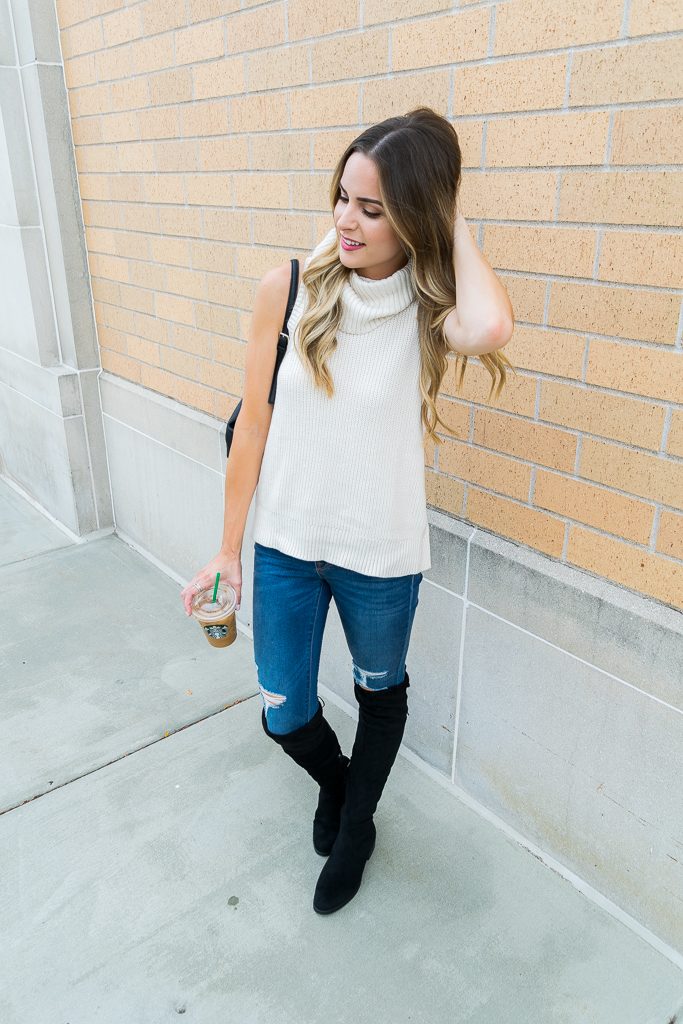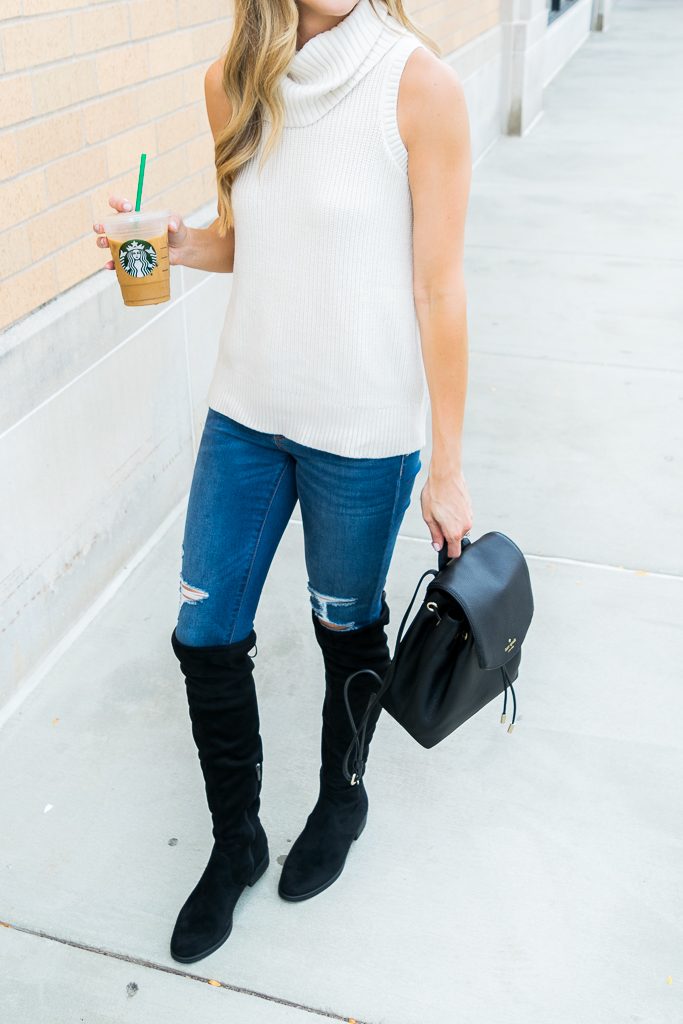 Finding the perfect affordable blue distressed skinny jeans has been on my shopping list for a while, and these Old Navy skinnies are an absolute gem! They were at the outlet, and are also available at their main store! The fit is amazing, high-waisted, and the distressing on the knees are just what I was going for. I went down one size in these since Old Navy sizing tends to run a bit bigger! I paid only $30 for these, originally $40.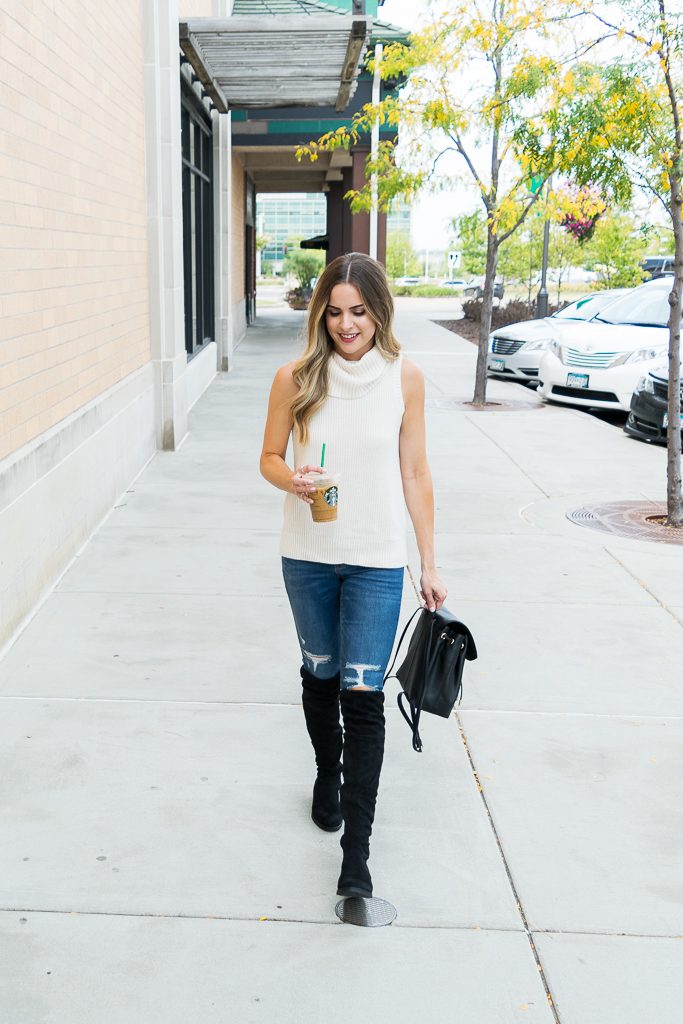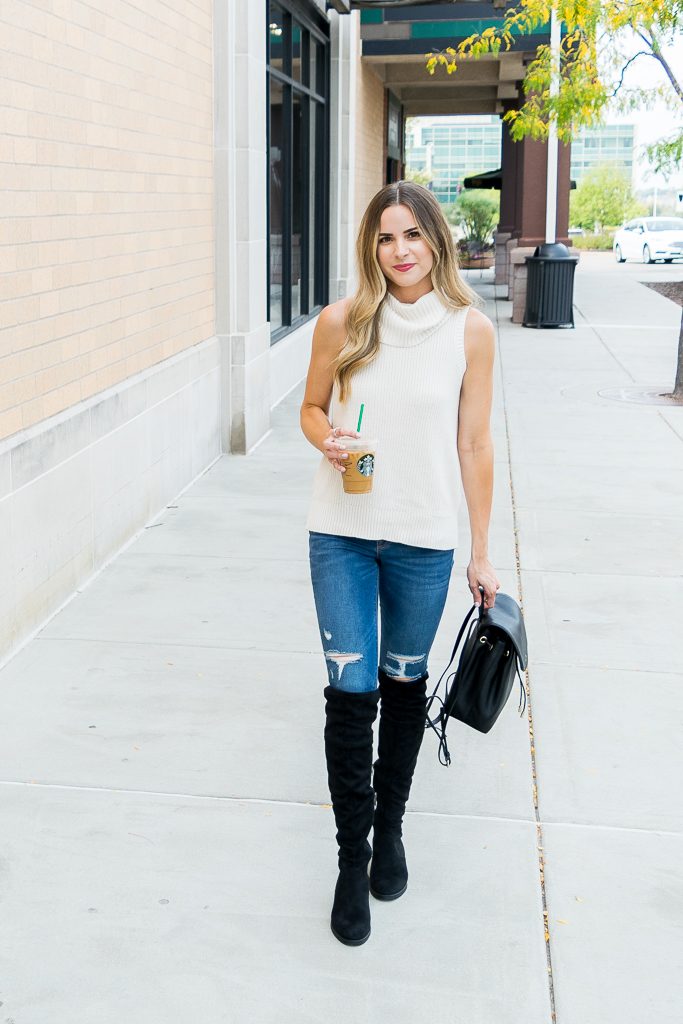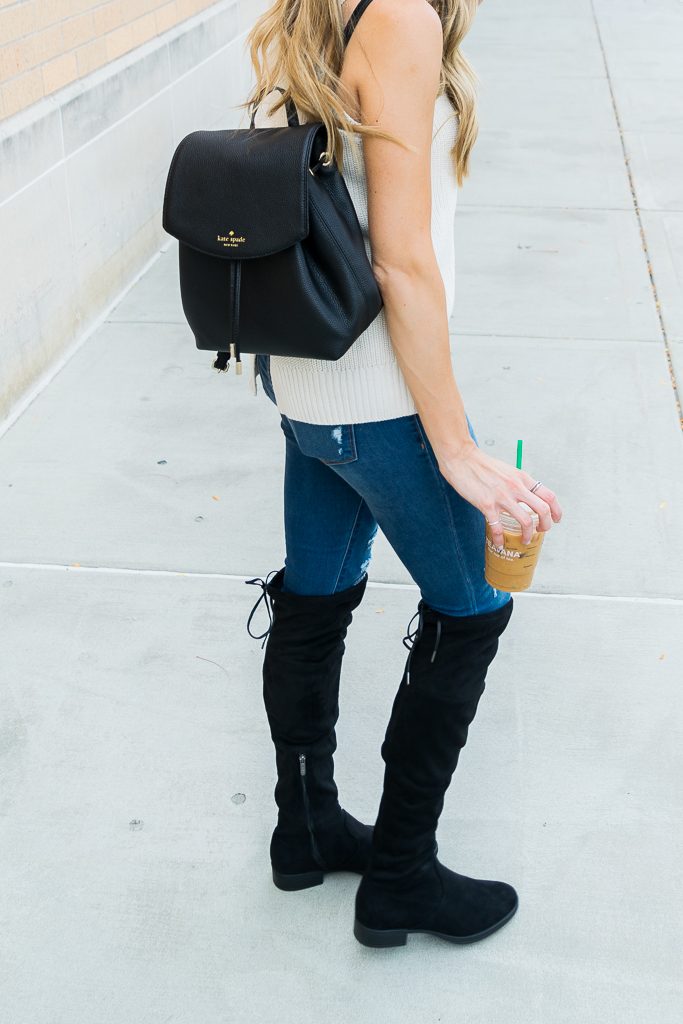 Okay, okay – let's talk about my favorite purchase from the outlets – This adorable black leather Kate Spade backpack!! Eek! I was so excited to find this at the Kate Spade outlet. It was 60% off + 20% off that price, making it just a little over $100. Incredible price for the original price upwards of $400! It's the cutest thing. I have been wanting to get a chic little backpack, and this one couldn't have screamed my name louder. They also had a pretty maroon color for fall and a white one that was even more discounted! I liked the black, naturally. 🙂 You can't beat a classic black leather bag! (See similar option online here and here).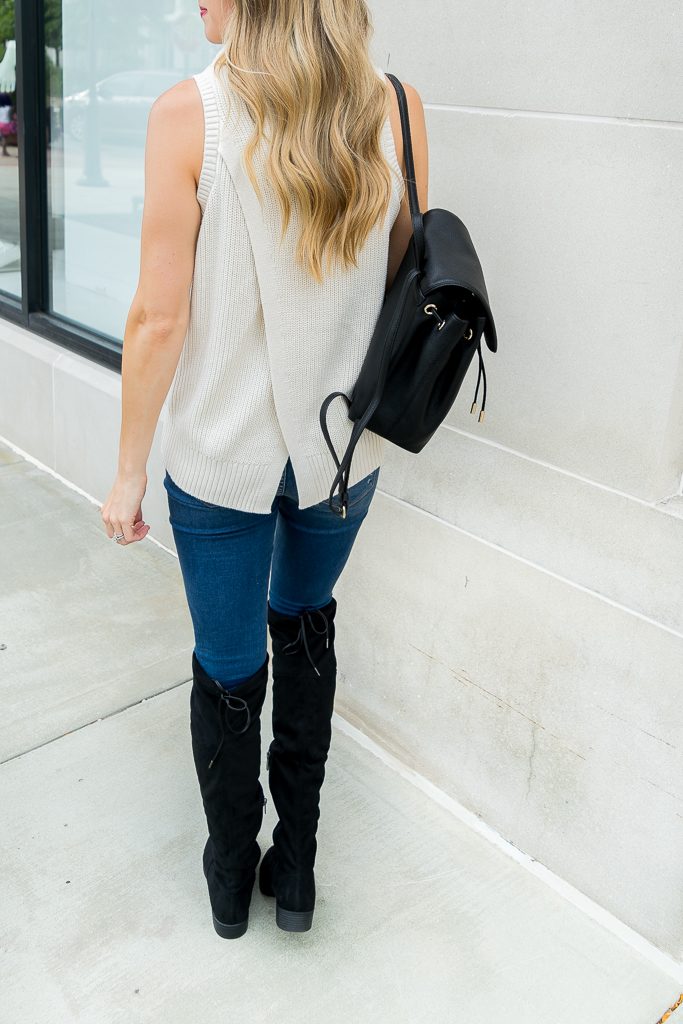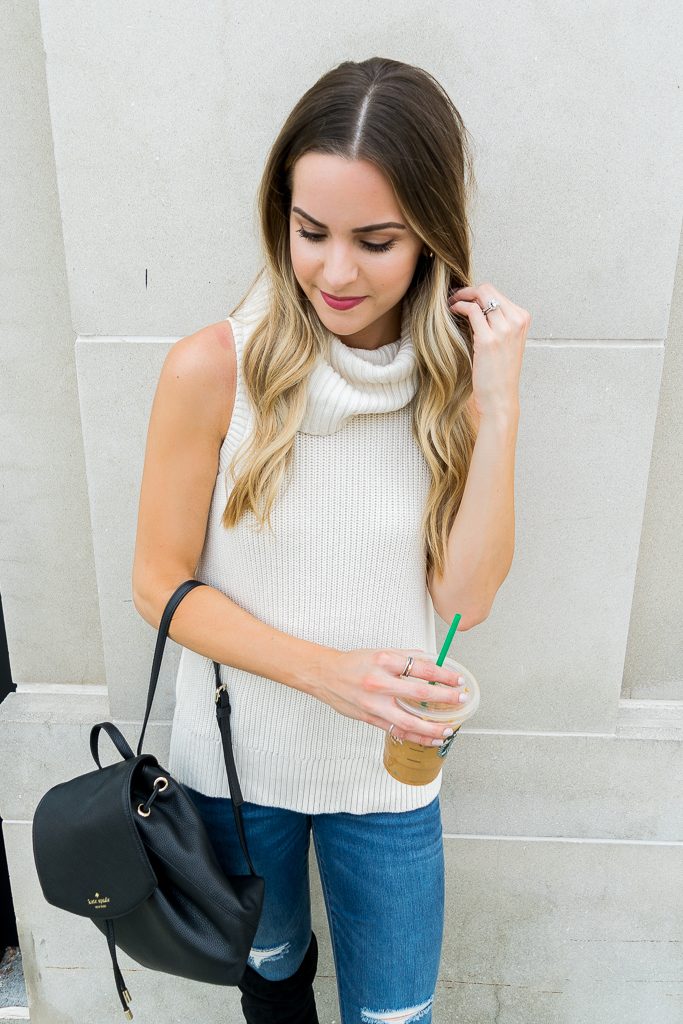 Lip color combo: Liner ("Bright Plum") + Lip Cream ("Stockholm")
---
Looking fashionable for work and play doesn't always have to cost you a pretty penny. So many of these looks are higher end, but majorly discounted at the outlets. You just have to take the time to make the trip and look around (which is half the fun)! 🙂
As always, thanks for stopping by! Have an amazing Sunday – I'm going to do some cleaning around the house and make a little stop to HomeGoods for fall decor… 🙂