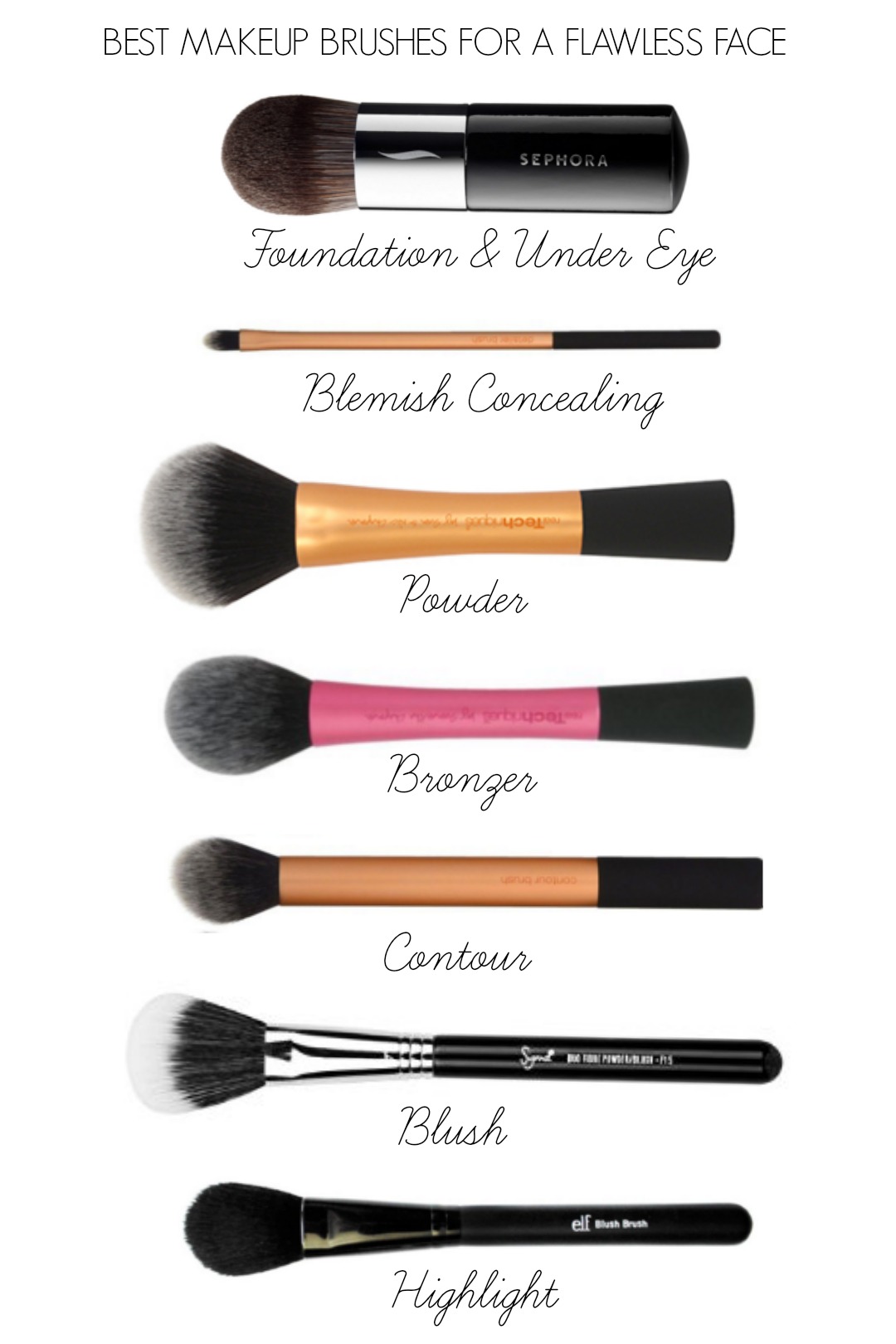 Foundation & Under eye Brush: This brush is amazing for blending liquid foundation/concealer for an airbrushed finish. I have used many different foundation brushes, and this one is by far my favorite, since it doesn't soak up a ton of product, blends seamlessly and is very smooth & gentle on your skin. Worth every penny!
*I also want to mention the Beauty Blender sponge, which is also amazing for liquid foundation and concealer! You get it wet, squeeze out the access water and stipple it onto your skin. This tool also blends beautifully, and allows you to achieve an airbrushed look. I typically will only use this on weekends though, since I feel that it is a little more tedious to use and soaks up more product than the brush.
Blemish Concealing Brush: This is a great detailing brush that really helps conceal any blemishes you may have. It actually comes in a set — the other brushes that come with it are also great!
Powder Brush: The best large, fluffy powder brush for setting your foundation! (This is my favorite powder to set with.)
Bronzer Brush: This brush is actually labeled as a "blush brush", but it's perfect for warming up my face with bronzer.
Contour Brush: This brush comes in the same Core Collection set that the Blemish Concealing Brush is in! This is great for special occasions (or everyday, if you prefer to contour daily) and works really nicely for a very affordable price compared to other contour brushes on the market.
Blush Brush: Allows you to effortlessly achieve a natural, delicate finish with your blush. AKA, helps you not look like a clown. 😉 Excellent quality!
Highlight Brush: The only brush you need to add a subtle highlight to your cheek bones, and it will only cost you $3! This brush is also useful for setting your under eye concealer.
I hoped this was informational to you! I have tried many brushes, both high end and drugstore, and these have lasted me quite a long time and get the job done! 🙂
TIP! — Your brushes will work best when they are clean! Wash them every 2-3 weeks for them to work properly (and not spread dirt and bacteria on your face). I like to wash my brushes with the Beauty Blender Solid Cleanser, but have heard that Dawn Dish Soap also works really well! 🙂
Thank you for reading! Happy Hump Day! xx
SHOP THE POST: