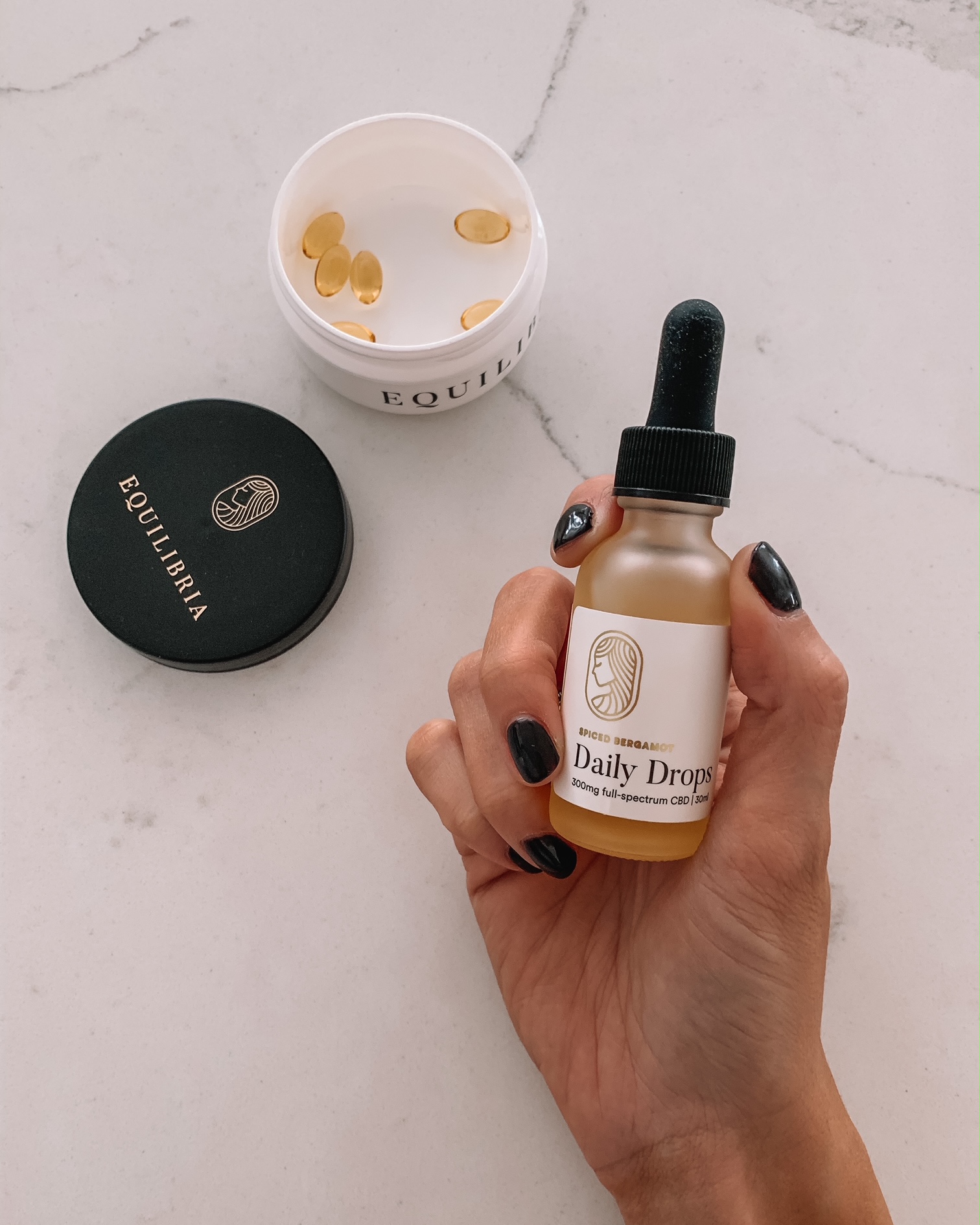 CBD has been in my daily routine for almost a year now (since January 2019), and I recommend it to anyone that struggles with anxiety, stress, and trouble sleeping! It's calming and really helps me get balance in my day! I exclusively use Equilibria for Women CBD, I am going to share some FAQ that I've received via DMs and email for those considering trying it out.
"Are there any side effects or anything like that you've noticed after taking it?" No negative side effects at all! Only thing I notice is that I feel more calm and relaxed.
"What have you used the cream for?" Any aches/pains – and you don't need a lot at all. I specifically have used it for menstrual cramps and my neck since it's been sore from my old pillow and it does help!
"Have you tried any other CBD brands that you like?" I've been super cautious with what I use since I know not all CBD is created equal, so to answer that question, no. Only other kind I have used was a hand/body lotion.
"Does it help with sleep?" Depending on your dosage amount and if you take before bed, absolutely. It helps relax you, so you'd have a clearer mind for falling asleep. The effect is subtle but substantial, like the feeling after having a few sips of wine. I want to note that it doesn't make you sleepy when taking during the day though – if it is, you should lower your dosage.
"I'm paranoid about the drug test part of it…" I wasn't sure about this, so I checked their FAQs and pulled this –
'Every woman's body chemistry is different, so we don't know for sure how your body will metabolize our products. Think of it like consuming alcohol. If a beer is 5% ABV/alcohol by volume (like how our products contain 0.3% THC or less), the amount you consume determines your BAC/blood alcohol level (or in this case, THC level in bloodstream). So the more you ingest, the more likely it will be detected on a test. While it is uncommon for members to test positive given the very low THC content in our products, it is impossible to rule out that possibility. Worried? Grab an over the counter THC test at your local pharmacy to find out for sure'.
"How is the cream compared to the soft gels? Same effect?" The cream more so relieves the specific area applied (great for muscle aches, cramps, and body pains), while the soft gels relax the mind + body.
"How long until you noticed this helping you?" It only took the first use, within 15-45 minutes to notice.
"Can you take it while nursing?" Unfortunately there aren't enough studies out there yet to confirm or deny, so I would check with your doctor/midwife. This also goes for pregnancy, there is not enough studies done, and I believe it's best to hold off post-baby in this case.
"Do you drive after taking it?" Yup! When taking your proper dosage, it shouldn't impair you in any way.
Shop my favorite Equilibria products below – you can use code taylorbrown for 15% off your first purchase. If you subscribe, you will save an additional 20% off!