Happy Hump Day! I was gifted the Fall FabFitFun box to review, and so today I'm giving you the scoop! – what it entails, my review on each product and if I think it's worth the money. I also included coupon codes for most items incase you're interested in purchasing any item individually. 🙂
In the photo above, you see the entire box and a glimpse of everything inside. I love the presentation of everything; and the boxes themselves and unwrapping everything is so fun!
This black & white ModCloth blanket scarf is one of my my favorite things in the whole box. I love the plaid colors, the size and how soft it is. I've worn it a couple of times already, and I am super happy with it! It's large enough to wrap it, belt it or wear it or rock it like a poncho. So versatile! I noticed that some other girls received a different colored blanket scarf, which is neat. I like that the box differentiates just a little bit from box to box! (Enjoy $20 off $100 with code "FFF20" at modcloth.com)
Adult coloring books are all the rage these days, so it was fun to see one of those thrown in here with some colored pencils. 🙂 When's the last time you've colored? Research shows that it's actually super therapeutic!
As an avid coffee drinker, I was excited to receive a new travel mug to add to my collection! And the inspirational message gives you a little ego boost to start your day. 😉 This mug also supports a great cause, which is awesome. The brand, Created Co., donates 10% of their profits to charity to bring clean and safe drinking water to those in need. I'll drink to that! (Enjoy 15% off your order with code "FABFITFUN" at thecreated.co)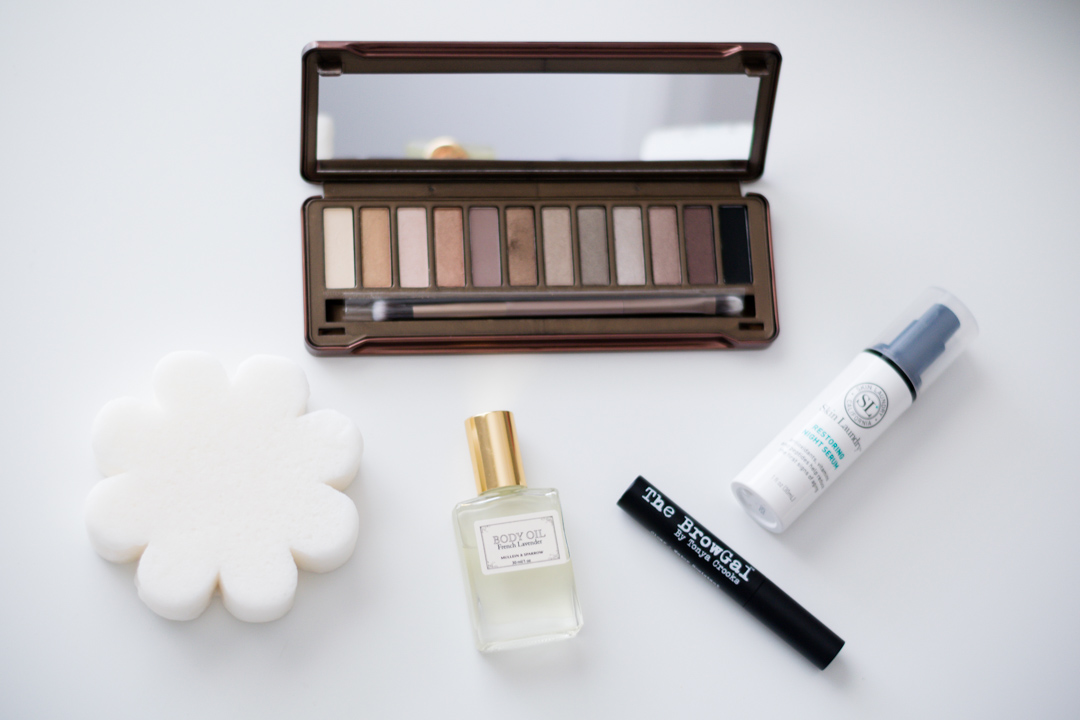 This palette though!!! My favorite thing in the entire box! It's Pure Cosmetics Nude Collection Eyeshadow palette! It's basically an exact dupe to Urban Decay's Naked 2 Palette, which is the only one I don't have (score!). It's incredibly pigmented and has the perfect amount of shimmery and matte colors! (Save 20% off your first order of $30 or more with code "FABFITFUN")
The white flower looking thing is a Spongellé, which is a Bulgarian rose body wash infused buffer! This smells amazing and cleanses & exfoliates so well! My skin feels moisturized and soft afterwards. (Get 30% off at spongelle.com with code "FABFITFUN)
This Mullein & Sparrow French Lavender Body Oil is another big favorite. It smells amazing (similar to the "Aveda" smell) and is used to calm both your skin and your senses. I love putting it on my stress points, like my temples, before bed. Feels like I just left a spa! The packaging mentioned to try putting a small amount in a bath to enjoy the aromatherapy benefits. I really want to try it! (Take 20% off any purchase at mulleinandsparrow.com with code "FFF2016")
If you ever have trouble keeping your eyebrow hairs in place, this eyebrow gel will certainly do the trick! Great dupe for Anastasia Beverly Hill's brow gel.
Night serum's typically cost an arm and a leg because of their anti-aging benefits, so I was really excited to see a full-sized one in this box!! Skin Laundry's Restoring Night Serum contains a powerful combo of antioxidants, vitamins, natural extracts and amino acids to help visibly improve skin texture, firmness and elasticity while you catch some Zzz's! I'm loving this stuff.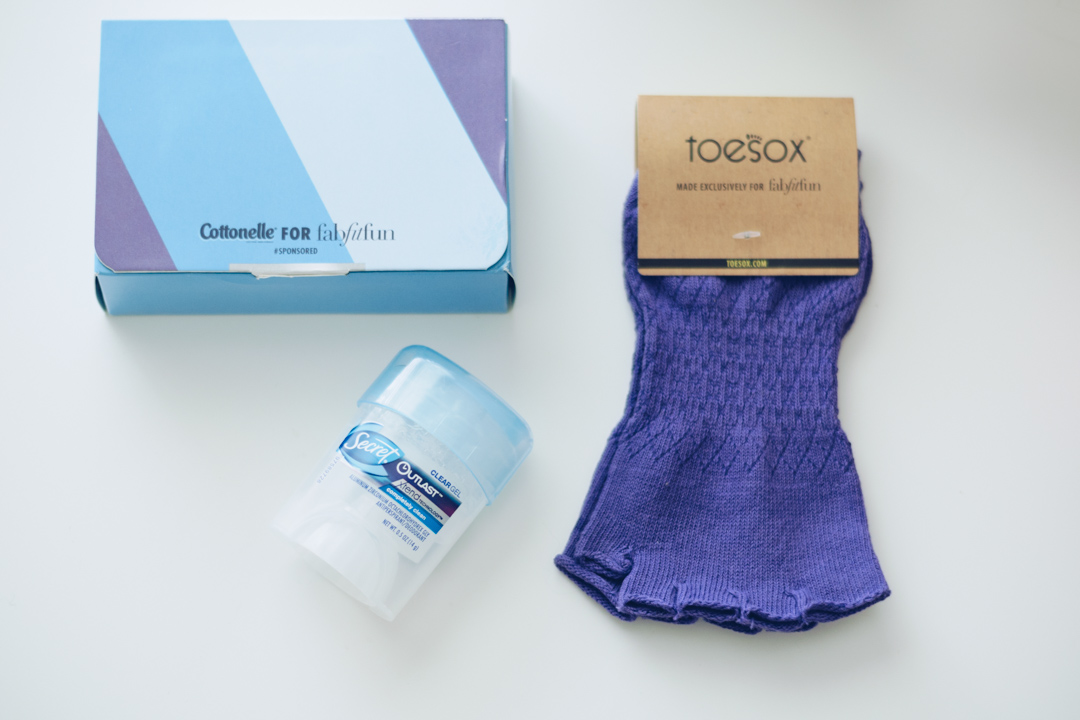 Alright, we are getting a little personal here! If you enjoy a nice clean bum, Cottonelle Fresh Care Flushable Cleansing Cloths are designed to clean better than any other bath tissue. Real talk, we always keep flushable wipes in the bathroom. No shame! Clean and save on TP? Sold.
I like Secret's deodorants, and this one is no exception. They get the job done, and this Outlast Xtend Clear Gel kind prevents getting those pesky deodorant stains on your clothes! The only thing I dot like about it is that it's a bit chilly on your pits when you apply it!
If you're a yoga or pilates girl, you'll enjoy these Toesox Toeless Fitness Socks! They have sticky bottoms to prevent your feet from sliding around. Fun fact: they are made out of organic cotton and BPA-free non-slip soles! (Enjoy 15% off your order at toesox.com with code "FFF16")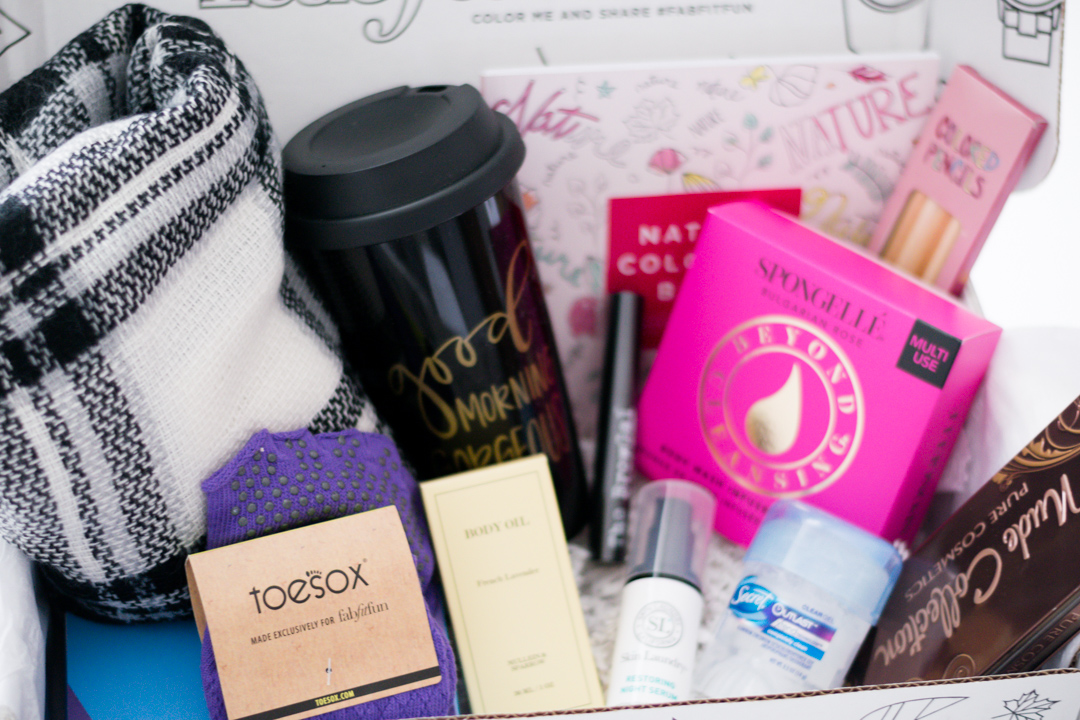 There you have it! I 110% think that this box (filled with $240 of amazing loot) is worth the money. I only received the summer and fall box so far, but I have yet to be disappointed. So much greatness!
If you have any interest in getting this Fall box, use the code 'STYLE10' to get $10 off your first box at www.fabfitfun.com (making it only $40 total!!)
Thanks for stopping by! Have a lovely day, ladies!
xx, Taylor
SHOP THE POST: