It's time to gear up and get those Fall 2016 Wardrobe Essentials ready! I love refreshing my wardrobe and preparing for the colder seasons that are near. 🙂 After much thought of what my absolute essentials are and what I wear the most during this season, I was to able to round up the most essential items that will work for any girl's fall wardrobe!
I typically go for tops that are versatile and that I can layer as the weather cools down. This means neutral, solid colored or striped tops. I am a sucker for stripes, and they are also easily layered! A striped tunic (solid colored tunics are also great), white tee, flannel shirt, chambray shirt and a cozy cowl neck/turtleneck sweater are all you need! Each top works and looks seamlessly under your outerwear pieces. 🙂
As far as bottoms go, invest in a nice pair of dark-wash jeans (just bought these, and they are so comfy!), medium-wash distressed jeans, a comfy black pair stretchy jeans/pants and a "fall" colored pair of pants (like olive or maroon). I own each type of these bottoms, and they get a ton of wear. Not just in the fall or winter, but year-round, too!
Your outerwear will become your second skin in the fall/winter time, especially if you are like me and live in the midwest! My outerwear essentials include a utility jacket (olive, gray or navy), puffer vest (THIS one is my all-time fave), knit cardigan and a leather jacket. All of these are your layering best friends!
Shoes are one of the biggest investments you should make in your closet. You want shoes that are durable and last, are comfortable and keep your tootsies warm! Ankle booties are my favorite to wear during this time, but I also like switching it up with lace-up flats (on warmer days), riding boots and, of course, rain boots for the rain/snow. One of the best parts of spending a little more on your footwear, is that they will last for years to come! My Hunters, Sam Edelman Petty booties and Frye boots are still in tip-top shape, even though I've worn them a thousand times!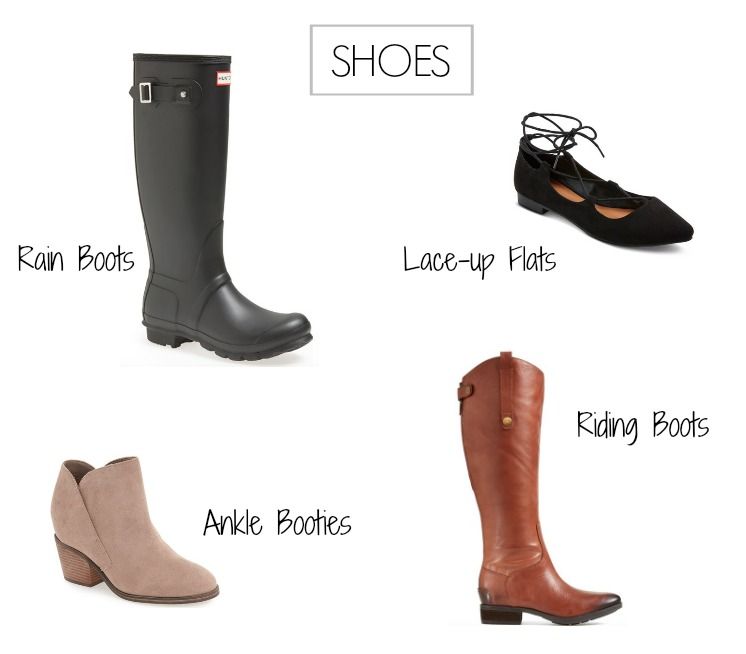 Accessories are the funnest part about styling outfits. They complete your outfit, and can complete transform your look! A felt hat, scarf, pearl studs, and a nice tote (for carrying books, a laptop or work documents) are my fall accessory essentials.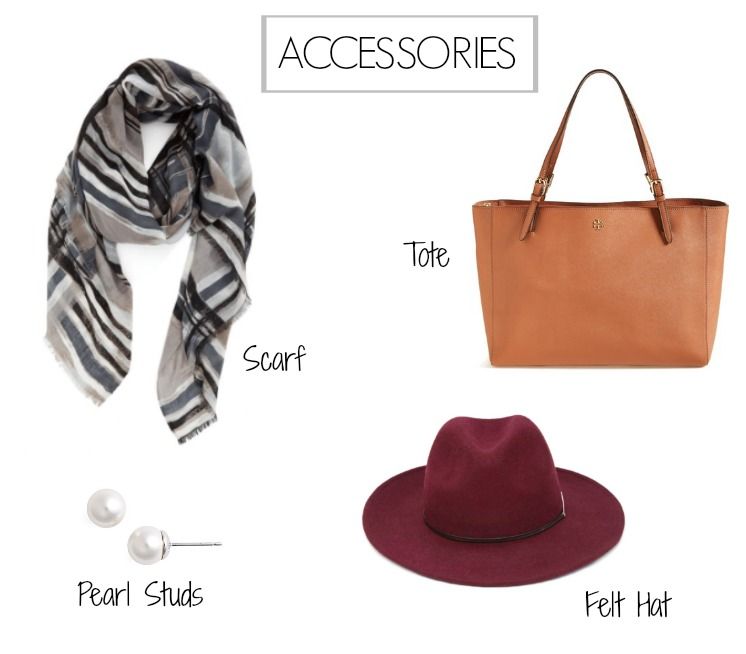 Fall outfits are my absolute favorite to style, and with these fall wardrobe essentials that you can mix & match, you have multiple outfit possibilities!
This weekend was chalk full of errands, shopping and girl time. Tom had one of his best friend's bachelor party, so I had the house to myself! I made some nice, non-rushed trips to Hobby Lobby, HomeGoods, Nordstrom, Trader Joes and Home Depot! I was kind of all over the place, lol! But I found some new pieces for our home (finally a piece of art above our couch!), some new faux flowers for our living room, a planter for the fiddle leaf fig I just bought (super excited about!!), and lots groceries! Running errands with Tom is still enjoyable, but he is usually pulling my arm to leave when I am not done browsing. 😉
On Saturday night, I had some girlfriends over for drinks and games. We grabbed dinner beforehand at one of my new favorite restaurants in the area. It's a sports bar/restaurant kind of vibe with a fun atmosphere. Their menu has just about everything under the sun, and everything I have tried is seriously amazing! And I have already tried a lot of things. Ha! Yesterday, Tom told me all the funny stories from the bachelor party, and we spent the day going for a walk, catching up with Big Brother and relaxing. Pretty standard Sunday!
Tomorrow's the first day of my new job, which is really exciting, but also a bit nerve racking! On that note, I am going to go start meal planning my lunches for the week and picking out my outfit tomorrow. Wish me luck! 😉
xx, Taylor
SHOP THE POST: