I have been getting more and more questions about what nail polishes I use on my fingers/toes on my Instagram (especially ever since Insta Stories began!), so I dug through my huge bin of nail polishes and dug out the few that I actually use… my favorite neutral nail polish. 🙂
On very rare occasions (like weddings), I will get my nails done at the salon, with the exception of 2-3 pedicures during the summer months. But in most cases I do them myself at home, WEEKLY. I am a pinch high maintenance when it comes to chipped nails – I hate them. And I also hate not wearing nail polish… hence me doing them myself weekly, typically on a Thursday night or Friday afternoon so they look pretty for the weekend. 🙂 Toes are a bit easier since the polish lasts longer, so I don't paint my toes weekly (thank heavens).
As you were probably already aware, I really don't go wild and crazy with nail colors, and most often stick to light, neutral colors. Might be boring to some, but I think they look more clean and polished, and they literally go with every outfit! The closest I get to colorful polishes are Essie's 'Bikini So Teeny' and Essie 'French Affair'. So without further ado, here are my neutral nail polish go-to's!
My Favorite Neutral Nail Polish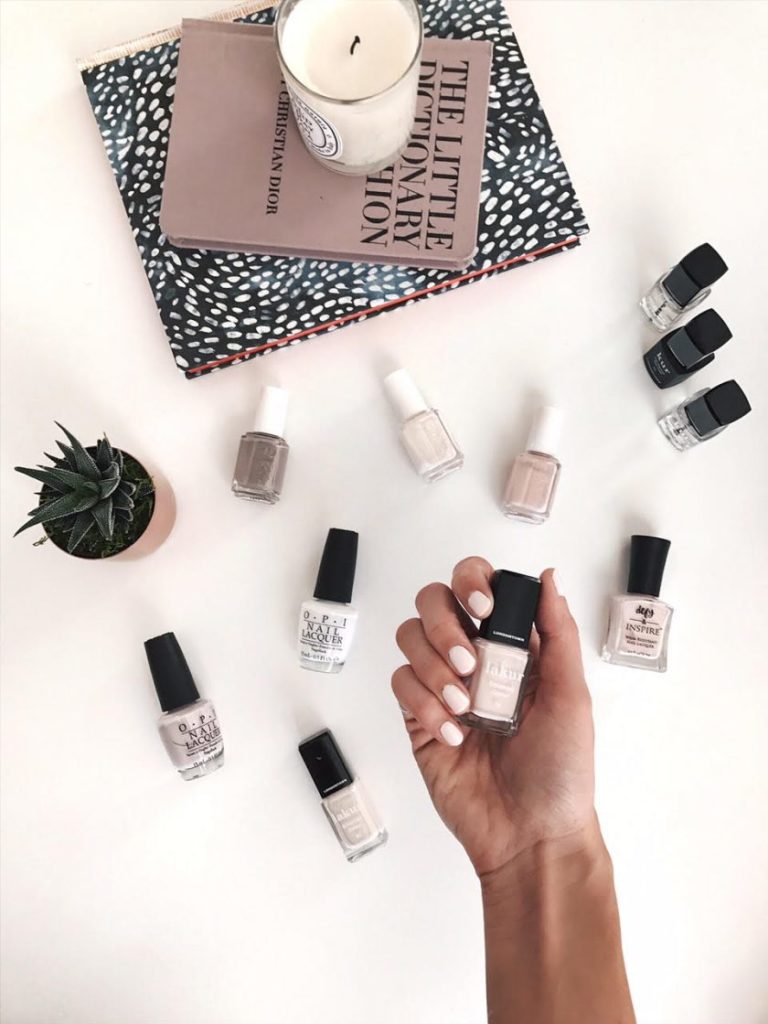 Londontown Lakur in "Bespoked": this is the bottle and shade that I have on my nails above. It's the perfect opaque, pale pink. If you haven't heard of Londontown's nail polishes, there are incredible! Longest lasting nail polish that I've tried – but you must use it with their gel top coat (black polish pictured above).
Londontown Lakur in "Murray Me": Color is described as a french vanilla creme, and I think that was the perfect way to word this shade! It has hints of beige/pale pink, and is also an opaque color. 2 coats does the trick!
OPI "Alpine Snow": The perfect clean, stark white. My favorite white for both summer and winter!
OPI "Don't Bossa Nova Me Around": My favorite darker nude for fall and winter. It has a slight hint of pinkish lavender.
Essie "Chinchilly": Another favorite darker shade for fall/winter! It's a granite gray that's so unique!
Essie "Baby's Breath": A beautiful, powdery-white polish. I love this shade! 3 coats is needed for the most opaque color. If you are getting married, this is a great option for your wedding festivities!
Essie "Topless and Barefoot": If you are an avid Pinterest user, you have probably seen a pin of a girl with the most perfect manicure wearing this shade! It's a soft beige pink and is the perfect light nude.
Defy & Inspire "Dynasty": I love this pale, dusty pink so much! Definitely one of my favorite shades out of all of these IF not my favorite. Hands down. You can find it at Target!
I use Londontown's Nail Hardener & Base Coat first before painting my nails, and top it with Londontown's Gel Top Coat. This top coat is SO good. Everyone thinks I have gel nails because of this stuff, and it comes off well with regular nail polish remover! OH, and if you're anything like me, and can't sit still after painting your nails, Londontown's Smudge Fix is a serious miracle worker on any smudges you get. Smooths out the smudge and your nail is as good as new!
Do you have any go-to nail polishes that you repurchase over and over again? I want to hear about it! Let me know in the comments below so I can add it to my cart. 🙂 Have an amazing weekend! We are headed north for Tom's cousin's wedding on Saturday, and then we are celebrating our dad's on Sunday. Yay!