This post was written in partnership with QVC. I have been compensated for this post, and as always, all selections and opinions my own!
You guys know my LOVE for QVC and their awesome deals, so I couldn't not set up a gift guide for some of the best selling and most sought after items on QVC! I'm hoping to save you a few dollars on your holiday shopping, since MANY of these best of QVC items are currently on sale for a limited time!! Whether you are checking off gifts for your spouse, family members, friends, or yourself, there is something for everyone in this gift guide!
If you are first-time QVC shopper, you can use code TAKE10 for an additional $10 off your order!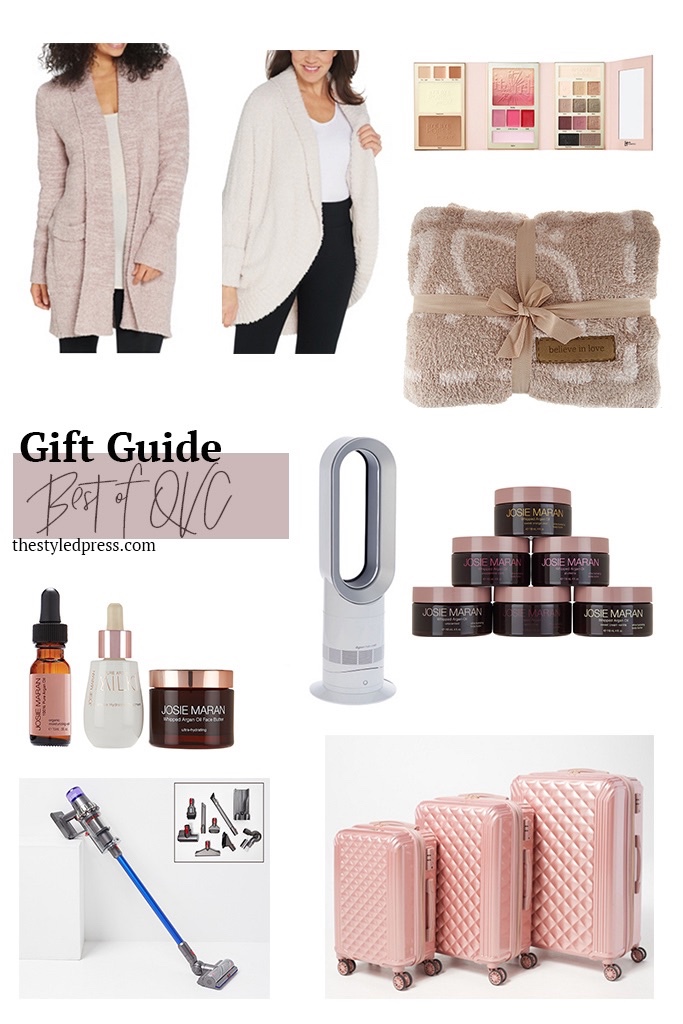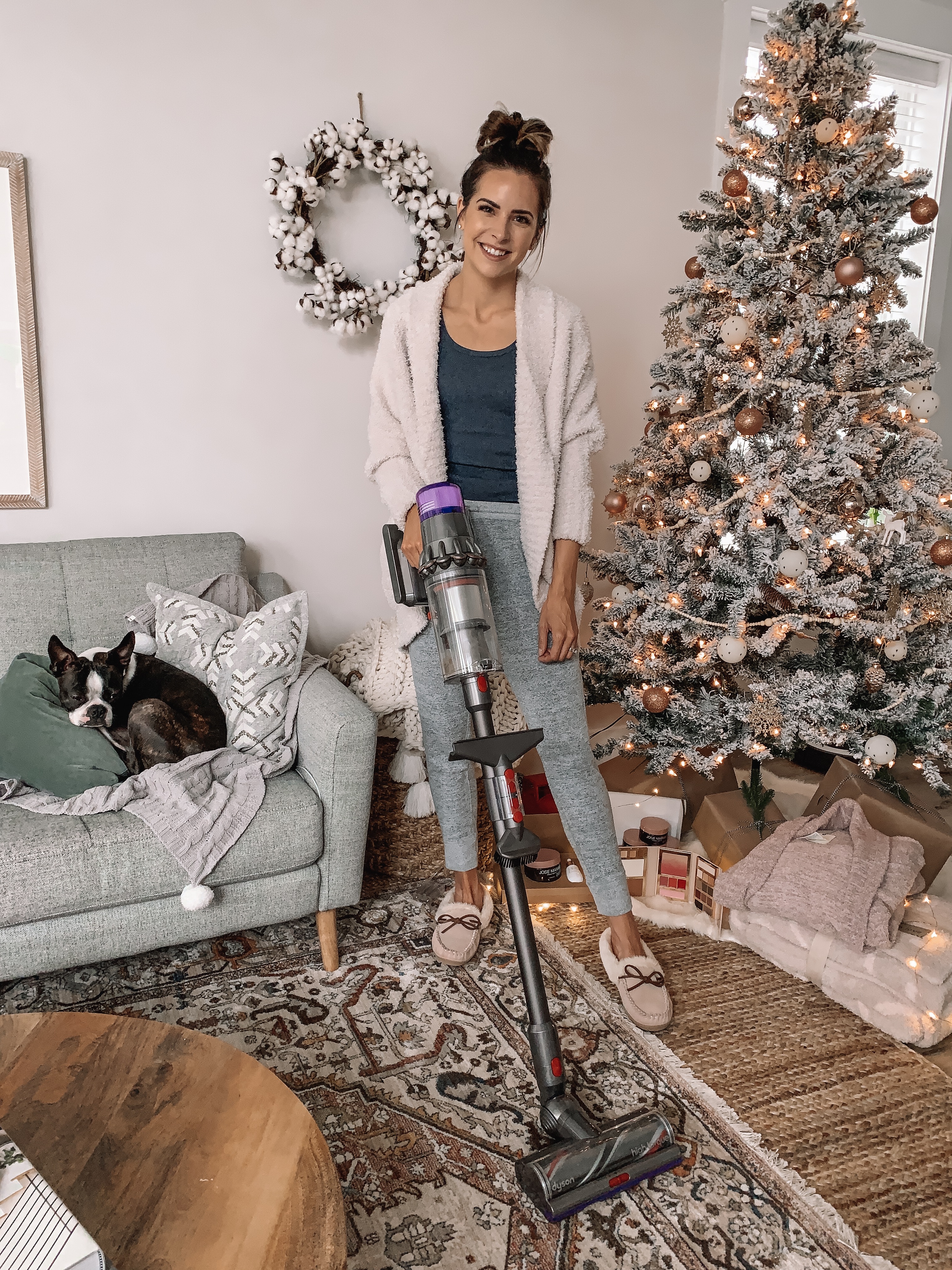 I'm starting with my FAVORITE gift in this gift guide, because I'm that excited about it!! This was one item I had on my own Christmas wish list, and honestly wish we would have ordered it sooner! It's amazing!! Tom and I have been using it almost daily since getting it a couple of weeks ago, and we can't stop saying how awesome it is and how well it works. Our favorite feature is the cordless feature, and the suction power is so good. Comes with 7 different parts, and the charging system is super handy, too. It's pricey, but honestly the best vacuum ever. Plus, there has never been a better time to order, as it's currently $100 off: $599 (originally $699)!!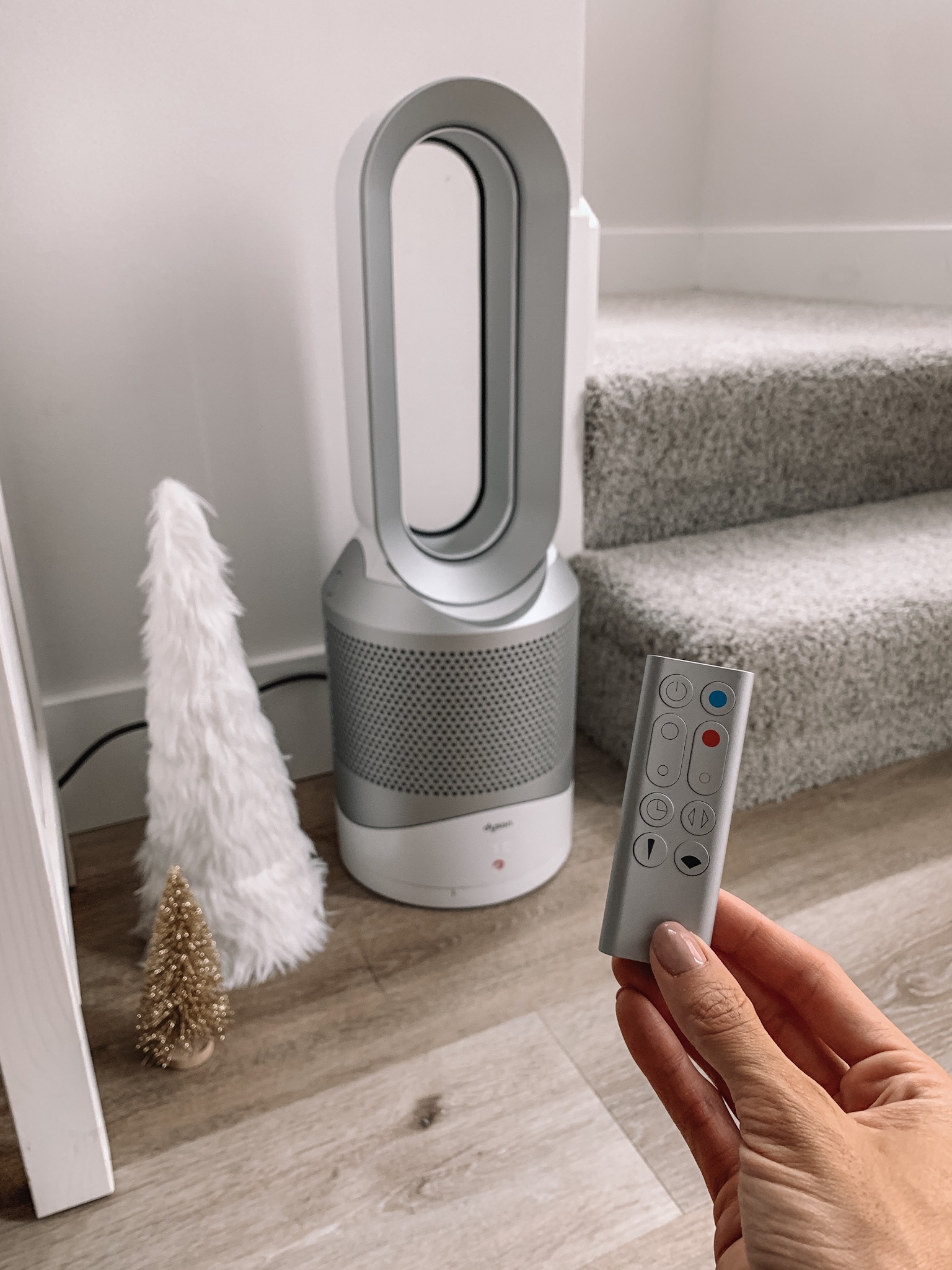 Anther hot ticket "adulting" item that I am thrilled about! This has been a life saver for us once the temps dropped, because in our rental, our main floor does not heat up nearly as well as our upstairs where all of our bedrooms and my office are, so our main floor was always a little chilly until we brought this bad boy in! I love that it's bladeless, making it extra safe for families with littles like ours, and that it also has a cool setting, that will make our home comfortable all year long! Also, it's quite aesthetically pleasing, compared to most fans! Current Price: $449.98.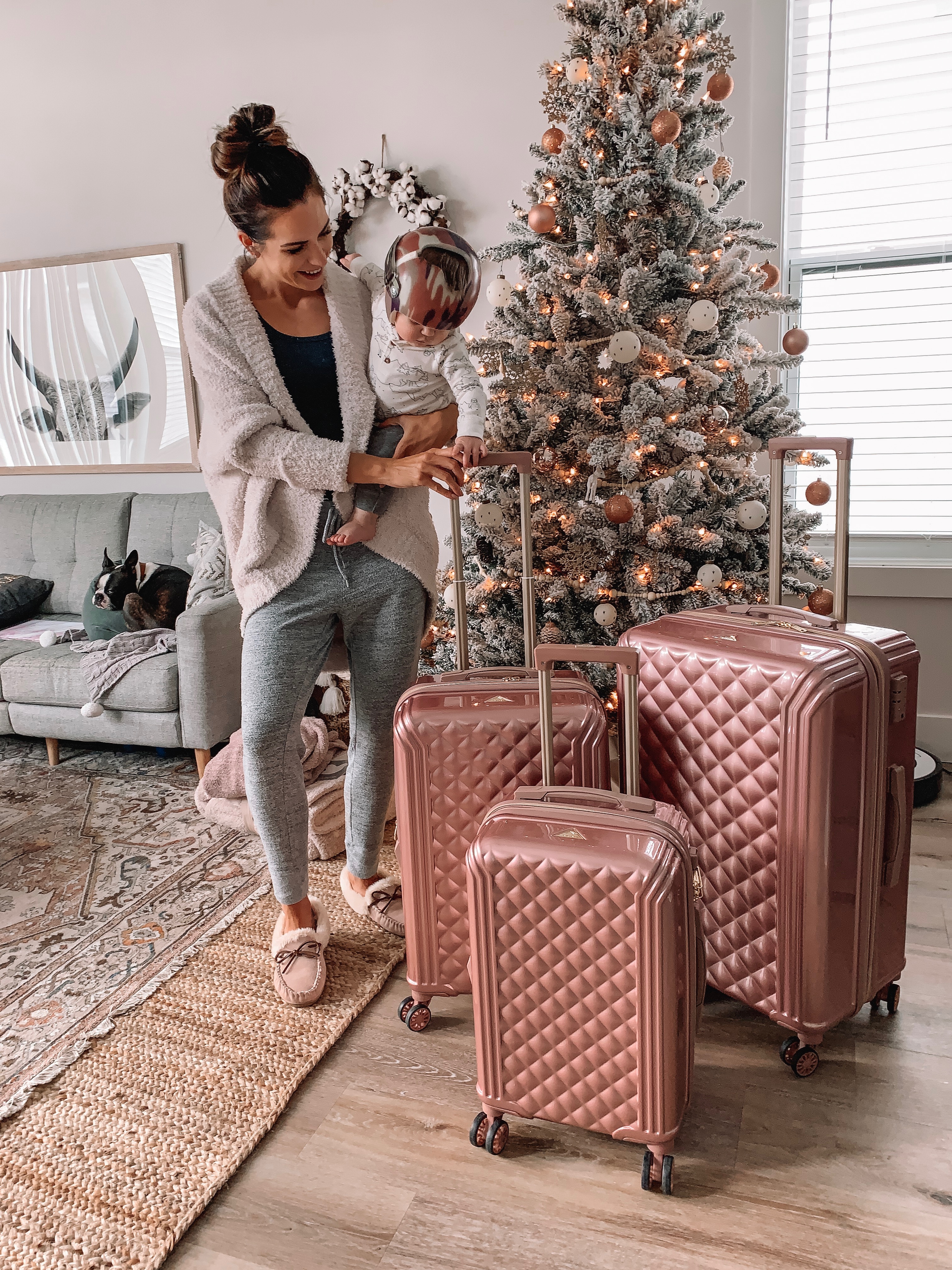 In need of some new luggage, or know someone who is? There is a crazy deal on this great set of 3 spinner suitcases by Triforce!! There are 6 different color options that are all super pretty and very functional. It includes a garment bag, shoe bag, and nice organization inside, a TSA-approved combination lock, expandable main compartment, adjustable trolley handles, and comes with a 5 year warranty. Plus, if you haven't had luggage with the spinner wheels, your life is about to change, haha I will never go back to non-spinner suitcase wheels! Current Price: ON SALE for just $184 (normally $242)!!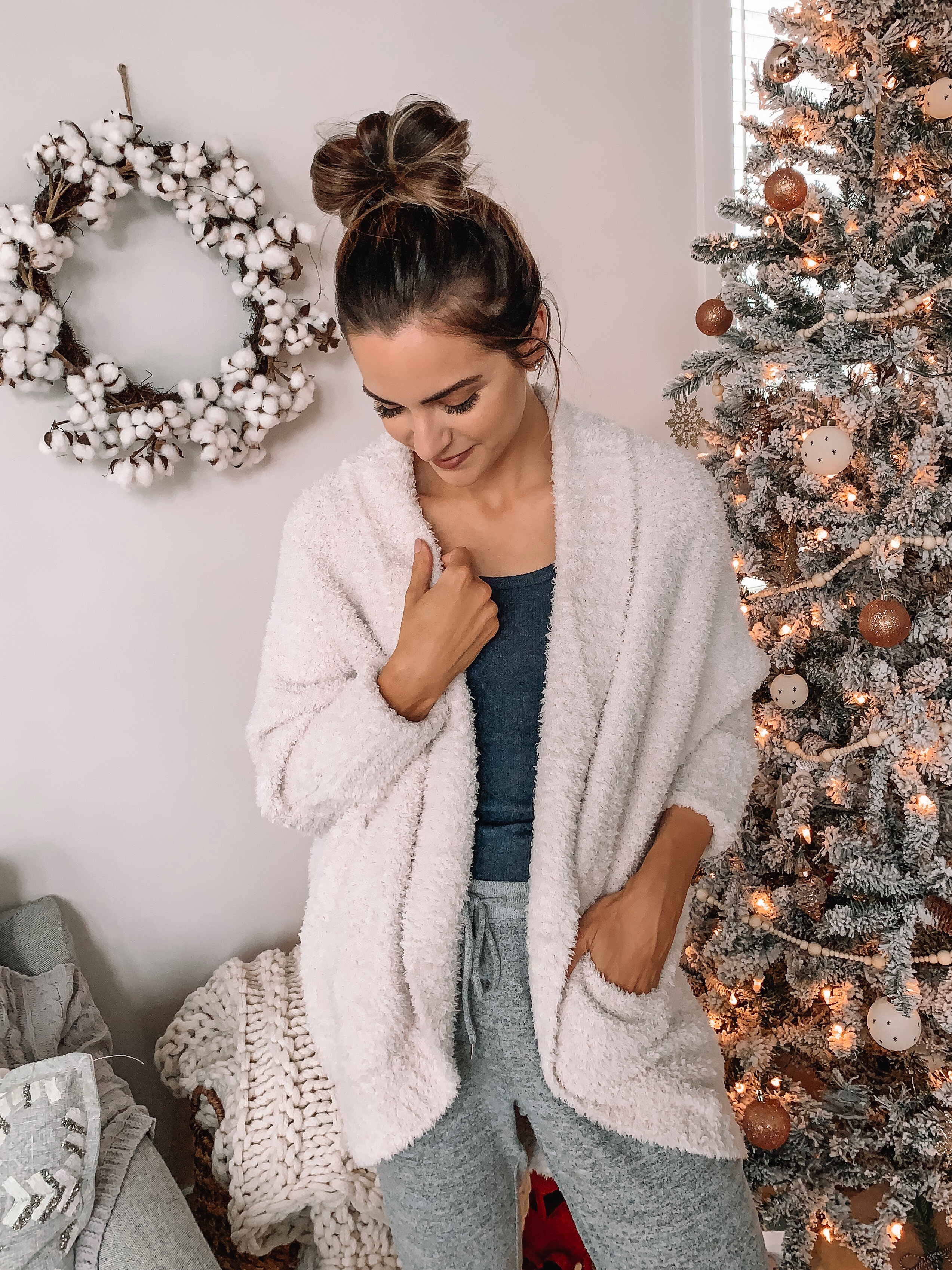 You didn't think I was going to get through this whole gift guide without Barefoot Dreams, did you?! A cult favorite and personal favorite brand of mine, so I actually have 3 Barefoot Dreams items in this gift guide. 😉 This CozyChic Cocoon Cardi is the newest member in my Barefoot Dreams family, and I am not disappointed! I love the shape of this one, the 3/4 sleeves, and the big pockets! This one is super cozy and warm, so a great one for winter! (True to size, I have a size small in the almond color). Current Price: $130.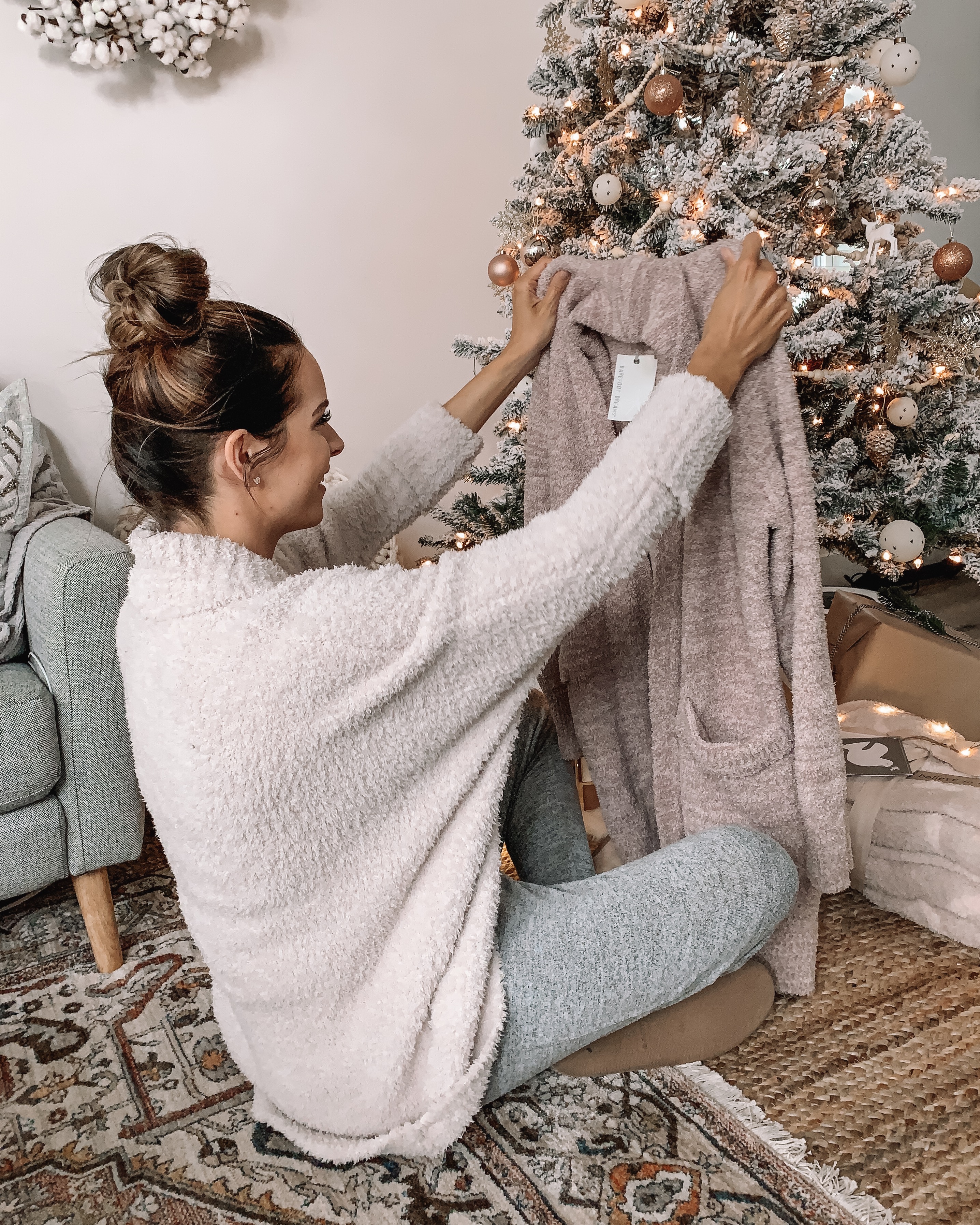 This is hands down one of my favorite Barefoot Dreams pieces I own! I have owned the Dove Grey color for over a year now, and I wear it around the house (typically once I get out of bed, when I get into my pajamas, or when vegging around the house). It's the coziest cardi! I'm looking forward to gifting this vintage rose colored one to someone special on my list this year! True to size, I have a size small. Current Price: ON SALE $74.98.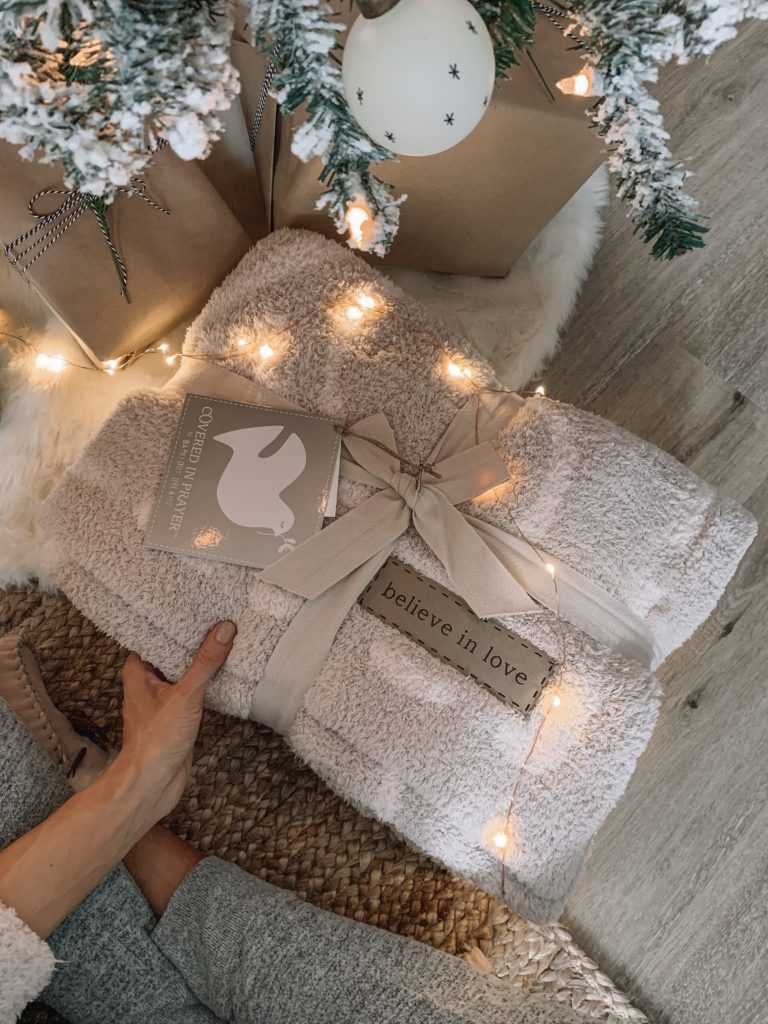 A Barefoot Dreams throw blanket is truly a crowd pleaser that you can never go wrong with; hands down my favorite blanket to cuddle up with at home. I love this special edition throw that is covered in prayer – there are 5 different prayer blankets that would make for a very generous and thoughtful gift. The price is steeper, but perhaps you could go in on this gift for someone special needing a prayer, or treat your family to it this holiday season! They wash very well and are super high quality (and large)! Current Price: $250.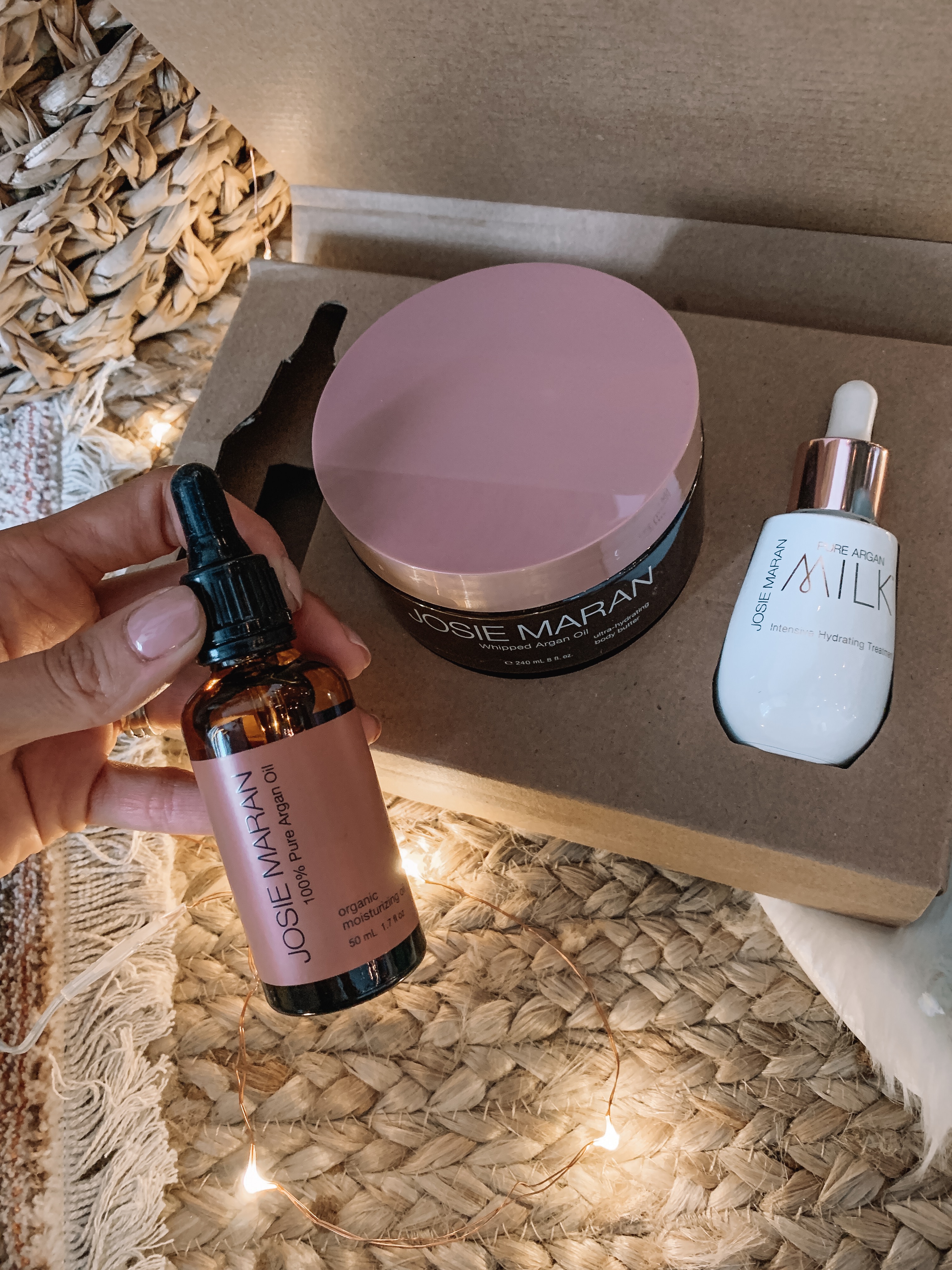 Don't miss this awesome value on 3 of Josie Maran's customer favorite products!! I have personally tried and loved all 3 of these products. Josie Maran makes some amazing skincare, especially for those with drier skin. This 3 piece set comes with her #1 best selling Argan Oil (nourishes, conditions and heals skin), Argan Milk (Intensive Hydrating Treatment) and Whipped Argan Oil Body Butter (my favorite body butter for the winter season)! Current Price: $109.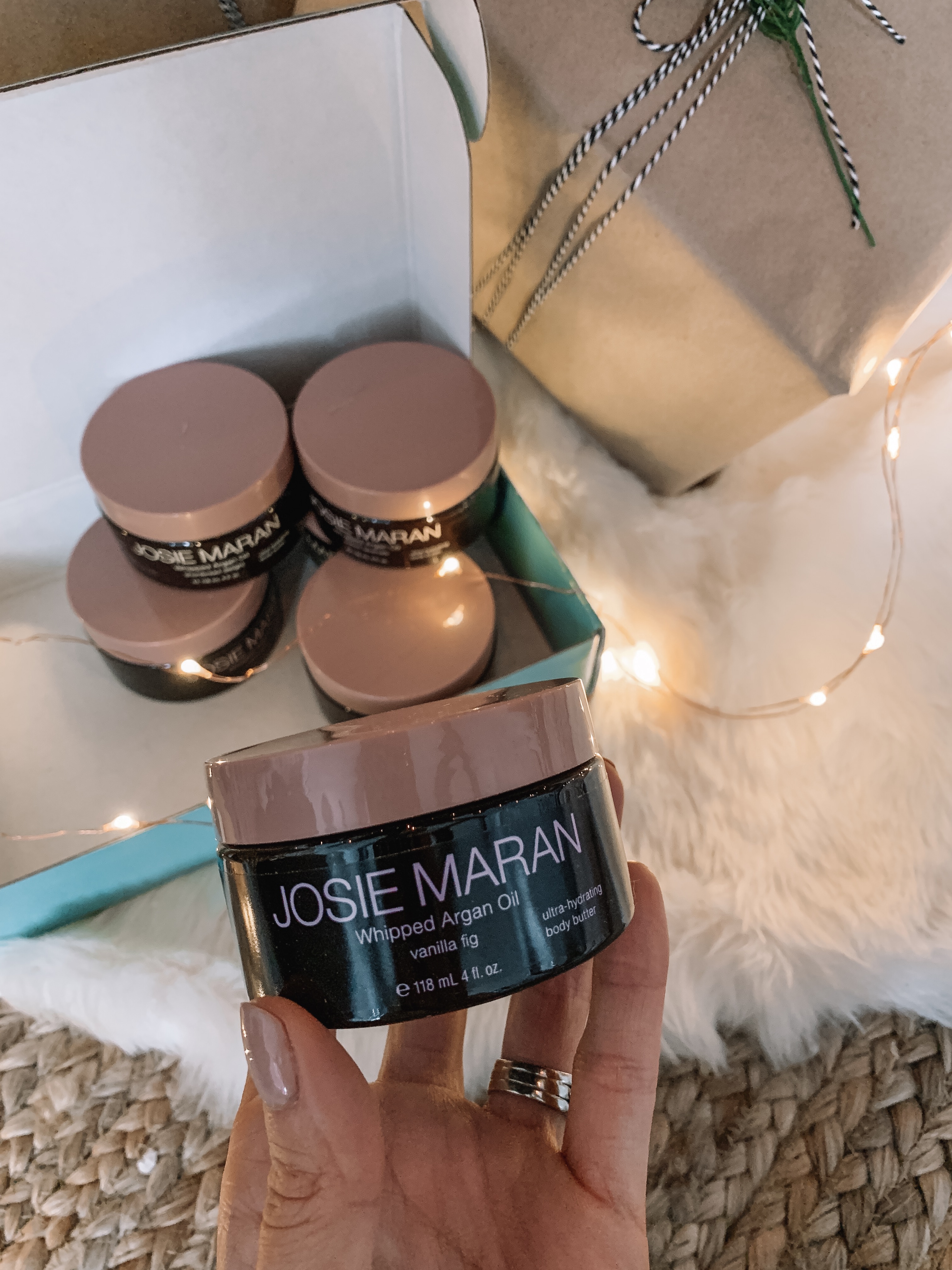 If you have not yet tried Josie Maran's Whipped Argan Oil Body Butters, they are heavenly! I first tried them about 3 years ago and haven't looked back- easily my favorite body butter for the winter season when my skin is most dry. They are super hydrating, not greasy, smell wonderful and have argan oil (soo many skin-loving benefits with this ingredient)! This set comes with 6 body butters, so you can easily knock out 6 different stocking stuffers/small gifts to 6 different people! Or maybe 5 different people, and keep one for yourself. 🙂 Current Price: $59.96.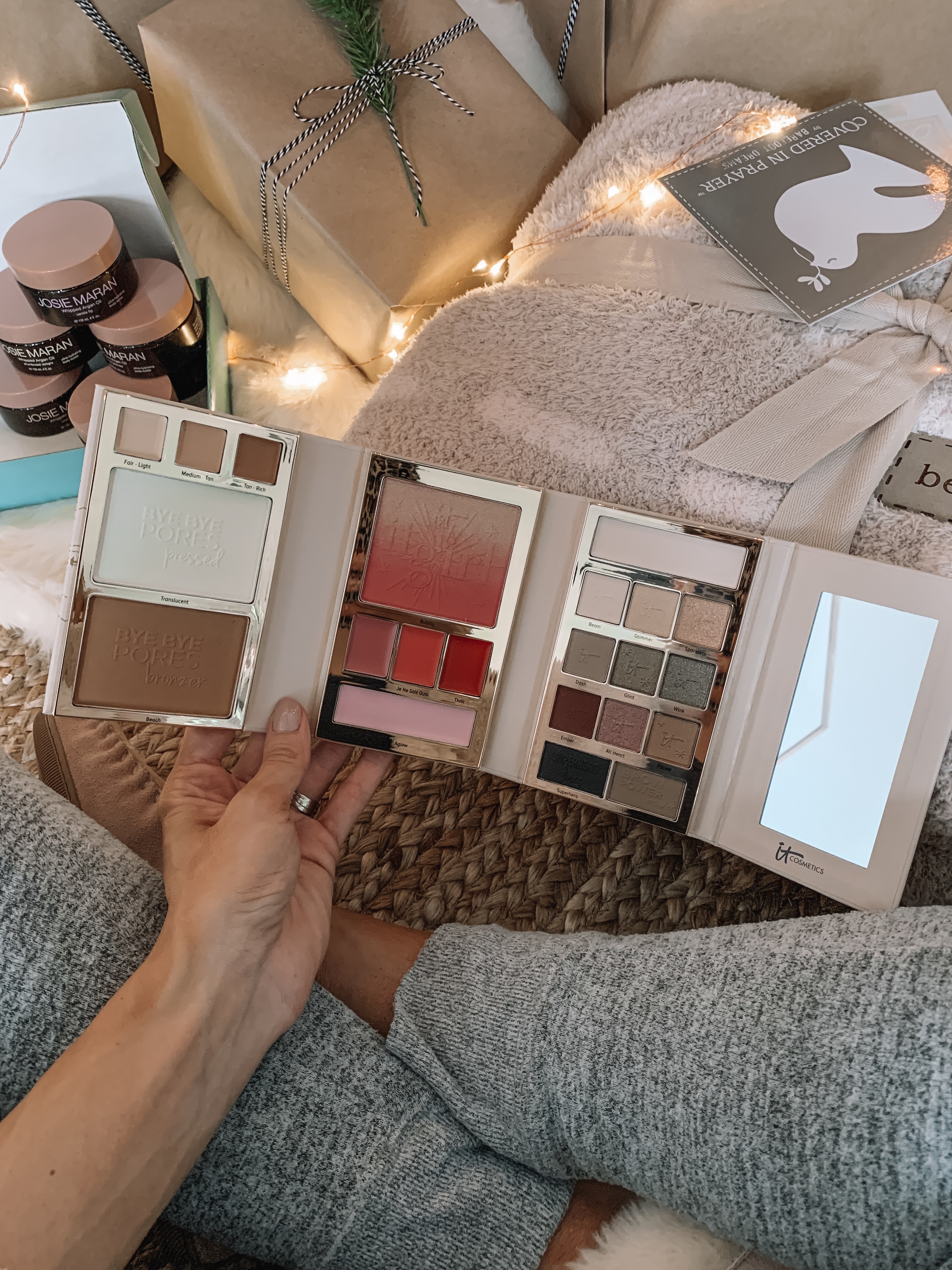 This one is for all of the beauty lovers on your holiday list this season! I love the brand IT Cosmetics for makeup, and they have a special edition holiday beauty book that includes EVERYTHING you need for a full face of makeup: concealer, face powder, bronzer, blush, highlighter, eyeshadows, eye liner powder, eyebrow powder, and lip colors!! PLUS a mirror! 5 items are full-sized too, so you're getting so much value with this set. On sale right now for $49.98, normally $55!!
Were you able to cross anyone off your list, or add to your own? I hope this gift guide was helpful!! QVC is one of my favorite gift destinations because of their great prices. Happy shopping!