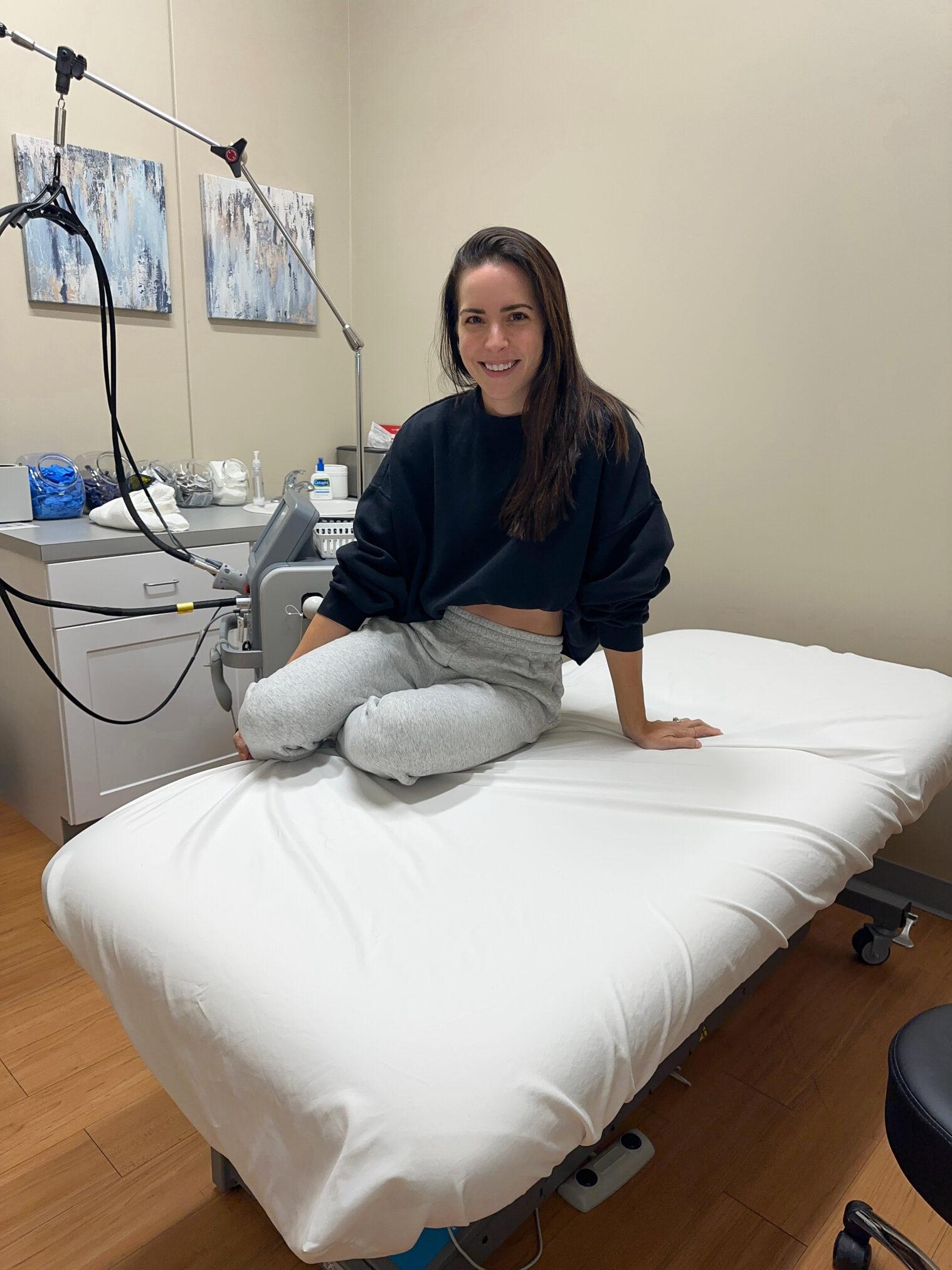 If you've been following along on Instagram stories, you'll know that I started doing laser hair removal on my upper lip, chin, legs, underarms and Brazilian at Milan Laser at the end of the summer! To put it short, its been one of the BEST things I've ever done for myself! I have had about 6 sessions on my upper lip and chin, and 4 on my legs and Brazilian, and I'm finishing my underarms (that I started a few years ago and never completed for full permanent hair removal). So far, and I've already noticed a huge reduction in hair growth in these areas!
I did a question box on IG to see what questions you guys had, which I'm answering below:
Q: What made you decide you wanted to get laser hair removal?
A: I am a pretty hairy person with dark, thick hair, so I have never been one of those people who would forget to shave before going to the pool without realizing it- it has always been top of mind, haha. I was shaving everyday in these areas, and often struggling with razor bumps and ingrown hairs because of it. Not only was it a pain point and something I was always insecure about, but I started realizing that I was spending SO much of my life keeping up with it (especially after kids since your free time is so limited!). My upper lip and chin were the biggest insecurity since it was on my face, so I invested in that at Milan Laser first. I never dealt with hair growth in these areas until after I had Fritz, so I can thank my hormones for that. It was getting so bad that I would spend 30 minutes in the bathroom in front of the mirror each night just tweezing as many hairs as I could get, which would also lead to some scarring from stubborn hairs I just had to dig up and get. Shaving wasn't cutting it anymore since you could see the hair through my skin, even freshly shaved. Last summer, I decided it was finally time to do something about it and get some of my precious time back and clear up my skin! After a few sessions on my face, I added on more body areas: my underarms (finishing these sessions that I started years ago before I had Keldon), upper and lower legs, and Brazilian. The legs and Brazilian are going to be such a game changer for me this summer!
Q: Why did you choose Milan Laser?
A: I hopped on Google and started looking up places near me with a good reputation that offered laser hair removal with top of the line lasers and raving reviews. I landed on Milan Laser, and set up my free consultation. The free consultation was really nice, because I could learn more about how Milan Laser operates, their packages and prices, and I could explain what I personally was dealing with and wanted help with. The staff was super professional, straight forward and kind. I want to also note that I had this consultation and started my treatments prior to growing my relationship with Milan Laser and working together. I knew already how amazing they were, and I was thrilled when they reached out to see if I had interest in sharing my in-depth experience as I go through these laser hair removal treatments.
Q: Does it hurt?
A: I compare the pain to a rubber band snapping your skin- however, some areas are more sensitive than others! Out of all the areas I am getting treated, the front part of the Brazilian is the most painful to me where I squeeze one of their stress balls, lol. But it's so worth it and so quick! 10-15 minutes on the Brazilian maybe? And honestly gets better each session, since there are less hairs to zap each time. The other areas are a piece of cake to me. In fact when they are treating my legs, I am scrolling my email/IG! A little nugget of info that might be helpful though, is that I basically fainted when I got my first (and last) Brazilian wax for our honey moon. I would get laser a million times over waxing!! And waxing isn't permanent!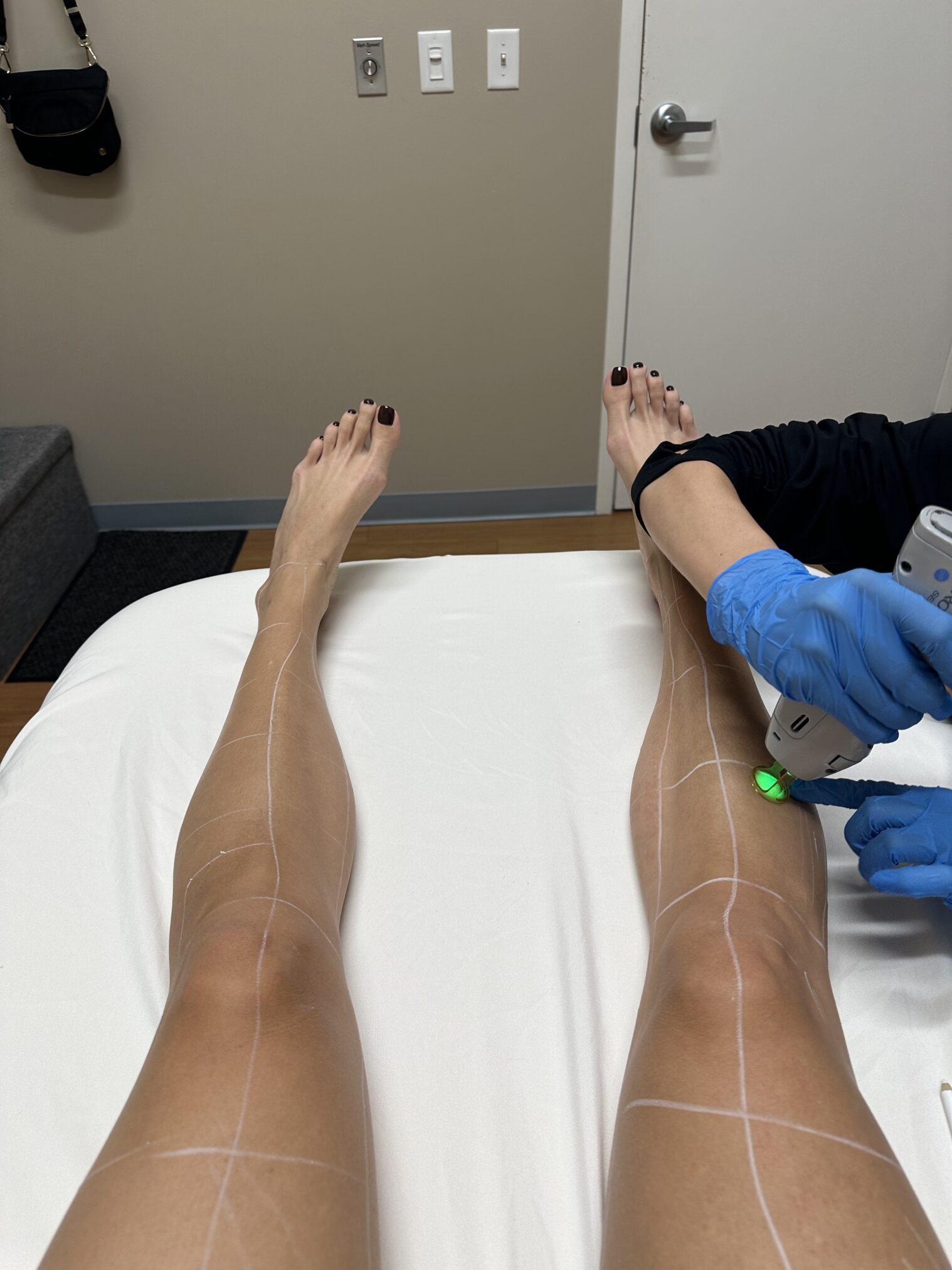 Q: How permanent is it / is there any long term upkeep?
A: The hair is gone foreverrrr! Most people that go to Milan Laser are 95-100% hair-free in treated areas in 7-10 sessions. Hormones, pregnancy and the odd stubborn hair that just won't quit, is why they have their Unlimited Package with every purchase—so you never pay touch-up fees or need to buy additional sessions. The unlimited package was one of the things that sold me. The price was fair, and I love the lifetime coverage! Especially since my upper lip and chin are hormonal areas that can be more stubborn.
Q: Is laser hair removal safe?
A: Milan Laser uses the safest laser in the industry, and all of their treatment providers are Authorized Candela Practitioners who have been extensively trained by Independent Candela Trainers and are supervised by medical doctors. Their comprehensive training touches on everything from laser physics to medical conditions affecting hair growth, so you can rest assured that you're in good hands with them!
Q: Approximate cost? Do you have to pay per session?
A: This will vary based on the treated area(s) and any current promotions available to you (you can get 60% off any body area, excluding the full body package, with code TAYMBROWN60), but to give you an idea, I paid around $3k for unlimited treatments on my upper lip in chin. An investment for sure, but well worth it in my opinion to get my time, clear skin (no more ingrown hairs/scarring from picking) and more confidence back! Milan Laser also offers payment plans, and payments can be as low as $29 a month with their 24-month 0% APR payment plans. I love that they have unlimited packages so that you aren't paying per session!
Q: Does your 60% off promo code work for Milan Laser locations in other states?
A: Yes!! There are 260+ Milan Laser locations. 🙂 Promo code is TAYMBROWN60.
Q: Can you shave between treatments? Do you have to do anything to prepare prior?
A: Yes! In fact, you're supposed to shave right before your treatment, unlike waxing. Keep the treated areas out of sun exposure for at least one month, and free of self tanner (I typically stop applying self tanner on my legs 2 weeks prior to give enough time to exfoliate all tanner off my skin before my treatment). Come in for your treatment with clean skin (no lotion or makeup).
Q: How long does each session take? How often do you have to go?
A: It's so quick! In my experience, upper lip/chin a few minutes, under arms 5-8, legs around 30-40, Brazilian about 10-15. Treatments are scheduled every 5-6 weeks. You can schedule them out farther if you wish, it will just slow the timeline of getting full, permanent hair removal.
Q: Does the laser take out the hair or just make it stop growing?
A: Both, technically! It doesn't pull the hair out instantly like waxing does, but after 7-10 days you will start to shed the hair off. It's so satisfying, haha! And the hair will stop growing. 🙂
Q: Does your hair (in the treated areas) have to be dark? I am light brown/dark blonde. / Can my skin tone be darker to be treated?
A: From their website: Our lasers usually do, but the best way to determine if it will work for you is to come in for a free consultation. If your hair is too light to work, we will let you know. Our #1 priority is customer satisfaction, so we absolutely will not sell you laser hair removal if it won't produce absolutely stellar results!
Blondes: Laser hair removal will work on most people with blonde hair as long as the hair isn't "bleach blonde" or "platinum" in color.
Reds: It will frequently work on red hair as long as there is some pigment for the laser to capture.
Gray: Gray hair is, well, a gray area! We would have to see your hair to determine exactly how much pigment is left for the laser to target. This can be determined during your consultation.
Our laser hair removal works on all skin tones. Some hair removal methods are limited to light skin tones. But our laser is precise enough to target the hair follicle, and eliminate hair at the root without damaging your skin. Even the darkest of skin tones can be treated.
Take this quick quiz on Milan Laser's website to see if you are a good candidate for laser hair removal!
Q: Do you know what type of laser Milan Laser uses?
A: They use the Candela GentleMax Pro for all treatments. This dual-wavelength laser combines Alexandrite and Nd: YAG laser technology into one machine, making it easy and safe to treat all skin tones. Additionally, the built-in cryogen cooling spray protects the skin and makes treatments less painful than waxing.
Q: When you say you're at 50% upper lip now, is it is it like sparse or a little weird looking for a while?
A: Just less hair/sparse! Not weird looking at all. And there is no down time. You might have a little bit of redness and some raised bumps where the hair follicles are in the treated areas for a little while which happens to me on my legs and Brazilian for about 30 minutes, but that's all.
Q: Is the bikini area awkward?
A: When it comes to going to the gyno/waxer/laser technician, It always makes me feel less awkward about it knowing these professionals do it all the time! It might seem a little weird being half naked and them getting to business with bright lights lol, but its nothing they haven't seen or done before. And it is so brief, and so worth it.
Let me know if you guys have any additional questions! To sum it up, I 10/10 recommend laser hair removal at Milan Laser!
-T