It's FINALLY here!!! The best (literally, the best) sale of the year – The Nordstrom Anniversary Sale! BRAND NEW arrivals at majorly discounted prices. Not to mention, so many of my favorite brands, including BP., Lush, Vince Camuto, Tory Burch, Rebecca Minkoff, etc.! Up until this day, I have been really anxious and excited for this sale to begin. One, because it's just a damn good sale and I'm all about saving some $ on things I'd end up buying later on anyway. Two, because things sell out, and they sell out fast. Rest assured that many will be restocked, but the early bird really does get the worm here! So to save you tons and tons of time (and let's be honest, anxiety from trying to rush to get your order placed before it sells out, lol!) clicking and scrolling through hundreds of pages of sale items, I have sorted out all of my Nordstrom Anniversary Sale favorites of 2017 for you!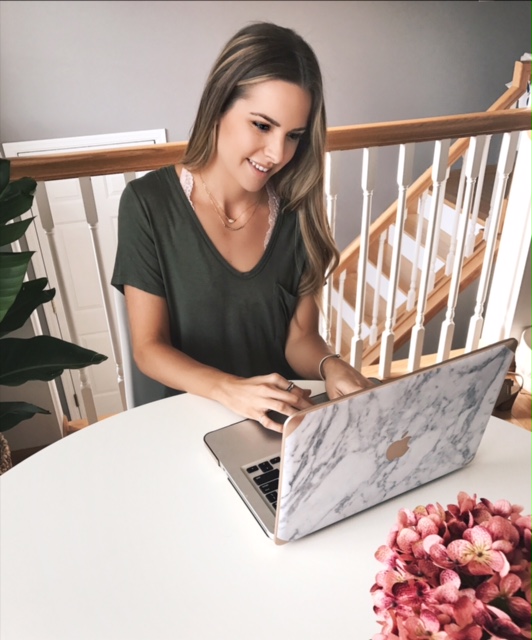 This V-neck Tee I'm wearing was one of the top THREE selling items of the Nordstrom Anniversary Sale last year! I still wear it all the time.
---
The pieces in the sale this year are better than ever in my opinion – so #treatyoself, and give yourself a piece of mind that these are pieces that you are investing in for the seasons ahead. All prices will go back up on August 7th! If you are worried about sizing, you shouldn't be! Nordstrom's sizing guide on each item is super accurate. If between sizes, order both, and return the one you don't keep! Nordstrom always has free shipping AND free returns, so take advantage! Your package will include a pre-printed shipping label that you just need to slap on your box and drop off in your mailbox/post office. Super easy. Not to mention, I will be trying on items I purchase online and items in-store in the Nordstrom dressing room to review for you guys (on my Instagram/Insta Stories and my blog), so I will be sure to mention the fit.
Hopefully this makes your Nordstrom Anniversary Sale shopping experience a little easier, stress-free, and fun! 🙂 It's a little overwhelming starting on page 1 of, like, 500 on the website, right? So I did the dirty work for you. If you aren't a Nordstrom Card holder, you won't be able to shop the sale until Public Access on July 21st. However, you can add your favorites to your Nordstrom Wish List or to your cart (make sure you're logged in!) so they are ready for check out when it opens up for you! Happy shopping!!
Nordstrom Anniversary Sale Favorites of 2017
Tops

Cardigans

Outerwear

Jeans/Bottoms

Shoes

Handbags

Accessories

Beauty

Lounge

PS: I will be writing a series of posts on my blog and social platforms (you'll probably see the most there, so make sure you are following along!) during the time of this sale – what do you want to see next? Items under $50? $100? Best beauty buys? Splurge-worthy items? Stuff for Men? Let me know in the comments below! Now, time for a 5am nap… and yes I have been shopping the sale since 2am! 🙈