Hey guys! So sorry for the bit of hiatus the past 2 weeks! That's literally the longest time I've gone between blog posts, so it didn't feel right, haha! Most of you reading probably already know that I was in New York for my first NYFW this past week, hence the mini blog break. 🙂 I was too busy wrapping things up at my day job before I left took PTO, prepping for my trip, and of course traveling! So… that's my excuse. 😉 Today's look that I'm sharing with you is one of my favorite summer-to-fall transitional outfits. I'm featuring this cute blush utility vest, which is a fun update on the typical olive green you normally see.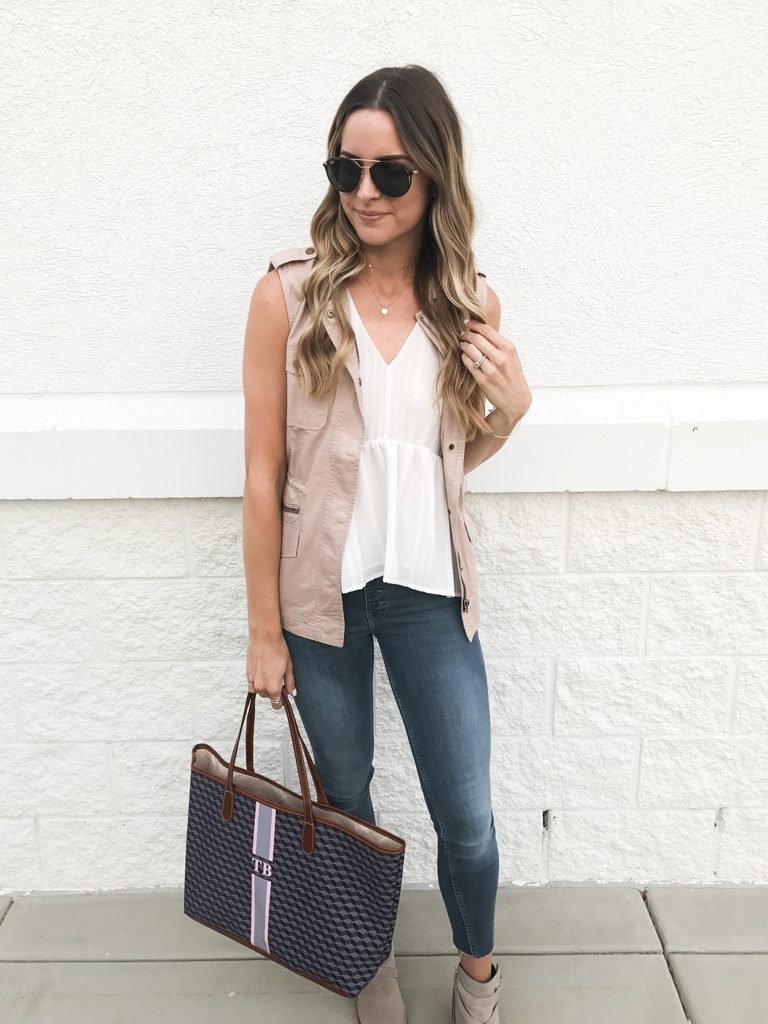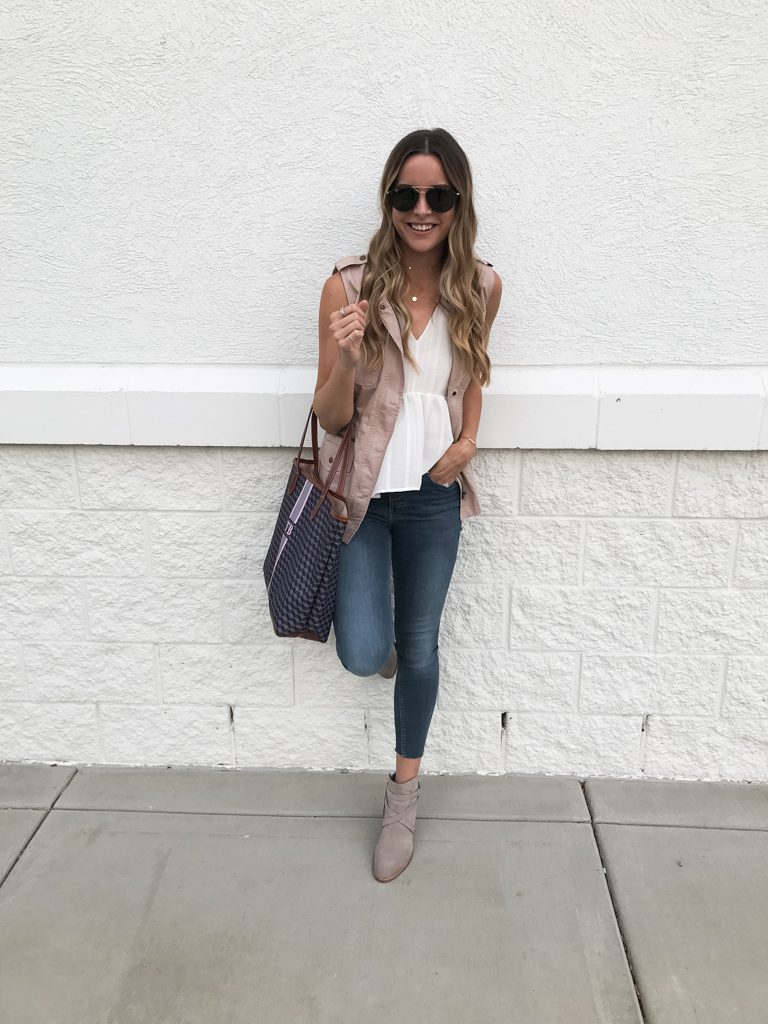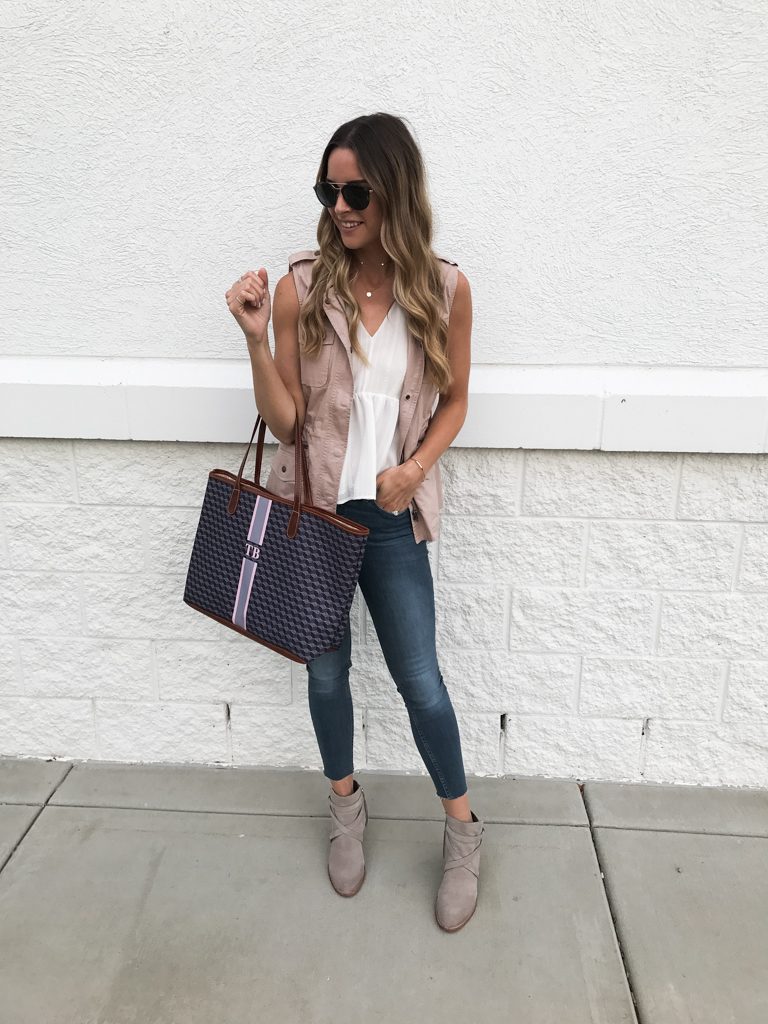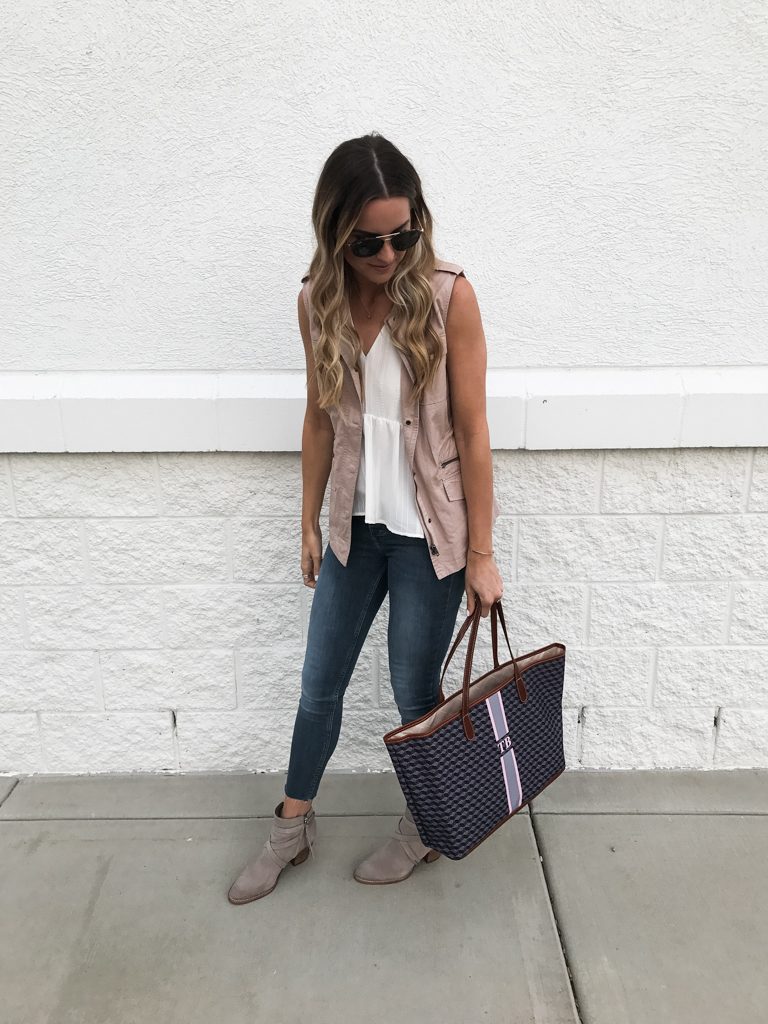 Here in Minneapolis, we are experiencing some very warm late summer temps, so it's not quite cozy sweater yet (though we did have a few random cold days recently). So to transition into summer, I love wearing tanks/sleeveless tops with vests! My blush utility vest is super on trend and affordable, and I absolutely love how it looks with a white peplum top (sizes limited, similar style here), suede ankle booties , and these unique colored jeans by Free People; the jeans are like a grayish-blue, and are high-waisted = sucks in the belly and so comfy!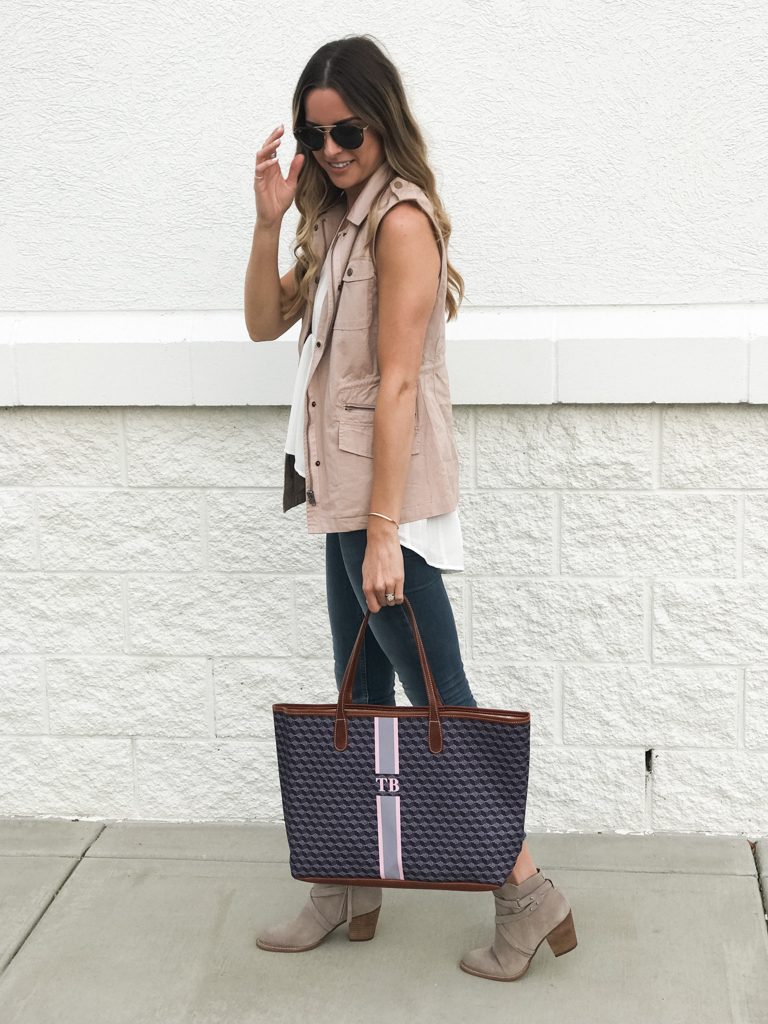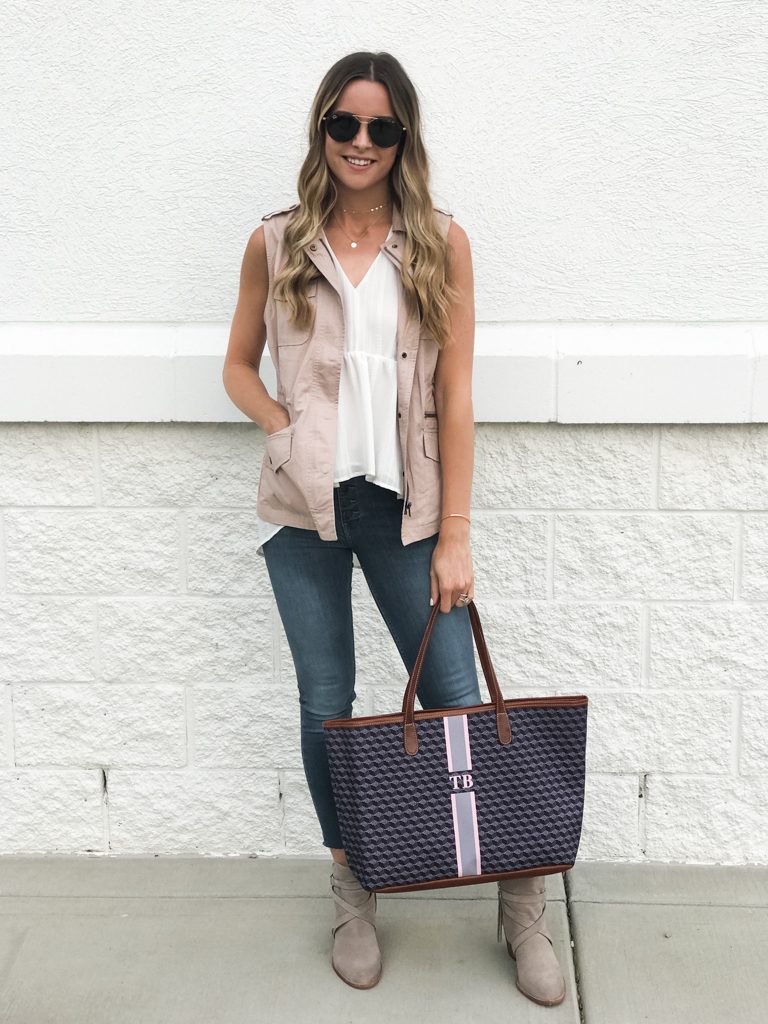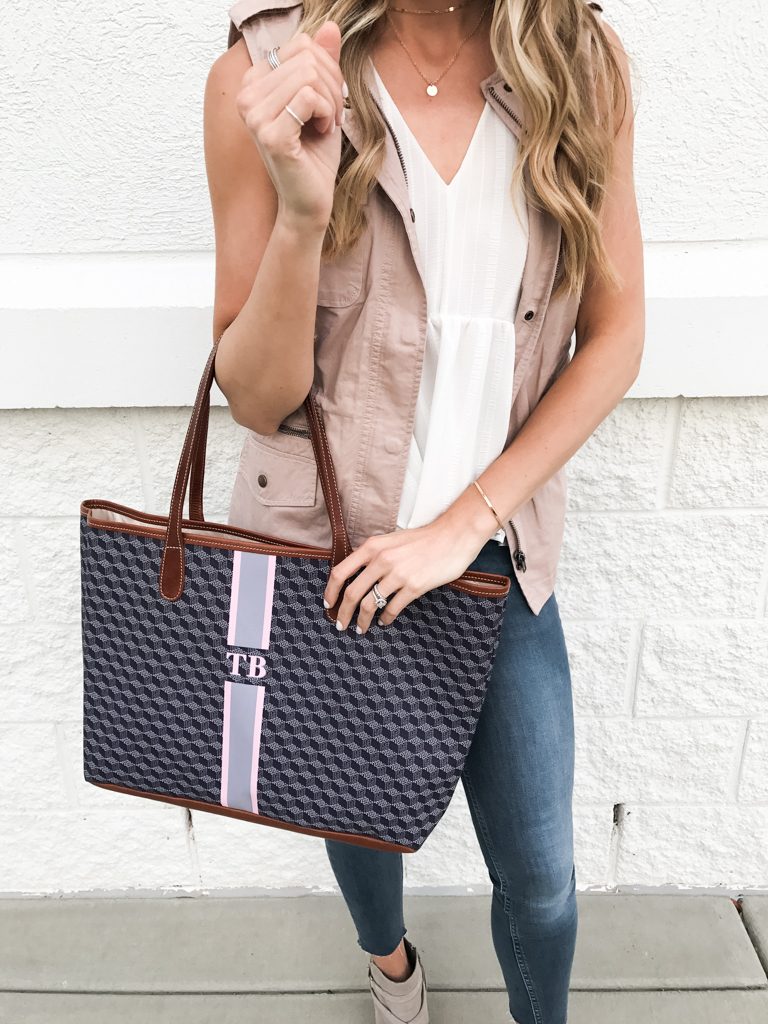 This tote by Barrington Gifts is also new-in, and it's monogrammed with my initials! How fun is that? I love the neutral print and blush & gray pink stripe. Could it match my outfit any better?! 😉 If you are looking for a spacious, customized and cute Mary Poppins bag, this one is for you! I highly recommend it to teachers, students, travelers and those who have to carry lots of items to and fro (laptops, books, etc.), because it fits so much. I love using it for traveling and for work!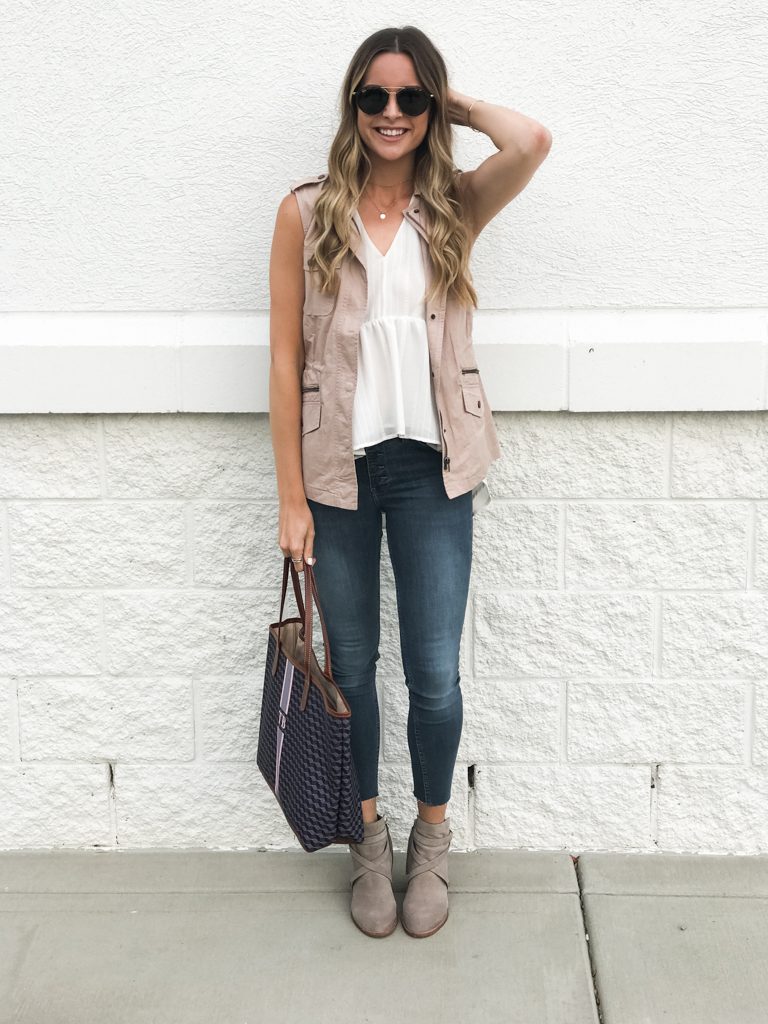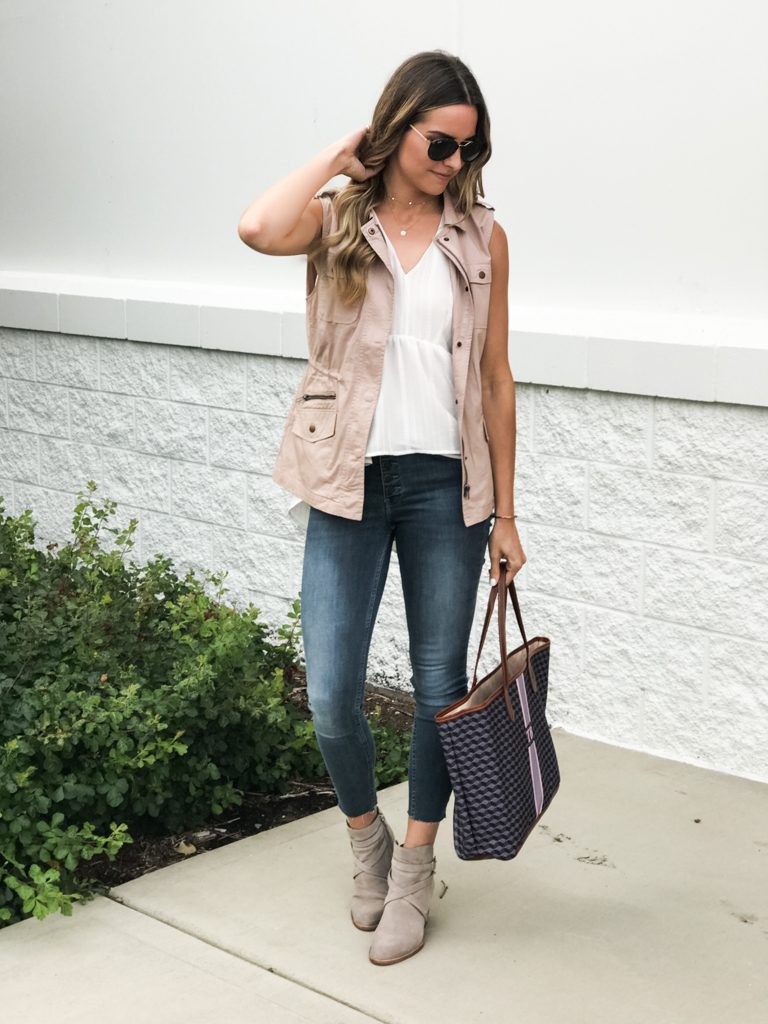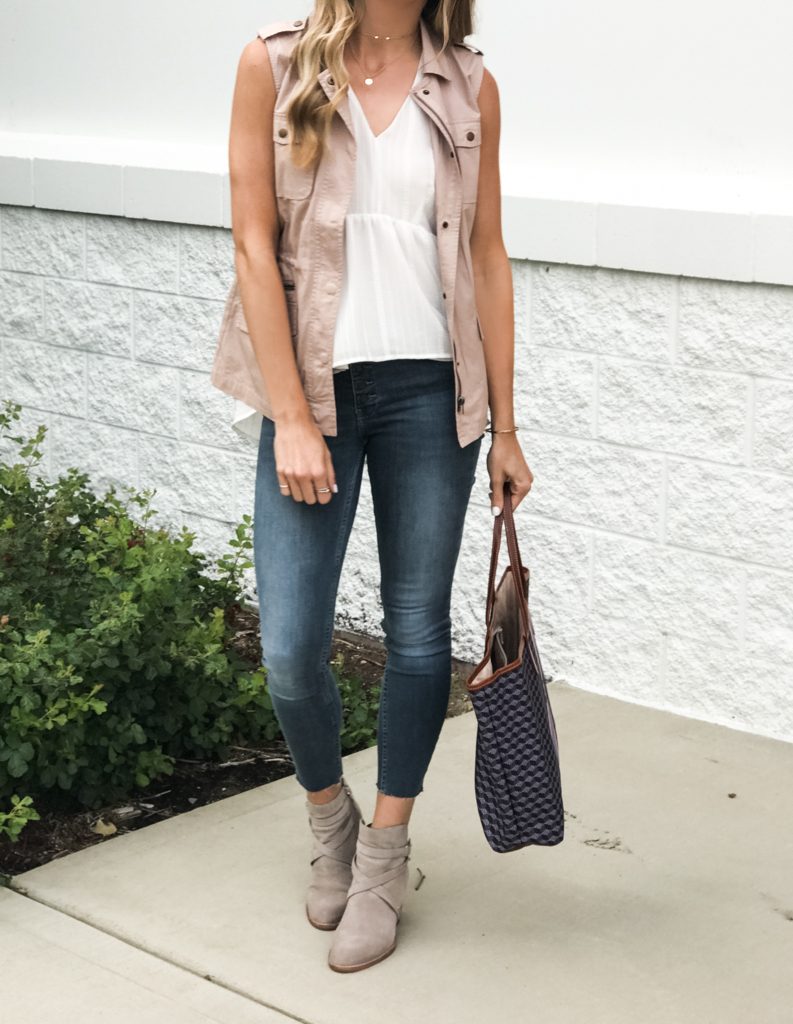 My suede ankle booties definitely deserve a shout out, too – I'm obsessed! I picked these up in the Putty color, and am so tempted to get the blue, too! The heel is the perfect height, and I love the criss-cross strap detailing. Go a half size down though if you are purchasing, as they run large. I have these booties in the flat version in the same putty color, and they are called the Petty booties – I wore these a TON the last few fall/winters! Yes, few! Super durable and the quality is great, so I'm expecting these babies to last me for years! (See this post, this post, and this post for other ways that I styled my Petty booties in case you are interested in the flat-heel style instead).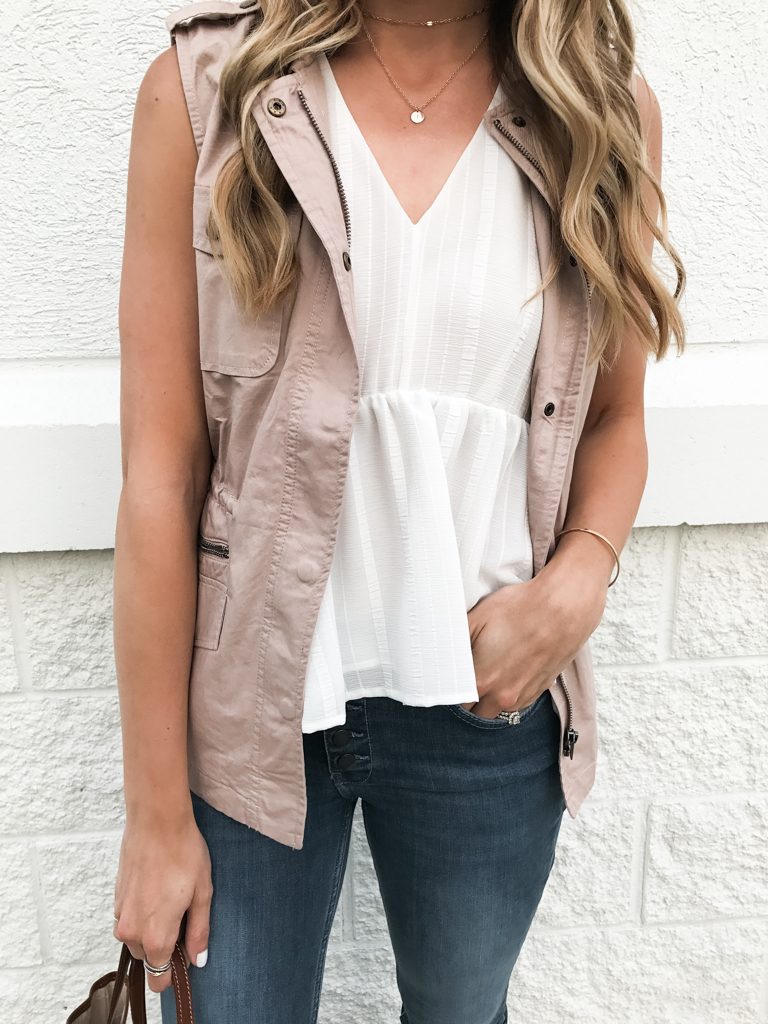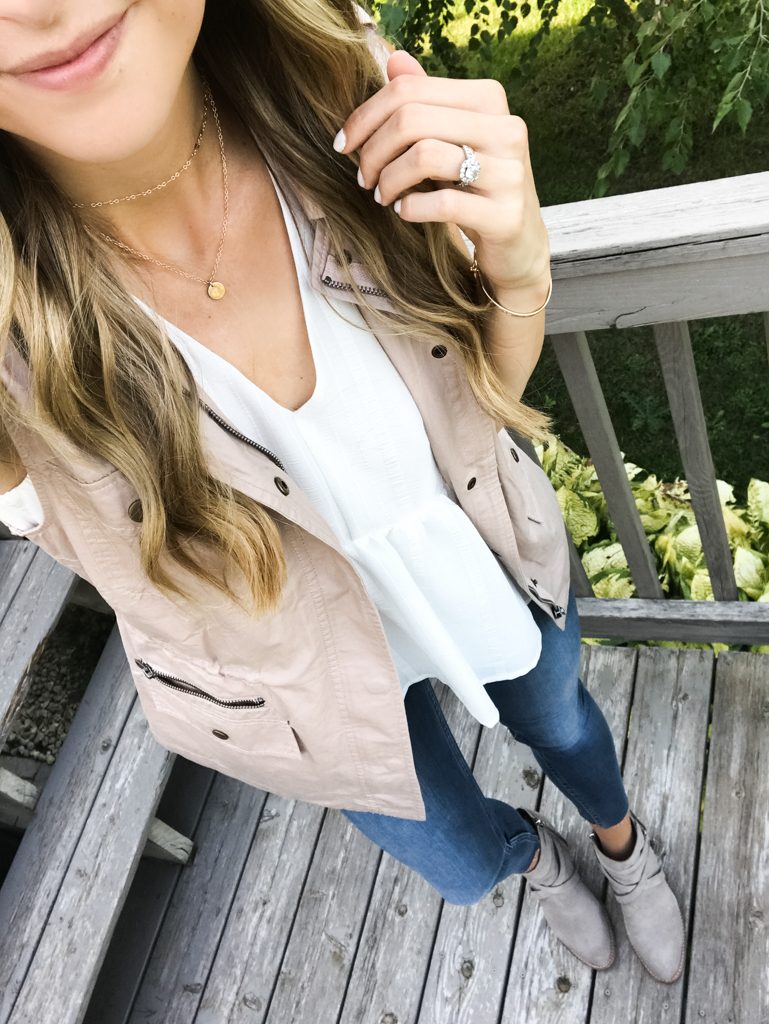 WHAT I WORE:
Blush Utility Vest | 1. STATE High-Low White Peplum Top (sizes limited, similar style here) | Free People Reagan Button-Front Jeans | Sam Edelman Merton Suede Ankle Booties (go a 1/2 size down) | Barrington Gifts St. Anne Tote | PS46 Gold Choker | PS46 Gold Engraved Initial Necklace | Charming Charlie Gold "Fearless" Bangle | T3 Curling Wand Trio (I used the 1″ straight barrel for this hair style shown) | Ray Ban Aviators (RB4253 50)
---
I can think of so many more ways to wear this blush utility vest this fall – over long sleeve shirts, neutral plaids… I can't wait to style it some more!! Everything shown is true to size by the way – wearing a small in my vest and top! I do recommend going a 1/2 size down in my ankle booties though, they run large.
So many more posts I have coming for you guys for the future! My issue is that there just isn't enough time in the day, haha! Hoping to get my New York Fashion Week recap up this week yet though, so hold me accountable! 😉