Nordstrom Anniversary Sale Dressing Room Diaries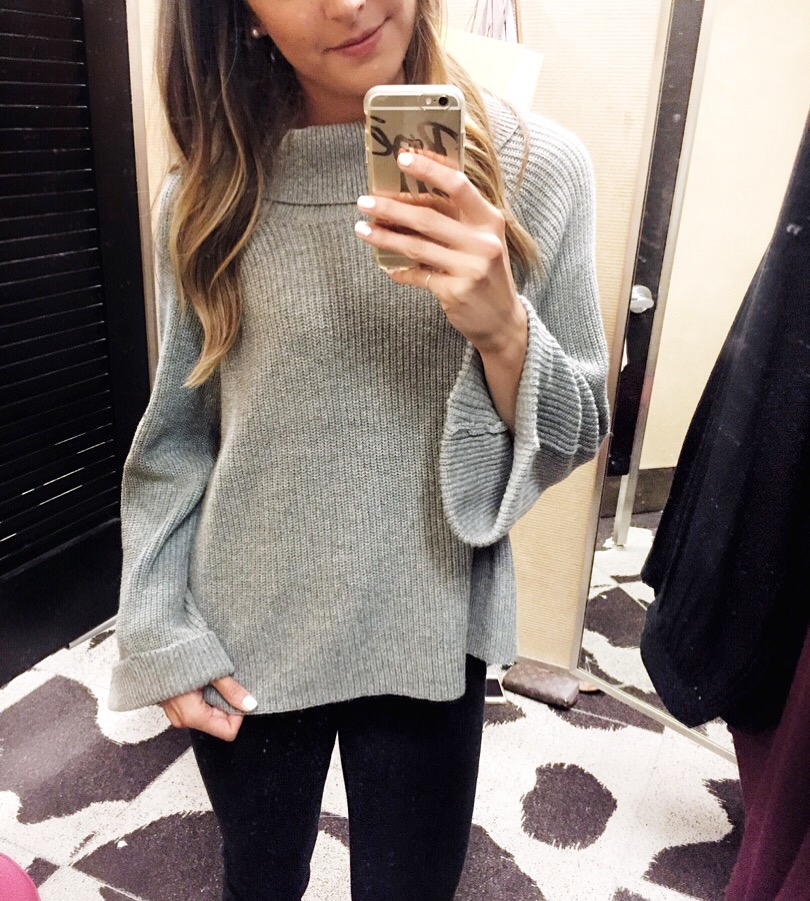 Item: Cowl Neck Shaker Pullover
This sweater is my favorite purchase so far in the #NSale! It's flowy, cozy and I love the unique shape it has. It's under $50 and will be heavy in rotation this fall/winter!
Sizing: I ordered one size down (XS) since it is pretty oversized.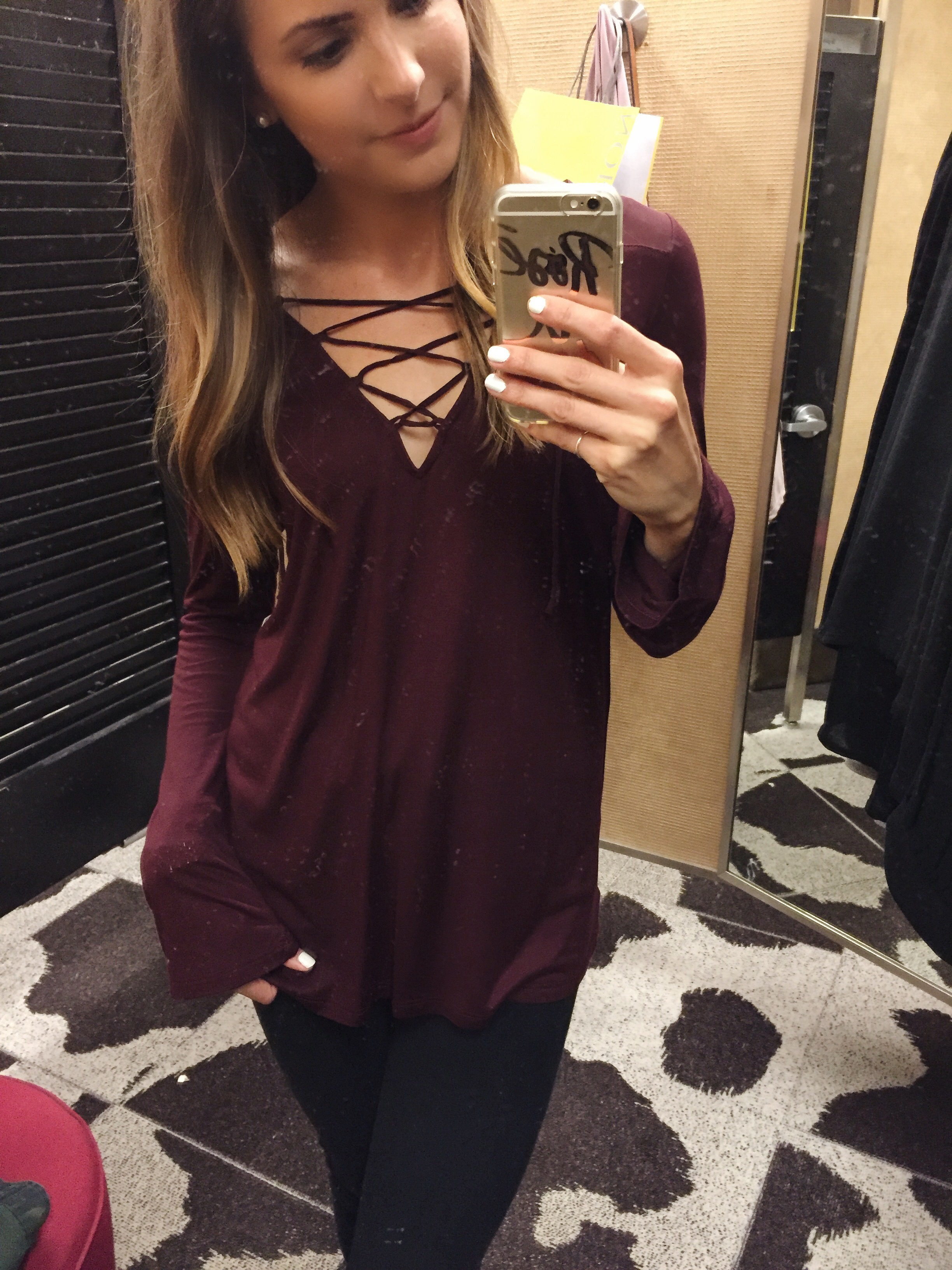 Item: Leith Lace-up Top
It's no secret that I love the lace-up trend, so I was pretty excited to see this long sleeve lace-up top in the sale! It's made out of the softest material and isn't too low-cut. I also love the bell sleeves! The 70's are definitely making a comeback. 😉
Sizing: True to size – Wearing a small.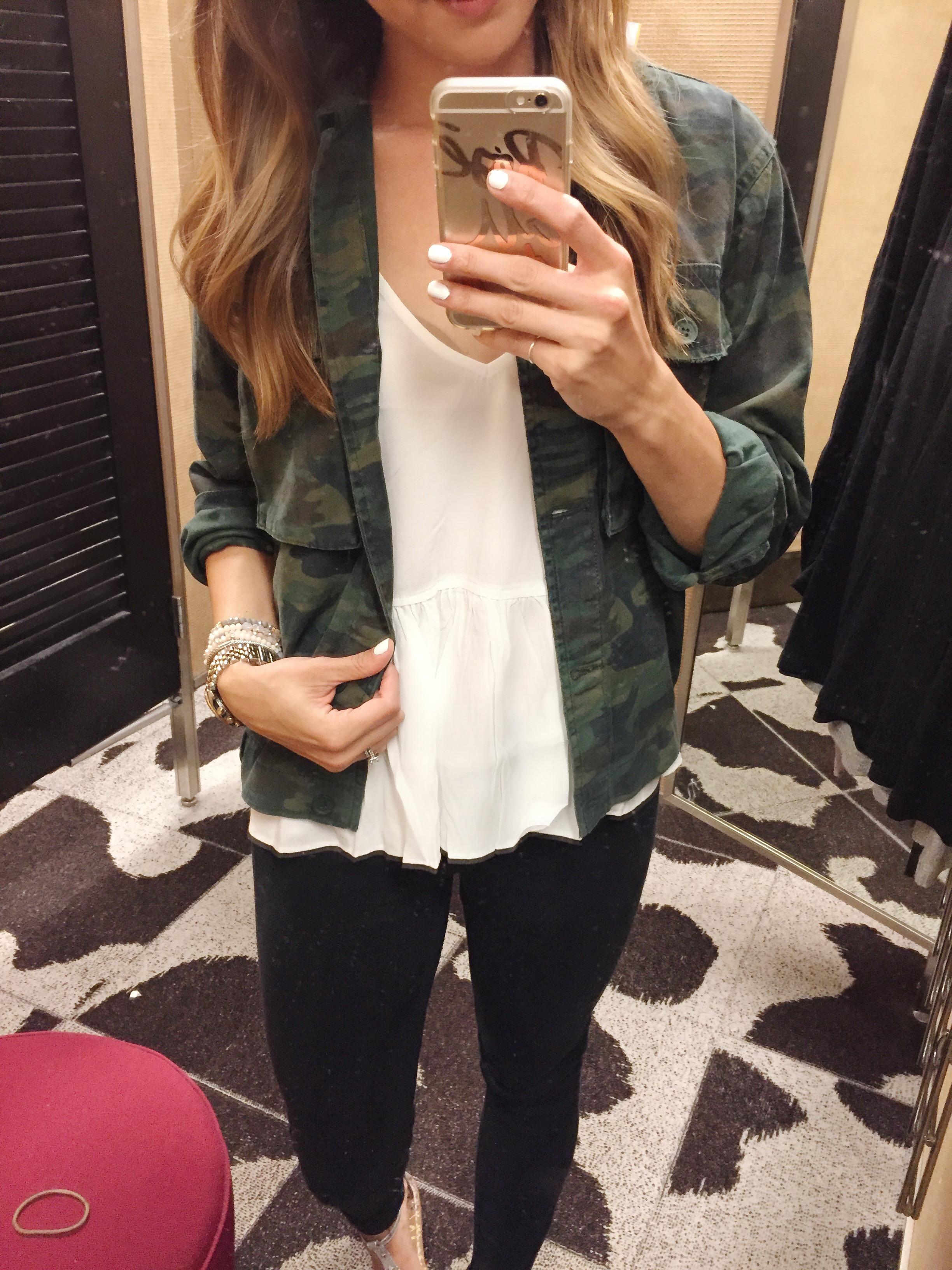 Item: Topshop Rex Camo Shirt Jacket
Camo is another trend that's making a big comeback! This jacket screams cool & edgy.
Sizing: Runs LARGE! I am wearing the jacket 2 sizes down. (Wearing a size 2. I typically wear size 6 in Topshop sizing).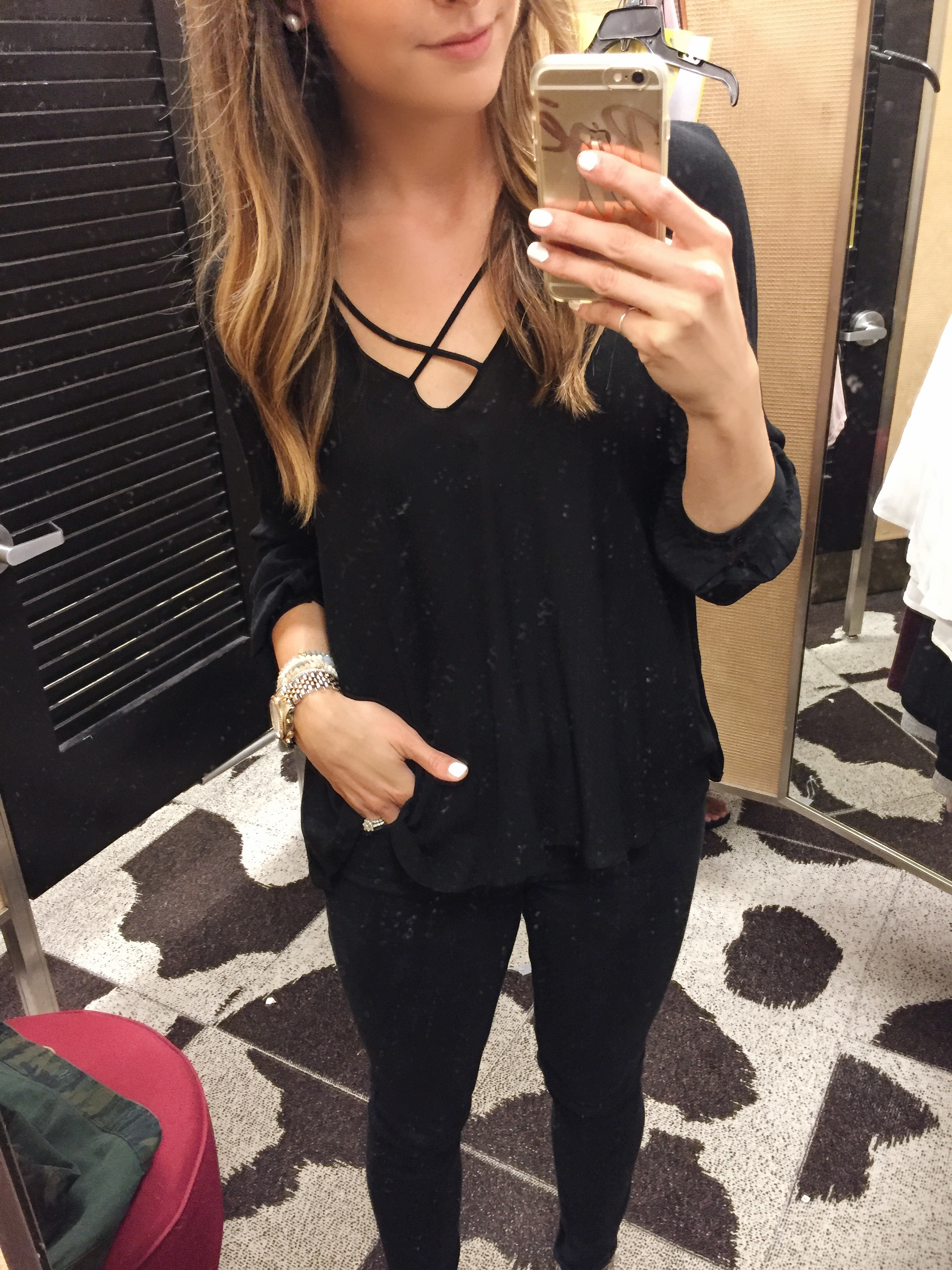 Item: Lush Strappy Long Sleeve Woven Blouse
This blouse is soon cute! The criss-cross detail really makes it. The fabric is lightweight and comes in 3 colors.
Sizing: True to size – Wearing a small.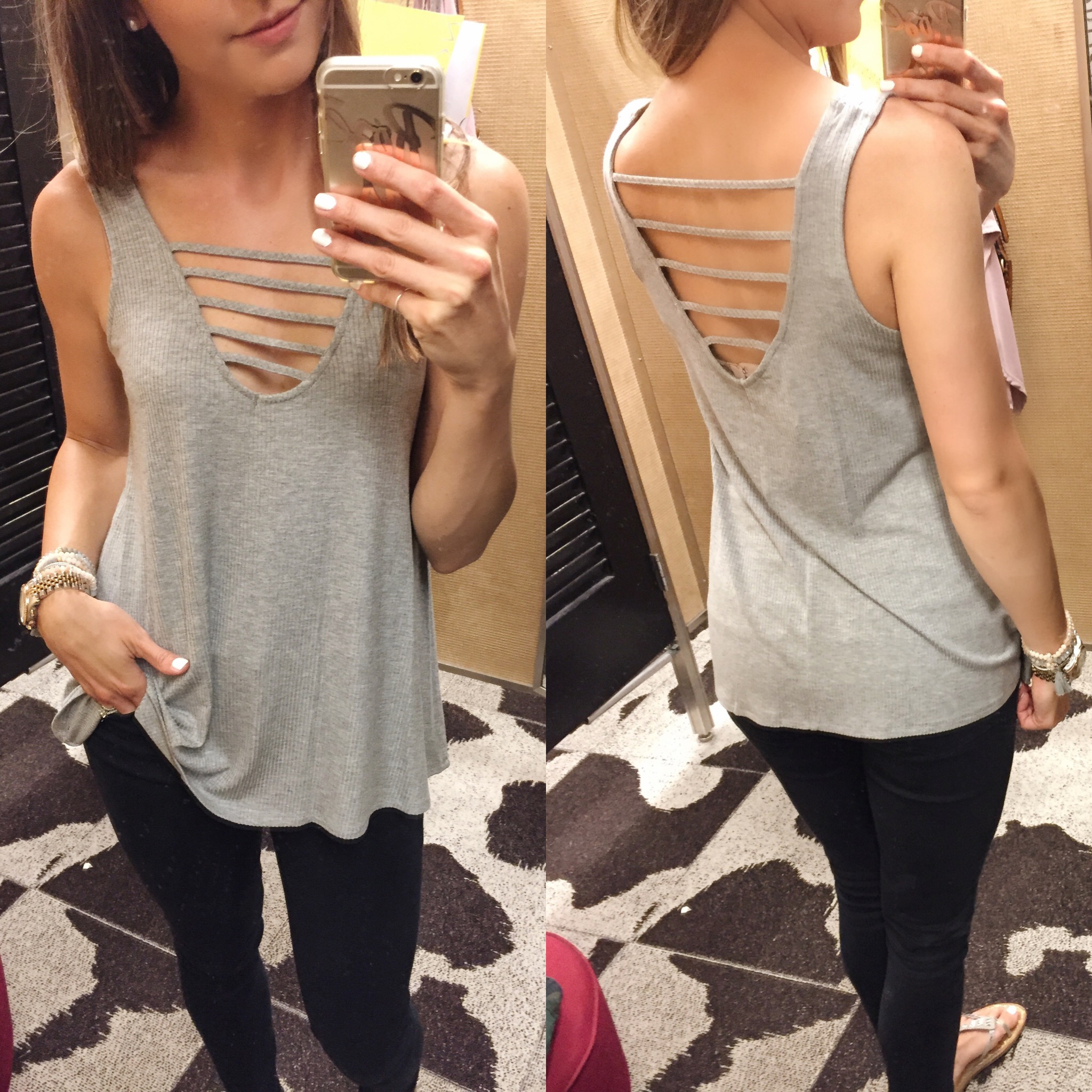 Item: Socialite Strappy Rib Knit Tank
This strappy tank can be worn year-round! You'll see how I layered in with a jacket in the next photo. It comes in 5 different colors and is under $20!
Sizing: True to size – Wearing a small.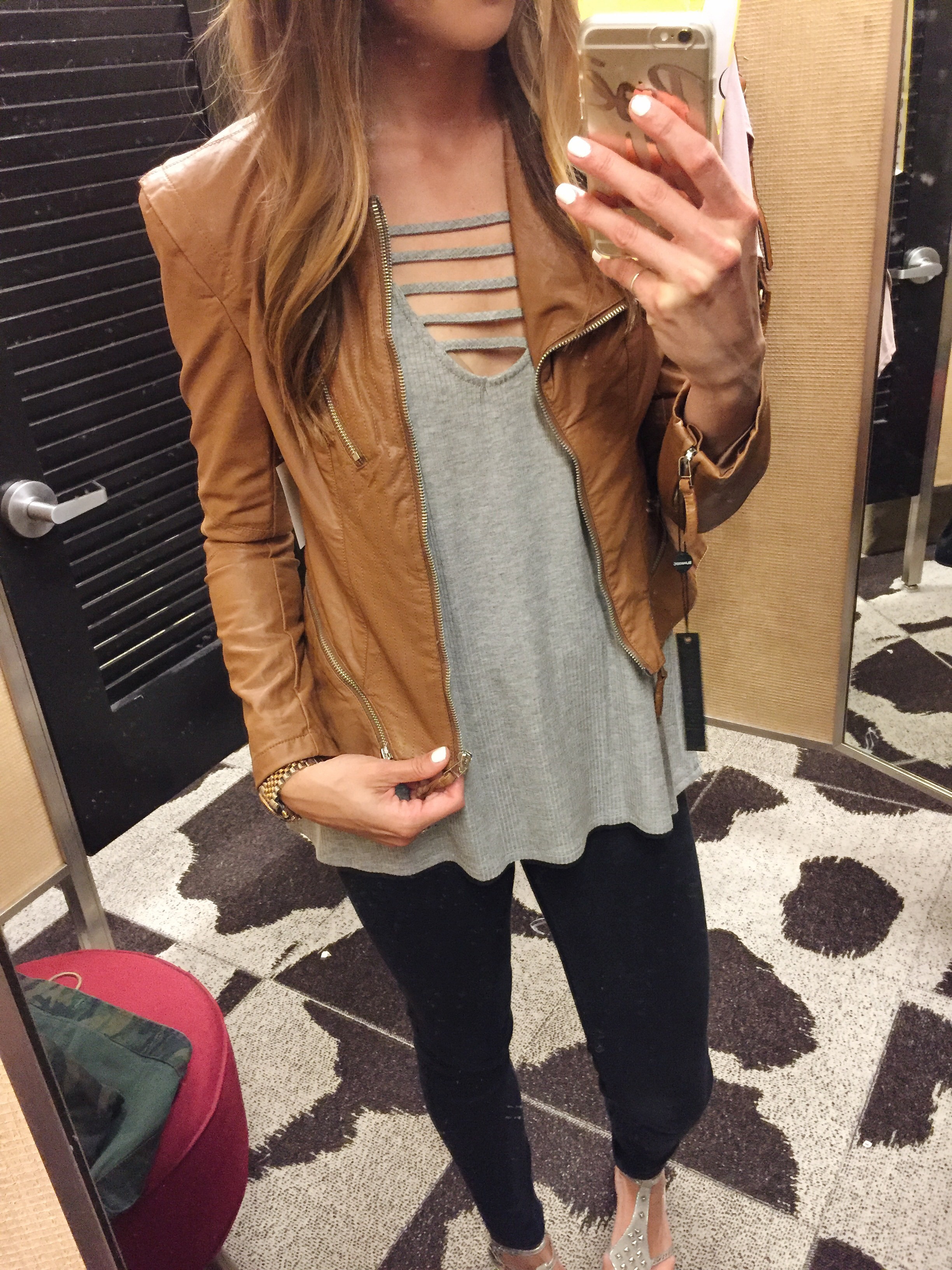 Item: BLANKNYC Faux Leather Jacket
A faux leather jacket is an absolute staple for the fall. I love this cognac colored one, and you won't believe the price! It also has a very flattering fit and cute zipper details.
Sizing: True to size – Wearing a small.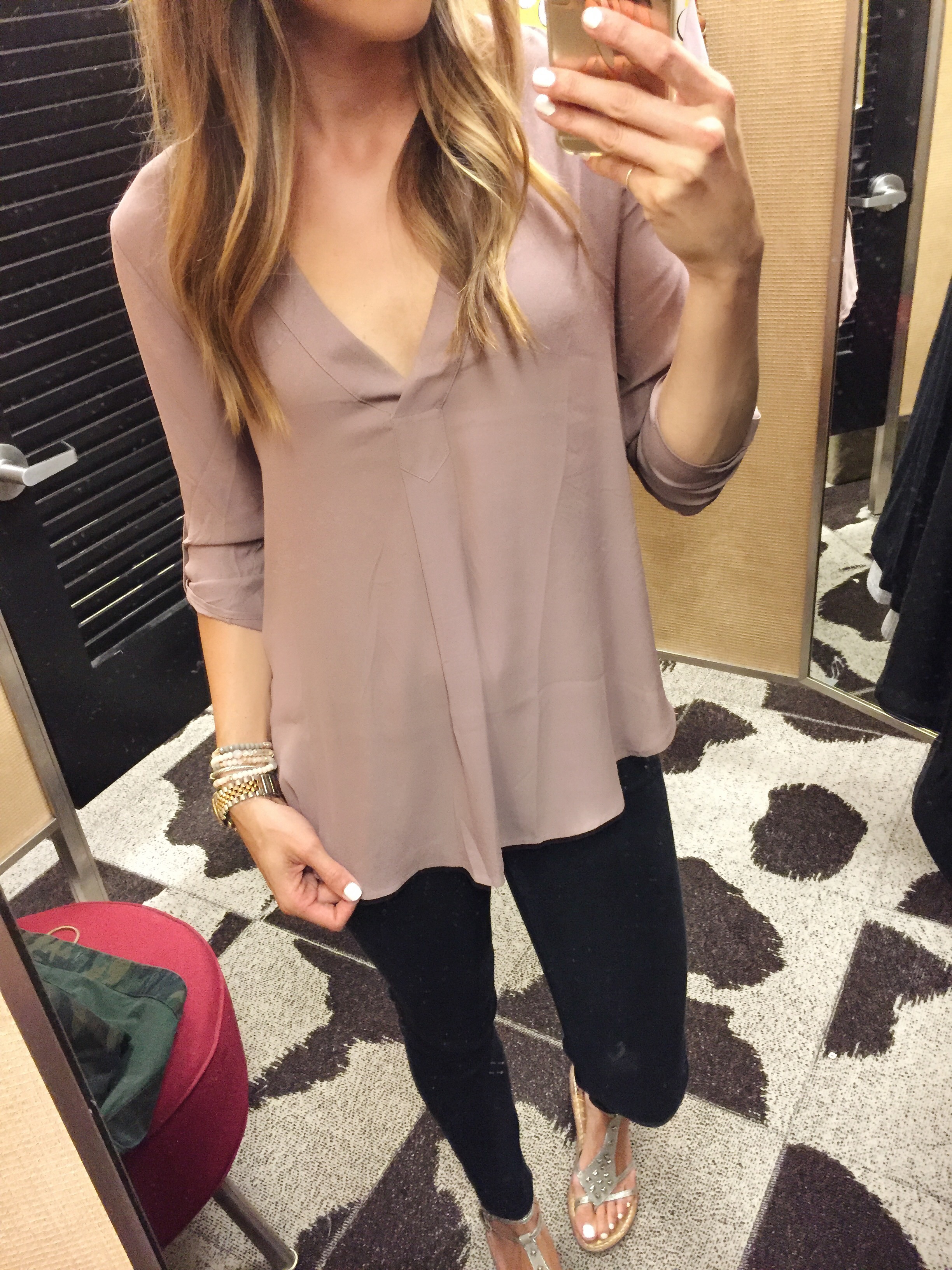 Item: Lush V-Neck Crepe Blouse
These Lush blouses are super popular, and this year they came out with a slightly different style and different colors. This dusty blush color is right up my alley! The material is a bit thin, so if you get a lighter color, you may want to layer it with a camisole underneath.
Sizing: True to size – Wearing a small.
They aren't pictured, but I also bought these earrings (OBSESSED! So pretty and classic, and look more expensive than they were!), and ordered this top and this bra (check out the reviews!! Order one cup size up) online; I'll be here stalking the UPS man until they arrive. 😉
SHOP THE POST:

---
Hi guys! I got the chance to shop the Nordstrom Anniversary Sale in-store when it started last Thursday, so I tried on these pieces that caught my eye! Not surprisingly, the sale was already a bit picked over when I arrived. Luckily, they still had these favorites in store. Another thing I love about Nordstrom is that they are great about restocking and having a lot of inventory. If any of these pieces are out of stock when you are ready to pull the trigger, don't fret! Check back often, and you'll likely see it come back in stock. 🙂
I also checked out the jewelry and shoe departments, but they were pretty crowded, so I unfortunately couldn't snap any photos! I'll definitely share them with you later. PS- If you aren't a Nordstrom card holder, you can shop the sale this Friday!!
Tom and I were fortunate to spend lots of time with both of our families this weekend! Friday night, we celebrated his dad's retirement, Saturday we went out with my mom and step dad, and today we had my extended family's 9th annual golf tournament! We've been setting up this tournament every year in honor of my sweet grandpa who passed away and loved the game of golf. It's always so much fun!
Alright, here we go Monday… bring it on!
xx, Taylor