Yay, yay, yay! SO excited to share my blog office reveal with you guys; it's been a long time coming! I started working on this room from scratch this spring and have slowly added piece by piece to give it LIFE! I didn't have a blog office before, and it has completely changed my blogger game. It's so much easier going to sit down to work in a separate room at a desk, instead of parking on the couch or in bed, somewhat uncomfortably with my laptop in my lap, and with a sore back 2 hours later (because slouching happens when you don't have a proper back rest)!
 To start, we picked out a desktop computer (so much easier to navigate – and so much faster!), a desk, chair, and got to work on personalizing the rest of my blog office!
MY BLOG OFFICE REVEAL
(On a budget!)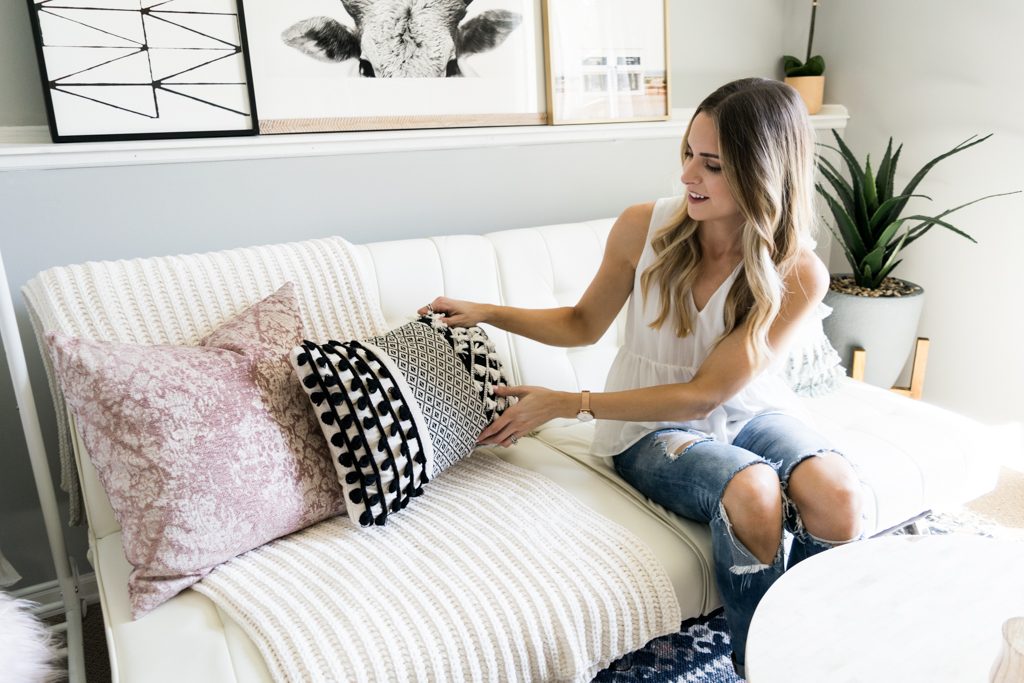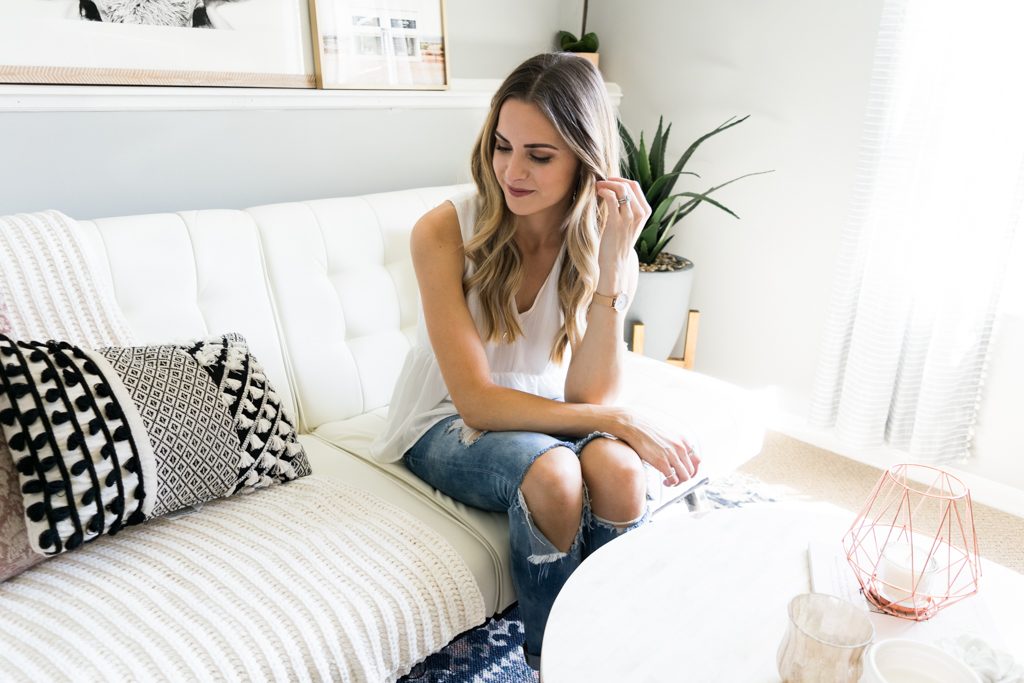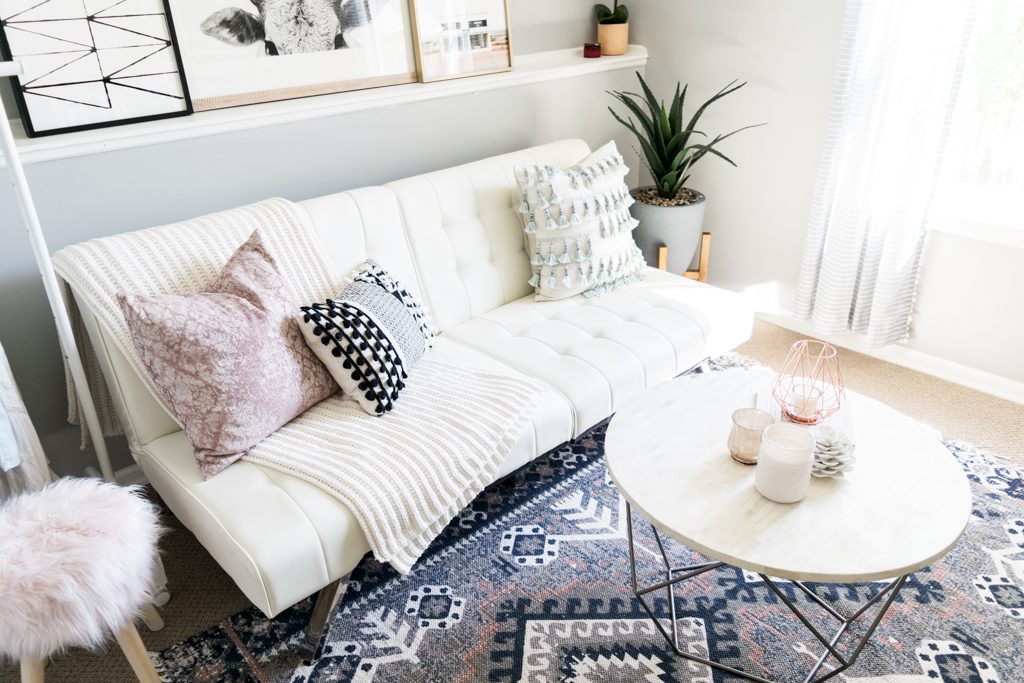 FURNITURE & ACCESSORIES:
Convertible Futon: Walmart | Blush Pillow: HomeGoods | Black & White Pillow: Target | Tassel Pillow: Marshalls | Knit Throw Blanket: Target | Aztec Rug: Urban Outfitters | Coffee Table Knick Knacks: Target/HomeGoods/Marshalls | Origami Coffee Table: West Elm – I got a killer deal on this table for half price since one of the wood chips had chipped off when it was a show room table! Its a slight chip that you may notice in photos closer up, but it's honestly the littlest thing, and doesn't bother me one bit. I think it adds character, and it saved me 200 extra bones. 😉
Being that I don't exactly have the budget of some fashion bloggers to purchase furniture from West Elm and Room & Board, I was perfectly fine with settling with this gorgeous faux leather futon from WALMART! Yes. Walmart. And actually, it's carried at Target, Amazon and Bed Bath & Beyond as well! It's called the Emily Convertible Faux Leather Futon (in the vanilla color), and it has the option to fold all the way back like a bed, or split the two – one half down, one up! The best part? It was only $160!!! An incredible steal. I am so happy with it. While I have yet to test out it's sleeping capabilities (and I may never), it is comfortable to sit on!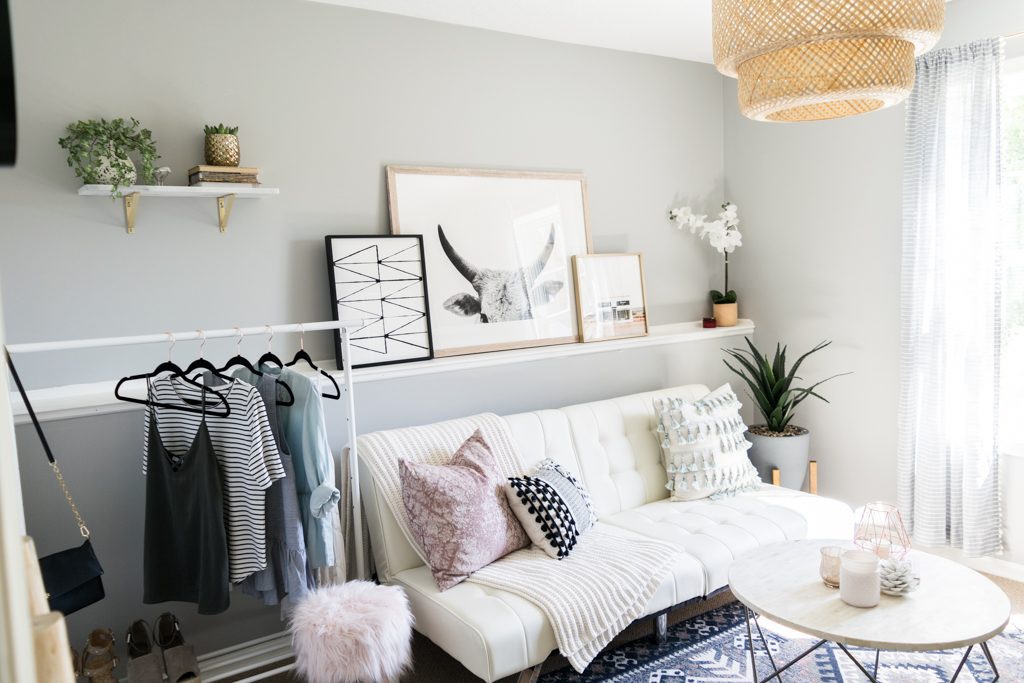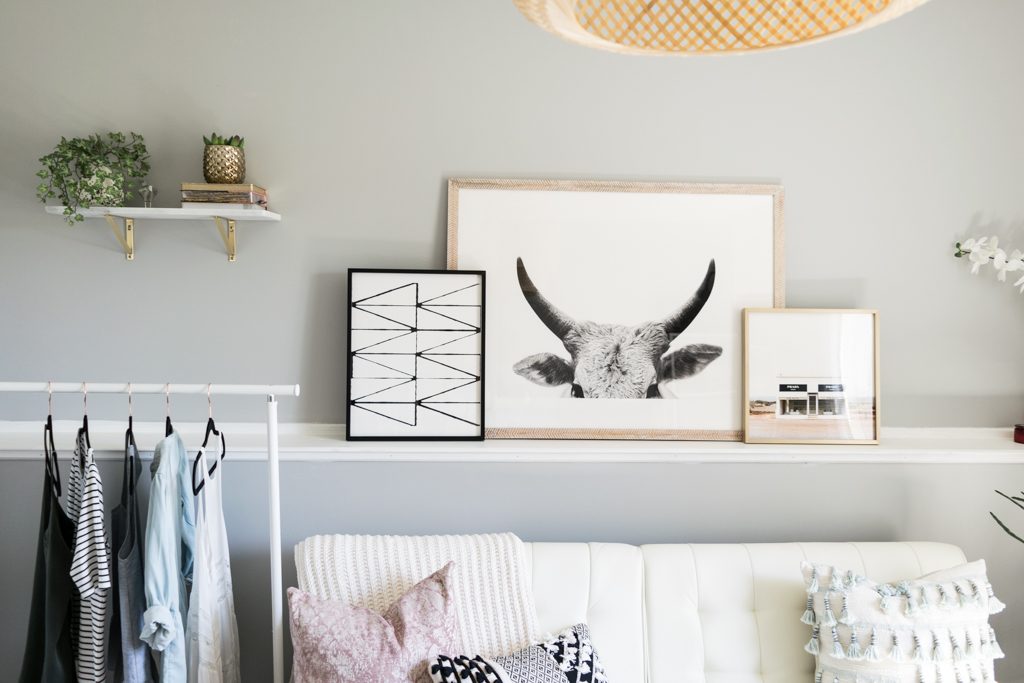 THE ART:
These 3 artwork pieces from Minted were the absolute cherry on top to my blog office decor. I am incredibly impressed by the high quality printing and framing of these art pieces and the independent artists that created them. Just… wow; they are beautiful! I had a difficult time narrowing down the pieces I wanted to use for my office… have you checked out their fine art prints collection? Each piece is so unique, pretty and very aesthetically pleasing. Minted also offers Commissioned Original Art, and the talent is remarkable.
While I could've easily closed my eyes, picked 3 pieces and added them to my cart, the Jane Gallagher Art by Amy Carroll (limited edition photography art print), visionary 2 by trbdesign (limited edition graphic) and Prada Marfa by Haley Warner (photography art print) were my absolute favorites, and I love how they pulled together to create a seamless gallery in my office. I get it, though – trying to pick and choose what pieces to go with when you are trying to put together a cohesive gallery wall can be a little overwhelming, especially with so many pretty pieces to choose from. Fortunately for you, Minted offers Art Styling Services with limitless rounds! (I underlined that for you, indecisive minds 😉 ) Bottom line, if you want to really warm up your walls and make all of the difference in your interior decorating, invest in some high-quality art from the best emerging artists. I promise it will be worth every penny!
For those interested, here are the exact frames and dimensions of the pieces from my office: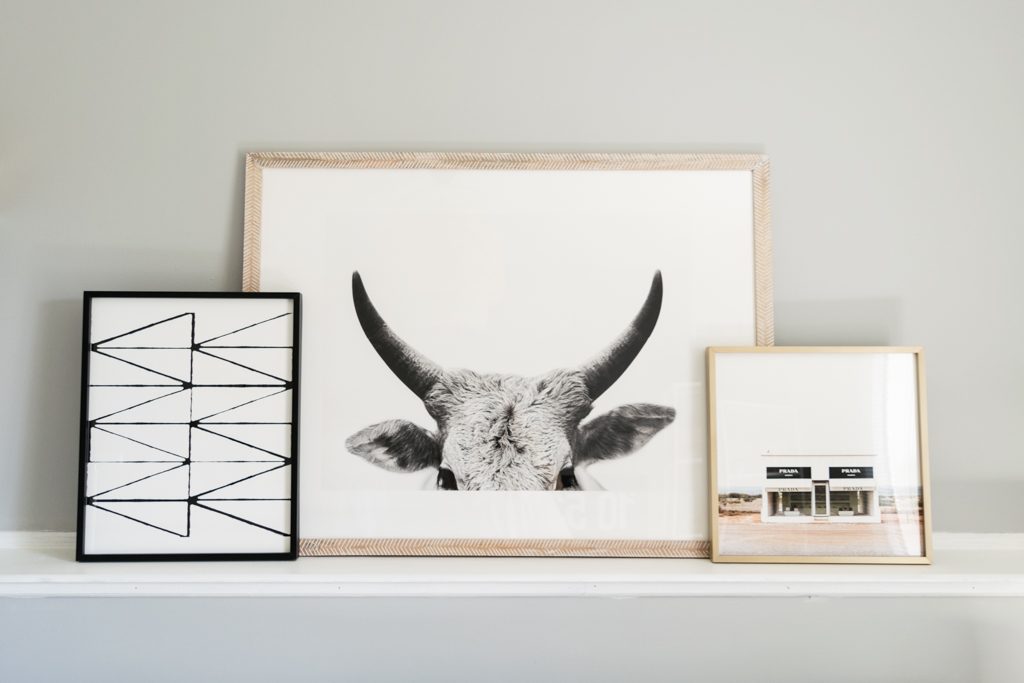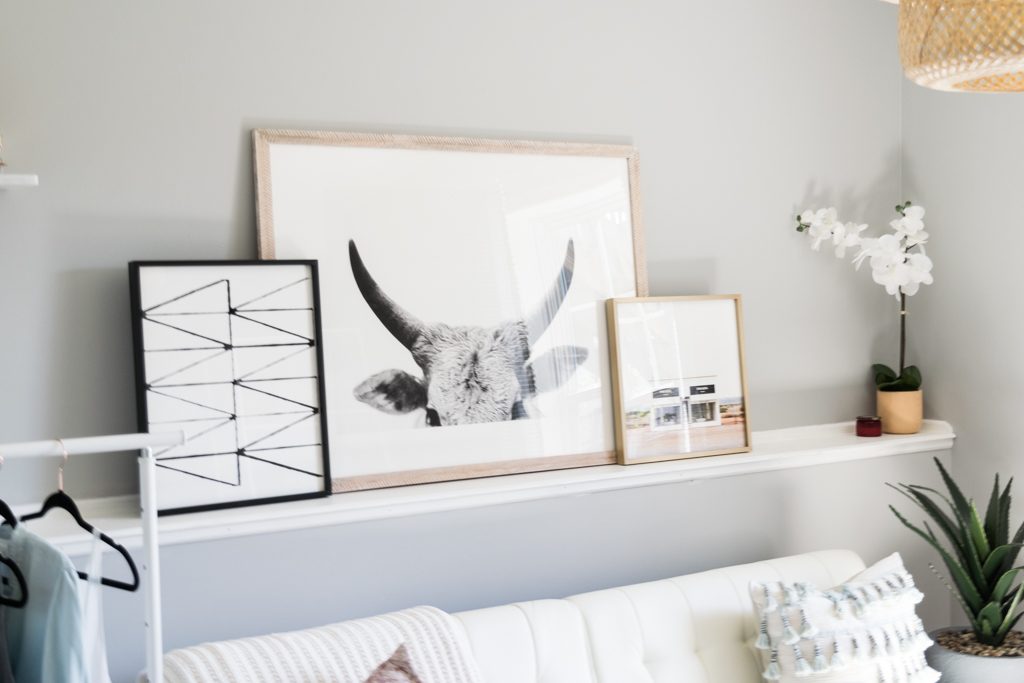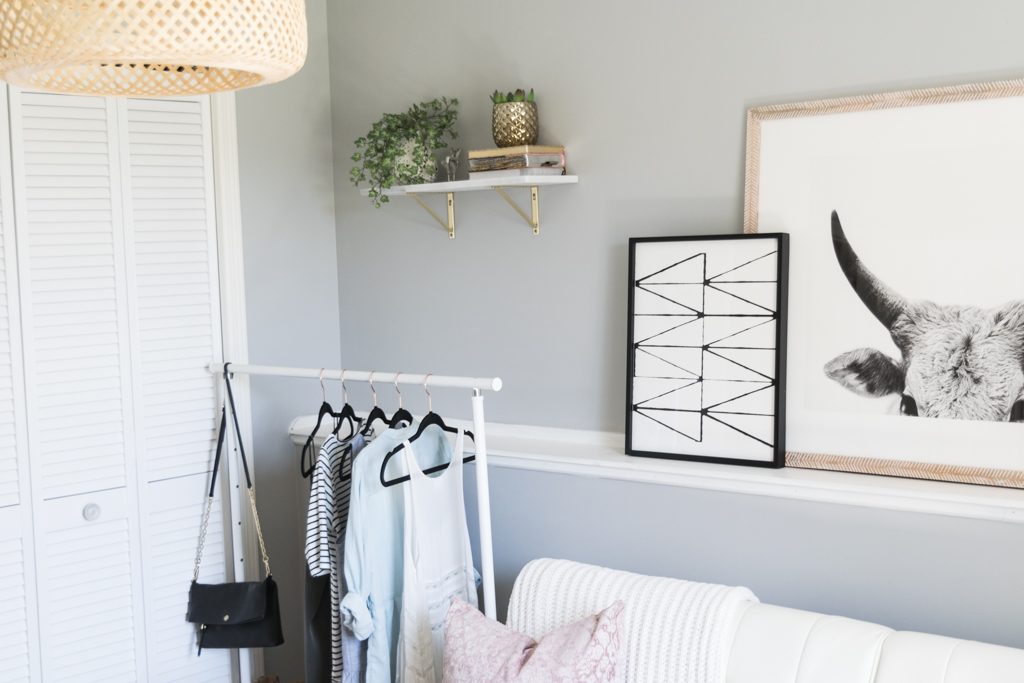 Marble and Gold Wall Mounted Shelf: CB2
I ran in circles trying to figure out what to do with the wall/shelf space behind my clothing rack. Plants, hanging my hats, and other wall decor pieces were in play, but when I came across this white marble and gold mounted shelf, I knew it would fit in this space well! I love the minimal look, and of course the white marble and gold detailing won me over right away!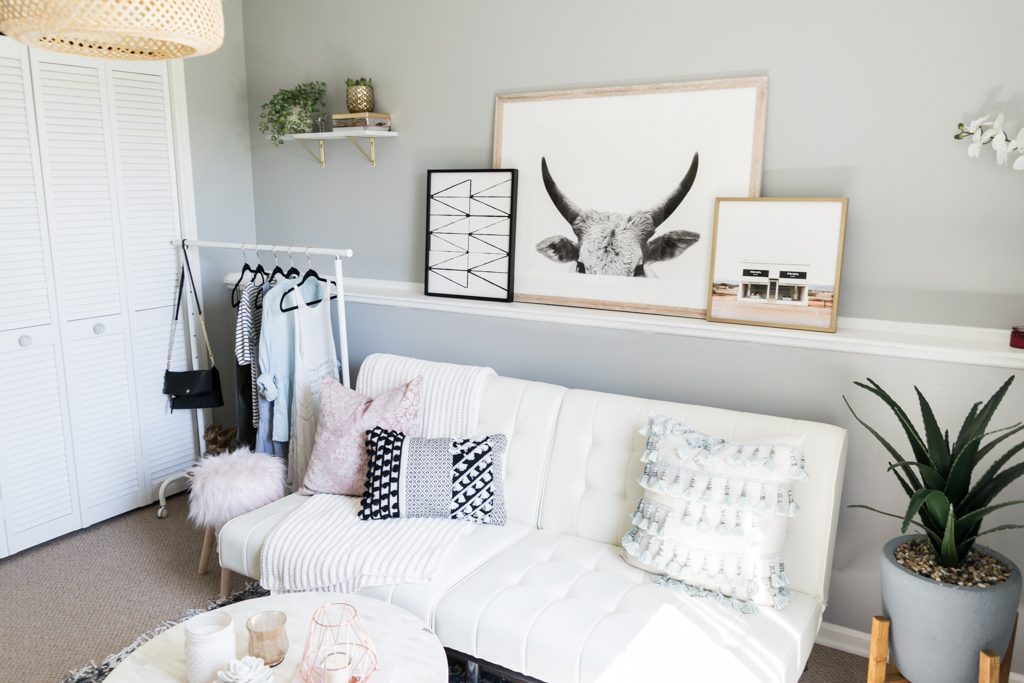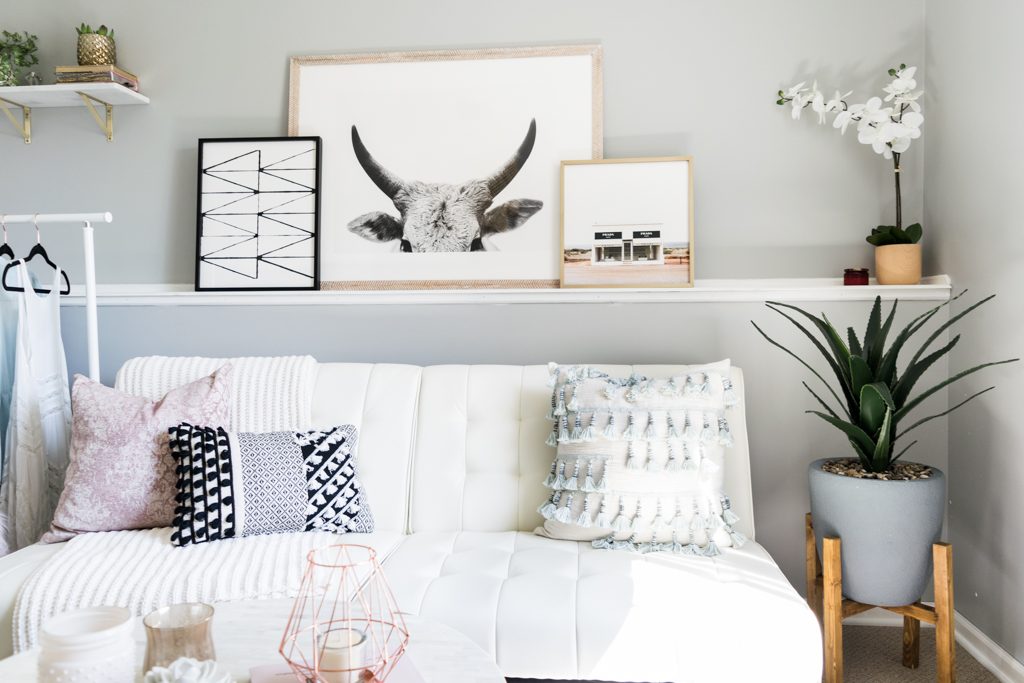 Faux Snake Plant and Orchid: HomeGoods (similar snake plant here)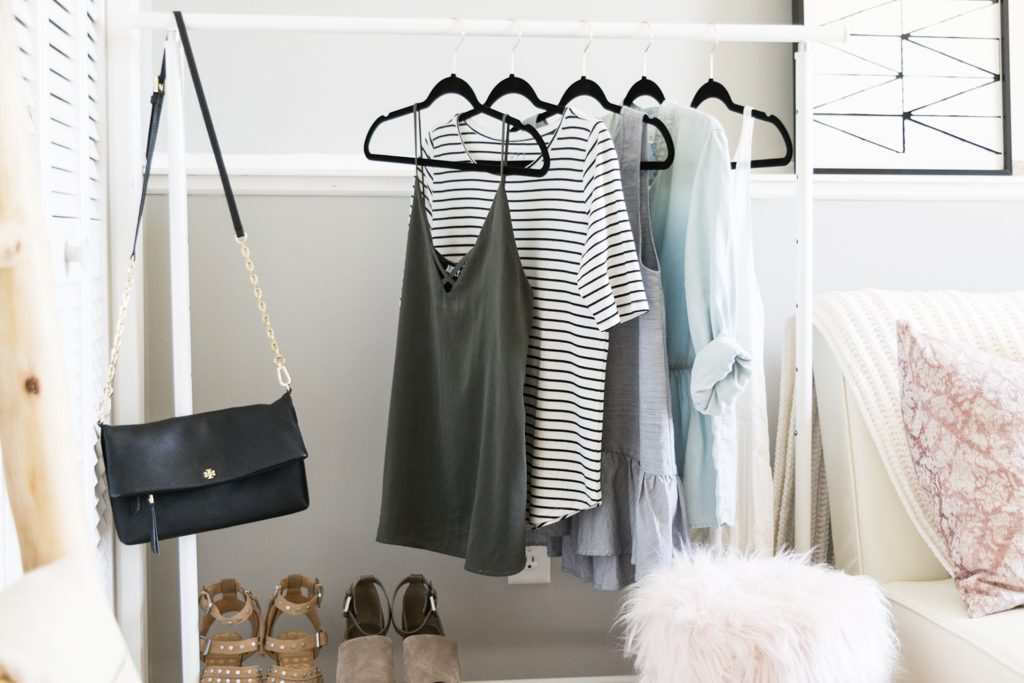 My clothing rack was another steal, ringing up at a whopping $12.99! I love having this rack in my office for clothing items that I plan to shoot for the blog & Instagram! The cute little blush faux fur wood stool is from Hobby Lobby, and was only about $27! It makes the cutest accent, and serves as additional seating.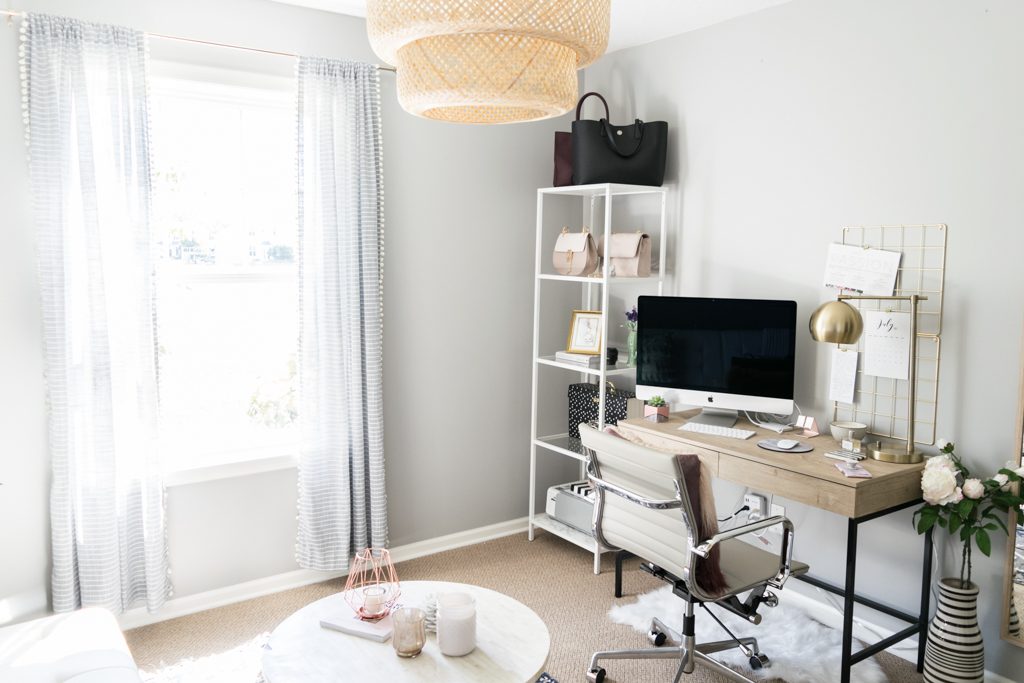 LIGHTING:
Pom Stripe Window Sheers: Target (so cute, right?!) | Bamboo Pendant Ceiling Lamp: IKEA ("Sinnerlig") – only $60!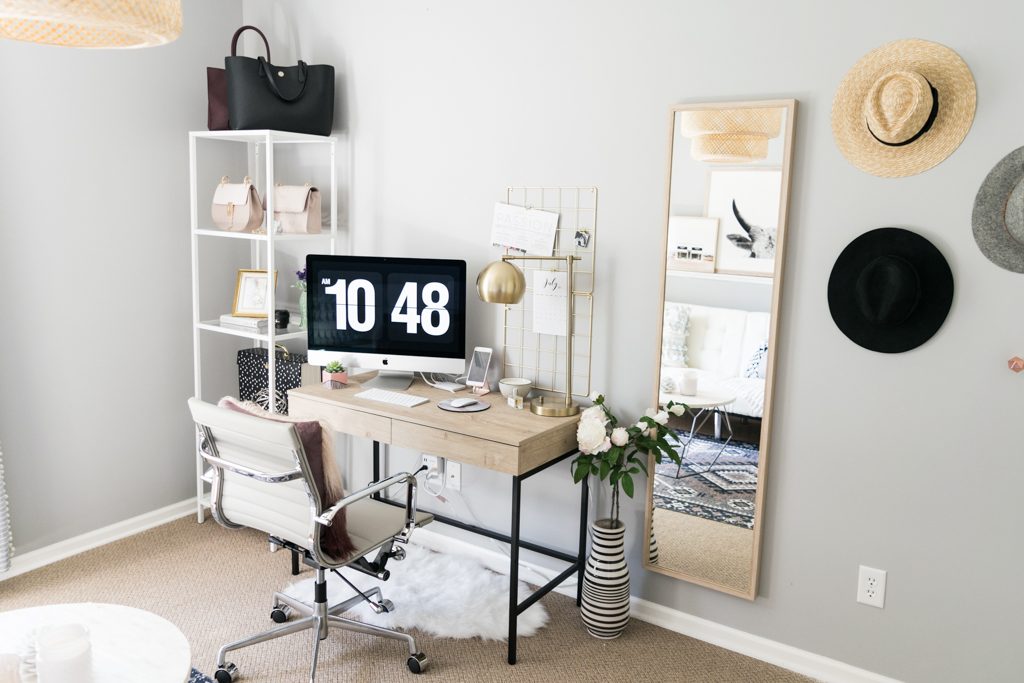 DESK SPACE:
White Glass Shelf: IKEA ("Vittsjo") | Computer/Writing Desk: Target (just under $100!) | Office Chair: Joss & Main (finding a cute, comfortable chair was a struggle, too! I started with one from HomeGoods, but realized it was not comfortable. Found this gray one from Joss & Main, and it fit the bill, looked cute AND is comfortable to sit in for long periods!!  | Wall Mirror: IKEA ("Stave") | Hat Knobs: Target | Striped Vase: Marshalls | Faux Peonies: Michael's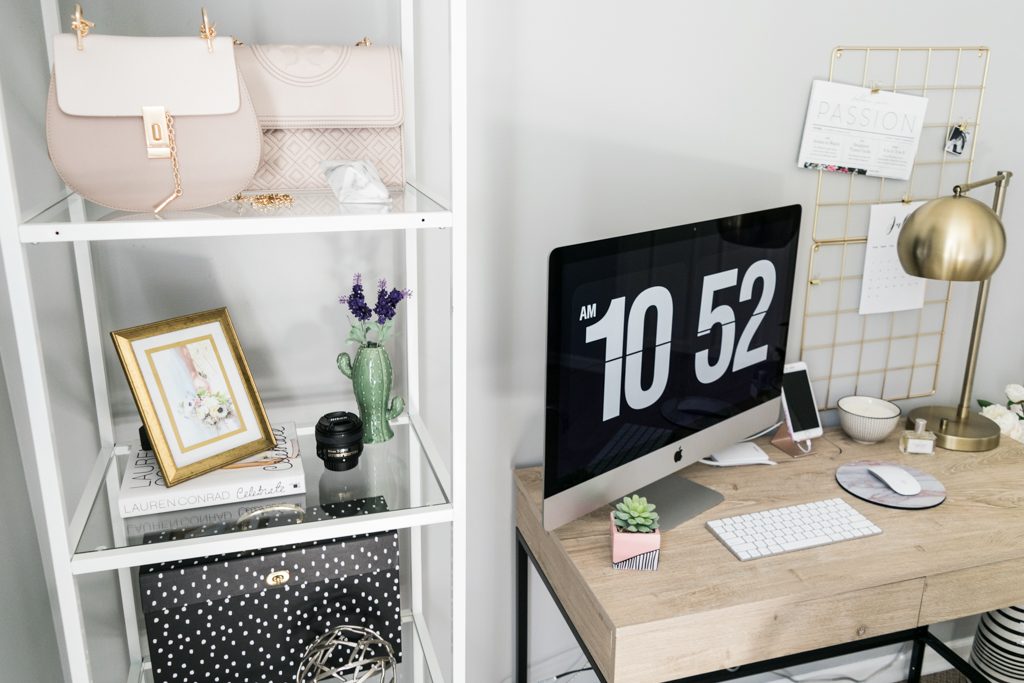 SHELF ACCESSORIES:
File Bin: Target | Little decor accents are from HomeGoods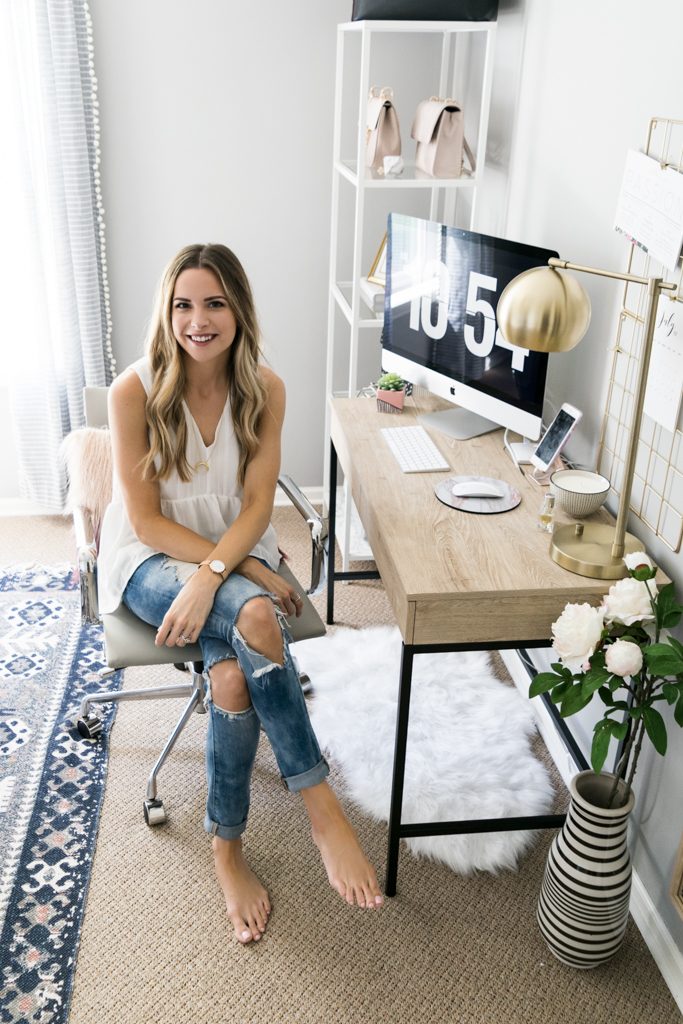 So of course, here's the most important part of my office. This is where allll the magic happens! 🙂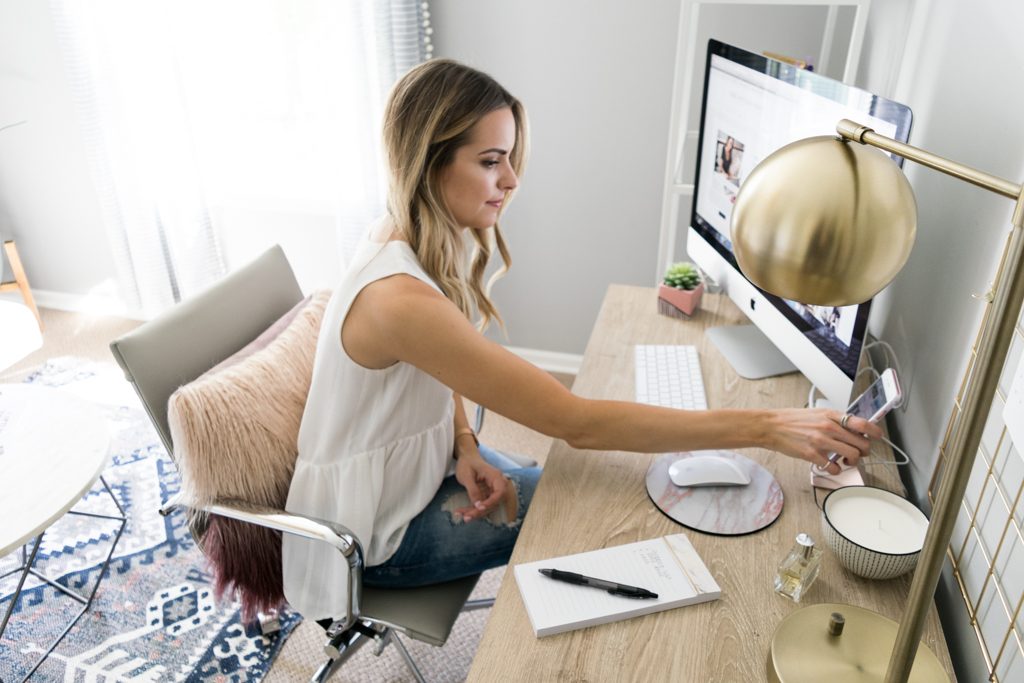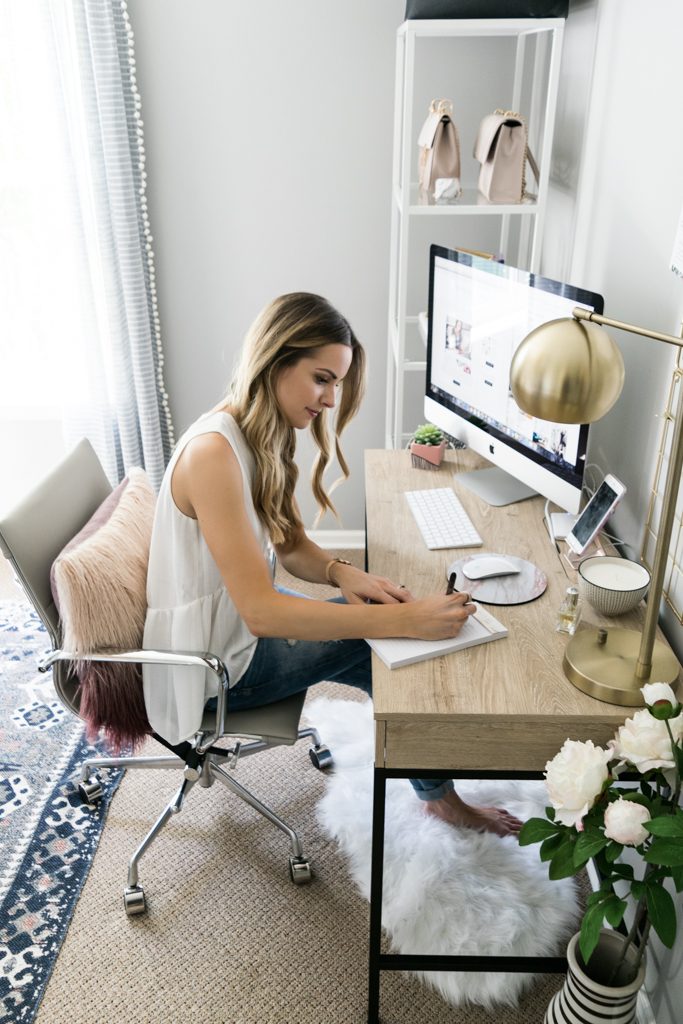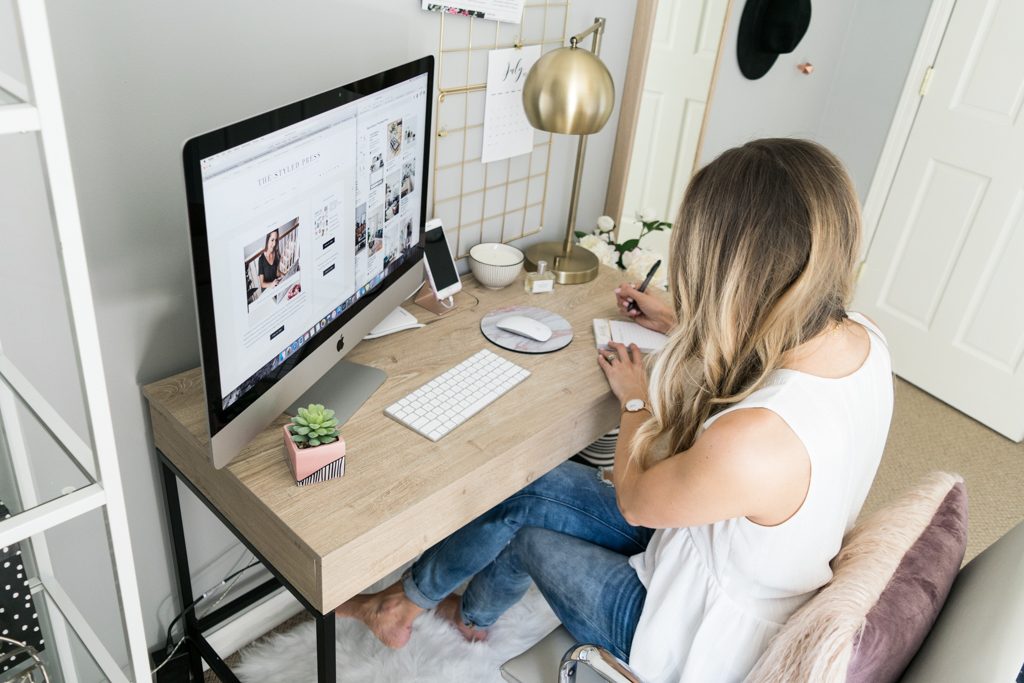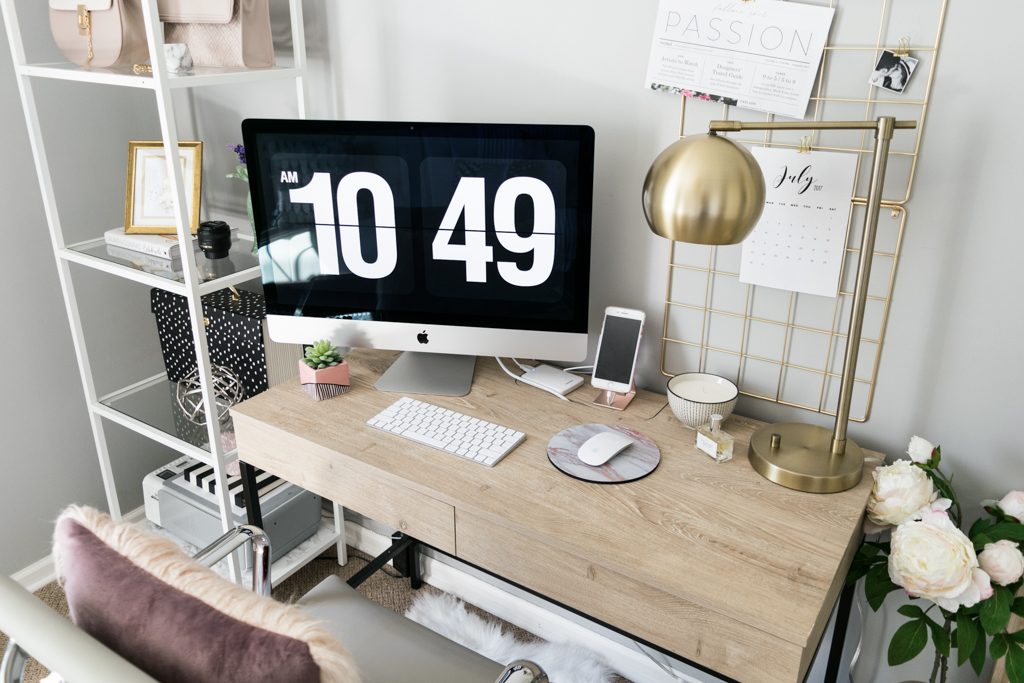 WHAT'S ON MY DESK:
Desk Lamp (similar): Target | Mousepad & Calendar: Etsy | Phone Stand: Amazon (amazing, might I add!) | Memo Board Grids (2): Target | Ceramic Bowl Candle: Target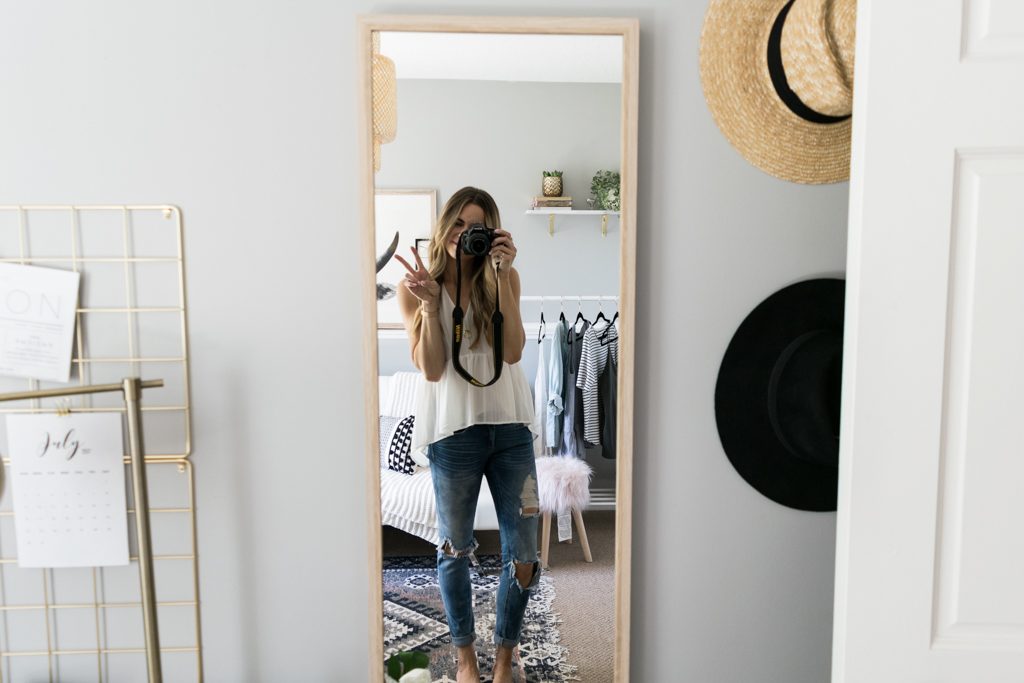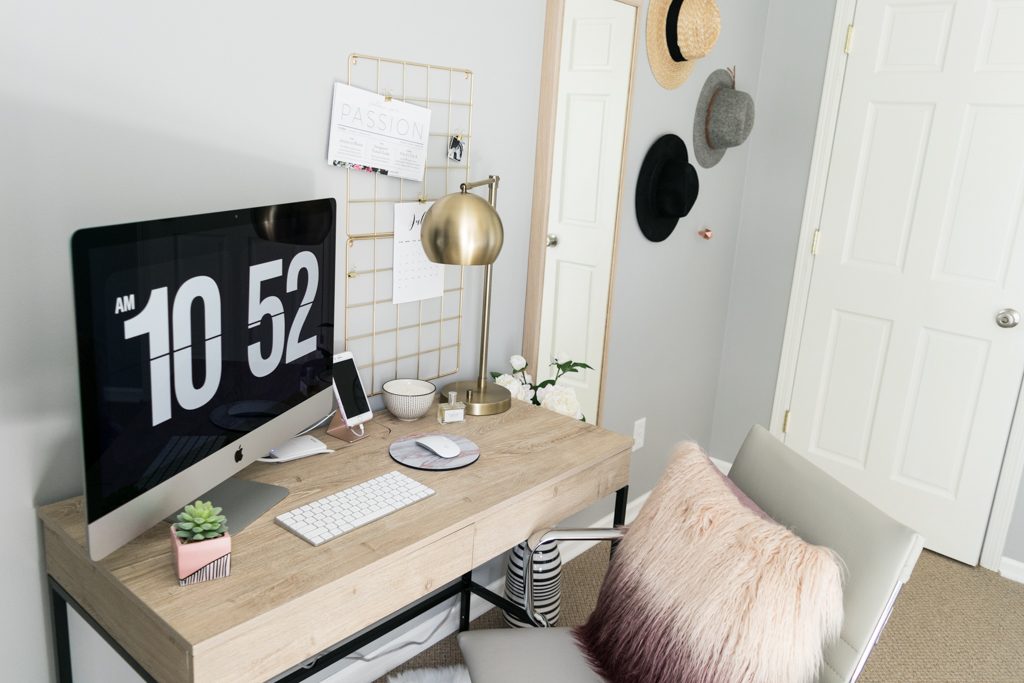 Faux Fur Chair Pillow: Target (from last fall)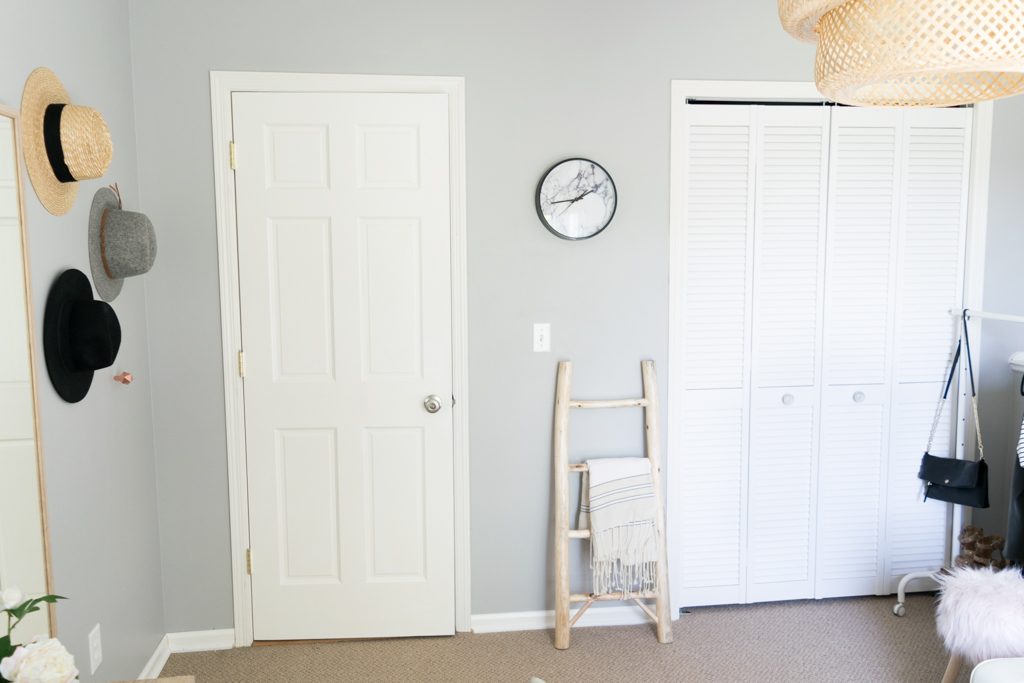 Marble Wall Clock: HomeGoods | Blanket Ladder: Target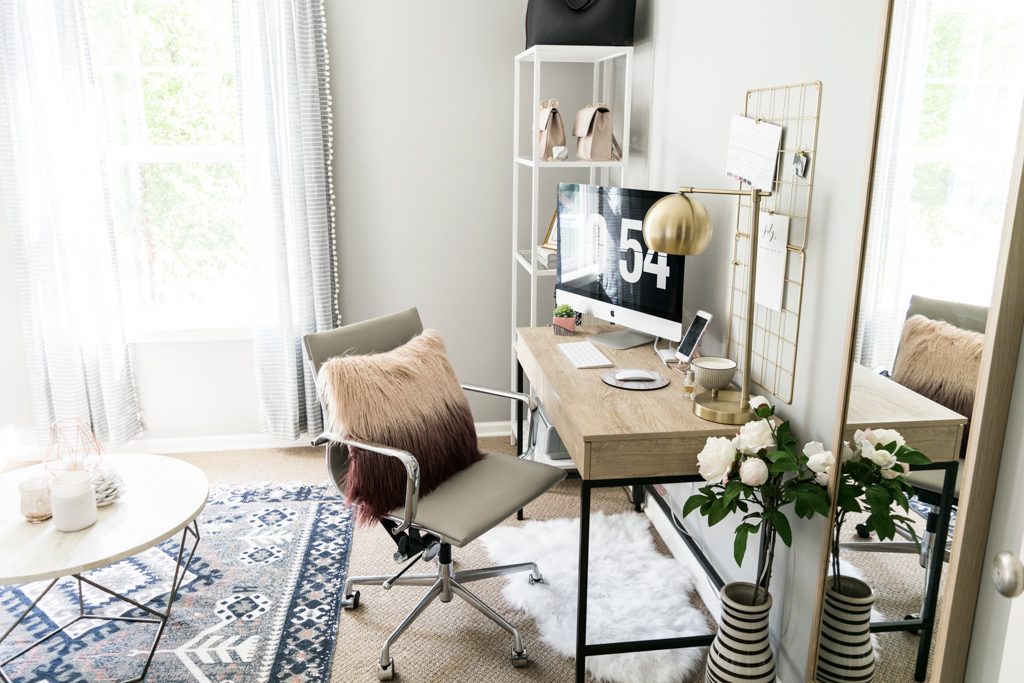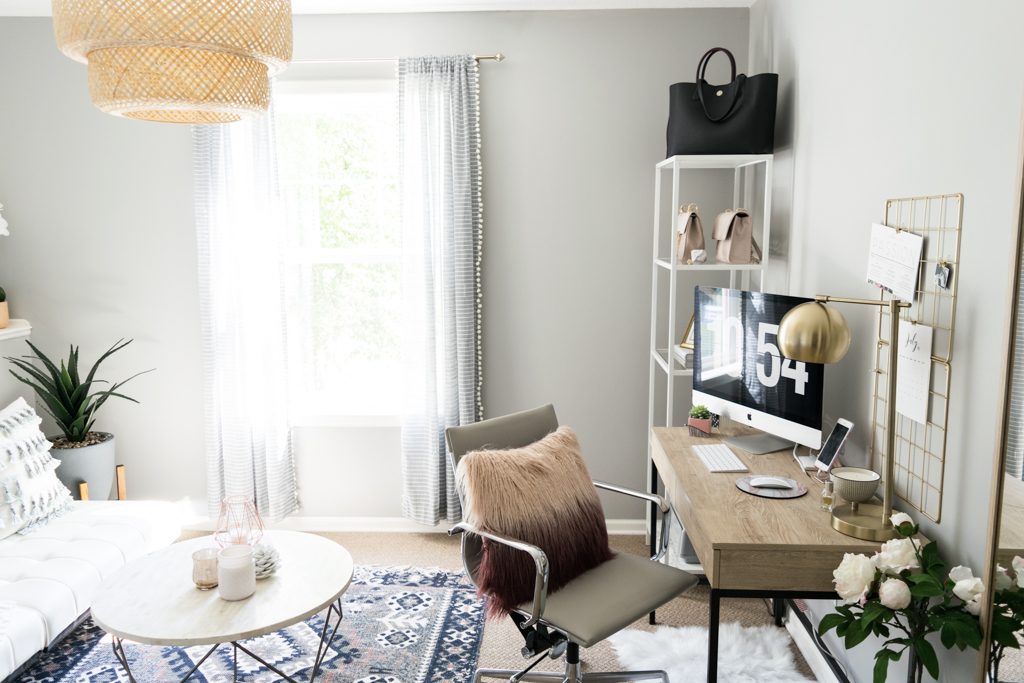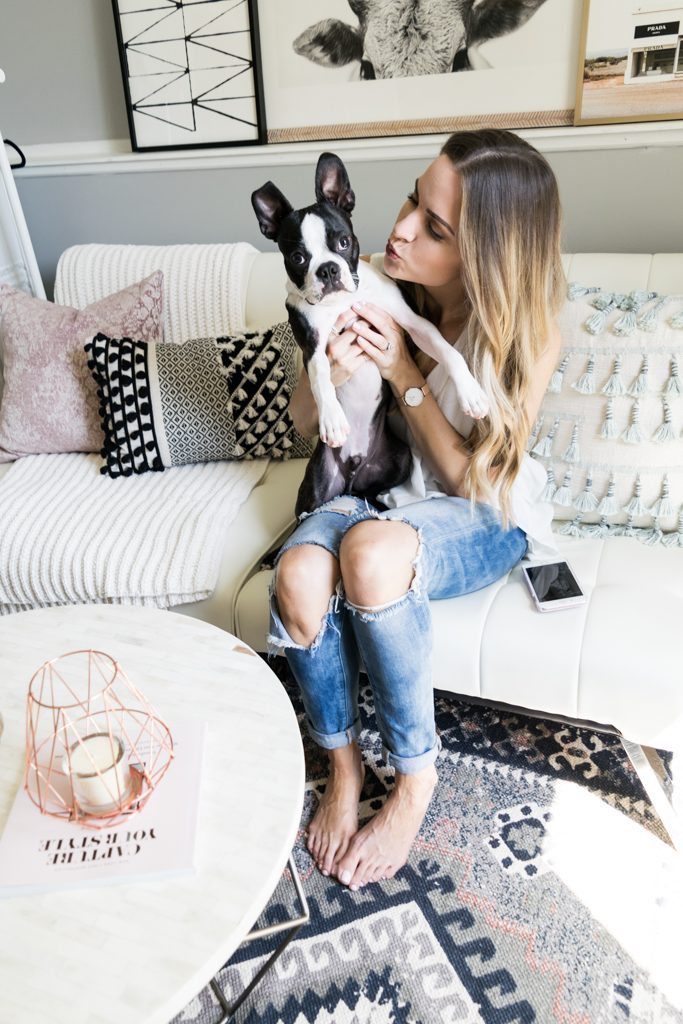 Bruce insisted on making an appearance – even though he looks so unenthused here, haha!
WHAT I WORE:
Peplum Tank (favorite top I own, and I've worn it nearly 10 times!) | Jeans (also available here)
---
There you have it! 🙂 What once was a huge work in progress is now my drive, inspiration, and humble abode to keep creating new content for you guys. Even if it means staying up way past my bed time on a work night… as I type this at 11:06pm. 🙂 My 5:15am alarm will be coming too soon! Work hard, play hard, right?
Please let me know if you'd like sources to anything from this post! I tried my best to include it all, but am happy to answer any questions for you!

P.S. – Only 3 more days to shop the Nordstrom Anniversary Sale! Things are quickly running in and out of stock, so hurry and snag those items on your wish list before the prices go back up on August 7th! Check out my NSale posts on the Nordstrom Anniversary Sale tab on my navigation bar! xo