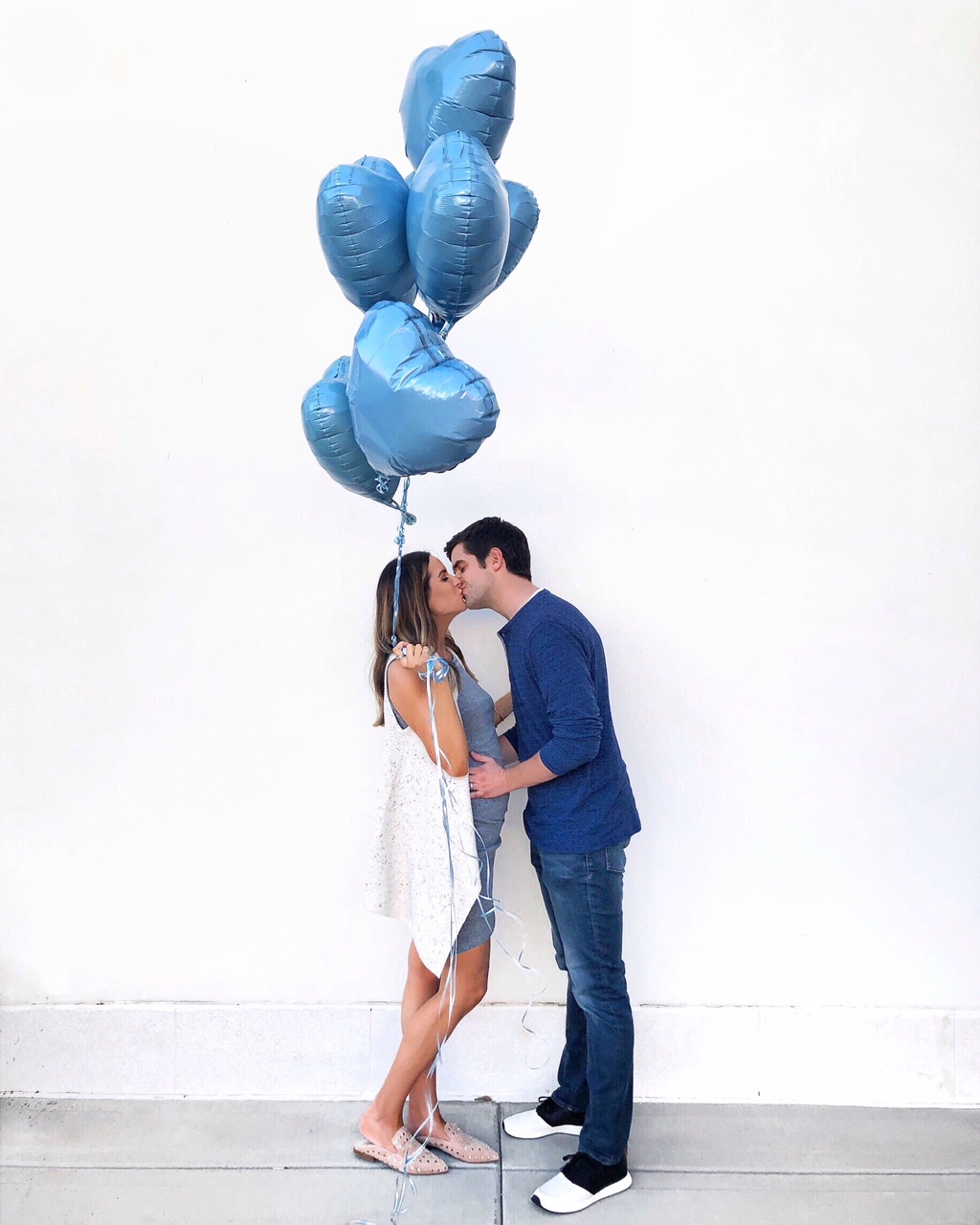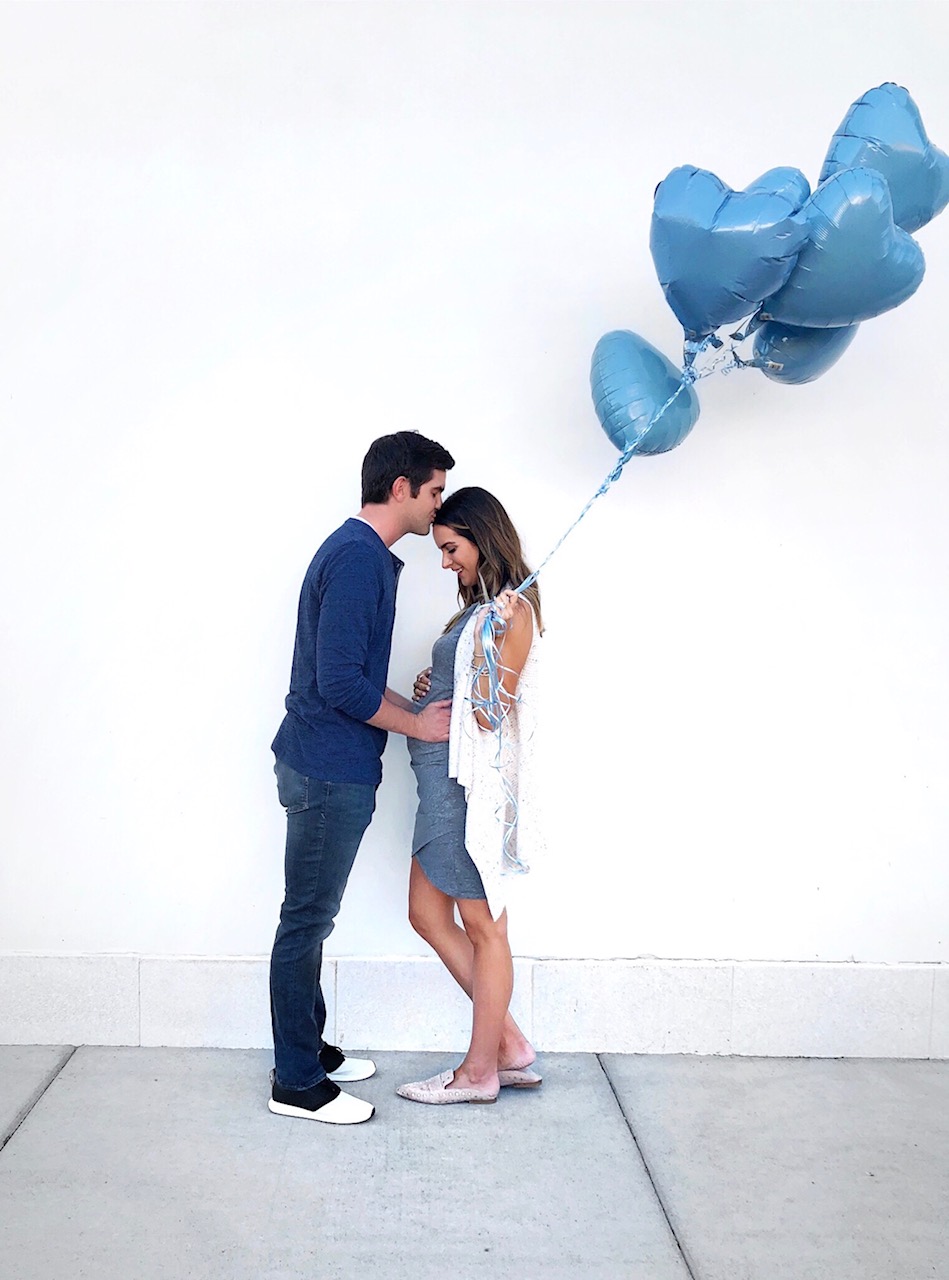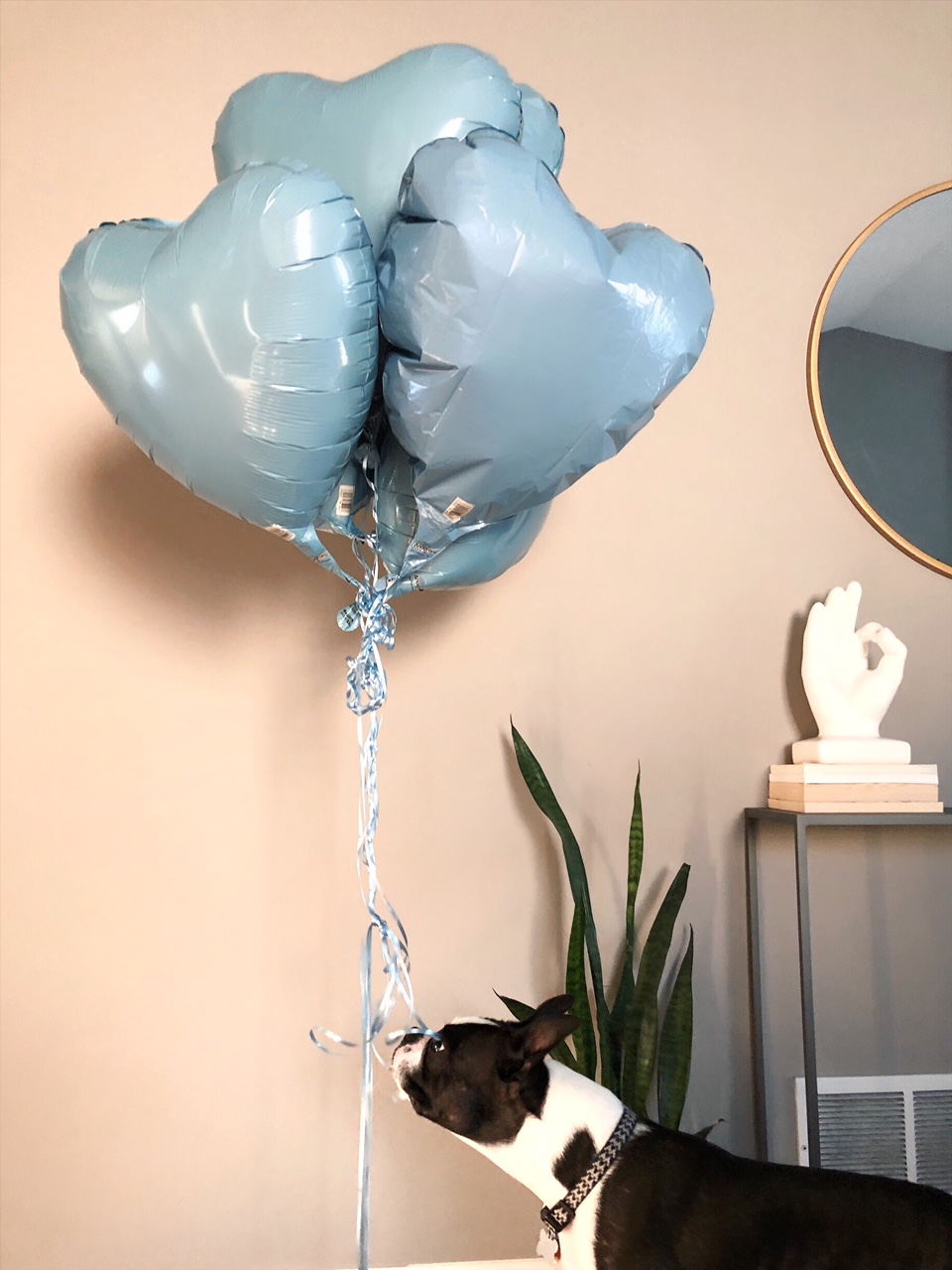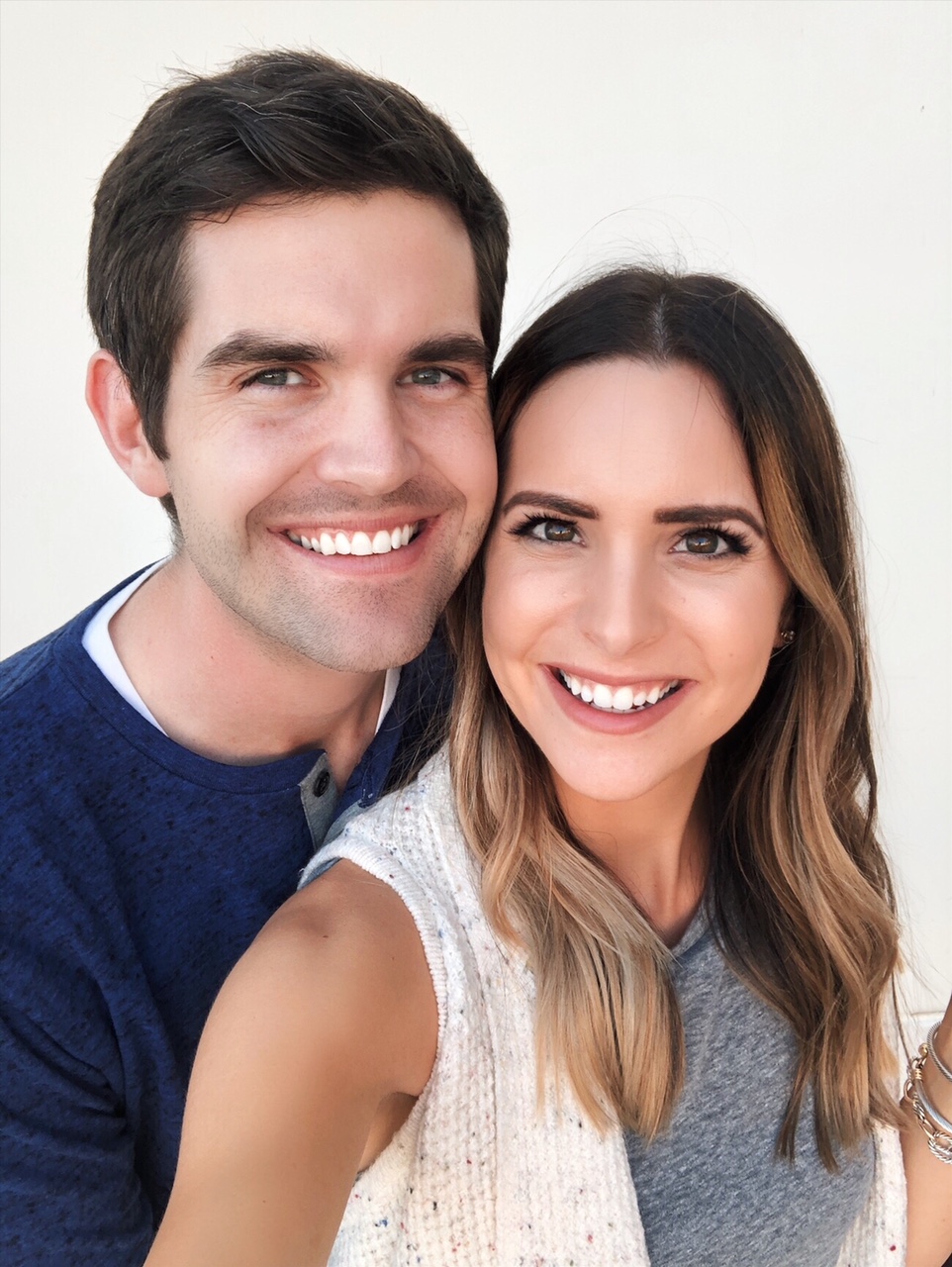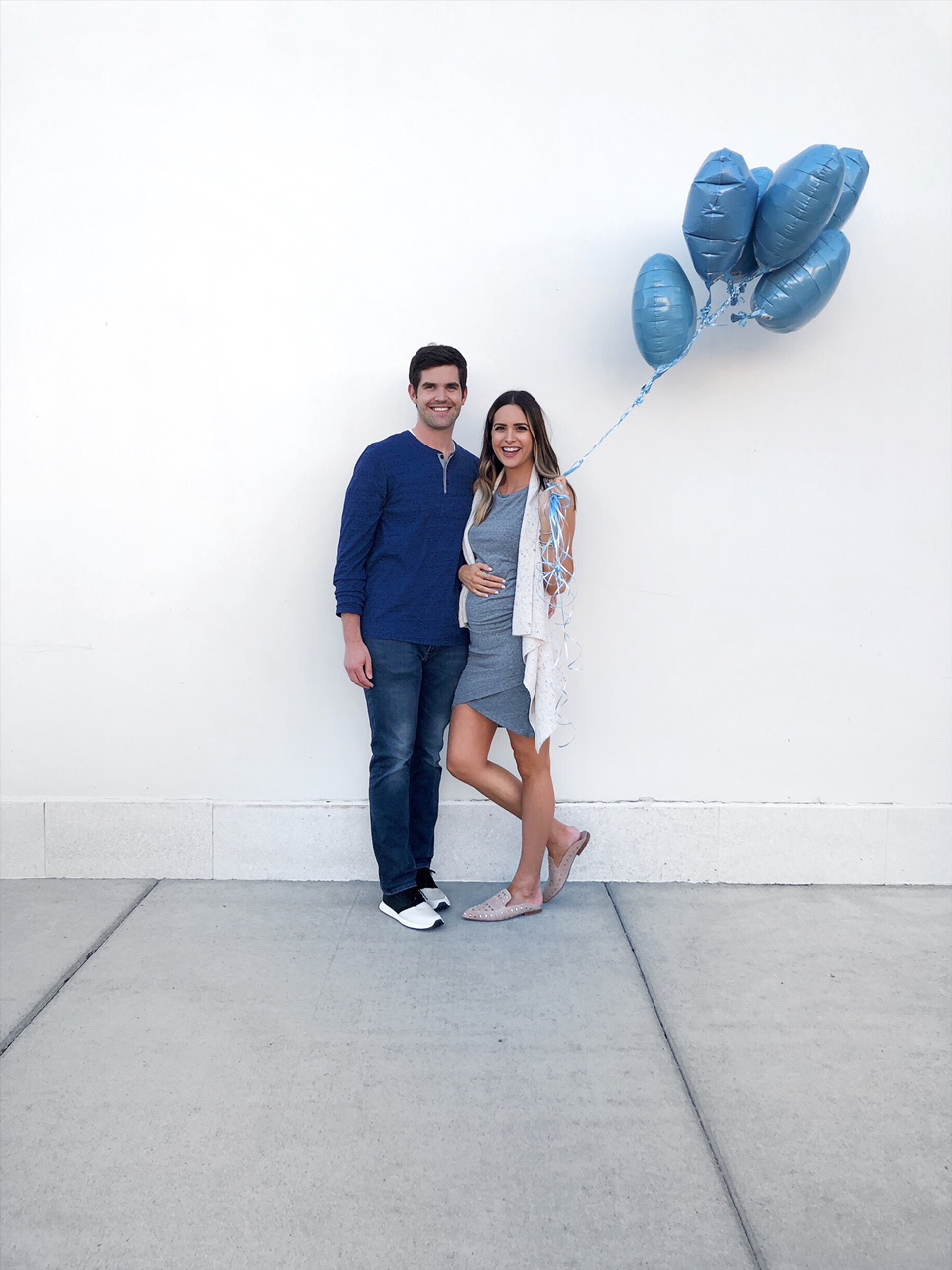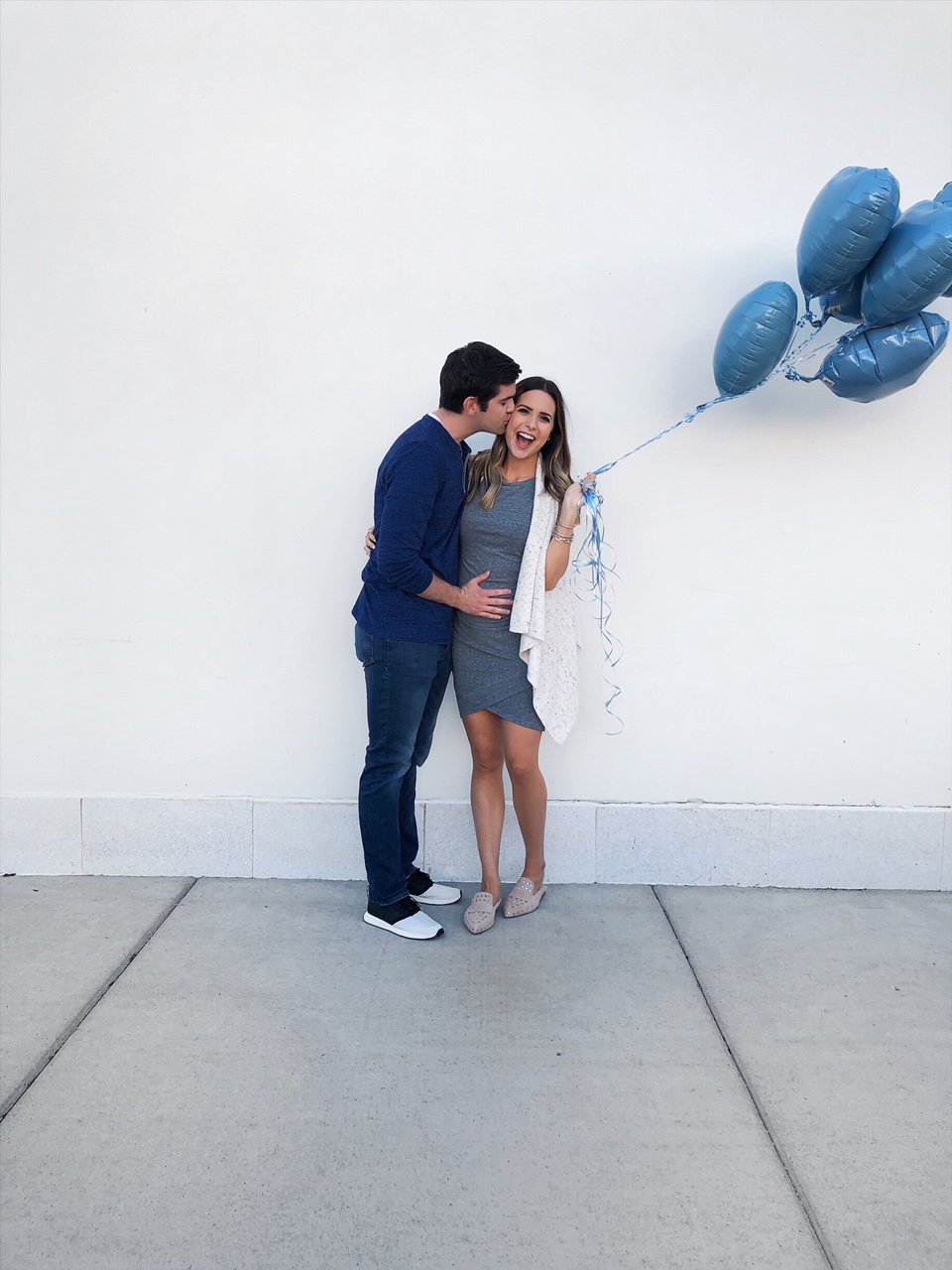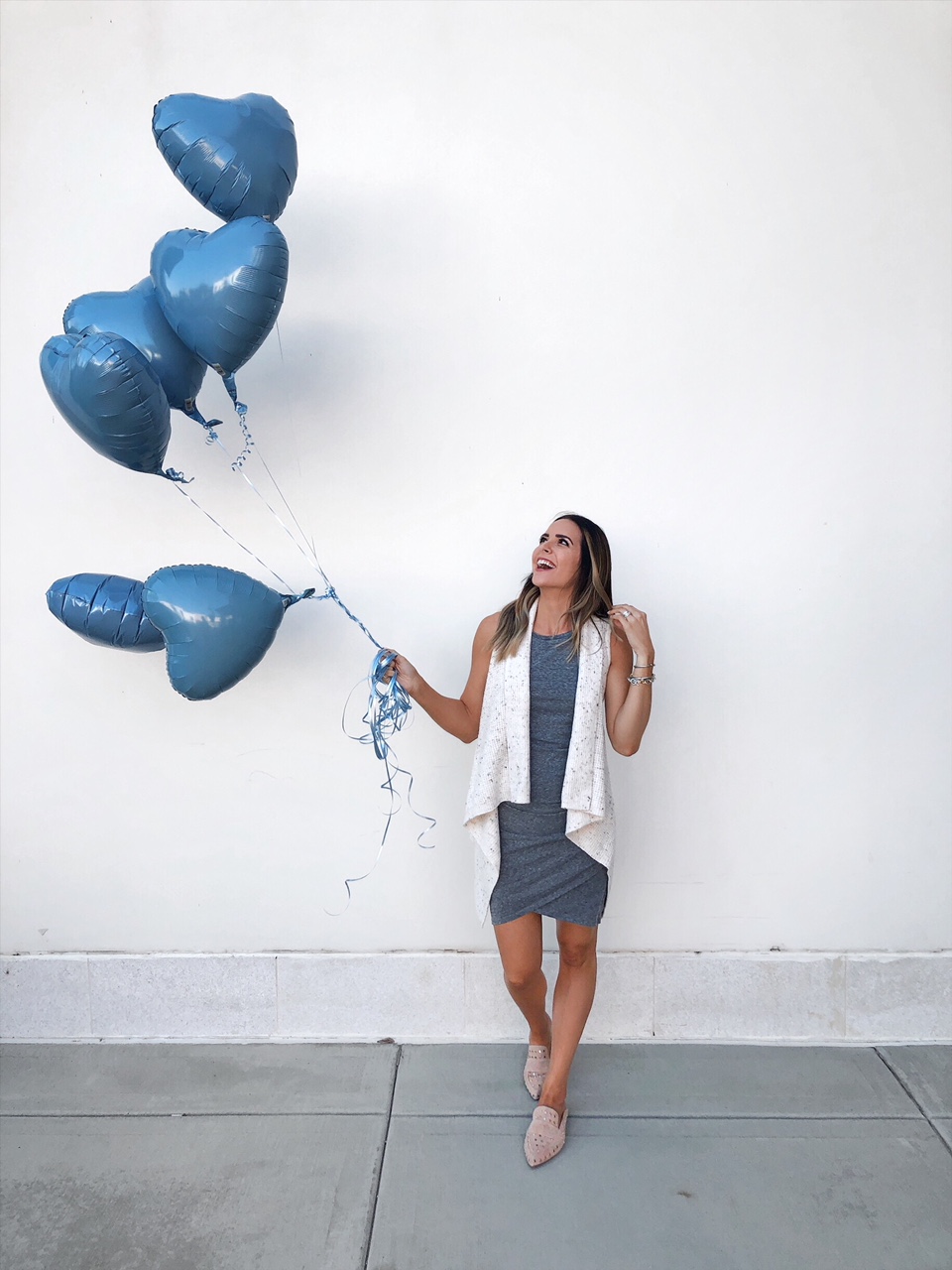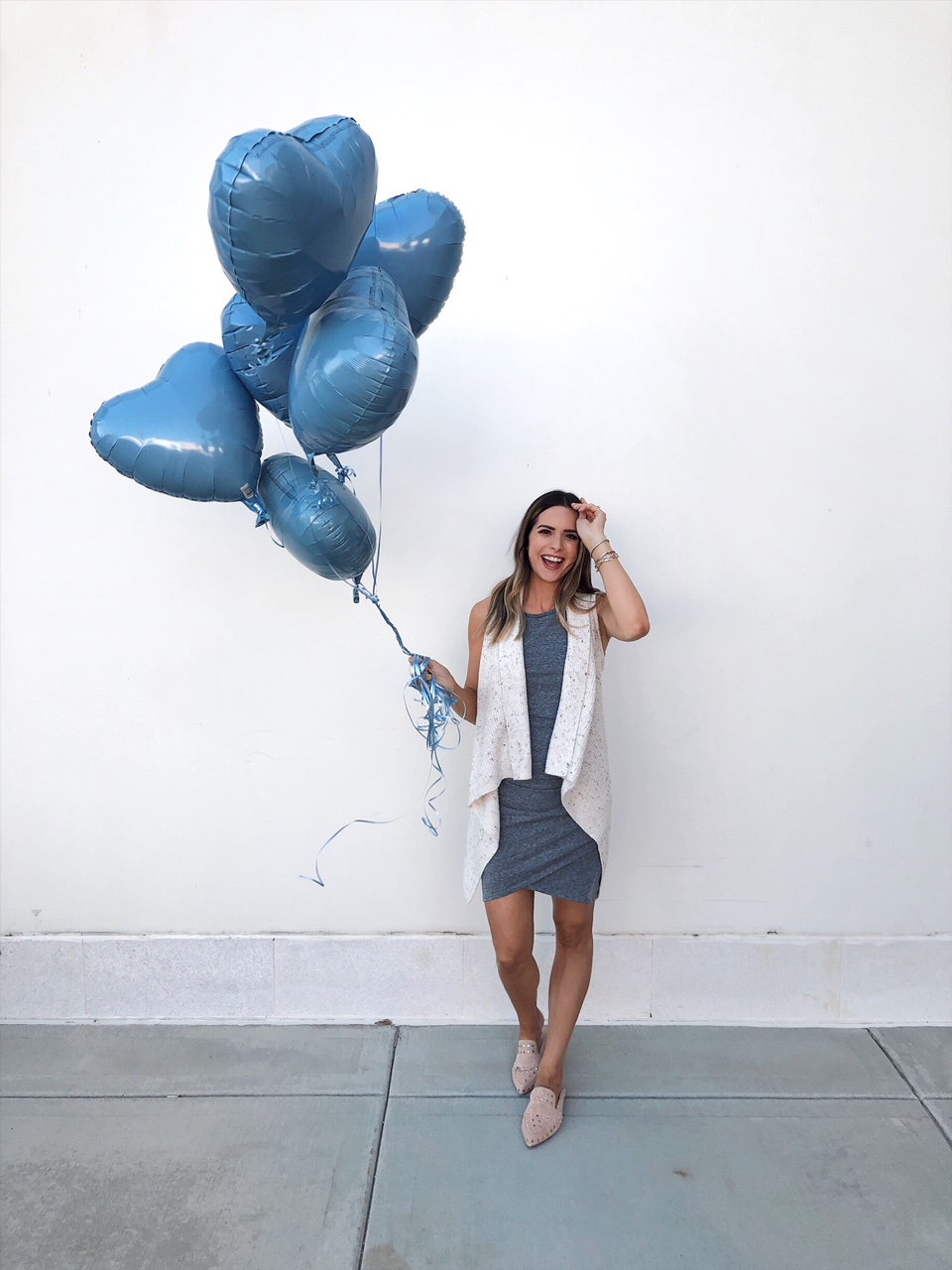 OUTFIT DETAILS:

---
Tom and I are so excited to share the news that we will be having a sweet baby boy in January!! We had our 20 week ultrasound a couple of weeks ago (I am a bit late to sharing this update, I know!) and it was one of the coolest moments ever finding out the gender of our baby! Tom was shocked, but is SO excited. He thought for sure we were having a girl! He's already talking about how he can't wait to buy our son his first set of golf clubs, lol! So sweet. Bring on all the cute boy things!!
It's also time for a bumpdate, so I'm sharing my 20 week bumpdate with you today! I asked my Insta Story viewers what questions they had for this post, and I have answered most of them below.
"How are you feeling?"
At the beginning of 2nd trimester I felt super tired, and still had nausea some days, but at about 16.5 weeks I was finally starting to feel like myself again! Just a little more tired. I still get little stomach aches at night before bed, but they have subsided and aren't as icky feeling and uncomfortable as they used to be. I've felt consistently well the past few weeks as well (I'm 22 weeks and 2 days today), but starting to get achier and already making noises getting up and down, ha!
Also, last week I had my first feeling of acid reflux and back ache during my pregnancy… and I was really hoping I would be able to avoid it. However, I have haven't felt it come back on since then, and praying that it doesn't come back! For those that don't know, I had horrible acid reflux about 7-8 years ago and so I do not want to cross that bridge again… it's awful! Seeing a chiropractor was what cured it though so if you struggle with acid reflux, I highly recommend seeing one. If mine comes back, I will be looking for one to see in the area (my old one was in St. Cloud so too far of a drive to see him again).
"Noticing any wacky pregnancy hormones?"
The wacky pregnancy hormones are SO real; I've been so emotional! I've always been an easy crier, but holyyyy man, pregnancy hormones are no joke. There were two instances where I knew my emotions were out of wack:
I was crying one Friday morning before work when getting ready with Tom because I forgot that he was going golfing that day and not returning until the next day, lol WOW, right?
Another instance where I knew for sure I knew my emotions were going crazy was when I was trying to fall asleep one night and Tom was still up watching TV and the movie "Up!" had just started. We love this movie, but I was so tired and was still just going to try and fall asleep. Seeing the movie a bunch of times, I knew what was going on just by listening, and when the part came on where Carl was reminiscing about his life with Ellie, I started to cry uncontrollably and could not stop! Like balling… lol! That part always made me cry pre-pregnancy, but not this hard, and it was very unexpected since I wasn't actually watching the movie, just half listening. I think it took me over 15 minutes to stop crying and calm down, haha! It's such a sad part of the movie though, can you blame me?!
Sometimes it's like a light switch – happy one minute, cranky the next! Sorry, T!  Haha.
"Anything new happening since the first trimester?"
Vivid dreams – I was having a lot of them at the beginning of my 2nd trimester and they have now subsided a bit, but will still have them once in a while! I am always pregnant in my dreams as well. I don't think I've had one dream where I haven't been pregnant since finding out we were expecting.
My baby bump made it's appearance and I notice weekly growth! It's especially large after a big meal haha and smallest in the morning and fullest at night before bed.
Pregnancy brain is a true thing! Wow, so many moments where I either completely forget about something or I lose my train of thought while talking to someone… haha and other random things I catch myself doing (like almost putting the cereal in the fridge).
I started feeling baby fluttering at 18 weeks! There were a few instances earlier (between 16-17 weeks) where I thought maybe I might have felt it, but wasn't really sure, but now that it's more intense and frequent, I know it's the baby! It feels almost like bubbles or a little fish flopping around, right below my belly button. It was such a crazy and exciting feeling! 🙂 Now, I am actually feeling true kicks/stronger movements and Tom feels them all the time! Our boy is super active in there and I notice it most in the afternoons when I'm at work and at night before bed.
Muscle aches (especially my legs after sitting at my desk for a while) – I had a reader recommend this muscle roller, and it has been a lifesaver!
At this point, my non-maternity jeans are out of the question. I was using my bellaband or a hair tie previously, but it's gotten too annoying/uncomfortable. Plus, I don't like it when I can see my pants unbuttoned through my shirt, especially since I am wearing a lot of fitted tanks under my cardigans lately (my go-to pregnancy outfit!). That being said, I have purchased a handful of maternity jeans and am so happy about doing so! They are a million times more comfortable and I've already got a ton of use out of them. I wear jeans to work most days and of course on the weekends, so they were a very necessary purchase for me. Sharing my favorite maternity purchases below!
"What have been your favorite maternity clothing purchases?"
"Are you going to share the baby's name?"
We are actually going to keep this one a surprise – our immediate family knows and we spilled the beans to some of our close friends, but that's as far as we want the secret to creep! Tom and I actually picked out our baby boy's name years ago (probably like 5 or 6 years ago!) and it's very special to us and can't wait to share.
"How many kids are you hoping to have?"
We've talked about 2-3! If we have a girl next, we might be done… but who knows! 🙂 I definitely want a girl too though! But if we have 3 boys in a row we may have to give it up, lol.
"What are you using to prevent stretch marks?"
Fortunately I haven't noticed any stretch marks yet, but I have been lathering myself with Burt's Bees Mama Bee Belly Butter nearly every day! I put it on my stomach, chest, bum, and the sides of my thighs. I've heard great things about Bio Oil as well, but I don't love the thought of being all oiled up and then putting on clothes… so I have been hesitant to try it/any other oil for stretch mark prevention.
"Current cravings?"
Not really having any crazy cravings! My sushi cravings have subsided, but I am still obsessed with soup since craving it during my first trimester! However if someone starts talking about a specific food or I see a commercial of something that looks good, I immediately start to crave it.
"Food aversions?"
I had a horrible aversion to red meat my first trimester, but that has mostly gone away, besides steak beef (with the exception of a burger… but I'm also picky about the burger and where it's from).
"What is your biggest fear about becoming a parent?"
Keeping the bond between Tom and I. I've heard it's really hard on your marriage at first because it's very baby this, baby that at the beginning, but I think with routine date nights, communicating often (and not just about baby) and making time for each other will help! I also fear I am going to have a rude awakening for the new "normal" and not having as much time to do what I want in a day (since I already struggle with this as it is!), but I think it will all be worth it. 🙂
"What's your workout routine?"
I have honestly been taking it really easy – much like my first trimester. I used to be much more disciplined pre-pregnancy, but now I am giving myself a lot of grace if I'm too tired to work out at the end of the day. When I do have the energy, I go for a walk with Tom and Bruce (1-3 miles) and/or do a short 20-30 minute workout at home doing my favorite moves or following along with prenatal workouts I find on YouTube.
"What are your second trimester must-haves?"
All the same things as my first trimester must-haves (shared in this blog post), as well as all the maternity clothes mentioned above, Burt's Bees Mama Bee Belly Butter, and this muscle roller for my legs!
"Has your skin routine changed?"
Not a whole lot, actually! I am avoiding any acne products that contain salicylic acid or Retin-A that I would use occasionally pre-pregnancy, and now I am using the below:
That was a LOT of information, but I hope it was helpful for you expecting momma's out there! You guys had some great questions. 🙂 Thanks for reading!