Super excited to be finally sharing my microblading experience with you all! While I have been covering much of my experience on my Insta Stories, I have had tons of emails and DMs from you guys asking more about it and/or what I use for my eyebrows (for those that didn't see my story to understand I had the treatment done)! Considering getting the latest and greatest brow game-changer? I'm sharing all the pretty (and ugly) details of my microblading experience and everything you need to know. Grab a cup of coffee or glass of vino, cuz this is a long one! x
A few weeks before deciding to get the treatment, I had been spending a ton of time googling microblading, it's pros and cons, before and afters, and where it's available in MN (which, there aren't many places around here yet!). Literally in the nick of time when I decided I was definitely interested in getting it done, owner of Le Visage and brow microblading specialist, Christina Mikels, reached out to me. She saw that I followed her on Instagram and asked me if I was interested in getting my eyebrows done in exchange of getting more awareness to microblading being available in the area, and I literally jumped for joy! I knew that I wanted to share my experience of microblading with you guys already, upon decided that I wanted it done, and this gave me the push I needed to make it happen – especially with someone has highly rated and talented as Christina!
Now, as excited as I was to get it done, some anxiety crept up; was it going to hurt? (I'm a chicken), will my brows be semi-permanently ruined if I didn't like the results? Etc… So I mustered up a bunch of questions for Christina, reviewed her before & after work, and put my self at major ease. It was going to be awesome!
Everything You Need to Know About Microblading
After getting answers from Christina (and a little help of the internet, which also reflected her answers), I compiled a list of answers to FAQ about microblading and things you're probably curious about:
It's semi-permanent, so it's not a conventional tattoo. The pigment isn't applied as deep, and so it will fade after time (touch ups are typically done every 1-2 years, depending on your skin type). Some might be bummed that it's not permanent, but consider it a good thing! Eyebrow trends change over time, so it's in your best interest that they aren't sticking to your face for life.
Microblading is an ultra-precise manual technique that introduces individual hair strokes that are customized for your face shape and hair color.  Unlike permanent makeup/conventional tattoos, which uses a machine that can vibrate and blur, microblading is done with a precise hand tool so the strokes are fine and natural in appearance.
At Le Visage, the initial procedure should take up to 3 hours to complete. Precise face measurements are taken and you'll approve your new brow "frame" or shape.  Then, the individual hair strokes will be created. If you aren't local and are researching for brow artists in your area, make sure they are spending an ample amount of time during your initial treatment, are patient and make adjustments to the "map" of your brows as you wish, and do not rush this process.
The average price begins around $400 – at Le Visage, it's $449 for the initial procedure and $100 for the mandatory touch up. If you are researching for places and it's any cheaper than $400, I would consider it to be a red flag.
Touch ups are definitely necessary (and should be deemed mandatory) if you want the most out of your microbladed brows. The process is considered a 2-step treatment, and should be completed 4-8 weeks after your initial appointment. With your touch up, you ensure the correct pigment retention, color and shape.
An array of pigments are available at Le Visage to make sure you get the perfect color match for your hair and complexion. If you are going to an artist with less than 5 pigment options, I would be a little concerned that the colors aren't fit for everyone. Christina had a ton of pigment options and matched me by testing out around 3 different brown pigments. 
Pain factor – this will VARY, as people don't feel the same levels of pain, and it is even more likely to vary if you go to a different artist than Christina. Read about my experience below to hear my take on how painful it was!
My Microblading Experience at Le Visage
Christina is currently a one-woman show at Le Visage, which is located in the suburbs of the Twin Cities in Maple Grove, and was super flexible and worked with me to get appointments in at times that worked for me outside of my work hours. She was so sweet, confident and open when we met, and answered all of my daunting questions before my treatment. Just know that I am a pretty sensitive person, and she made me feel completely relaxed and confident that she was going to do a great job, listen, and go at my pace.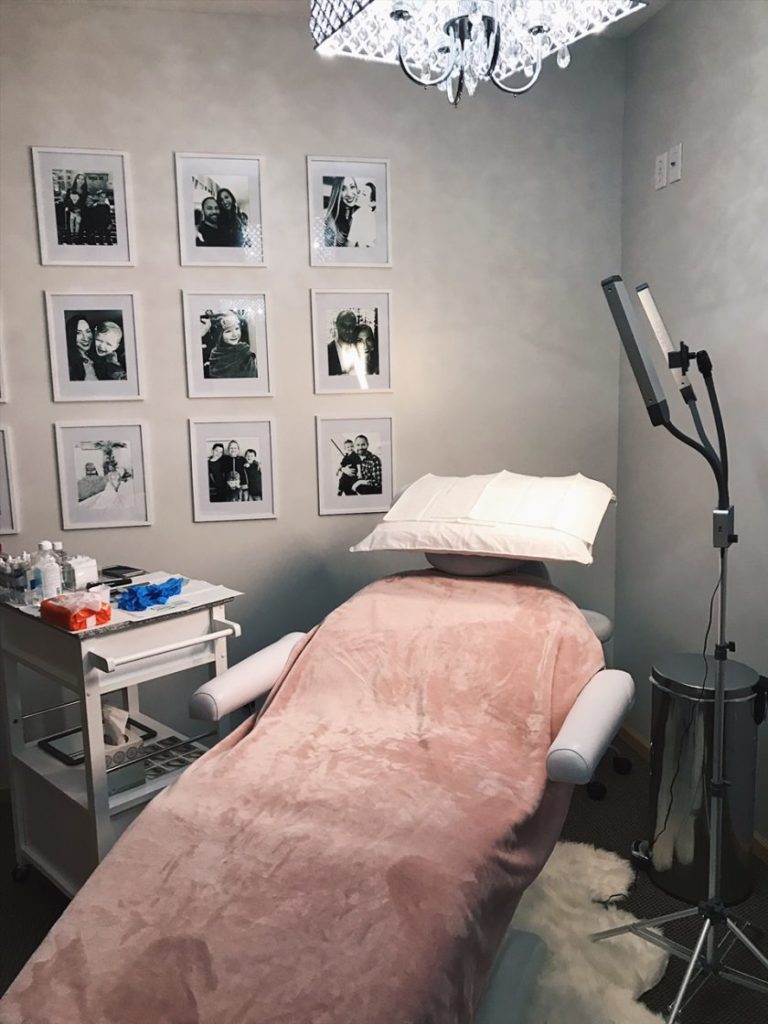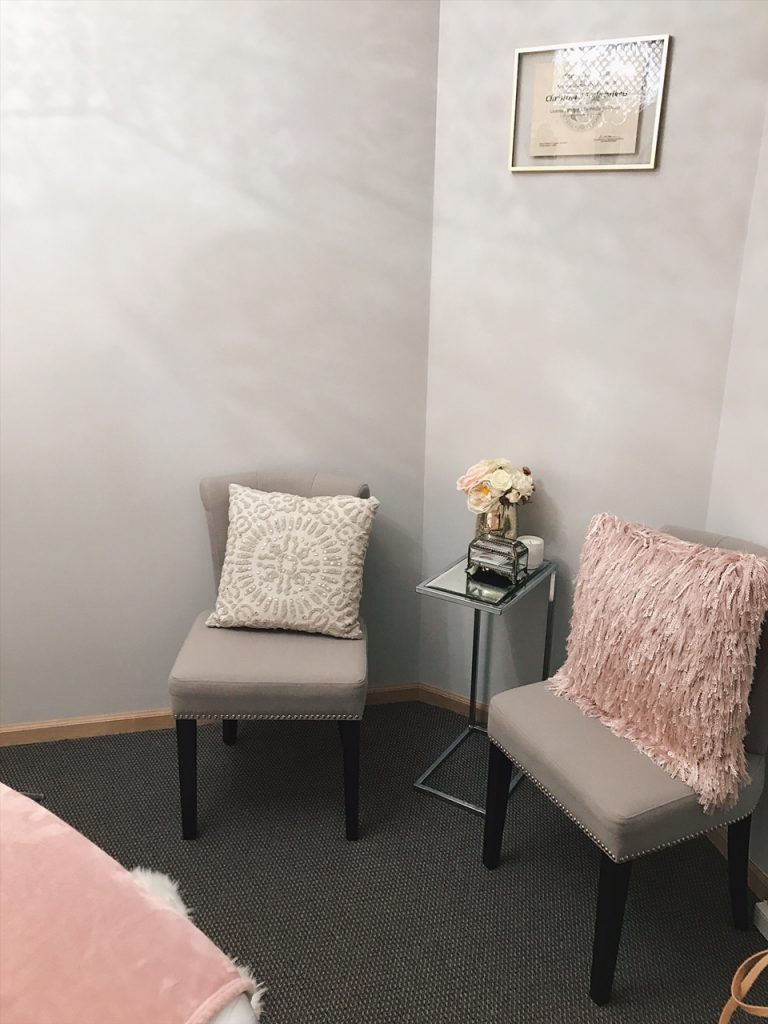 Her "office" was super cute with blush and neutral decor (of course I was a huge fan!), had a very comfortable chair, and photos of her family on the walls. For me, this was really comforting and made her more personable and relatable of a person after just meeting her. After some enjoyable small talk with Christina, she walked me through each step of the procedure and made sure that she answered any questions I had.
Step 1: Mapping Your Eyebrow Shape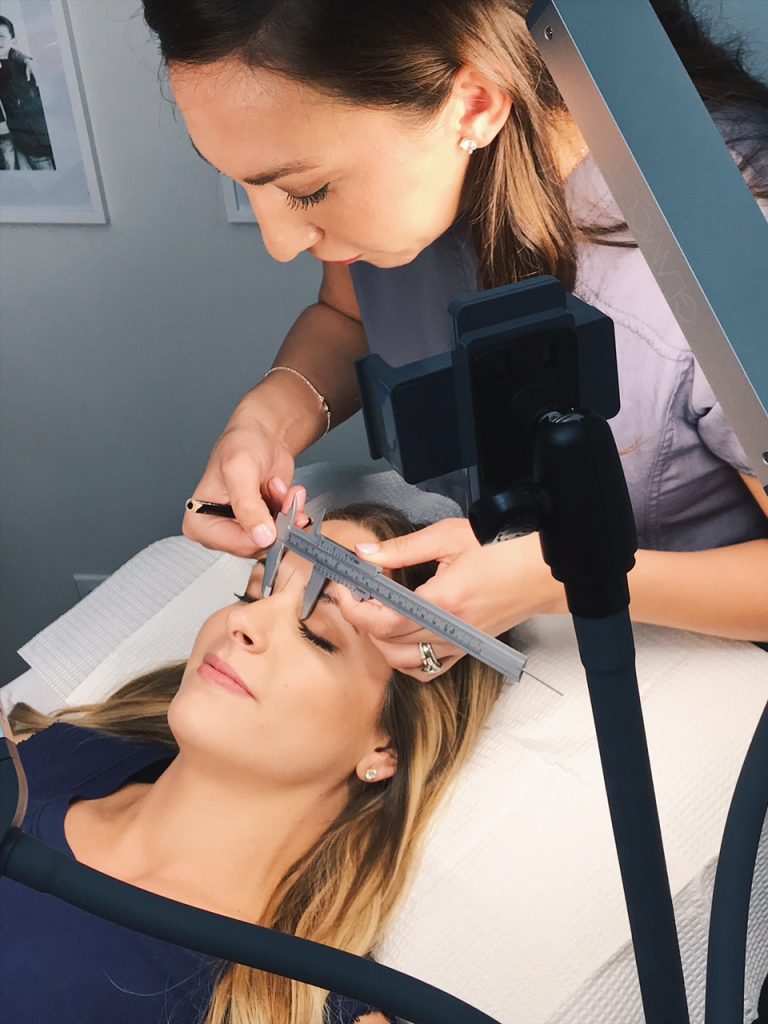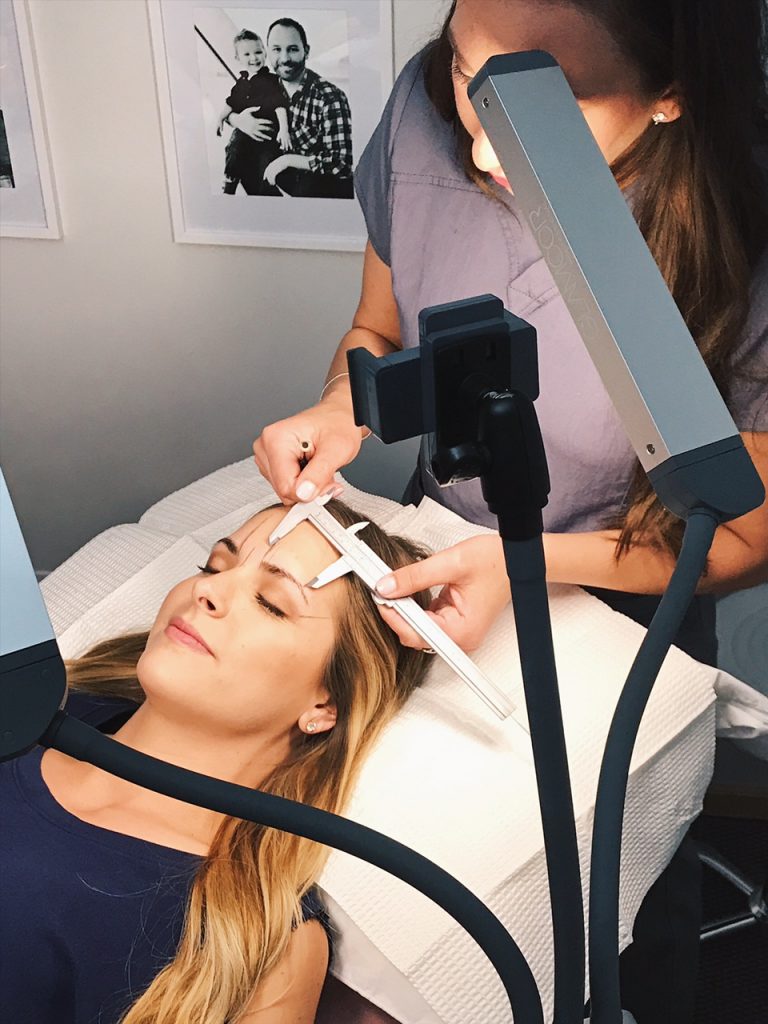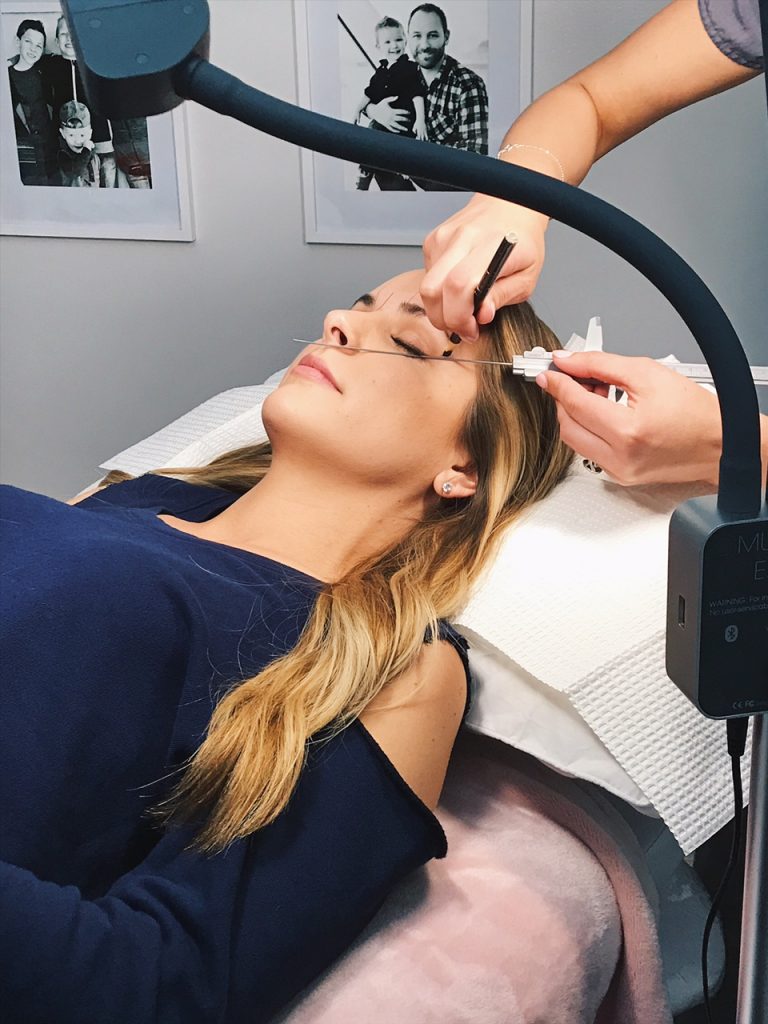 The first step to getting #browgoals is to perfect the shape. Christina used tools to measure out my eyebrows to perfection, from starting point, to arch, to end point.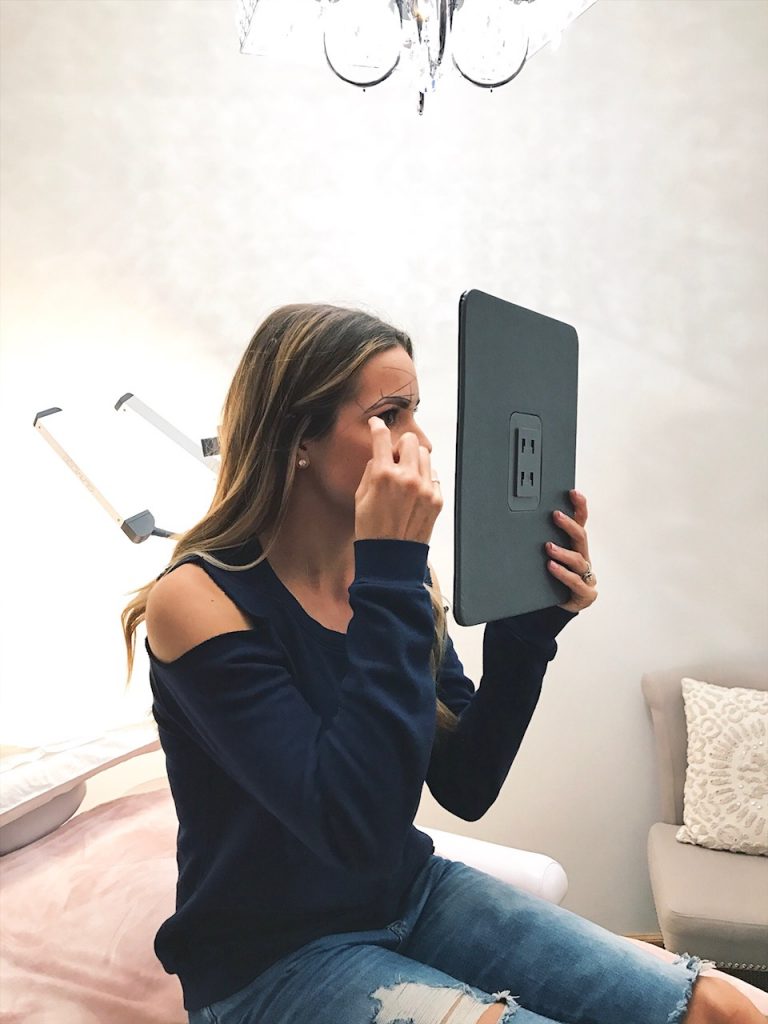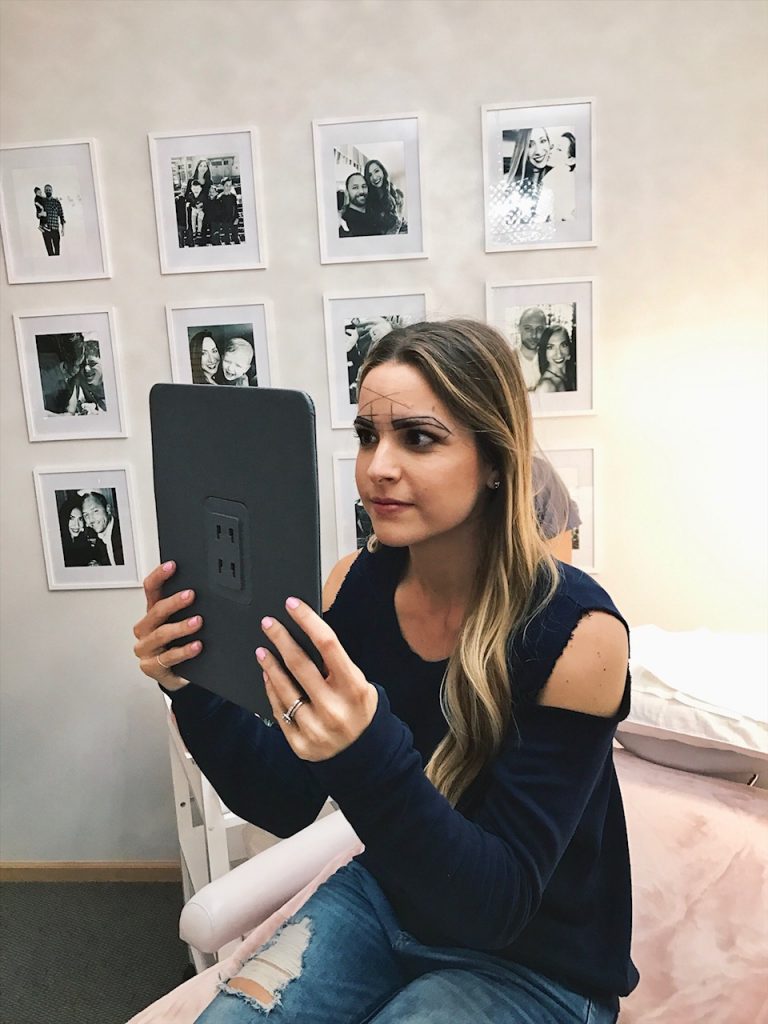 After Christina carefully mapped out my brows, she asked for my approval of the shape and thickness. It was so nice to have some control! Definitely a huge factor in making me feel comfortable and confident in the work she was performing. (Note: the outlines were guidelines to where she had to fill – she didn't actually fill directly on the lines, just inside of them). I told Christina arches and length were perfect, and that I just wanted to make them a little less thick, and she happily redrew them for me to approve a 2nd time. She was so patient and kind! The whole mapping takes a lot of time, so it was so nice of her to be so open to adjust them per my request.
Step 2 & 3: Picking the Pigment and Blading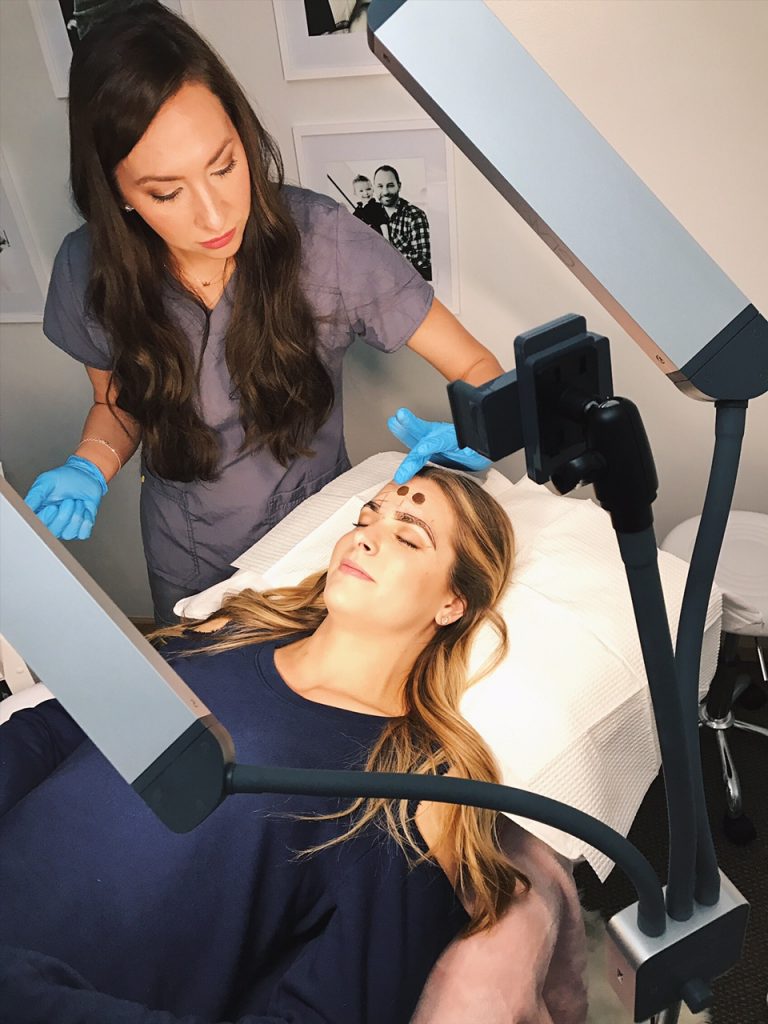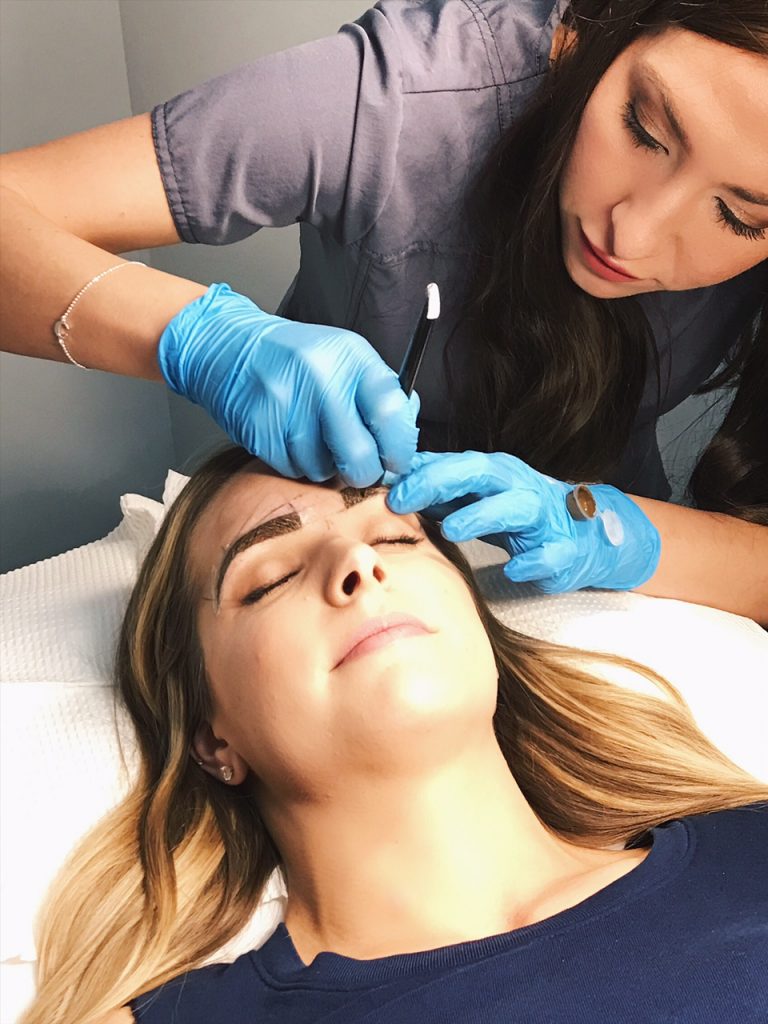 I know I said it earlier, but Christina had a plethora of pigments for her to choose from, which was amazing! She truly wants you to have the best possible color brow for your face. I was color matched (the pigments you see on my forehead) while my brows were being numbed from the numbing gel, and after getting my approval on the color, she began dipping the blade of the hand tool into the chosen pigment and created the strokes/scrape to fill my brows – the "blading" process, if you will!
During this time, you will hear a scratching/scraping noise. Christina played music and so it really didn't bother me, but you can always bring head phones if you are sensitive to sounds like that! It really was nothing to me, but could potentially drive someone else crazy.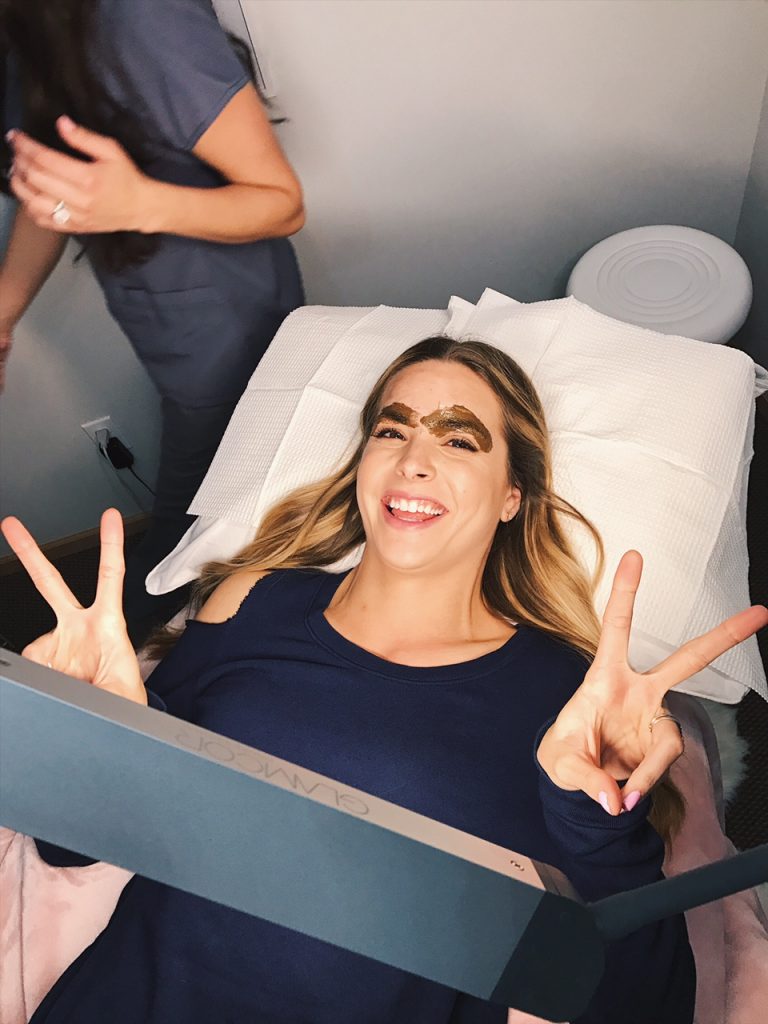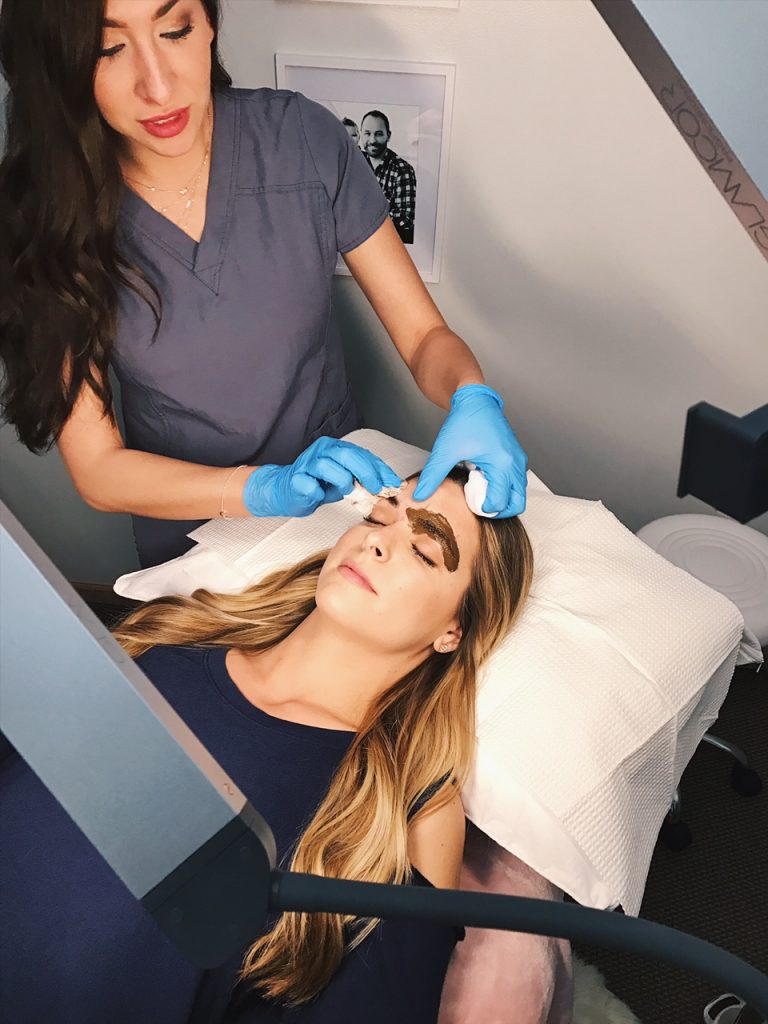 Lol! This part was definitely a belly laugher. After Christina's work on the strokes of my brows, she covered my brows in the pigment for a few minutes to ensure all areas of the blading were covered. In the second photo, you will see her begin to wipe off the pigment to reveal my spanking new brows!
Microblading: Before & After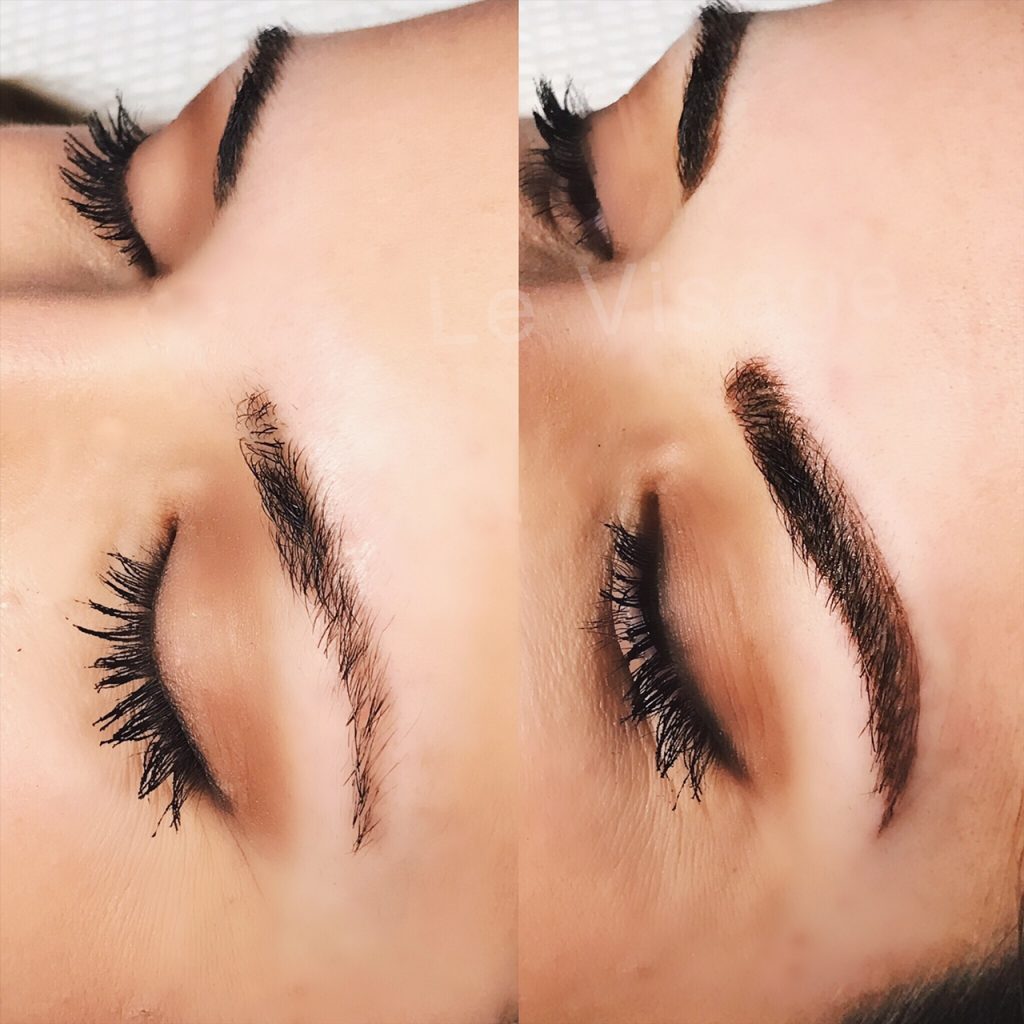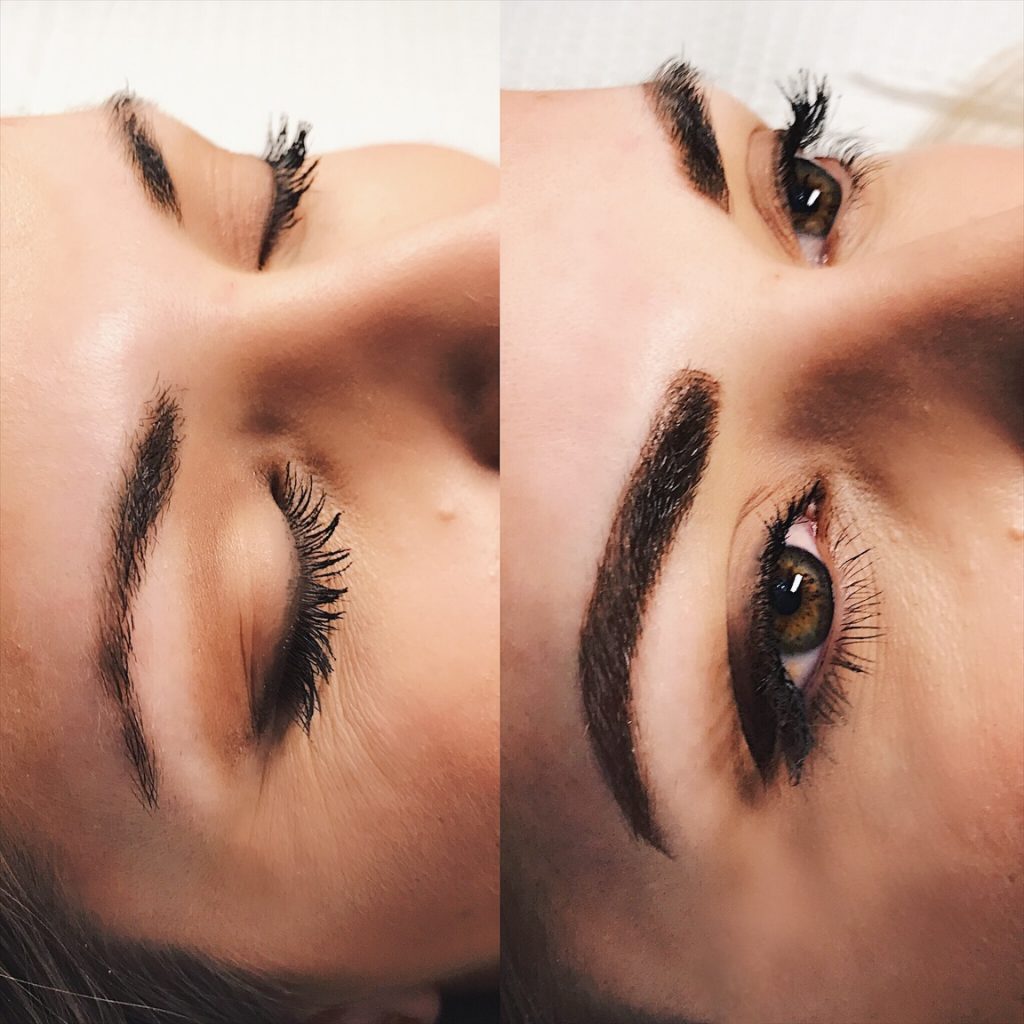 Ummm, what an insane difference, right?! Honestly, my brows were even worse than they look in the 'before' photos above. Just horrendously sparse and thin. Microblading was a game. changer.
Right after they are complete, they will look a little bolder and darker than what they will look like post-healing, but the shape and fill will remain, besides the 30-40% fading of the color. Being that they do fade that much, I recommend you going with a darker shade than you think!
The Healing Process
This part was honestly the hardest and most annoying part of microblading. I want to start off by saying it was 100% worth the end results, but the first 4-5 days post treatment 100% sucked. Your brows will be pretty intense and BOLD for at least 4-7 days after the initial treatment and touch up. The first couple days at work following my apt, I was a bit self-concious and wanted to tell everyone that I just had my brows microbladed and that they are HEALING and will fade 40% this amount, and that they weren't on purpose…etc. 😉 The shedding of the pigment isn't fun either, which begins about 5-7 days after the treatment. They won't all come off at once, so you will have some patchy brows; however, at this point you can add powder to your brows if you wish! So I filled in the sparse areas, and it wasn't quite as noticeable to others.
Pre and Post Touch Up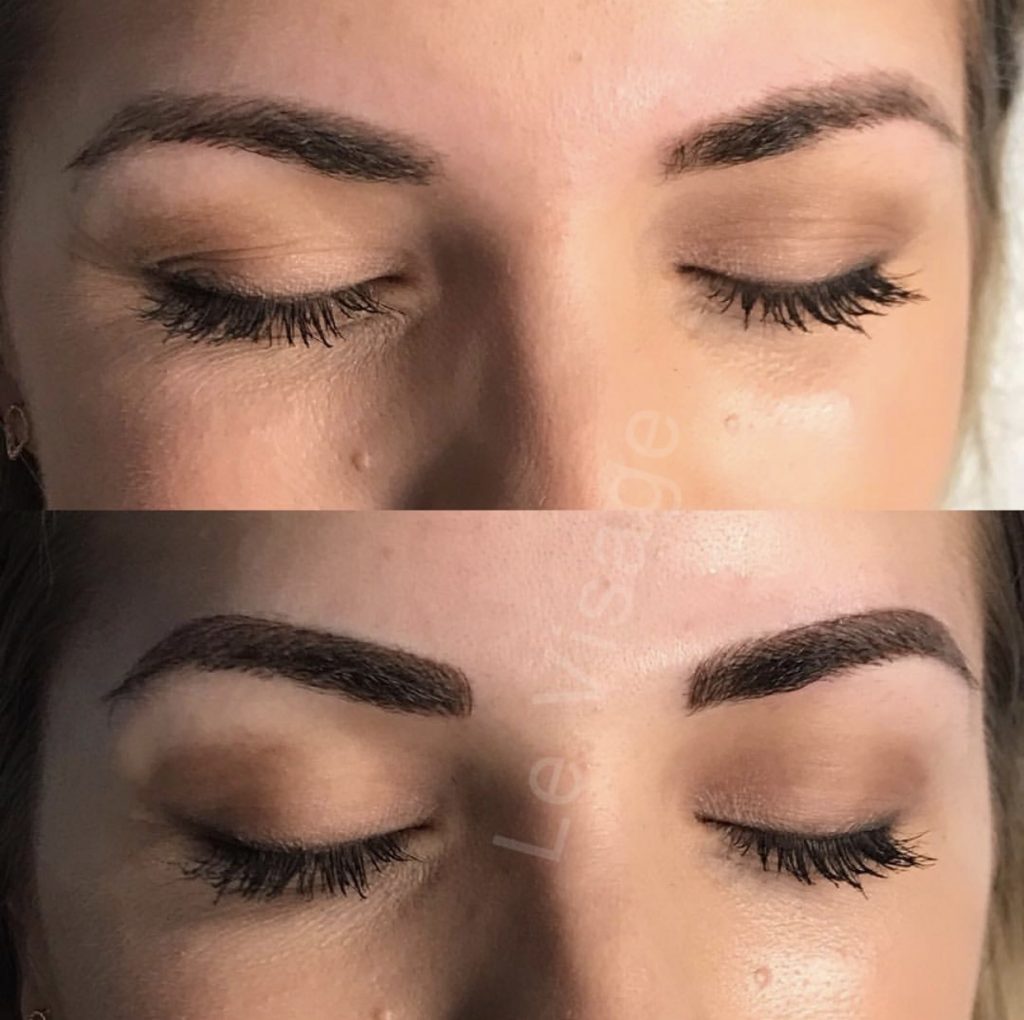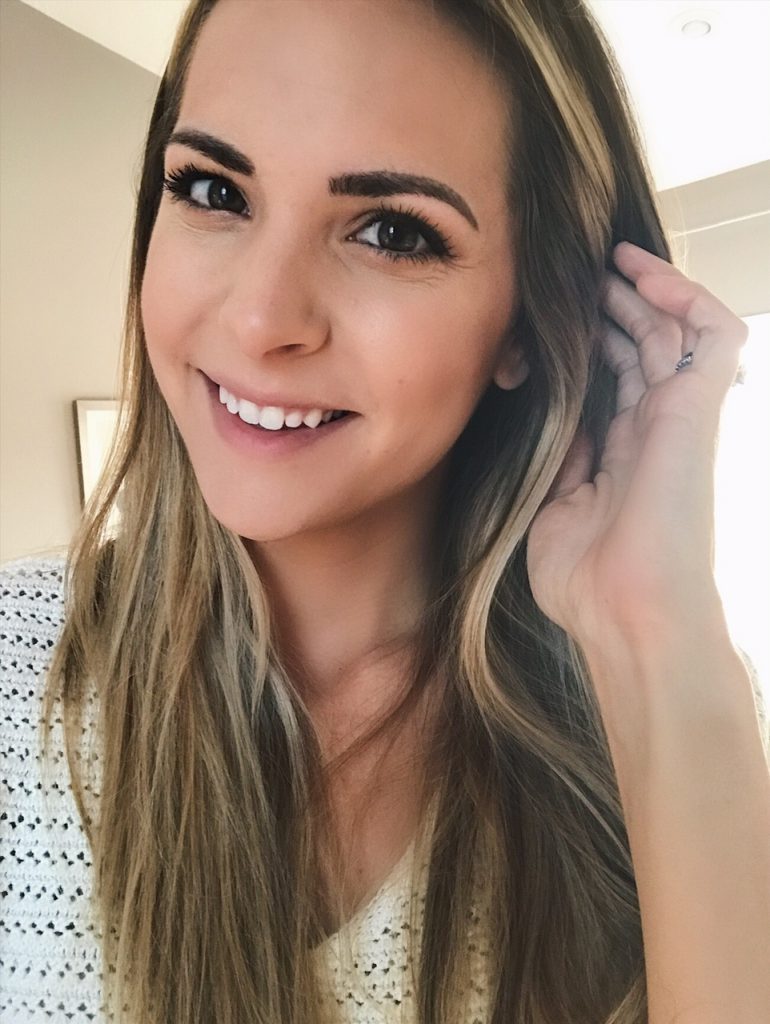 This will give you an example of what my brows were like after they healed from my initial procedure, right after my touch up, and the final, healed result! I am SO happy with how they turned out! While most people typically will not use any brow product after getting microbladed, I do like to darken mine up just a pinch when I have a full face of makeup. It literally takes me seconds though, compared to when it used to take me about 5 minutes to fill in my old brows. (Plus, I would have to fill them in nearly every single time I stepped out of the house, since I was so self conscious about them!)
Did it hurt?
Okay, I know you guys are probably dying to know how I felt about the pain, right? Like I said earlier, I am a complete chicken and am very sensitive to pain. But guys, it was a breeze! There were a few initial "scrapes" to open my skin up to the pre-numbing gel, and while that part really wasn't that painful, it lasted only seconds. Once the numbing gel kicked in, I barely felt a thing. Honestly! I have gotten my brows waxed many times, and found this to be significantly less painful. As the initial procedure took around 3.5 hours for me, I was most uncomfortable just having to lay for that long (awake), although I almost dozed off! Which is another huge sign that it really wasn't painful. I did feel some tenderness and slight burning about an hour after the numbing gel wore off at home, but I woke up the next day without any sort of pain.
I do want to mention that I talked to another blogger friend and read different people's experiences online, and they had mentioned more pain that what I experienced (like, they said it hurt pretty bad). You can take my word for it that you shouldn't have a worry if you are going to Christina at Le Visage, because I have a low pain tolerance!
Whew… that was quite the informative post! But if it helped at least one person get more familiar with microblading and warm you up to the idea, my job here is done. 🙂 If you have any questions regarding my experience or anything related to it, please let me know! Feel free to comment below, email, or message me on social media. I've already received a ton of great feedback about my brows!
Many, many thanks to Christina for boosting my confidence, saving me extra time in the morning, giving me the best brows and working with me! You are a true talent and ray of sunshine, and I'm fortunate to have gotten to know you and go through my microblading experience with you! xo