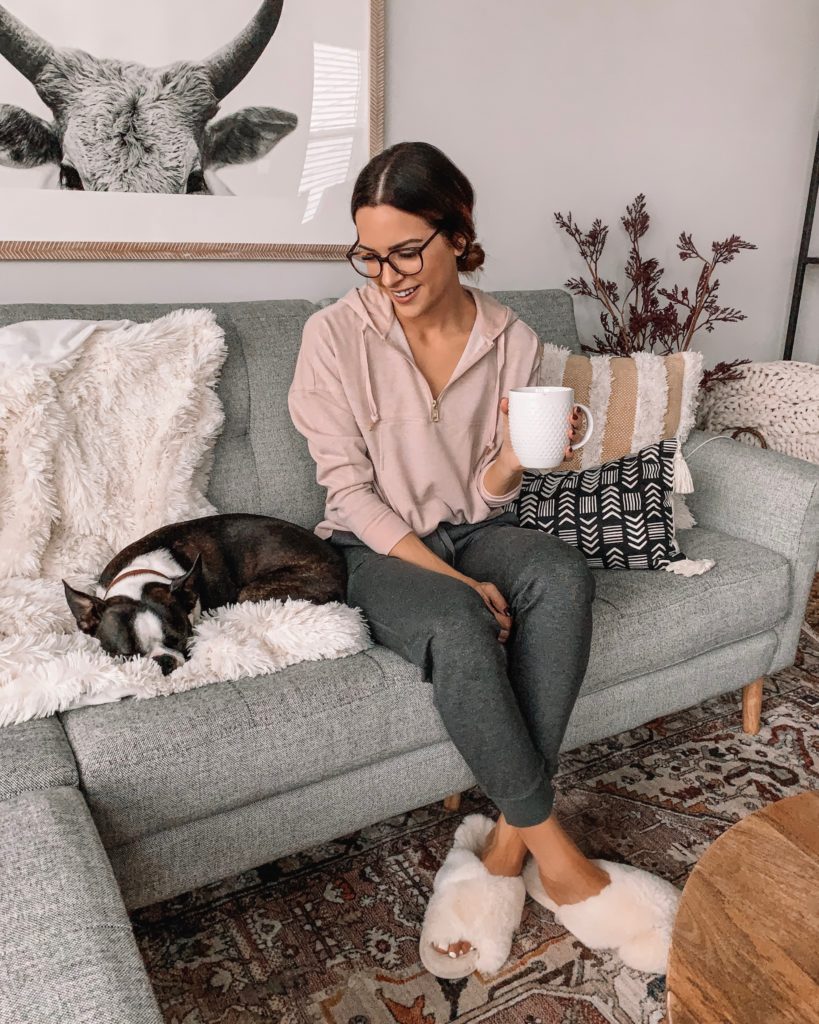 Good morning, friends! I love reading about other women's routines, and wanted to share a little glimpse of my own morning routine in today's post. I definitely thrive on routine and having a little bit of time to myself in the morning before Keldon wakes up, so while some days can look a little different (especially weekends), I do this routine each morning like clockwork!
6/6:30AM – 7/7:15AM:
Wake up – usually this is around 6:30am before Tom leaves for work. If I got a decent amount of sleep, I may wake up even earlier around 6:00am (but lately, I have been up late working and need all the zzz's I can get)!
Take a quick look at my emails/notifications on my phone while in bed to help wake me up a little.
Throw on some comfy loungewear. I've been loving this half zip hoodie and these joggers – warm and comfortable for fall chilly mornings, practical to wear while I take care of Keldon and do all the mom things, and cute enough where I won't be embarrassed of my appearance if the mailman comes to the door to drop off a package, lol!
Read my daily devotional – I've been doing this every day, and it truly helps get me in a great mindset for the day ahead.
Brush my teeth, head downstairs, turn on the news, light a fall candle and head over to the kitchen. I fill up a tall glass of water, add in chlorophyll drops, and drink it down with my vitamins and probiotic.
Make Keldon's bottle and a cup of coffee for myself to enjoy (while its still hot!) for a bit on the couch while cozying up with Bruce.
7/7:15AM – 8:30AM:
I head up to get Keldon around 7-7:15am, which is one of my favorite parts of the day. 🙂 Seeing his smiling face in the morning truly lights up my life! We'll get a few hugs and kisses in, open the blinds in his room together, and then I'll change his diaper and we'll head downstairs. I'll usually keep in his PJ's until his next nap.
Feed Keldon his bottle and we basically stare at each other while he eats, lol! Lately, he loves to touch my face while he's eating and it's hard to do much else. Sometimes I'll tap into my email though, or send Tom a quick photo of Keldon since he doesn't get to see him before he leaves for work in the morning.
I'll then play with toys and read with Keldon, and also allow Keldon a little independent play time while I make breakfast (he is just a few feet away from me). I'll usually share a little of my breakfast (toast with peanut butter, frozen waffles or oats) with Keldon so he gets a little snack before his first nap of the day.
8:30/8:45AM – 10AM:
Change Keldon out of his pajamas and then lay him down for his first nap.
Following that, I'll usually either heat up my first cup of coffee or make another one and then get ready for the day (makeup, hair, outfit).
Get to work! I'll hop on my phone or computer to do my first IG post of the day, answer emails/DMs, work on campaigns, and start checking off my to-do's for the day!
I receive part-time help from my assistant/nanny, Raini, usually 3-4 days a week, and she often helps with Keldon and some behind the scenes blog work (setting up blog posts, sending email campaigns, other misc blog work, and also takes my photos if needed, which is usually done on "nana day" when my mother-in-law comes to watch Keldon for a day while I get some stuff done out of the house). Raini will typically head over around 9:30AM or noon, depending on the demands of the day.
10AM-12PM:
This time of day is usually my most productive, if receiving help from Raini or my MIL. Often you can find me in my office still working, filming try ons/stories, running to an apt/errands, or out shooting photos with Raini. On days where I don't have another set of hands, I wake Keldon up at 10AM and we basically repeat what we did when I woke him up the first time, but we will usually go for a walk and are a little more active this time of day. 🙂
LOUNGEWEAR DETAILS: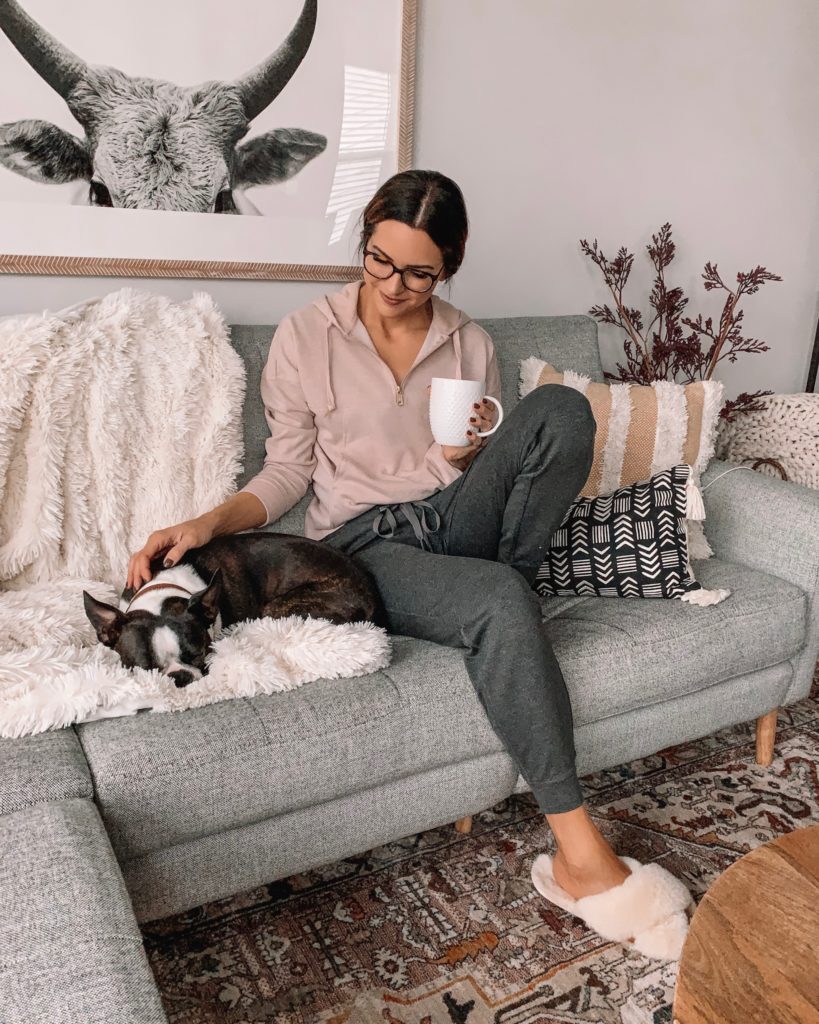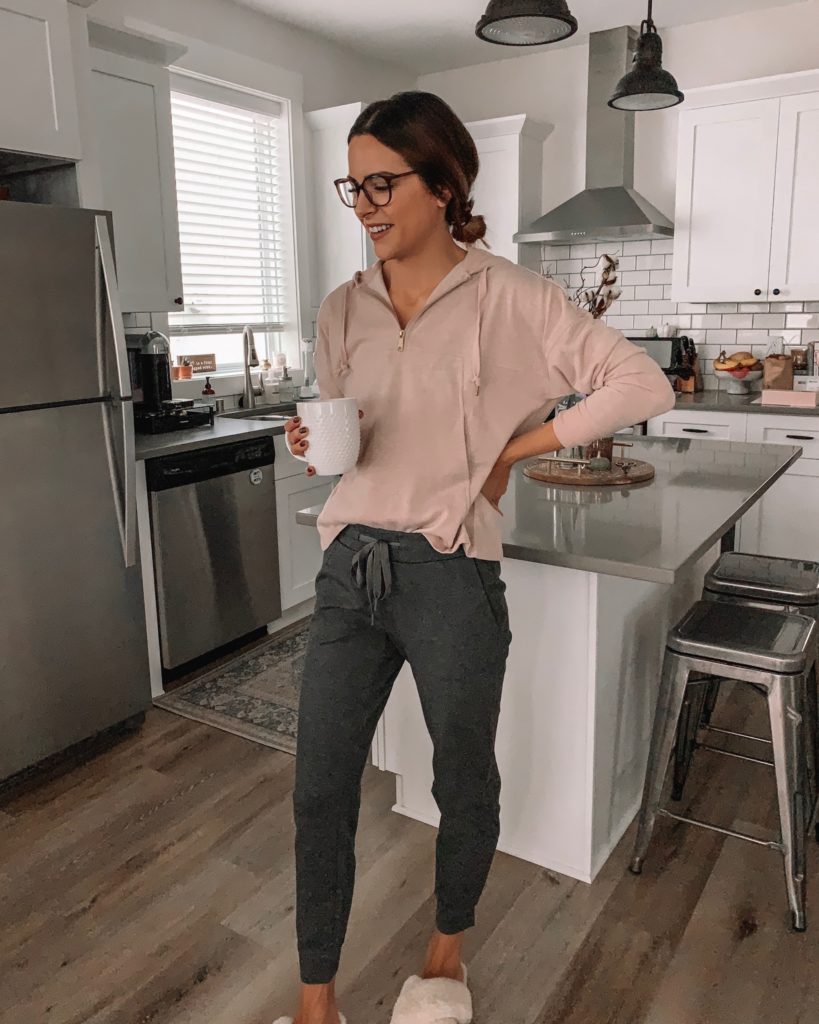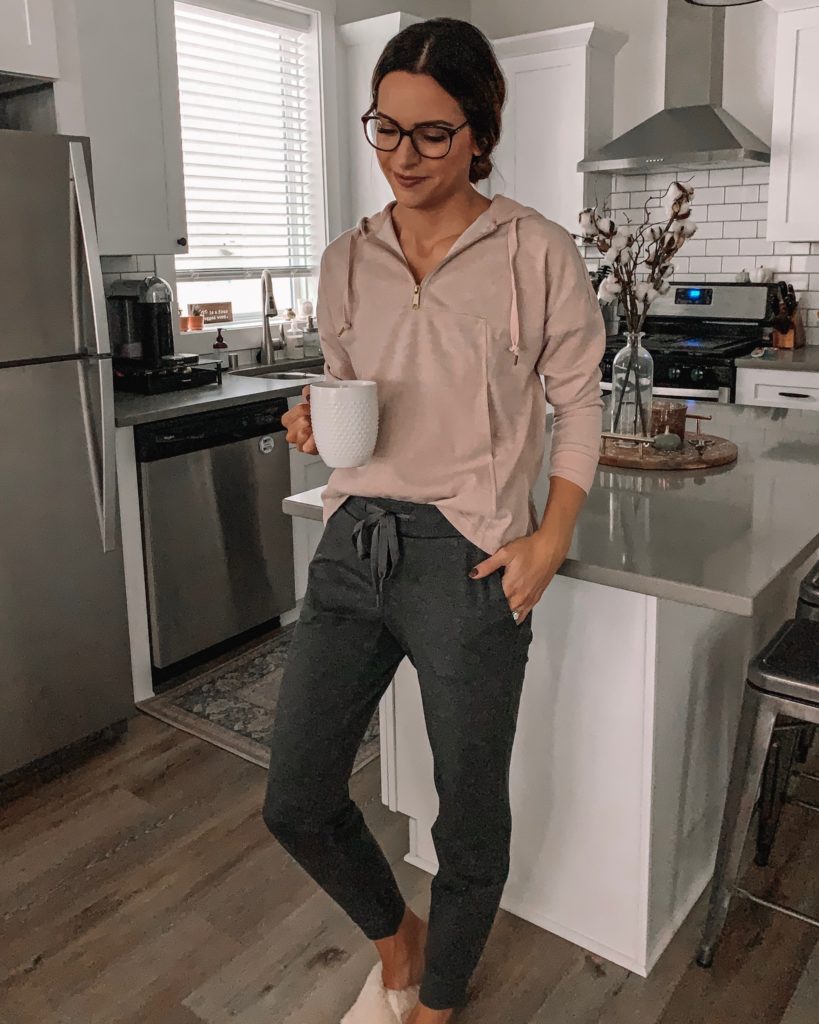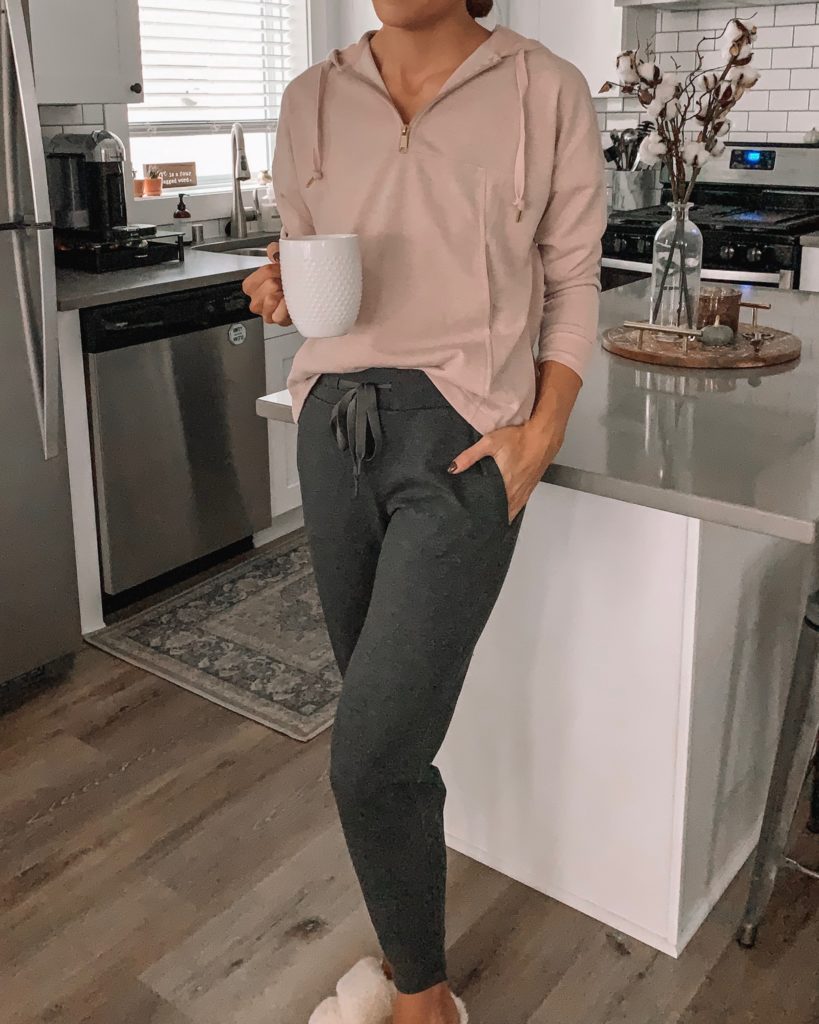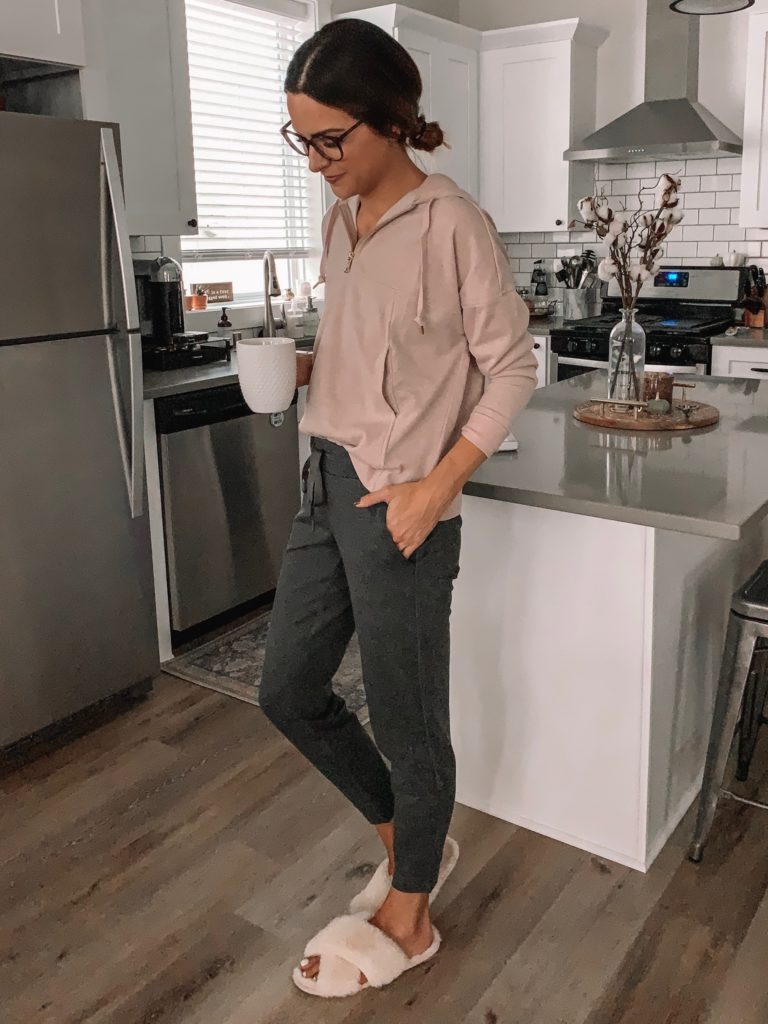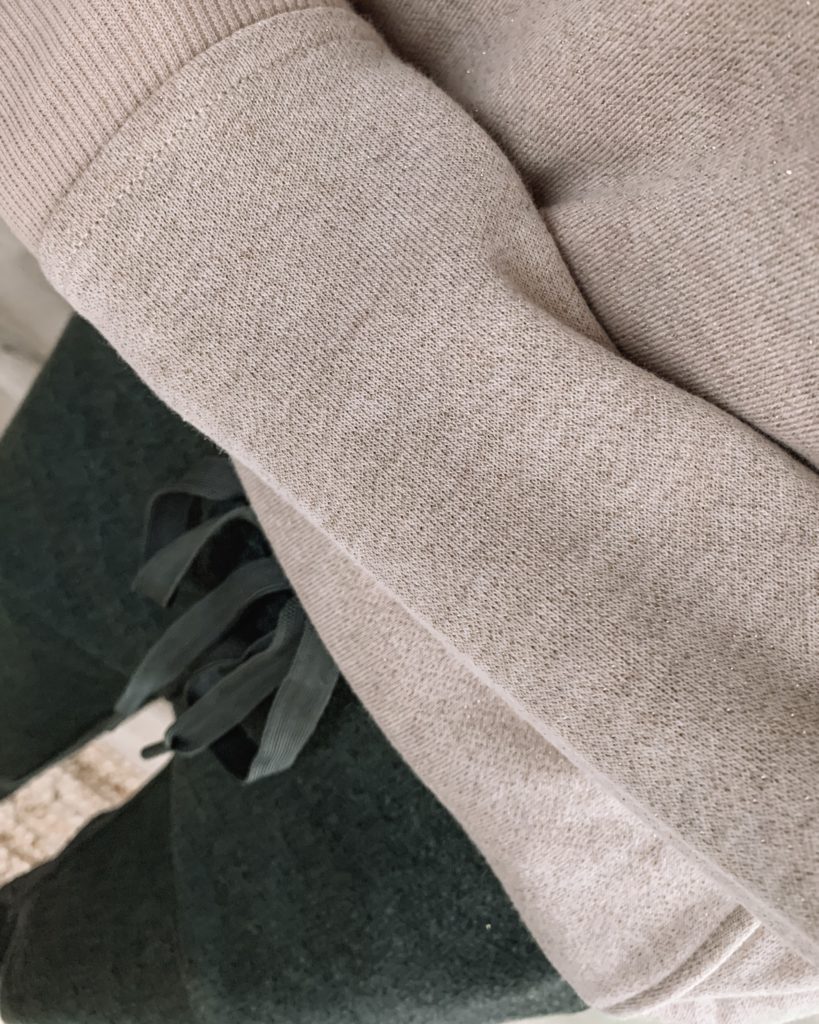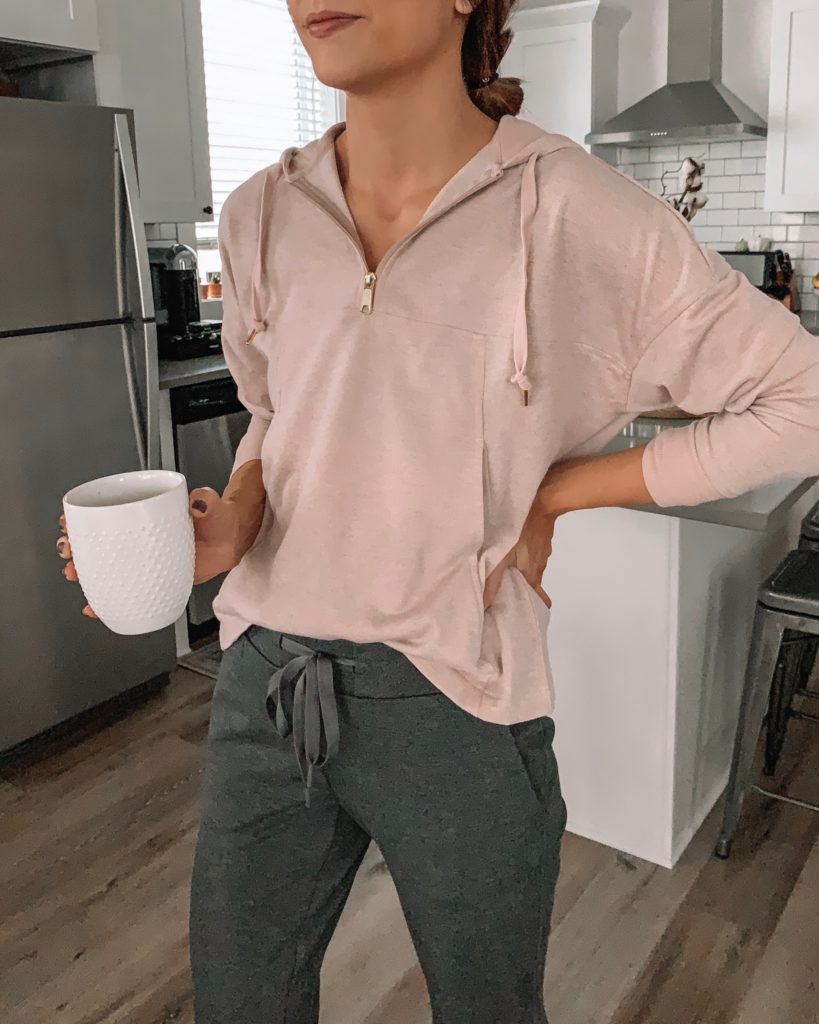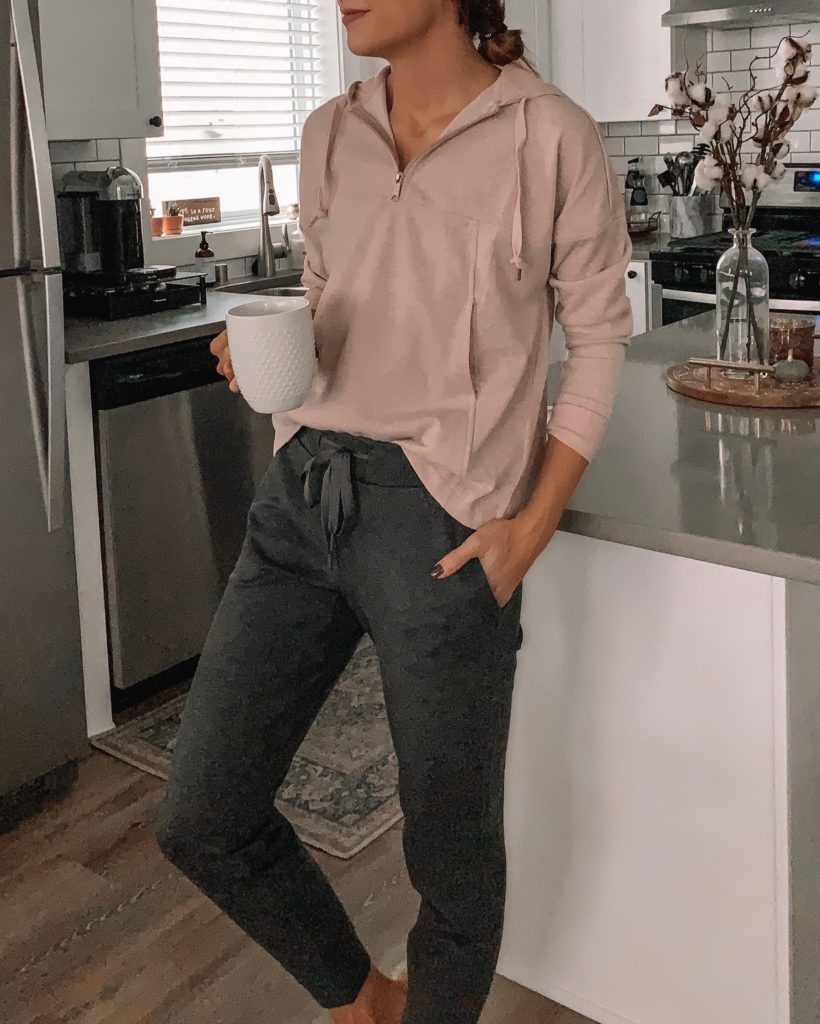 3/4 Zip Hoodie (color is mauve, runs true to size and wearing a S) // Ponte Joggers (color is charcoal, runs true to size and wearing a S)
Jockey has tons of great loungewear for great prices. I also picked up this comfy marble print bralette and bikini brief! Check out the widget below for some more of my loungewear favorites from Jockey: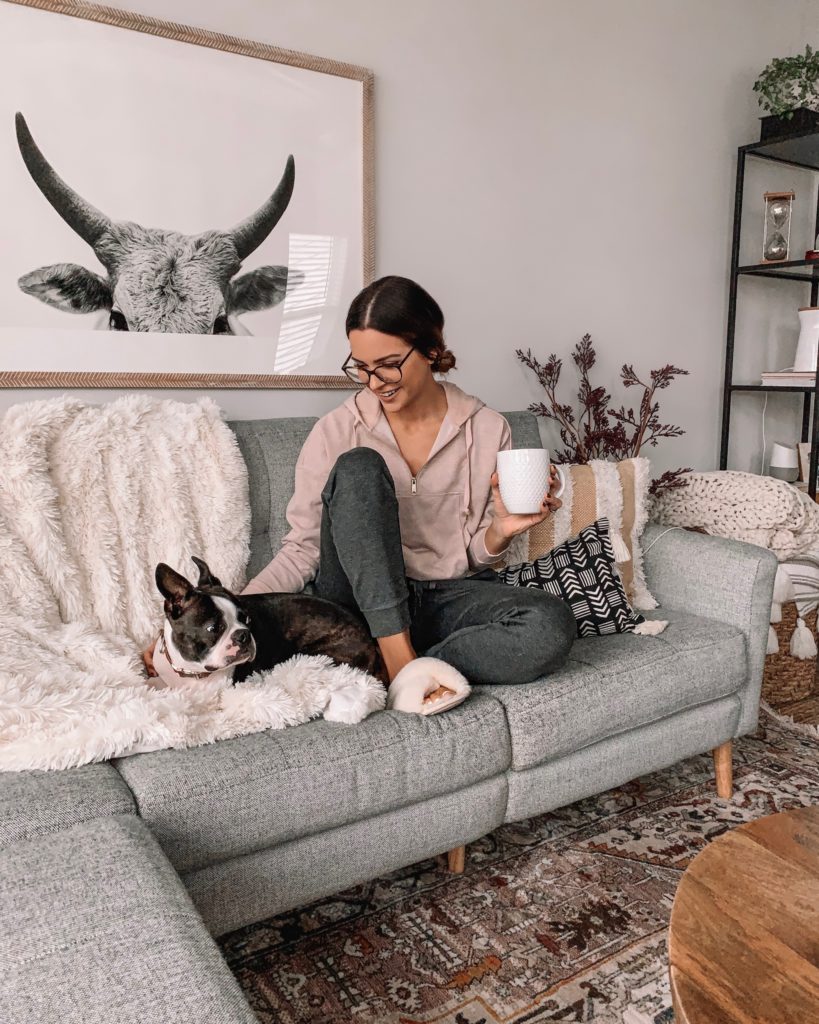 Enjoy your Sunday (and hopefully it involves comfy loungewear and doggie snuggles)!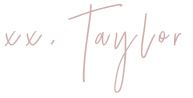 A big thanks to Jockey for sponsoring this post! As always, all opinions and selections are my own.