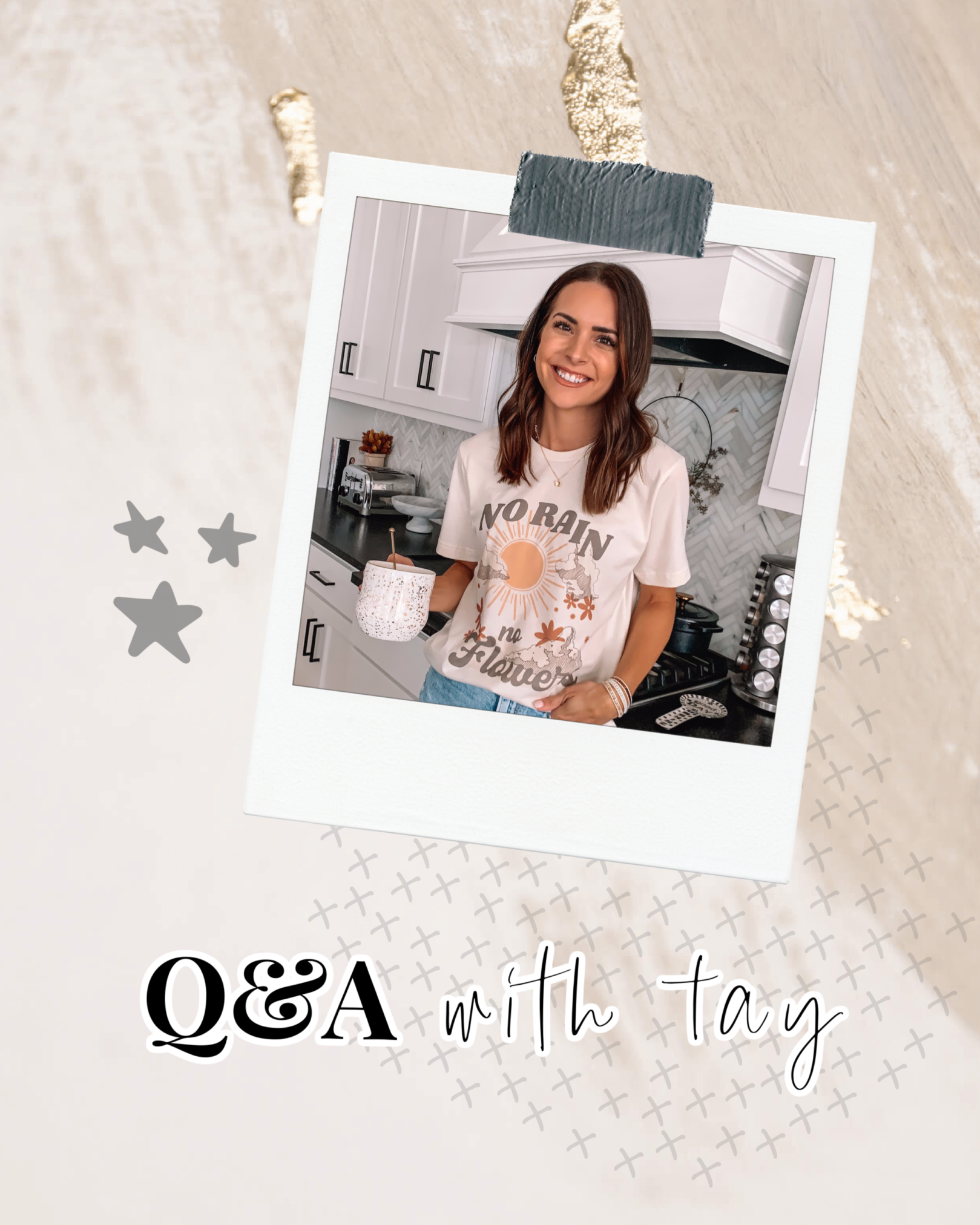 "Could you tell me what color and brand your wood flooring is?" It's from Urban Floor in the color 'Osakis' 5″ (note this is only available in certain areas, however they have another color 'Charleston' with the same stain but different construction).
"Can you share about the shades in your windows?" We went through a local window designer (Jonathan Window Designs LLC) and he installed Alta Sorrento roller shades around our house, cellular blackout shades for bedrooms, and shutters on the front door.
"I'm wondering if you have the name of and/or a link to your kitchen backsplash herringbone tile?" Calcatta Gold Marble 1×4 Herringbone Mosaic Tile
"Do you have a link to your round wood tray that is on your kitchen island?" From Amazon and one of my favorite home decor pieces – linked here!
"Can you link your new couch?" It's the Carlin Sofa from HOM Furniture. Price was right and we love it! It comes with 5 throw pillows, even though I decided to use my own. It's so comfy, even comfier than our West Elm sofa we also have in our living room that was 3x the price.
"Do you have a code for Thrive market?" Not a code, but this link gives you 25% off first order + a free gift!
"Looking to make some picture books and wondering if you like your Chatbooks you've made?" Love Chatbooks! We've been making them since Keldon was born. My code should hopefully still be active: TAYMBROWN20 for 20% off your first order.
"Are you using anything to help with stretch marks during pregnancy?" I just bought the new Summer Friday's Baby Moon Belly Balm! I'm liking it – super hydrating and clean ingredients.
"Are you going to find out what you're having?" Yes! We will find out at my 20 week anatomy scan on Feb. 15. I have a feeling it's a girl just from how different this pregnancy is, and I'd love to experience being a girl mom! But regardless the gender, I'm so excited to find out.
"What is your pregnancy skincare routine?" I just posted a blog post with what I'm using and what I eliminated from my routine here!