Time is ticking away and items are selling out like crazy, but you still have until August 8th to shop the #NSale! If you didn't already know, the Nordstrom Anniversary Sale also includes home items, and darling home items at that. I rounded up my top 15 favorites and they are ALL under $50! (And all in stock. 🙂 )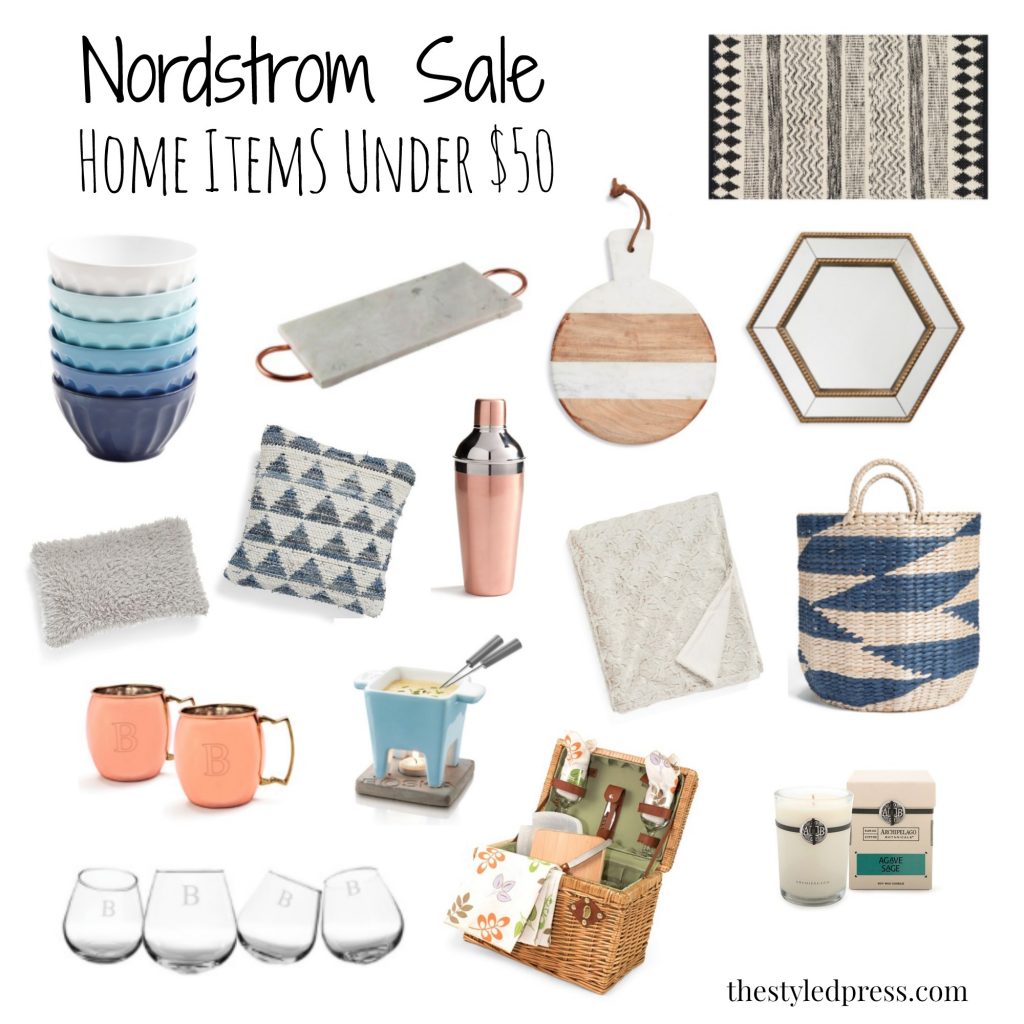 Rug: This rug comes has such a fun & unique design. I also love that it's neutral, so it will look great in just about any room!
Latte Bowls: These bowls are thebomb.com. I have a set that I got from Anthropologie, but I had no idea that they sold them at Nordstrom, too! I will be ordering these… you can never have too many cereal/yogurt/fruit/veggie/snack bowls, amiright? 😉 And you get all of these for only $20. They also come in pretty mauve/blush shades and gray shades! Be sure to check back if your color of choice isn't available. Nordstrom has been restocking items throughout the NSale!
Marble Serving Tray with Rose Gold Hardware: Have you seen a prettier serving tray?
Marble & Wood Paddle Serving Board: This would pair beautifully with the tray! This would also look nice leaning on your kitchen counter.
Gold Hexagon Mirror: I love gold accent mirrors, and the shape of this one is really cool.
Shaggy Plush Throw Pillow & Denim Pyramids Throw Pillow: Love both of these pillows separate or together!
Cocktail Shaker: Love the rose gold/copper!
Faux Fur Blanket: Fur blankets are the BEST blankets. Sooo cuddly soft!
Diamond Straw Basket: Such a cute straw basket! Would look great as a blanket, pillow, plant or even toy basket if you have kiddos! Diamonds also come in different colors.
Monogram Moscow Mule Mugs: If you don't like Moscow Mules, we can't be friends. All jokes aside, every hostess needs a set! Plus they just look so cute. AND they are monogrammed!
Monogram Wine Glasses: I prefer drinking out of stemless wine glasses, anyone else? And these are monogrammed, too!
Fondue Set: Mmm, fondue! I'll be right over.
Wicker Picnic Basket: UGH. This is just the cutest thing I've ever seen and I need it. I would cry happy tears to see a couple picnicking with this.
Archipelago Signature Soy Wax Candle: These candles are highly rated by their scent, longevity & ingredients. They feature a lead-free wick and premium wax blend with essential oils.
Nordstrom is killing it in their home department, and you cannot beat these #NSale prices! Psst, these would also make wonderful gifts for your bestie, Mom, sister, brother, Grandma, aunt, uncle, me.
😉
Happy FRIDAY! Enjoy your weekend, everyone!
xx, Taylor
SHOP THE POST: