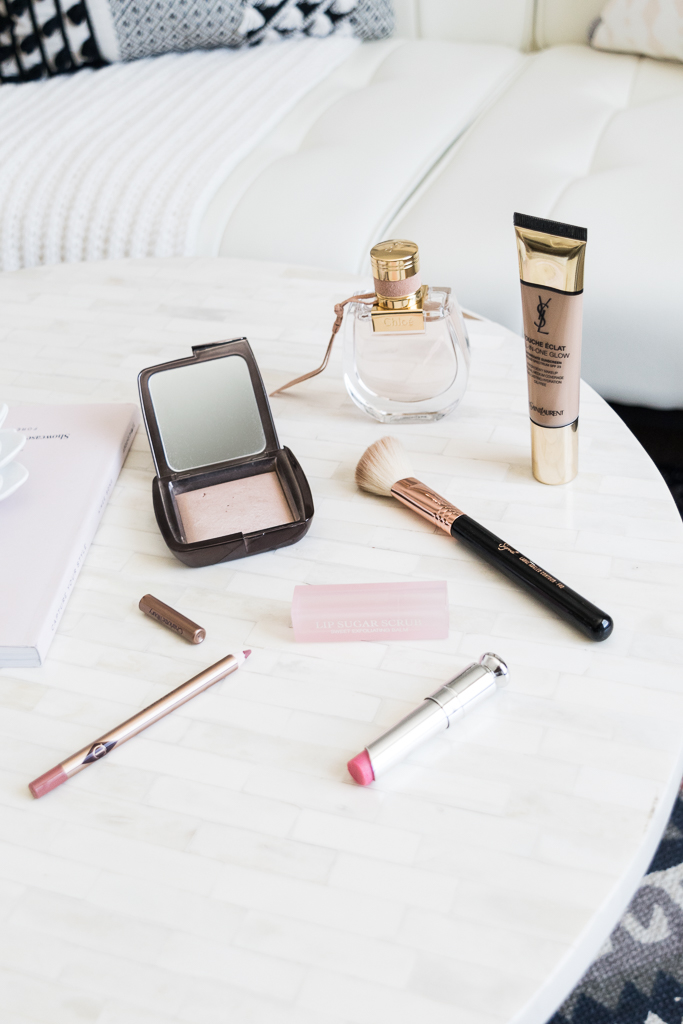 Spring has arrived, which means a time for renewal and a spring beauty refresh! I make it a point to refresh my beauty products every season to feel fresh and recharged. Nordstrom is my one stop shop for beauty and wardrobe updates, because of their amazing customer service, high-quality and updated inventory, and their convenient free shipping! This season, Nordstrom came out with some great new beauty launches that I'm excited to talk about today, along with some other highly-rated products that I have fallen in love with and have become spring beauty essentials for me – and I have a good feeling that you will love them, too!
Nordstrom Spring Beauty Essentials
A new, uplifting spring scent is one of my top tips for a spring refresh! The Chloé Nomade Eau de Parfum just launched, and it's a light and beautiful feminine scent with notes of freesia, mirabelle and oakmoss. And I can't help but love the description of it: "a free-spirited and confident woman and her experiences and encounters throughout the world to assert who she is." So much yes! This is the perfect everyday scent, as it's fresh and not too overpowering.
Away with the matte and heavy foundations this spring, it's time for some dewy and glowing skin! The Yves Saint Laurent Touche Eclat All-in-One Glow is a new release that's a lightweight, medium-coverage tinted moisturizer with SPF 23. Sunscreen is SO important (especially on that beautiful face of yours!), so I love that this product allows one less step in my makeup routine. The luminous finish gives you that dewy glow that everyone strives for this time of year, and it's oil-free ingredients include good-for-you antioxidants and vitamin E! The shade I have is 'B40 Sand'.
This universal highlighting and finishing powder is a staple in my makeup bag. I have 2 shades in the Hourglass Ambient Lighting Powder (Luminous Light – pictured above, and Diffused Light), and they give the most natural and healthy highlight to your skin. It's foolproof since there is no fine line with accidentally putting on too much, unlike many other highlighters (which can be intimidating). I love to use Luminous Light on the tops of my cheekbones, cupids bow, and light swipe on the bridge of my nose middle of my forehead. I recommend Diffused Light if you're looking for a more subtle highlight or to use as a finishing powder if you have dry skin.
If you're looking for a great natural "my lips but better" lip liner, look no further than Charlotte Tilbury Lip Cheat in 'Pillowtalk'. This rich and velvety lip liner glides on like a dream, and allows you to re-shape and balance your lips subtly. This is my go-to lip liner under many of my nude, rose and mauvey pink lipsticks, and also looks great on it's own if you color your lips in completely with it.
Say goodbye to those dry and cracked winter lips, because the Dior Lip Sugar Scrub Sweet Exfoliating Balm is here to save the day! I purchased this last spring and just repurchased it again, because it's that good. It not only gives you a sweet, natural pink color to your lips, but it includes grains of sugar that exfoliate your lips to give you a soft and kissable smoocher! I use this balm on it's own or with the Charlotte Tilbury Lip Cheat mentioned above (and pictured).
What products will you be adding to your spring beauty essentials? I'd love to hear! 🙂

Thank you to Nordstrom for sponsoring this post! All opinions are (and always will be) my own.