It's crazy to believe that the rewardStyle Conference has already came and gone, but I officially have my first one in the books! Today I'm sharing my rStheCon 2018 recap: what I wore and what I learned!
A little background – rewardStyle is an invitation-only marketing monetization platform used for top tier digital style influencers and brands around the world, and who hosted the conferences and parties on this trip. This conference is also invite-only, where typically 200 of the top publishers get invited to take classes, listen to very honorable speakers, and network with brands and other bloggers. However, I know that some of the really well-known bloggers get invited, but invites are dispersed in tiers and the first 200 that are invited and accept the invite go to the conference. It's a huge honor and I was so excited to participate this year!! If rewardStyle doesn't sound familiar to you, LiKEtoKNOW.it might be! It's what I use to monetize my social channels and is owned by rS.
To read some of my tips on getting accepted to rS/LTK, check out my FAQ page!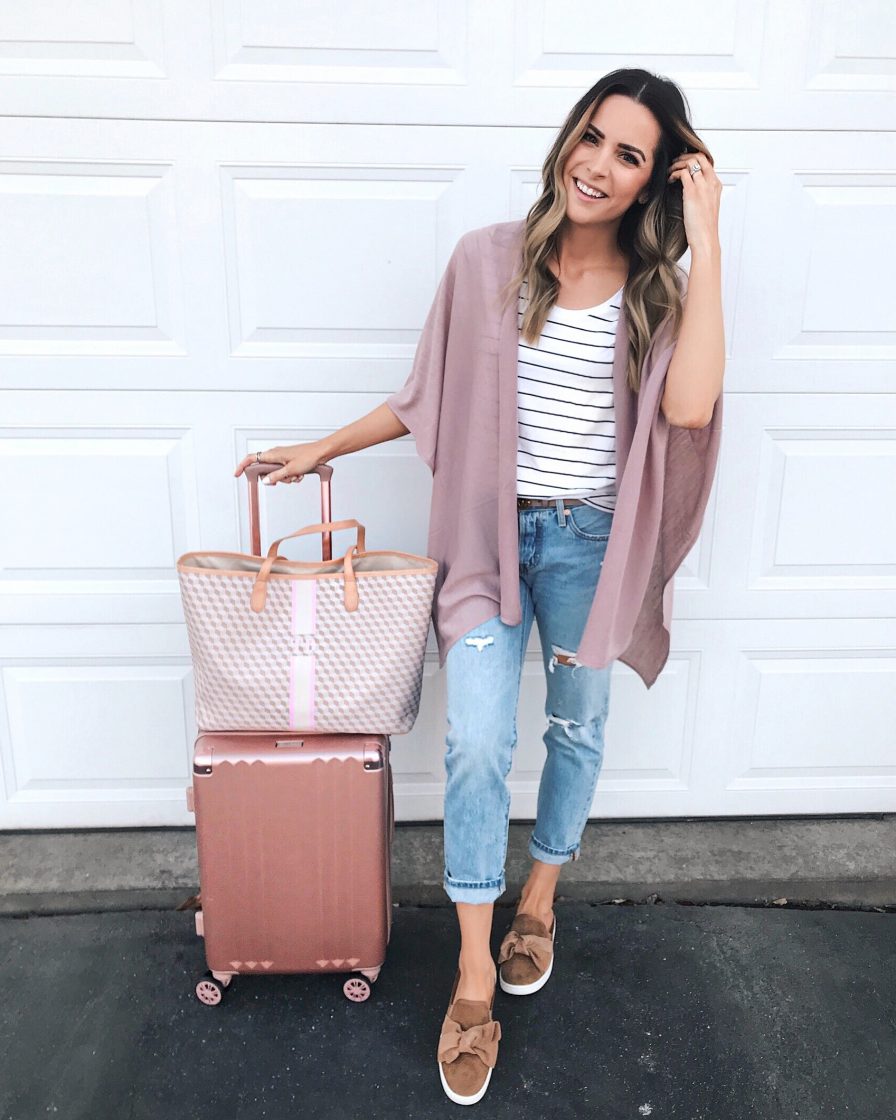 Day 1 // Morning
Travel day! I woke up bright and early and Tom brought me to the airport to fly solo to Dallas. It was still pretty cold in MN and we had just gotten 22″ of snow the weekend before, so I was so ready to fly south! 😉 This travel scarf/wrap is a super versatile piece that can be worn like a wrap (pictured above) or as a scarf. Love it!  And I picked up these bow slide on sneaks the day before leaving… and so glad I did! Comfy and cute! (True to size).
OUTFIT DETAILS: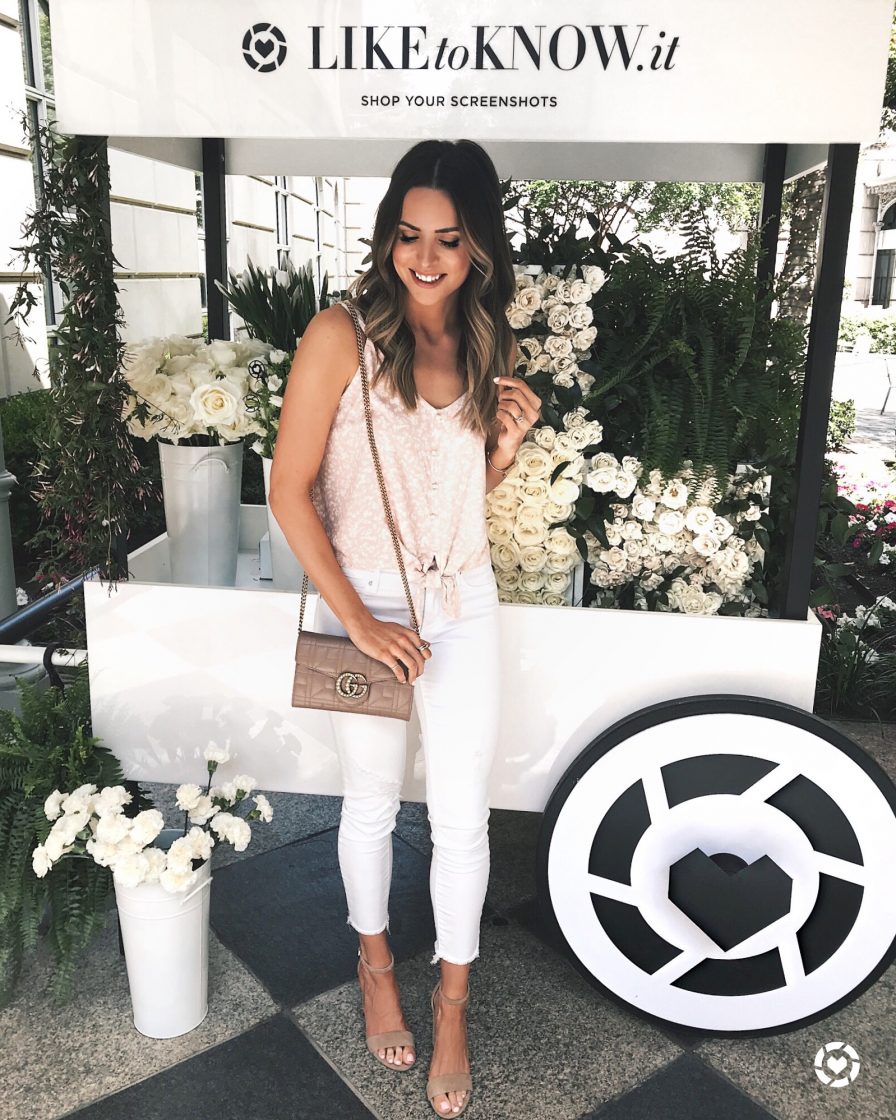 Day 1 // Afternoon
I flew into DFW airport (this airport is farther from the Hotel Crescent Court than Love Field (DAL) airport by about 15 minutes, but the flight was so much cheaper!!) and met up with Jena from Jena Green! We Ubered together, barely fitting our luggage and ourselves in the little car lol, buuut we made it work. We headed to the Hotel Crescent Court, which was where we stayed and where about 90% of the rStheCon activities were held. It was super convenient that everything was in one place and we didn't have to worry about taking Ubers or being late!
I threw this casual outfit on while we walked around, met and chatted with some other bloggers and checked out the hotel and all the cute decor set up for the weekend! The decorations, stands and overall look and vibe of the court was made for bloggers! Everything was so beautiful and well thought out, and every corner had a new photo opportunity. The rS party planning committee definitely knows what they are doing!
By the way, you've probably noticed by now, but I love to mix high and low-end pieces together. For instance, my $16 tank I'm wearing above is from Target, but my Gucci on my shoulder really takes my look to the next level! 😉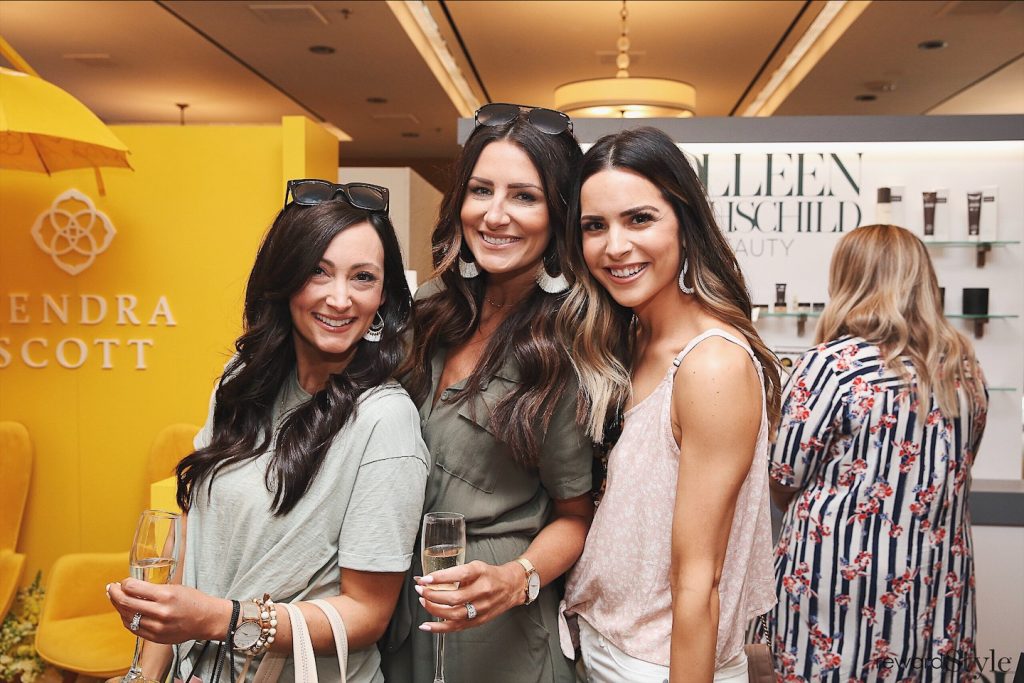 Pictured from left to right: Ash Donielle, Jena Green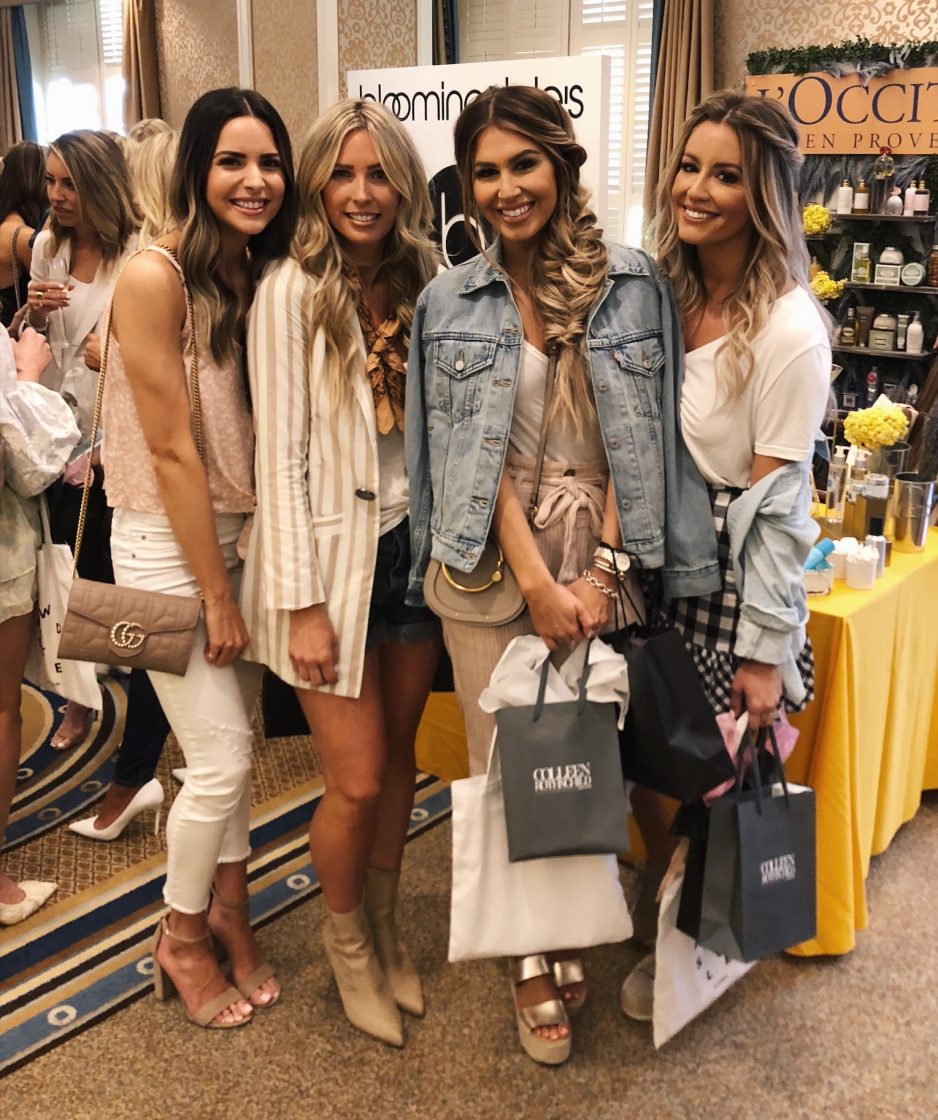 Sue from The Sue Style File, Hollie from Hollie Elizabeth, Sarah from Welcome to Sarahdise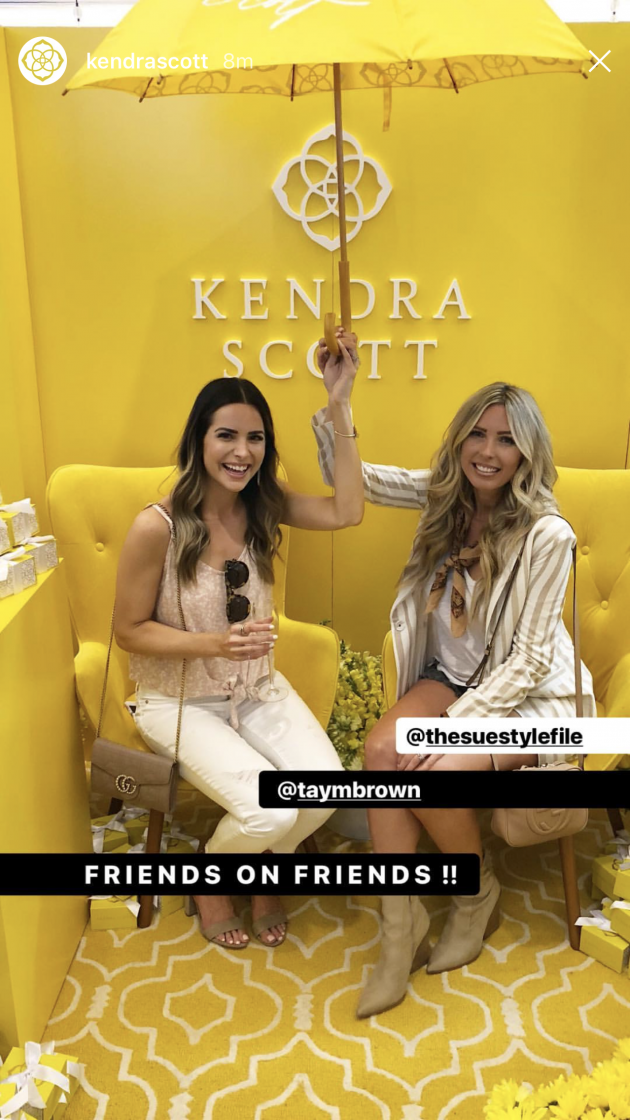 Sue from The Sue Style File
We also had a chance to pop in to the Brand Networking Hall, which is where we could meet and chat with brands at their pop-up stands. So many credible and favorite brands of mine in one room was quite nerve wrecking, but brand reps were incredibly kind, had a smile on their face and really made meeting them so much fun! You could also walk away with a gift from the brand at pretty much all stands, which I wasn't expecting! And they were super generous. The photo above is from Kendra Scott's stand, and they had this adorable, bright yellow set up that screamed Kendra Scott! This pic was actually taken on Kendra Scott's Instagram stories, and the cutie next to me is Sue from The Sue Style File, who was one of my roommates on this trip!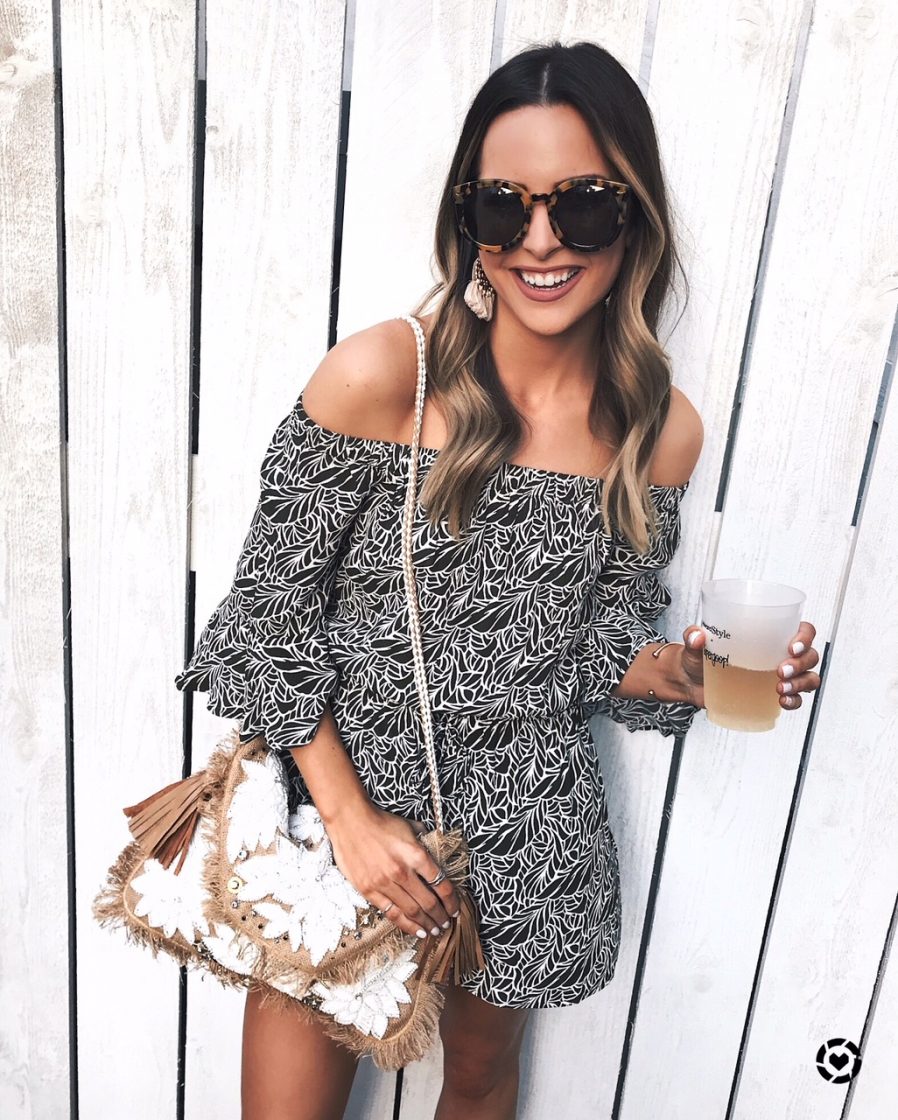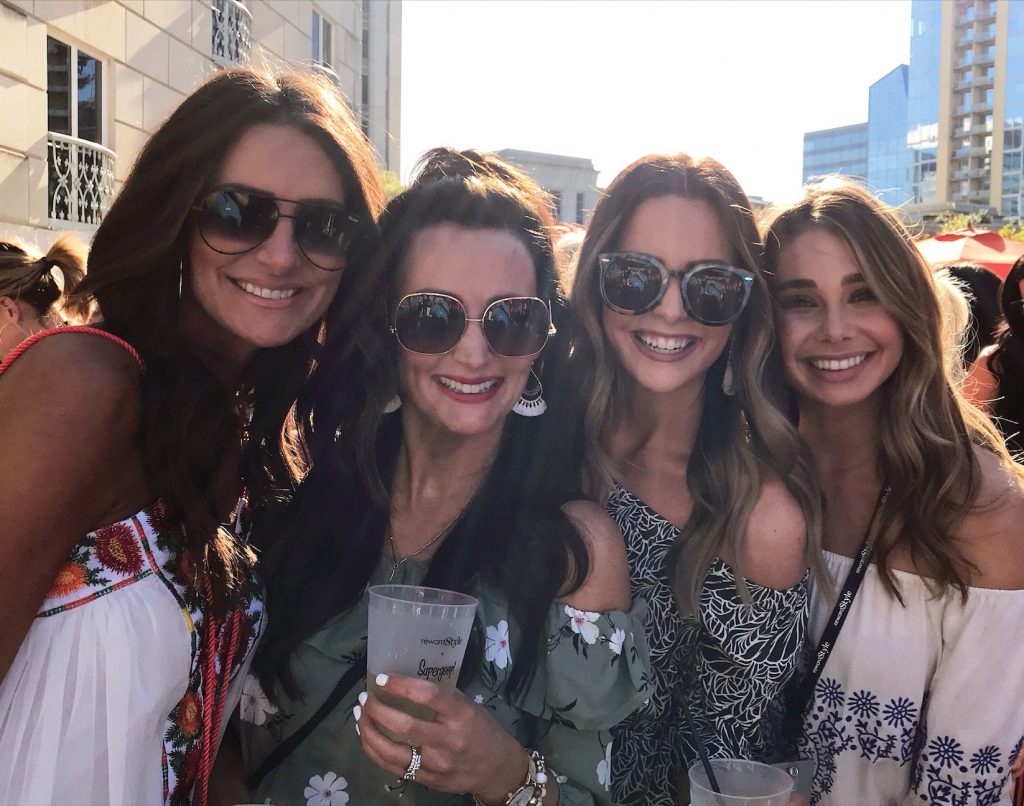 Jena from Jena Green, Ash from Ashley Donielle, Sarah Vendal from The Bachelor (she works with rewardStyle!)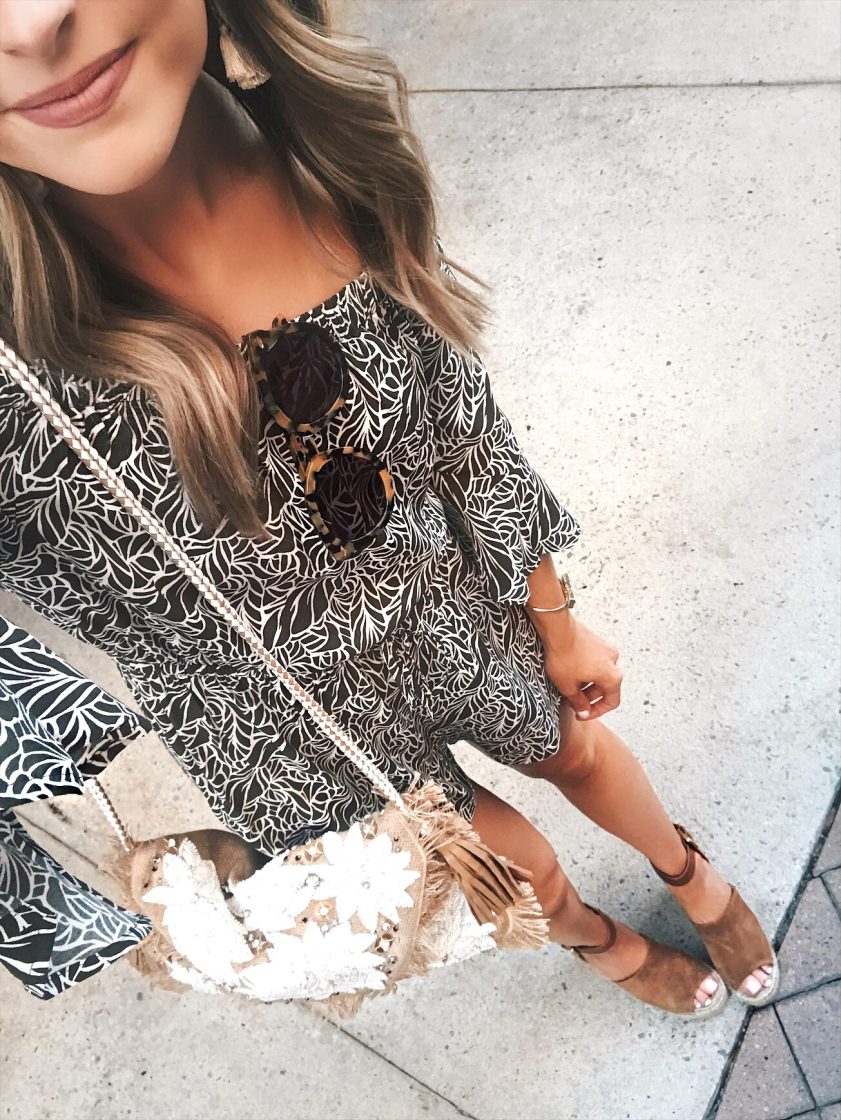 Pictured from left to right: Amanda from Almost Ready Blog, Katey from Two Peas in a Blog, Lauren from The Lillie Bag, Sue from The Sue Style File, Jena from Jena Green, Loren from Wear and When Blog, Abby from Everyday Abby, Betsy from Two Peas in a Blog
Day 1 // Night
SuperGoop! Hosted the first party which was at the rooftop pool at the Hotel Crescent Court! The weather was perfect (thank goodness we had lots of SuperGoop sunscreen 😉 ) and it was so much fun. They even brought in synchronized swimmers, which was pretty awesome, I must say! I wore this fun little romper, the comfiest wedges and this gorgeous summer bag (under $80).
After the party, these gorgeous ladies and I went out to dinner to Mi Cocina for some good Mexican food! It was amazing… and yes, we got Mambo Taxis! 😉
OUTFIT DETAILS: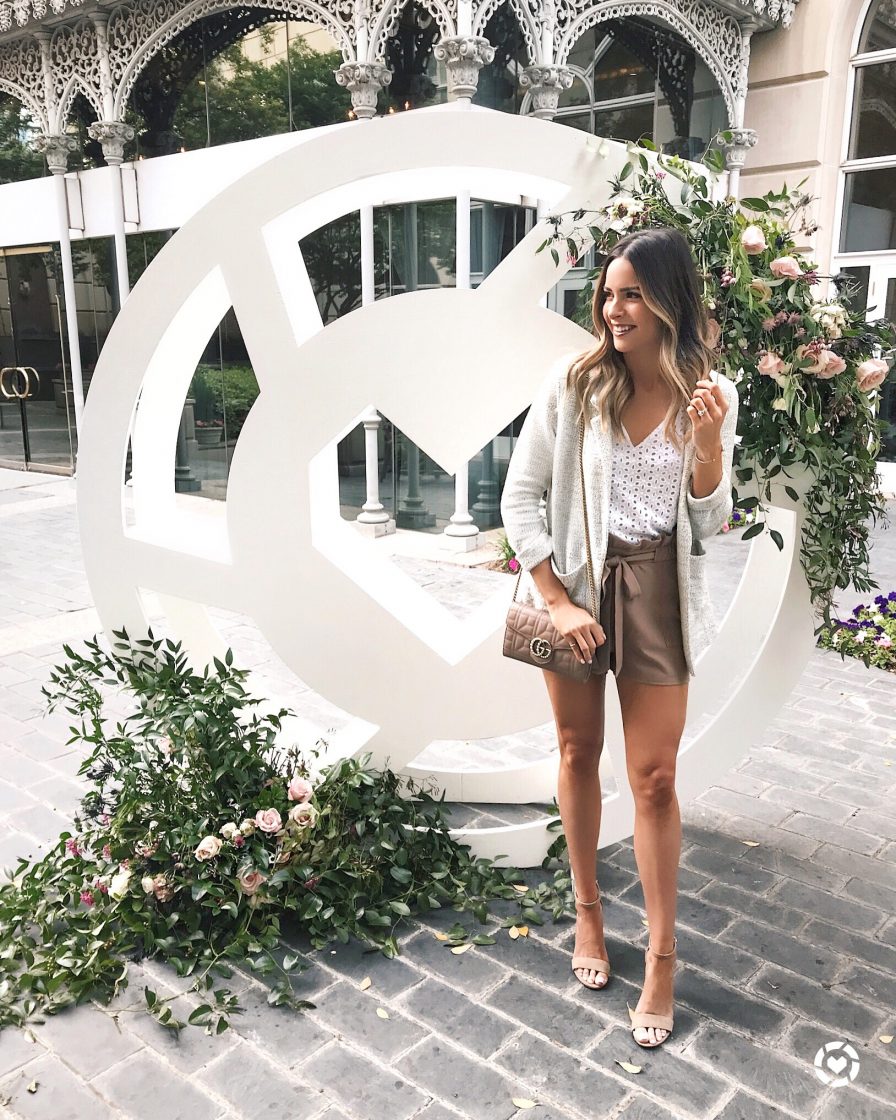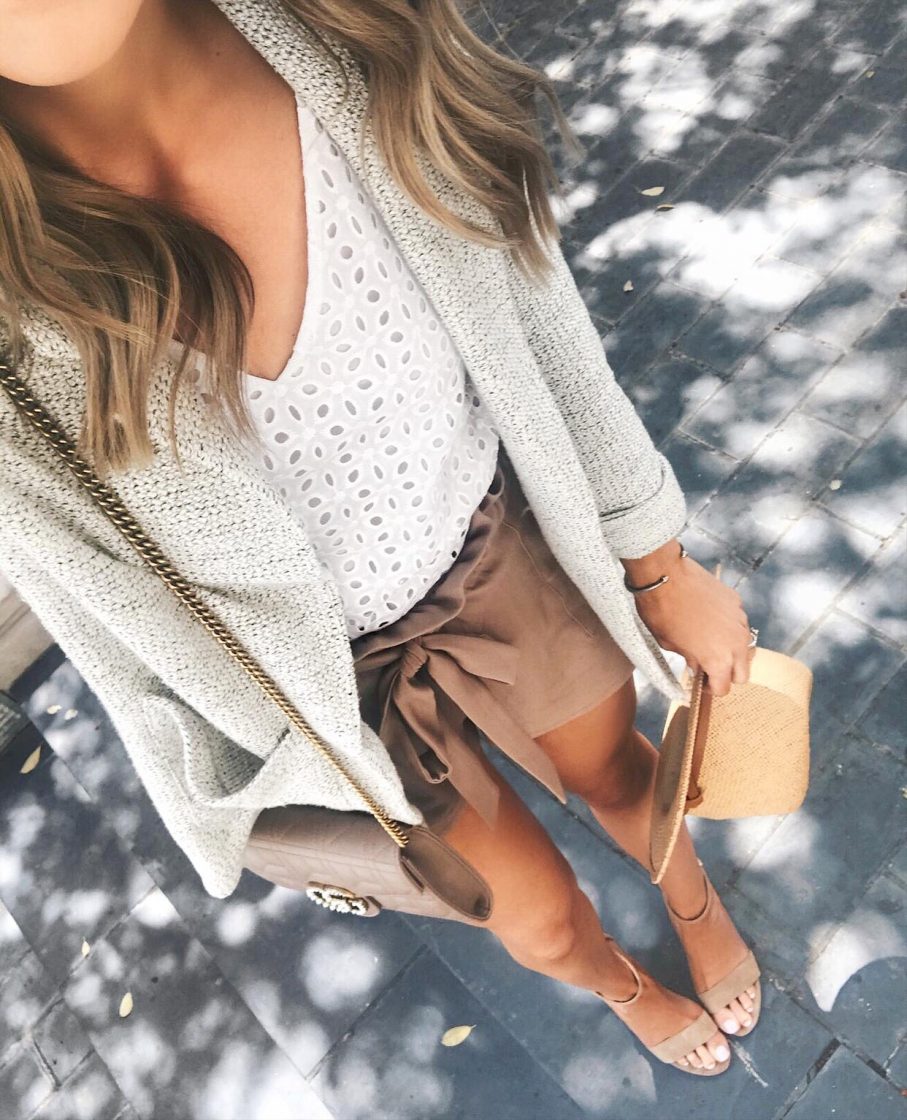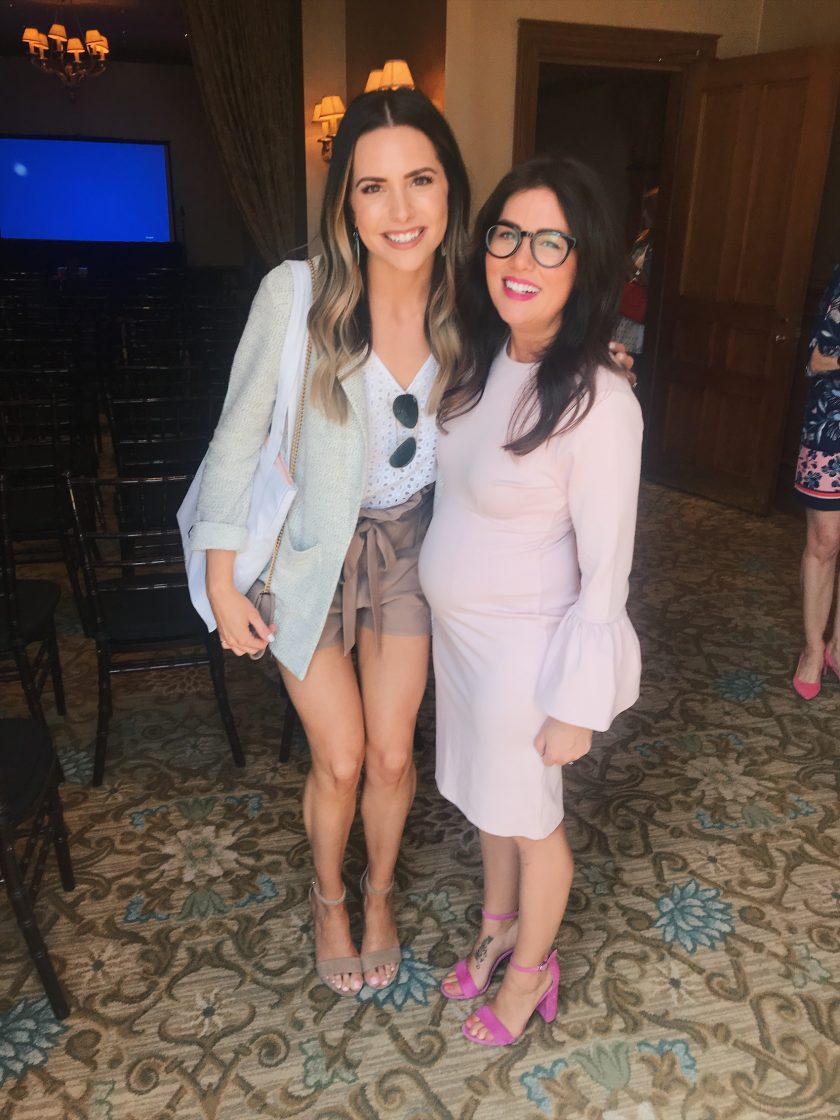 Jillian Harris taught the class "Finding Your Why" and it was SO good! She's just as cute and funny in person. 🙂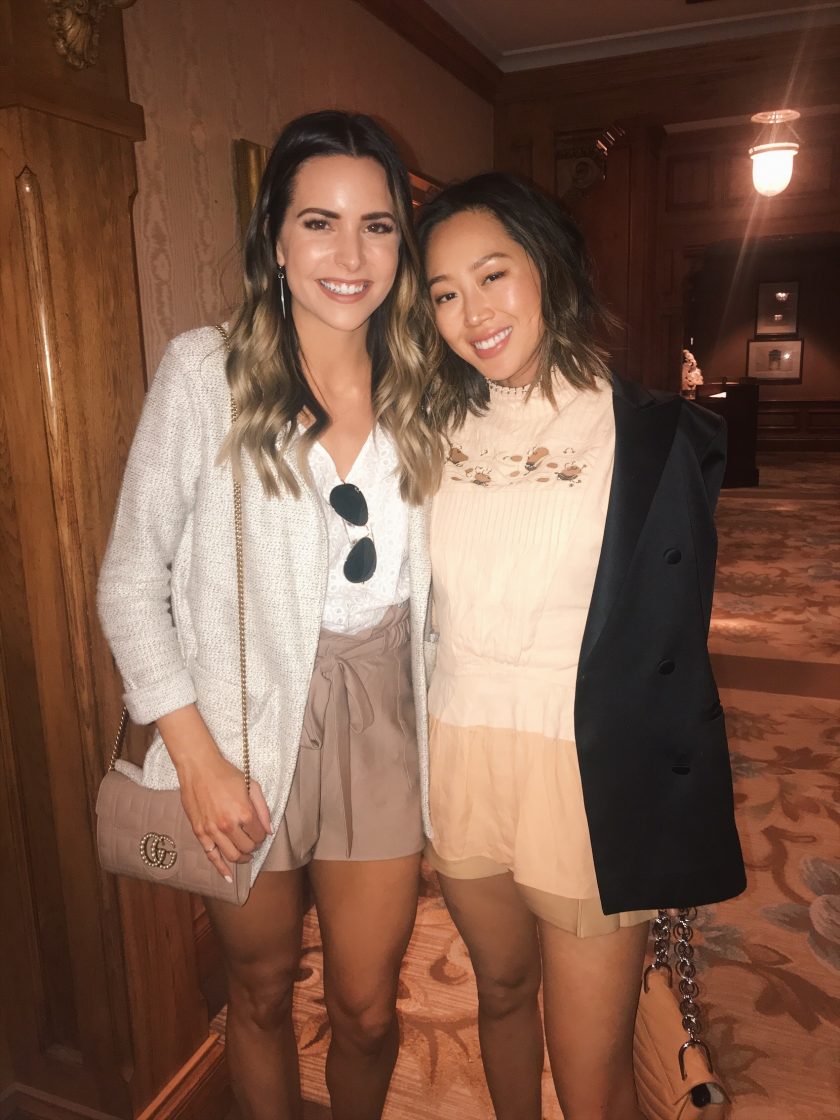 So amazing to meet Aimee Song from Song of Style!! She was a keynote speaker this day as well – super humble, easy going and cool chick all around.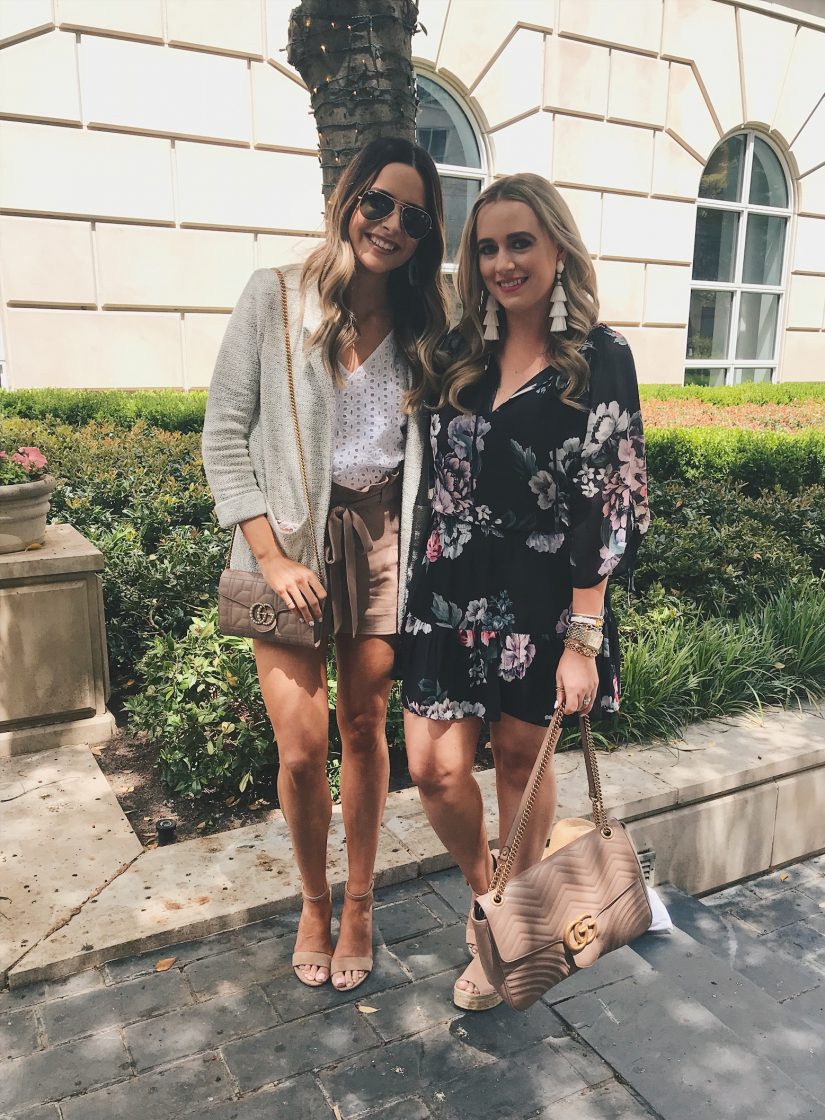 Kristin from Fancy Things Blog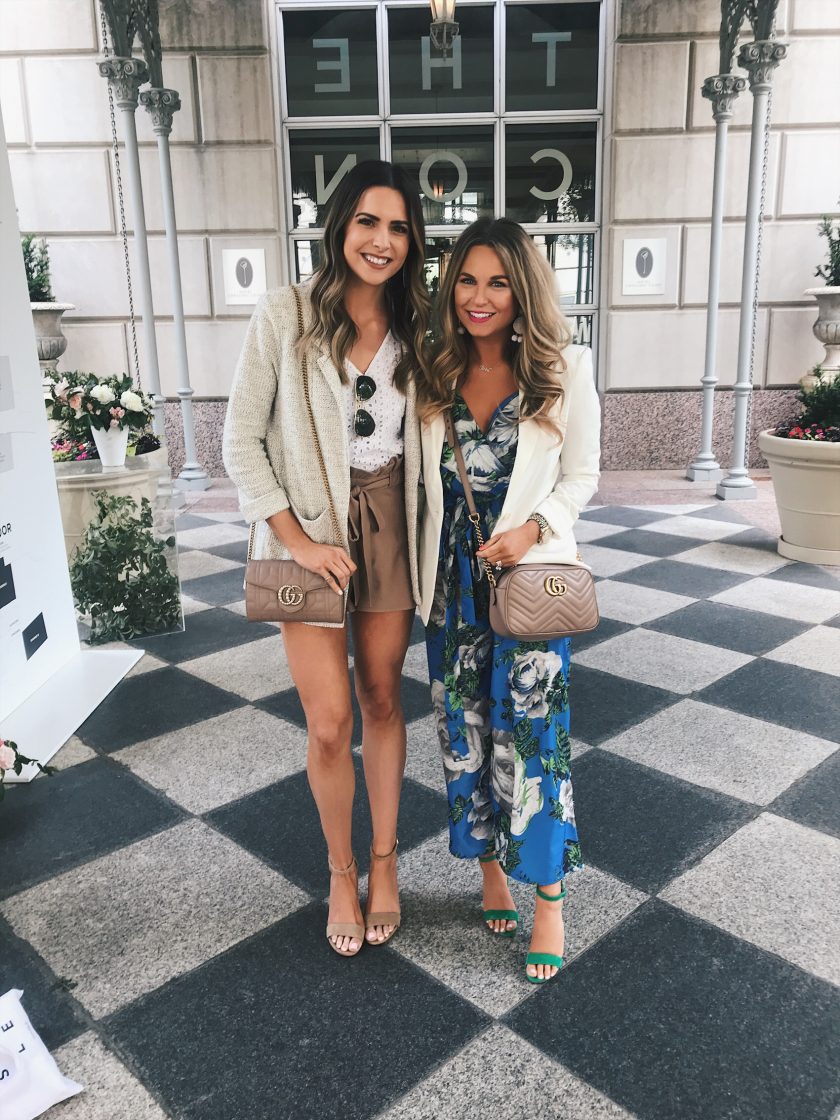 Sara from Sabby Style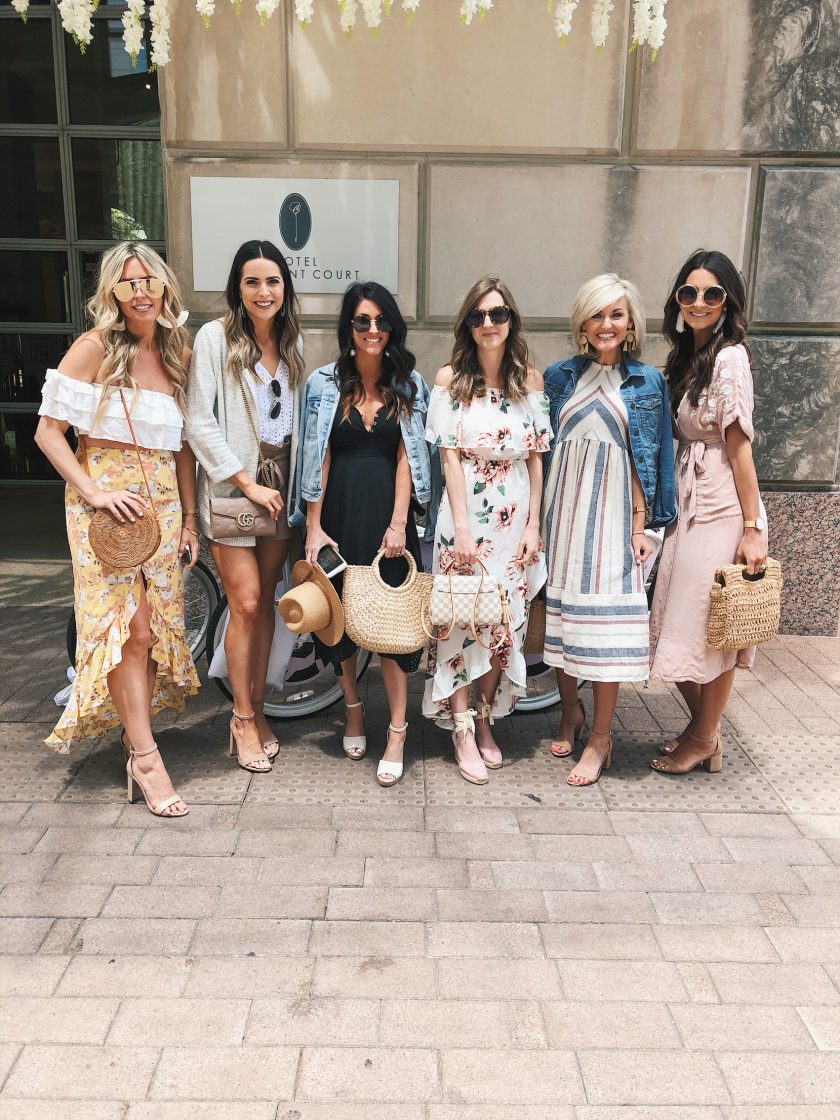 Sue of The Sue Style File, Jen of The Sister Studio, Deb of Sunsets and Stilettos, Brittany of Loverly Grey, and Jena of Jena Green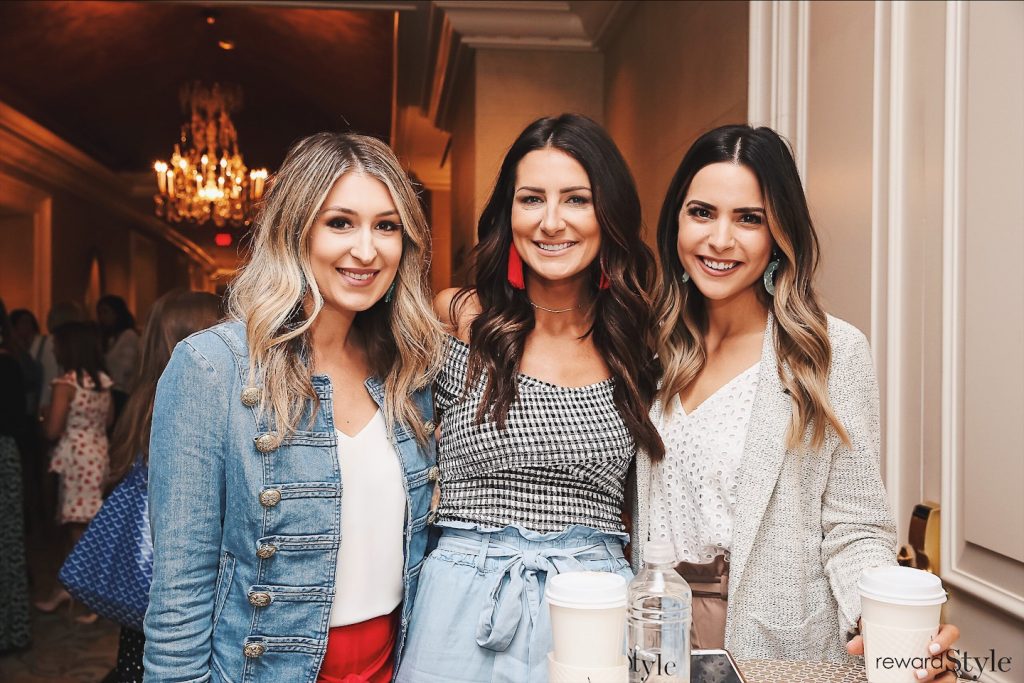 Loren of Wear and When Blog, Jena of Jena Green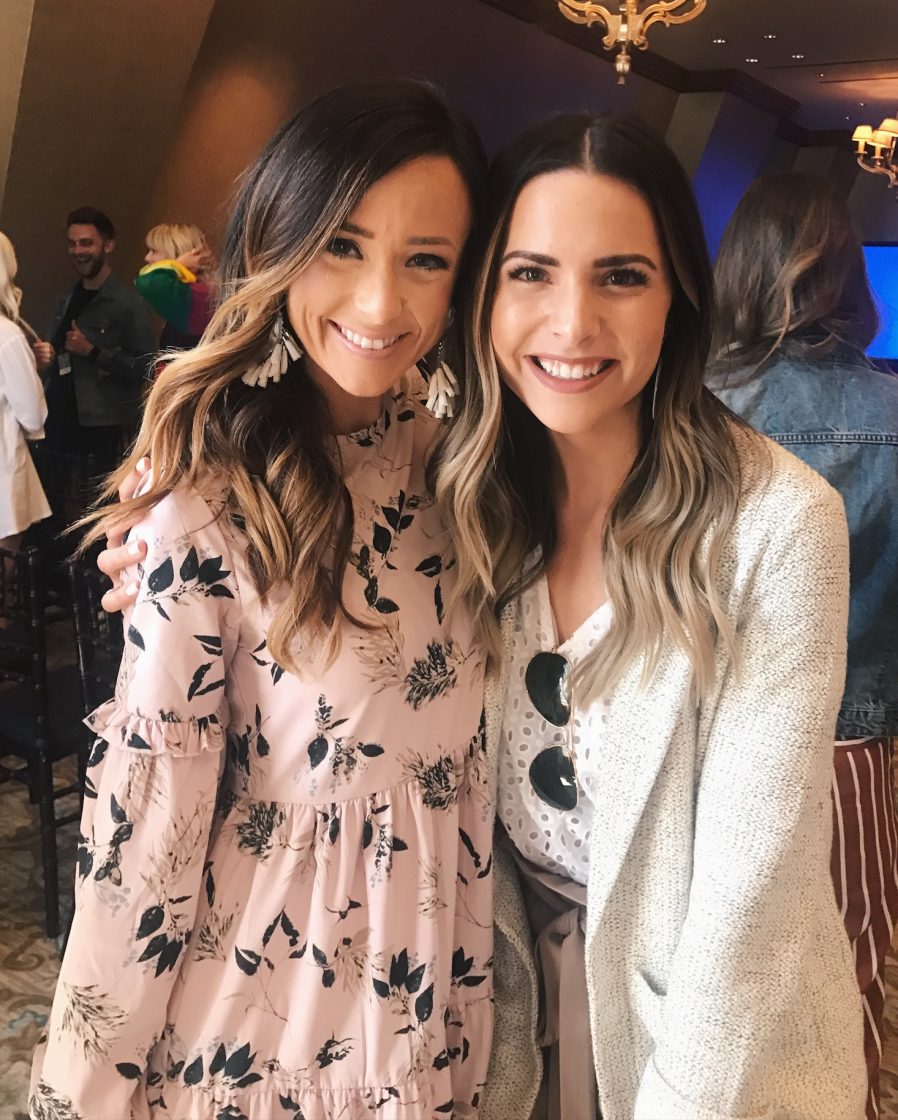 Alyson of Alyson Haley (formerly Sequins and Things – one of the first bloggers I ever followed!)
Day 2 // Morning + Afternoon
We woke up early and got the day started with some delicious avocado toast and coffee provided by rS, and then listed to some amazing speakers on the main stage the rest of the morning. This included keynotes from the president and co-founder of rewardStyle, Amber Venz Box (incredibly kind and humble! Her husband, Baxter, is the other co-founder), a panel with Supergroup!, Express, and Urban Outfitters affiliate marketing managers, keynote from Aimee Song (major boss babe! Got a photo with her shown above!), major tips, inspo and the background story behind Kendra Scott by Kendra Scott, and ended it with hearing some exciting up and coming features coming to rewardStyle by the VP of product and design at rewardStyle.
Following the keynotes were classroom sessions, brand meetings, and then the Banana Republic picnic! Such a beautiful set up; gorgeous bouquets of flowers and everything was so perfect! We were definitely blessed with a perfect sunny and warm day to lunch al fresco.
This outfit was my favorite from the trip – a comfy and chic boyfriend blazer over a pretty white eyelet cami, and the most adorable tie-waist shorts!! Wearing a 6 in the blazer, S in the cami (I wish I would've sized down though, runs large), and a 4 in the shorts (TTS).
OUTFIT DETAILS: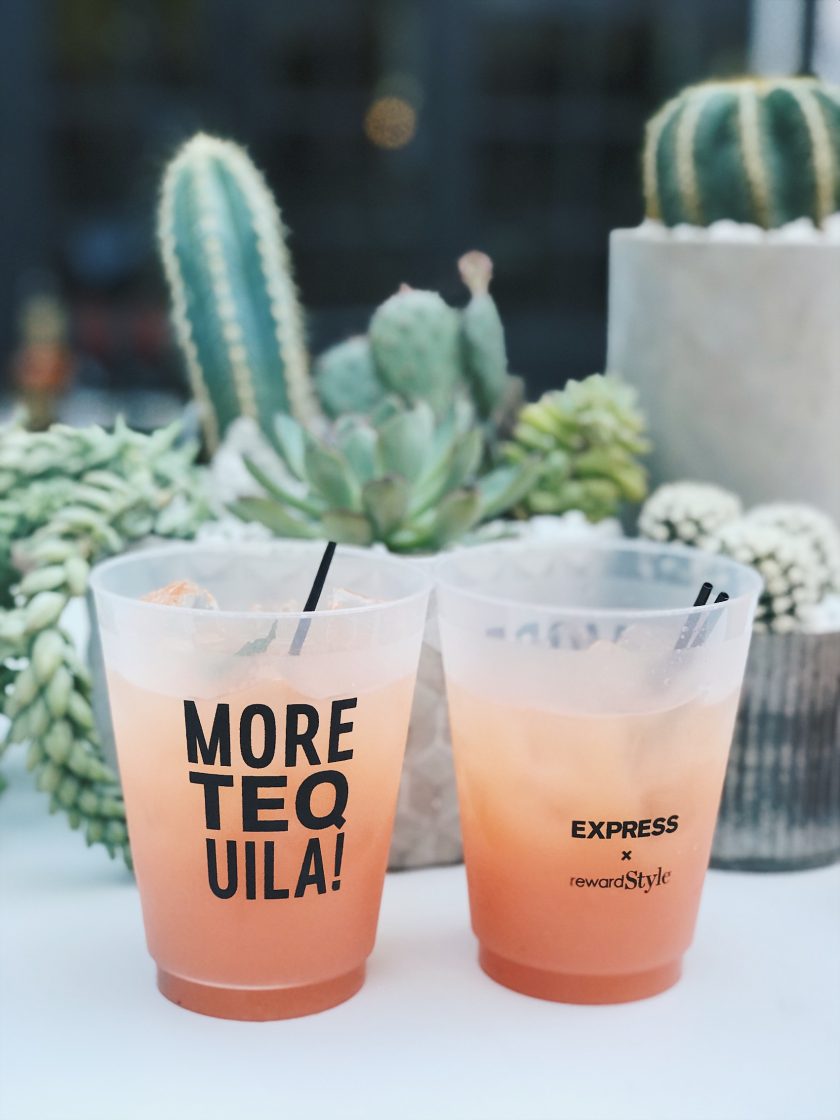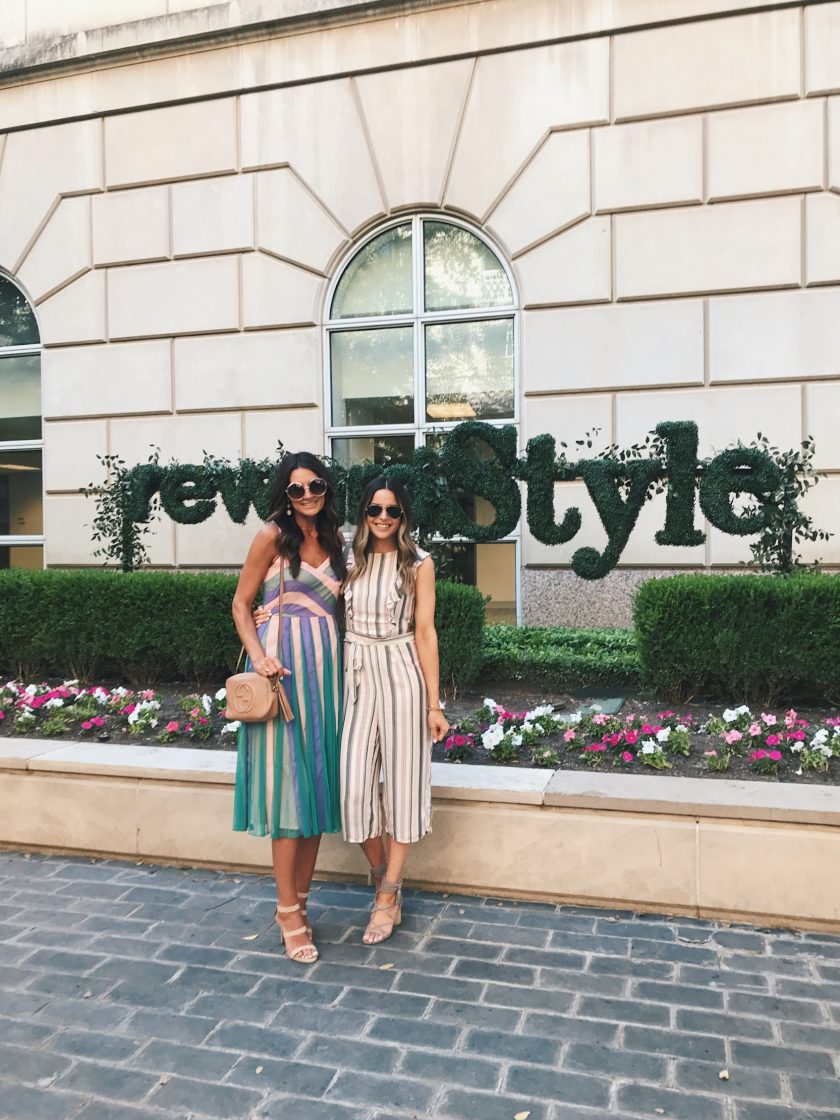 Jena from Jena Green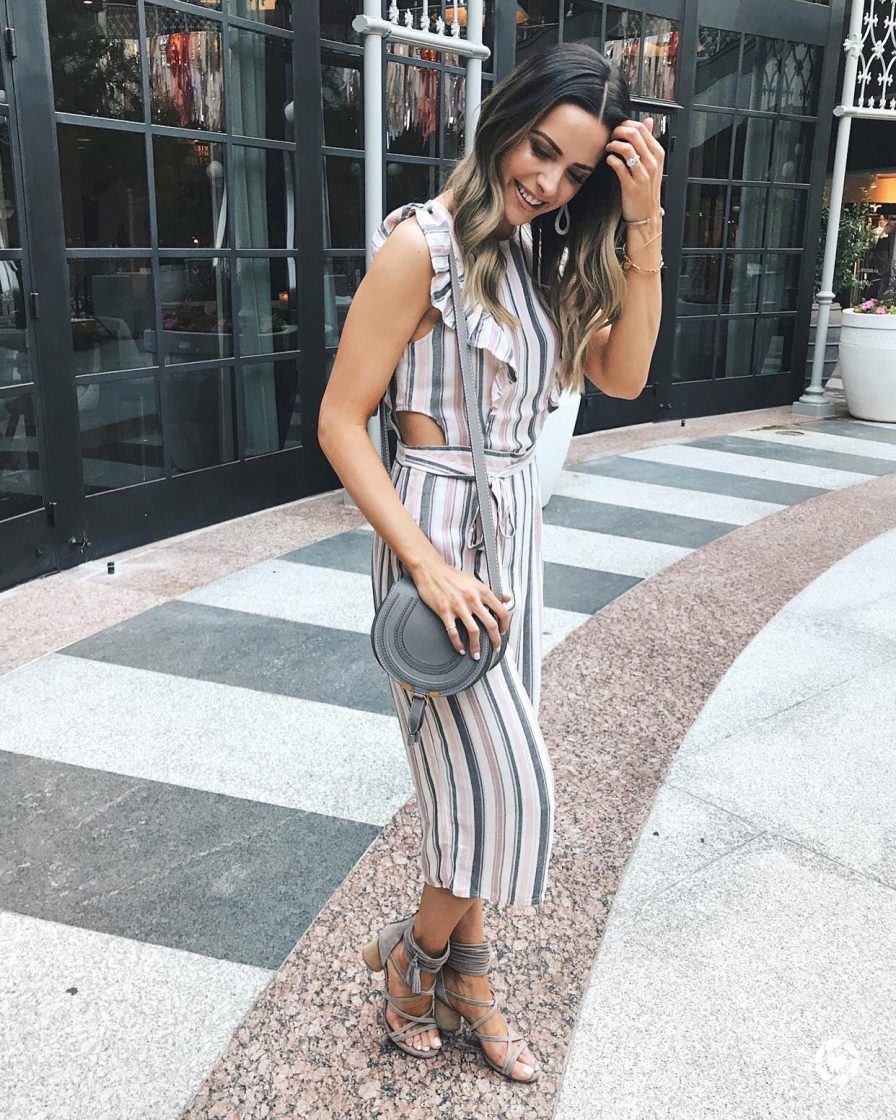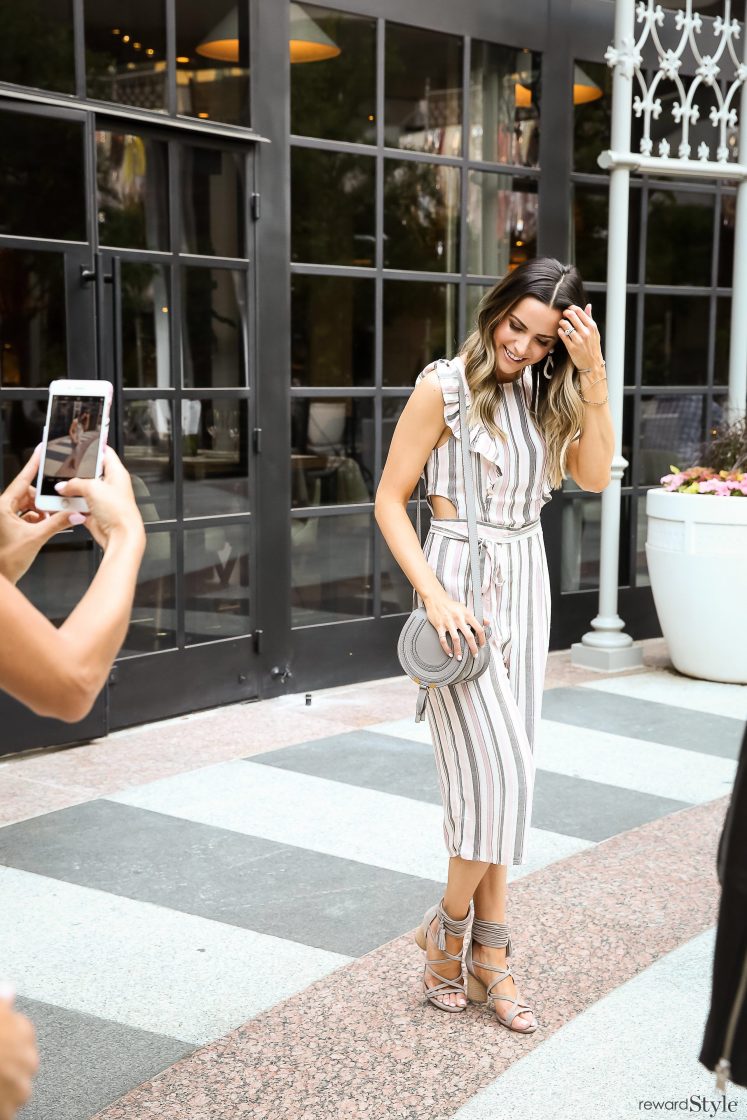 A little behind the scenes action, haha!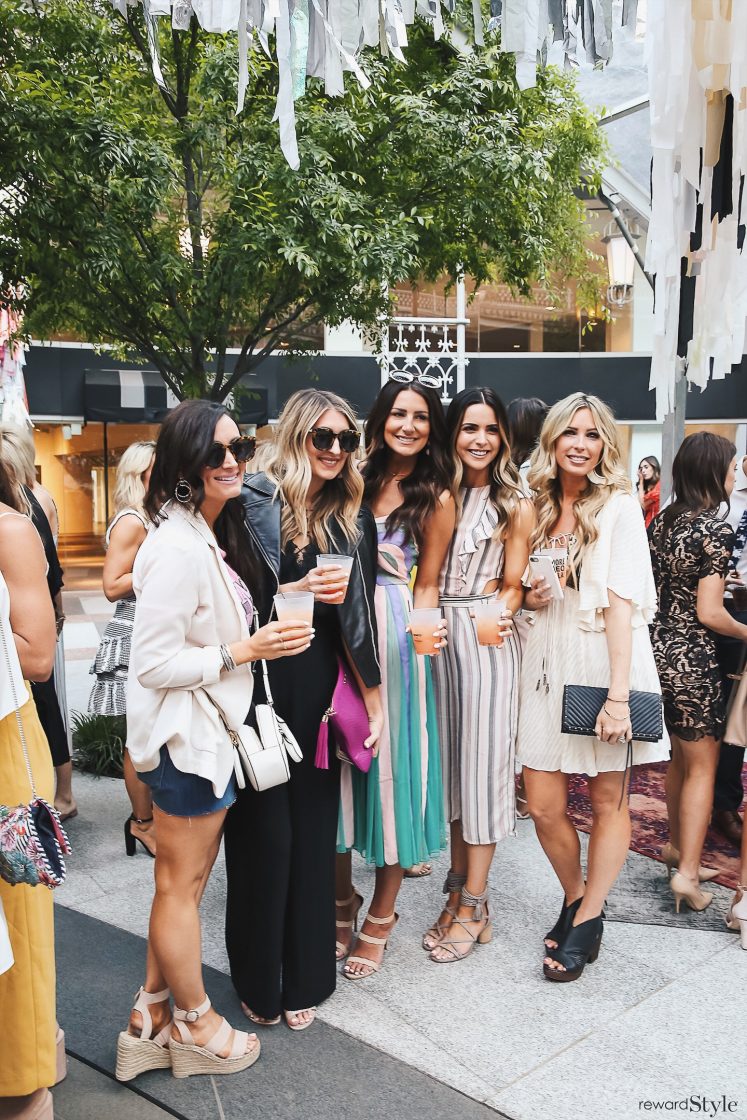 Ash of Ashley Donielle, Loren of Wear and When Blog, Jena of Jena Green, Sue of The Sue Style File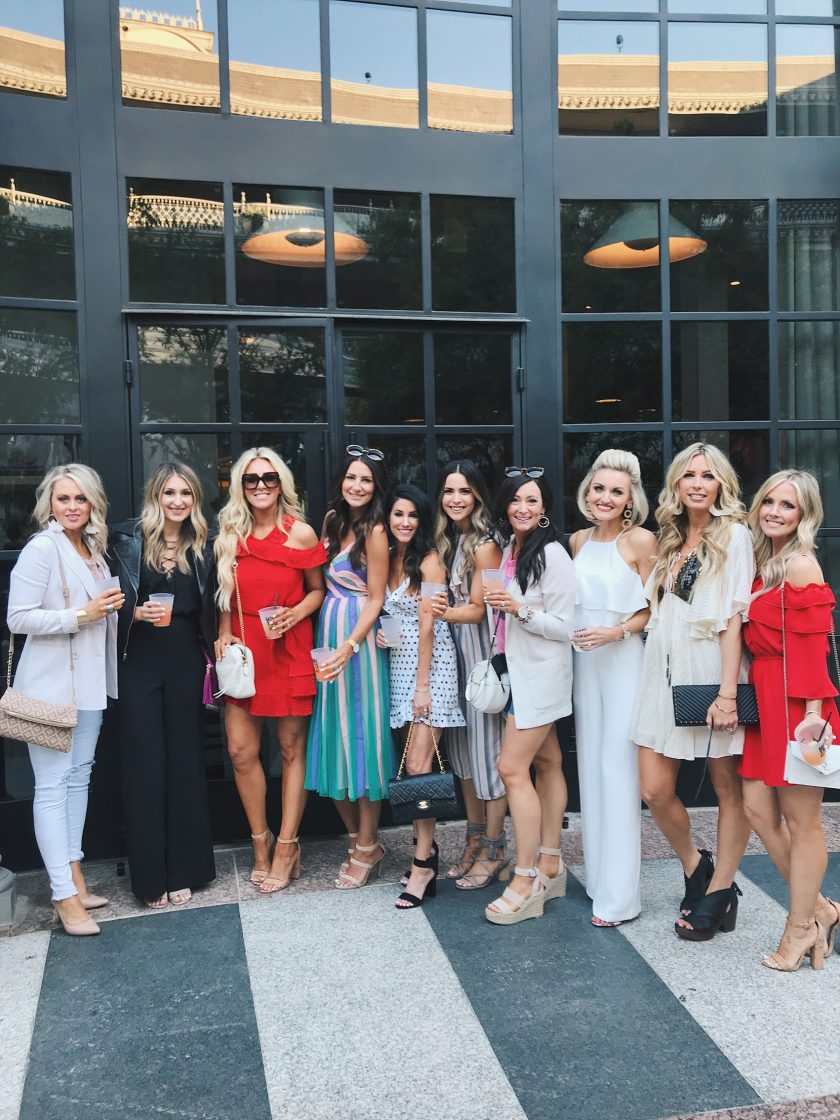 Lauren of The Lillie Bag, Loren of Wear and When Blog, Abby of Everyday Abby, Jena of Jena Green, Jen of The Sister Studio, Ash of Ashley Donielle, Brittany of Loverly Grey, Sue of The Sue Style File, Amanda of Almost Ready Blog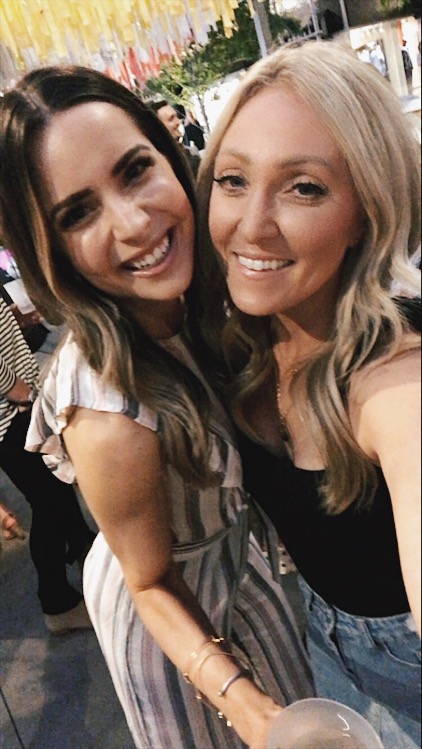 Torey of Torey's Treasures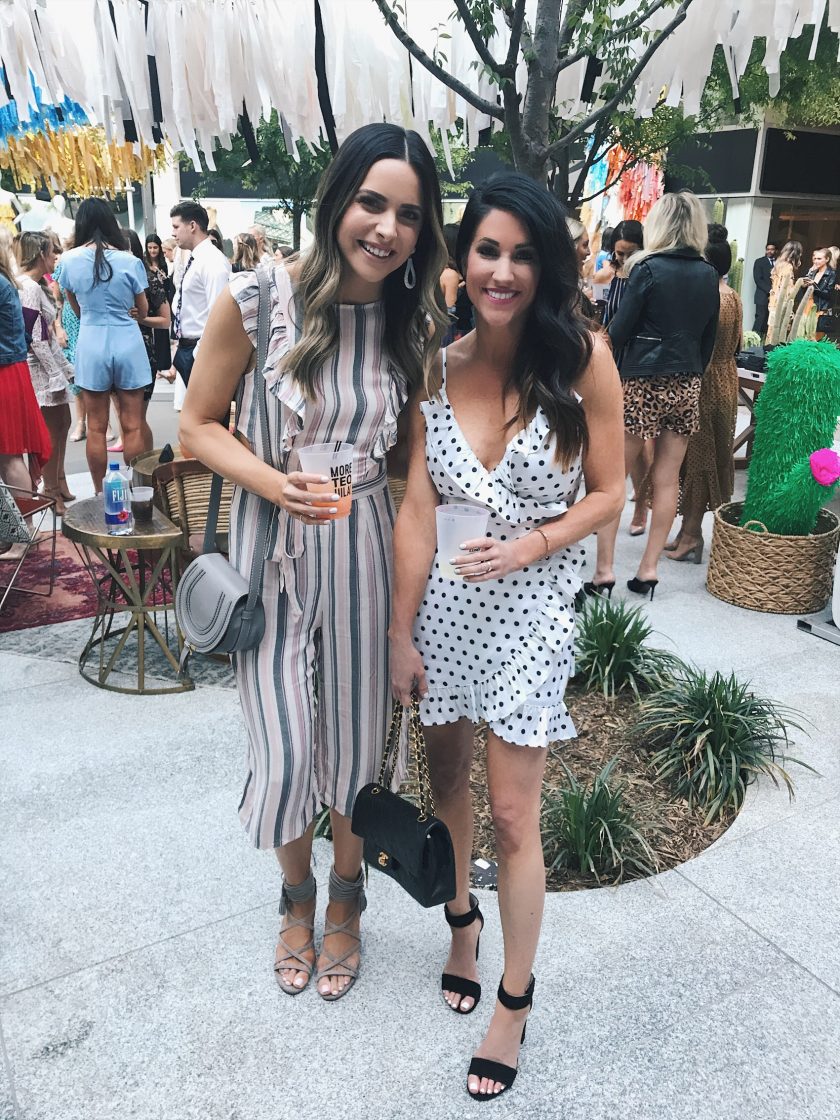 Jen of The Sister Studio
Day 2 // Night
Express hosted a Mexican themed cocktail party on Friday night! The yummiest churros were passed around too, OMG were they good! A fun 3D Photo Booth was also set up, and I wish I could share it here, but since it's a video clip it's not easy to add it to a post!
My striped jumpsuit was a solid Target find and it's only $29! I'm obsessed with this one because it feels like you're wearing pajamas… could have totally slept in this! The ruffles and cut out details are so cute. Also, these fun little strappy tassel heels are the comfiest heels I own, and probably my favorite heel ever!
OUTFIT DETAILS: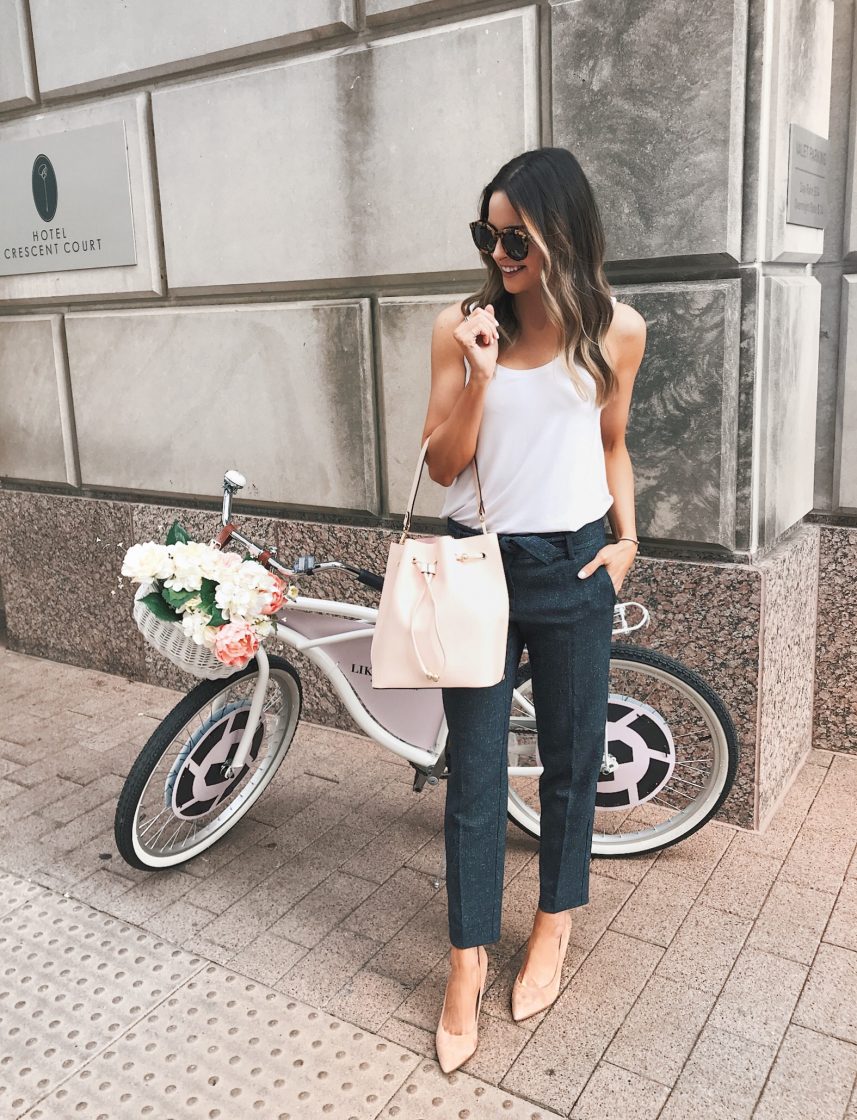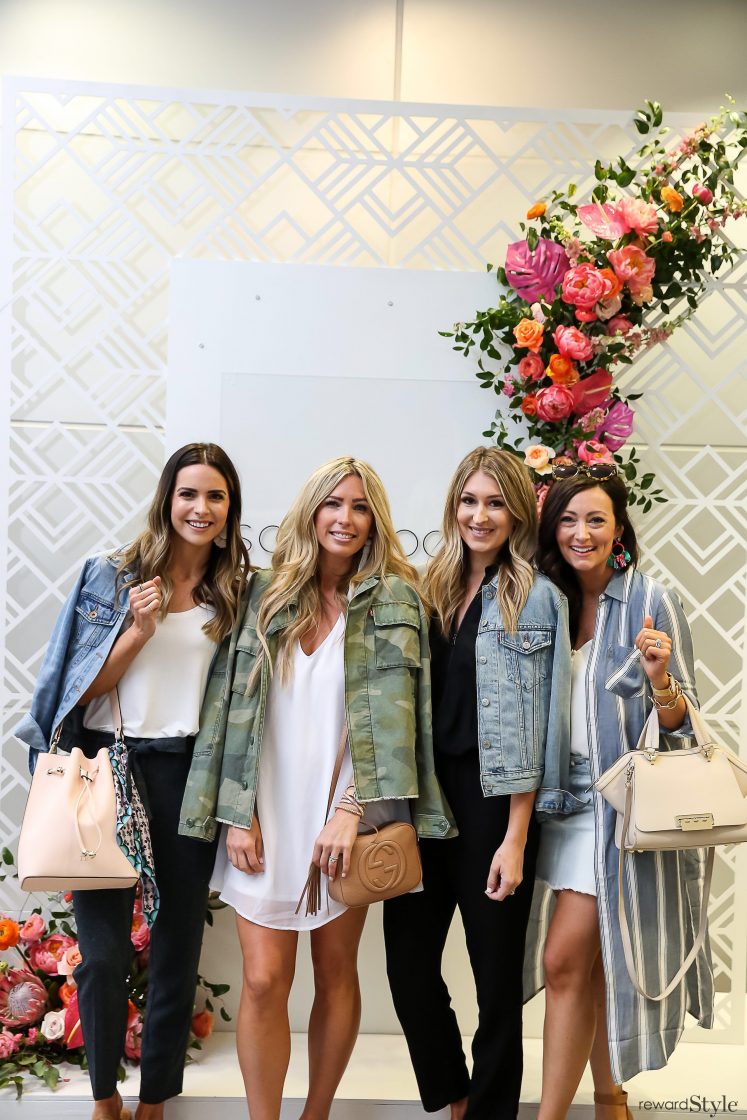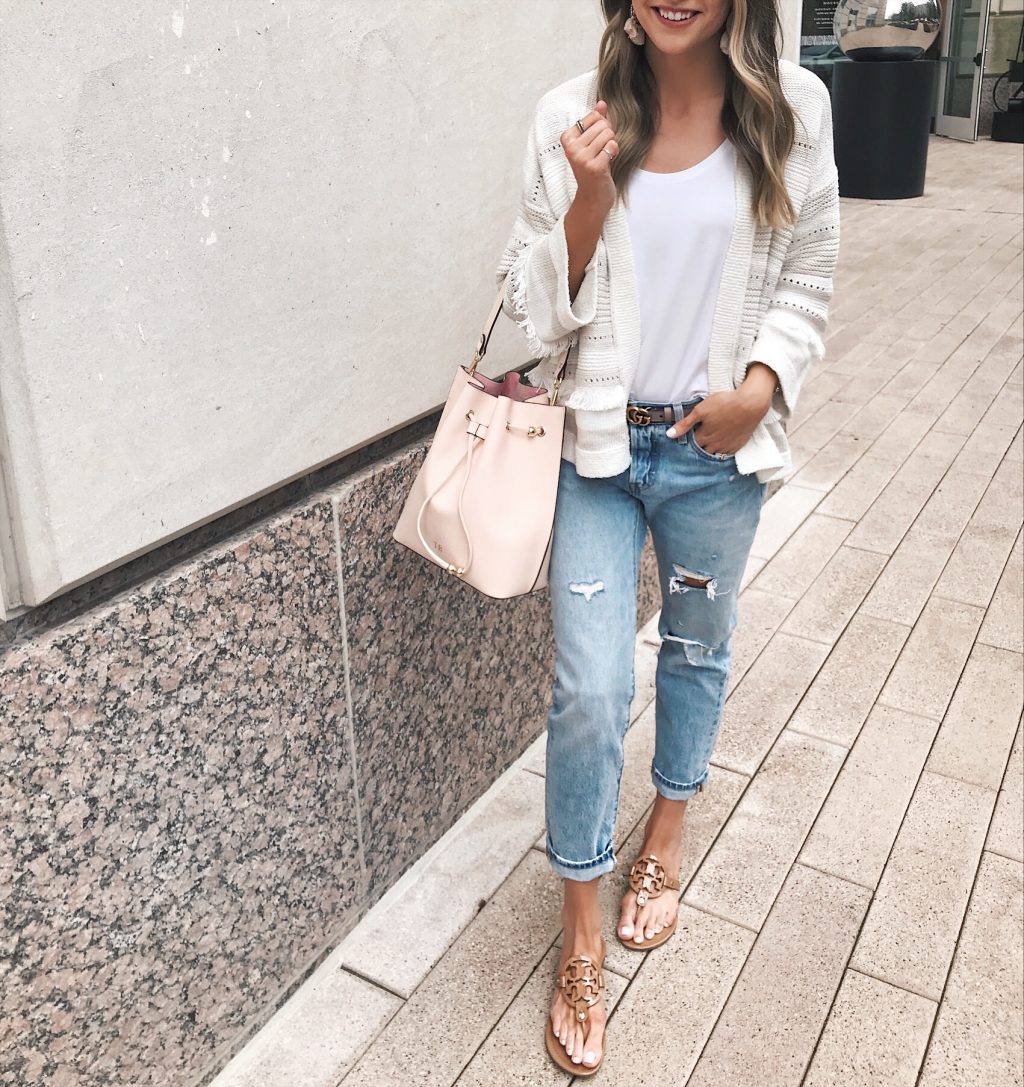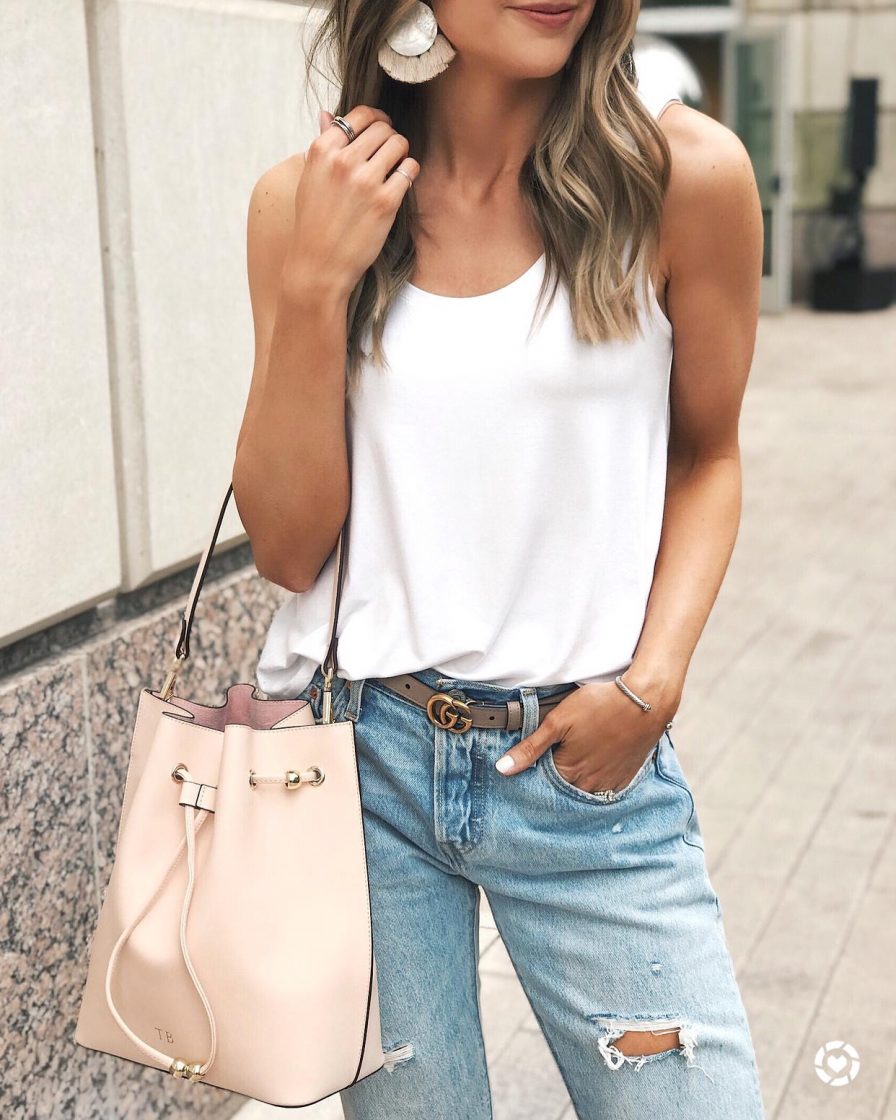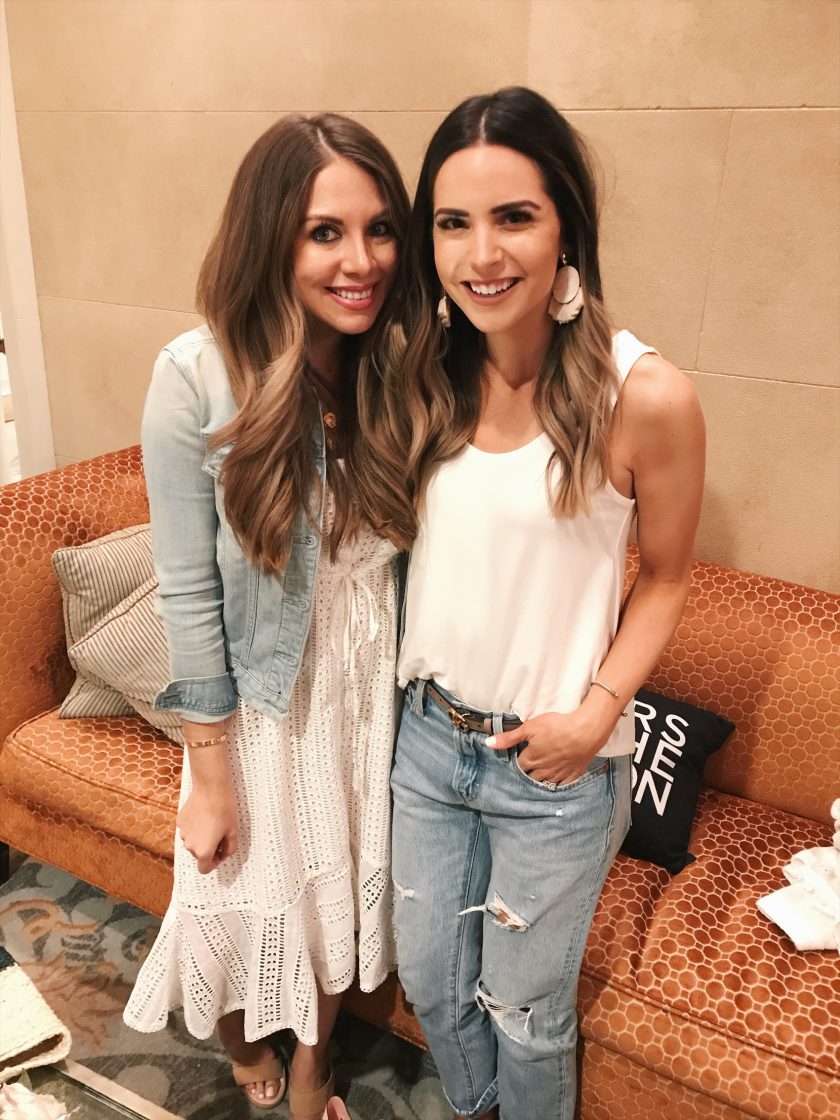 Ashley of Ashley Robertson (another OG that I've loved to follow since before I started blogging!)
Day 3 // Morning + Afternoon
The last day! Started the day off with brand meetings, one last class and then headed to the Sole Society soirée. Unfortunately it was rainy all day, so we ate indoors instead of in the garden as planned. But at least there were lots of floor to ceiling windows, so we had a great view! 🙂
I started the day wearing these super comfortable and chic tie waist pants. Love them!! Kept it simple and styled it with this white tank from Target, a nude pump and statement earrings. After the SS lunch, I was done with all my meetings, so I changed into some casual duds… felt so good to wear jeans and flats again!
OUTFIT DETAILS: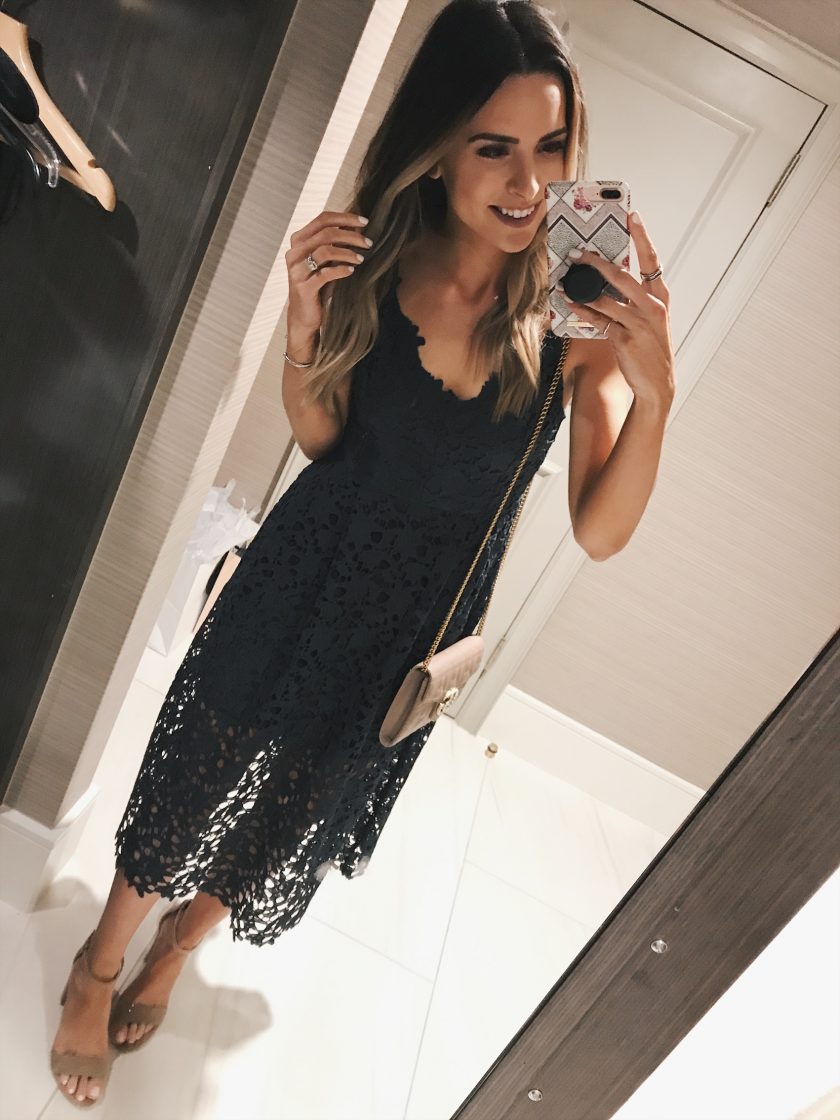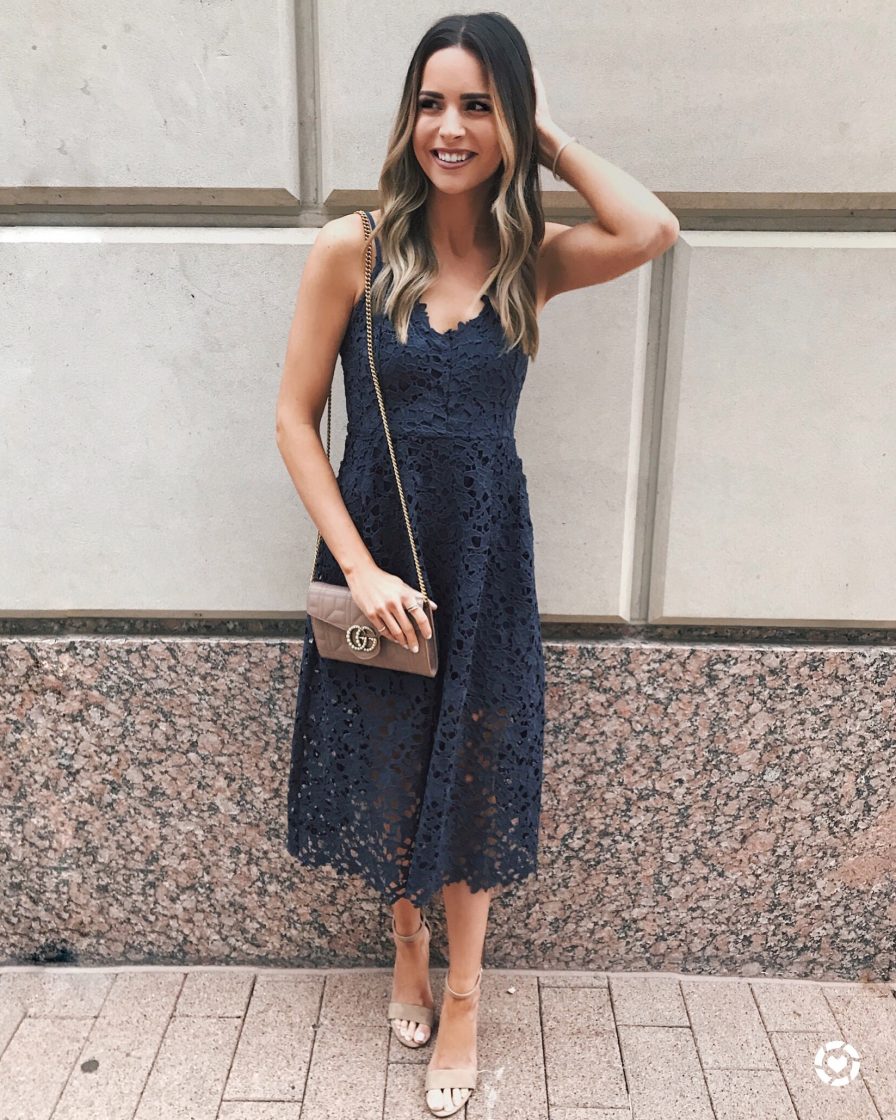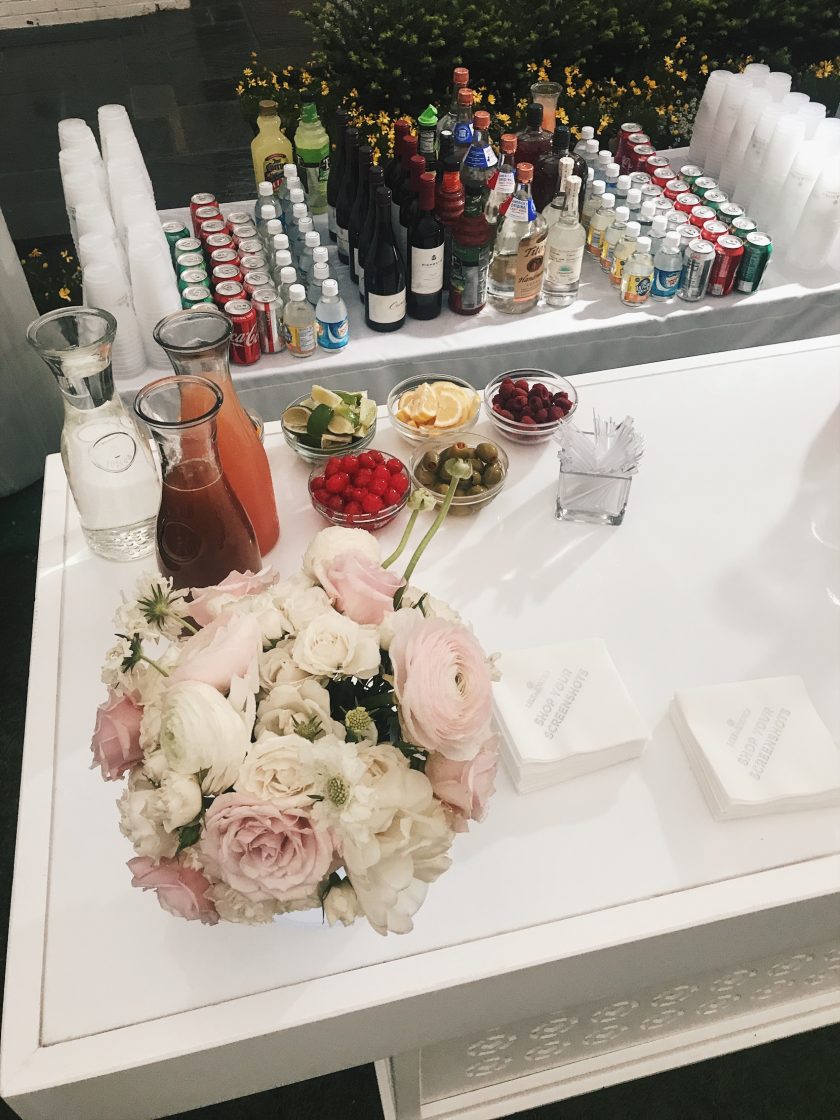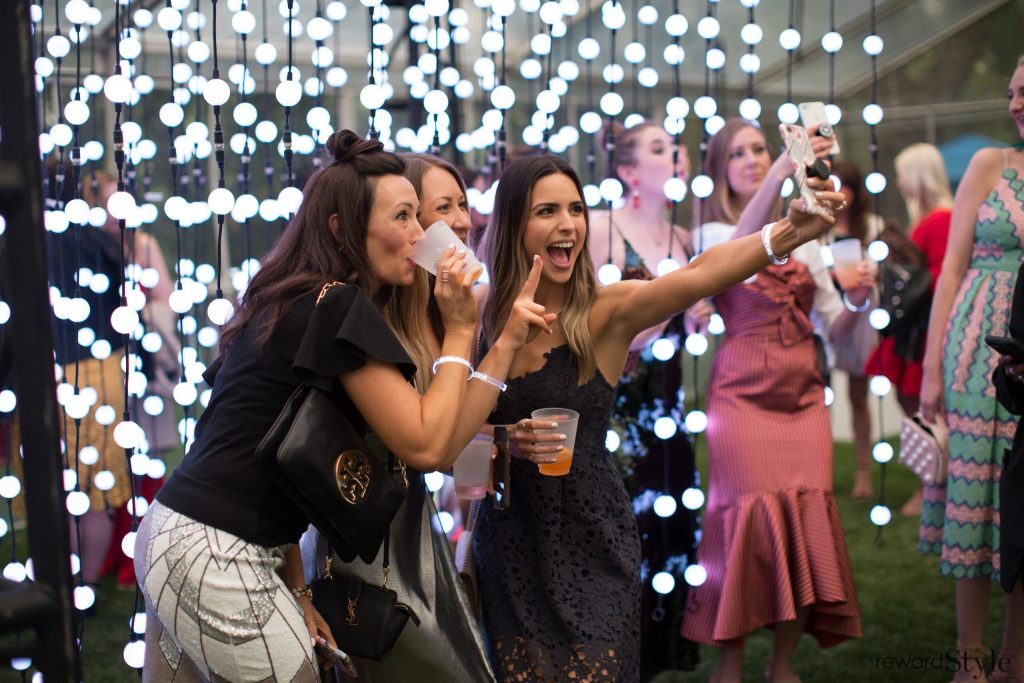 Ash of Ashley Donielle, Lindsey of Weekend Wishing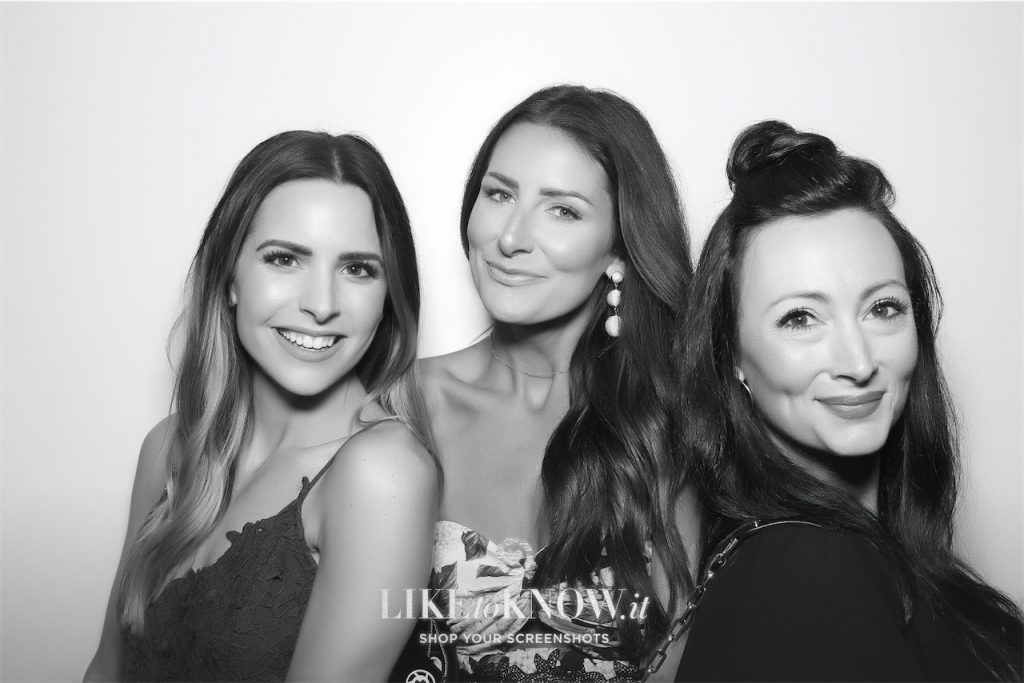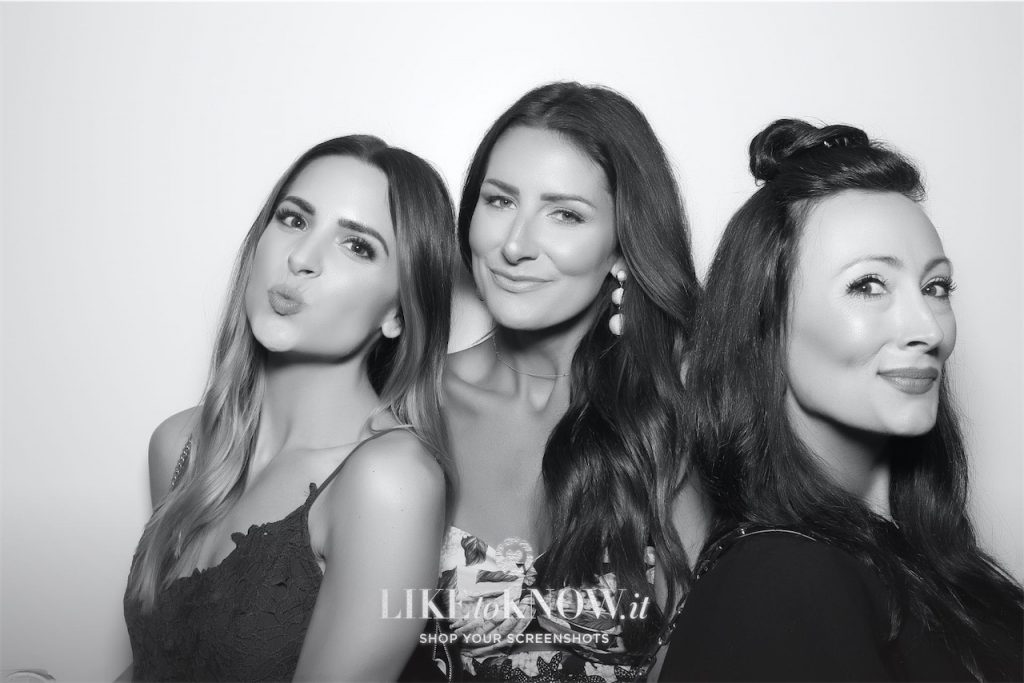 Day 3 // Night
The LiKEtoKNOW.it finale party certainly did not disappoint!! The party was so much fun, and so many surprises! It was hosted at the Dallas Arboretum and Botanical Garden and had an incredible view of White Rock Lake. Unfortunately it was a rainy night, but they had set up tents everywhere so we stayed dry! Lots of photo ops, the best music played by the DJ and a sax player, crazy dancers in light up dance suits, a Kardashian photo booth (need one of these at home lol) are just a few things that made this party awesome! I didn't take too many pictures this day, but took lots of stories – if you saw them, you you got a glimpse of the fun! It was such a blast and I wish I could relive it!
I wore this stunning lace midi dress that comes in TONS of colors! I am wearing the color navy ink, and it makes the most beautiful wedding guest or special occasion dress. It does run small though, so be sure to go up one size (wearing a M)!
OUTFIT DETAILS:

---
What I Learned…
Consider packing an extra suitcase. Seriously! You get a lot of gifts and "swag" from the networking hall, brand meetings, luncheons and parties. I could barely squeeze everything in my suitcase, carry on and tote on the way home!! Other bloggers were recommending this, and now it totally makes sense. Plus, it's a great location to shoot outfits for your blog, so you can pack multiple outfits.
Plan at least 2 outfits a day. Like bare minimum… 3 would be a very safe choice. Sounds crazy, right?! You will want an outfit during the day for meetings/conference classes and any photos you want to take, and then the parties are in the evening where you get a little more dressed up. Plus, you will want to pack a couple of casual outfits for when you get late dinners, and have some plan B's available in case of a change of weather or if you happen to spill on one, etc.
I didn't realize I would be having private brand meetings until the week of the trip, so I had day outfits planned that I wouldn't have necessarily worn to basically have an interview with the brands. So that being said, you'll want to plan chic, and semi-business casual looks for your meetings.
Get there early! We got there with about 2 hours to spare before the rooftop pool party, and would've really enjoyed some extra time to settle in and grab dinner before the party. We tried getting a late lunch and basically had to stuff our faces and run. Jena and I were literally standing at our table taking the final bites of our sandwiches, lol! Still bitter to have left the rest of my meal half eaten… I think next year (if I get the invite of course!) I will actually go one day early!
Speaking of food, you are provided a nice little breakfast each morning and an amazing lunch, but dinner is not provided. You are running around like crazy from classes to meetings to parties to changing and getting ready, that there is barely time to eat a nice dinner until after the evening parties – which is usually around 9pm! So I advise packing lots of snacks to keep in your hotel room, like protein bars, nuts, and other filling snacks.
I want to start this one by saying I loved my roommates Jena, Sue and Loren, but our room was way to small for all of us! Especially since we all had to get ready at the same time, it just was too small of a room for 6+ suitcases, 1 small bathroom and 4 women. Sh*t everywhere and bathroom shifts… 1 or 2 to a room is the plan for next time, haha!
"No" is merely a suggestion. Thank you, Kendra Scott!
Bring hard copies of your media kit and business cards! Absolute must if you want to connect with the brands after the conference.
Don't be scared to say hi to the "bigger" bloggers. I was pleasantly surprised at how nice everyone was and it was so great to chat with them in person! Some people don't have the same experience with everyone they talk to, but I had a great experience with everyone that I connected with. 🙂
I probably have more to add to this list, but it's late and all I can muster up to think of right now! 😉 It was an absolute honor to attend the conference and I hope that I get to go again next year! Happy to answer any questions you have about it that I didn't cover in this post. 🙂 As always, thanks for reading!