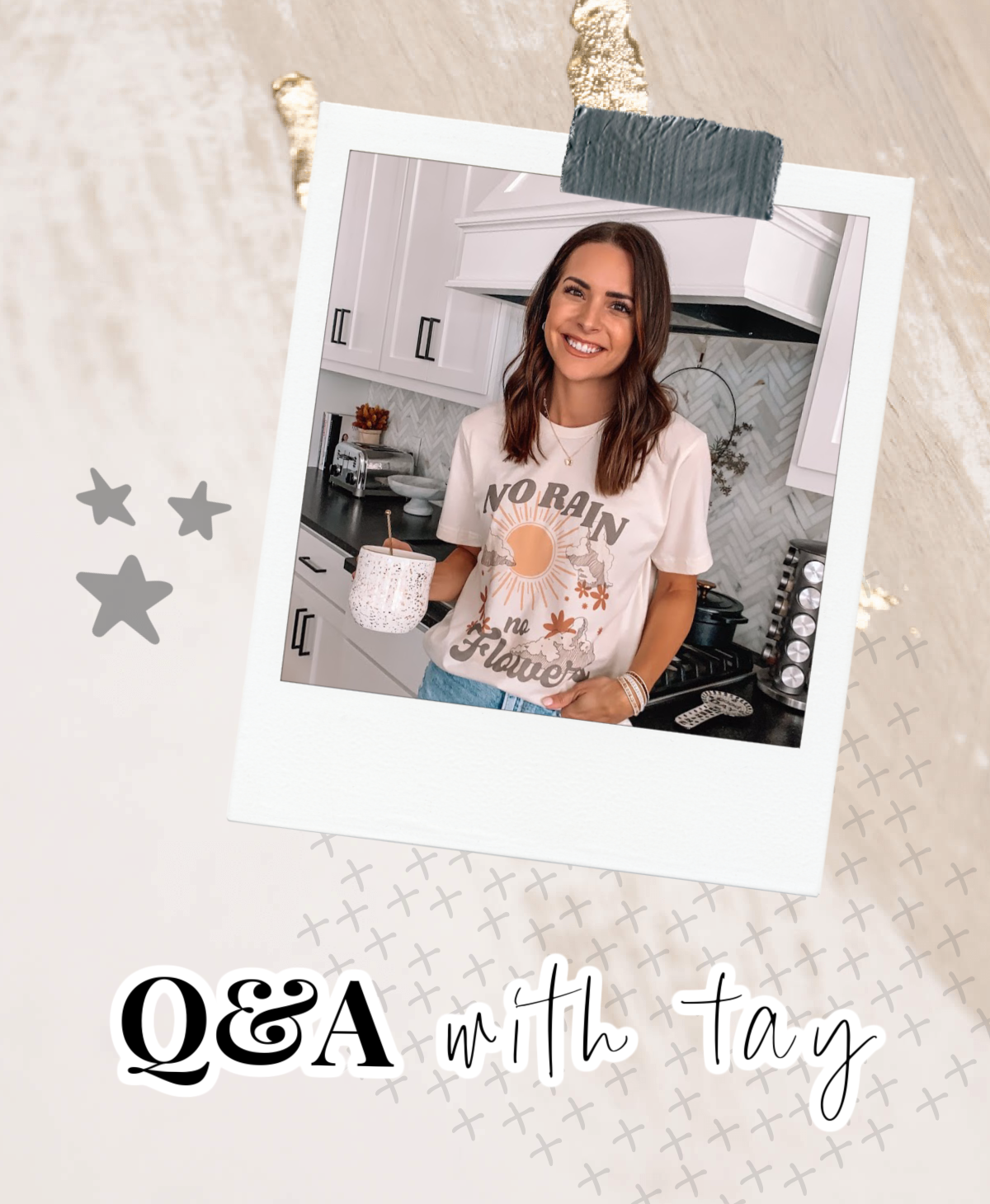 "What is your preferred facial sunscreen for every day?" Either of these – Supergoop Unseen Sunscreen: love the consistency of this one and it absorbs quickly. EltaMD UV Clear: great for sensitive skin and is the number one dermatologist recommended. Tula Protect + Glow: this one has added skincare benefits and gives a really nice glow (I have the code TAYMBROWN for 15% off)
"Favorite Fabletics leggings for lounging?" Any of the Pureluxe Oasis styles!
"Favorite Nike sneakers?" The Court Vision Low Basketball Sneaker – true to size!
"Throw pillow suggestions for a light grey couch. You always do a nice job mixing and matching!" Thank you! I would recommend Target. My favorite collections are from Studio McGee and Threshold. Hearth & Hand has some cute ones too.
"Is Big Sky really good? Kind of want to start watching it but have heard mixed feelings on it!" It's so good, just makes me super anxious – but still watch it! It's never boring or slow either. It's about human trafficking and kidnapping; something that's unfortunately very real in our world.
"What is your number one baby item to have?" I did a blog post on this here!
"What is your favorite black, leather jacket?" This one right here! I love that the hardware is a brassy rose gold. Super pretty and looks $$. True to size.
"Are the Steve Madden Amulet bootie's comfortable – and is the fit true to size?" The Amulet booties are pretty comfy! Just somewhat heavier and obviously chunkier than most booties. A good look for less on the Gucci boots and they are true to size.
"What is your favorite every day bag?" The LV Pochette Métis. Fits everything I need and goes with basically every outfit, not heavy, and can be worn crossbody!
"When are you due? How's this pregnancy been for you?" Due July 5th! Feeling pretty great/like myself since 11.5 weeks. First trimester was a doozy. 🤢
"What is your workout routine while pregnant?" I do prenatal workouts from Obe Fitness 3-5 times a week – depending on how I'm feeling. Listen to your body and rest when you need to! When it gets warm out again I'll be going for lots of walks outside! My Obe discount code is STYLEDPRESS for 30% off first month + free week.
"Curious about the diaper bag that you carry?" With Keldon we used the Freshly Picked backpack – they make great diaper bags that wear well! I just bought the Happ brand diaper bag because I was looking for something bigger (since we will have both little bro's and Keldon's things in it). I like that it has the option of carrying either on the shoulder or as a backpack!
"Favorite and most comfy fashion sneakers?" P488's are so comfy and they have lots of fun styles! They are pricey though unless you can find a pair you like on sale. The high top skate style is my favorite!
"Boy names you like?" Oh boy! Brooks, Archie, Crew, Wesley, Grey, Xander, Cove, Nash, Ezra, Briggs, Hayes, Luca, Rory, and Walker.
"When you purchased your new Telluride, did you look at any others? What were your top contenders and why?" We also test drove a Ford Explorer (liked, but was a little sportier than I wanted), Volkswagen Atlas (seats felt a little hard), and the Acura MDX (due for more technology upgrades). We also looked at a BMW X7 and Mercedes GLS but they were a little more than what we wanted to spend – especially since we wanted most of the upgrades. The Kia Telluride had the best ratings, bells + whistles, and we love how it drives (not to mention it's a great looking rig)! I was able to order exactly what I wanted, color-wise and the upgrades (took about 4 months to make). Awesome family vehicle at the best value 🙌🏻
"How did you come up with the blog name 'The Styled Press'?" On our way back from our honeymoon, I was brainstorming names on our flight. Since my blog is mostly fashion based, I wanted my name to be more obvious of my niche but still unique. I put together Styled and Press (fancy name for newsletter/newspaper aka – blog) and came up with The Styled Press. Sometimes I debate changing my name to just 'Taylor Brown', but I feel that The Styled Press stands out a little more.
"Advice for buying baby clothes! How many NB/0-3 month outfits should I buy?" I would have both on hand, but maybe don't buy a ton of newborn. I mostly bought 0-3 months and Keldon needed newborn for at least a month, especially after he was dropping weight (breastfeeding battle) so I ended up buying more newborn after. You could wash a few of each and keep the tags on the rest in case you don't use them. Every baby is different in size, and you won't know how big they are until they are born – so it's a hard question to answer!
"Any tips on introducing new baby to a dog?" Tom's parents were taking care of Bruce while we were in the hospital and brought back a blanket with Keldon's scent before he met him. I think that helped him get acquainted! I think also not forgetting to give your pup attention and love whenever you can after baby arrives.
"What fashion trend do you hope goes away ASAP?" Two words: rectangle glasses. 🤓
"How has it been being pregnant with a toddler?" 1st trimester was rough, 2nd has been easy – but Tom has been a lot of help since he's at home. Especially when I needed to rest/lay down 1st trimester. So not bad, but I imagine that SAHMs would have more of a challenge if they are not feeling well and also have to care for their toddler.
"Favorite guilty pleasure?" REALITY TV 😅 Bachelor/Bachelorette/BIP, The Challenge, Live Island, Real Housewives, Vanderpump, Teen Mom OG, Kardashians.
"My husband and I are wanting to start a family soon. Any advice? Stuff you took to help?" So exciting! Travel together and soak up the time and ease of going places with just the two of you. Adding a babe makes it extra fun + special, but also not very relaxing and you can't really let loose – unless you plan on paying a babysitter! Start a prenatal vitamin now, and let your doctor know your plans to conceive.