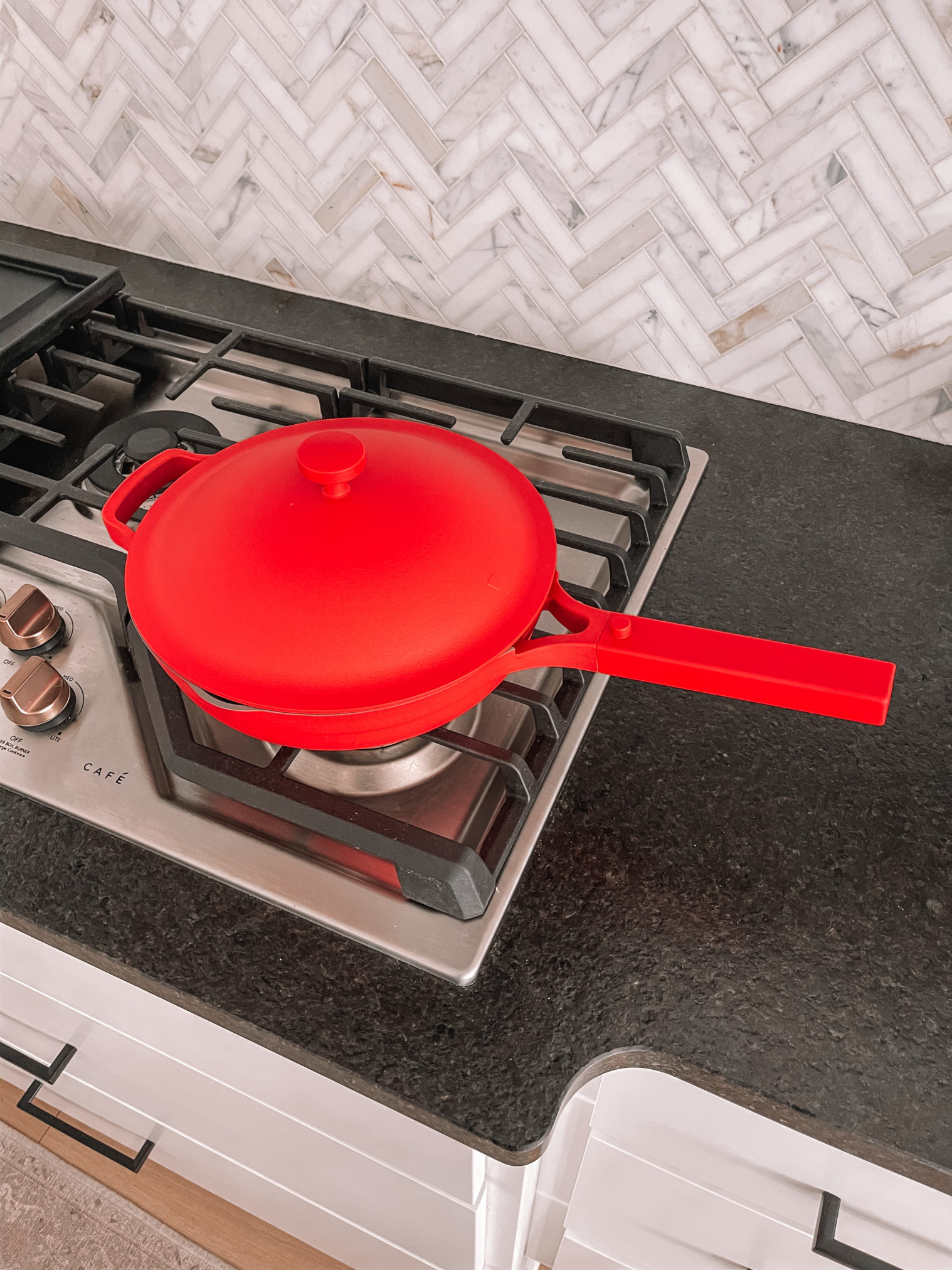 I love food, but I haven't always loved to cook it/prepare it. I think because they can be sometimes overwhelming with all the dishes and cookware, large amount of ingredients, the prep, etc… That being said, simple recipes that can be thrown together in one pan are seriously awesome! We've been throwing together this easy one pan chicken burrito meal recently, and wanted to share it in today's post! It easily feeds a family of 5, and if you aren't feeding as many people, it also makes for great leftovers.
We've been cooking with the Always Pan from Our Place for a few months now, and have never looked back! It is the best multi-purpose cooktop pan; non-stick ceramic, non-toxic (made without PFOAS or PTFES), replaces 8 pieces of traditional cookware. You can braise, sear, steam, strain, sauté, fry, boil, serve, and store with it (I am using the sear, sauce, boil and serve functionalities in this recipe), and it cleans like a dream! The stickiest, messiest food can be easily cleaned off of it with some hot water and a soft sponge — seriously. And since it's non-toxic, I can feel good cooking my family meals with it. The Always Pan is super aesthetically pleasing too, which earned brownie points from me. 😀 They just came out with this pretty red color called 'Heat' which is being sold as a set with a bamboo steamer, set of chopsticks, built-in spatula, and a stainless steel steamer basket for $175!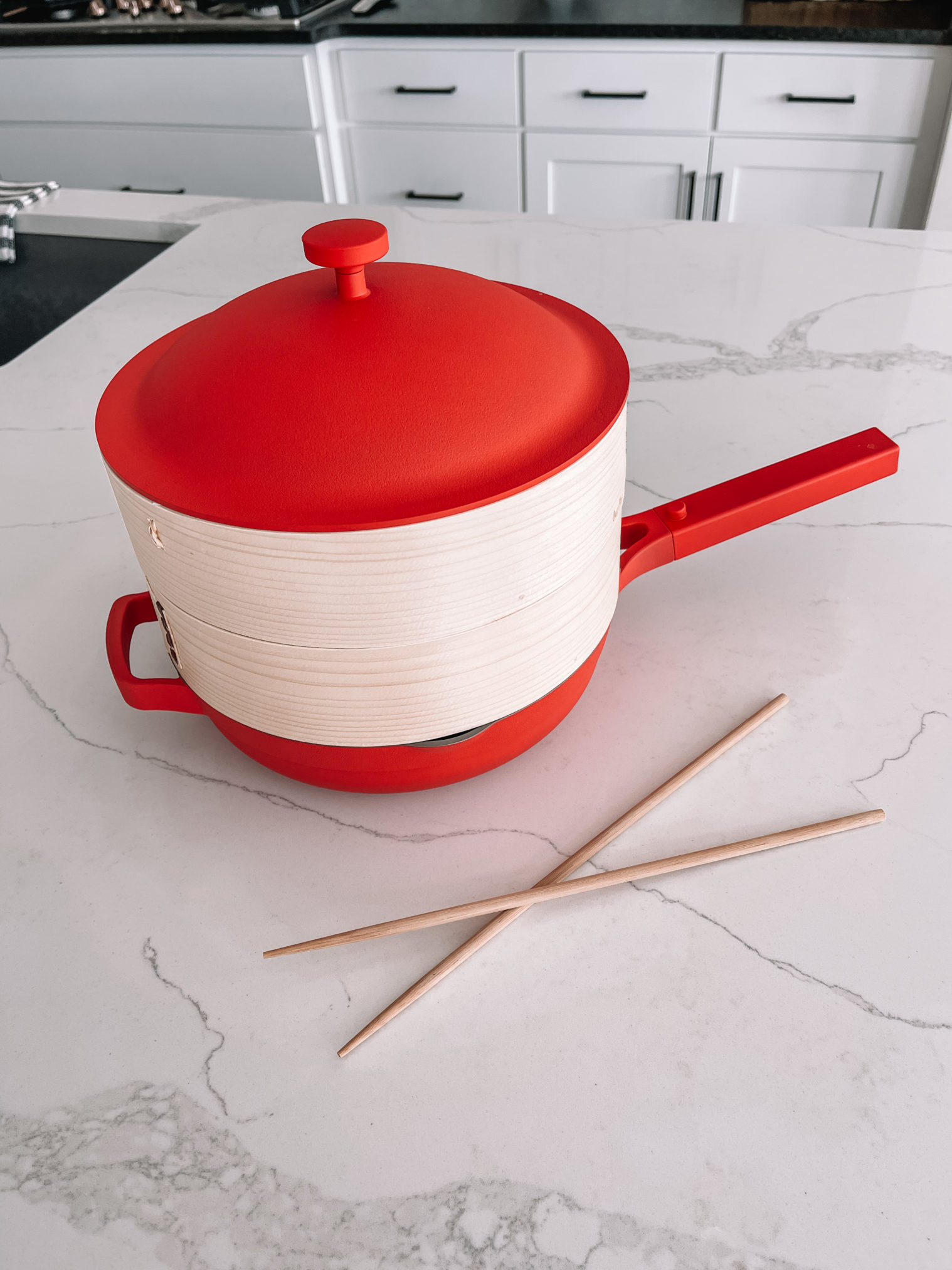 What you'll need:
Large pan (we use the Always Pan)
1 tbsp vegetable or olive oil
1 lb boneless skinless chicken breast, diced
3 tbsp taco seasoning
1 cup Jasmine rice
1 – 1.5 cups of salsa (we love Village Hot Sauce, but if you prefer chunkier salsa, that works great too)
1 can of corn (15 oz), drained & rinsed
1 can black beans (15 oz), drained & rinsed (pinto beans work too, if preferred)
2 cups chicken broth
1 cup shredded Mexican blend cheese (we love Tillamook)
Fixings of choice (guacamole, sour cream, green onions, black olives, etc.)
Tortilla chips or tortillas to pair with the meal (if desired)
Instructions
Heat oil in pan on medium-high heat. Season the diced chicken with 1 tbsp of taco seasoning. Once oil is hot, add the chicken and toss around for 2 minutes. Remove the chicken and place into a separate bowl (note: chicken will not be fully cooked at this point, but will be when you add to the pan again later).
Add the rice, salsa, corn, beans, chicken broth, and remaining taco seasoning. Bring to a boil, and then add the chicken to the pan. Turn heat down to low/simmer, and cover. Cook for 20-25 minutes.
Remove lid and stir, and add the cheese. Cover again for about 3 minutes (or until melted).
Serve hot with tortillas or tortilla chips and fixings of choice!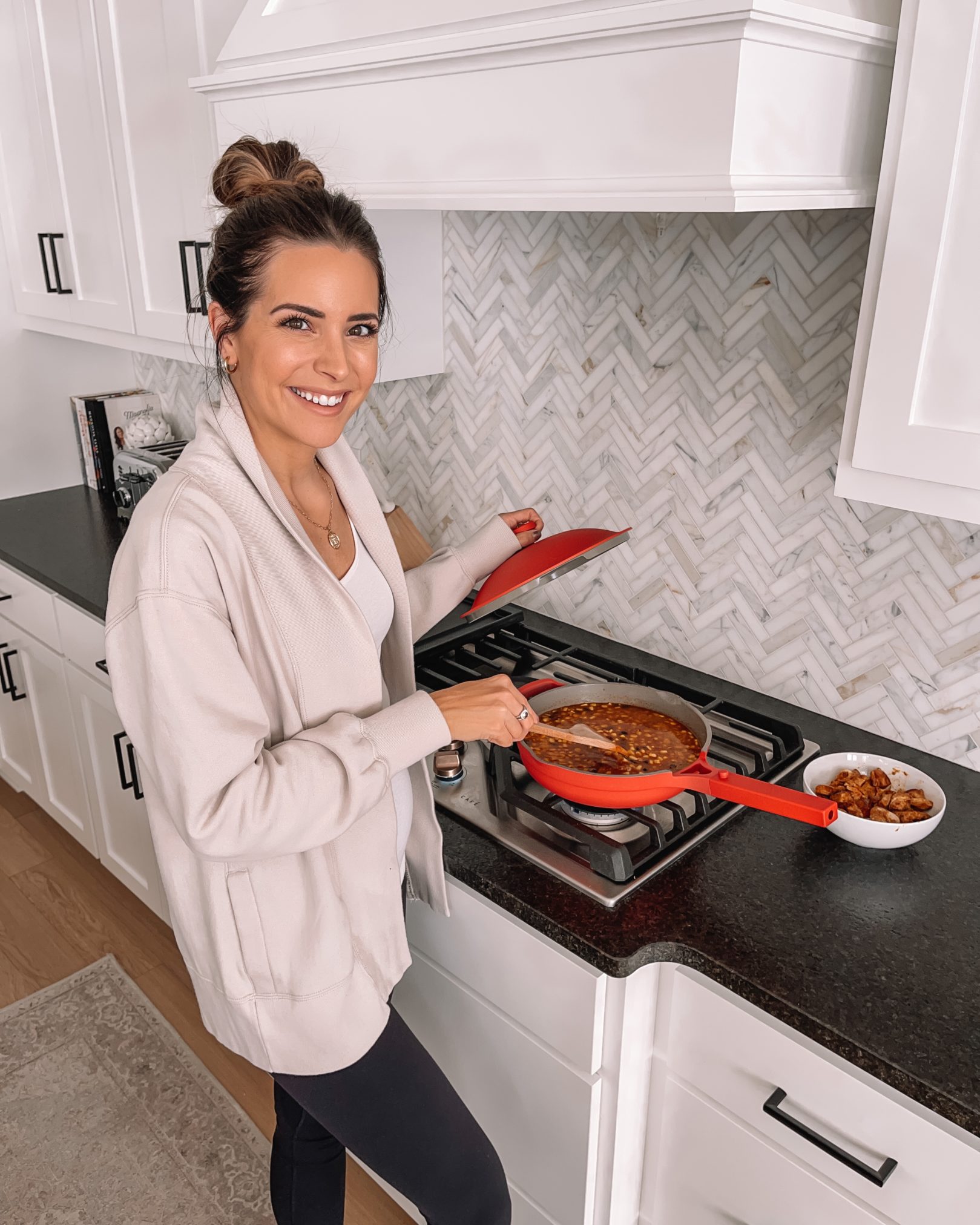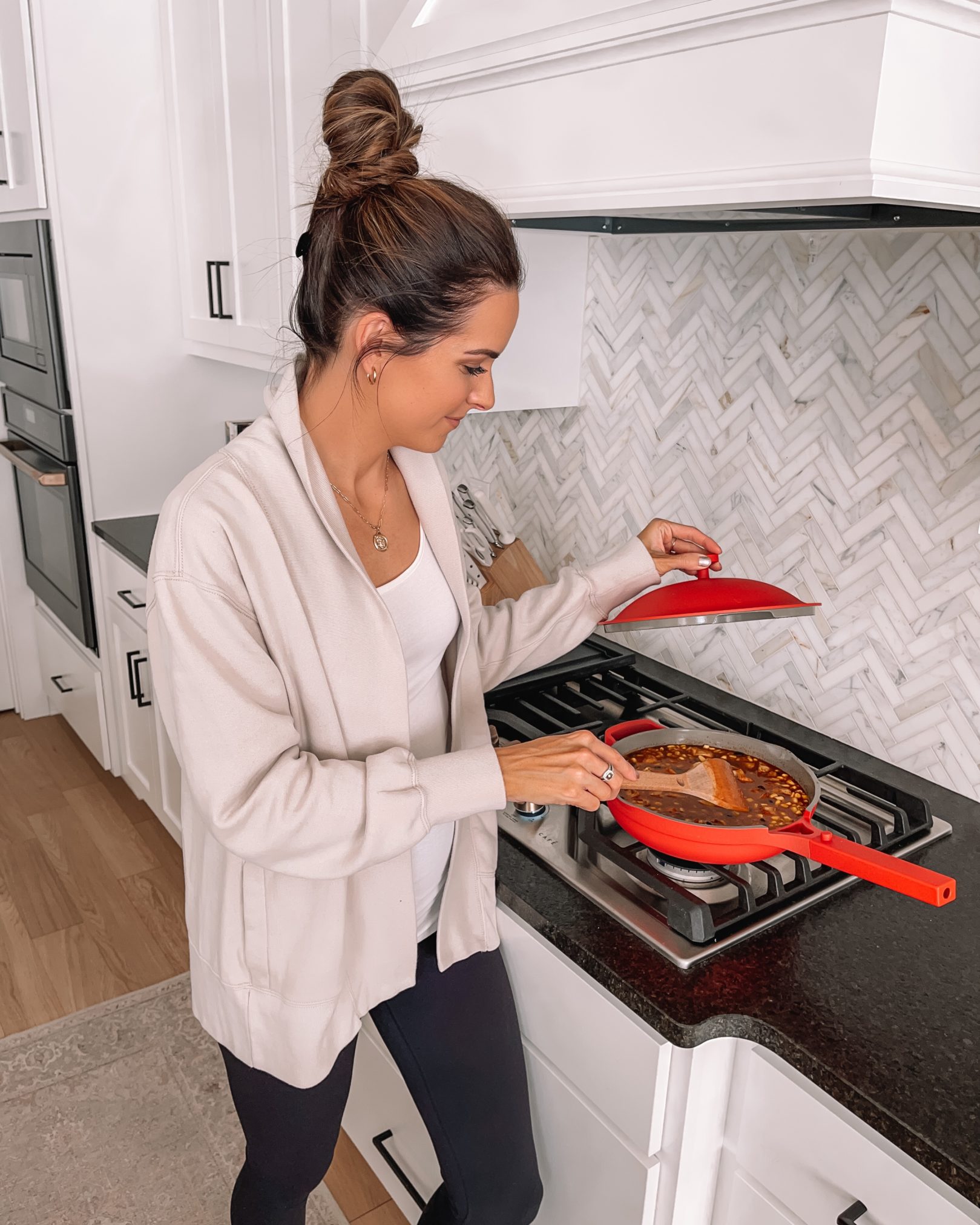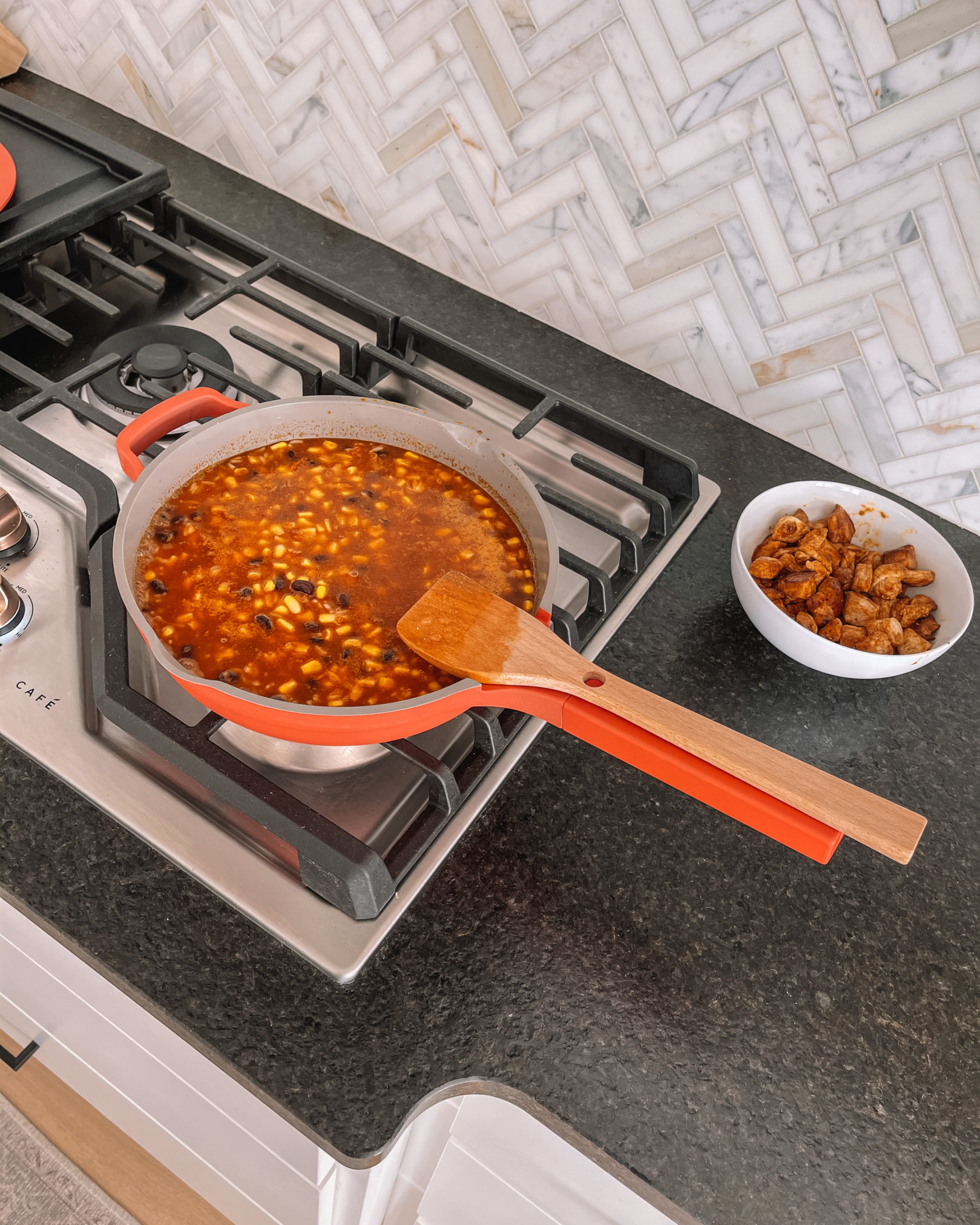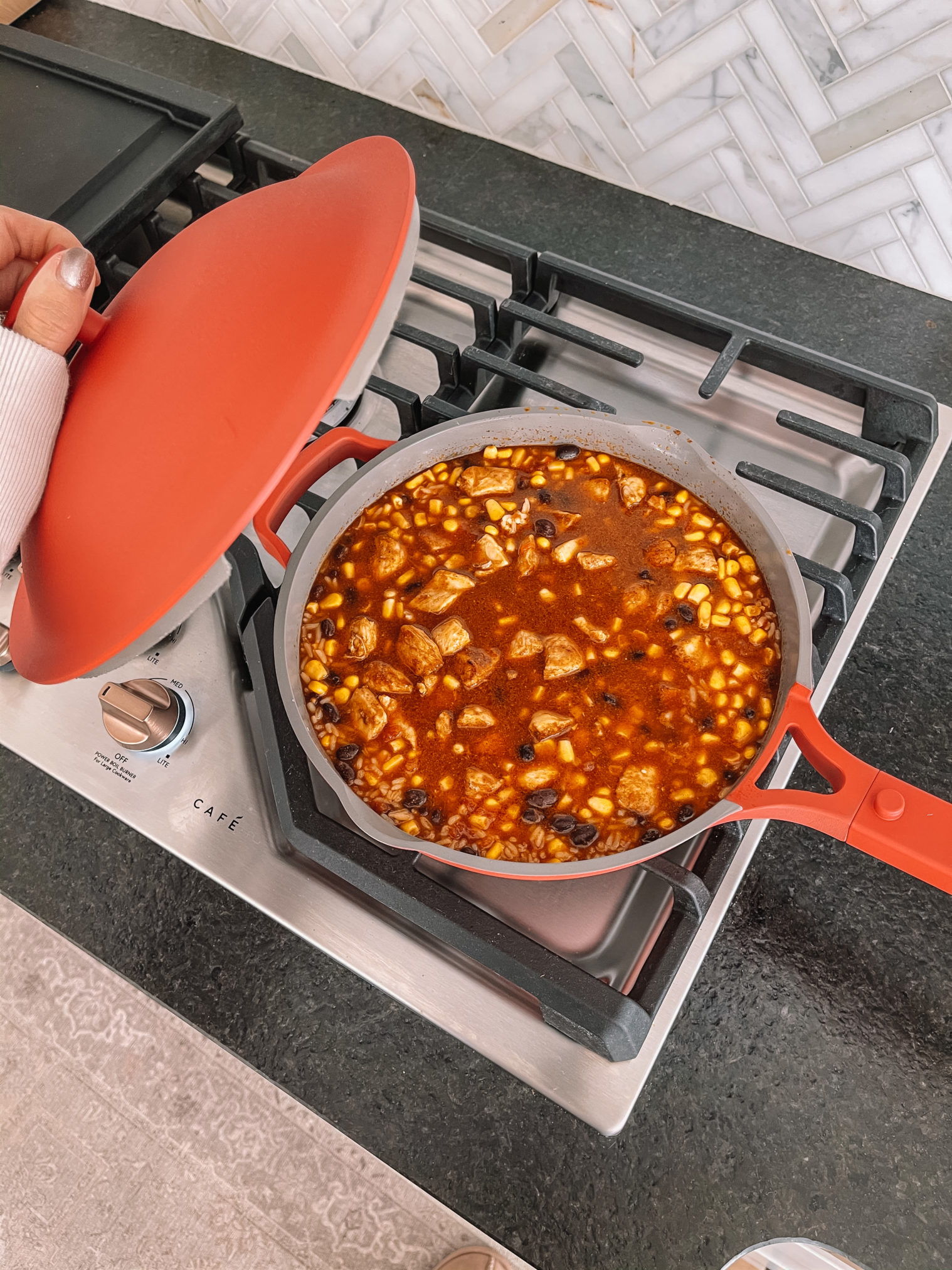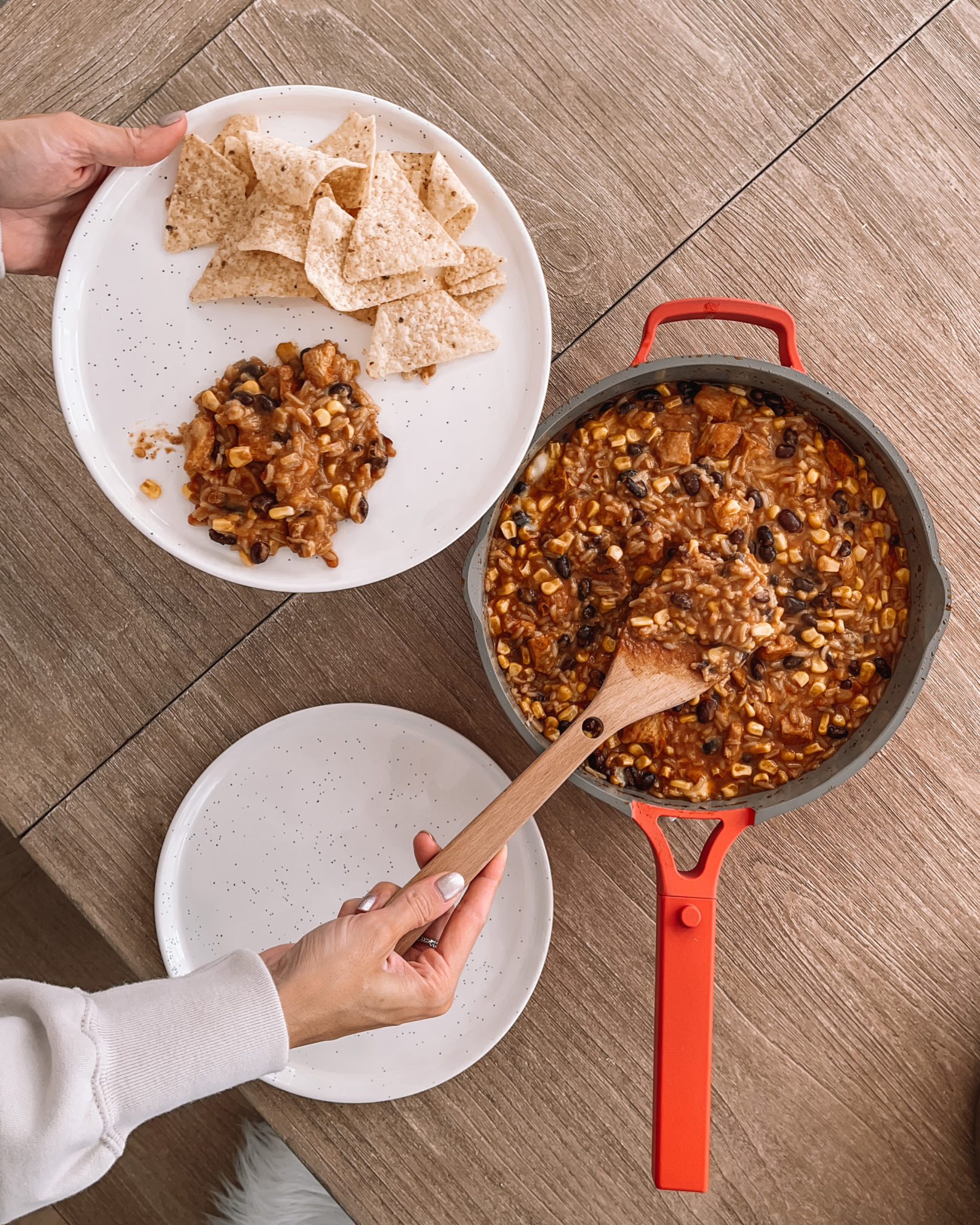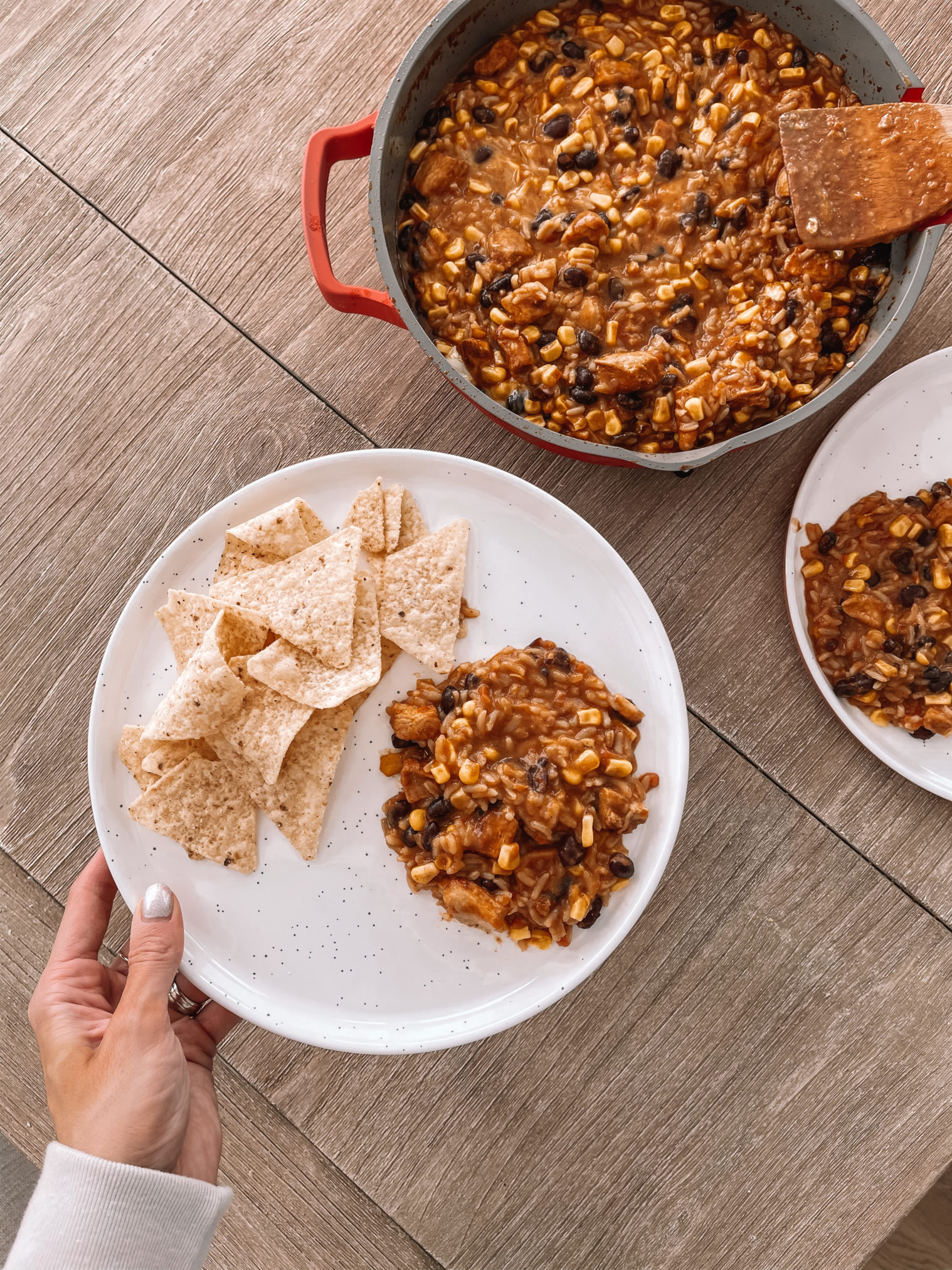 Simple, filling, yummy, and a family-pleaser. Makes great leftovers, too. 🙂 Let me know what you think if you make it!
-T
A big thanks to Our Place for sponsoring this post! As always, all opinions are my own.