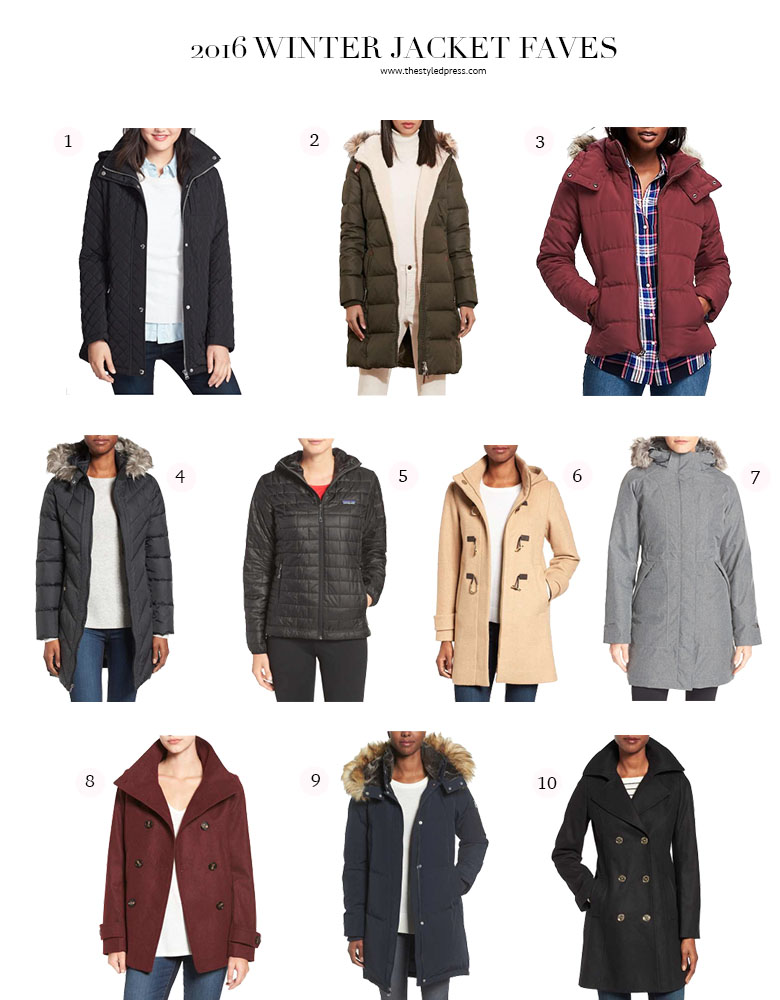 1. Calvin Klein Hooded Quilted Jacket | 2. Lauren Ralph Lauren Quilted Parka | 3. Old Navy Frost Free Jacket
4. Larry Levine Hooded Jacket | 5. Patagonia Nano Puff Jacket | 6. Vince Camuto Duffle Coat | 7. The North Face Arctic Down Parka
8. Thread & Supply Oxblood Peacoat | 9. Vince Camuto Down & Feather Fill Parka | 10. Michael Kors Long Peacoat
---
As much as I hate to believe it, winter is just right around the corner! I love the holidays, but I am not super fond of the freezing cold! So staying warm is a must. I did some online browsing and picked out my favorite, warm and affordable winter coats & jackets for you, suited for all occasions and climates!
Since I'm a Minnesota girl, puffer parka's with a faux fur hood are my go-to. They still look sleek and stylish, while keeping you super warm! The one I'm wearing in my photo from last winter was purchased last Christmas, but I found the same brand's version for this year, and it's identical! (#9). I also like that it's a neutral navy.
Peacoats are another must-have for me, since they are great for the days that aren't below 0 degrees, and are a bit dressier. The few that I found above are so cute! I love the toggles on the tan colored one, the gold buttons on the black and the oxblood shade on the other (and that one is only like $37! Crazy good deal, and it has amazing reviews).
This weekend we are headed back to our stomping grounds in St. Cloud to celebrate my mother-in-law's birthday and attend a good friend's wedding! It'll be a really fun weekend. 😀
Thanks for stopping by, and happy Friday-eve!
PS: I included some other jacket favorites in the widget below that I couldn't fit into the collage, so be sure to check those out, too. 🙂
SHOP THE POST: