I figured it was finally time to get my self tanning routine post up, since it's one of the top asked questions by you guys! 🙂 Sharing all my tips and tricks, what I use, and why!
For me, there is nothing like having a good tan; I feel like my outfits look better and it's totally a confidence booster! Does anyone else feel this way? I saw a funny quote on Instagram one time that read, "I'm a better person when I'm tan." LOL! So pathetic, but it does have a little truth. 😉 That being said, I self tan weekly!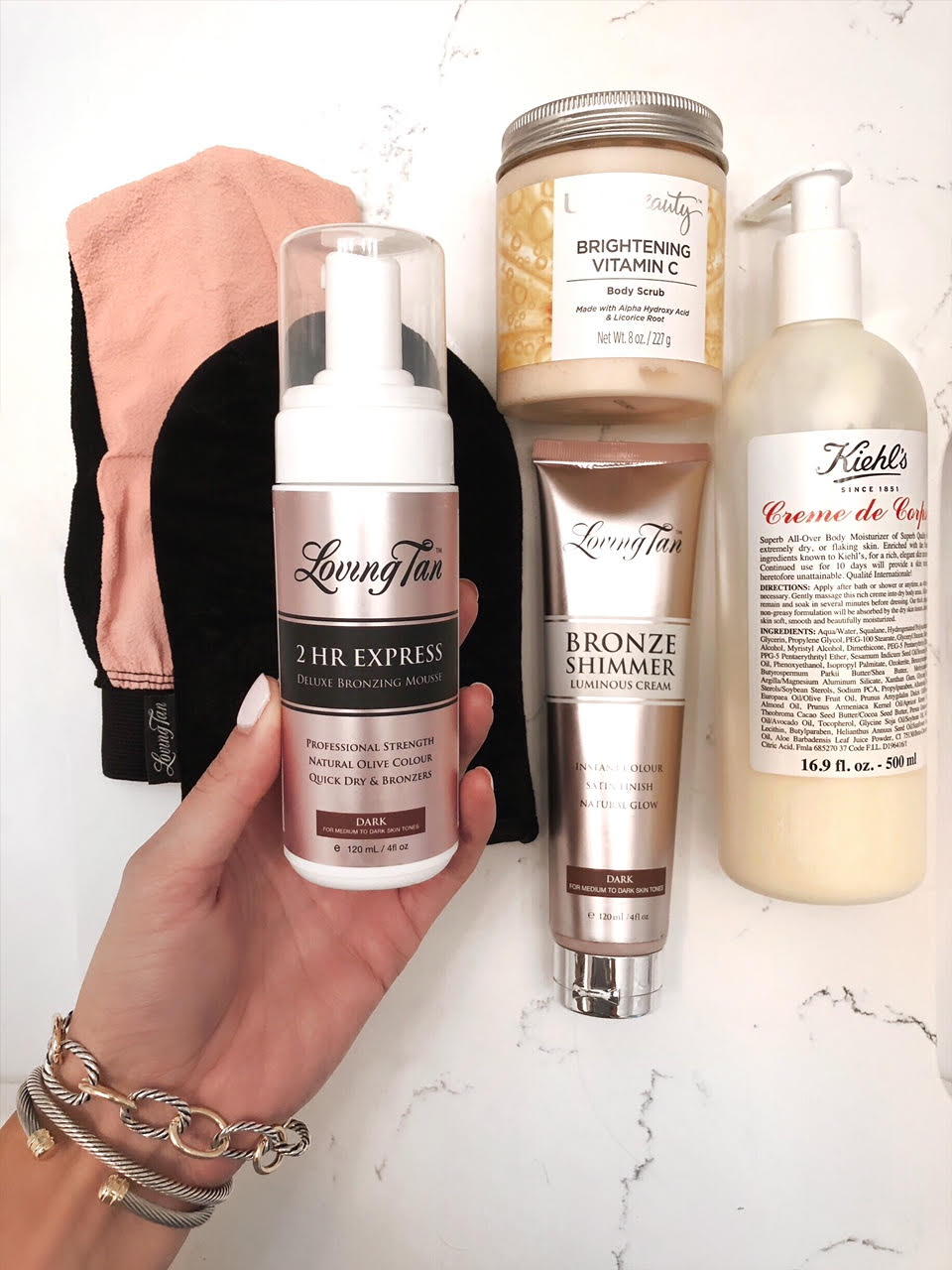 What I Use
Trust me when I say this, I've tried tons of the most popular self tanning products out there, but nothing compares to Loving Tan's mousse! I switch off between using the 2-hour and the regular versions. When I'm short on time, I will use the 2-hour; it just means that you can rinse of the color guard in the shower after 2 hours, opposed to 6 hours with the regular mousse. As far as the shades, I typically use Dark but also like Ultra Dark (not a dramatic difference between the two, though).
I have also tried St. Tropez's Self Tanning Mousse which is another good option, but I just prefer Loving Tan's color and smell best (I smell the more "fake tan" smell with St. Tropez).
To apply the mousse, always use a mitt! This mitt has provided the best application and has lasted the longest/been most durable out of any others that I've tried, by far! If you order off of Loving Tan's website, you can get a FREE mitt with code TAYLOR! Using a mitt provides the smoothest and quickest application that prevents streaks and dark tan palms – nobody wants that!
A great product that helps extend my tan is Loving Tan's Bronze Shimmer Luminous Cream. A little goes a long way with this product, so I usually mix about half of this and half of my favorite body lotion when I apply this in between self tanning.
Self Tanning Prep
Exfoliate and shave in the shower prior to applying your tan. I use Loving Tan's Tan Removing & Skin Polishing Glove in the shower to help get my previous tan off, as well as any dead skin. Exfoliating is super important for a smooth and seamless self tanning application! I also love using body sugar scrubs to exfoliate – love this one and this one!
Once I'm out of the shower, I will use a little bit of lotion on the dry areas of my body: elbows, knees, ankles, toes, and knuckles. These drier areas tend to absorb the tan more than the rest of your body, so they can end up darker if you don't add a bit of moisturizer over them beforehand.
Application
Once the above steps are completed, I will get my mitt and my self tanner and get to work! I usually start with one pump on my forearms and work my way up to my shoulder with a second pump, blending them all together. Don't forget to go over your elbows and hands/fingers lightly. I will usually use what's leftover from my arms for these areas. For my chest and décolletage, I'll typically use one pump. With the help of Tom or this handy tool, I will use 1 pump for my upper back and 1 pump for my lower back, 1 pump for my stomach, and 2-3 pumps on each leg. I don't apply this self tanner on my face, but you totally can. I just prefer to use the Coola Sunless Tanning Serum! It's great and anti-aging, and super gentle on my skin.
The self tanner dries within about 5 minutes, so it's quick! I typically apply on Thursday evenings before the weekend, so I will wear dark, loose clothes as pajamas to bed. I haven't had any issues with the tanner staining my sheets, but if you sweat in your sleep, you may want to consider wearing long sleeves and pants to bed, or use the 2 hour mousse and apply during the day instead.
Time to Glow!
When the tan has developed, I just rinse off with water in the shower, dry off, and apply body lotion (this one and also obsessed with this one, which is a little lighter weight). It's also important to apply lotion daily to keep your tan looking it's best!
I typically apply self tanner once, sometimes twice a week (twice if there is a special occasion). I would say it looks it's best between days 1-3 after you've applied the self tanner. 
Tips & Tricks
Exfoliate in the shower prior to self tanning
Apply self tanner onto clean and dry skin (no lotions or oils, besides on dry areas like elbows, knuckles, knees, ankles and toes)
Always use a mitt
If you want to achieve an even darker tan, apply daily until you get the tan you are seeking
Moisturize your body daily to extend your tan and keep it looking it's best
Avoid getting wet anywhere you applied self tanner until your tan is fully developed (prior to rinsing off in the shower) to prevent streaks and splotches
So, there you have it! I believe I touched on every question possible… but if not, let me know and I'll answer for you. 🙂 As always, thanks for reading and happy self tanning!