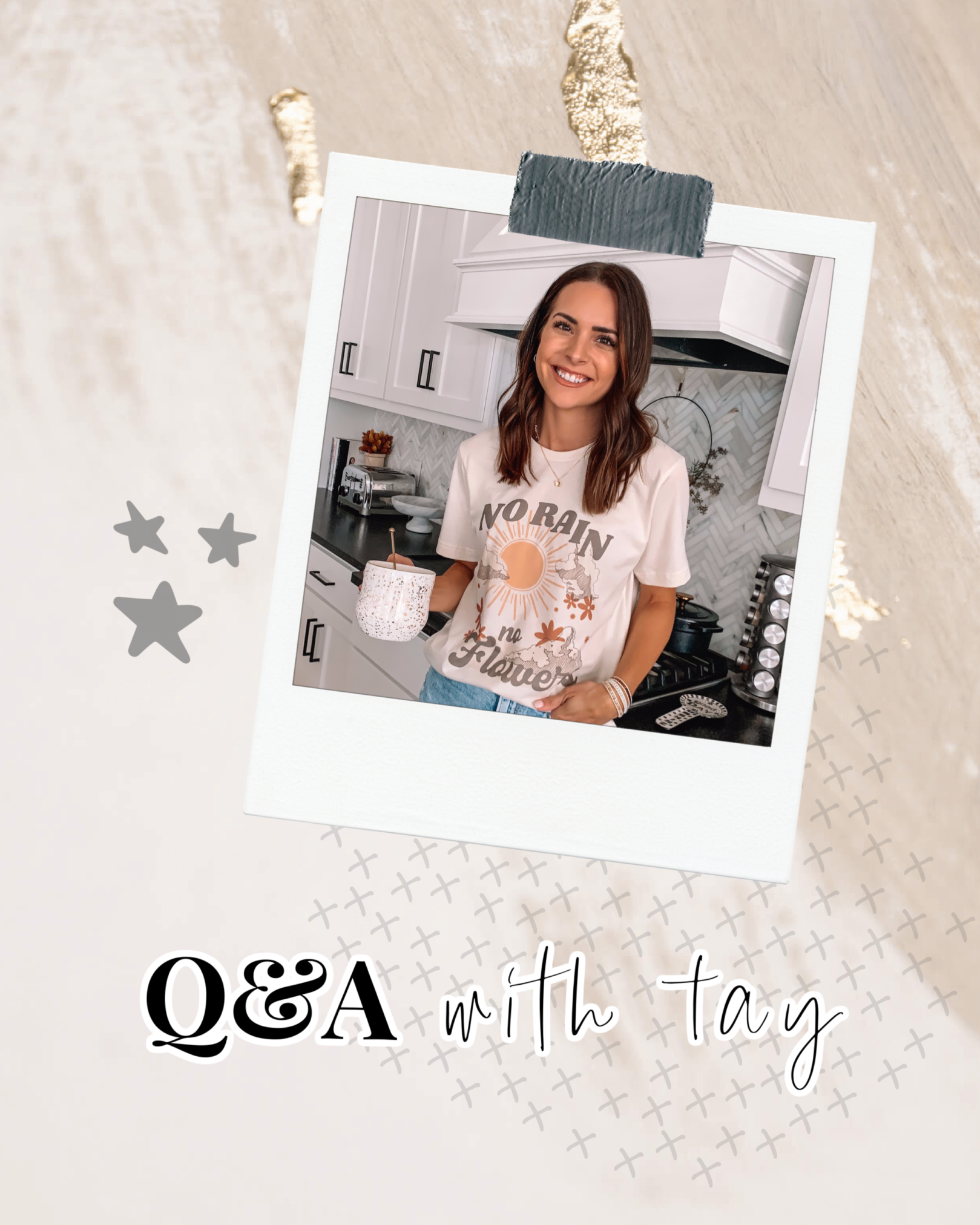 "How old were you when you got married and had Keldon?" When we got married, I was 25 and Tom was 26. When we had Keldon, I was 28 and Tom was 29!
"Can Tom do more stories and try ons?" 'Absofruitly' – Tom
"How to know when you are ready to be a mom?" When you are financial stable and feel as ready as you can be! Tom wanted kids like a year before I was ready and honestly was like 90% ready..lol. I was mostly scared/anxious but knew I wanted kids and then when I got pregnant it felt right. Everyone's timeline looks different though. I don't believe there is a perfect time or age. It just depends on your lifestyle and how YOU feel 🙂
"Any recs for a good counter cleaner? Mine leaves streaks and I hate it!" I use Thieves from Young Living. It's clean, natural, and does a good job and lasts a long time. I don't sell it, I buy from a friend!
"Did you get Lasik?" I'm going to wait until after we are done having kids since your eyes can change again, and often do. I know many doctors offer a free touch up or whatever, but I'd rather just do it once and be done!
"Do you recommend braving the Mall Of America this time of year or skip it?" I didn't go to the mall once for holiday gifts this year! I online shopped for every gift. Many retailers are offering free rush shipping in order to get gifts on time if you chose not to go into the store. I *assume* the malls are far less busy this year. Good luck and get it done!
"Do you have a tutorial for curling your hair?" I do! It's saved in my profile highlights on my Instagram!
"How does Tom like being home with Keldon? My husband always wishes he could switch roles with me." He absolutely loves it! It's not always easy (as many of you know) but he wouldn't trade it for anything.
"Where do you go for micro-blading? Thinking about it for 2021!" I go to Highbrow Studio in Minneapolis. Check out her Insta -> @highbrowstudiomn
"What is your most embarrassing moment?" When my crush told me I had a booger in my nose in grade school.. lol
"Any sunscreen recommendations?" I recommend EltaMD UV Clear Broad-Spectrum SPF 46. It's dermatologist recommended and good for sensitive skin (like I have!).
"Any advice for the doc band? My little guy is getting one next week and I'm nervous." Don't be nervous! I promise it's not as bad as you think. I was so worried it would mess up Keldon's sleep after he finally started to sleep through the night but he transitioned really well and our doctor allowed time to ease into it. Keldon had his for 5 months. Also, it helped to have a little more piece of mind for head protection since he wasn't walking yet, but was mobile!
"Where are your glasses from?!" There were so many of you that asked haha! Hope I don't sound like a broken record for those that watch my stories often, but they are Ray-Bans prescription & blue light glasses from LensCrafters. I have a blog post with more details here!
"What are your favorite stores to shop at for home decor?"
1. Target
2. Kirkland's
3. HomeGoods
4. West Elm
5. Pottery Barn
6. Anthropologie
"Gifts for under $10 for a coworker!"
1. Coffee mug
2. Their favorite snack/treat in jumbo form
3. Buy them lunch
4. Cozy socks
5. Small candle
6. Coffee gift card
7. Cute notepad or calendar for their desk
"Do you keep all of the clothes you order and do try-ons with? Where do you keep it all if so??" Once the item sells out and I don't see myself wearing it again, I will give to family & friends, donate, and I will also sell on my Poshmark site – (@taymorganbrown)
"What is your favorite thing about being a mom that you didn't expect?" How much perspective it gives me in life! Seeing the joy in the littlest things and infinite love!
"Best place to buy inexpensive faux plants?" QVC or HomeGoods!
"What eye cream do you recommend for puffy eyes?" I would recommend the Instant De-Puff Eye Renewal serum from Tula. The cool tip feels so refreshing too! Use my code TAYMBROWN for 15% off.
"Any robe suggestions?" I would recommend the Barefoot Dreams CozyChic robe (this is a heavier weight) or the Carrie Cardirobe from Smash+Tess (a lightweight option).
"How far are you from your family and your in-laws?" We are only 45 minutes! We love being close to our families, especially now with Keldon. As fun as it would be to experience living in a new state, we probably never will. We also love MN and the people #mnnice
"Does the Athena razor work well for 'down there'?" Yes it does! I don't use anything else for shaving. Athena Club is the real MVP. I also started their probiotic this past month and I'm happy with it!
"What is your biggest pet peeve?" Chewing loud/talking with mouth open while eating.
"What is your go to body lotion in the winter?" Here are my favorites: Elta MD Moisture Rich Body Cream – heavier and extra moisturizing for dry winter skin. Necessaire Fragrance Free Body Lotion – right in the middle of the other 2 lotions. Dewy Body Lotion – lighter, good for layering and wearing every day since it never feels greasy (but probably not the best option for dry winter skin).
"Thoughts on influencers promoting MLM products ie. Monat, Young Living, etc." No shade at all!! Unless you harass me.. lol. I've been in a situation where an acquaintance wouldn't take no for an answer and I literally had to stop talking to them. A line gets crossed when you put this kind of pressure on people to buy.
"How do brands contact you? DM? I'm always skeptical.." Usually by email, sometimes DM. If you're skeptical and it doesn't seem like a reputable brand, I would pass. I very rarely work with a brand I haven't even heard of (and if that's the case, I'll do my research and try a product before agreeing to a partner.
"What is a good vitamin C serum?" I would recommend the SkinCeuticals C E Ferulic. It's pricey, but it works and it's the best I've tried!
"What is the paint color you used throughout your home?" It's Sherwin Williams Oyster White!
"What does Tom do? He feels like such a mystery!" He use to be an accountant. We needed more help with Keldon, and with quarantine, it made the most sense for our family for him to leave his job. He now helps out with Keldon and assists with my job.
"What are your favorite gold bracelets right now?" I have linked all of them here! Discount code TAYLOR20 for the ElectricPicks Fonda Bracelet and TAYMBROWN for the LetItBeadJeweled bracelets.
"When are you getting your Telluride so I can drool at the pics?!" Haha, next month! So excited! For those that don't know, we shopped around for a larger SUV this fall and decided on a Kia Telluride after test driving, some research, and some sweet followers that spoke highly of them. We wanted to upgrade to a larger size that's a little more spacious and family friendly.
"Do you ever get exhausted doing what you're doing or want a day off?" Yes! The hardest part about this job is that it doesn't ever end. I don't necessarily leave it at 5, but sometimes I do! It's flexible enough to where I can make my own schedule which is great, but I have to stay disciplined in order to be productive and grow, like any job.
Typically I do less/unplug on the weekends for my sanity. I've also put less pressure on posting to my feed every day (and last year I was posting 2x a day… way too much work to keep up with haha!) I love what I do, and connecting with you guys. My work is typically fun, but life/family/friends are what matter most at the end of the day!
"How do you always find time to reply to all the messages? I love you for that!" I don't 🙁 but I try my best to! I carve out time every day to get through as many as I can while I'm on the IG app. I replied to every single message and would stay up so late prior to having Keldon. Now it just isn't possible to get to everyone between juggling life, creating, and posting. It made me so anxious at first but I can't do it all. That being said, if you have any questions/messages that I haven't gotten back to you on please either DM me again and/or best way to reach me is just email me. I will 100% see the email and it's way easier to manage. Way more fun to answer than work emails too. LOL. I also have this Q&A series on my blog that I post weekly 🙂
"What is your favorite snack (one that you don't get sick of)?" Perfect Bars forever! You can find the best price at Trader Joe's or on their website when they have sales.
"Are there really winners when influencers do giveaways for LV bags/cash/Pelotons/etc?" I would never do a fake giveaway! Any that I have done with others we each pitch in the same amount of money for the winner. I can't speak for everyone but I've never known any other blogger/influencer to do a fake one.
If you've entered a lot and get discouraged, I'm so sorry! We are literally randomly selecting out of thousands of entries. We do wish everyone could win!
"How old are you?" 30! Will be 31 on February 10th!
"Best place and time to buy GG shoes?" Check eBay! I bought my first pair there and they were like $100 off brand new. Also, many designer second hand sites will carry 'barely worn' ones (MyTheresa, TheRealReal). SSENSE will occasionally have sales but they are super random pop up sales.
"Do you and Tom want more kids?" Yes! Tom leans towards 3, but I'm thinking 2…we'll see!
"Do you still put makeup on your brows after getting them micro-bladed?" Not at first, but once they fade and metabolize I will apply a little more brow pencil because I prefer mine darker/bolder. Personal preference!
"Do you ever promote products that you don't love?" NEVER. I say no to brands daily and always ask to try a product before I agree to promote. If it sucks, I decline the offer. I'd rather turn down a buck than be unauthentic and have you lose your trust in me.
"What are your top 5 makeup favorites?" I've linked them here for you! The shapetape glow wand I get the shade 'alight'; the Marc Jacobs lip liner is in shade 'nude(ist)'; the Estée Lauder Doublewear foundation I get in shade '2N2', finally the Lancôme Cils Booster XL Lash primer and Tartlette 'In Bloom' eyeshadow palette.